Summer Crafts for Kids...fabulous ideas to keep your kiddos busy during summer break! Easy step-by-step instructions that any child can follow.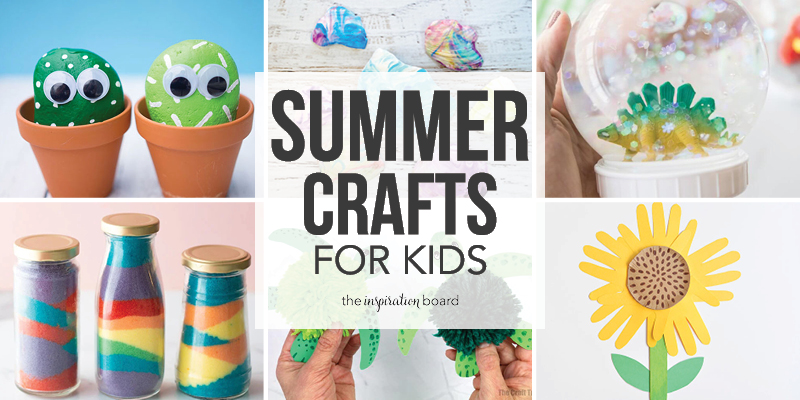 Crafts for Summer
Summer is the best! Some of my favorite memories as a child consist of endless pool days and delicious homemade popsicles. As fun as it is to have the kiddos home more, it can also be a struggle to think of activities to keep them busy. And while I love movies, I don't want my kids to sit on the couch all day watching TV. Crafts are the perfect solution! Crafts are so wonderful because they take time to create while boosting creativity and problem-solving skills. They are also great for any age child!
There are millions of craft ideas online and many of those ideas are easy and affordable. Below I have gathered together 25 of the best summer crafts for kids! Your children will absolutely love these activities. Simply scroll down and click on the link of the craft you like to see the instructions. Have fun!
Yarn Turtles
These pom pom sea turtles are adorable! They even have a free printable template that you can use to make them look exactly as pictured.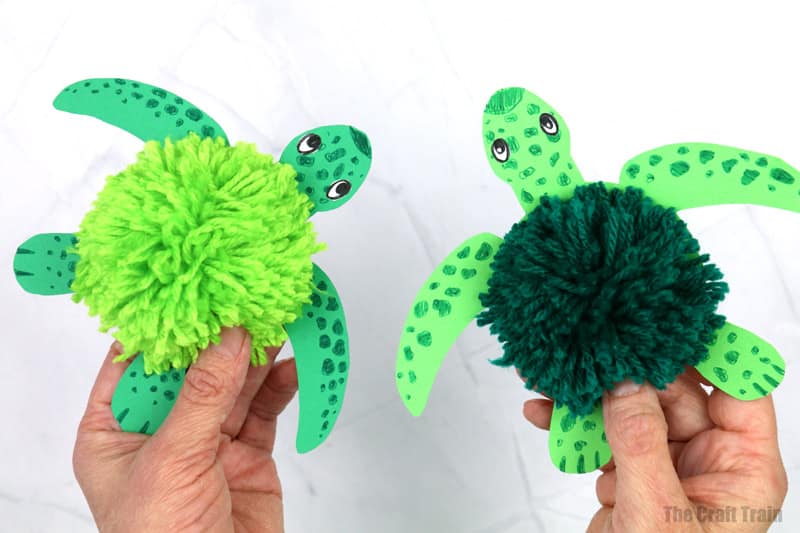 Yarn Turtle Craft via The Craft Train
Oobleck
Oobleck is such a fun activity that kids love! This Dr. Suess fascinating substance is both a liquid and a solid. Definitely a fun activity when it's too hot to go outside!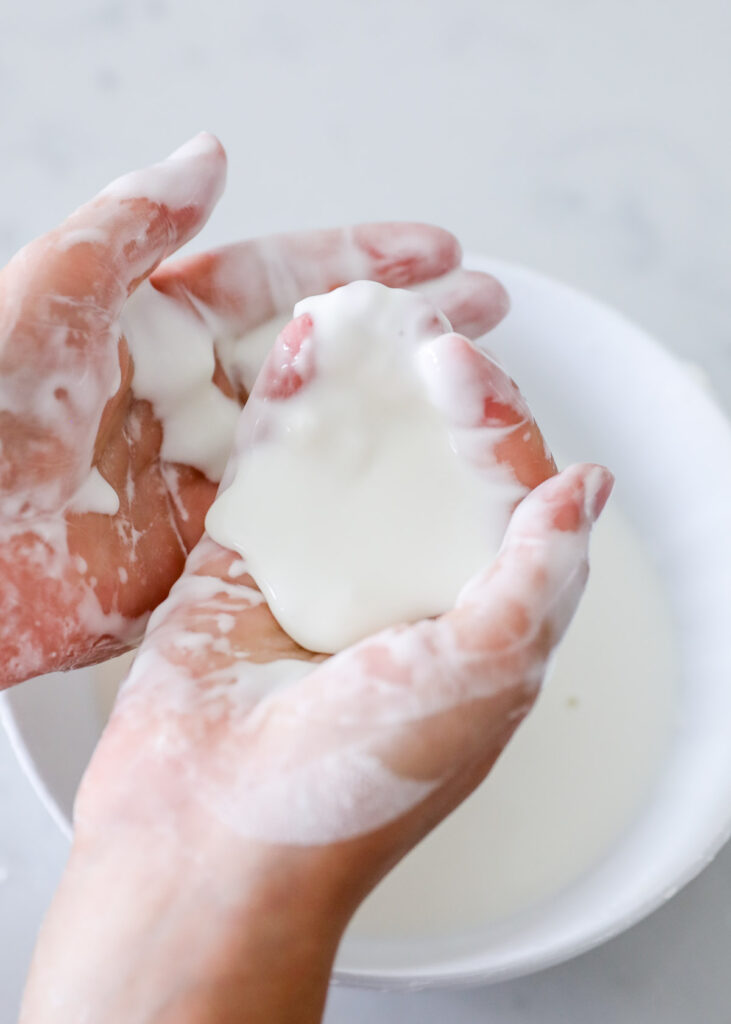 Tissue Paper Butterfly
This beautiful butterfly looks like stained glass and makes a fantastic summer craft. Your kiddos will feel so proud hanging up this masterpiece.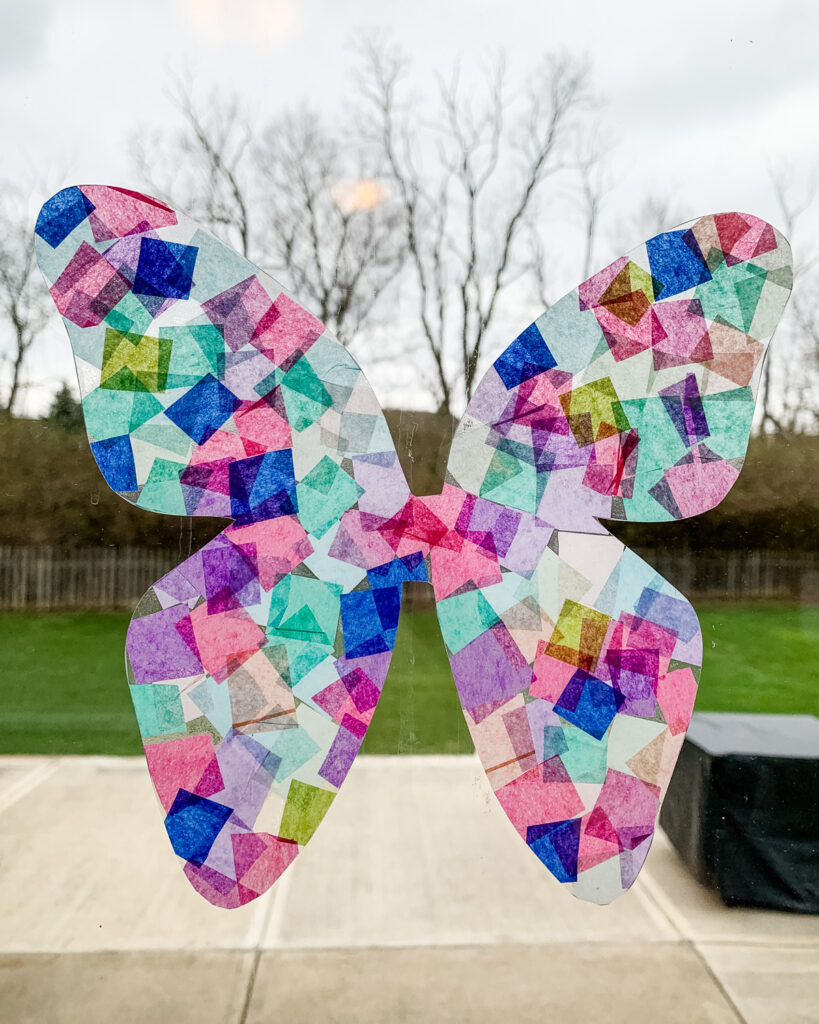 Marbled Sea Shells
Did you know shaving cream could be used for so much more than just shaving?! You can get this breathtaking marbled look with just a bit of food coloring and some shaving cream.
Easy Marbled Sea Shell Art for Kids via Projects with Kids
Handprint Sunflower
This handprint sunflower is so easy and is the perfect artwork for summertime. Toddlers will love getting their hands traced to create this fabulous artwork.
Handprint Sunflower Craft via One Little Project
Elsa Wand
I don't think I need to explain why this would make a fabulous craft. To keep it short, kids love Frozen and they will love this!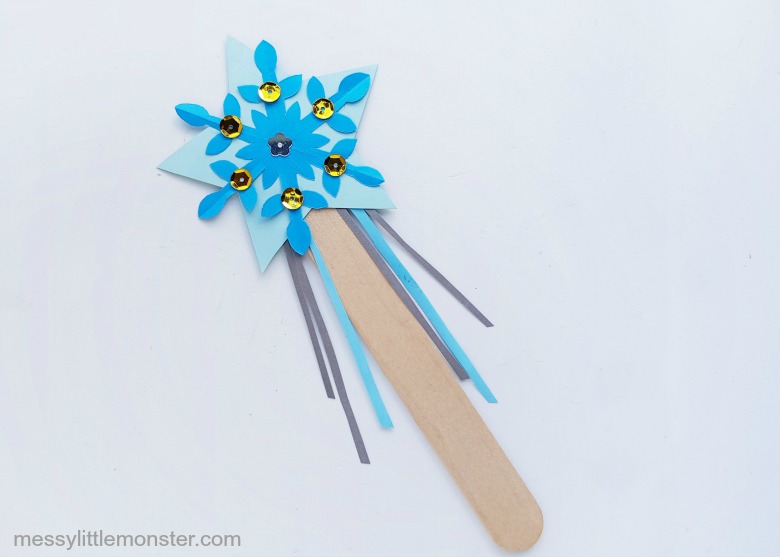 Frozen Inspired Else Magic Wand Craft via Messy Little Monster
Paper Umbrella
This paper umbrella craft may be better suited for older children because of the details. I love the addition of the rain drops, so fun!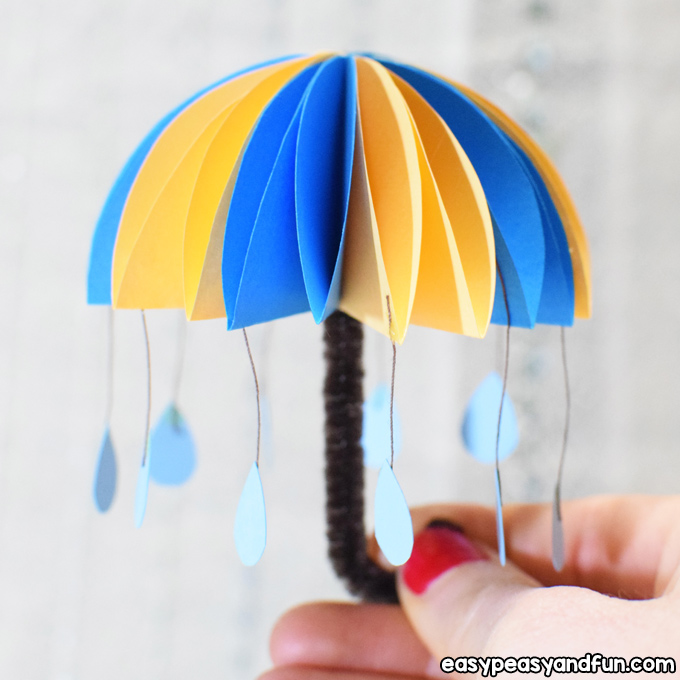 How to Make Paper Umbrellas via Easy Peasy and Fun
Rainbow Coloring Page
Break out all of the fun colors with this rainbow coloring page! This one is especially great for little ones who are just learning to color.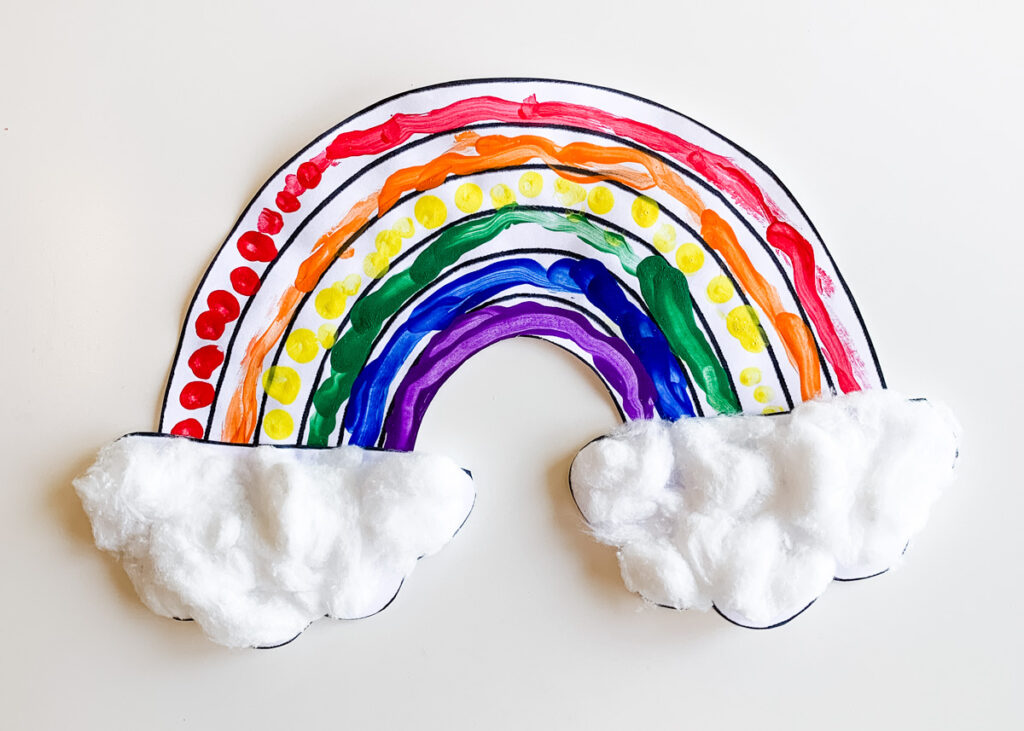 Sand Slime
It's no secret that kids absolutely adore making slime. This sand slime is so much fun and I love this fish-in-a-bag idea, so cute!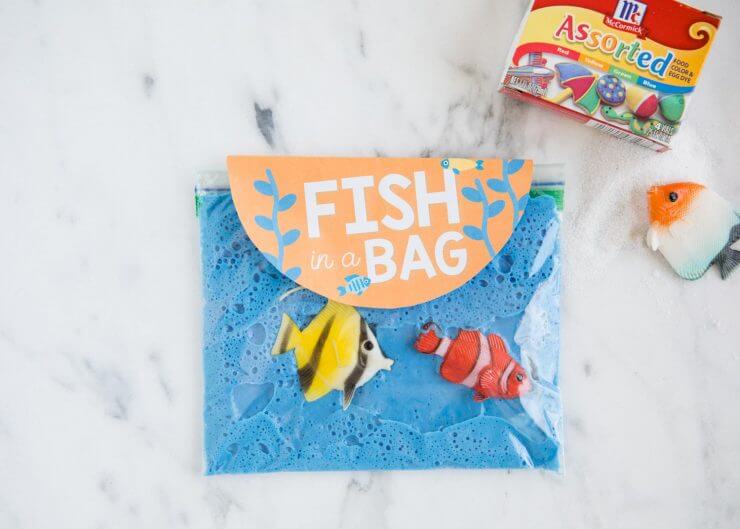 Bird Feeder
Kids love bird feeders. This one is made out of popsicle sticks, making it a great and affordable craft that everyone will love!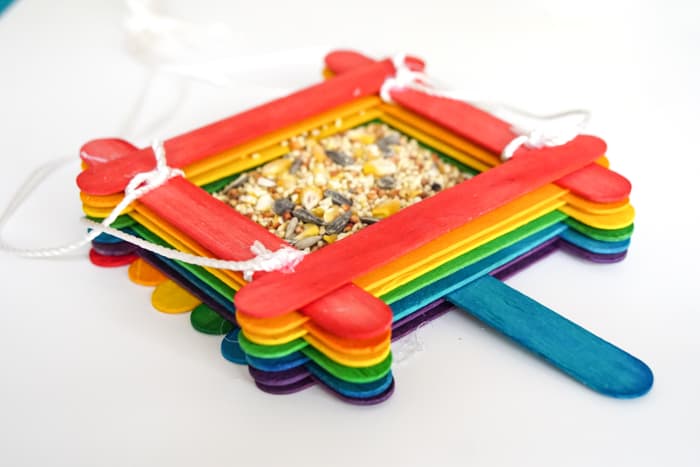 Popsicle Stick Bird Feeder Craft via Made With Happy
Leaf Prints
Kids love exploring and they often bring back leaves. This leaf print craft is a creative way of using nature to make a beautiful art piece.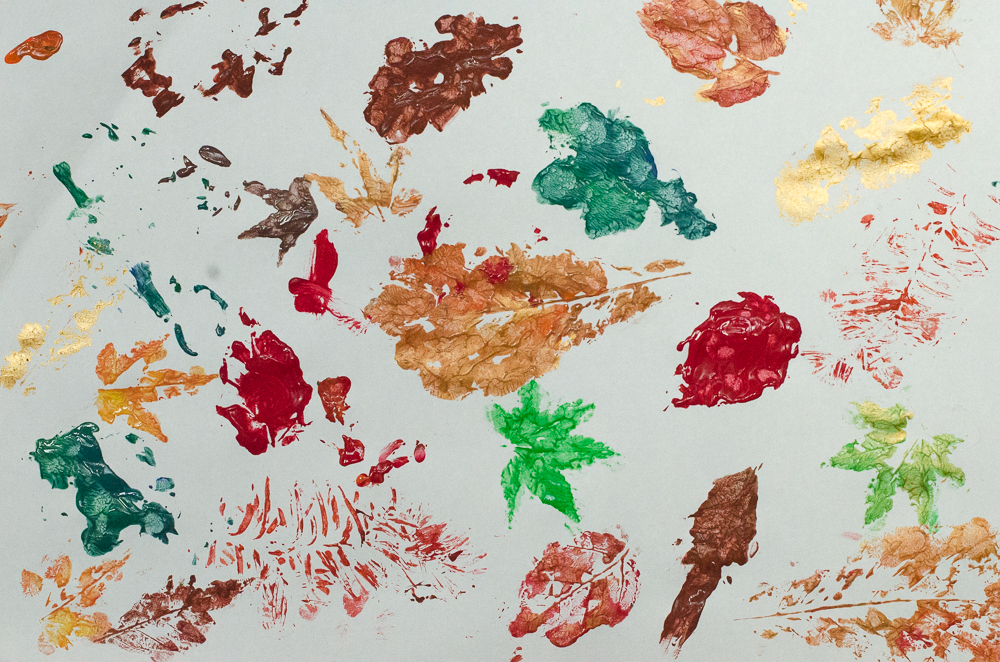 Nature Craft: Making Leaf Prints via Growing Family
Handprint Giraffe
I've seen a handprint turkey but I have never seen a giraffe! This is so original and kids will love creating their very own zoo animal.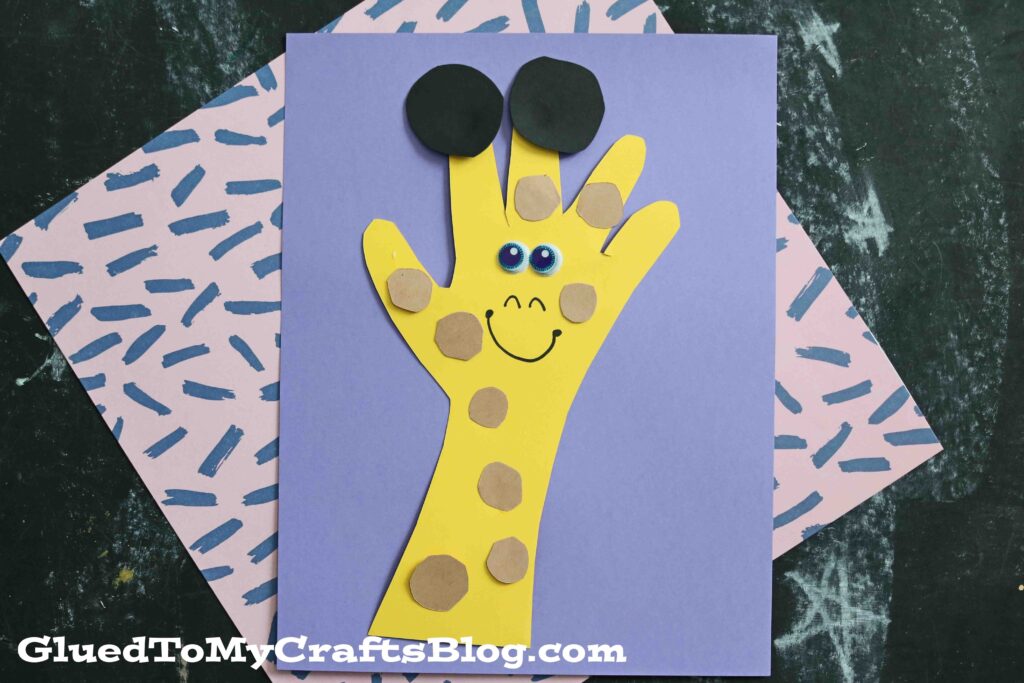 Handprint Giraffe – Zoo-inspired Paper Craft via Glued to My Crafts
Rice Shakers
Toddlers love making their own music so this DIY rice shaker is definitely a winner! I can't think of a more affordable craft than this one.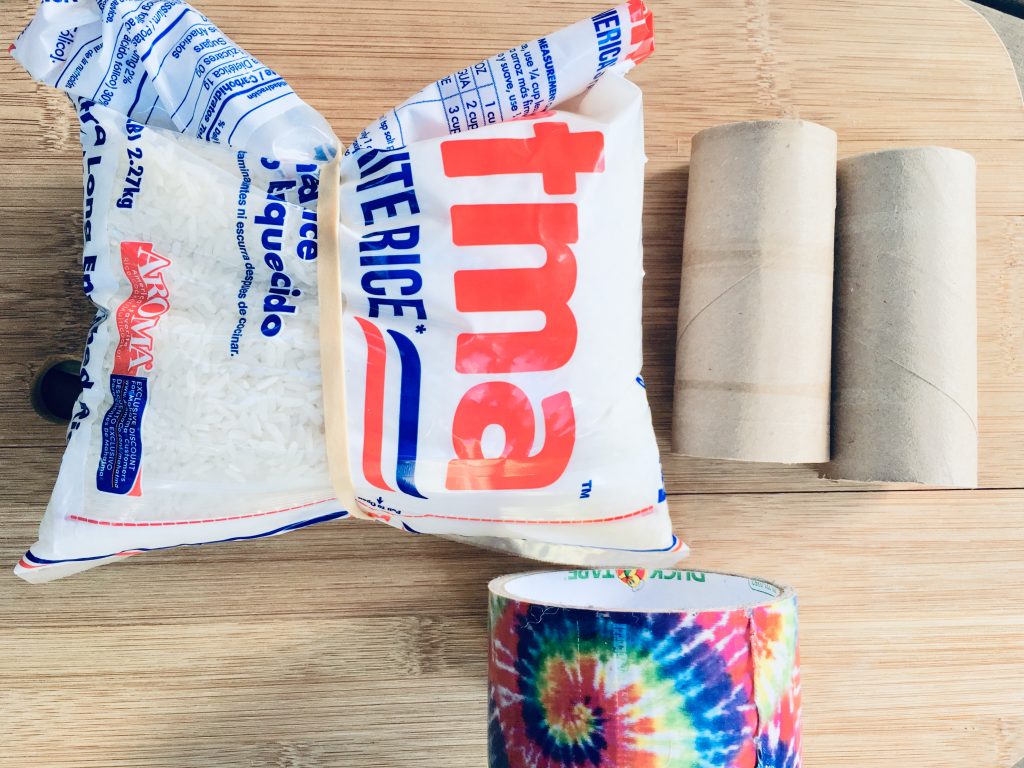 Homemade Shaker Instruments for Toddlers via Twin Mom Refreshed
Pinecone Owls
How creative is this?! These pine cone owls are just too adorable. I love the acorn eyes and feather wings. Such a great idea!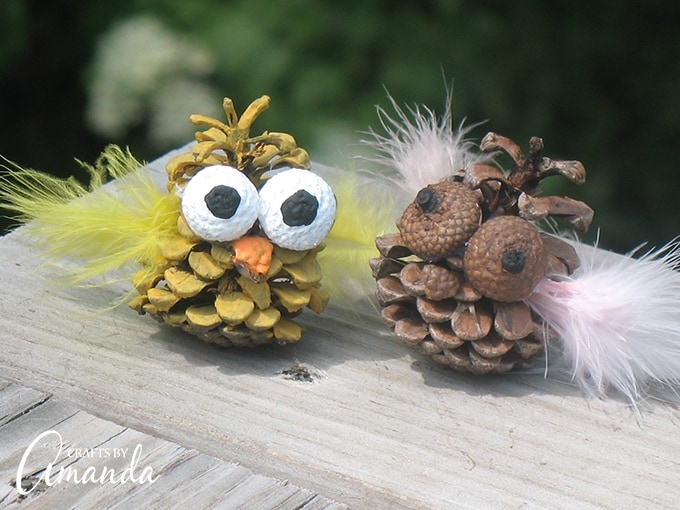 Pinecone Owls via Crats by Amanda
Cactus Rocks
I can't get over how cute these are! Your kiddos will love finding the perfect rock, painting it to look like a cactus, then placing it in these adorable pots.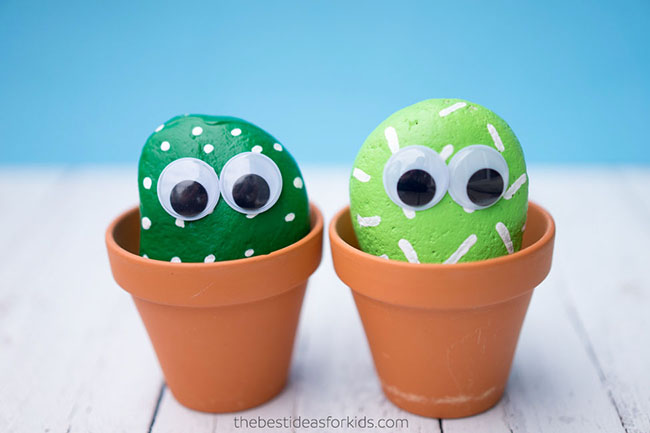 Pet Cactus Rocks via The Best Ideas for Kids
Homemade Chalk
Making chalk together with your little one can be such a fun summer activity. This is one craft that kids will use again and again!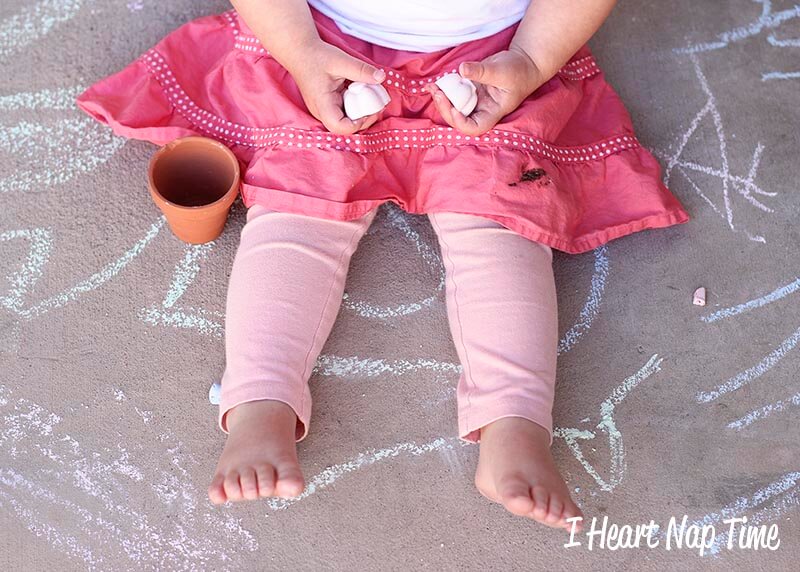 Paper Plate Snail
Instead of a beaded bracelet try making a snail! Kids will love this original idea and they will have so much fun decorating the shell.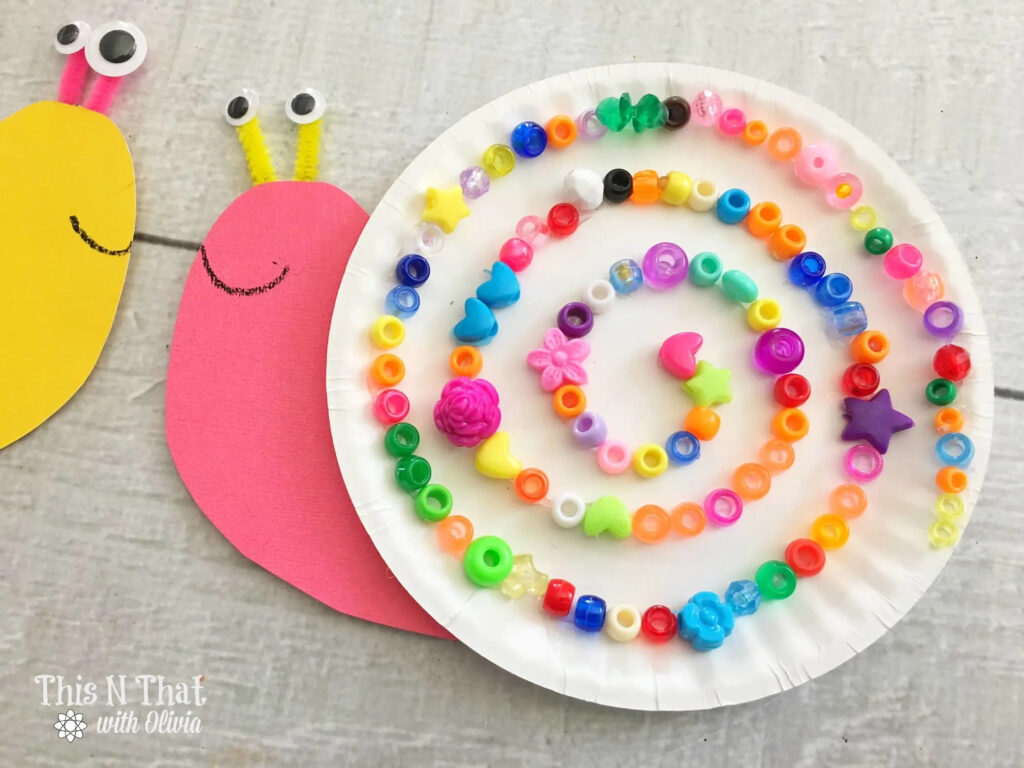 Paper Plate Snail Craft via This N That with Olivia
Unicorn Dream Catcher
Help your little one create something that will catch all of their dreams! This unicorn dream catcher is adorable and makes a wonderful summer craft.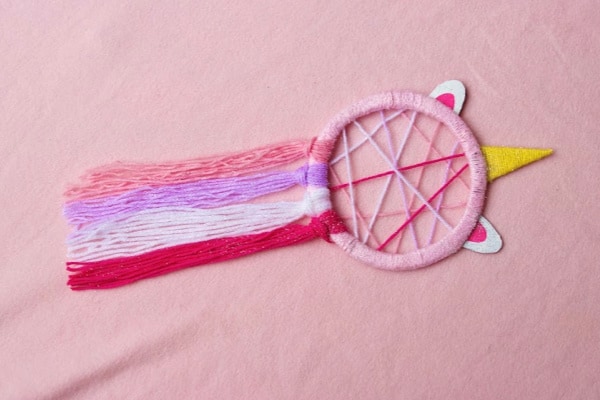 How to Make a DIY Unicorn Dream catcher via Three Kids, Three Cats, and a Husband
Rocking Paper Bird
What's better than a craft? A craft that actually does something! This rocking paper bird craft is so cute and kids will love it!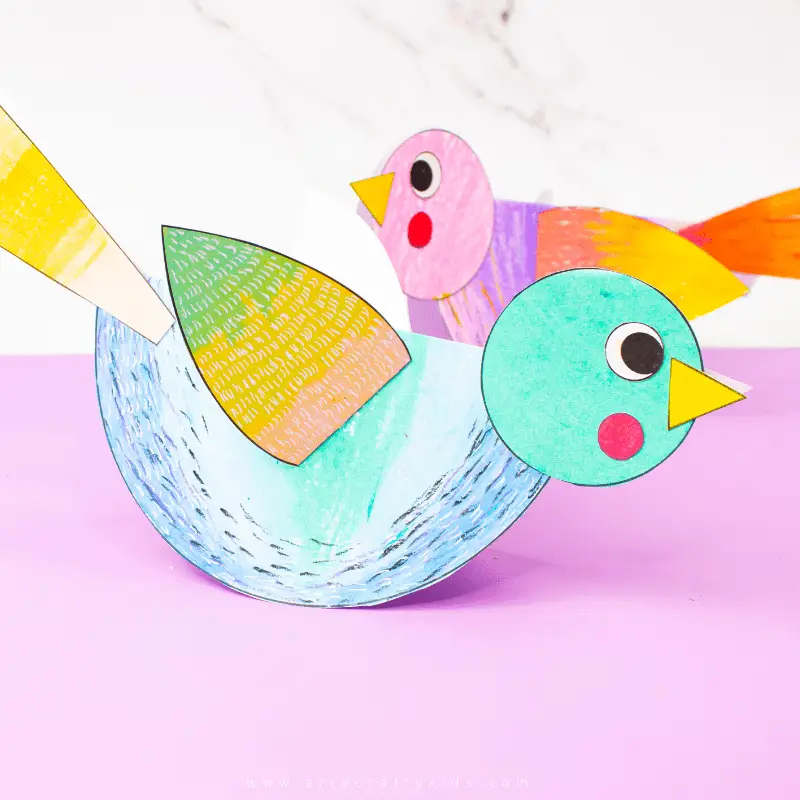 Rocking Paper Bird Craft via Arty Crafty Kids
Snow Globe
To a child, snow globes are so magical and this DIY craft would be an incredible summer activity for kids. They will have so much fun choosing what to put inside.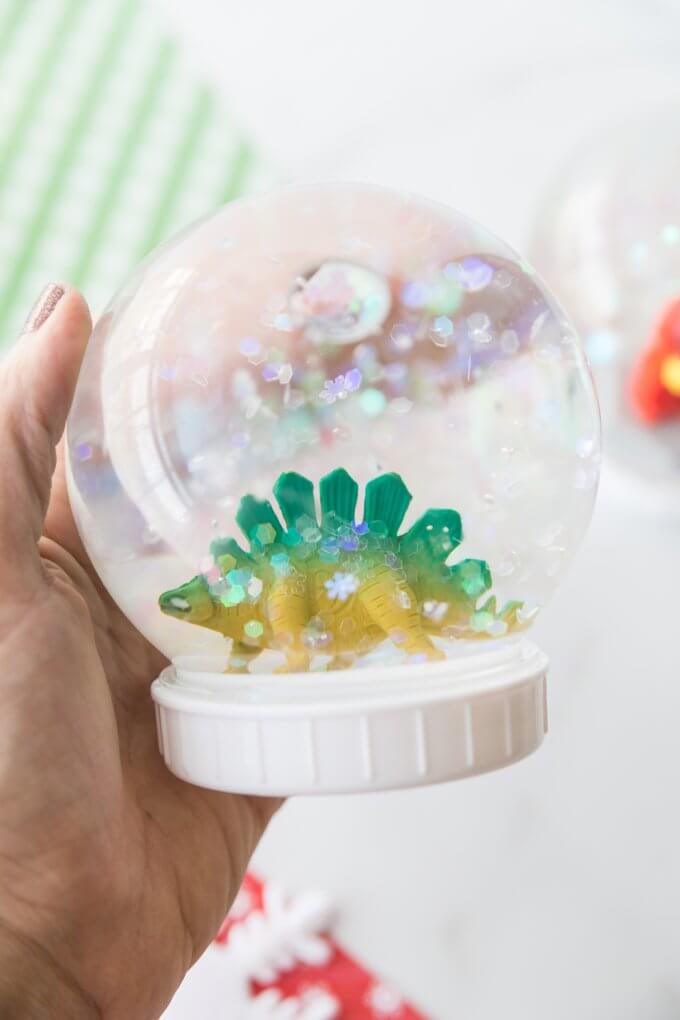 How to Make a Snow Globe via Little Bins for Little Hands
Sock Worms
Got an old pair of socks that you don't mind getting rid of? Use it to make these fun sock worms! Your child will love running around carrying this.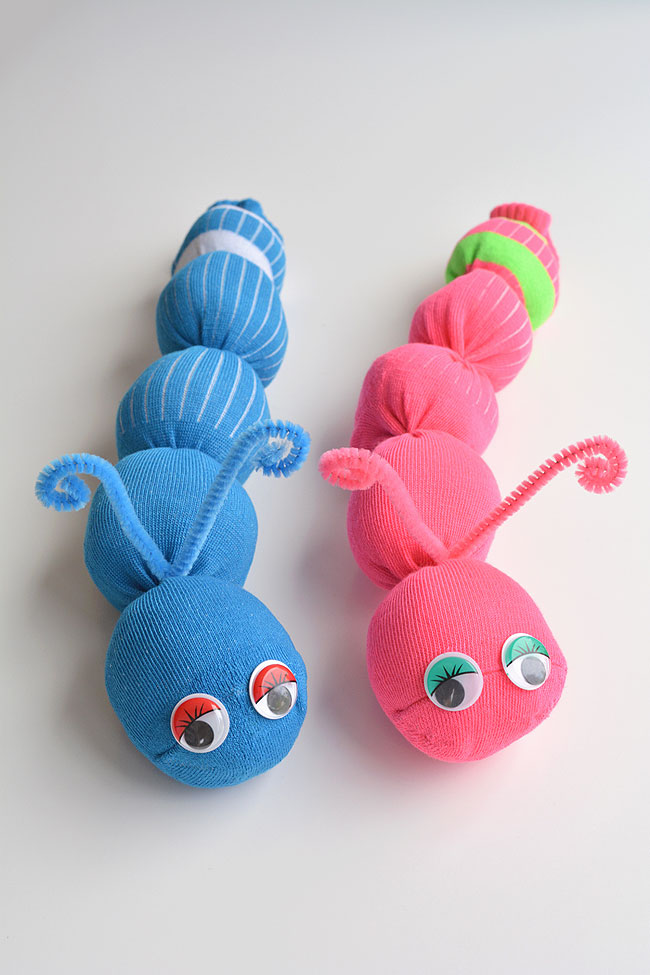 How to Make No-Sew Sock Worms via One Little Project
Fish Windsocks
Windsocks are so great because they move so beautifully in the wind. This under the sea inspired windsock would make a fabulous summer decor piece!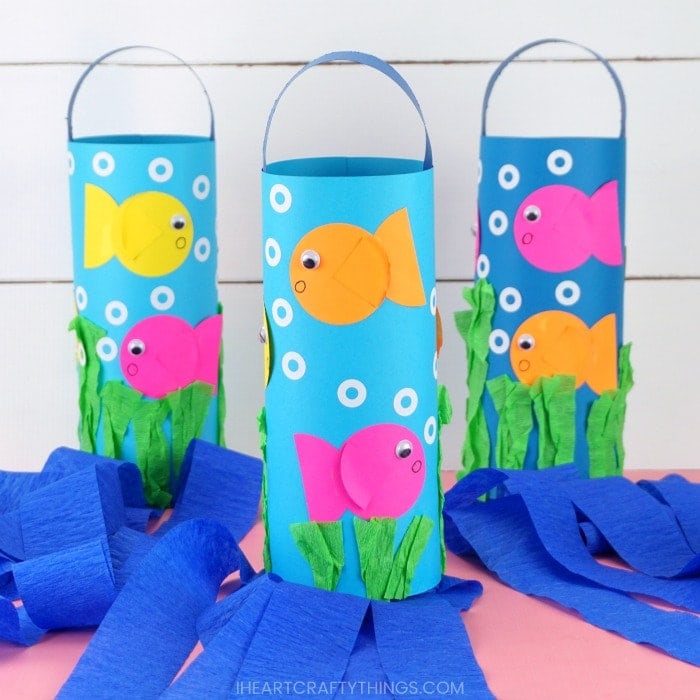 Fish Windsocks via iHeartCraftyThings
Shark Headband
This shark headband is perfect for those little ones who are obsessed with baby shark. Your kiddo will love running around with a shark head.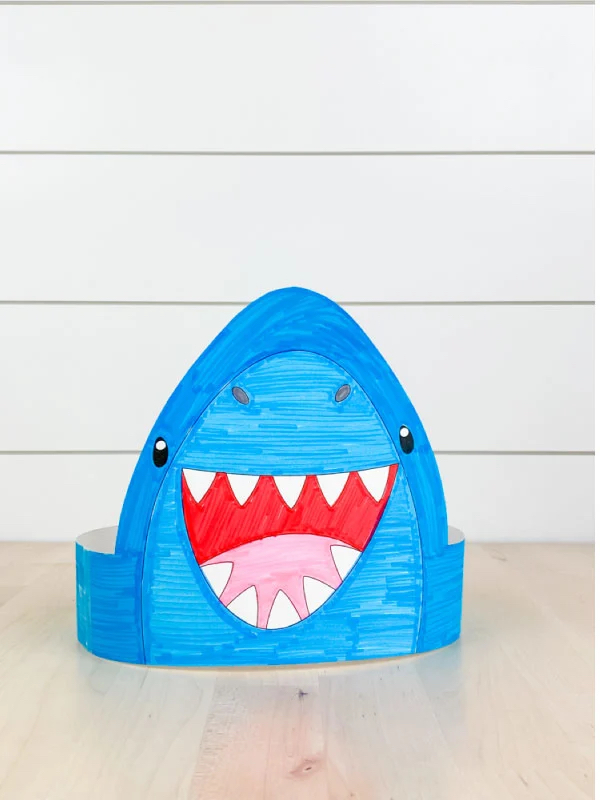 Shark Headband Craft for Kids [Free Template] via Simple Everyday Mom
Tie-Dye Baby Wipes
Make breathtaking art with the things you already have around your home. All you need are markers, rubber bands, baby wipes, and paper towels!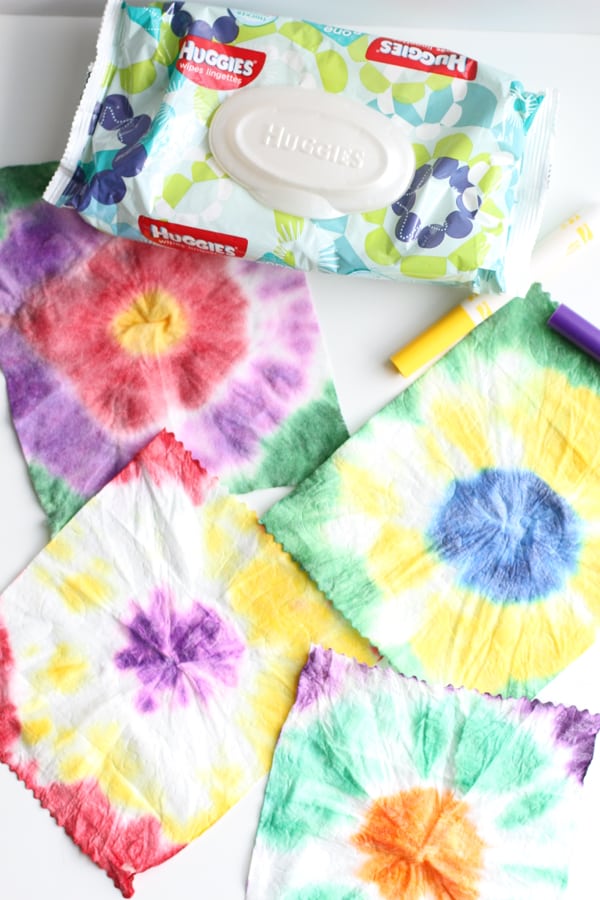 Easy Tie Dye Art with Baby Wipes via I Can Teach My Child
Colored Salt
Why spend money on sand when you can make beautiful layered salt designs?! This craft will definitely bring out the creativity in your kiddos.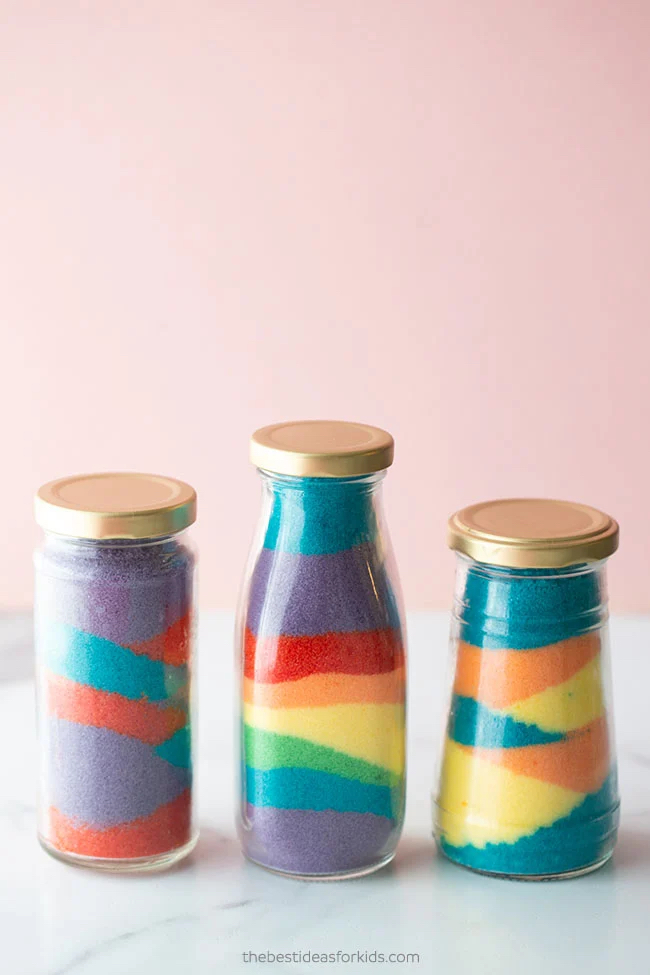 Colored Salt via The Best Ideas for Kids
More Summer Activities