Free Summer Bucket List Printable
Use this free summer bucket list printable to plan out fun summer activities with your family!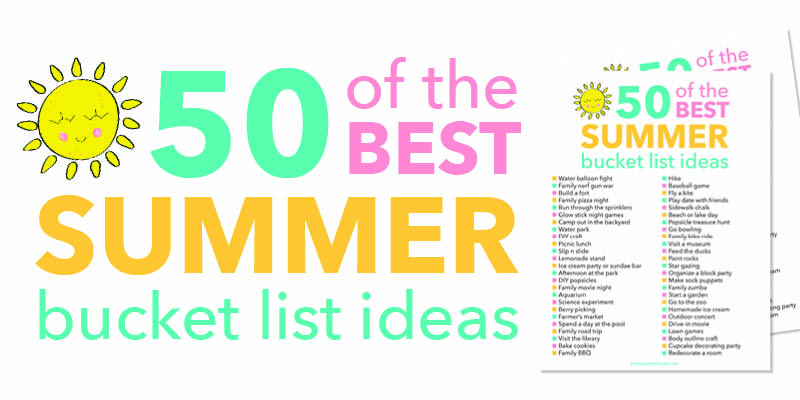 Here in the Midwest, our nice summer days are limited. And every year around this time, I start thinking of all the activities that I'm going to do that summer. And every year, August somehow rolls around and that summer bucket list is crinkled up in the desk drawer with about 2 out of the 10 things crossed of.
So this year, I decided I either need to move somewhere with 24/7 summer or actually hang that summer bucket list somewhere I can see it daily. And because I don't feel like moving anytime soon, I'm going with the list option. And lucky you, because I'm sharing the free summer bucket list printable so you can create your own too!
Summer bucket list ideas
There are so many fun bucket list ideas to choose from. For me, that's simple things like going to weekend farmer's markets, local baseball games, and maybe even taking some time off work to go on a short weekend trip. Any of the below ideas are bound to be a hit!
Water balloon fight: This is so much fun and well worth the mess.
Family nerf gun war: Your kids will absolutely love this idea!
Build a fort: Turn any room into a fortress using blankets and chairs!
Family pizza night: Kids love making and decorating their own pizza.
Run through the sprinklers: This idea is so inexpensive and your kids love it!
Glow Stick night games: Use glow sticks to play ring toss or even put some glow sticks in water bottles and go backyard bowling!
Camp out in the backyard: Don't forget to bring some card games!
Water park: This is the perfect activity for a summer day!
DIY craft: Making glitter slime is our favorite!
Picnic lunch: Don't forget to pack dessert!
Slip n Slide: Your kids will love this idea and you can make your own with a plastic sheet, some soap, and water!
Lemonade stand: Your kids will have fun being entrepreneurs!
Ice cream party or sundae bar: This idea is sure to be a hit!
Afternoon at the park: Getting outside can be so rejuvenating and the kids will love it!
DIY popsicles: Homemade popsicles are so easy and oh so delicious!
Family movie night: The whole family will love this. Don't forget the popcorn!
Aquarium: Your kids will love pointing out the sea animals they see!
Science Experiment: Your child's eyes will light up as they see this rainbow science experiment!
Berry Picking: This is so much fun for the whole family and the berries will taste delicious in an Acai bowl! Simply search online for the closest berry picking location to you.
Farmer's market: The fresh ingredients at the farmer's market are sure to leave your mouth watering.
Spend a day at the pool: There is nothing like a family pool day
Family road trip: This is especially fun with road trip games!
Visit the library: Your kids will love searching for the perfect book!
Bake cookies: These chocolate chip pudding cookies are to die for. Put the extras in bags and deliver it to the neighbors, kids will love to ring the doorbell and run.
Family BBQ– This is fun for any day of the week but especially the Fourth of July! Add in a patriotic photo booth and you've got a hit!
Hike: Hikes are a great way to forget about the stressors of life and enjoy the moment.
Baseball game: The whole family will love this! So grab your baseball hat and remember to bring a blanket to sit on, those bleachers can be hard!
Fly a kite: Kids love kites and summer is the perfect time to fly them!
Play date with friends: Kids will love seeing their friends and parents can take turns hosting!
Sidewalk chalk: Your kids will have so much fun making their own chalk!
Beach or lake day: Spending the day at the beach or lake is extremely relaxing and fun for everyone. Don't forget sunscreen!
Popsicle treasure hunt: This modified version of a scavenger hunt is sure to be a hit!
Go bowling: Create some teams and bring a trophy for extra fun!
Family bike ride: This is a lot of fun and great exercise for the entire family.
Visit a museum: This can be a fun interactive learning experience for the whole family!
Feed the ducks: Kids love feeding ducks. Don't forget the bread!
Paint rocks: Take an adventure outside to find the perfect rock!
Star gazing: This can be especially breathtaking if you drive out of the city. You can even download an app on your phone to see the constellations!
Organize a block party: This is a great way to meet your neighbors!
Make sock puppets: Sit back and watch your kids get creative!
Family zumba: Don't forget your camera – this is sure to get crazy!
Start a garden: Your kids will love taking care of a plant.
Go to the zoo: Your little ones will love seeing all the animals!
Homemade ice cream: Not only is homemade ice cream delicious but your kids will love helping you make it!
Outdoor Concert: Bring some blankets and enjoy the music!
Drive-in movie: Watching a movie from the car can be so much fun! Make the night extra special by picking up some favorite movie treats beforehand.
Lawn Games: Try this giant Pick-up Sticks game!
Body outline craft: Use a paper banner and trace your child's outline while they are lying down. They will have so much fun decorating the paper version of themselves!
Cupcake decorating party: Invite some friends over decorate some cupcakes! Try this easy and delicious vanilla cupcake recipe.
Redecorate a room: Changing things up around the house can give you a fresh start and be a great project for the family!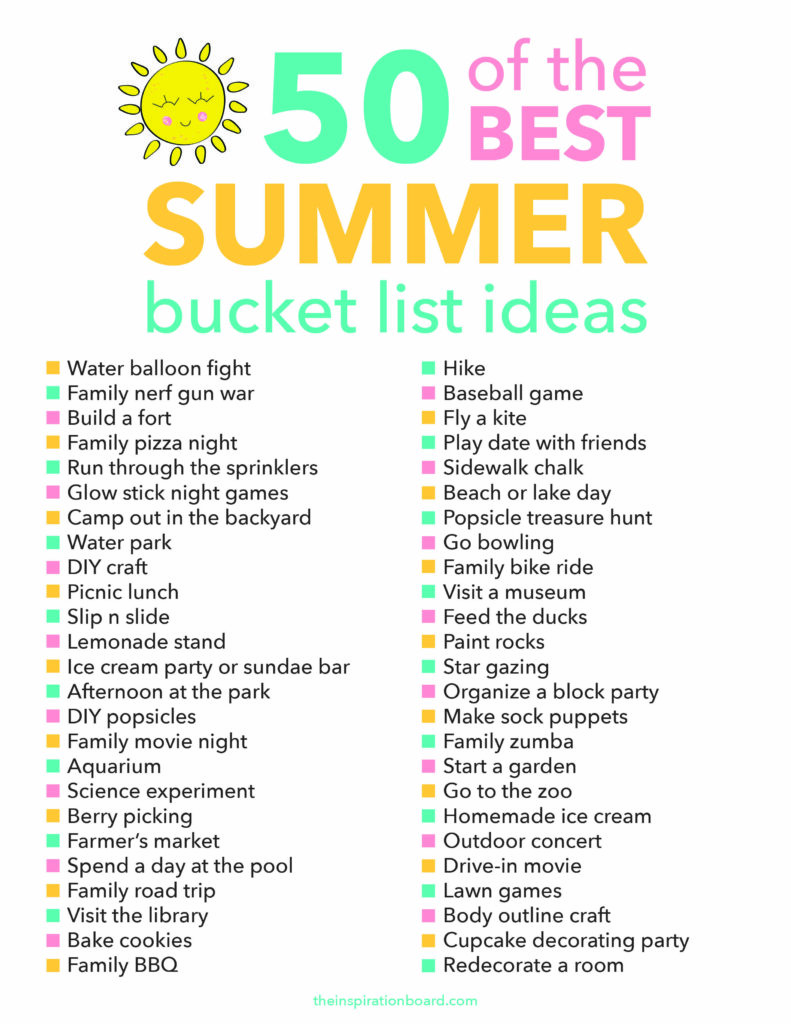 Free bucket list template
DOWNLOAD the free printable template below.
PRINT it out on 8.5×11″ paper.
FILL IN each circle with a fun activity you would like to do this summer.
HANG the bucket list on the fridge or pair it with your favorite clipboard.
CROSS OFF each completed acitivity with a marker or sticker. I used simple gold stickers I had laying around and drew on a check mark with a Sharpie.
ENJOY the special time spent with your family!
TIP: You can even laminate the summer bucket list and write on it with dry erase markers. That way you can re-use it each year!
More fun activities for summer: