Easy Homemade Christmas Ornaments
Easy Homemade Christmas Ornaments…creative ideas that are inexpensive, simple, and absolutely gorgeous! Designs that will add magic to your holiday season.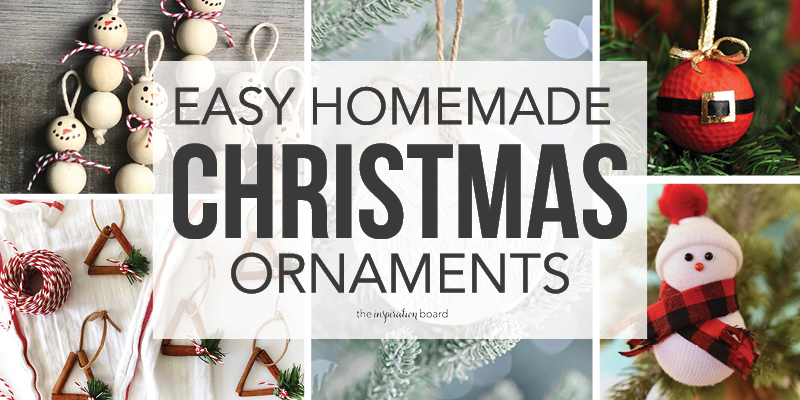 DIY Christmas Ornaments
There's something about the holiday season that just makes me feel extra crafty. From decorating a gingerbread house to picking out the best bow for my wrapped present, I love it all! But above all my favorite part of Christmas has got to be putting up the Christmas tree. When family comes together, united in the purpose of decorating a gorgeous tree, magic is created.
This magic is partly due to the reliving of memories when holding a priceless homemade ornament. DIY Christmas tree ornaments each carry a story. Whether you made it with your children, with close friends, or just by yourself, these ornaments carry a special significance of hard work and creativity. While there are many beautiful manufactured ornaments, the homemade ones sure are remarkable! Below I have compiled 20 homemade ornaments that are easy to make and look amazing. Have fun crafting!
Salt Dough
This salt dough ornament is just breathtaking! I love the stamped pattern and the brown twine gives it a cute farmhouse feel.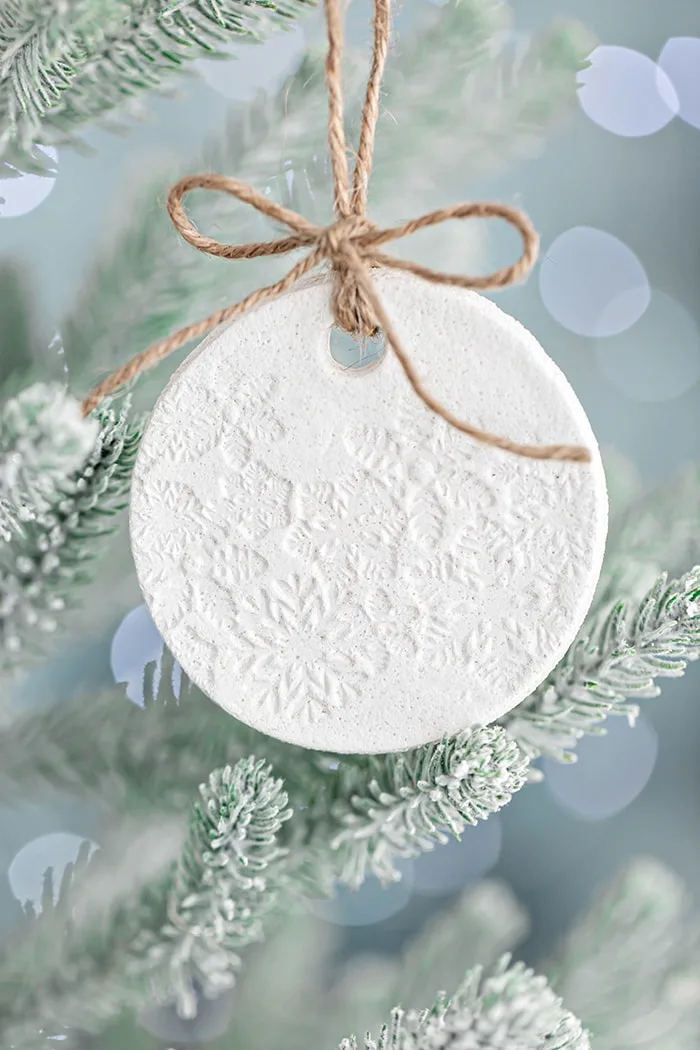 Salt Dough Ornaments via Good Life Eats
Cinnamon Sticks
Who knew you could make things with cinnamon sticks?! These ornaments are so simple and look amazing hanging up on the tree.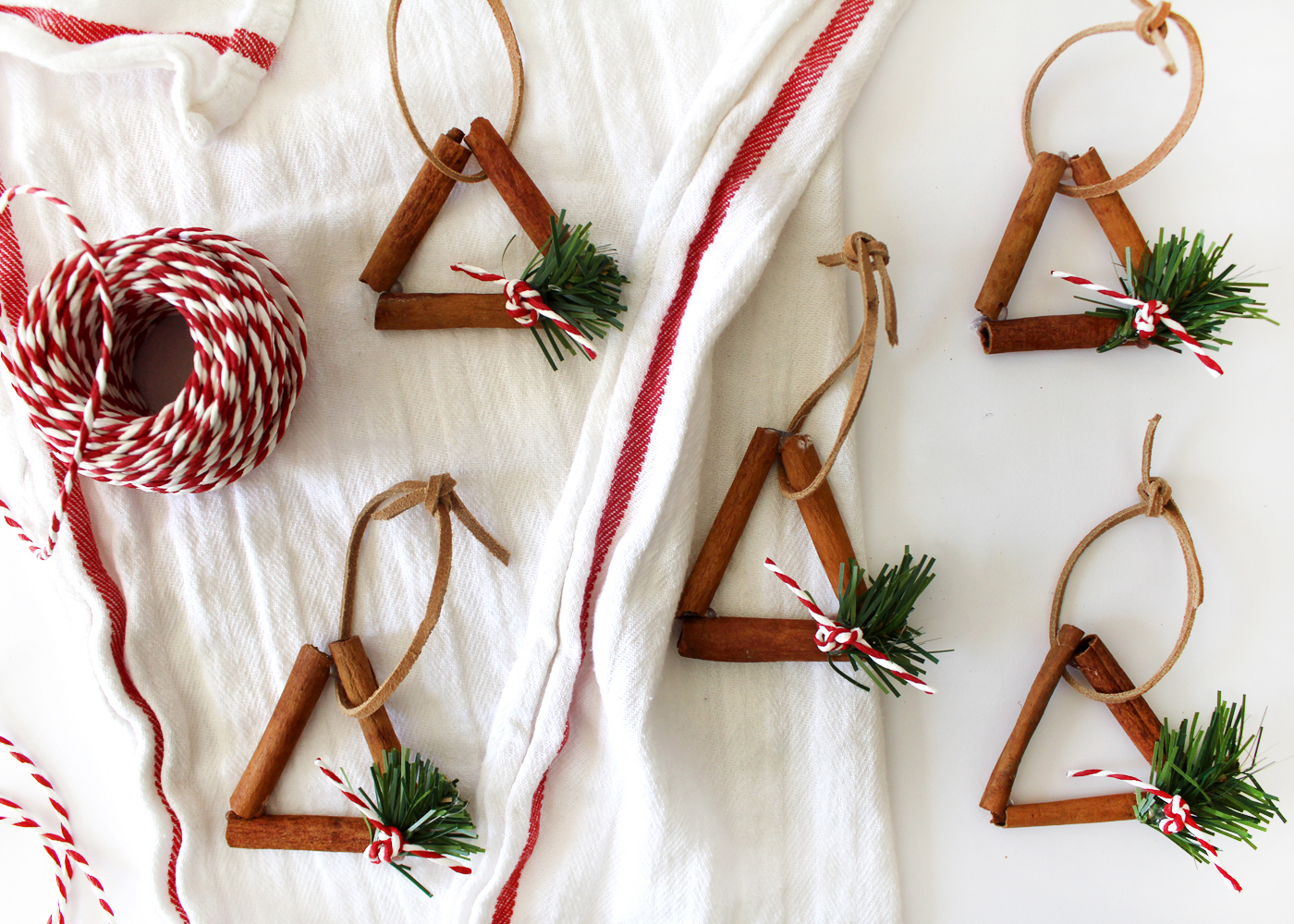 Cinnamon Ornaments via Tag & Tibby
Sweater Bulb
If you are feeling extra crafty then these upcycled sweater bulb ornaments are for you! I am loving all of the details that have been added on.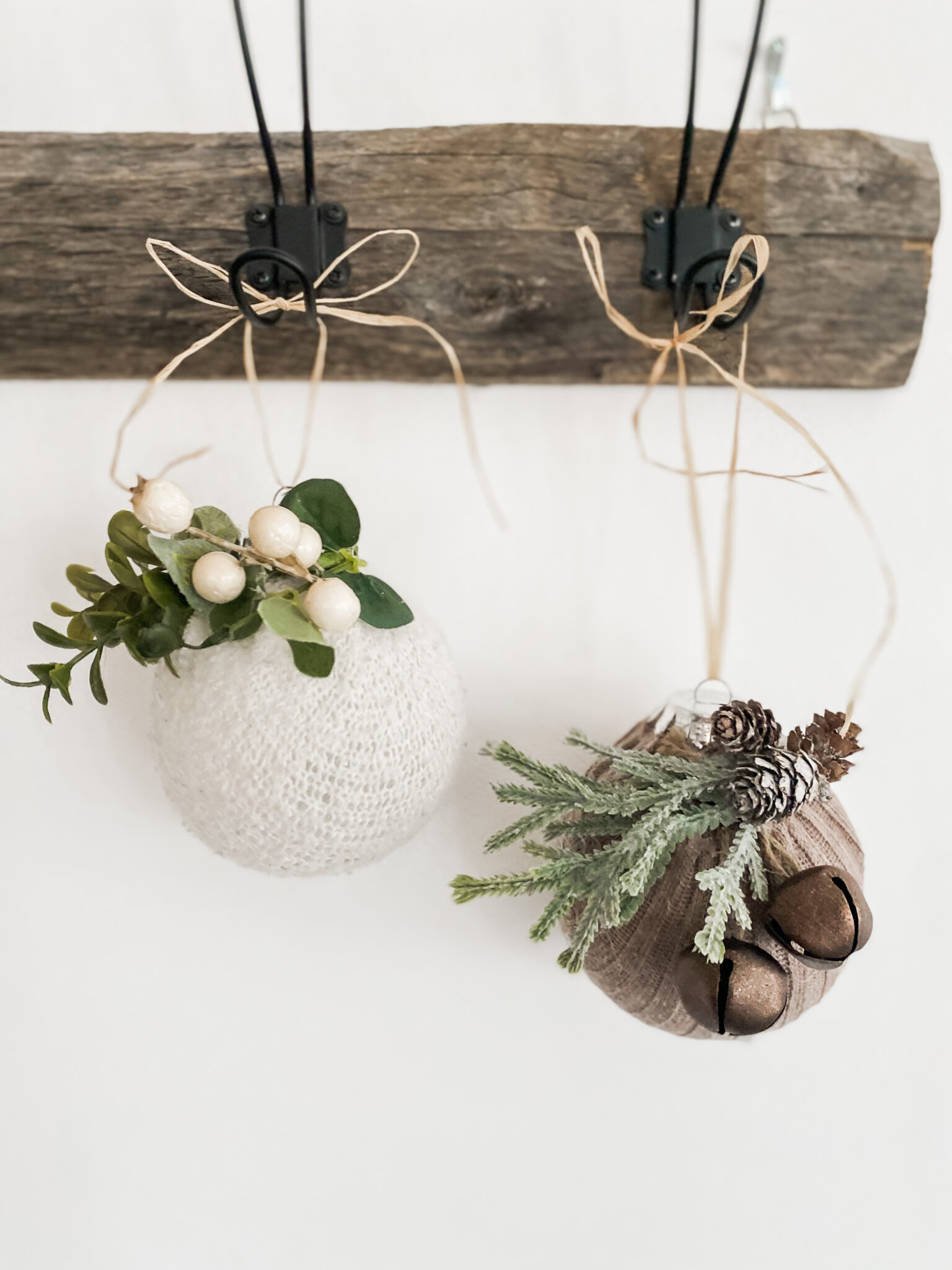 Easy DIY Upcycled Sweater Christmas Ornament via A Hundred Affections
Marble Star
Create a gorgeous marbled effect on your ornament by dipping it in some nail polish! Click on the link below to follow step-by-step instructions.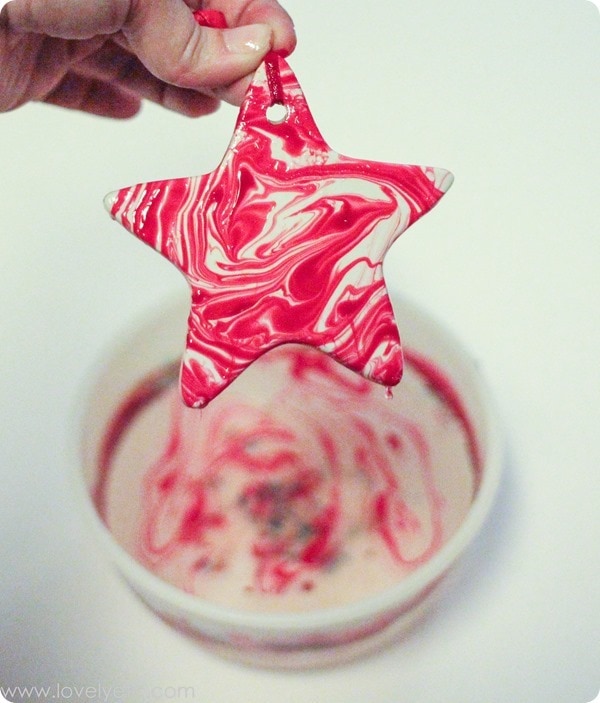 Gorgeous Marbled Ornaments via Lovelyetc.
Hot Cocoa Mix
I am always a fan when it comes to displaying yummy treats! These hot cocoa mix bulbs are just darling and would also make amazing holiday gifts.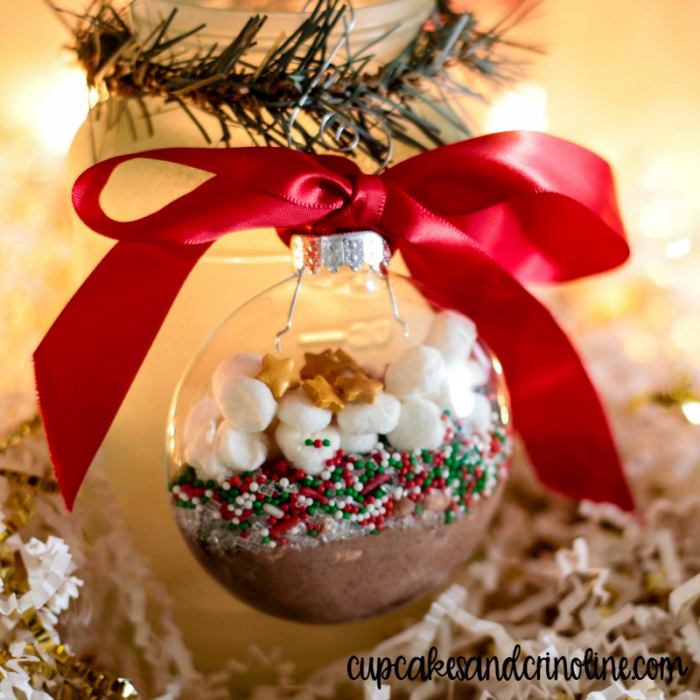 Hot Cocoa Mix Christmas Ornament via The How to Home
Cookie Cutters
Cookie Cutters can have multiple purposes during the holidays. These cookie cutter ornaments are too cute and the bells in the middle really spruce them up.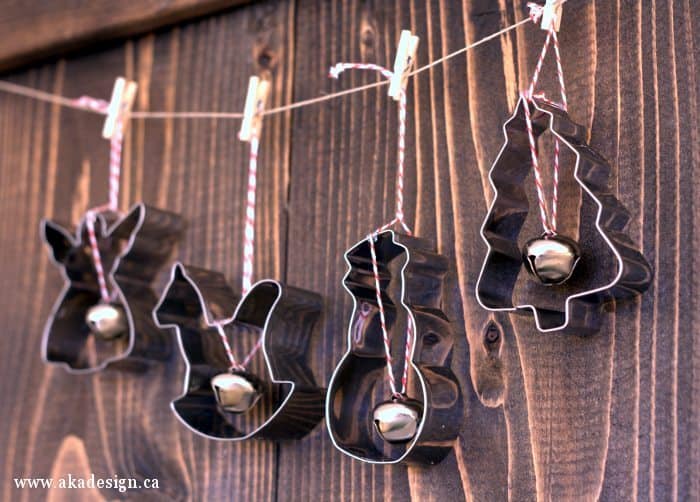 Cookie Cutter Christmas Ornaments via Home Made Lovely
Snowglobe
Everyone loves snowglobes, especially around Christmas time. These mini tree snowglobes are so much fun to put together and look so dreamy.
DIY Bottlebrush Christmas Tree Snowglobe via 2 Bees in a Pod
Snowman Wood Slice
Have some circular extra wood slices hanging around? Try making a cute snowman! These are simple to make and look great. Don't forget the darling bow!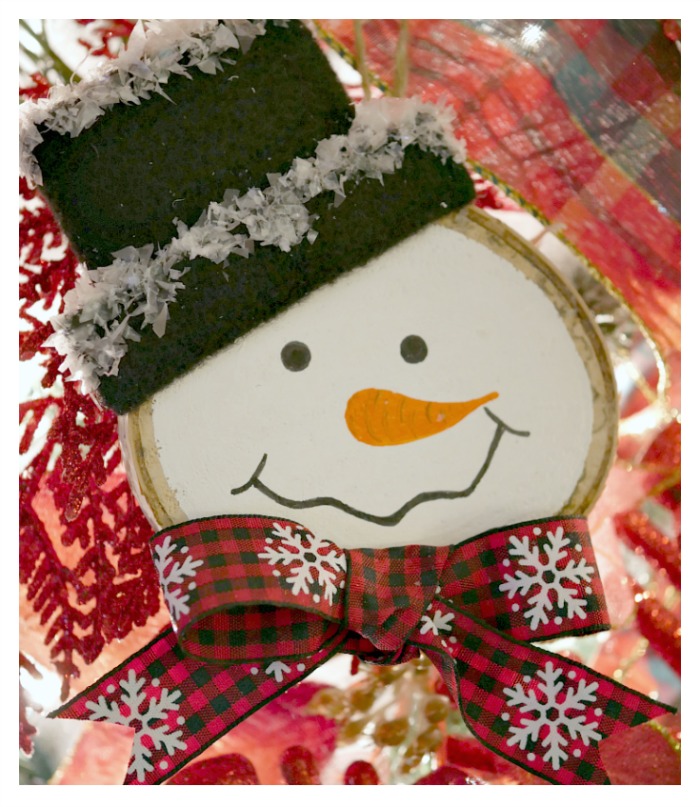 Snowman Wood Slice Ornaments via My Pinterventures
Decoupage
Decoupage consists of glueing things together to create a lovely design. In this case, material is being stuck onto a bulb by using mod podge. I love the finished effect!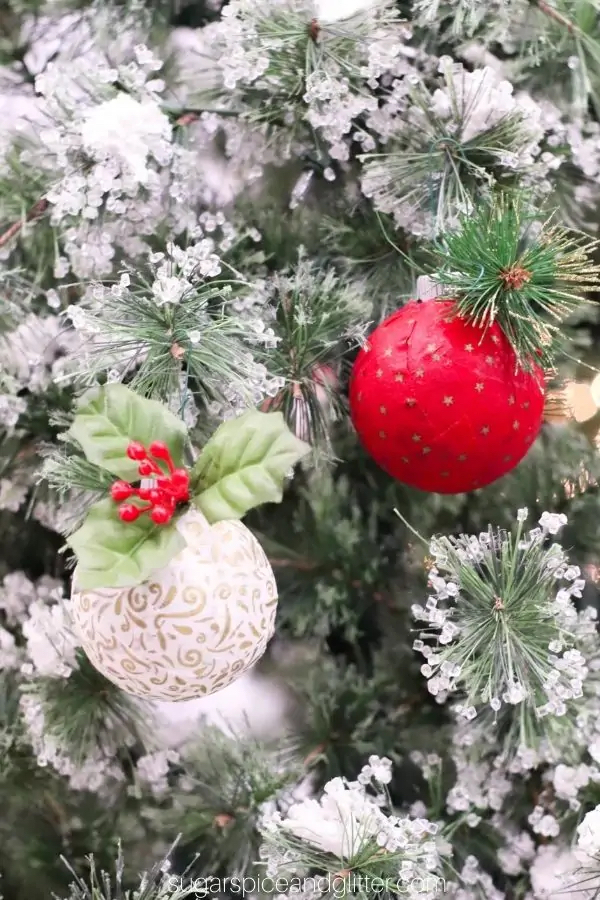 Decoupage Christmas Ornaments via Sugar, Spice, and Glitter
Rustic Bell
What can be more classic then a Christmas bell? These rustic bells look so great and you can pick any ribbon you want to customize them.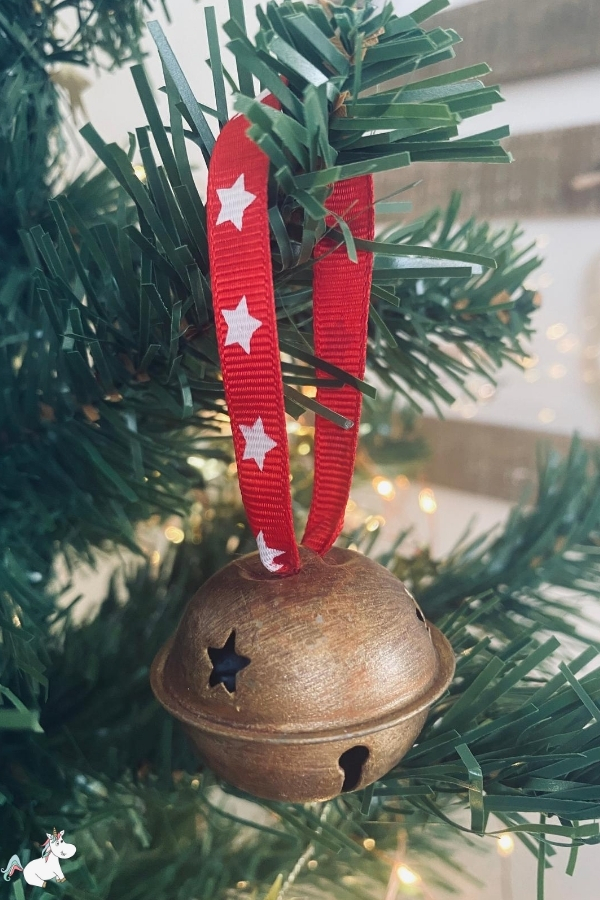 Rustic DIY Christmas Bells via The Mummy Front
Cinnamon Stick Tree
I am absolutely in love with these cinnamon stick trees. The darling fabric and adorable stars really help them simple craft come together.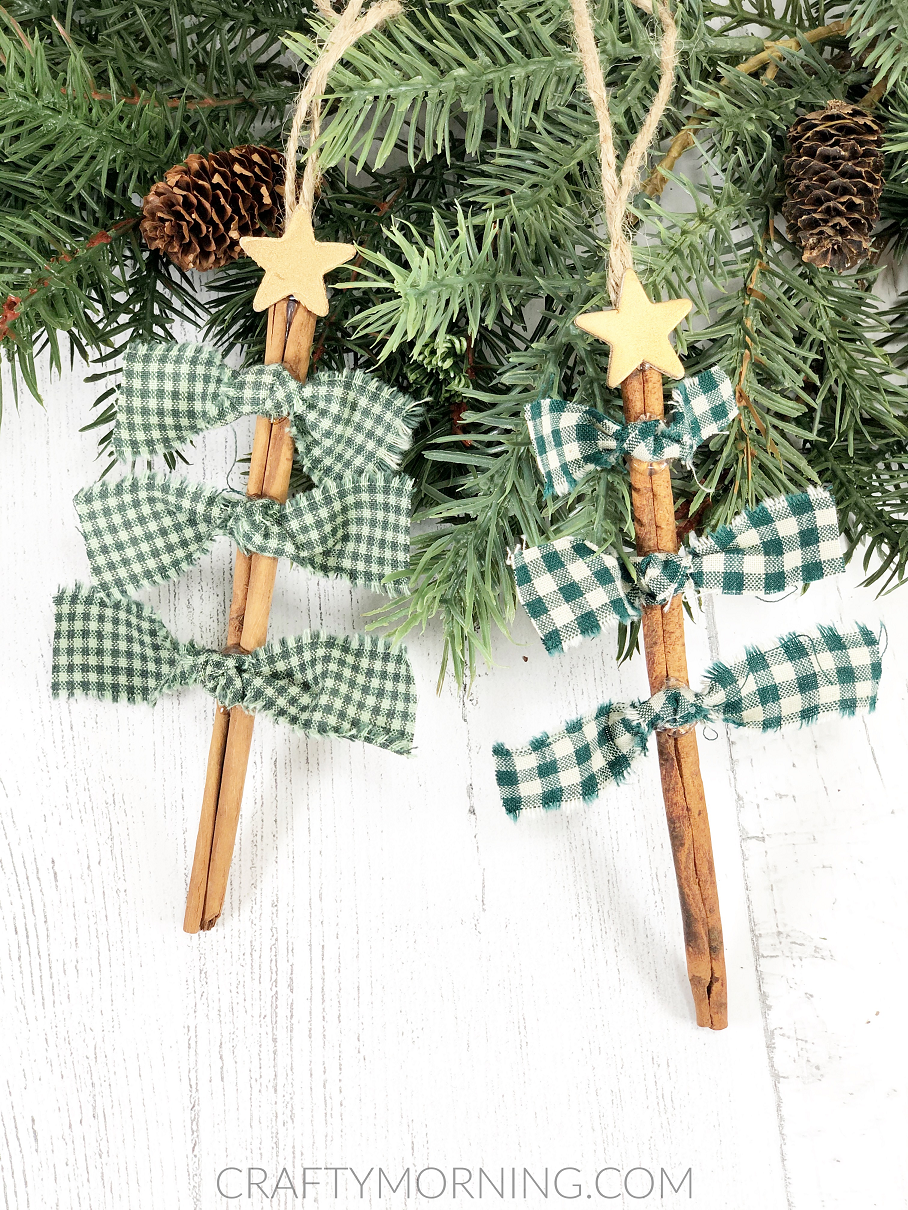 Knotted Cinnamon Stick Tree Ornament via Crafty Morning
Golf Ball Santa Belly
If you have golf balls laying around the house then why not repurpose some?! These Santa belly golf ball ornaments are so creative.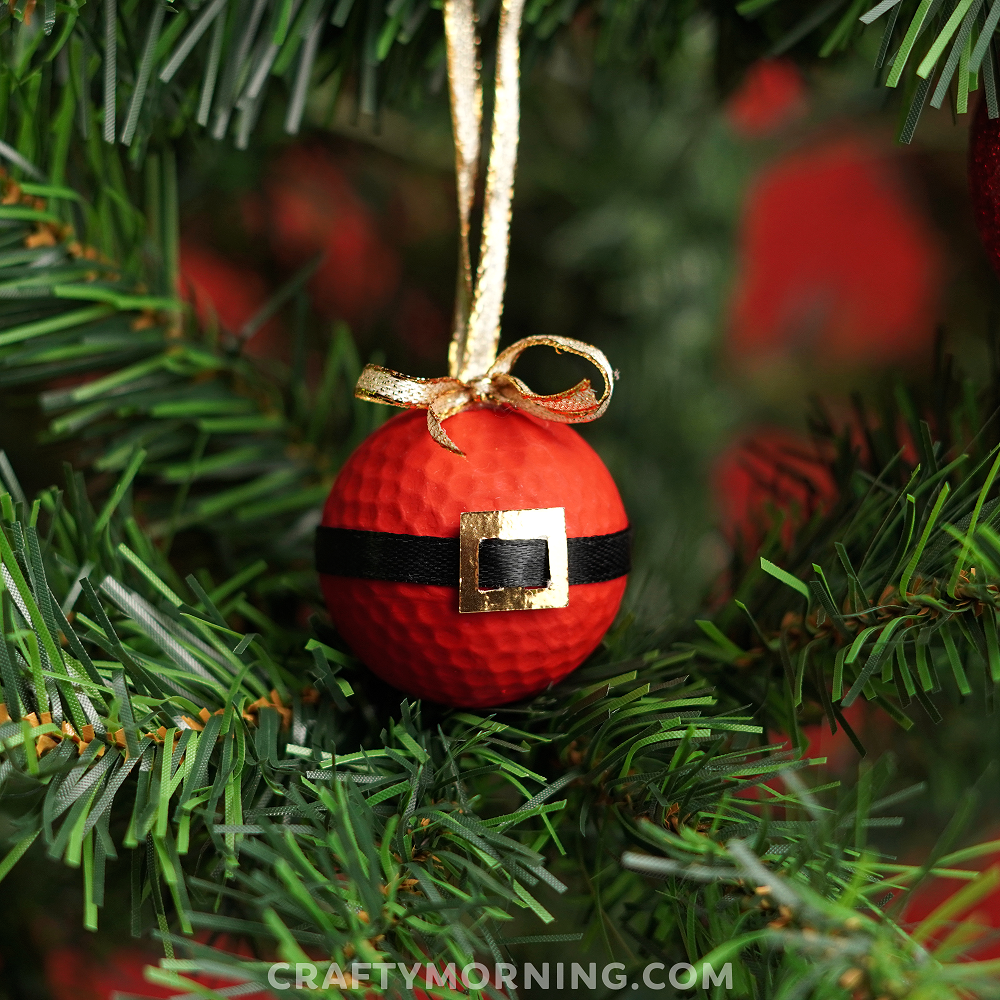 Golf Ball Santa Belly Ornament via Crafty Morning
Baby Sock Snowman
I cannot believe that you can make this adorable snowman in just 5 minutes. This has to be one of my favorites and it's so affordable and simple.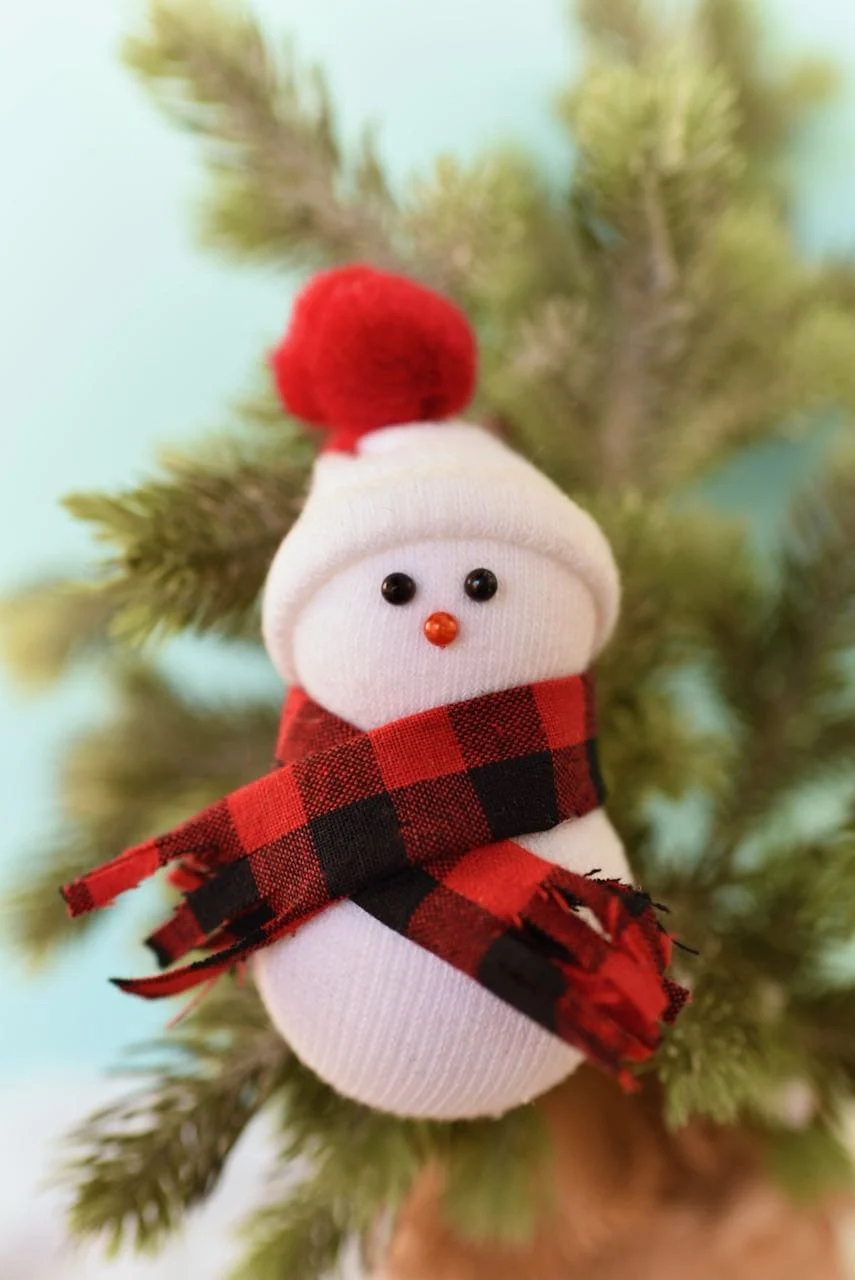 5-Minute DIY Snowman Ornaments via Make Life Lovely
Plastic Bulbs
Plastic bulbs are definitely a staple when it comes to making your own ornaments. You can do so many things with them. Here's a sparkly bulb that I just think is so beautiful!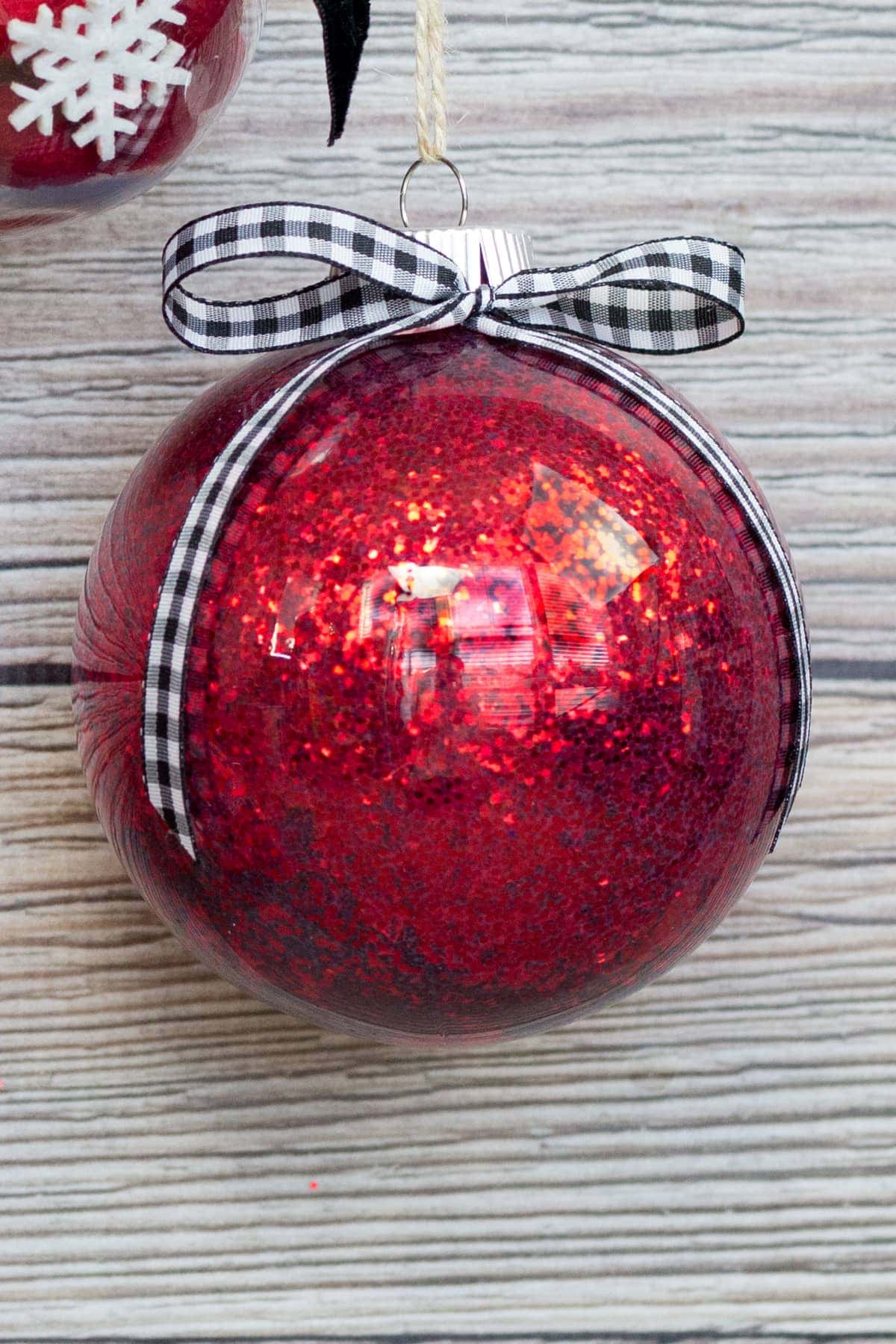 Easy Ways to Decorate Clear Plastic Ornaments via Sweet Red Poppy
Christmas Lights
You can never have too many Christmas lights! These stunning light ornaments are simple to put together and can be customized by adding any embellishments you choose.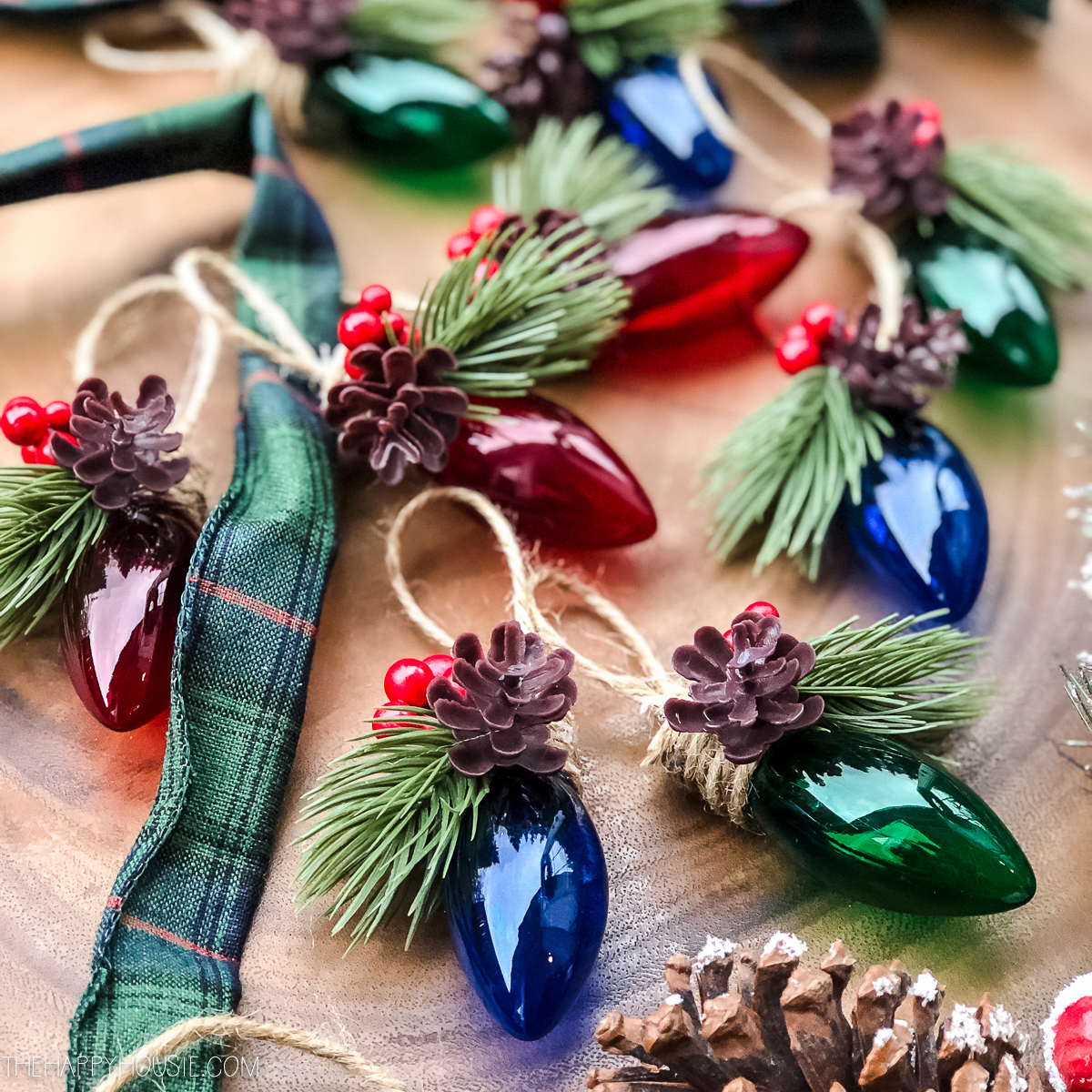 DIY Christmas Light Tree Ornament via The Happy Housie
Wood Bead Snowman
These wood bead snowman are so adorable that they could make anyone smile. These are definitely worth creating this year.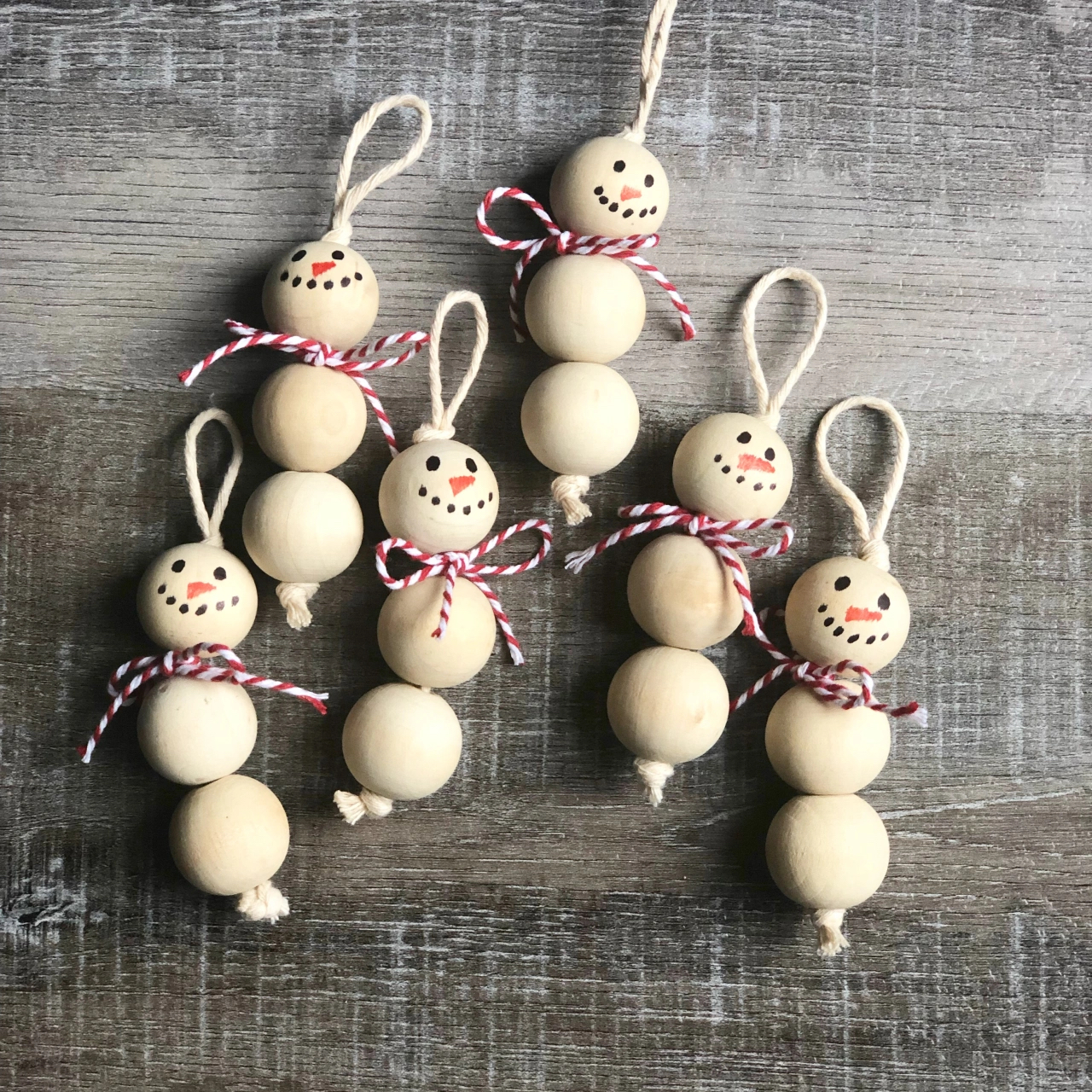 Wood Bead Snowman Ornaments via Creating Me
Wooden Snowman
Can you believe that you can create your own cute snowman simply by using a small rectangular piece of wood! I love the googly eyes and scarves.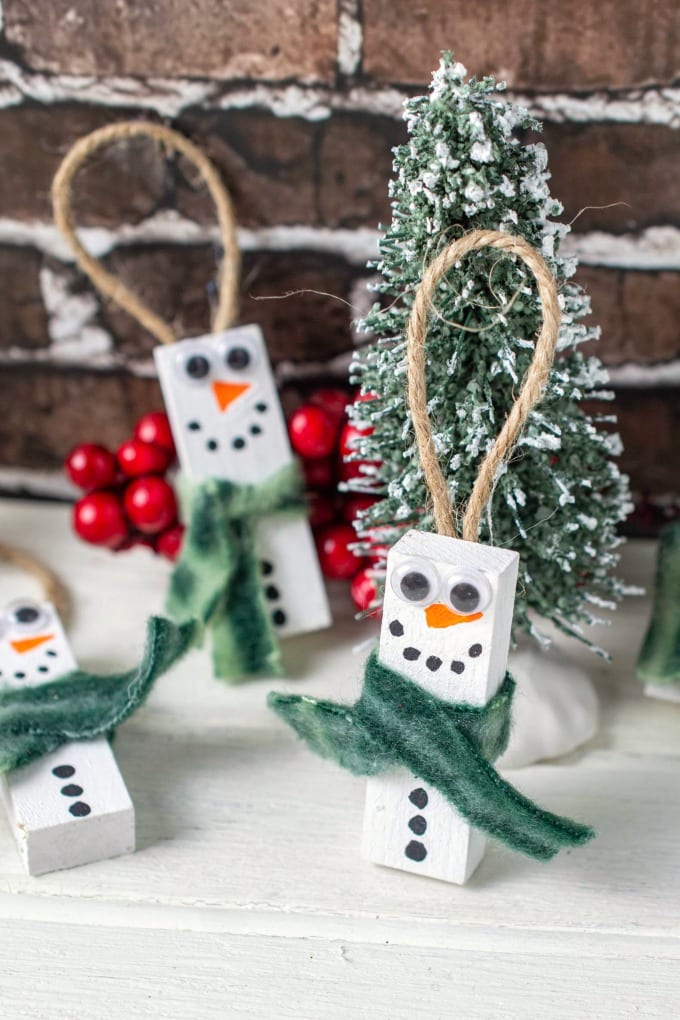 Wooden Snowman Ornaments via Juggling Act Mama
Fluffy Sheep
With just a little styrofoam and some sculpting clay you can have your very own fluffy sheep! These are just too cute and kids will love them.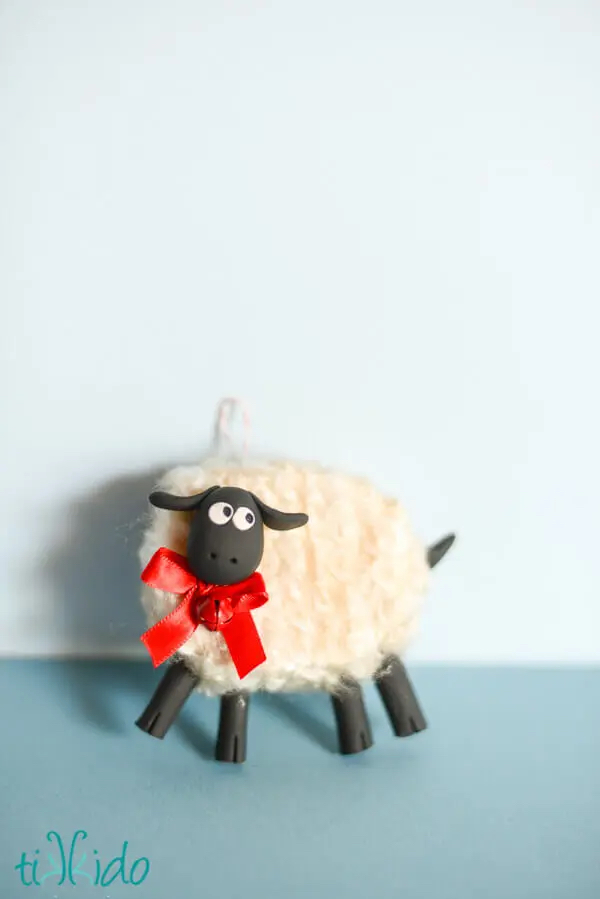 Fluffy Friendly Sheep Christmas Ornament via Tikkido
Sweater Mittens
These sweater mitten ornaments require no knitting and are just so darling! These will definitely make a wonderful addition to your tree this year.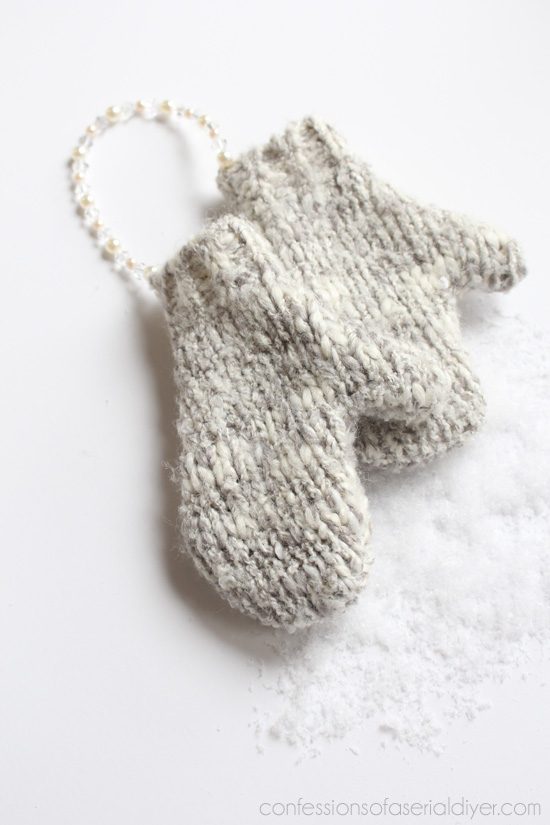 DIY Mitten Ornament via Confessions of a Serial DIYER
Clothespin Nativity
Celebrate the true meaning of Christmas by making your very own nativity. These clothespin nativities are so unique and will definitely bring some joy into your season.
DIY Clothespin Nativity Ornament via It's All Good
More Christmas Activities