Fun Family Christmas Games
Fun Family Christmas Games…hilarious group activities that are perfect for your Christmas festivities this year. Inexpensive ideas with an easy set up.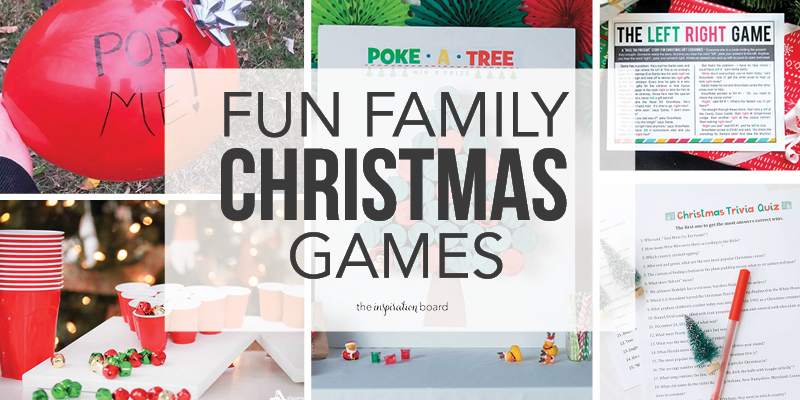 Family Christmas Games
Christmas is a time to come together and celebrate all the good in the world. In my family, Christmas Eve is the day when everyone get's together to catch up and spend quality time with one another. It is so nice to strengthen relationships with extended family members that I don't get to see often. These holiday parties keep us close and in touch with one another's busy lives. Games in particular help break the ice and create hilarious lasting memories for all involved.
In my opinion, group games are a staple at any family Christmas gathering. They unite, bring joy, and are inexpensive and very simple to set up. Below I have put together a list of my favorite family games that are perfect for playing at your Christmas festivities this year. Just be prepared to laugh a lot because some of these are pretty hilarious!
Jingle Bell Toss
Jingle Bell Toss is such a fun and festive game that families will love. It is also inexpensive and easy to set up making this a great activity for the holidays!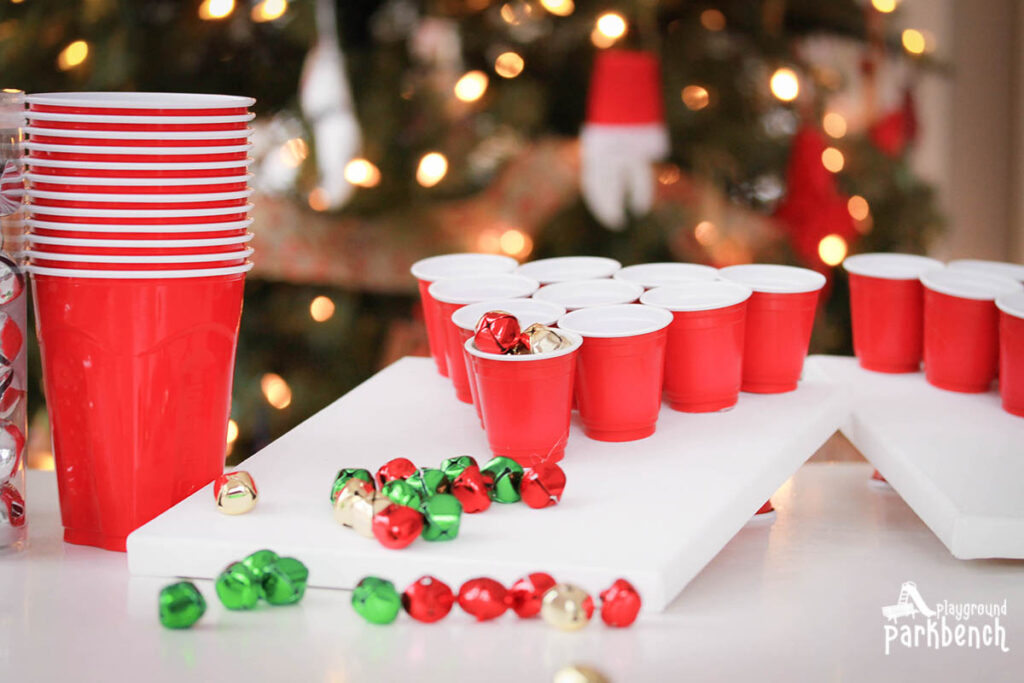 5 Ways to Play Jingle Bell Toss via Playground Parkbench
Don't Eat Pete
Don't Eat Pete is one game that will never get old. Kids love the mystery of finding out who Pete is and eating candy along the way. Make this one a little more festive with some Christmas M&Ms.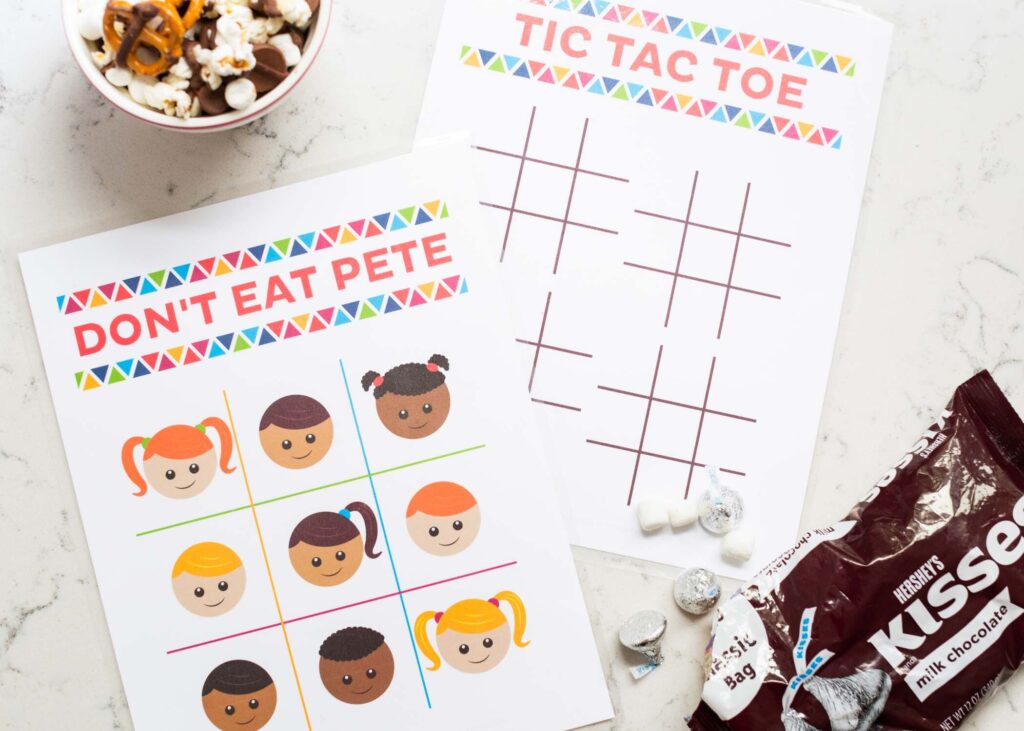 Left Right Game
The Left Right Game makes exchanging gifts a blast! Simply read this story and every time it says left everyone passes their gift to the left, etc.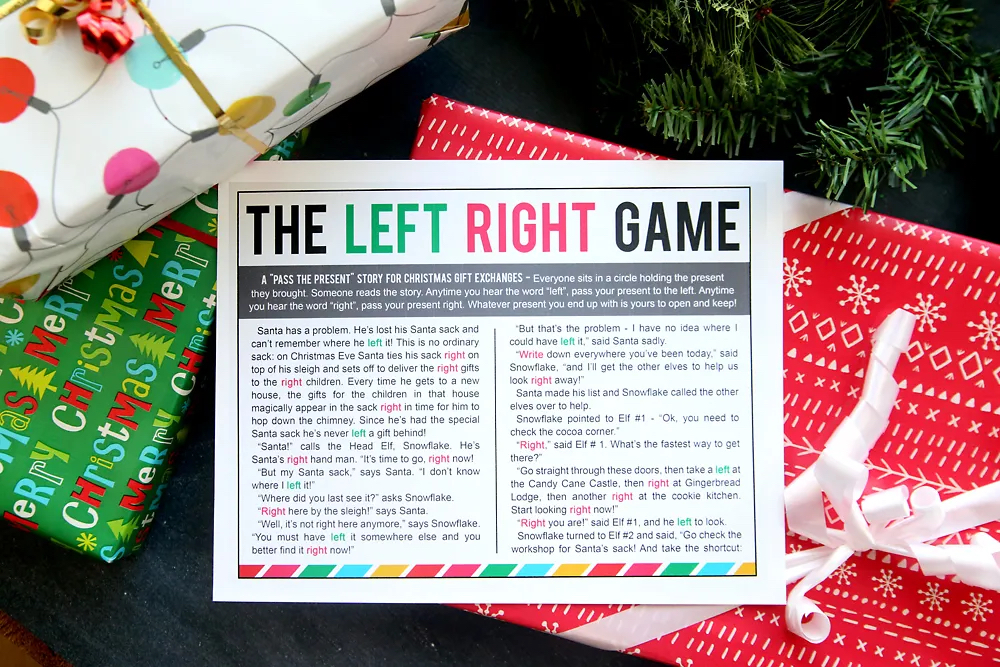 The Christmas Right Left Game via It's Always Autumn
Hallmark Movie Bingo
Here's an idea for the Hallmark movie lovers in your life! Find the hilarious similarities and win a bingo all while watching a movie.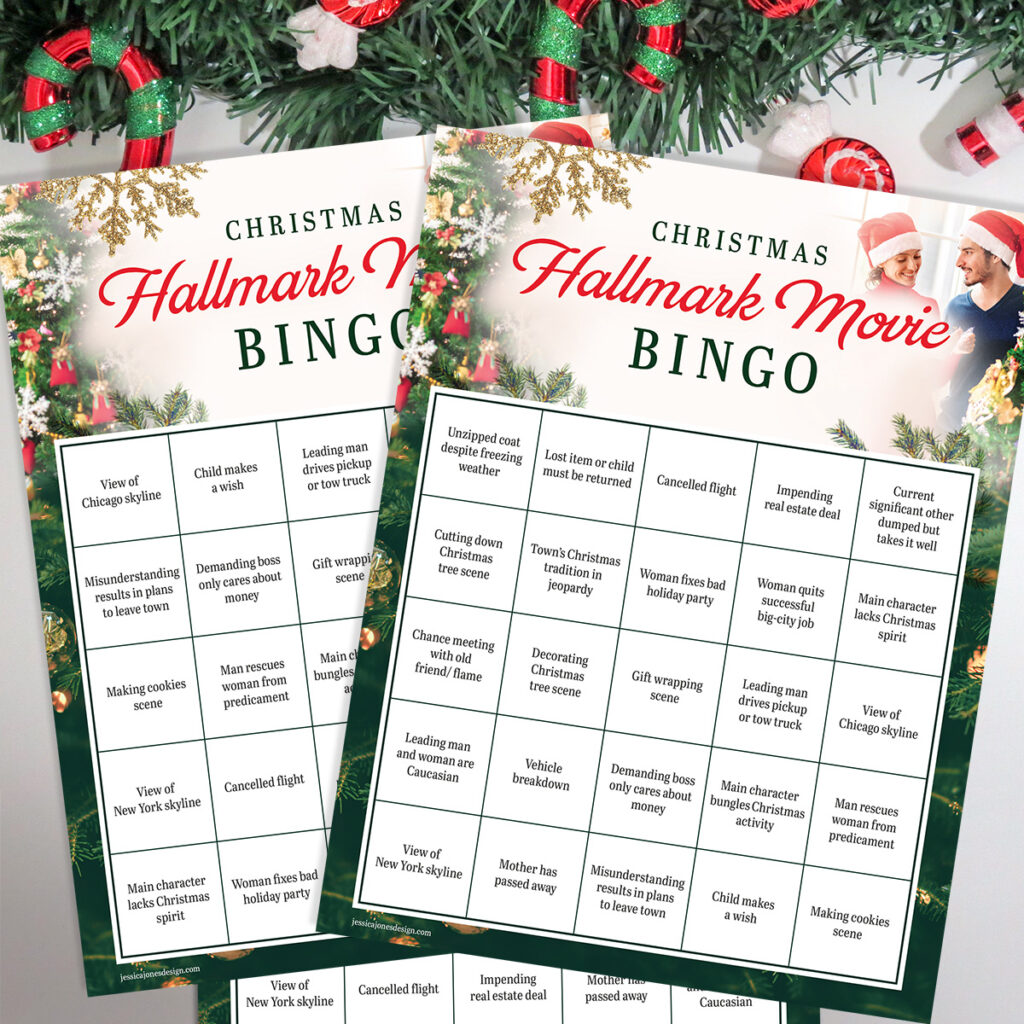 Christmas Hallmark Movie Bingo via Jessica Jones
Poke-A-Tree
This Poke-A-Tree is filled with fun little prizes. Punch or poke a section to discover what is underneath. Kids will love this one!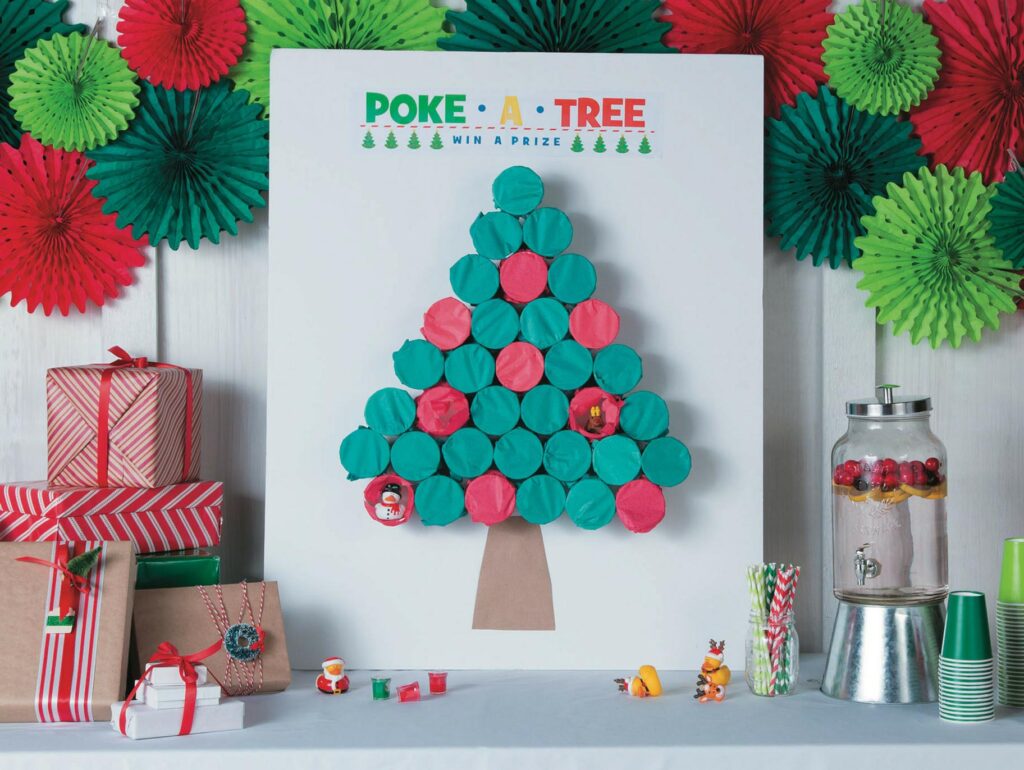 Poke-A-Tree Game Idea via Oriental Trading
Saran Wrap Ball
The Saran Wrap Ball game is one of my all time favorites. Everyone sits in a circle and rolls the dice until they get doubles, at which point they get to try and unwrap the ball to get a prize.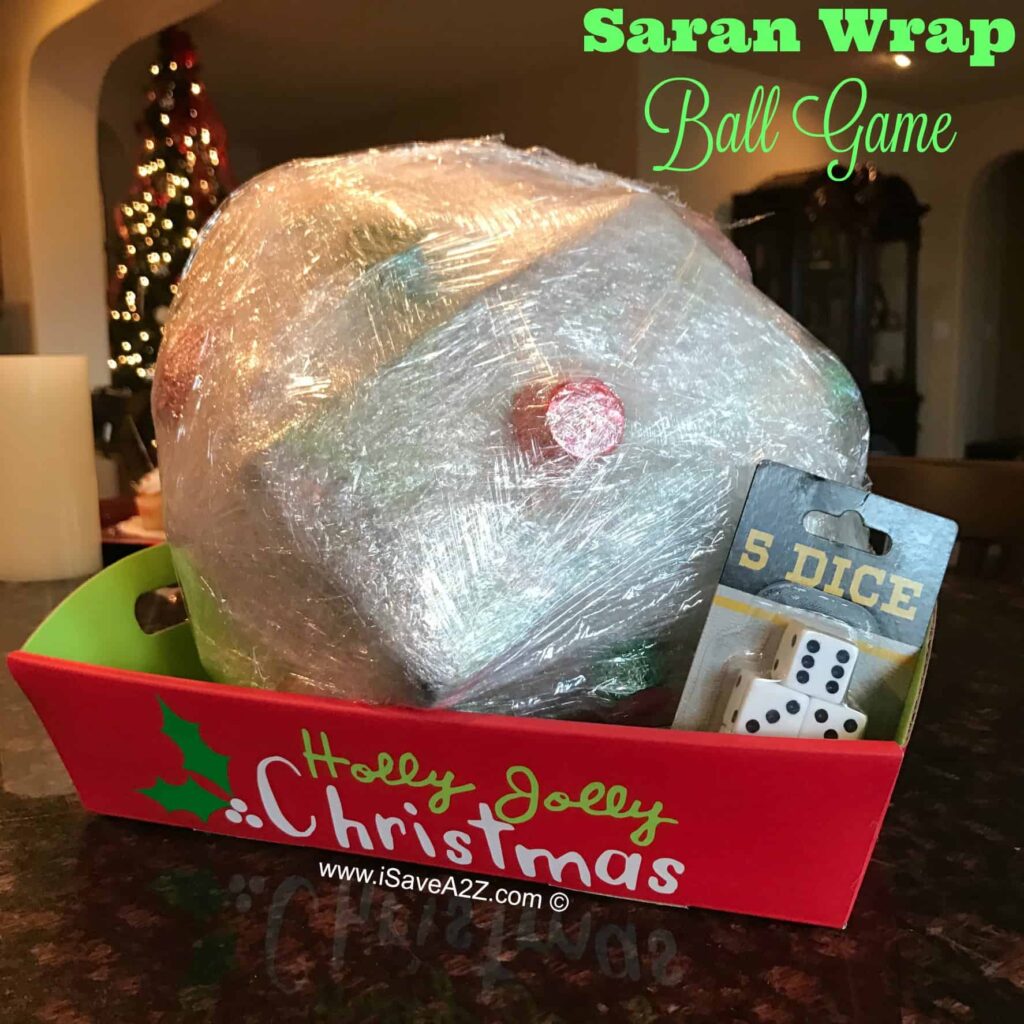 Saran Wrap Ball Game via ¡SaveAtoZ
Christmas Emoji Game
This special Christmas Movie Emoji Game will get all your teenagers excited to participate. It is a fun twist on a classic guessing game.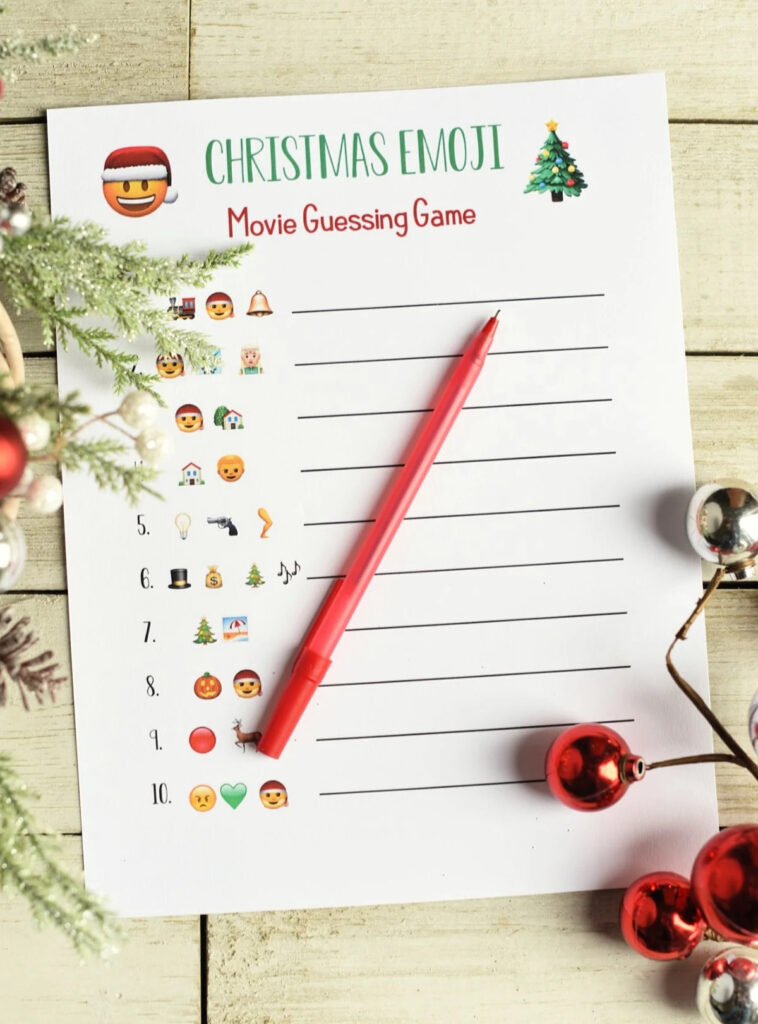 Emoji Christmas Party Games via Crazy Little Projects
Trivia Quiz
Are you a trivia loving family? Try this festive Christmas trivia quiz and see how much you know about everything Christmas.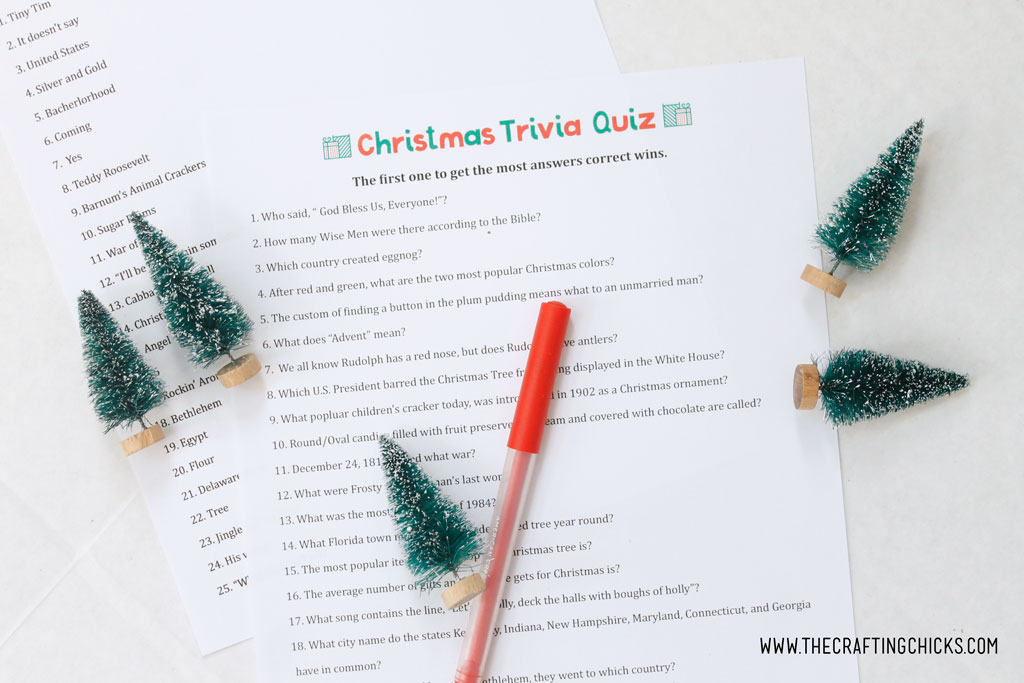 Christmas Trivia Quiz via The Crafting Chicks
Family Fued
Set up a hilarious and competitive Family Feud game for your family this Christmas. Click on the link below for great questions and answers.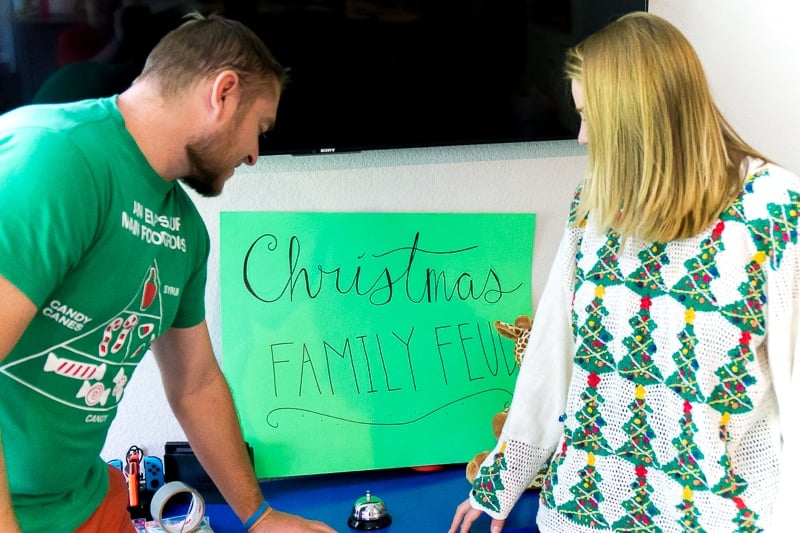 Christmas Family Feud via Play Party Plan
Paper Plate Game
I tried this game with my own family last year and everyone had so much fun! But beware, it isn't easy drawing pictures on the the top of your head.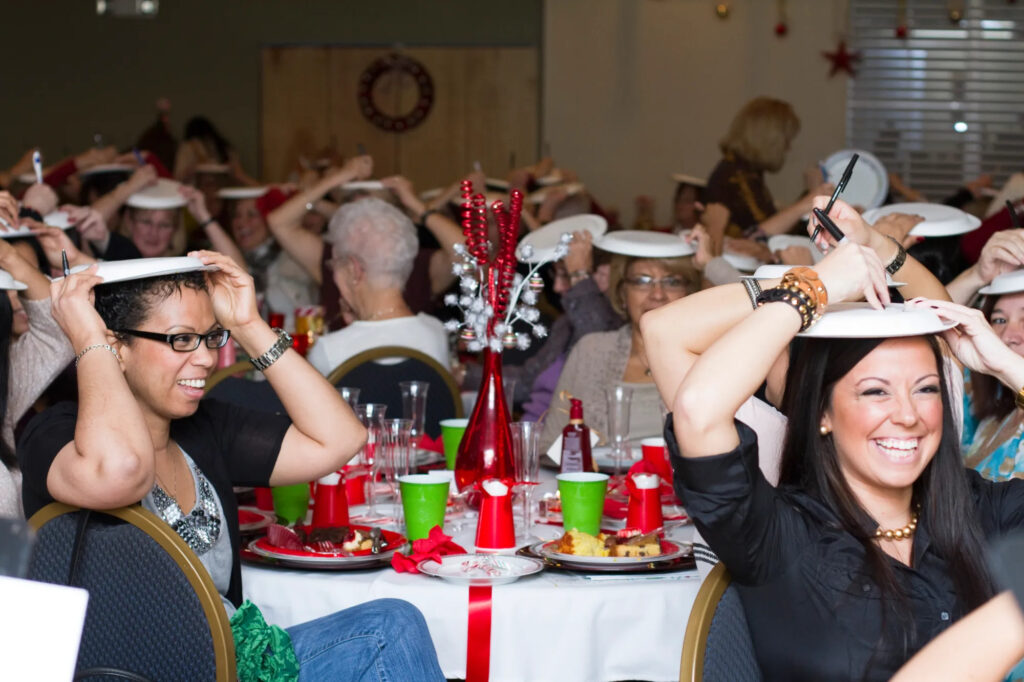 A Super Fun Christmas Game via Happy Home Fairy
Pop Me
This game is very self explanatory and kids will love it! Players hunt for the balloons and pop them to collect the attached bows. Whoever has the most bows wins.
Pop Me via Get Your Holiday On
Candy Cane Game
Race across the yard on these cute DIY cardboard character platforms. This is a great idea for families with a lot of kids.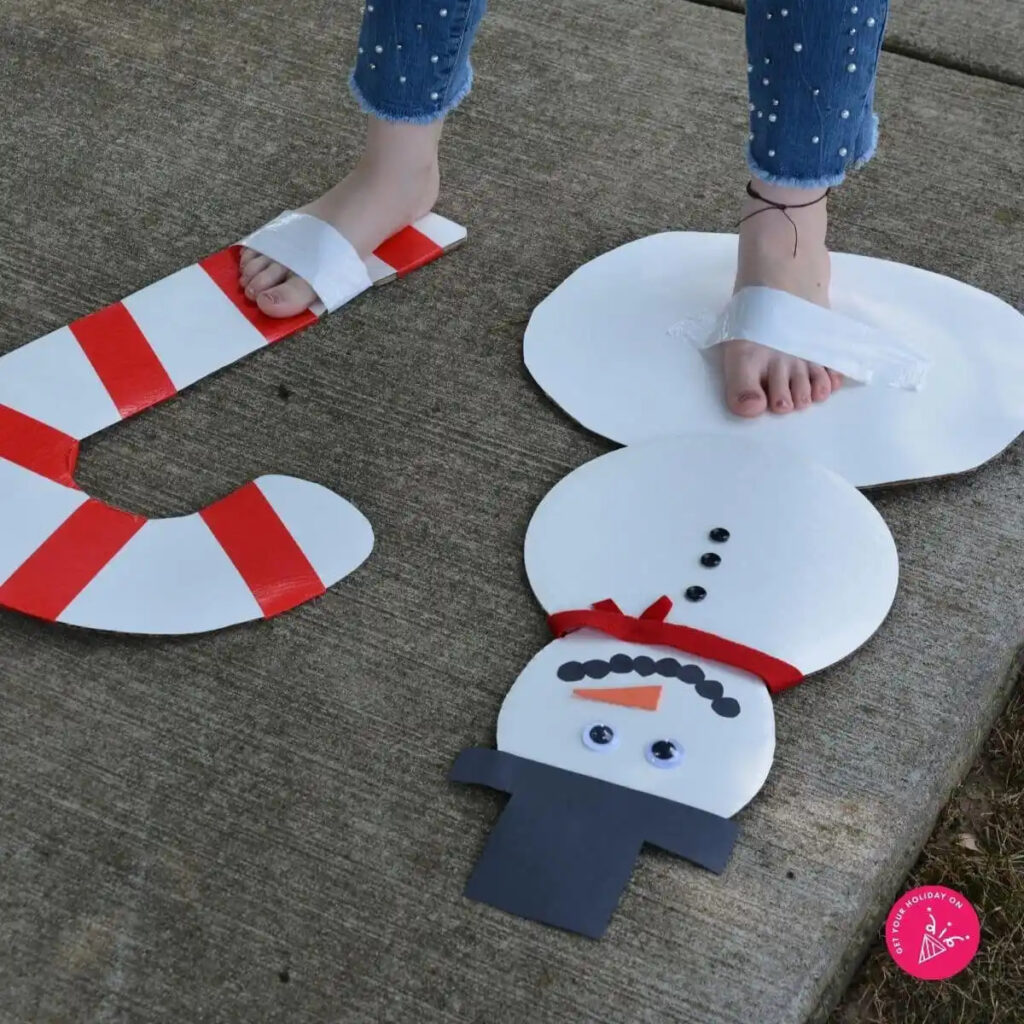 Candy Cane Game via Get Your Holiday On
Guess Who
Guess Who is a festive twist on the game Headbands. Each person places a name on their hat and tries to guess what it is by asking quesitons to others in the group.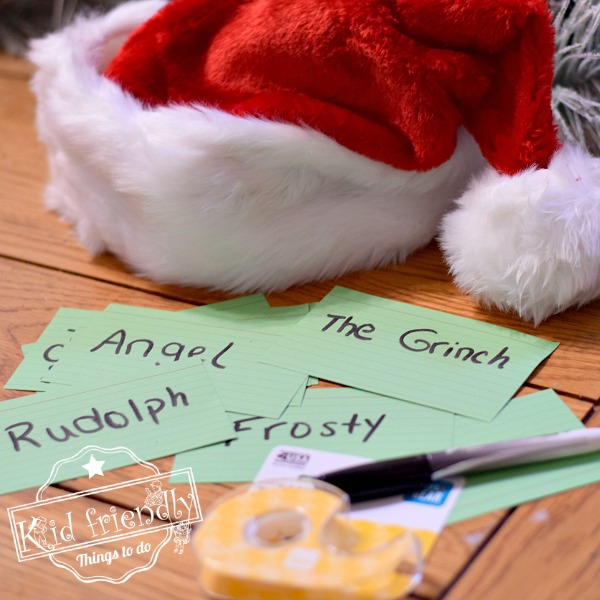 Guess Who via Kid Friendly Things to Do
Stick It
Stick it is a hilarious game where two players race to throw as many cotton balls on their teammates face as they can within one minute. At the end, players are left with some pretty impressive Santa Claus beards!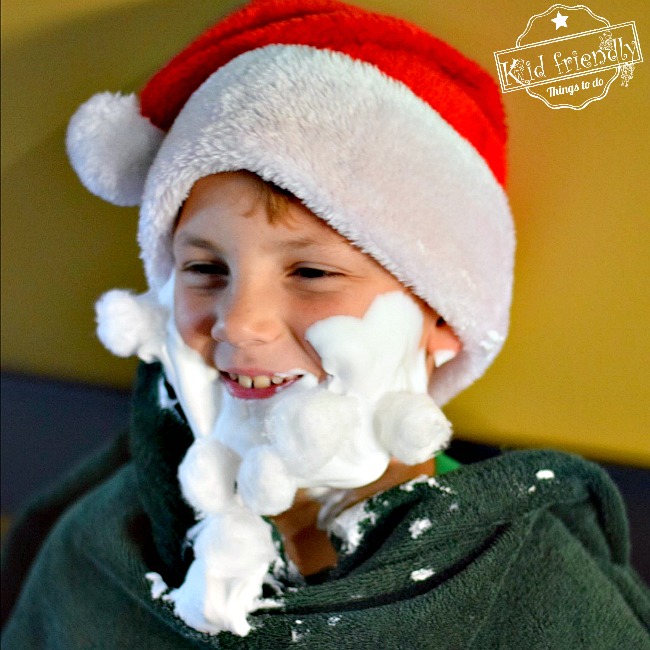 Stick It Christmas Game via Kid Friendly Things to Do
Snowball Drop
Here's another fabulous minute to win it game. Players compete against each other to roll as many ping pong balls into the cups as they can.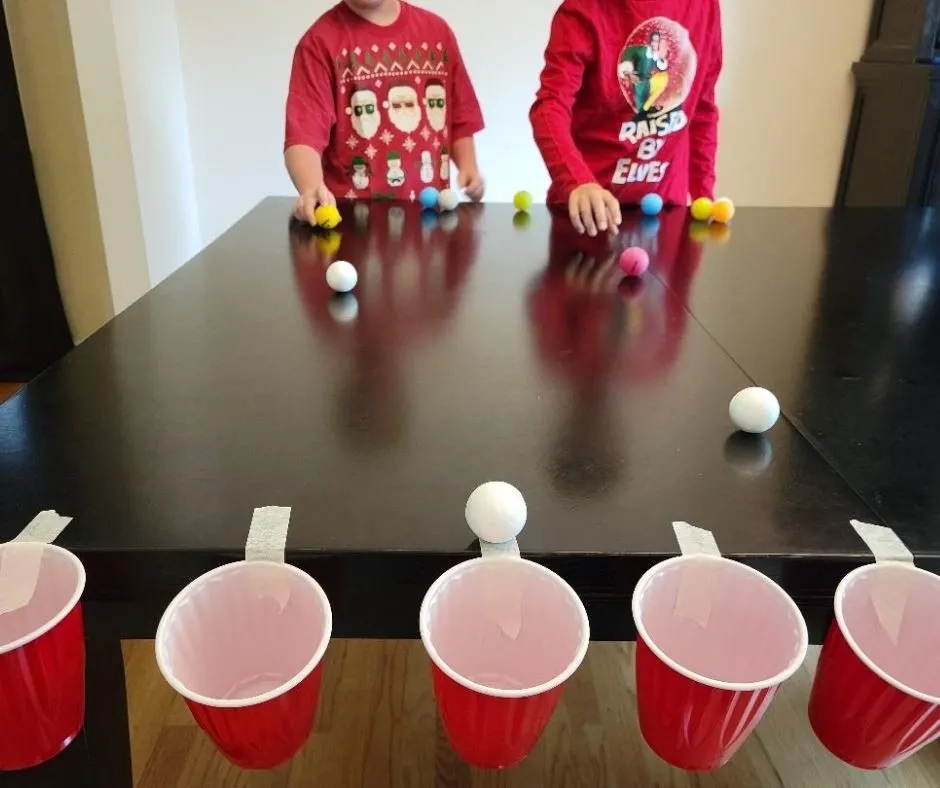 Snowball Drop via Happy Mom Hacks
Christmas Tree Math Game
Here's a great educational game for young kids learning math. On your turn you roll the dice and place the number of jingle bells onto the tree that the dice indicates.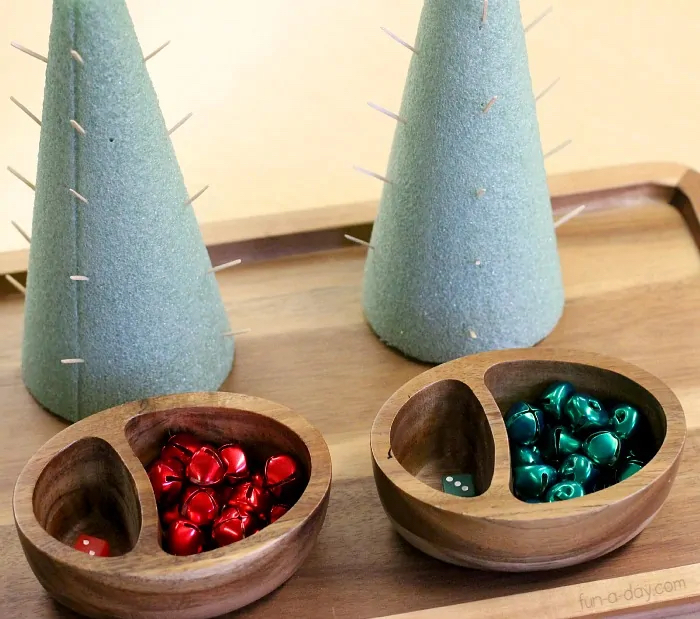 Christmas Math Game with Jingle Bells via Fun-A-Day
Unwrap the Gift
This hilarious game involves players sitting in a circle trying to roll doubles. If they succeed then they get to take their shot at unwrapping the gift while wearing oven mits, a scarf, and a hat.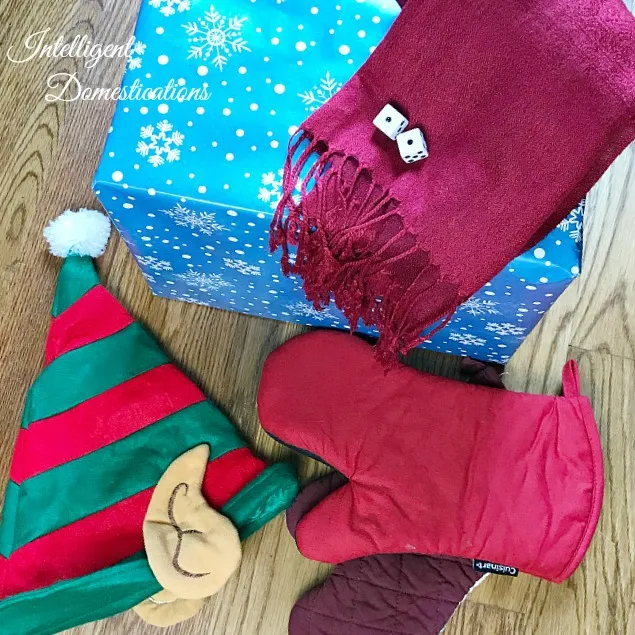 Unwrap the Gift Wearing Gloves Game via Intelligent Domestications
What's in the Stocking?
Every Christmas party needs this fabulous stocking guessing game. Players only have 1 minute to feel inside and make their guesses. And remember no peeking!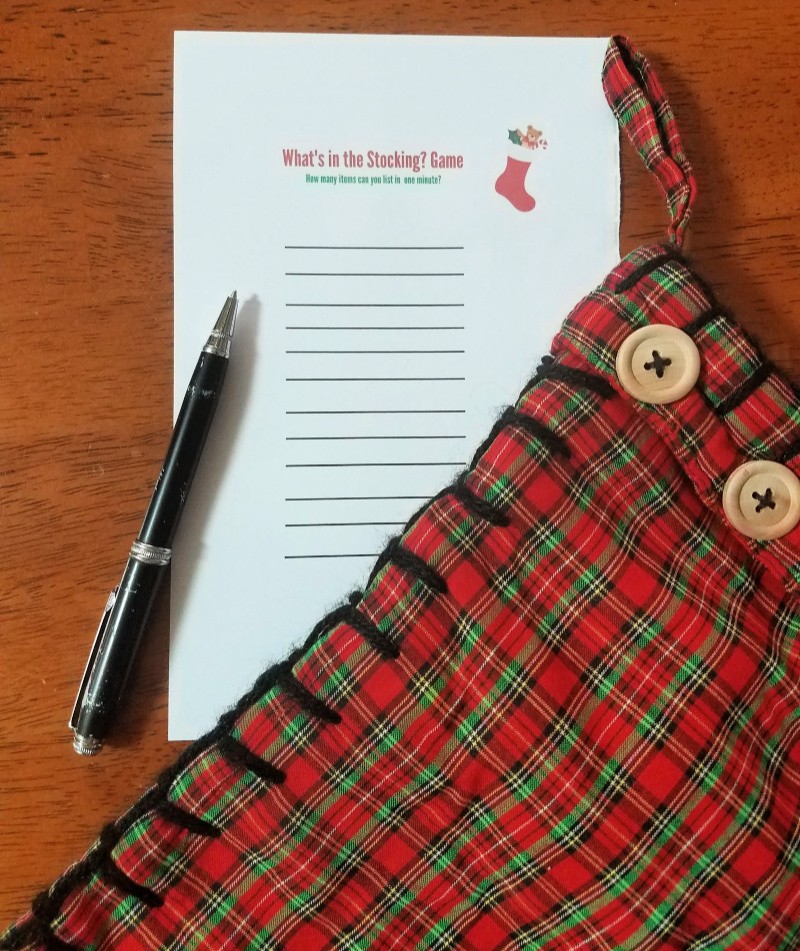 What's in the Stocking via KC Edventures
White Elephant Gift Auction
Spice up your white elephant game by using some fun Christmas cash! Participants will receive a set amount of cash for them to buy any gift they want!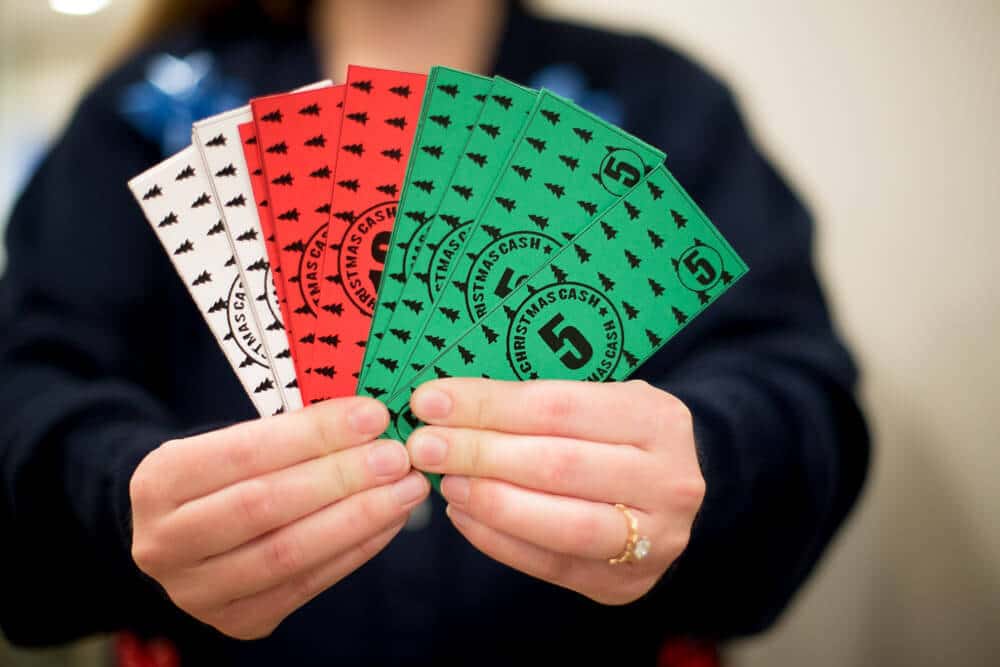 White Elephant Gift Auction Christmas Party Game via So Festive
Skittles Game
This game involves sorting skittles into different cups according to color. The trick is, you are racing against someone else and you both can only use 1 hand!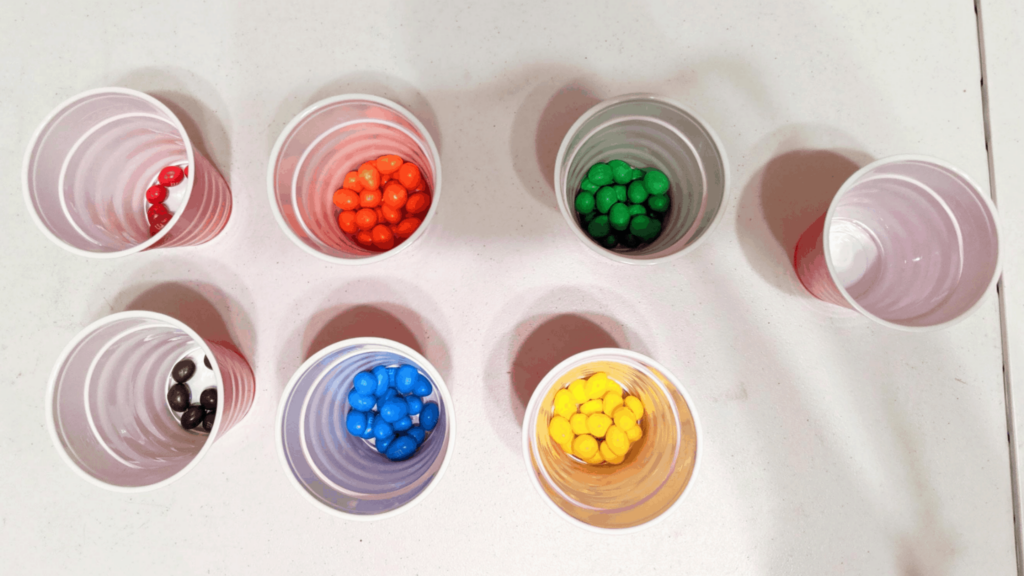 Skittles Candy Game via Cheers to Life Blogging
More Christmas Fun