25 Creative Pumpkin Carving Ideas
These pumpkin carving ideas are perfect for the beginner or expert. Try carving facial expressions, fun shapes and symbols, complex character designs, or geometric patterns for a unique jack-o-lantern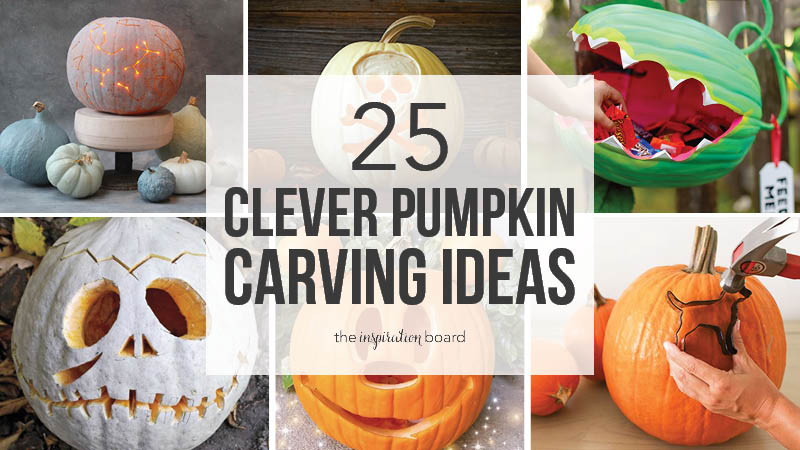 Pumpkin Carving Ideas to try this Halloween
Fall is by far my favorite time of year. Two of my favorite activities are making caramel apples and carving pumpkins! Pumpkin carving is a fun Halloween tradition. When carving your pumpkin this year, get creative with your design!
Consider carving an elaborate facial expression like a funny grin or excited eyes. You can also carve fun shapes and symbols like stars, hearts, or even your initials. For an extra challenge, try carving more complex designs like animals or Halloween characters. Geometric patterns also make for eye-catching pumpkin carvings.
No matter what you choose to carve, be sure to draw your design on the pumpkin first with a marker before cutting and scoop out the insides thoroughly. That will help the light shine through your carving.
Carving tips
Picking your pumpkin. Choose a pumpkin that's firm to touch (with no bruising or soft spots), has a sturdy stem and a flat base.
Knife. The knife you use makes all the difference! Make sure it's a sharp serrated knife so that it can easily cut into the hard surface. You might also want a pairing knife handy for carving out smaller designs.
Scoop out the insides. Make sure to scoop out all the gunk and seeds. You want it to be completely clean on the inside when you're finished. I've found that an ice cream scoop or large silver spoon works great.
Make rough cuts first. Use the tip of the knife to make small holes in the pumpkin where your design will be. This allows you to trace it out first, then go back and carve it. You can avoid any major mess ups this way!
Frankenskull
This spooky mix between Frankenstein and a skull is a great Halloween Pumpkin carving idea. It's an easy design and looks great!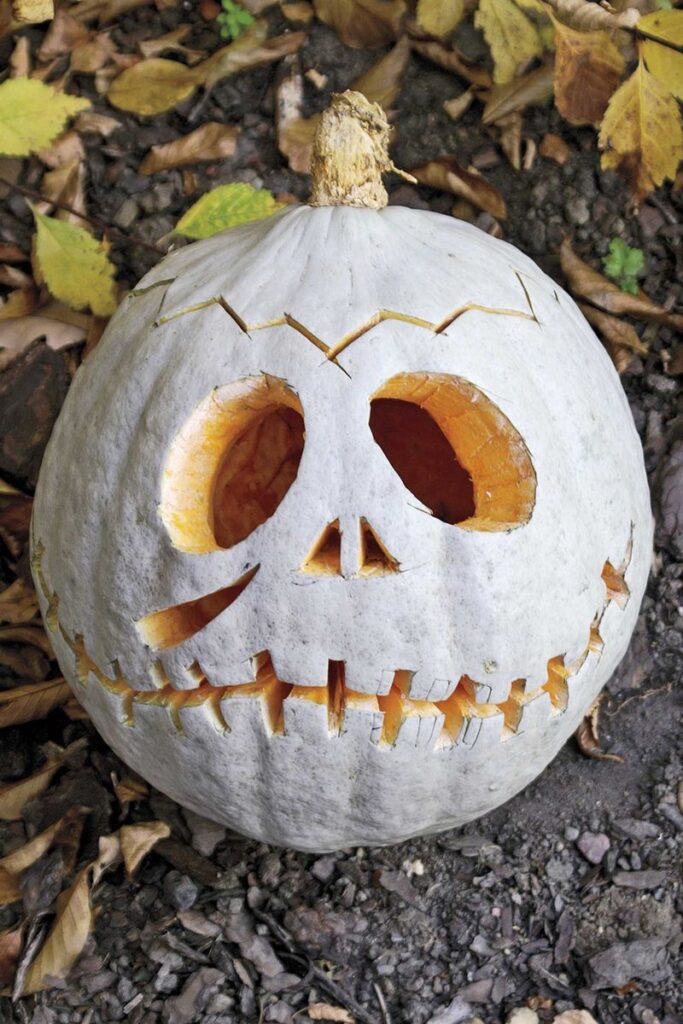 Frankenskull via woman's day
Kitty Cat
This cute kitty cat pumpkin is great for all those animal lovers out there! It's easy for kids to create and looks adorable.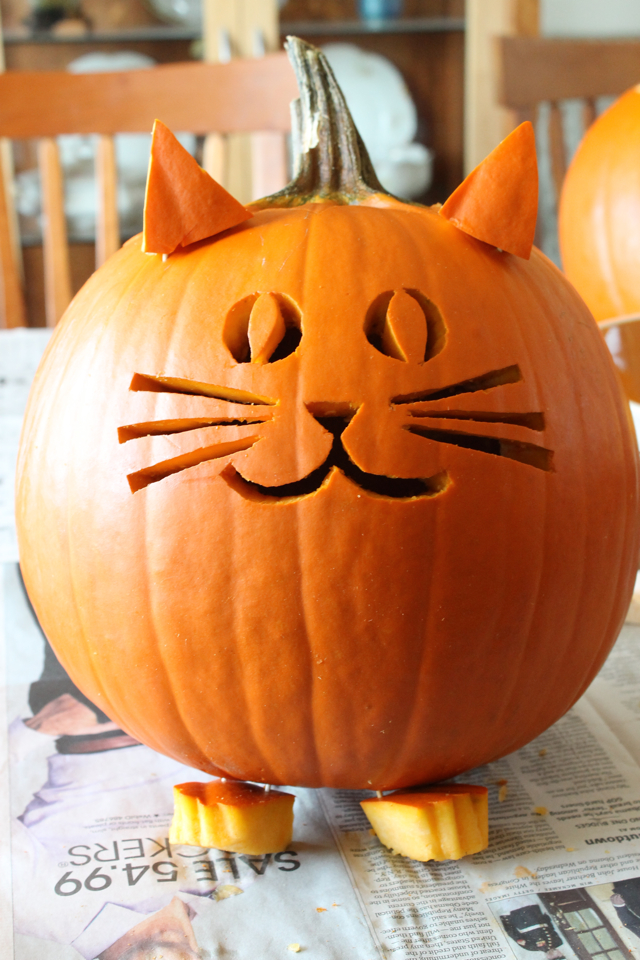 Pumpkin Carving via Lady Face Blog
Bean Bag Toss
Why not turn pumpkin carving into a game that all the neighborhood kids can enjoy? This Pumpkin Bean Bag Toss is clever and so much fun!
Bean Bag Toss Carved Pumpkin via CountryLiving
Skeleton Hand
Looking for a spooky pumpkin carving idea? Try these skeleton hands! It's a fairly simple design that screams Happy Halloween!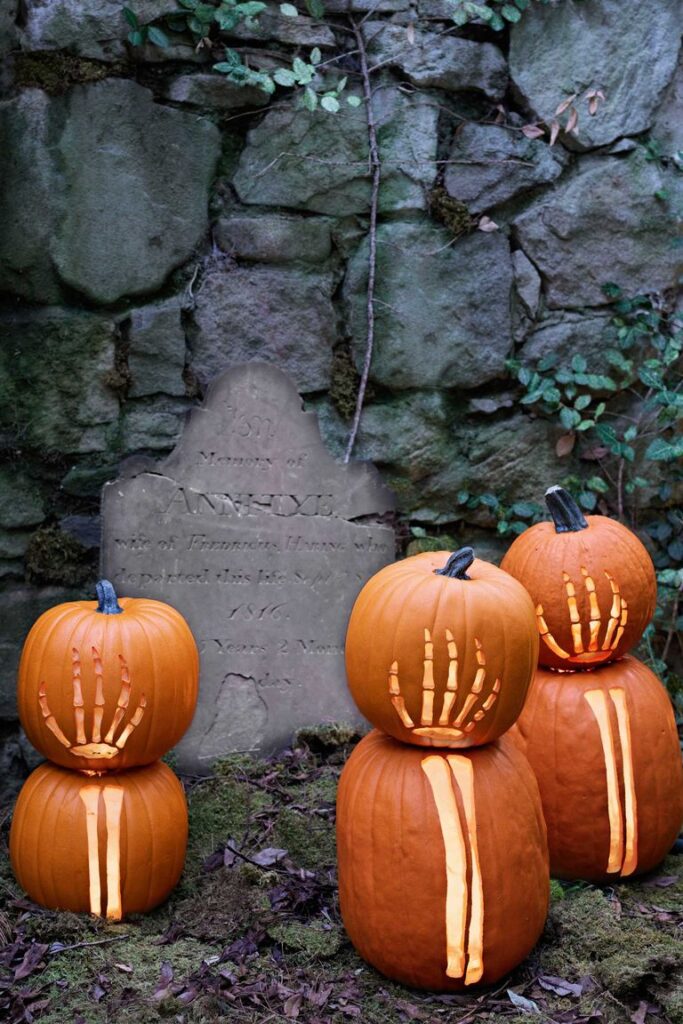 Skeleton Hand Jack-o'-Lantern via CountryLiving
Eye Spy
Here's a clever pumpkin for you! Adding a plastic spider to one of the eye holes looks amazing and its simply enough for a child to do!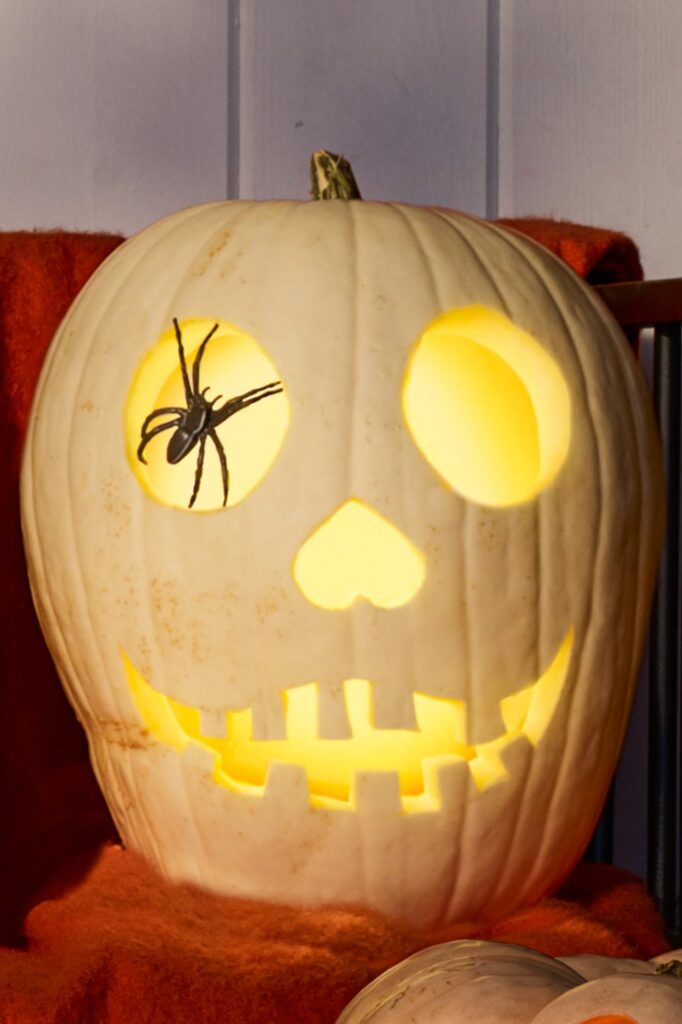 Eye Spy Pumpkin via Woman's day
Snail
Tired of carving a traditional pumpkin face? This unique snail pumpkin is so much fun to make and will look great on your front door step!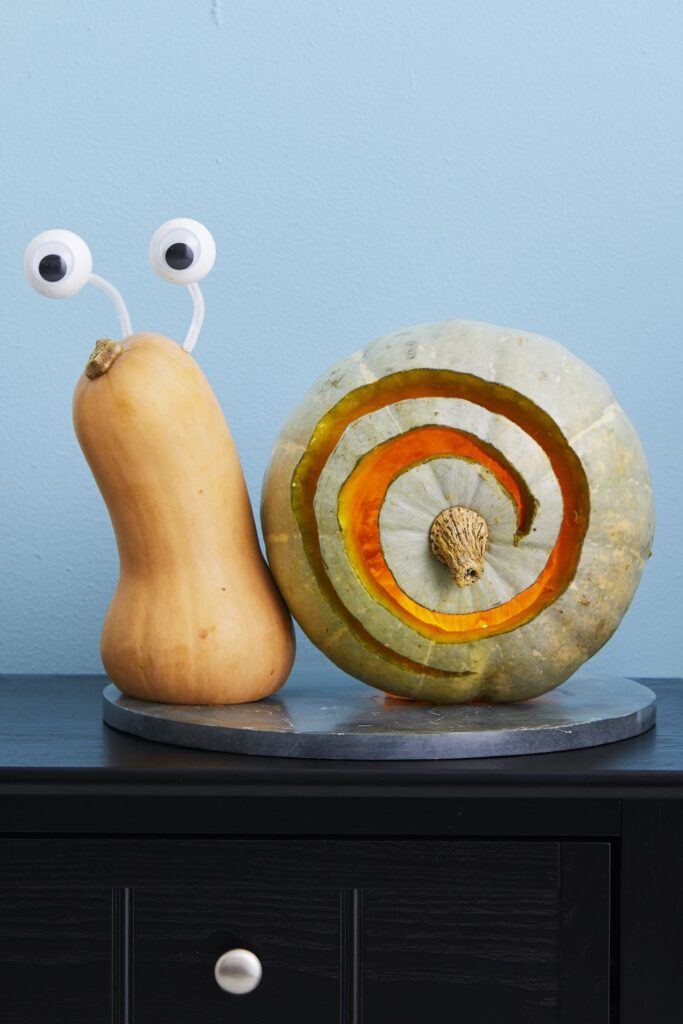 Snail Pumpkin via woman's day
Cookie Cutter Trick
I can't believe I have never thought to do this before! This cookie Cutter Trick will save so much time and give you the clean lines you want with carving pumpkins!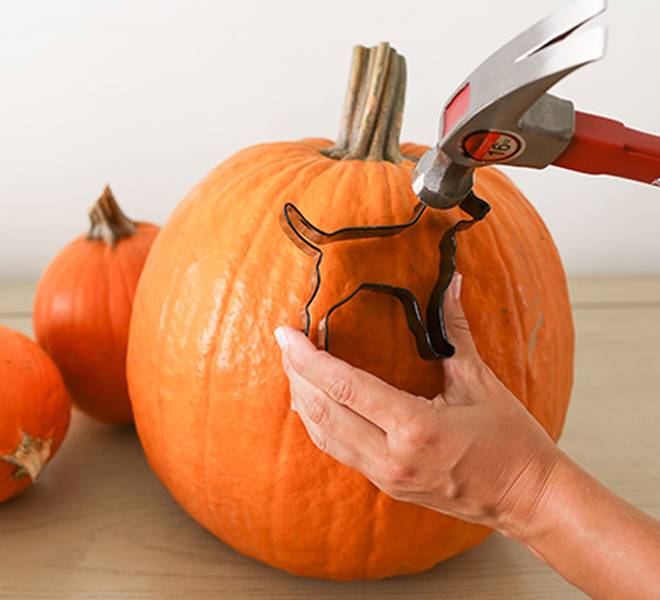 The Cookie Cutter Trick via Lauren Conrad
Cat and Mouse
This cat and mouse design is perfect if you have a large and small pumpkin to spare! This fairly simple design is definitely a hit!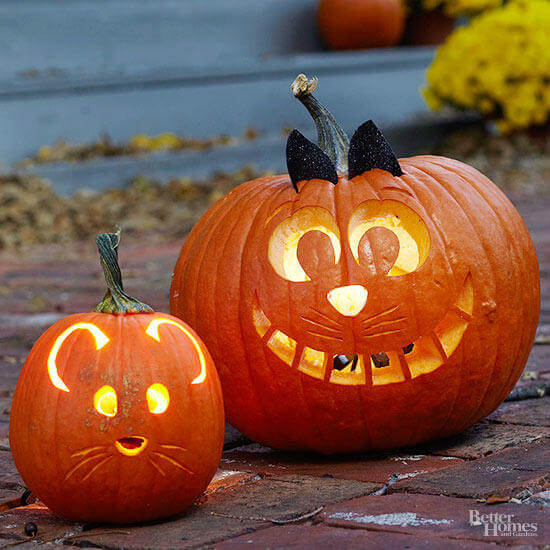 Cat and Mouse via Better Homes and Gardens
Peek-a-Boo
Create this clever peek-a-boo pumpkin by only making one carve! The details in this pumpkin are so much fun.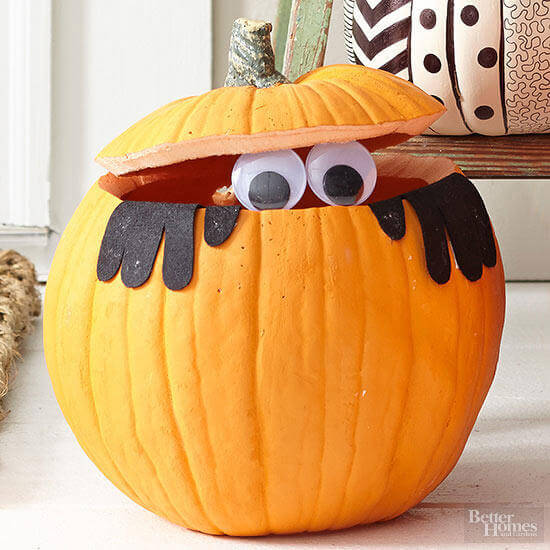 Peek-a-BOO Pumpkin via Better Homes and Gardens
Boo!
Use a drill to create this festive pumpkin! This pumpkin will look incredible at night.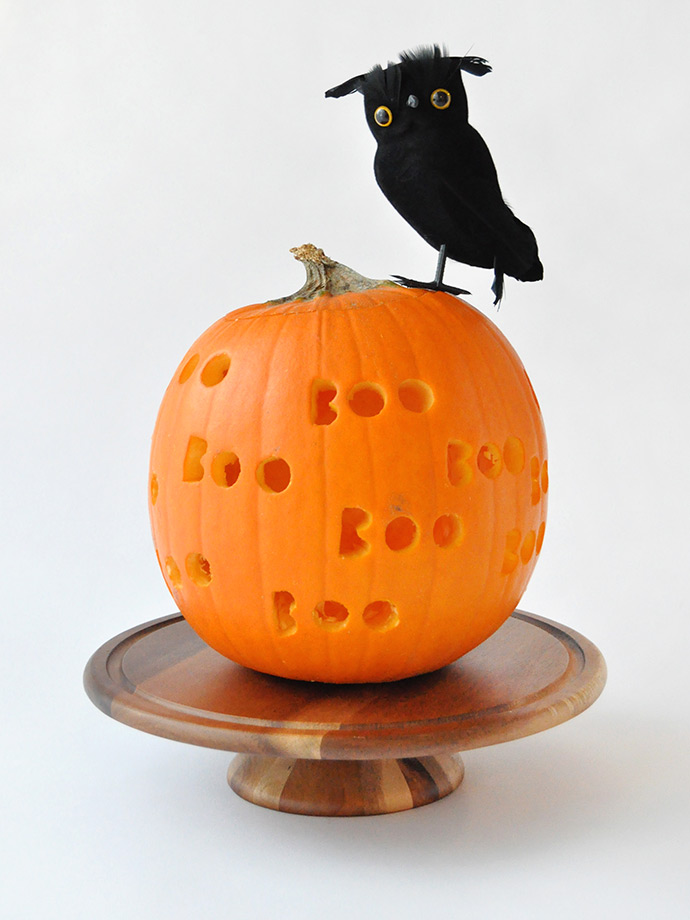 DIY Spooky Drilled Pumpkins via Handmade Charolette
Constellations
If you have some time to spare, this is a great option! The constellations fill the outside of the pumpkin and look breathtaking all lit up. Get ready for some major compliments with this one!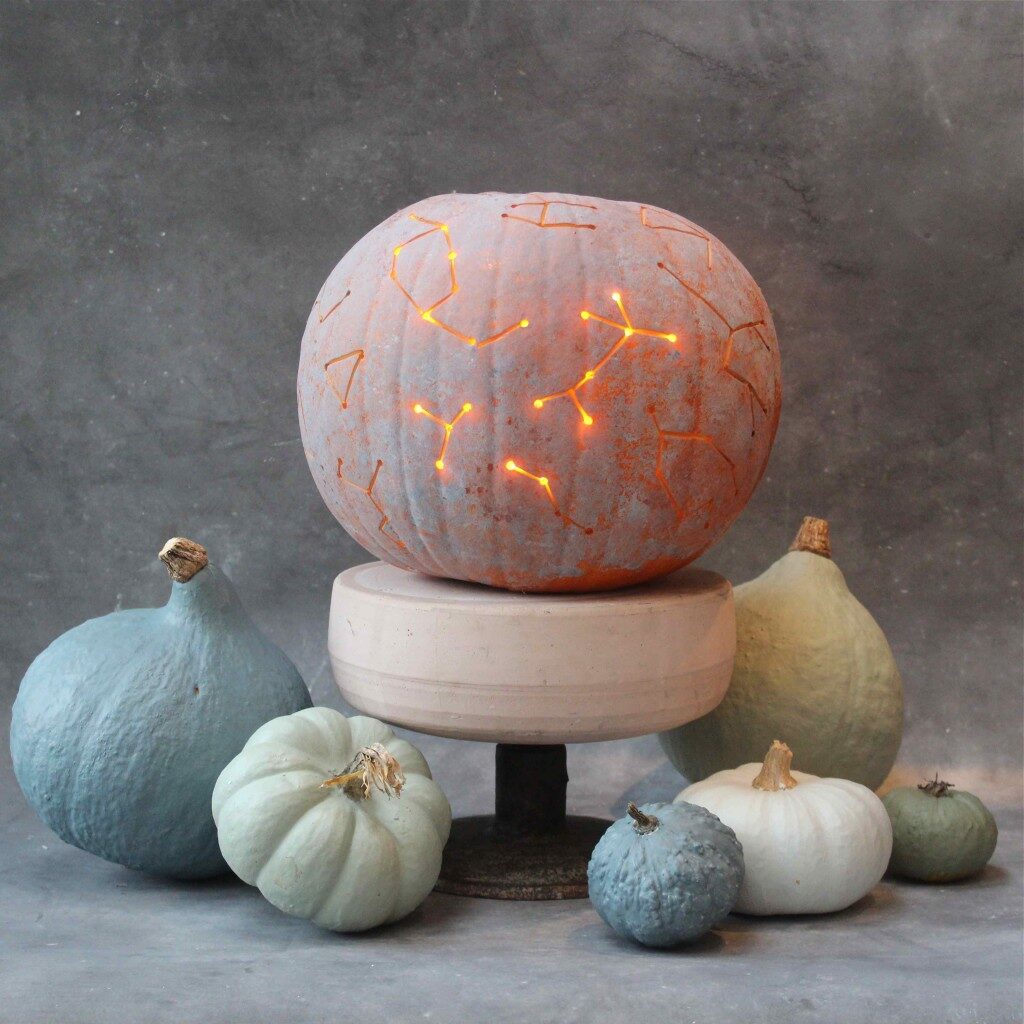 DIY Constellation Pumpkin via Kate's Creative Space
Pumpkin Family
How cute is this?! Everyone will love creating and decorating a pumpkin family complete with glasses, a hat, and even a mustache!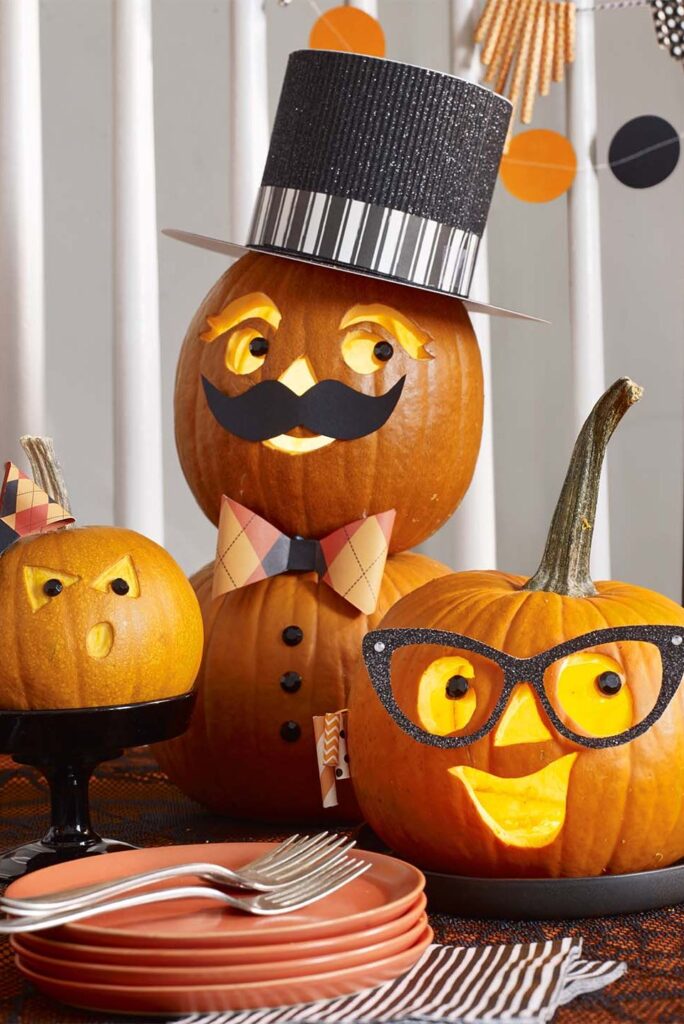 Pumpkin Family via Women's Day
Skull-and-Crossbones
Startle your guests with this haunting pumpkin design. This skull and crossbones pumpkin will definitely add some spookiness to your home this Halloween!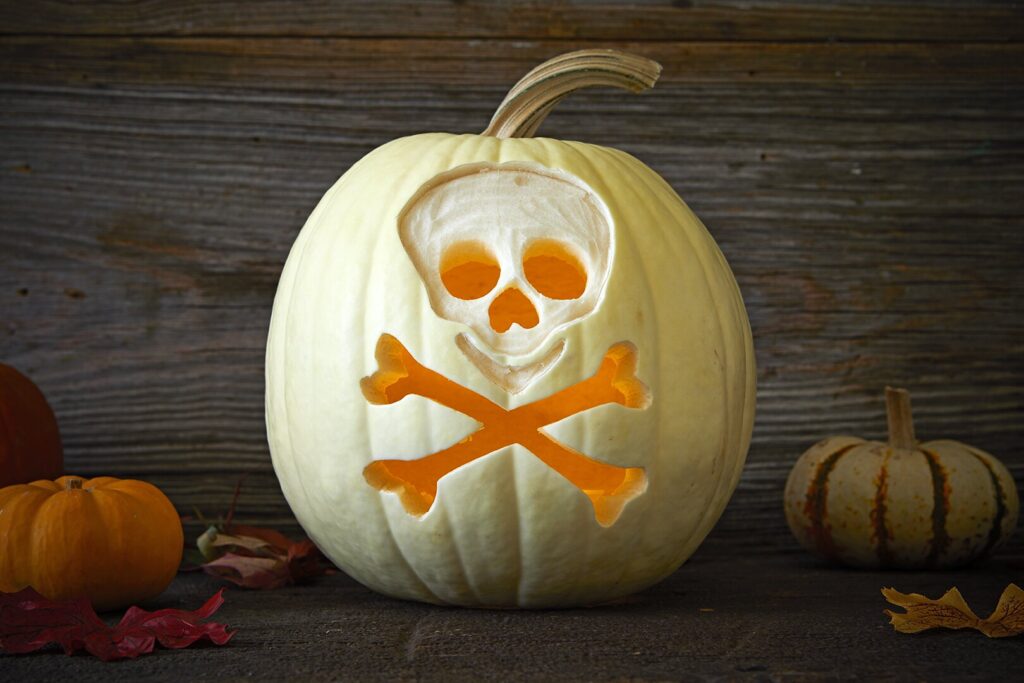 Skull-and-Crossbones Pumpkin via Better Homes & Gardens
Car and Camper
I have never seen a car and camper pumpkin and I am loving it! This is a unique idea that friends and family can create together. It would also look amazing with a little paint!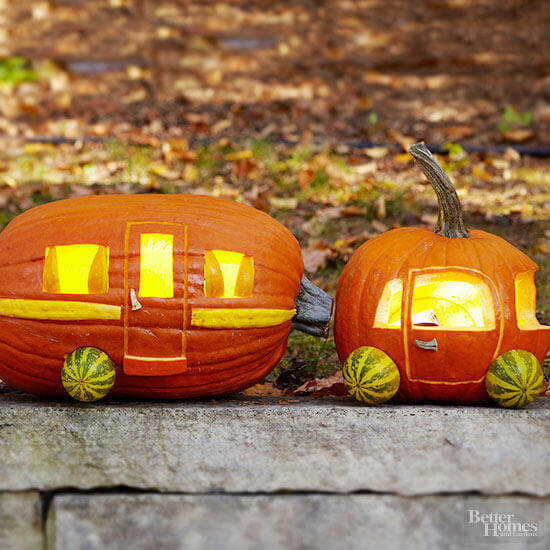 Car and Camper via Better Homes & Gardens
Venus Fly Trap
Make getting candy a suspenseful and courageous event by creating a Venus fly trap. Kids will definitely want to come back to this house!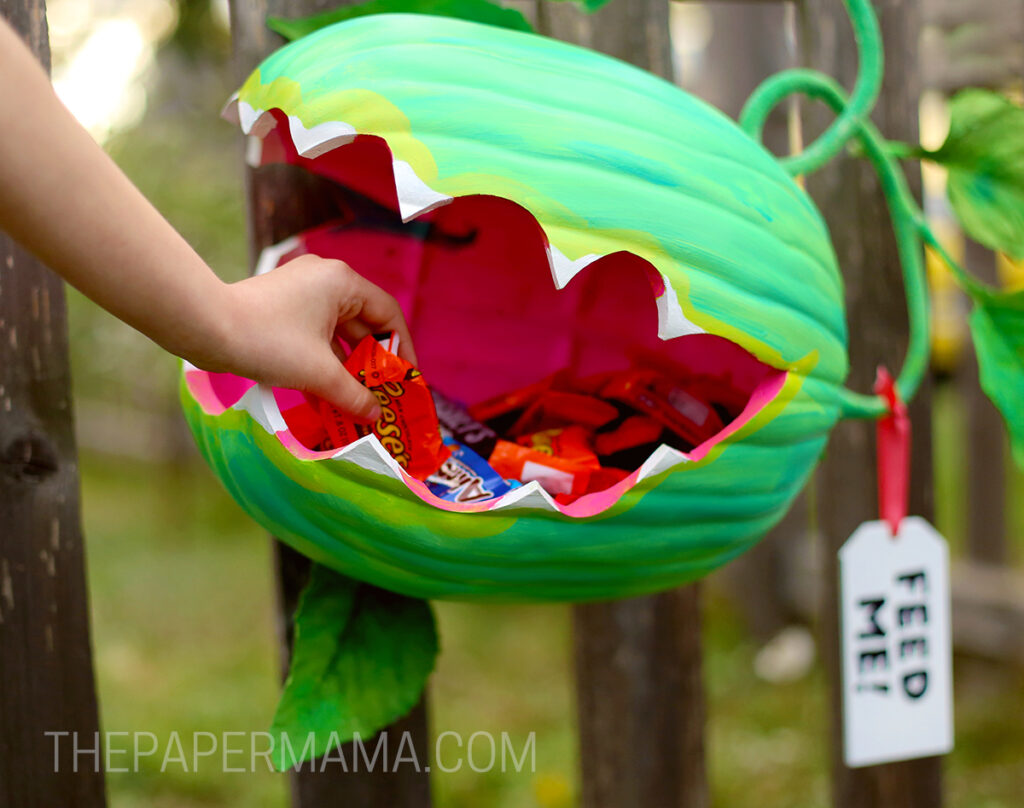 Venus Fly Trap Pumpkin Candy Holder via The Paper Mama
Mickey Mouse
Here's one for all those Disney lovers out there. This charming Mickey Mouse pumpkin will bring smiles to the whole neighborhood!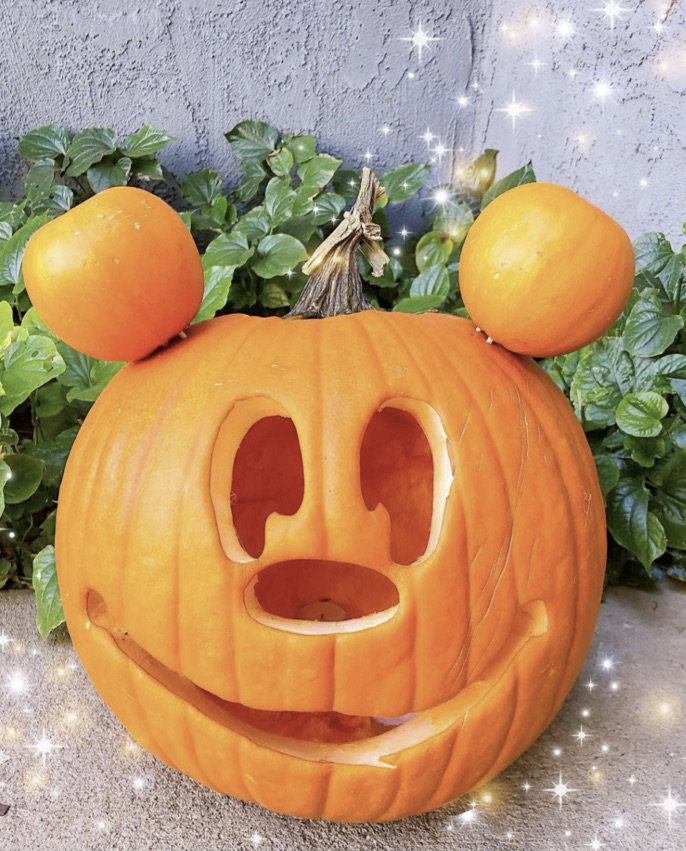 Mickey Mouse Face via Oprah Daily
Vampire
This two tone vampire pumpkin is frighteningly stunning! It even has blood on the teeth!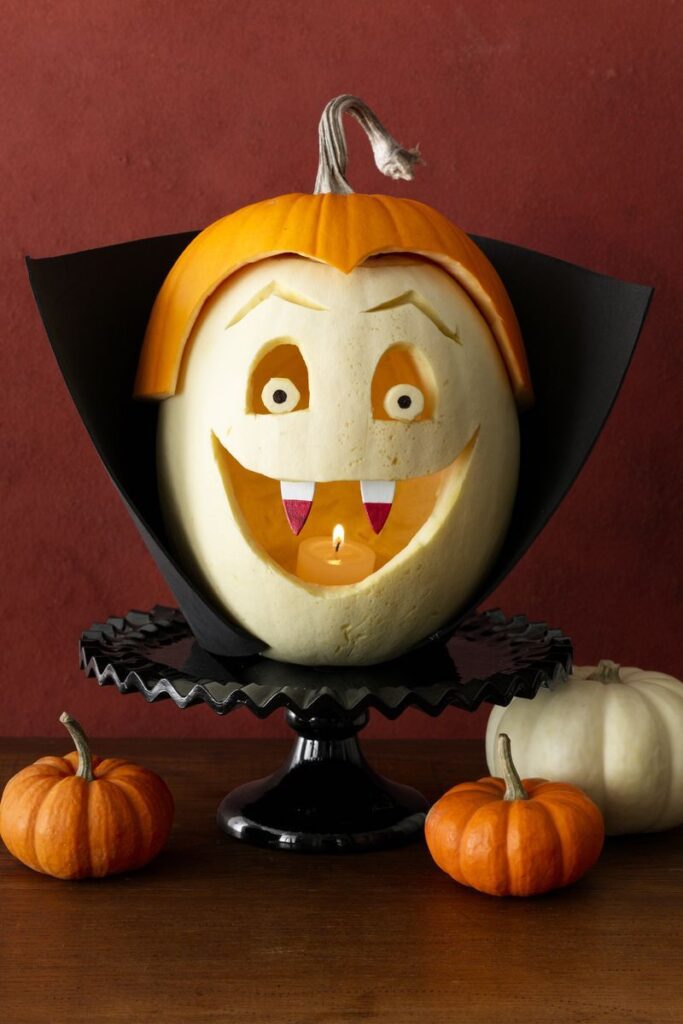 Thirsty Vampire via woman's day
Medusa
If you have some rubber snakes laying around the house then this pumpkin is for you! This Medusa pumpkin is frightening and perfect for Halloween.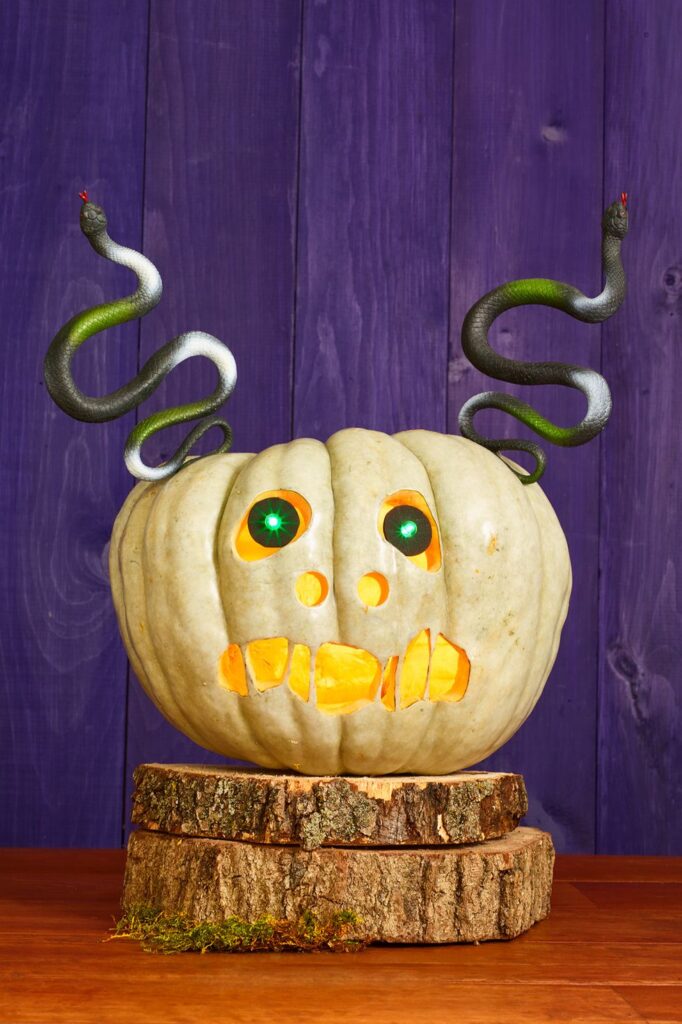 Medusa via woman's day
Drilled Pumpkins
Drilling holes in pumpkins can add amazing design without taking a lot of time. These two pumpkins are clean, simple, and beautiful!
Easy Drilled Pumpkin via One Little Project
Emojis
Emoji pumpkins are hilarious, customizable, and honestly pretty simple to make! Just pick out your favorite emoji and get carving!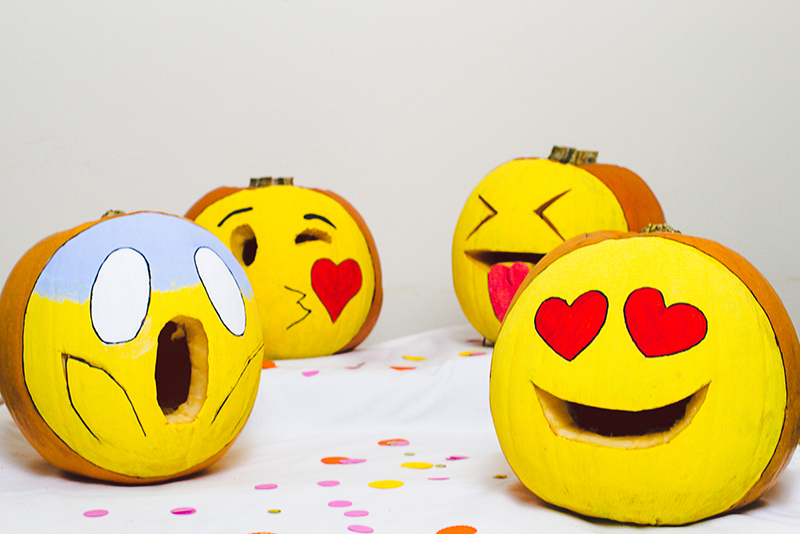 Pumpkin Emojis via Bespoke Bride
Painted Ghost
Ghosts are an iconic symbol of Halloween and this pumpkin is spooky! The white paint really makes this ghost come to life.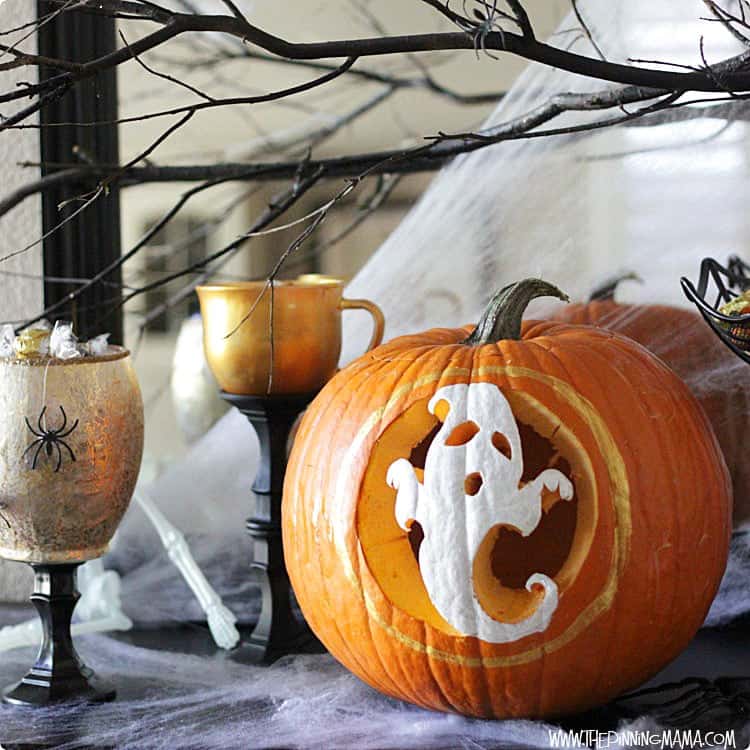 Carved & Painted Halloween Pumpkin via The Pinning Mama
Cinderella Carriage
Bring your child's dreams to life by helping them create this magical cinderella carriage pumpkin! Complete with sparkles and paint, this pumpkin is enchanting!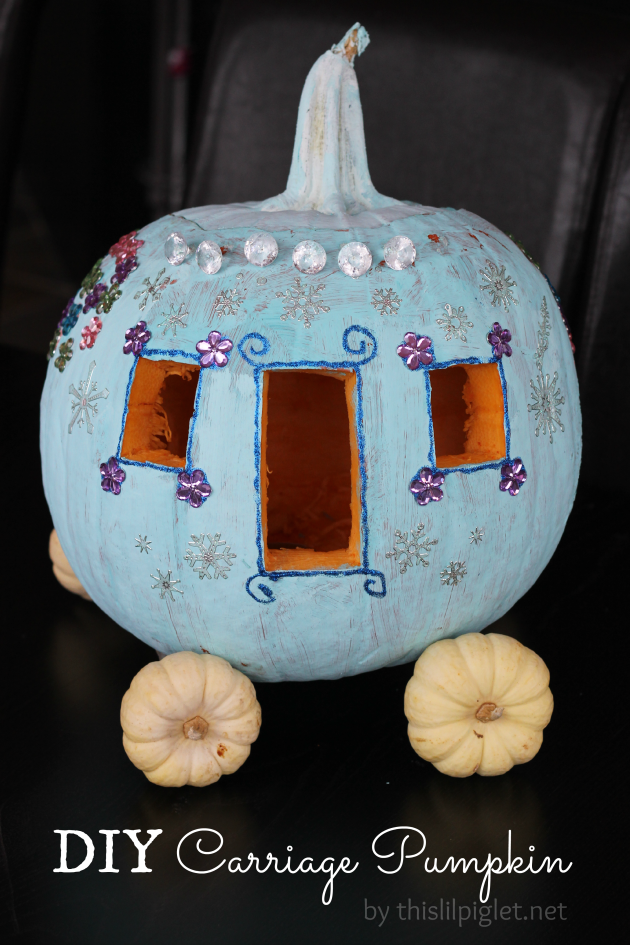 DIY Cinderella Carriage Pumpkin via This Lil Piglet
Lollipop Hair
A lollipop hair pumpkin is not only cute, it's interactive! Kids will have so much fun grabbing their own sweet treat from this clever pumpkin!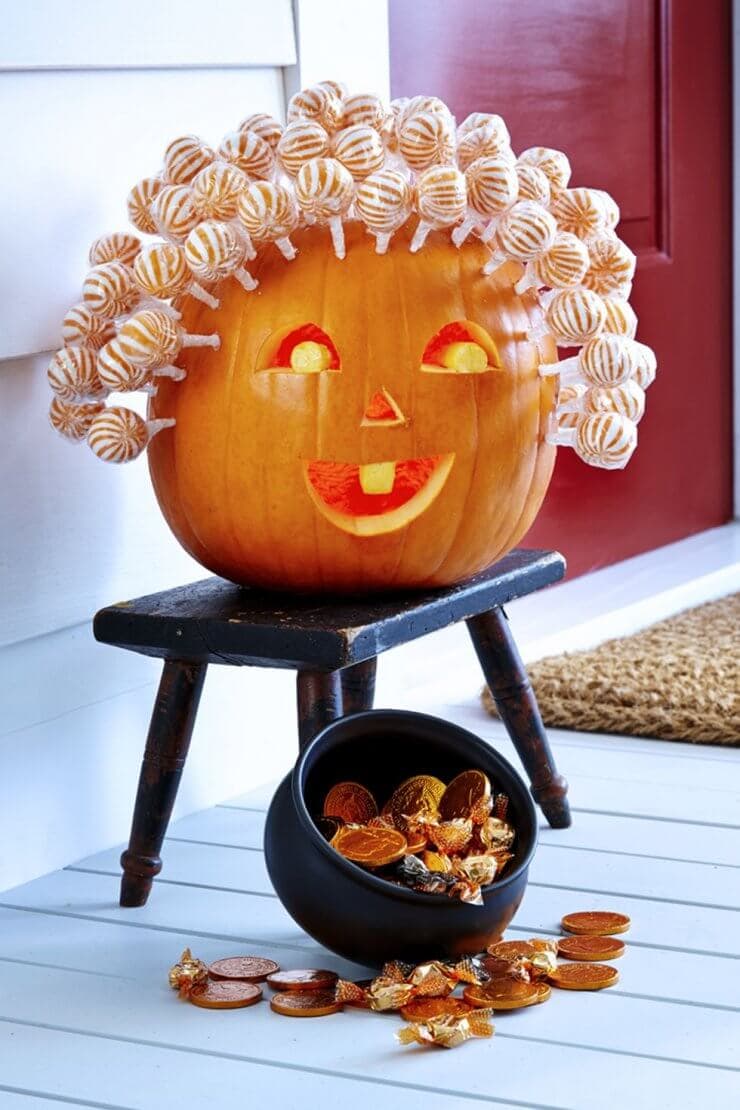 Lollipop pumpkin via woman's day
Cupcake
This cupcake pumpkin is adorable! It's a great carving idea if you would rather not have a spooky pumpkin outside your door.
Cupcake Jack-o-Lantern via The Lindsay Ann
More Halloween Fun: