Sidewalk Chalk Ideas...chalk games and art like you've never seen before! Activities that will keep you busy all summer long.

Sidewalk Chalk Art
Summer is finally here! Some of my favorite things about summer are the fresh watermelon, refreshing smoothies, trips to the pool, and endless outdoor activities. There are just so many fun things to do outside when it's warm! One outdoor activity that will never be outdated is sidewalk chalk. In fact, it is such a beloved form of art that it's been around since the Stone age, dating back to the 16-century! Drawing on the sidewalk is just so much fun, and kids love it!
I have many fond memories as a child using chalk to play games. Hopscotch and four-square were my personal favorites! Below I have compiled a list of some amazing chalk games, activities, and art that you and your kiddos will absolutely love. Sidewalk chalk is the perfect activity for a long summer day. Have fun!
Homemade Chalk
The neat thing about chalk is that it can be made into so many unique shapes and forms. This is definitely a benefit to making it instead of buying it at the store. Check out these fabulous ideas below.
Chalk Paint
This sidewalk chalk paint is a fun twist on a classic activity. Your kiddos will love squeezing the paint bottle to create beautiful designs.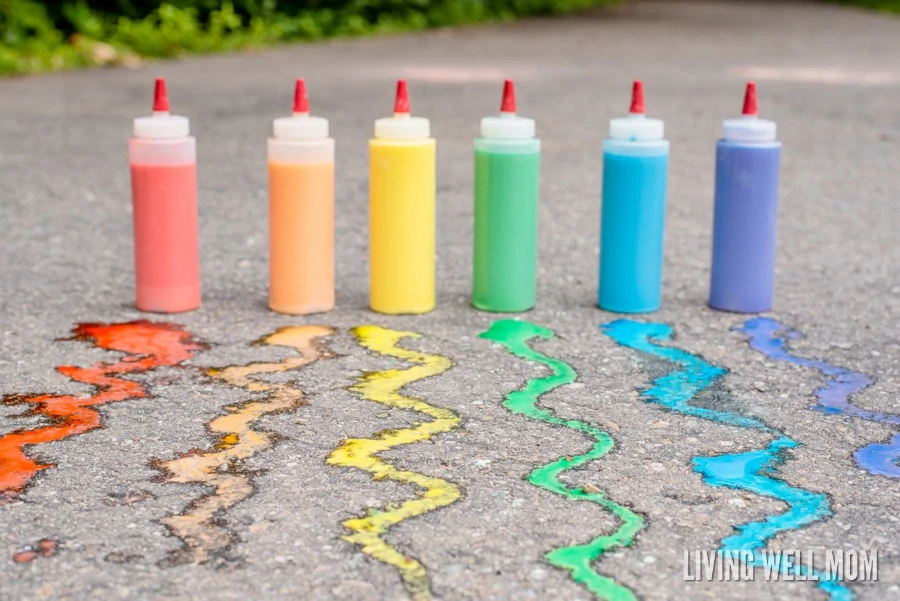 DIY Sidewalk Chalk Paint for Kids via Living Well Mom
Flower Pot
Use a flower mold to create beautiful floral sidewalk chalk. Pair these with a pot you've got a fabulous gift idea!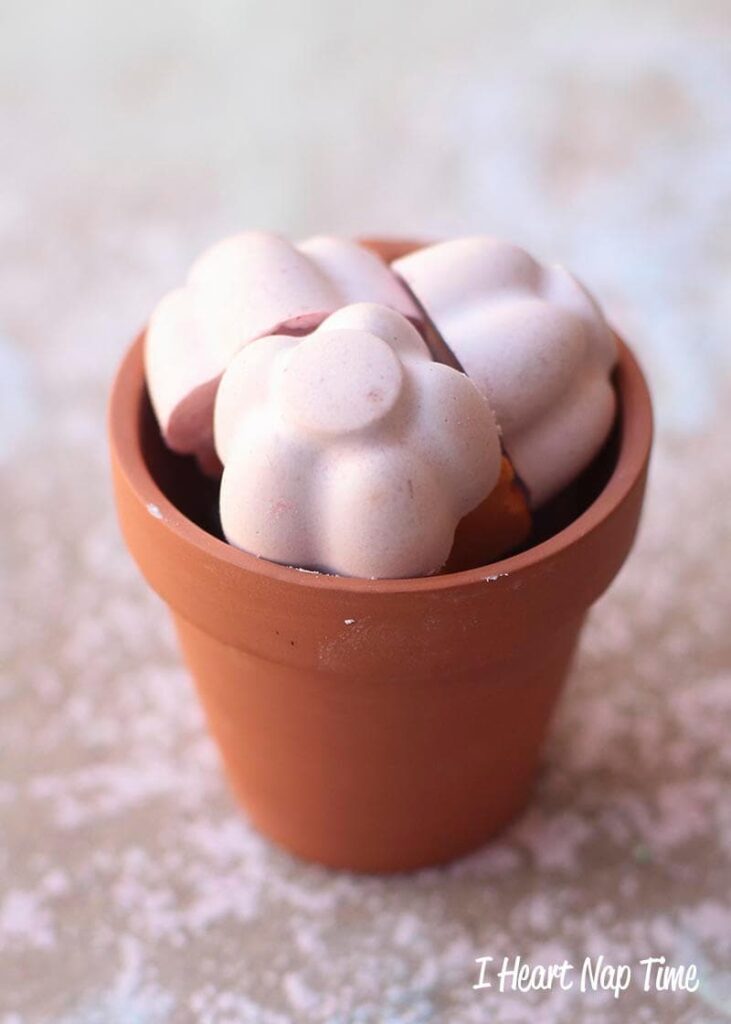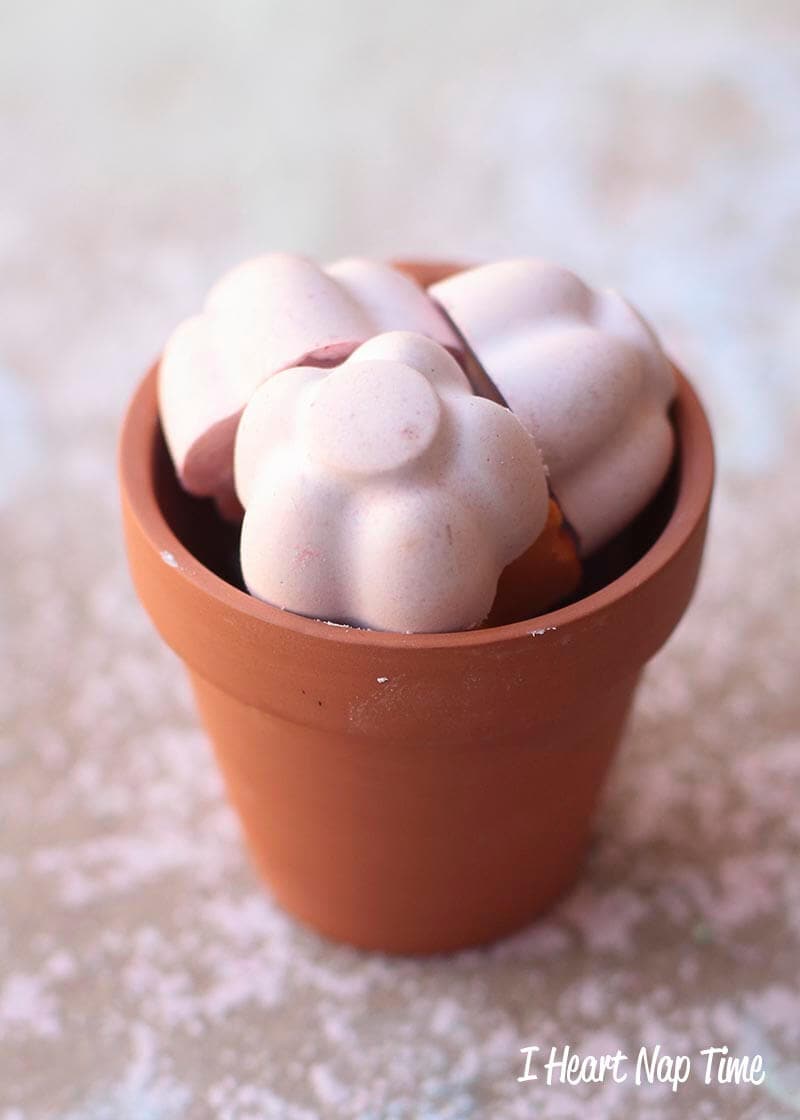 Chalk Pops
These unique chalk popsicles give kids a handle to hold onto while creating their masterpieces. They are also just so adorable!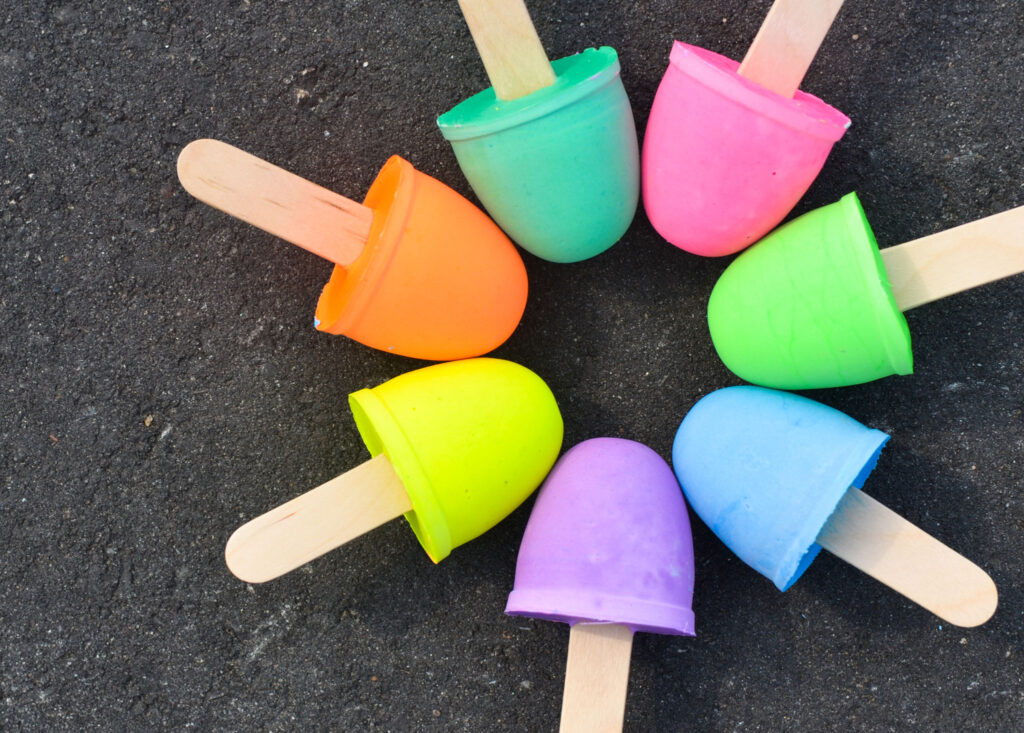 DIY Sidewalk Chalk "Pops" via Project Nursery
Puffy Paint
Take sidewalk paint up a notch by making it puffy! This is such a cool effect that kids will absolutely love. Follow the link below to the instructions.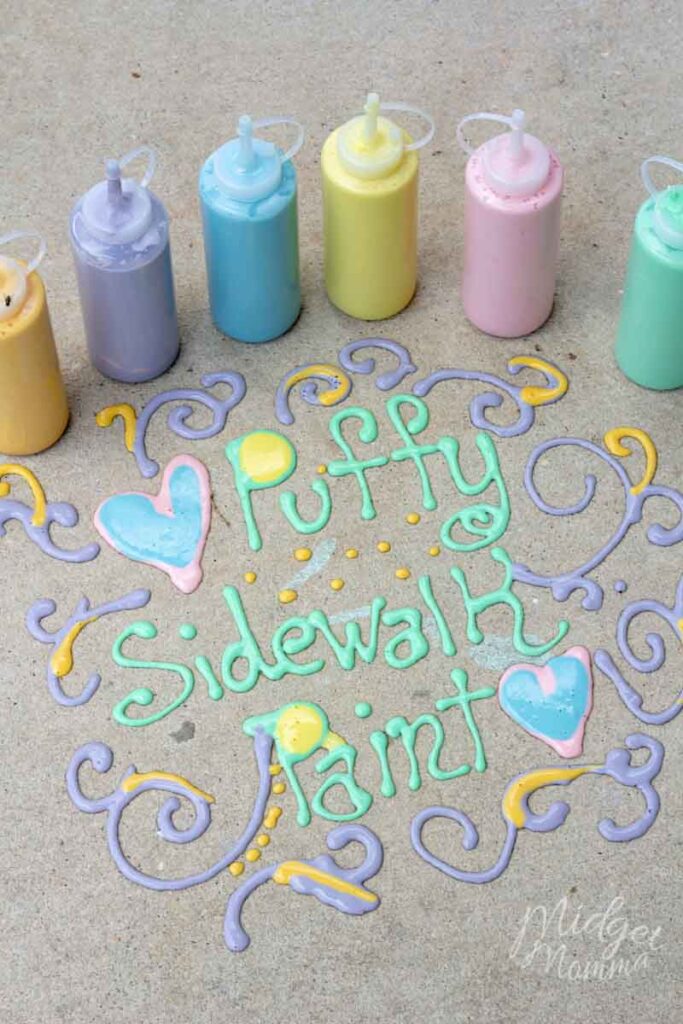 How to Make Puffy Sidewalk Paint via Midget Mamma
Easter Eggs
I can't say I have ever seen chalk eggs and I am loving it! These would make a fabulous addition to a kid's Easter basket.
Homemade Easter Eggs Sidewalk Chalk Tutorial via The Suburban Mom
Chalk Games
There are so many fun activities that you can do with chalk. Below you'll find some extra fun games that will be so much fun to play with friends.
Bean Bag Toss
Bean Bag Toss is a classic game that works great with chalk. Just draw the rings, give them each a number for points, and toss a bean bag!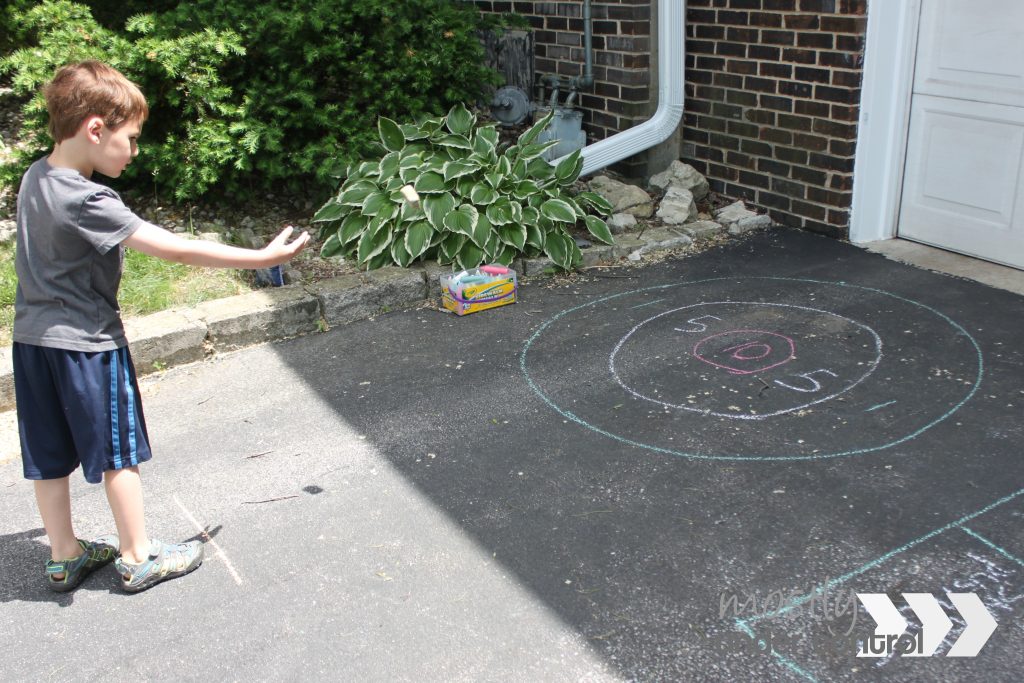 Bean Bag Toss via Mostly Under Control
Dots and Boxes
My siblings and I used to play this game all the time as kids. Dots and boxes is easy to learn and will keep your kiddos busy.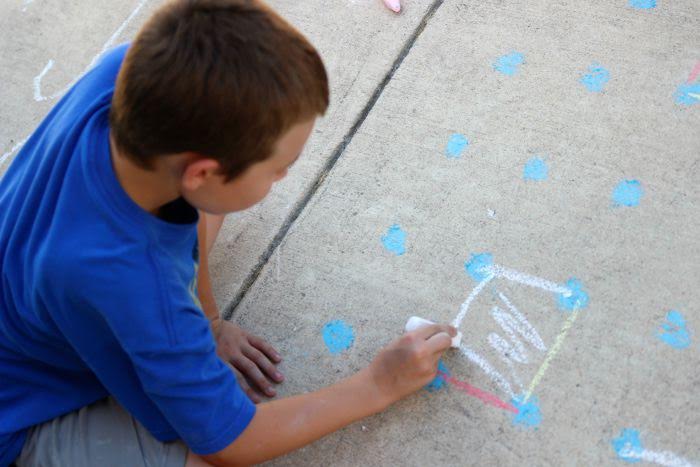 Sidewalk Chalk Games for Kids: Dots and Boxes via Make and Takes
Silly Commands
I absolutely love this sidewalk chalk game! Simply put down a list of fun commands and invite the kids to do them.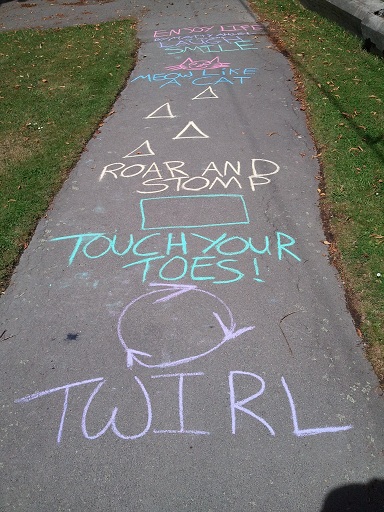 Enjoy Life via Matty Angel
Chalk Maze
Mazes are always a blast. Whether your kiddo wants to send a truck or themselves through this chalk maze they will have a lot of fun!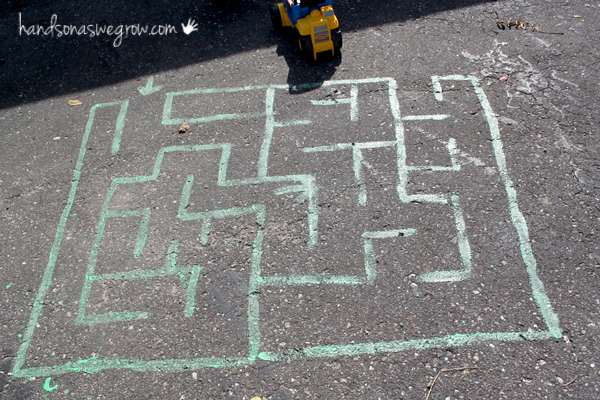 A Big Chalk Maze for Preschoolers via Hands On As We Grow
Color Matching
This color-matching activity is great for kids who love a good scavenger hunt! Just create a couple of colorful boxes and invite the children to go and look for items that are the same color to place in the box.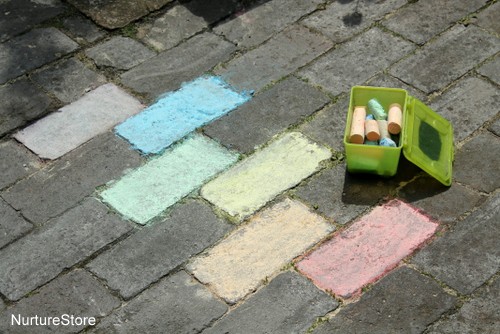 Outdoor Learning Color Matching Game via Nurture Store
Follow the Line
Sometimes the simplest games are the most fun! All you need for this game is a curvy line that your kiddo can follow.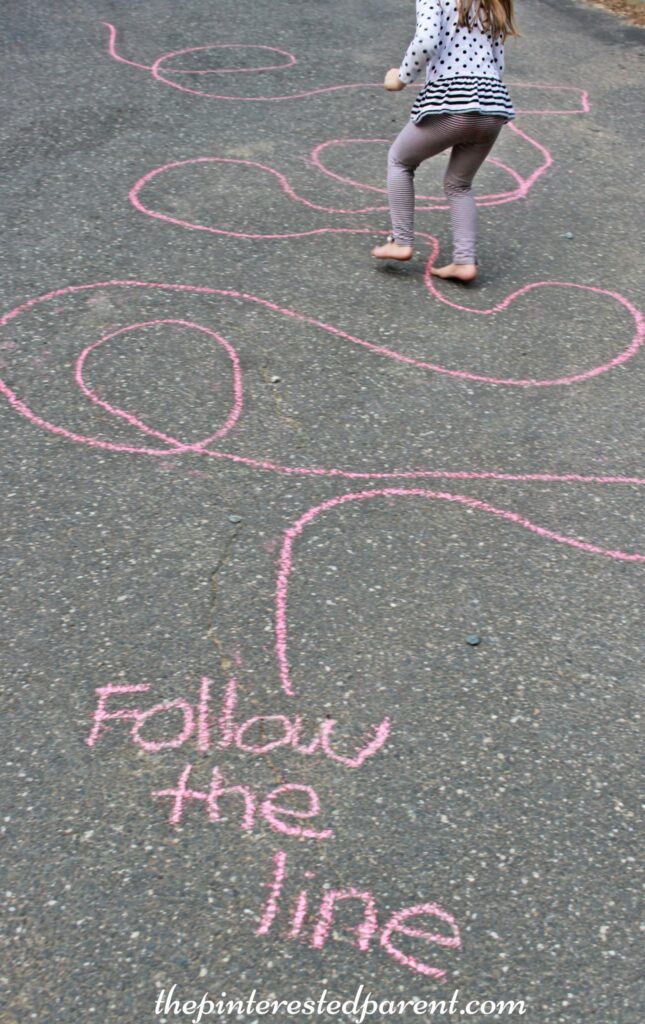 Follow the Line via The Pinterested Parent
Sight Word Twister
Sight word twister is a perfect game for improving vocabulary. This is one learning activity that kids will really love!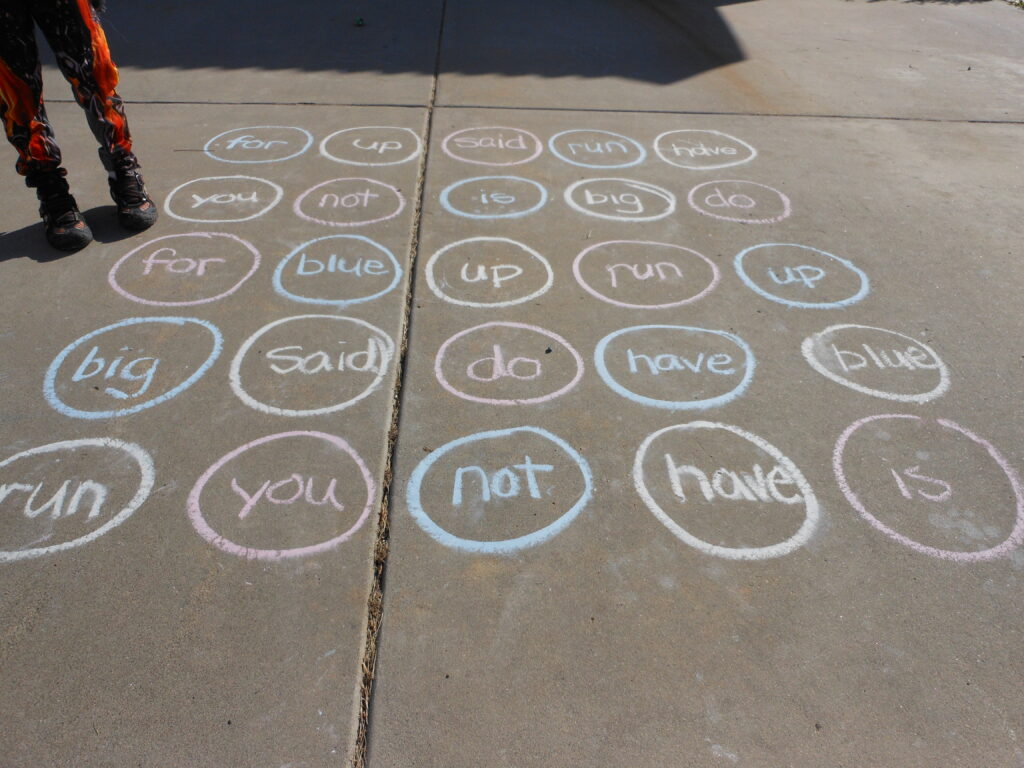 Twister with Sight Words via Confidence Meets Parenting
Word Tracing
Instead of practicing spelling on boring paper, try doing it outside on the sidewalk! This paint word tracing game is definitely a winner.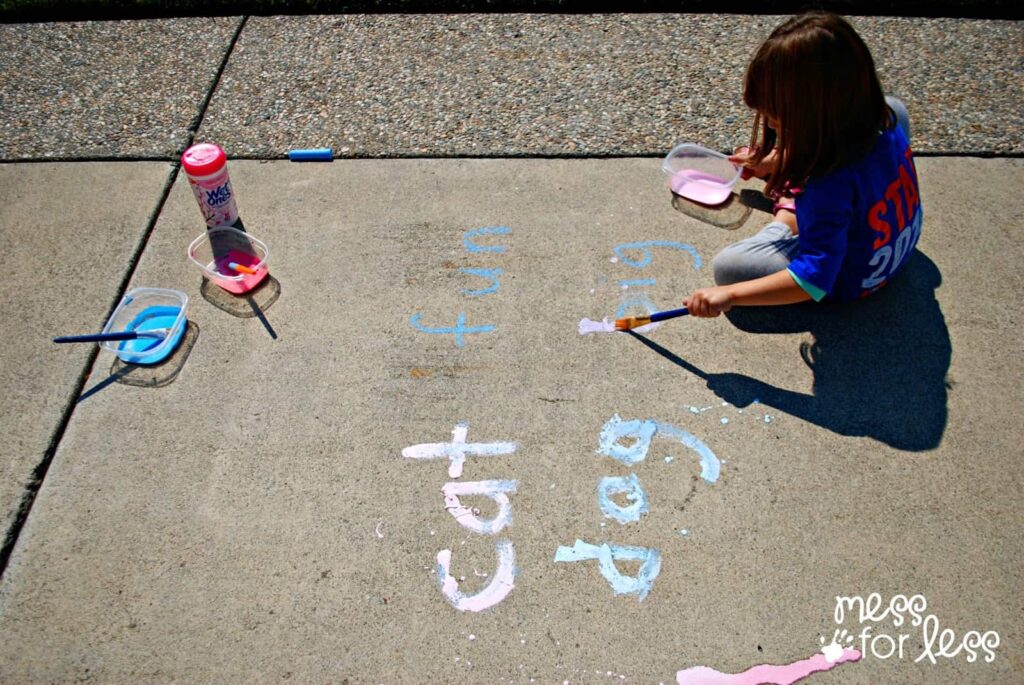 Sidewalk Paint Word Tracing Game via Mess for Less
Chalk Design
Creating a chalk masterpiece is so much fun. Here is some inspiration to help you decide what you want to draw!
Surfs Up
Ready to catch some waves? This surfing chalk art is so much fun and the perfect backdrop for your little one. Definitely post this one!!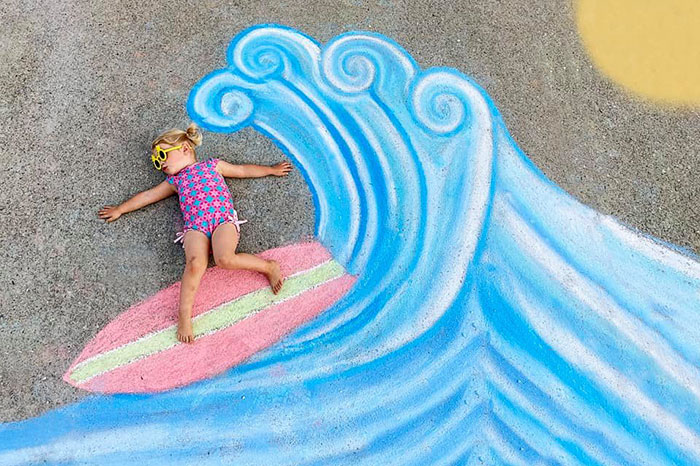 Adventure Chalk Art via Bored Panda
Under the Sea
Explore the ocean with this fabulous under-the-sea chalk art design. Bonus points if you dress up like little mermaid!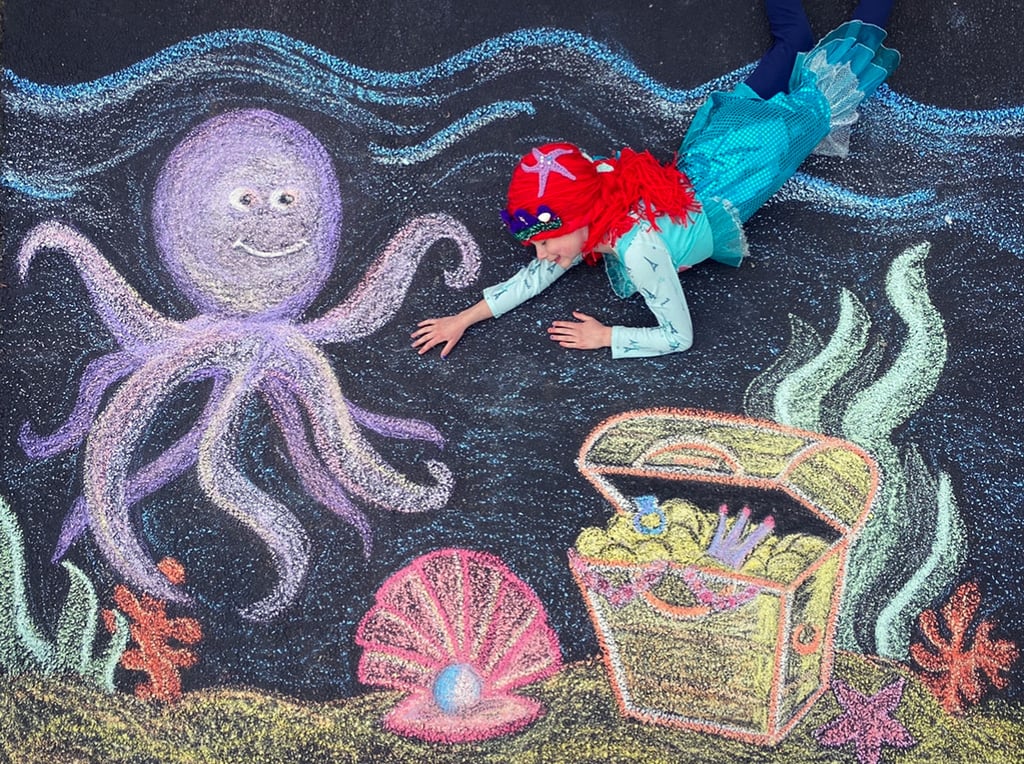 Under the Sea via Popsugar
Town
Using chalk to create an entire town can be so much fun! You and your kiddos will have a blast thinking of various buildings to add to your town.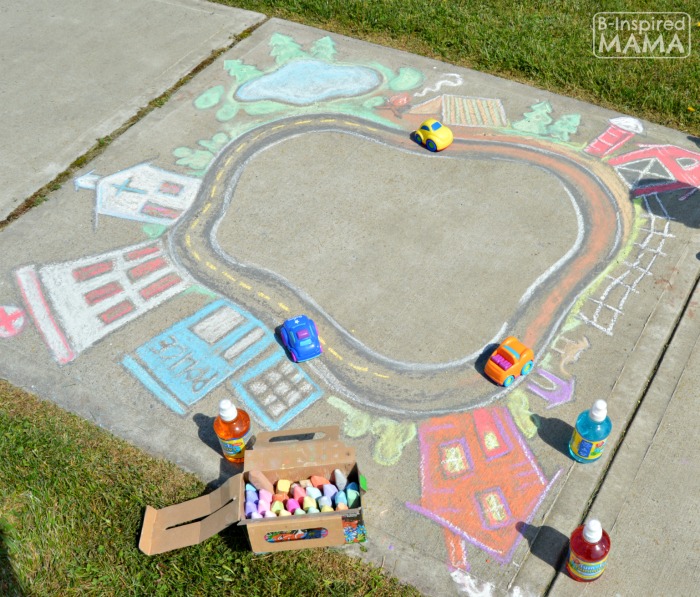 A Giant Chalk Art Town via B-Inspired Mama
Baby and Stork
Photograph your little one in this adorable stork chalk backdrop. This is definitely a picture to go in the scrapbook!
Baby and Stork via Scrapbook Tendance
Mosaic
This breathtaking chalk mosaic is so easy to make! Just tape off several sections and then fill each section with a color of your choice.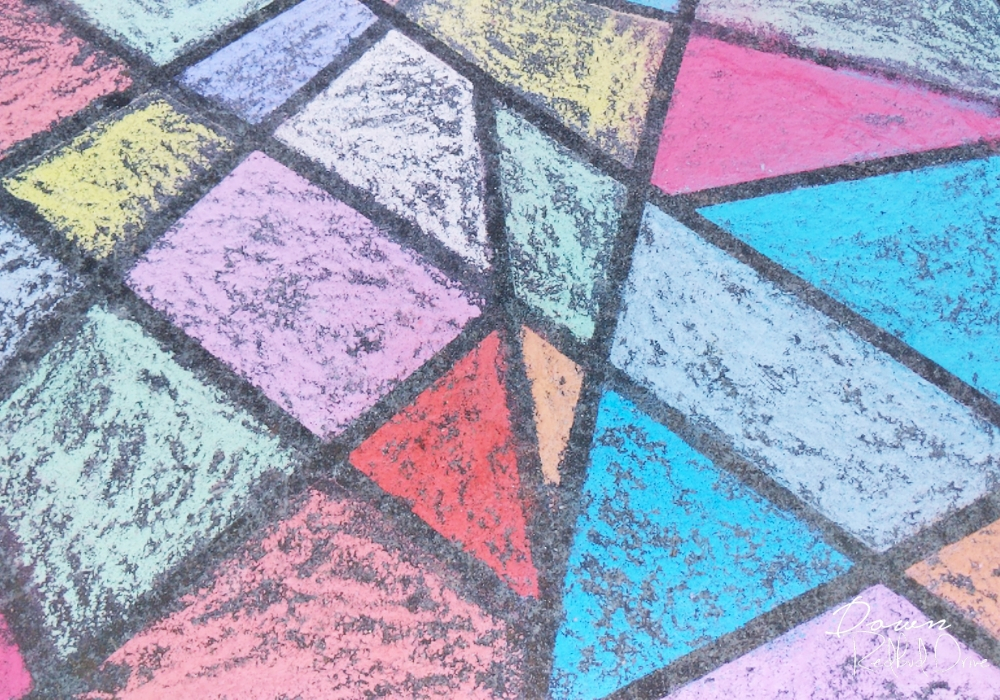 How to Make a Sidewalk Chalk Mosaic via Down Redbud Drive
Tropical Hammock
Creating a chalk design that can be interactive is so much fun! Simply help position your child so they look like they are enjoying a tropical day on the beach!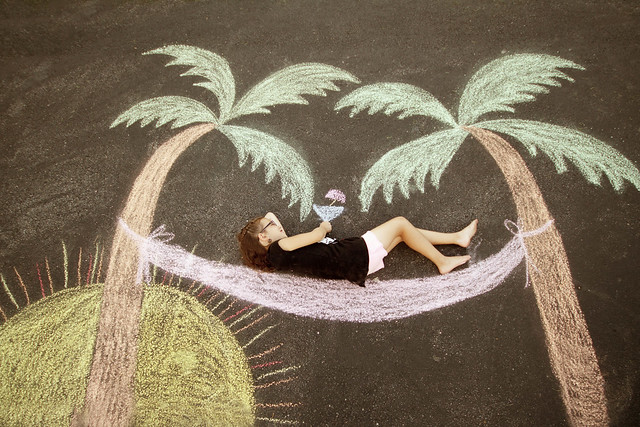 As The Sun Sets on the Summer via Burgh Baby
Diving Board
This diving board chalk art backdrop is just hilarious! It is so simple to draw and makes for a fun summer photo shoot.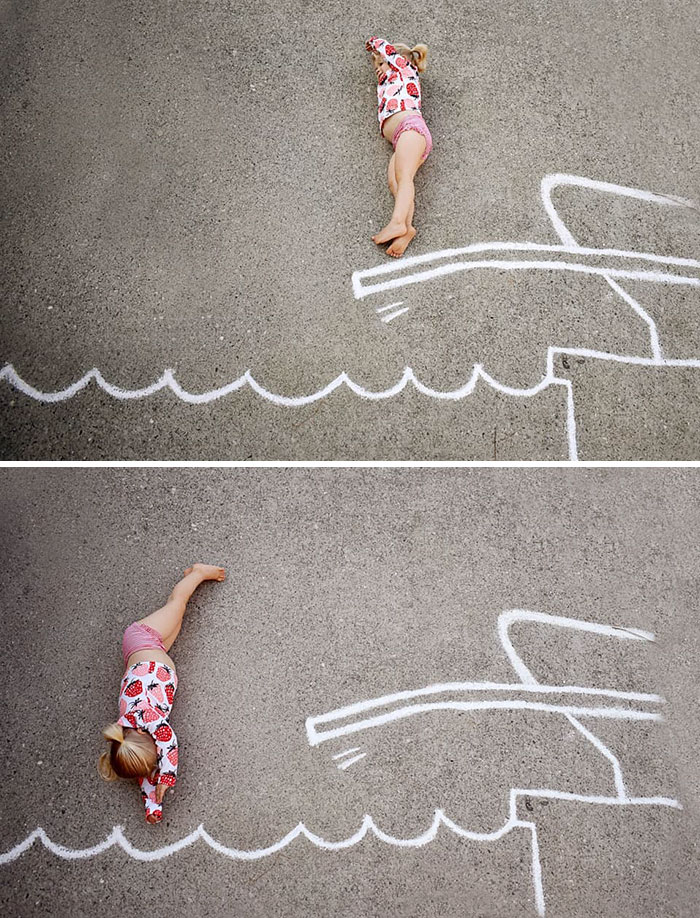 Chalk Art Adventures via Bored Panda
More Summer Fun