This glitter glue slime is made with only 3 ingredients and has a vibrant pink color that's loaded with glitter! Such a fun and festive craft that will keep the kids entertained for hours.
Homemade slime is one of my kid's favorite crafts! I love that it's an inexpensive activity that will keep the kids entertained for hours on end. We love to make this slime with glitter, as well as my easy sand slime. So fun!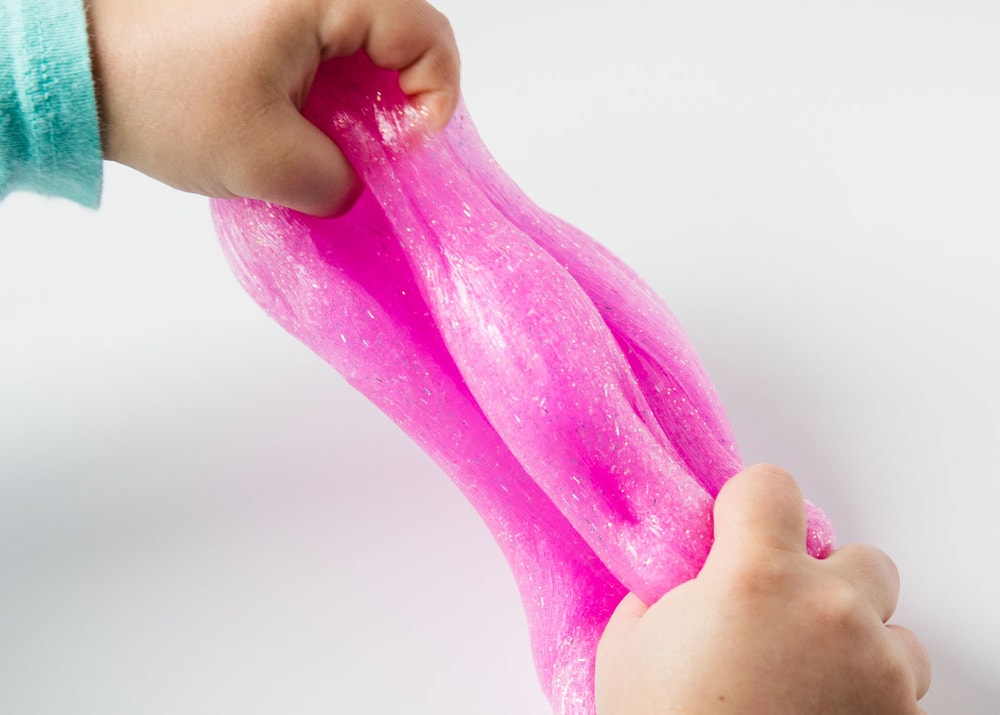 One of my kid's favorite activities to do when it's cold and rainy outside is to make homemade slime. And this time around, we made PINK glitter slime!
It turned out so cute and has such a vibrant pink color. Plus it's loaded with glitter…which my girls loved! They had so much fun playing with it.
You could easily make other colors too, like blue, green, purple, orange… you name it! Just buy the color of Elmer's glitter glue that you prefer. And feel free to add in more glitter to give it an extra shimmery look!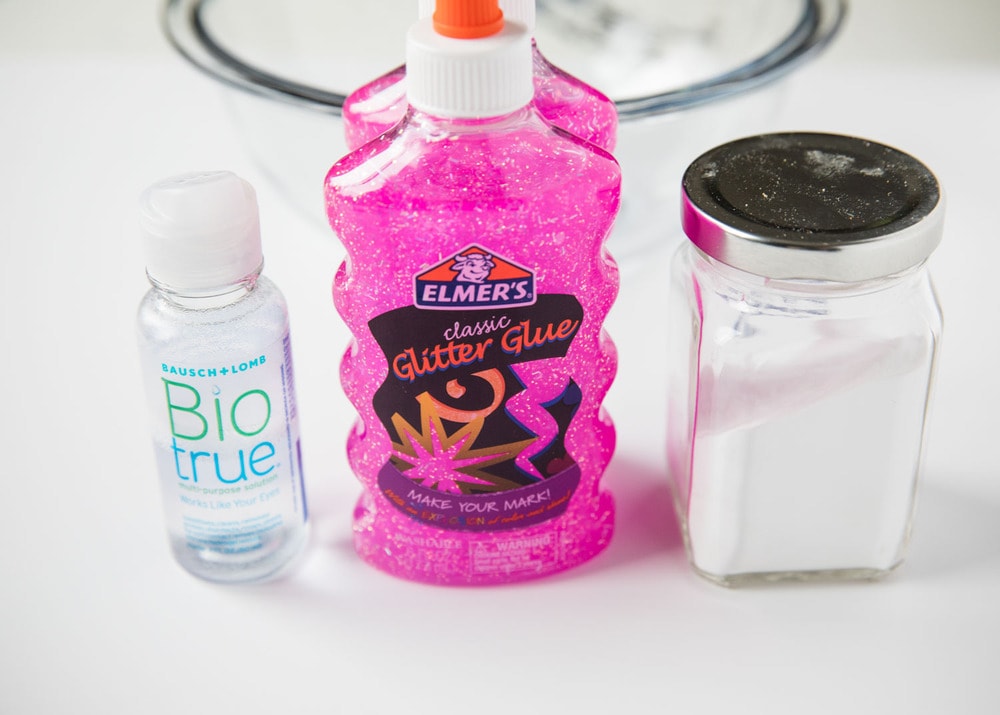 Ingredients
It's SO easy to make when you buy the Elmer's glitter glue. You only need 3 simple ingredients. Check them out below:
12 ounces Glitter Glue (2 bottles)
1 Tablespoon baking soda
2 Tablespoons contact lens solution or saline solution
How to make glitter slime
Pour glue into bowl and add baking soda to middle. Then pour contact solution on top.
Stir ingredients together until you can no longer stir. There will still be liquid in the bowl. Mix the liquid into the slime with your hands until it has all worked in (about 1-2 minutes) and is no longer sticky. It will not be sticky when it is all worked in.
Wash hands, then you're ready to play with your slime! Store in a plastic container with a lid or zip top bag.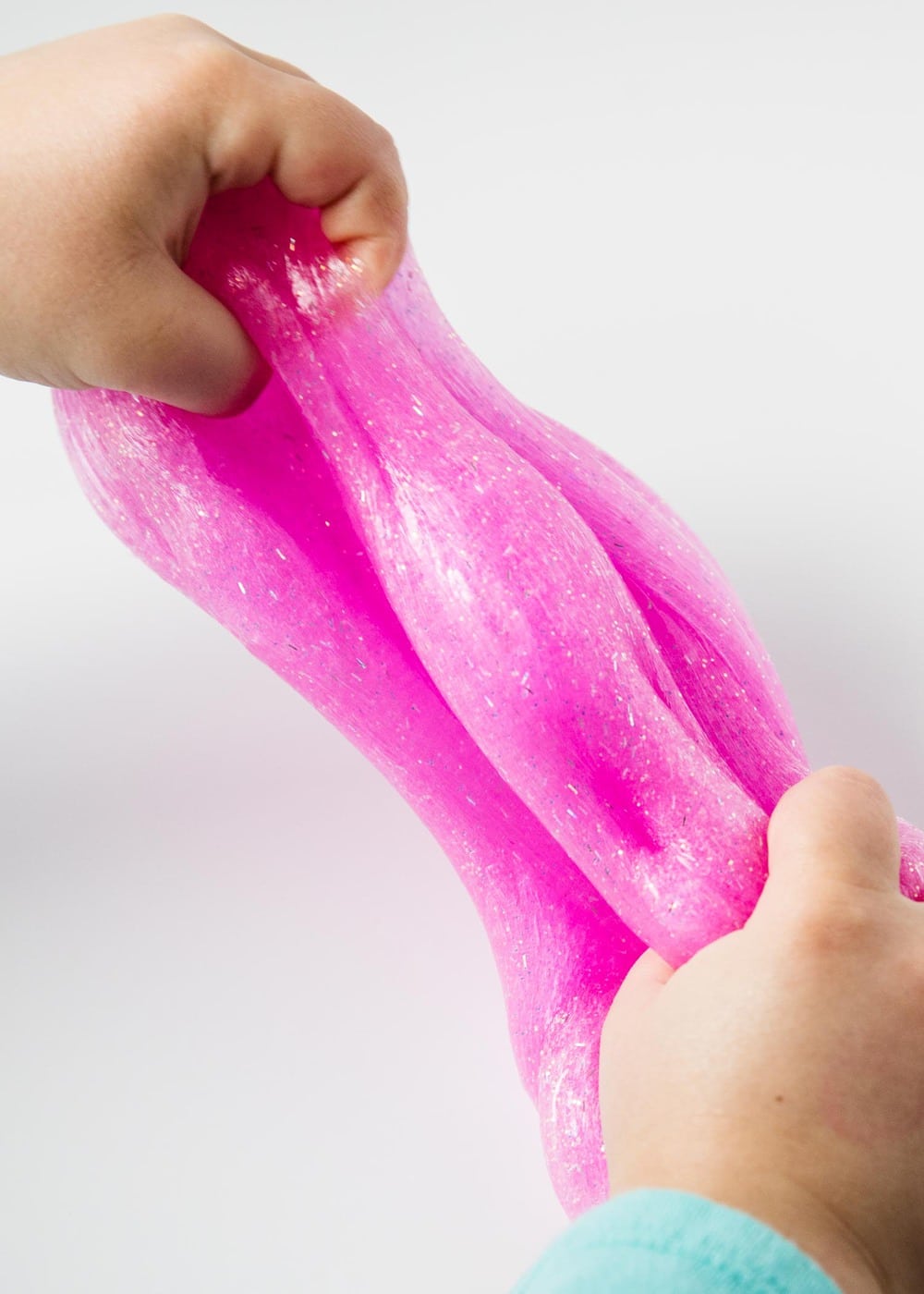 Can I add more glitter?
Sure! If you want your slime a little more glittery, feel free to mix in additional glitter. Try experimenting with different colors or even fun shapes like stars or hearts. So much fun!
Storage
To store, simply place in a plastic container with a lid or a zip top bag. I've found it's best to store in the kitchen, so that you don't find it all throughout your house.
More helpful tips
I like to lay a plastic tablecloth or trash bag on the table before getting started. It can get a little messy, so this helps make cleanup super easy.
It's best to keep it in the kitchen…you don't want to find it in the carpet!

It's also helpful to put girls hair in a pony tail, so the slime doesn't get in their hair. If it does get in their hair, don't worry. Just rub a little coconut or olive oil on it and comb it out.
More easy kid's crafts: