Glitter Slime...loaded with pink glitter and is so easy to make. A fabulous DIY craft that will keep the kids entertained for hours.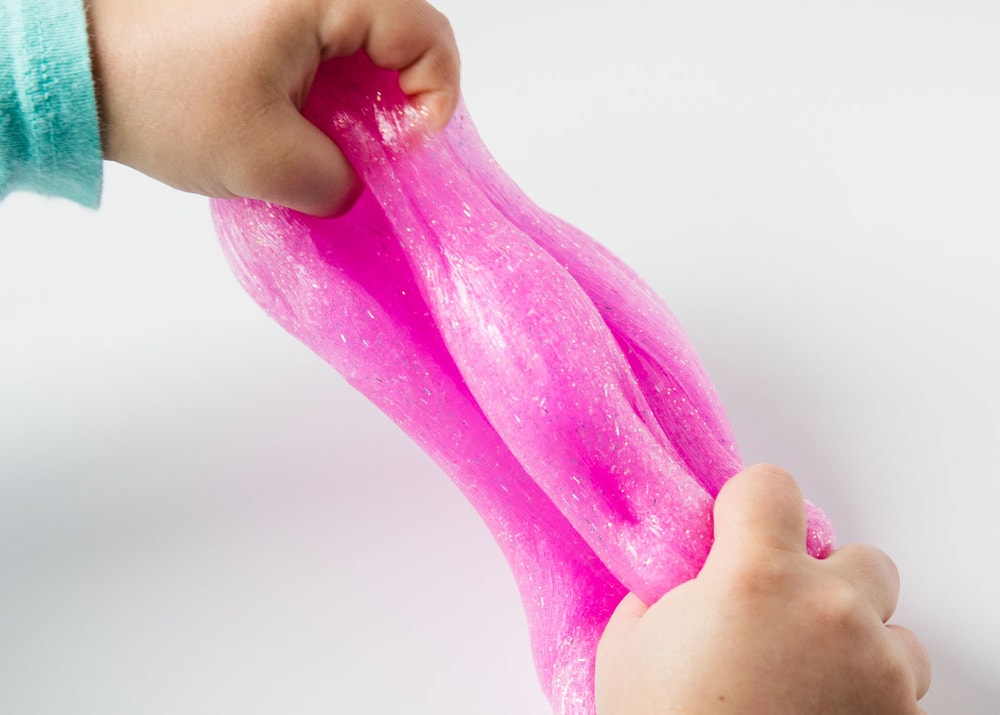 Easy Kid's Craft
If you are like me then you are constantly on the lookout for easy and affordable activities to do with your kiddos. It can be difficult to find crafts that don't take a lot of time to put together and that will keep your kid's attention long enough to make the craft worth it. Slime is definitely my go-to activity. It only needs 3 ingredients, it's fast to make, and most importantly, kids absolutely love playing with it.
If you have never made glitter slime then boy are you in for a treat! This recipe is for pink glitter slime, but you can choose any color you'd like. Below I have outlined all of the ingredients and steps so you can create your very own batch of glittery slime! Have fun!
Does the Glitter Stay in the Slime?
Regardless of what you may think, the glitter stays inside the slime and it is so much fun to play with! Elmer's classic glitter glue comes with the glitter already incorporated so you don't have to even handle a bottle of glitter. If you want to add extra glitter to make it very sparkly you can, but don't forget to close the bottle to avoid spills.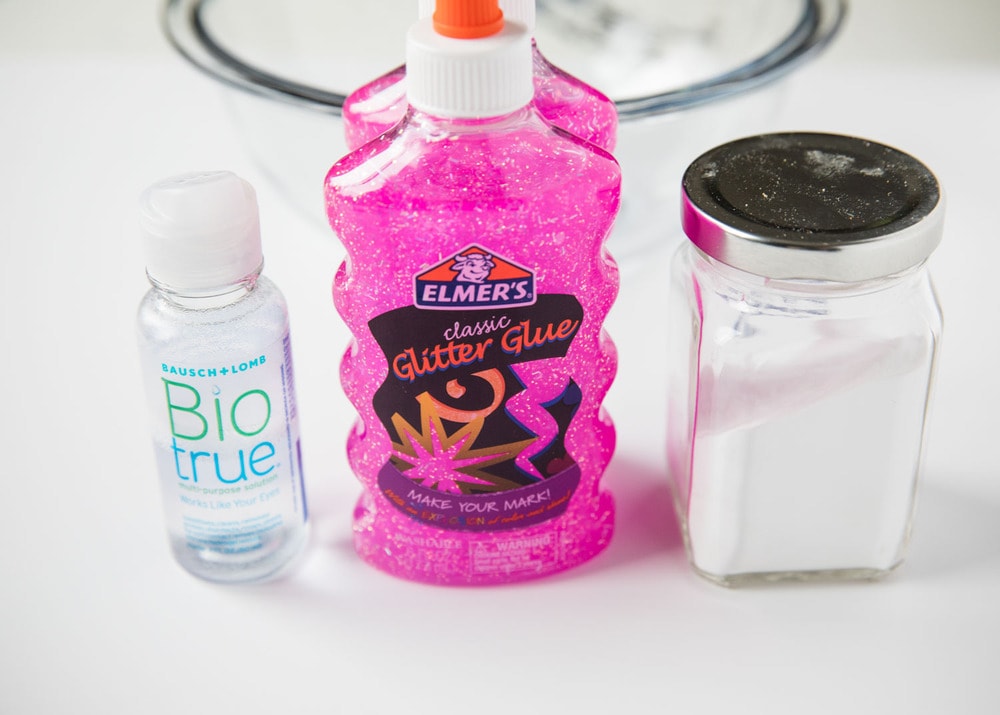 Ingredients
12 ounces Elmer's Glitter Glue (2 bottles)
1 Tablespoon baking soda
2 Tablespoons contact lens solution or saline solution
How to Make Glitter Slime
Pour glue into a bowl and add baking soda to the middle. Then pour contact solution on top.
Stir ingredients together until you can no longer stir. There will still be liquid in the bowl. Mix the liquid into the slime with your hands until it is all worked in (about 1-2 minutes) and is no longer sticky.
Wash your hands and play with your slime! Store in a plastic container with a lid or zip-top bag.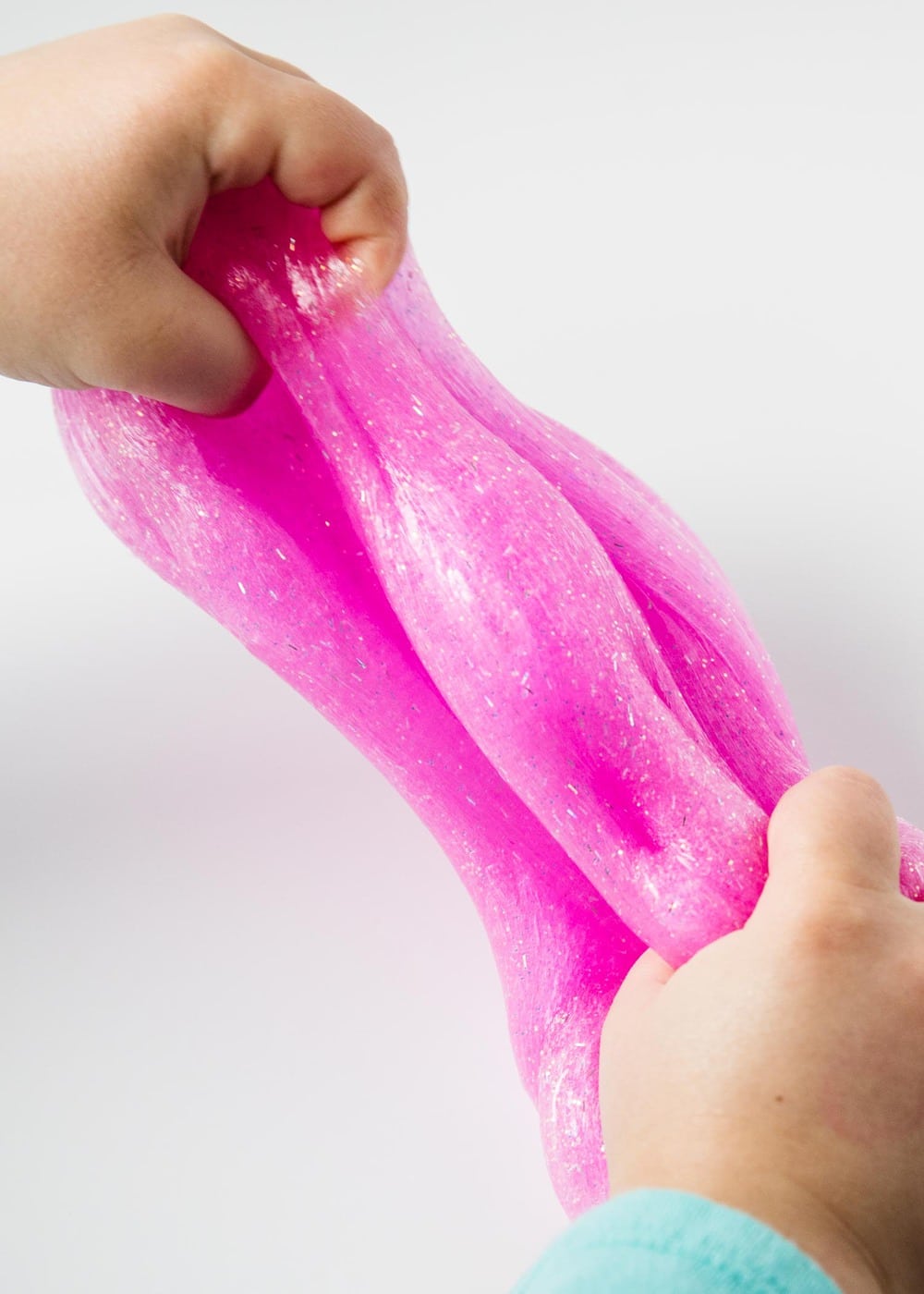 Can I add more glitter?
Yes! You can definitely add in more glitter if you're feeling extra fancy. You can even put in fun shapes like stars or hearts to customize your slime a bit.
More helpful tips
Try laying down a plastic tablecloth or trash bag on the table before getting started. It can get a little messy, so this helps make cleanup super easy.
Keep your slime in the kitchen…you don't want to find it in the carpet!
Tie up your child's hair with a ponytail to avoid slimy hair.

If it does get in their hair, don't worry. Just rub a little coconut or olive oil on it and comb it out.
More Easy Kid's Crafts: