50 BEST Thanksgiving Printables!
50 Best Thanksgiving Printables…ideas for making this holiday extra special!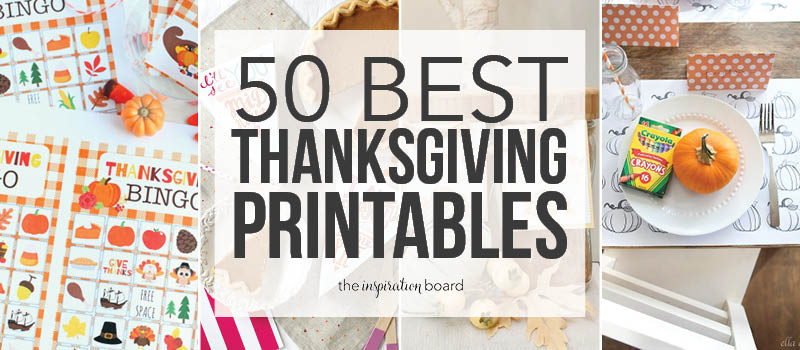 A Season of Gratitude
I look forward to Thanksgiving all year long. There is something special about this holiday. It's almost as if a wave of gratitude washes over us causing us to remember our blessings and express our love. Good company, tasty food, and delicious pies…yep I love Thanksgiving.
Another fun part of Thanksgiving is decorating! Making my home festive has always been a hobby of mine. Adding some personal touches to the dinner table can go a long way in adding to the Thanksgiving spirit of gratitude. Below you'll find 50 printables that will help you decorate, entertain, and spread a little holiday joy with everyone!
Placemats
Placemats are a must when it comes to Thanksgiving! They. are perfect for entertaining kids and look so cute underneath the plate. Below are some of my favorite placemat designs.
Pumpkins
This pumpkin placemat is adorable! It looks great underneath a plate and kids and adults will have fun coloring it.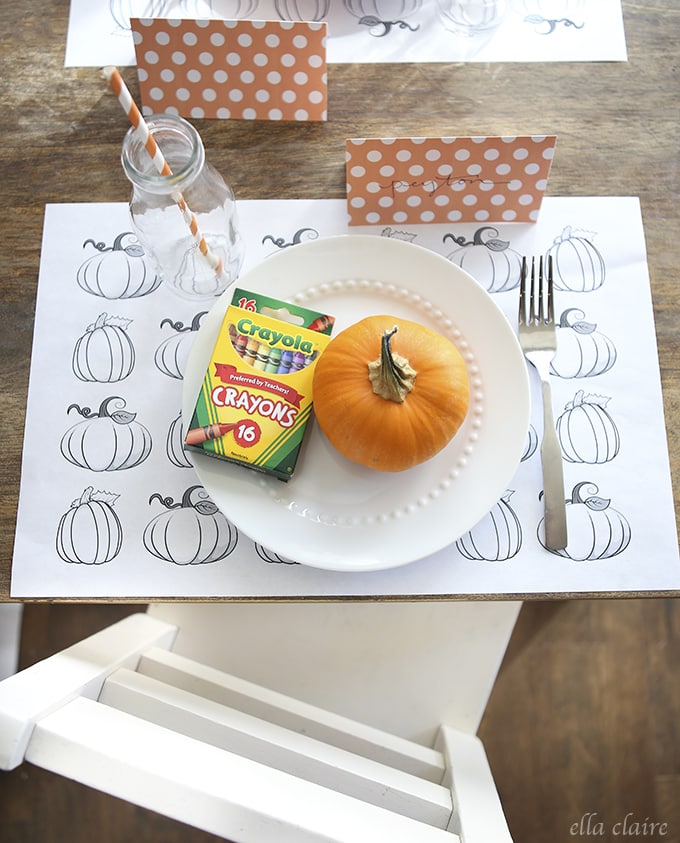 Thanksgiving Coloring Placemats via Ella Claire & Co
Sheet Music
I have never seen this and I am loving it! Bring some joyous music into your Thanksgiving with this beautiful placemat.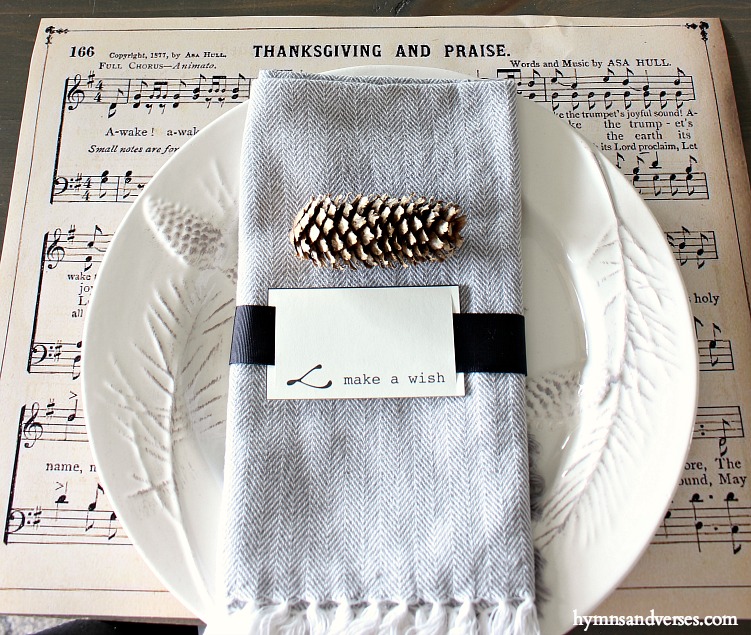 Printable Thanksgiving Placemat via Hymns and Verses
Gobble Gobble
This placemat is all about food! Kids will have so much fun drawing what they are grateful for and also drawing the foods they see.
Kid's Thanksgiving Placemat via My Sister's Suitcase
Detailed Design
These placemats are gorgeous! Kids, teens, and adults will love coloring these.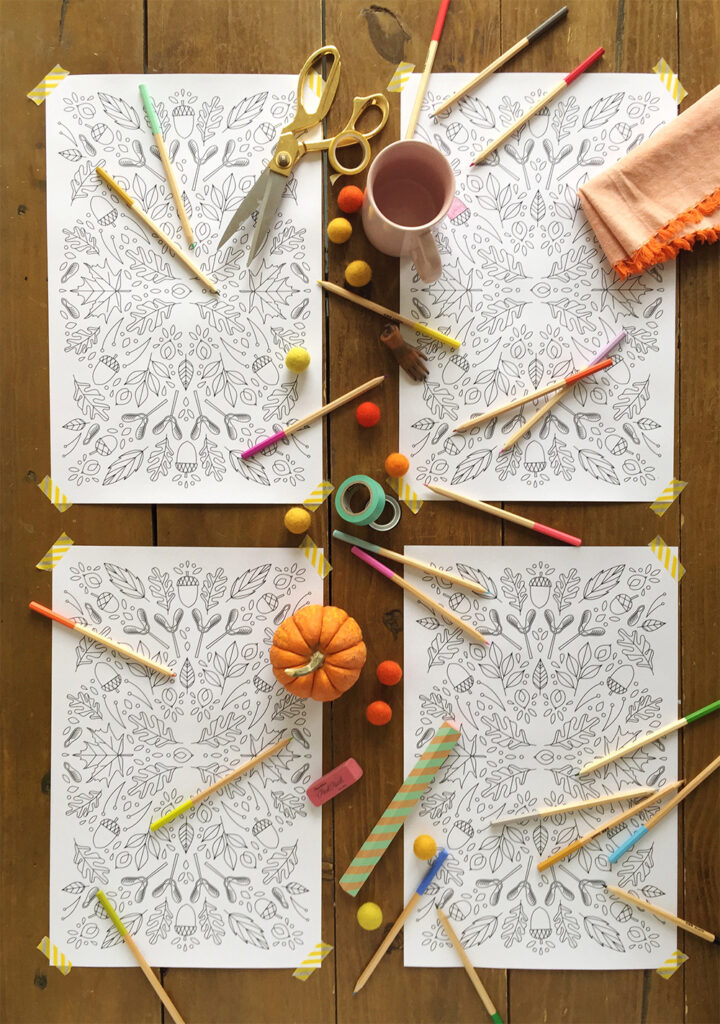 Printable Coloring Thanksgiving Placemats via Lars
Give Thanks
Add a little flair to your Thanksgiving table with these cute placemats! I love the greenery on these.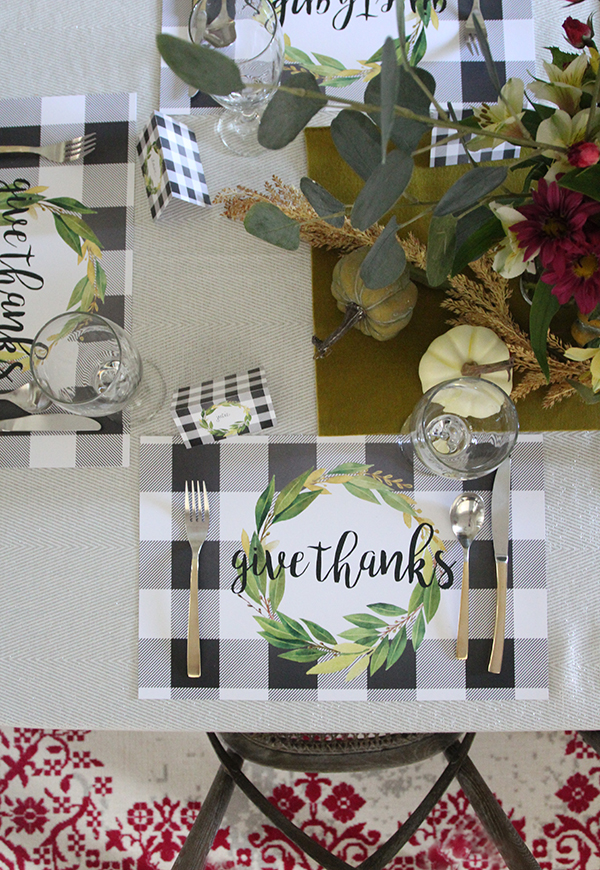 Free Printable Placemats via Life of Bliss
I Am Thankful For…
Placemats are the perfect place to write the things you are thankful for. These mats are simple with a beautiful leaf border!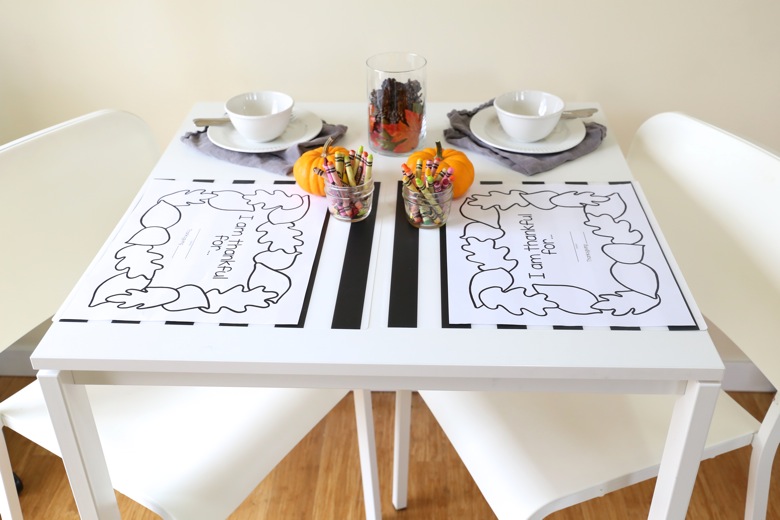 Printable Thanksgiving Placemats via MAMA.PAPA.BUBBA
Turkey
Kids love coloring turkeys and Thanksgiving dinner is the perfect opportunity to do so. Your kiddos will be mesmerized at deciding what color of wings their turkey should have!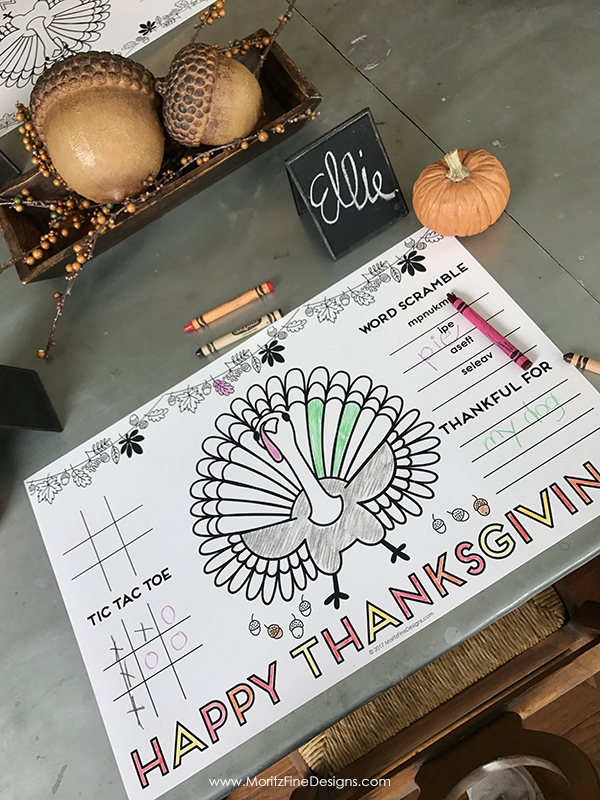 Thanksgiving Placemat for Kids via Moritz Fine Designs
Games
One of the best parts of Thanksgiving is catching up with family and friends. Games are a perfect way to break the ice and have fun together!
Roll a Turkey
Roll a Turkey is a great game for kiddos to play together with their siblings and cousins. Be sure to save some m&m's for yourself!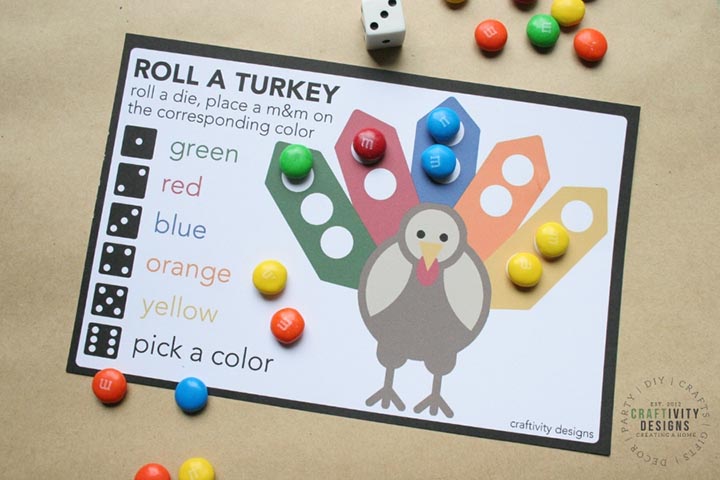 Roll a Turkey- Free Thanksgiving Game for Kids via Unoriginal Mom
Pictionary
Here's another great game to play with friends and family on Thanksgiving. Pictionary is always a hit and can be hilarious!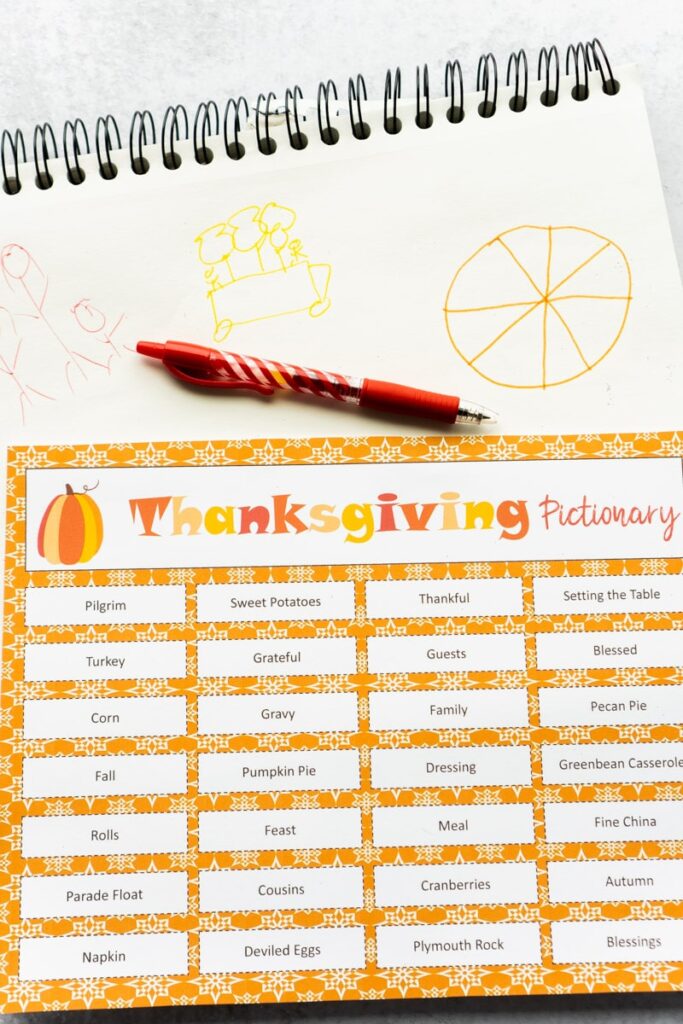 Printable Thanksgiving Pictionary Game via PLAY PARTY PLAN
Would You Rather
Would you Rather is a fantastic icebreaker game to help you get to know the personality of your neighbor a bit better. Simply hand one of these to each guest and watch the mingling happen!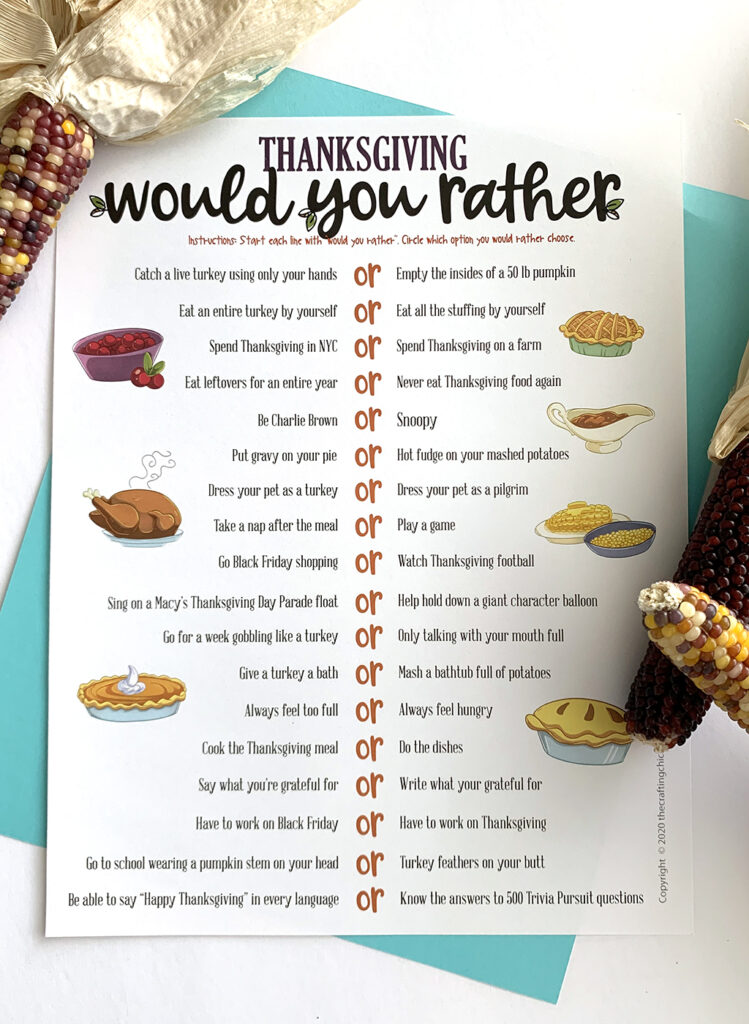 Thanksgiving Would You Rather Free Printable Game via Crafting Chicks
Bingo
Who doesn't love Bingo?! This classic game is simple to set up, easy and can be played with many people.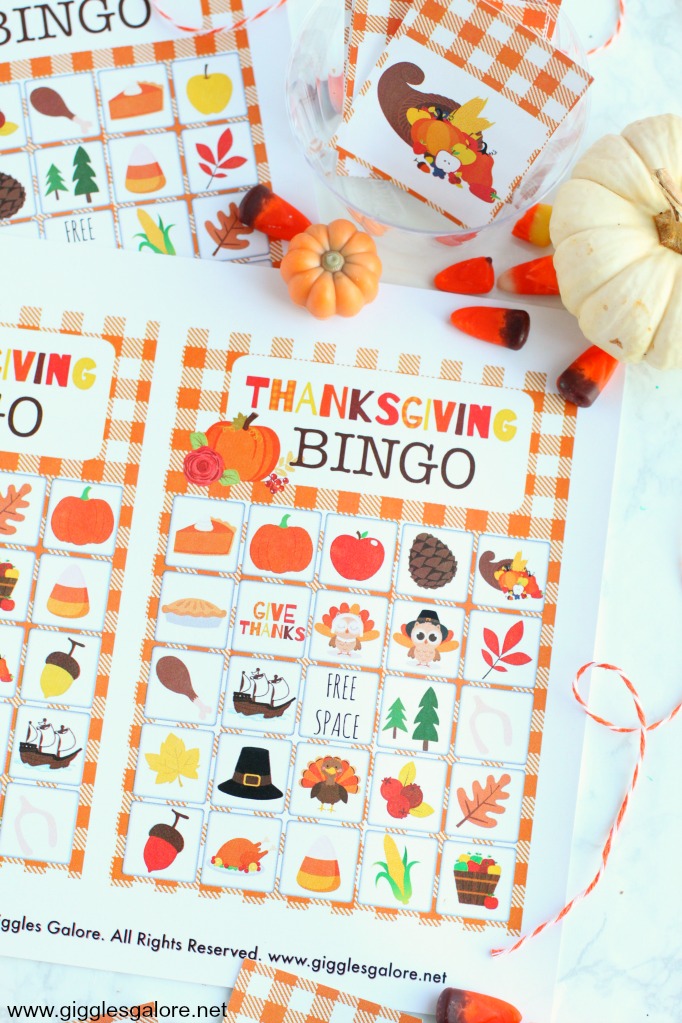 Free Thanksgiving Bingo Printable via Giggles Galore
Trivia
Put your knowledge to the test with a game of trivia! Everyone will enjoy learning new facts about this special day. For extra fun, get a prize for the winner!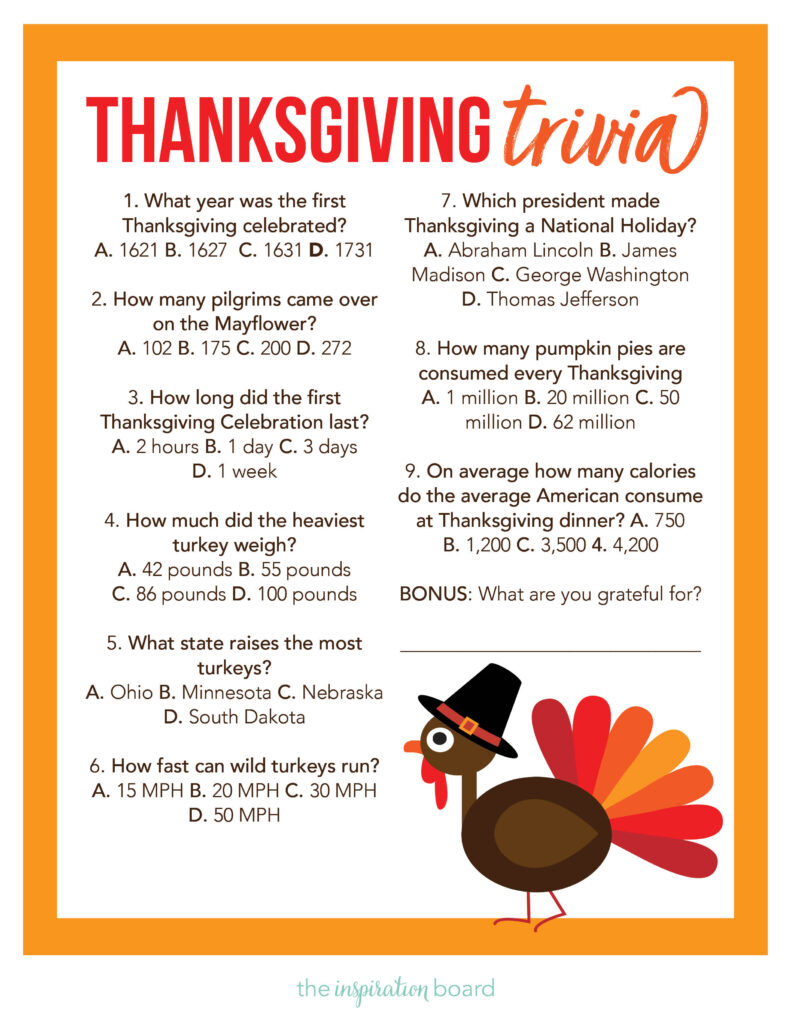 Word Search
Surprise each guest with their very own word search! They will enjoy looking for the words either before dinner or after.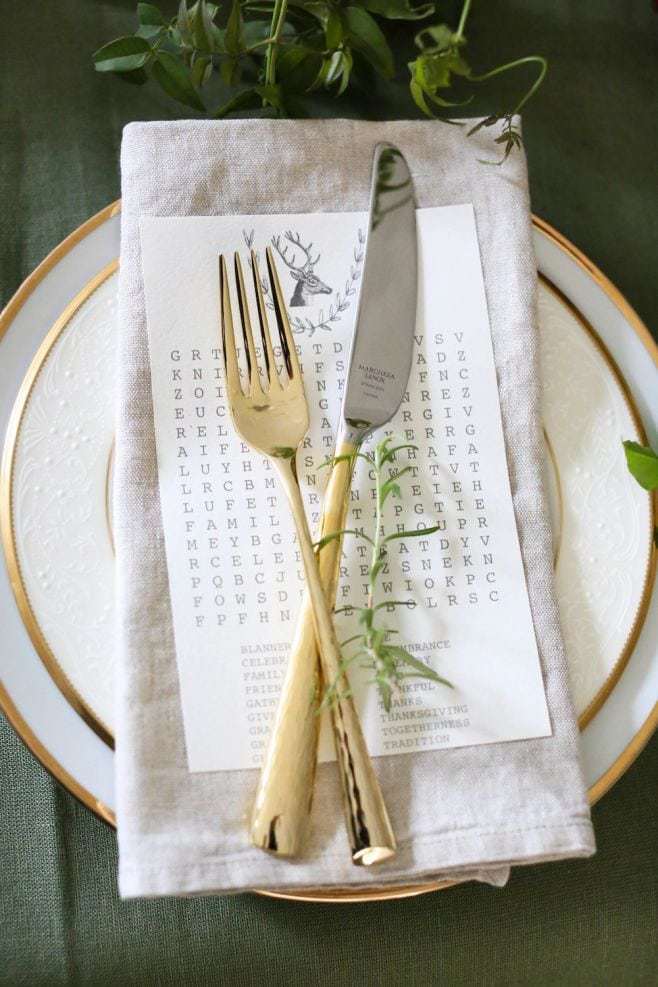 Thanksgiving Printable Word Search via Julie Blanner
Activities
Thanksgiving activities are all about spreading love and gratitude. These ideas are sure to accomplish that!
Postcards
Sending gratitude postcards during November is a wonderful tradition and will make those who may live far away feel loved and included. I love the space for drawings!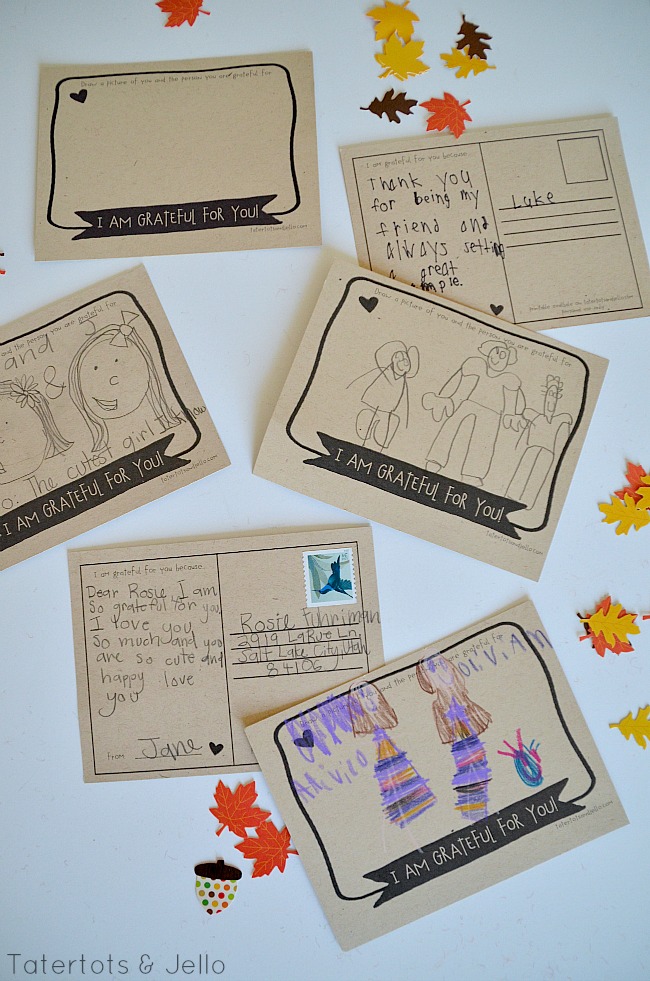 Free Thanksgiving Printable Postcards via Tatertots & Jello
Gratitude Jar
Bring some gratitude into your home with this darling jar! It's simple, cute, and the kids will have so much fun making a paper chain!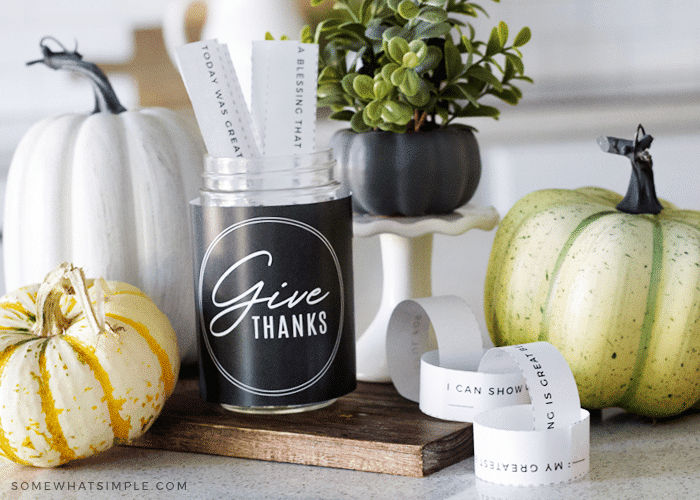 Gratitude Jar Free Printable via Somewhat Simple
Thankful Turkey
Placing a thankful turkey on the wall is a great way to stay positive and grateful! Check out this FREE printable!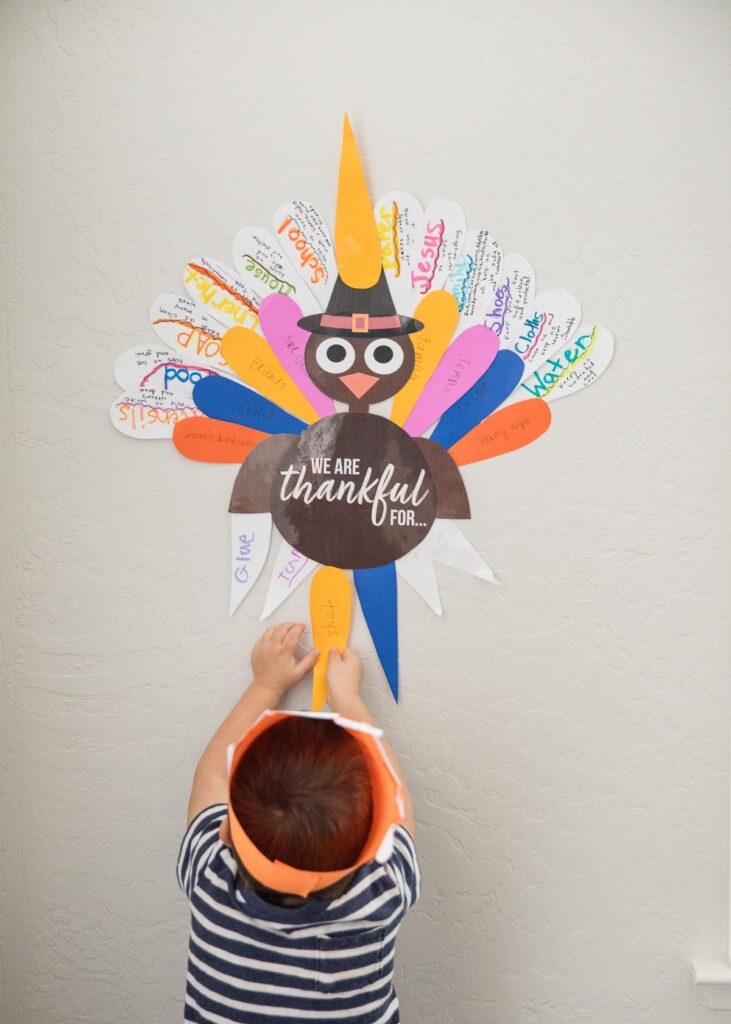 Grateful Worksheet
It's important to help kids remember all of the good things in life. This grateful worksheet is perfect for getting your kiddos in the Thanksgiving spirit!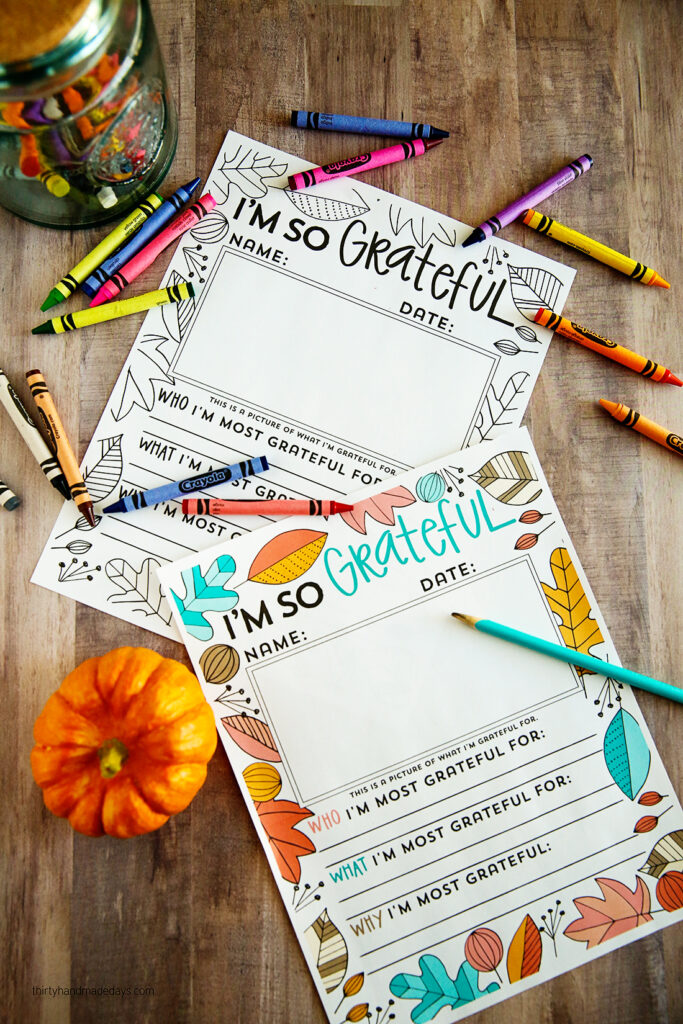 "I'm Grateful For.." Thanksgiving Coloring Pages via Thirty Handmade Days
Scavenger Hunt
Who doesn't love a good scavenger hunt?! Kids will have so much fun walking around the house looking for these fun items.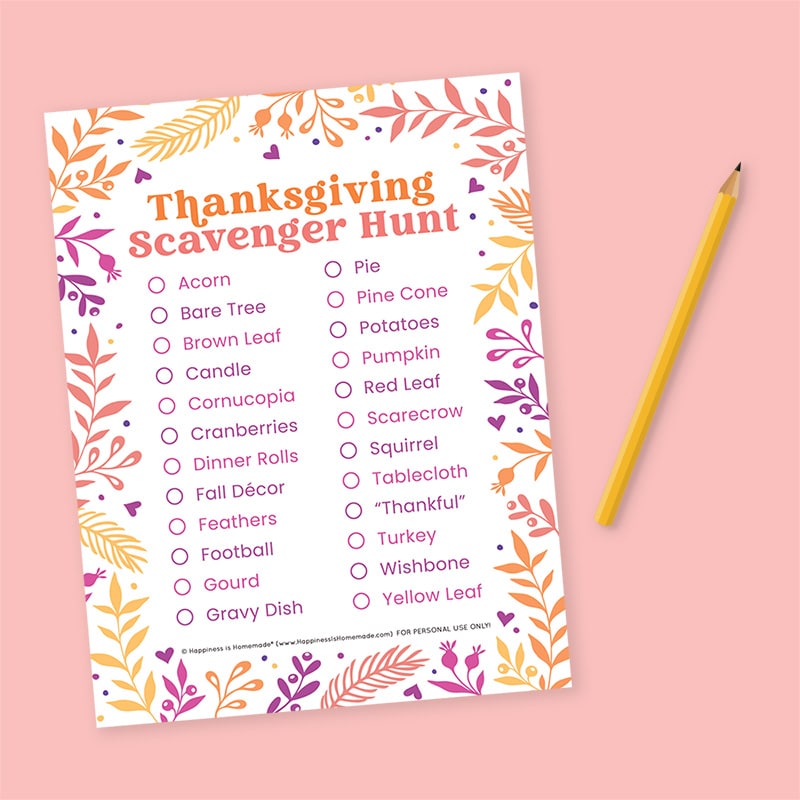 Free Thanksgiving Scavenger Hunt Printable via Happiness is Homemade
Coloring Pages
Coloring is a wonderful way to inspire creativity while keeping the kiddos busy. These coloring pages are adorable and great for Thanksgiving!
Variety Pack
Place one of these coloring pages in front of your kiddos and watch them go crazy! They will love all of the fun activities on these.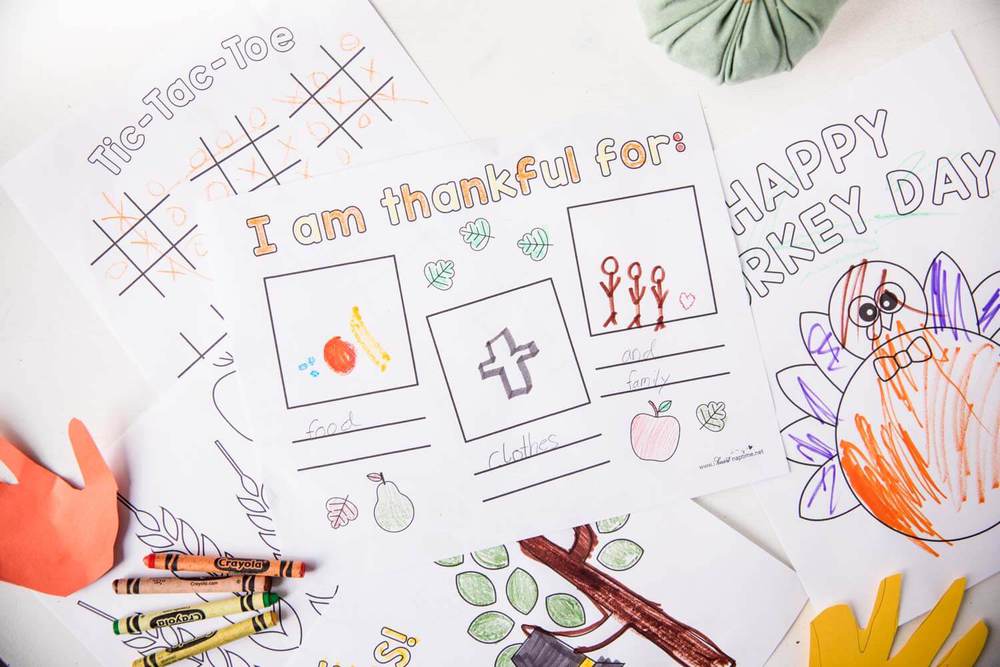 Classic Turkey
A turkey needs to be part of your coloring portfolio each November. This classic coloring page is festive and cute!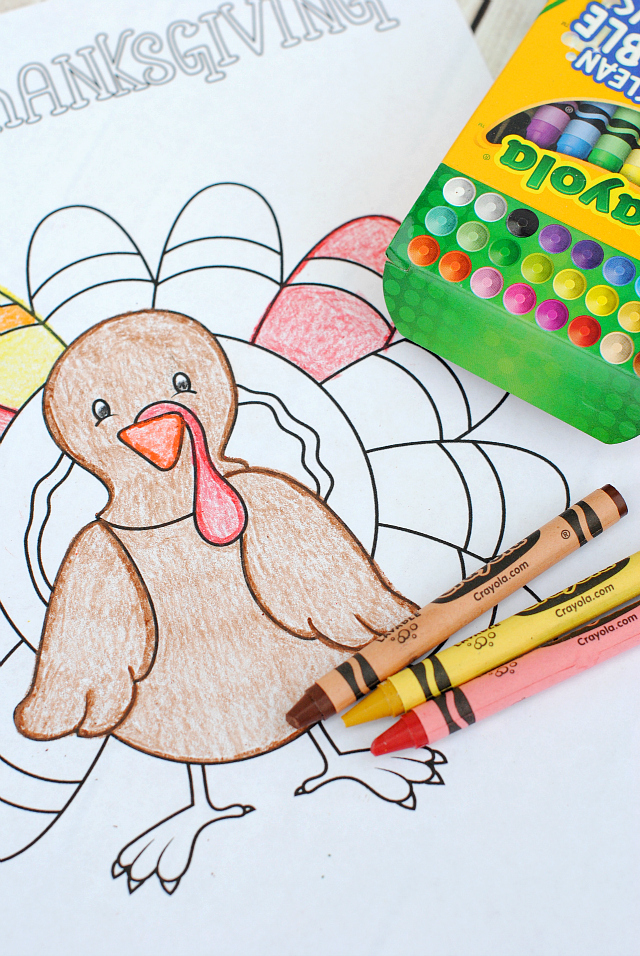 Free Thanksgiving Coloring Pages via Crazy Little Projects
Happy Thanksgiving
I love all the fun pictures on this one. You can't go wrong here!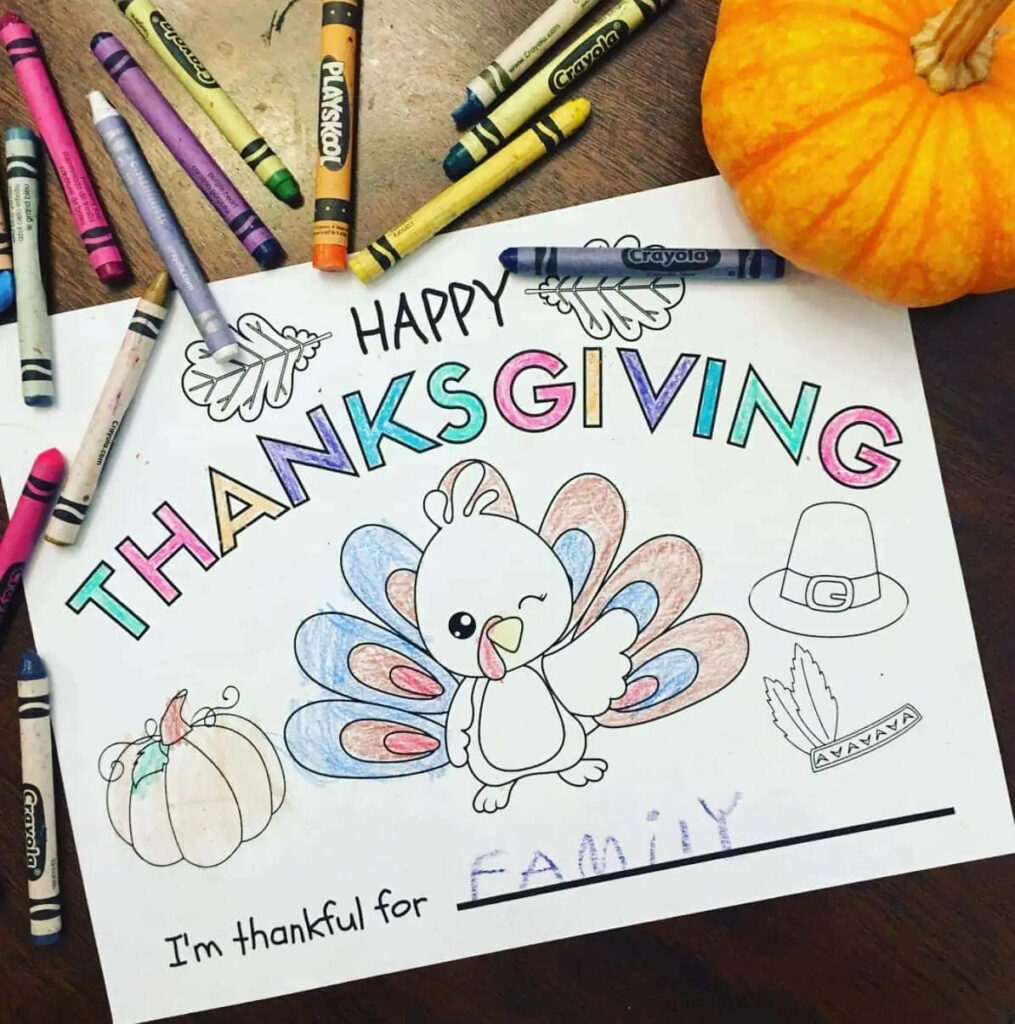 Free Thanksgiving Printable Coloring Page via Making Frugal Fun
Gobble 'til you Wobble
Why not add a little comedy to your coloring? This page is hilarious and great for the holidays!
An Adult Coloring Page for Thanksgiving via Kitchn
Dog
A dog isn't something we usually think of in regards to Thanksgiving, but totally works! Kids will love this adorable picture.
Free Thanksgiving Printable Coloring Pages via More Than a Mom of Three
Pilgrims
Here is a classic pilgrim coloring page. It is a great way to teach kids about the history of Thanksgiving.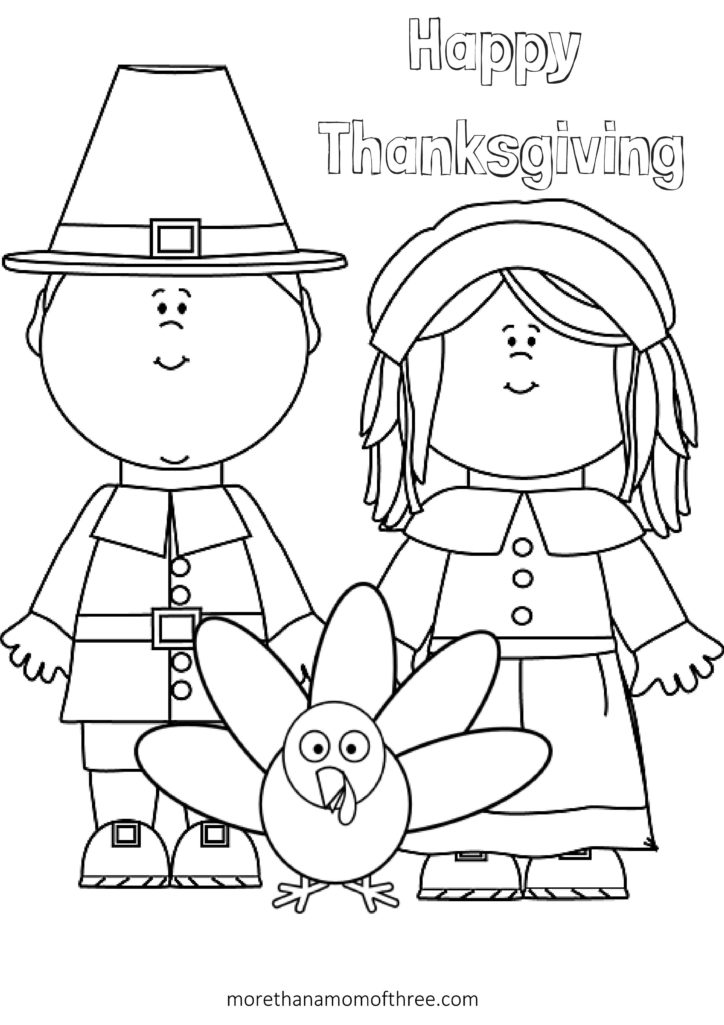 Free Thanksgiving Printable Coloring Pages via More Than a Mom of Three
Place Cards
Place cards are a wonderful way to add some formal design to your table. They look incredible and are a big help to guests, who may not know where to sit.
Leaves
These orange leaves are breathtakingly beautiful. This is one place card that you will want to take home!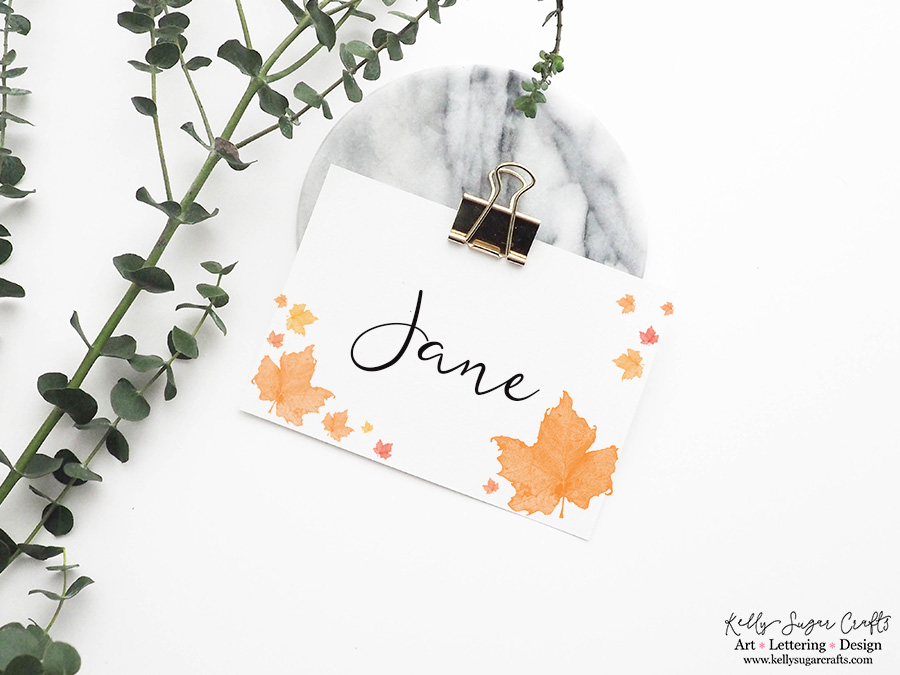 FREE Fall Printables- Place Cards via Kelly Sugar Crafts
Thankful
This simple place card is gorgeous! I love how it says thankful and sits right on the plate with a little flower arrangement. So cute!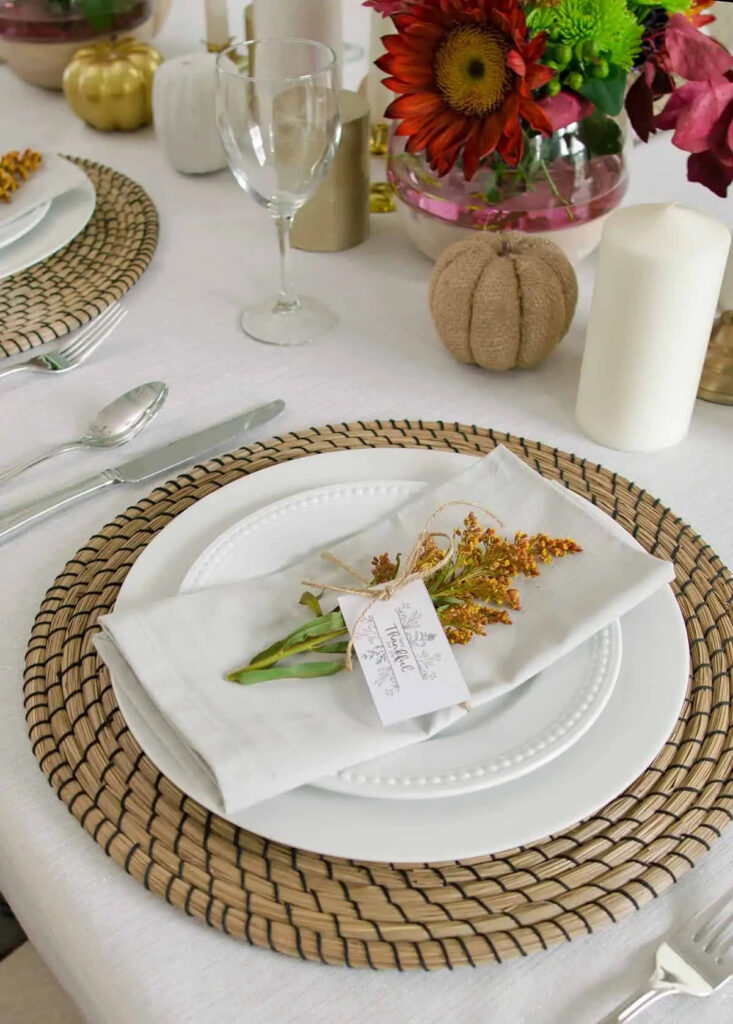 Thanksgiving Table Decorations+ FREE Printable via Craving Some Creativity
Classic
When in doubt go with a classic white paper with black writing. It looks so clean and timeless.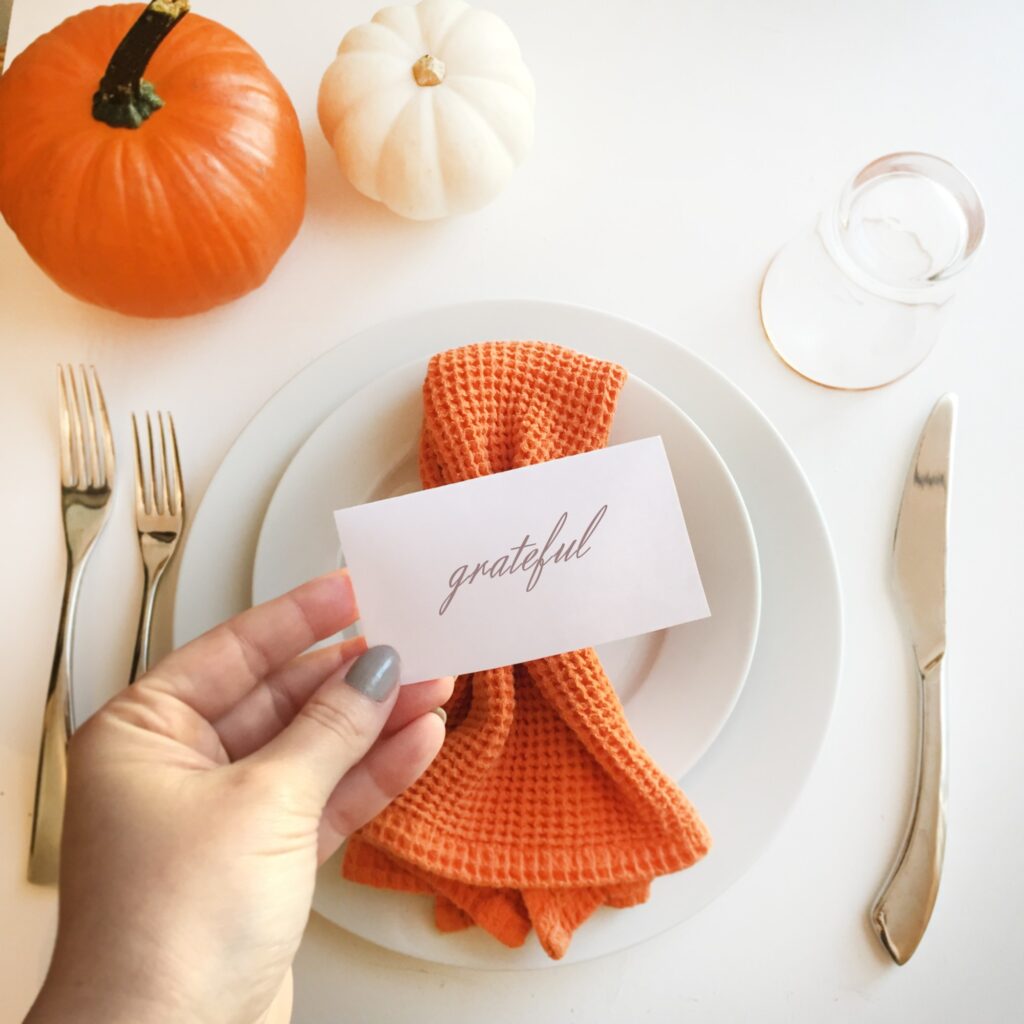 Printable Thanksgiving Placecards via Bombshell Bling
Floral
The color in this place card is incredible! This would look great with a white plate.
FREE Thanksgiving Table Printables via Today's Creative Life
Decor
Adding those small touches around the house makes Thanksgiving all the more special. Here are a couple of my favorite ideas!
Boho Art
This wall art looks so Boho to me! I love it! The simple and gorgeous design will look amazing in your home!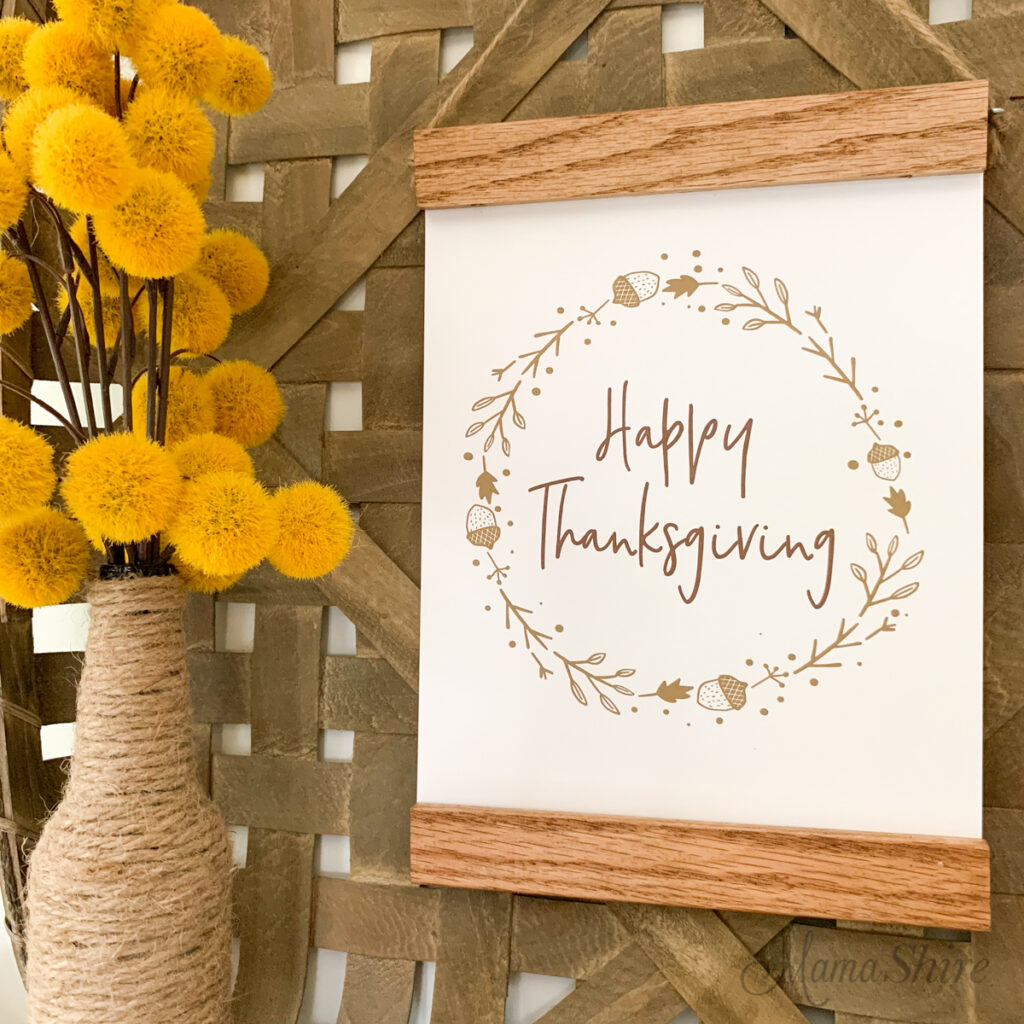 Free Thanksgiving Printables via MamaShire
Napkin Ornament
Transform your plain napkins into gorgeous displays with this lovely ornament. This printable is simple and cute!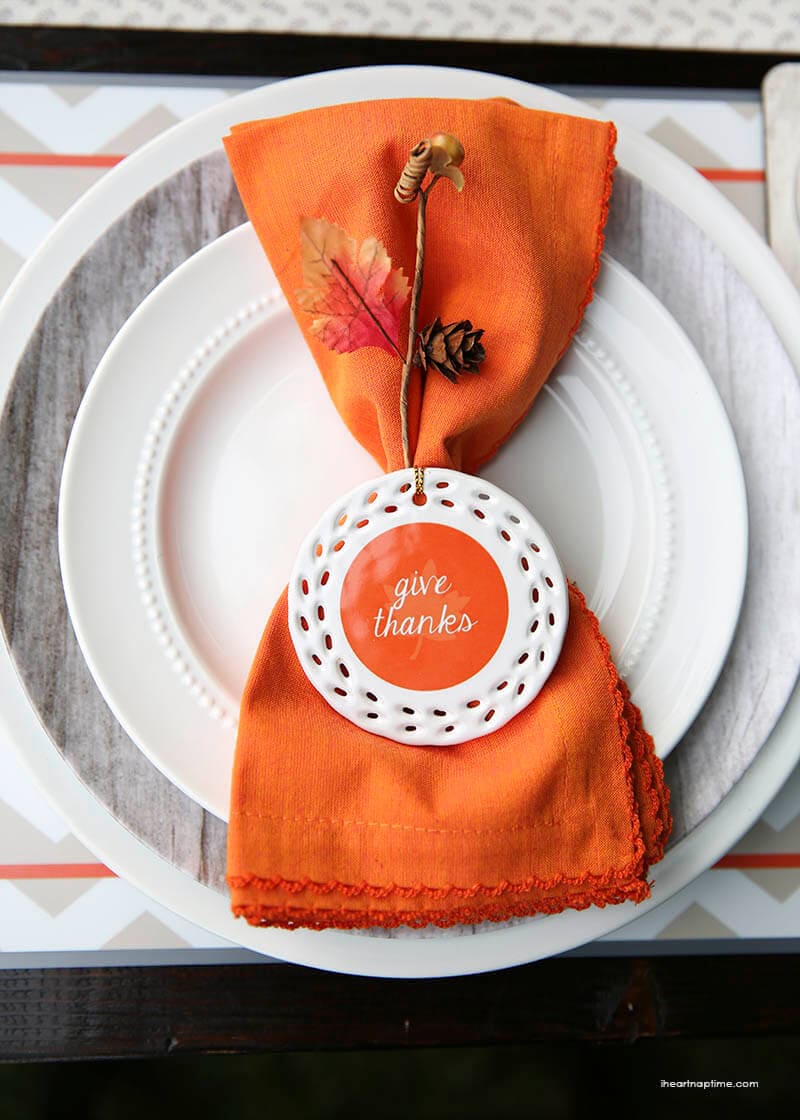 Thanksgiving Tablescape + Free Printables
Fall Hot Beverage Bar
WOW your guests with an amazing beverage bar! These printables are simple and cute. Don't forget the whipped cream!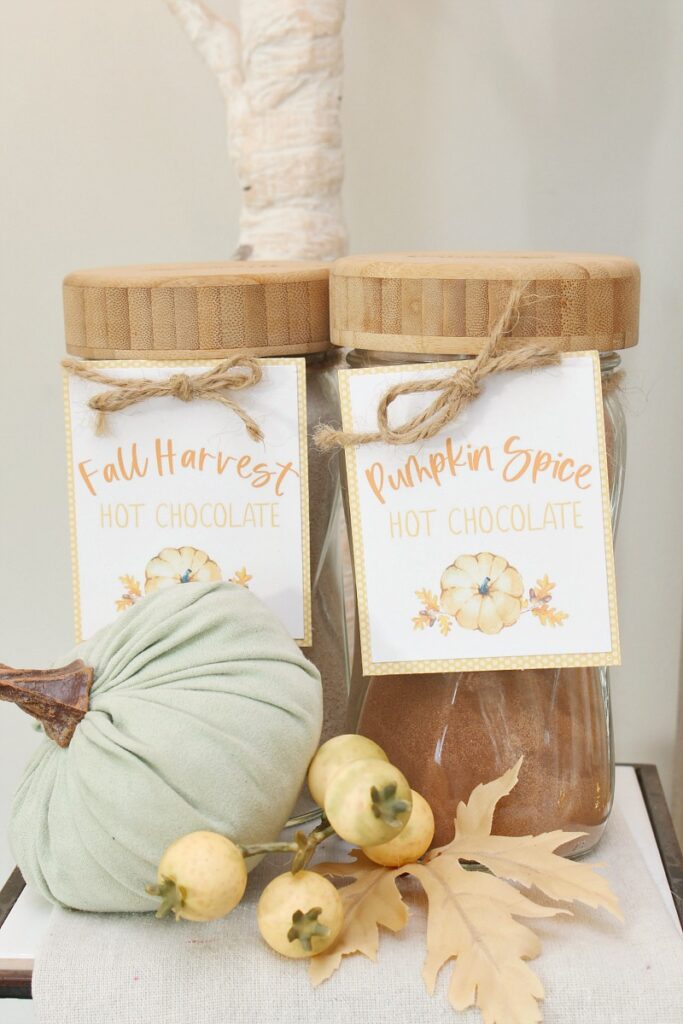 Fall Hot Beverage Bar via Clean & Scentsible
Gather Garland
I have never seen printable garland and I am loving it! The colors of this garland are timeless and clean.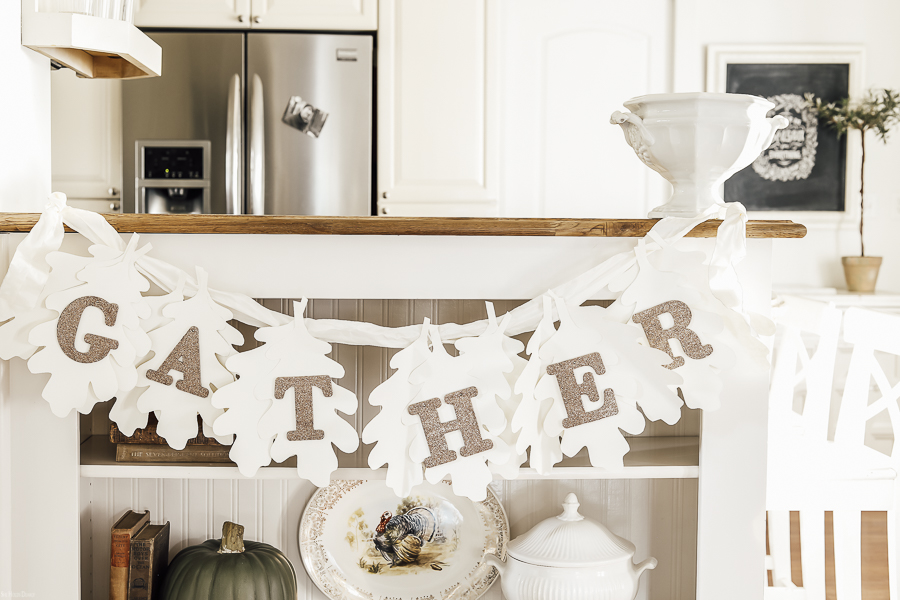 Printable Thanksgiving Garland via She Holds Dearly
Pumpkin Table Setting
This pumpkin table setting gives a personal touch to each plate and makes a wonderful souvenir for guests to take home. You'll be getting compliments with this one!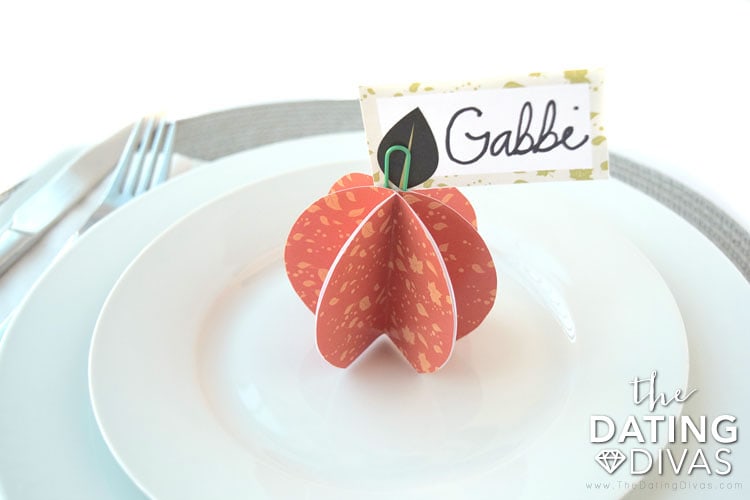 Thanksgiving Table Settings via the Dating Divas
Gold Art
How cute is this?! I love the simplicity in this printable. This gorgeous gold design will add some magic to the room.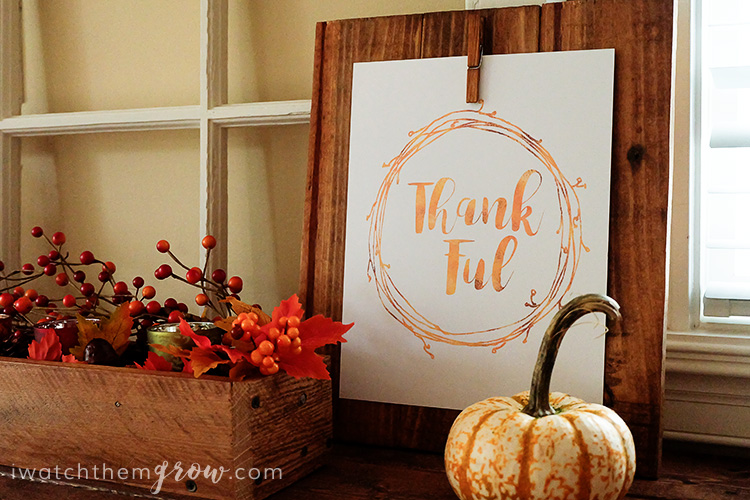 Free Gold Thankful Printable via I Watch Them Grow
Thankful Banner
Looking for more festive Thanksgiving decorations for around the house? Try a banner! This thankful banner is simple and cute.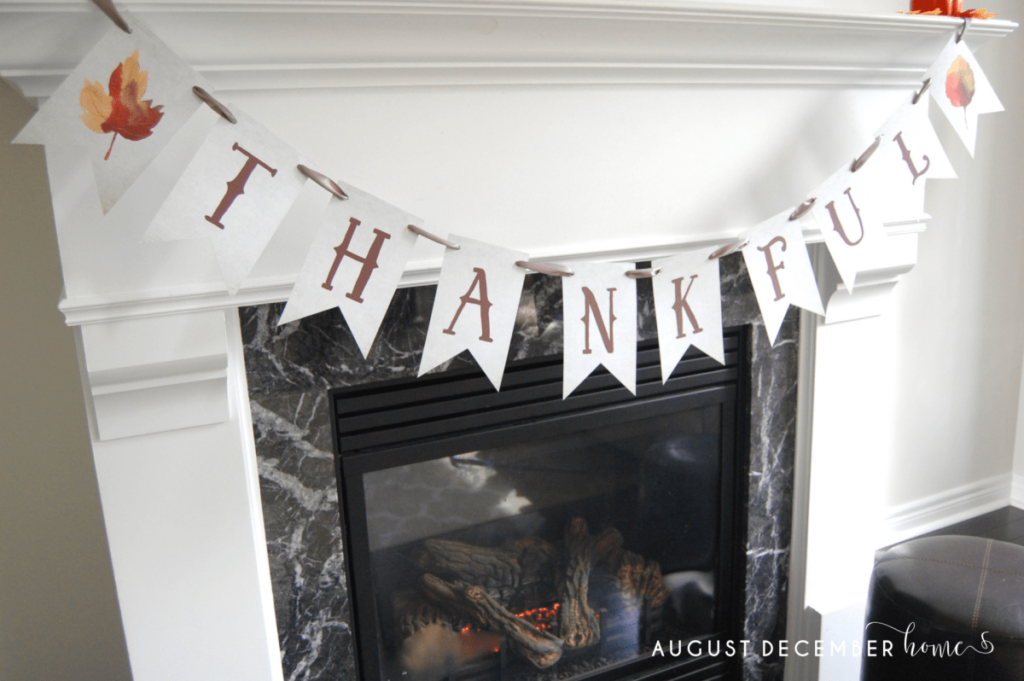 Free Printable Thanksgiving Banners via August December Home
Thanks and Giving Art
The message in this one can't be beaten. This festive artwork is sure to bring the spirit of Thanksgiving into your home.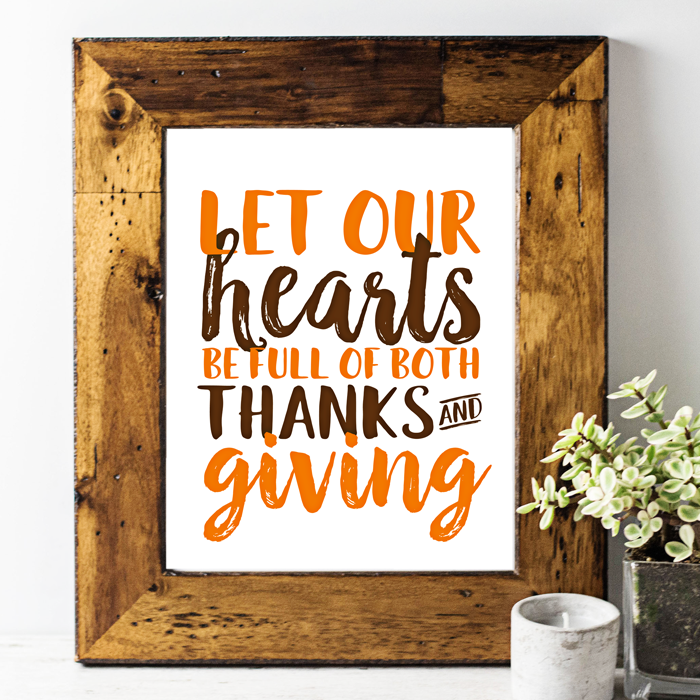 Free Thanksgiving Printable via i should be mopping the floor
Greeting Cards
Show the special individuals in your life how much you care with a beautiful Thanksgiving card. Here are some great printable options!
Floral
Cards are wonderful ways to love. This beautiful Thanksgiving card will get the job done!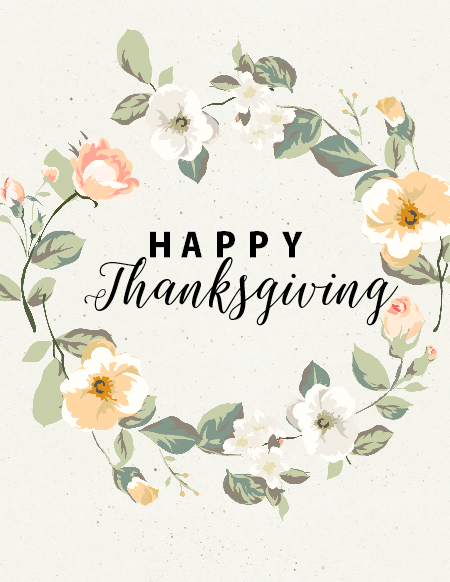 FREE Printable Thanksgiving Cards via Shining Mom
Pumpkin Spice
This festive card is perfect for someone who loves pumpkin spice. It's simple and cute!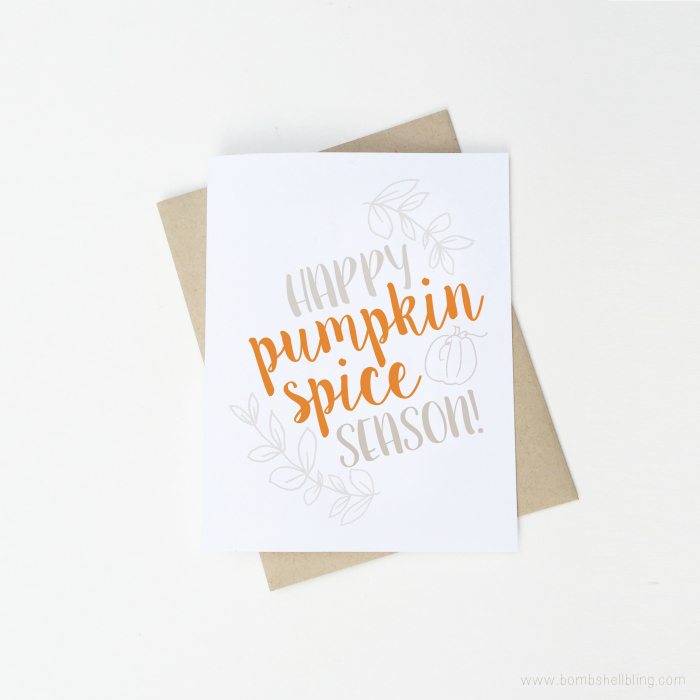 Happy Pumpkin Spice Season Printable Card via Bombshell Bling
Cozy Fall
This cozy fall card is so festive! Friends and Family will love the pumpkin display on the front.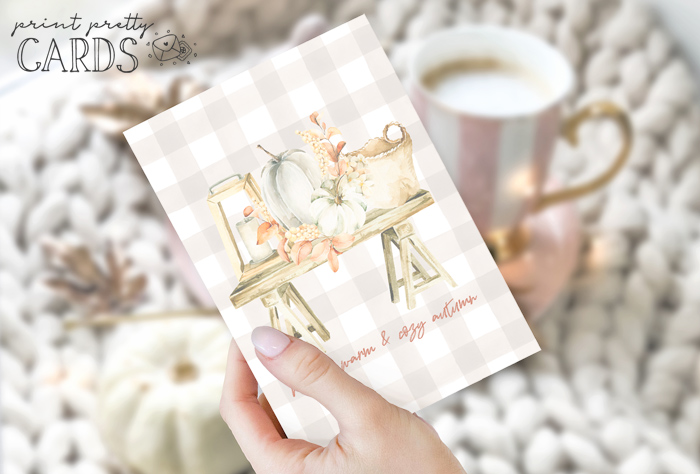 Free Printable Cozy Fall Cards via Print Pretty Cards
Cornucopia
A Cornucopia is an iconic symbol of Thanksgiving and looks great on a greeting card.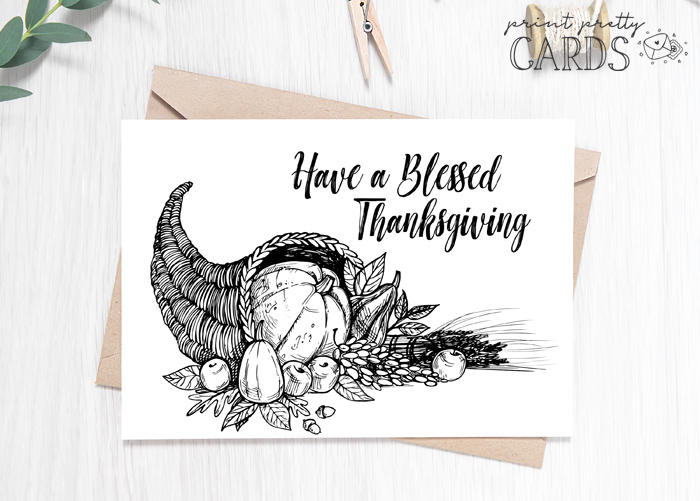 Free Cornucopia Printable Card via Print Pretty Cards
Grateful Heart
I absolutely love this one. The colors remind me of the harvest season and a grateful heart is something I aspire to have.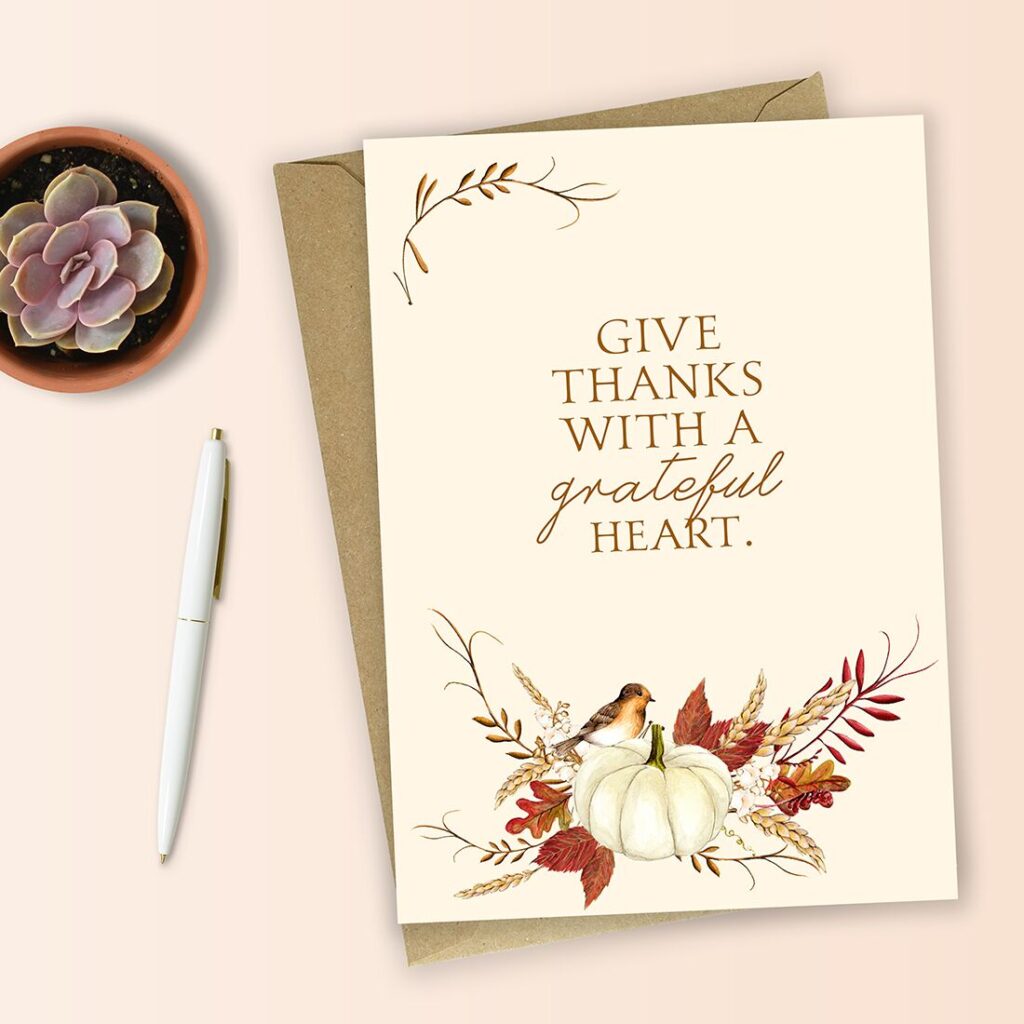 Thanksgiving Printable Card via the Idea Room
Timeless
This simple design is timeless and beautiful. This is a great option for any person.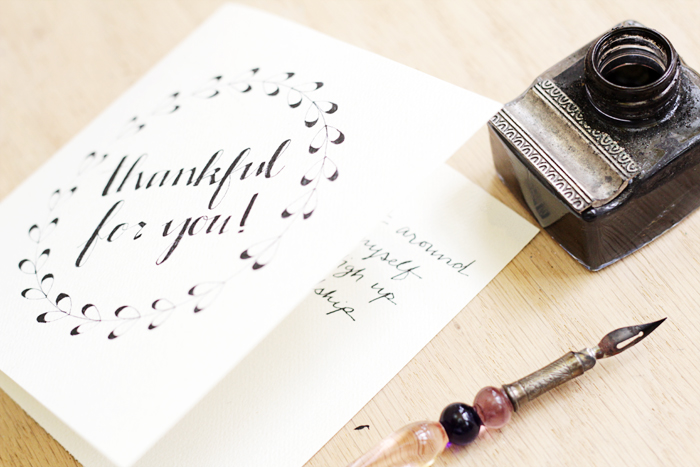 Free Thanksgiving Printables via C.R.A.F.T.
DIY Fingerprint
This Fingerprint card is so unique and adds suh a sweet personal touch. Kids will love dipping their fingers in paint to create this beauty!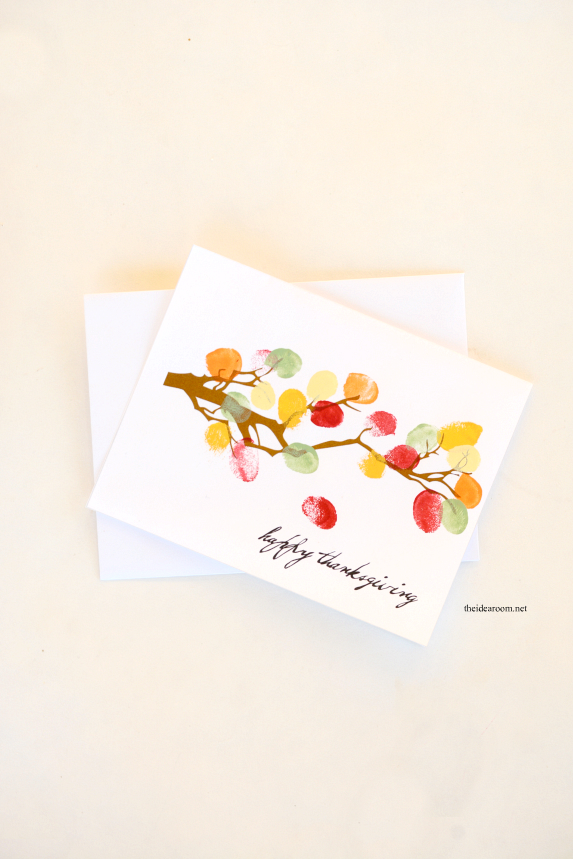 DIY Thanksgiving Decor and/or Card via the Idea Room
Miscellaneous Fun
Below you'll find some ideas that maybe you have never thought of. They will make Thanksgiving run more smoothly and create even more fun.
Buffet Cards
Label your delicious Thanksgiving creations with these stunning labels! It will help things run more smoothly and it looks fantastic.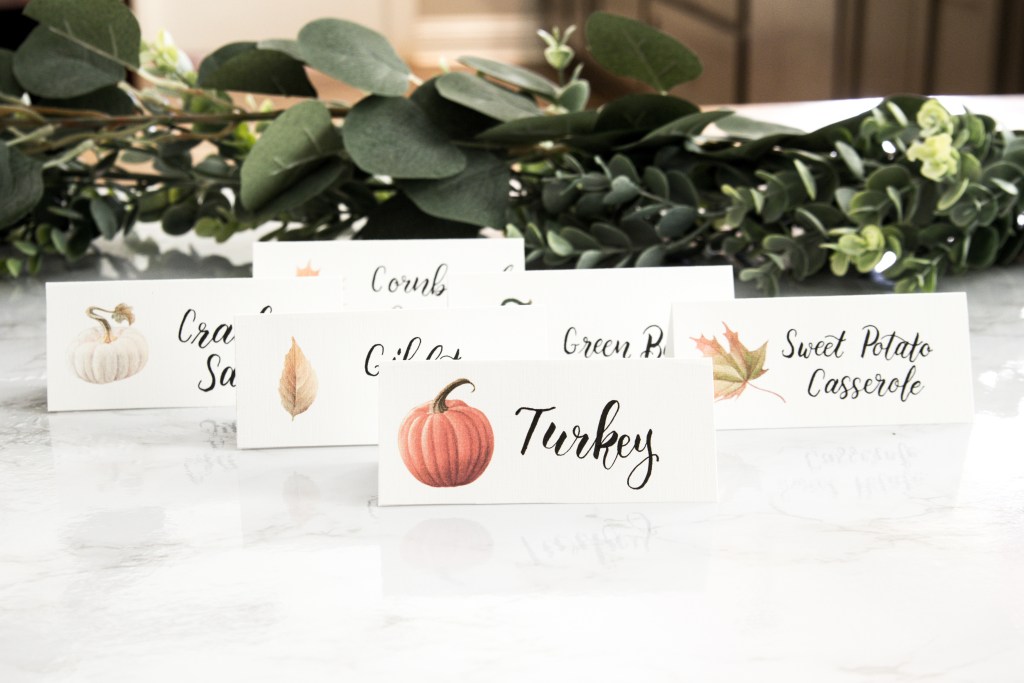 Buffet Cards for your Autumn Decor via PAR LA GRÂCE
Gift Tag
Send a treat to a loved one paired with one of these beautiful gift tags. They will absolutely love it.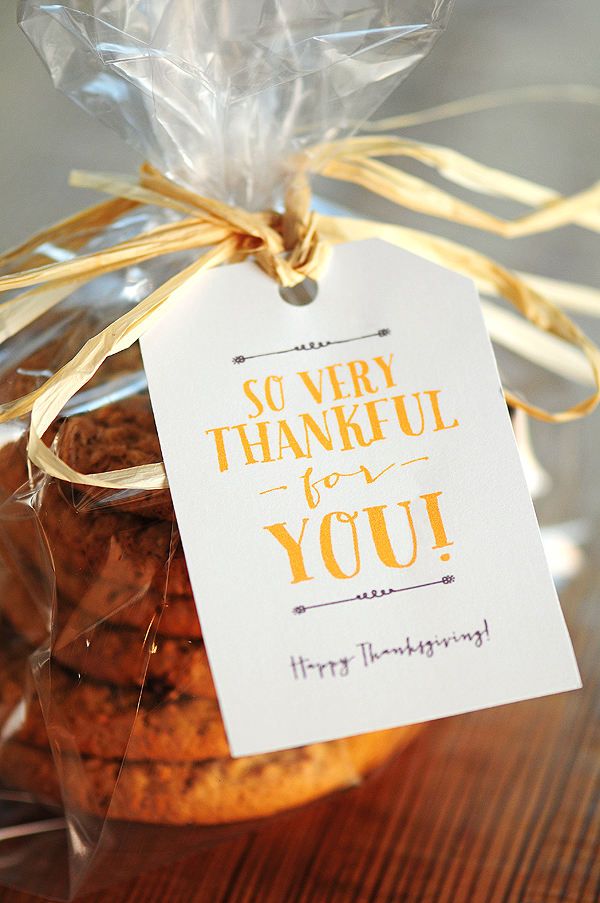 Free Thanksgiving Gift Tags via She Wears Many Hats
Conversation Starters
These questions are a fabulous way to make sure your guests are mingling and having a great time. Just place these on the table and watch as the conversation flows.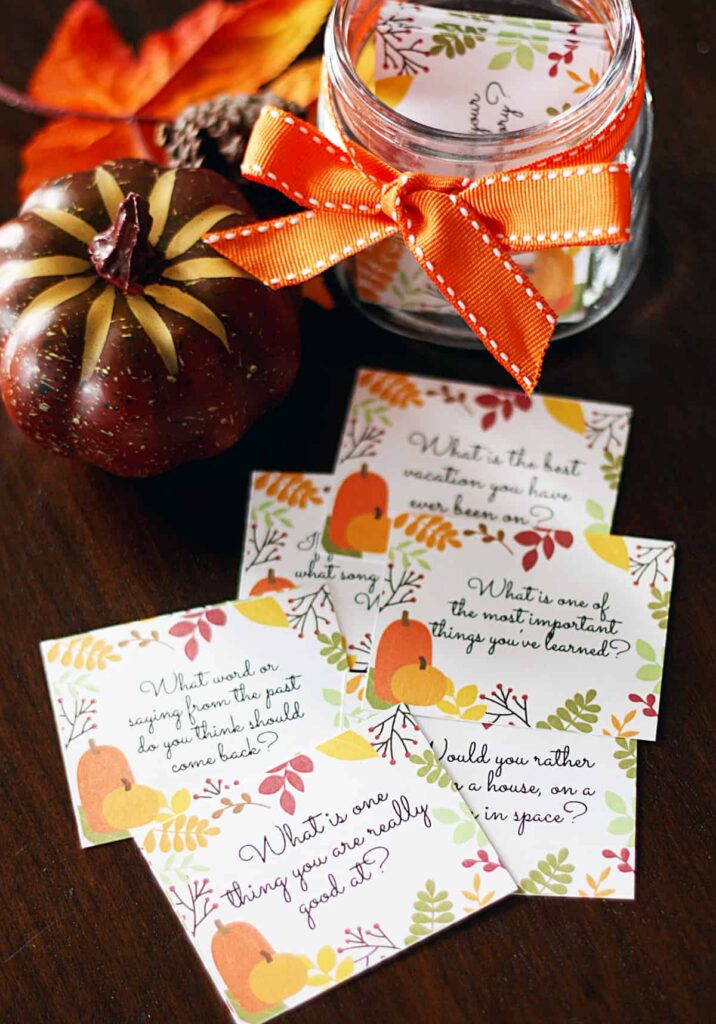 The Only Conversation Starters You Need via Skip to my Lou
Leftovers
Use these adorable printables to share some yummy leftovers with friends and family who may have missed the dinner. These can also act as great labels for a full and chaotic fridge.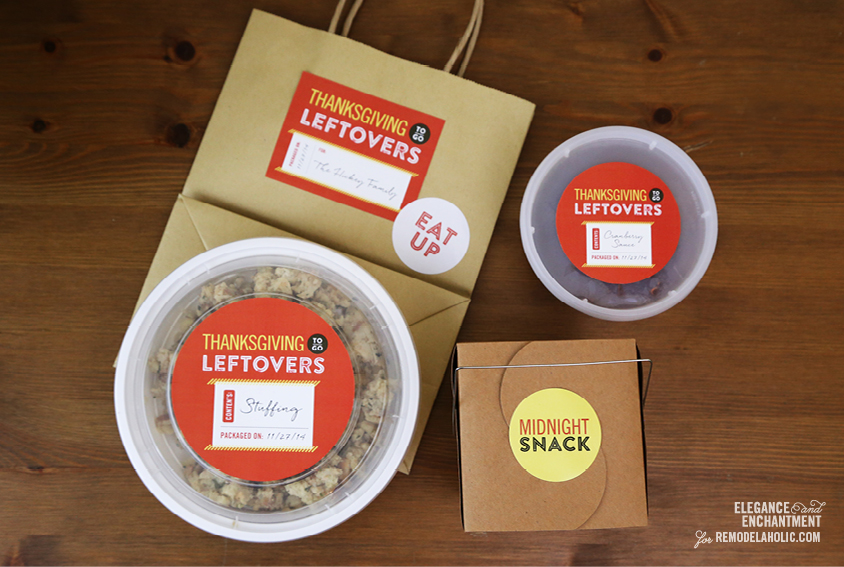 Thanksgiving Leftover Printables via Elegance & Enchantment
Pie Labels
Bring a slice of pie to someone special in one of these adorable leftover pie labels! They are cute, creative, and hilarious.
Leftover Pie Labels for Thanksgiving via Studio DIY!
Meal Planner
Planning what to eat on Thanksgiving is a great way to avoid lots of unneeded stress. This meal planner is organized, clear, and cute!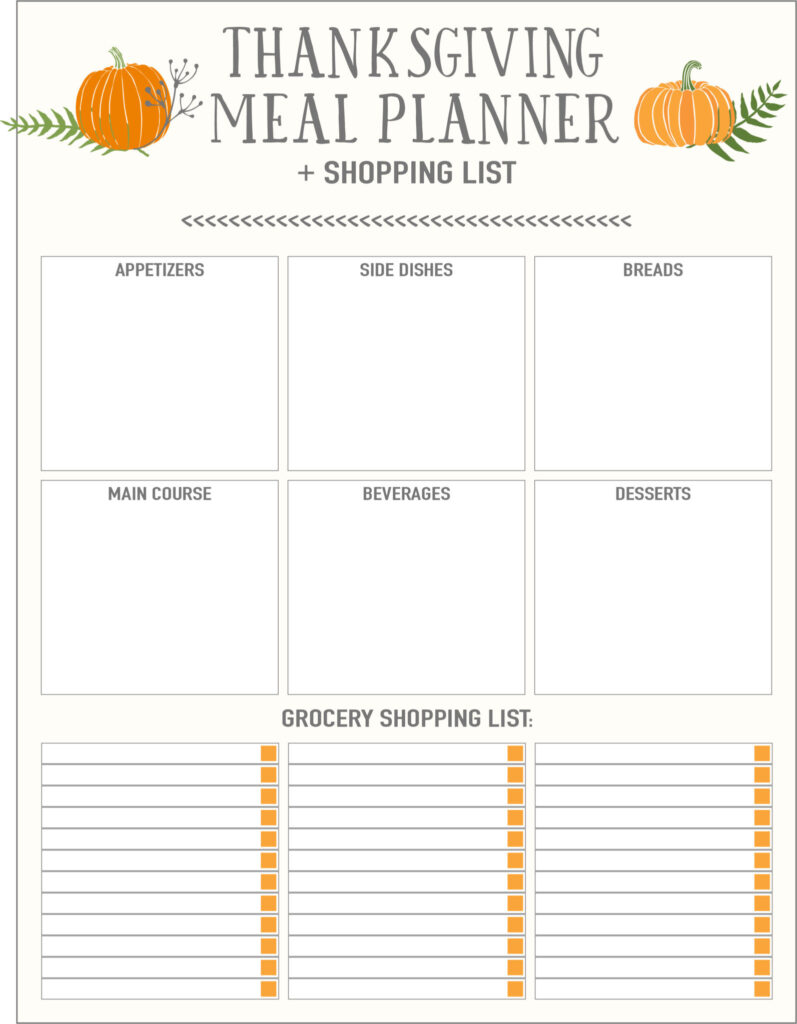 Thanksgiving Meal Planner and Shopping List via Live Craft Eat
More Thanksgiving Fun