20 Excellent Uses for Washi Tape
20 Excellent Uses for Washi Tape...unique ideas for using washi tape to beautify your home. Tips, tricks, and craft ideas that you don't want to miss!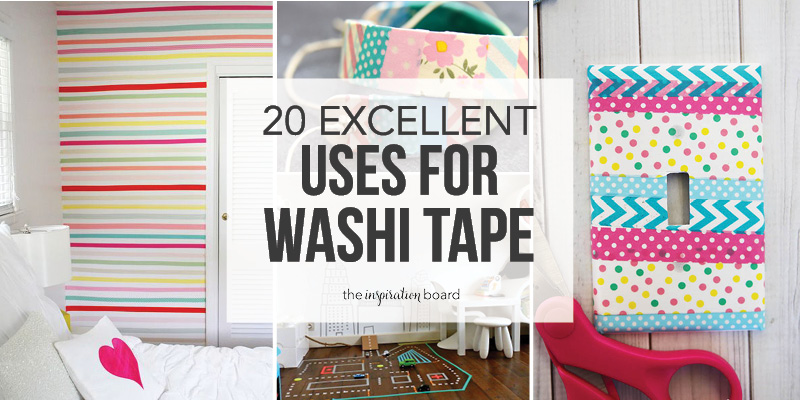 Creative Uses for Washi Tape
Washi Tape is such an amazing invention. Unlike normal tape, it's fun and colorful making it perfect for brightening up any space and creating the most beautiful crafts. This decorative tape can be used for many things including scrapbooking, art projects, interior design, gift wrapping and so much more! You are definitely gonna want to keep some washi tape on hand.
You can purchase washi tape in all craft stores and at Amazon, Cute Tape, Etsy, and Target. Once you have a roll of this fabulous tape the possibilities are endless! Below I have included 20 excellent uses for washi tape for inspiration. Simply click on the link below each picture for additional details. Have fun!
Cactus Wall Art
Looking for an idea on how to spice up your room a bit? This cactus wall art is so fun and all you need green washi tape and something to use for cactus fruit!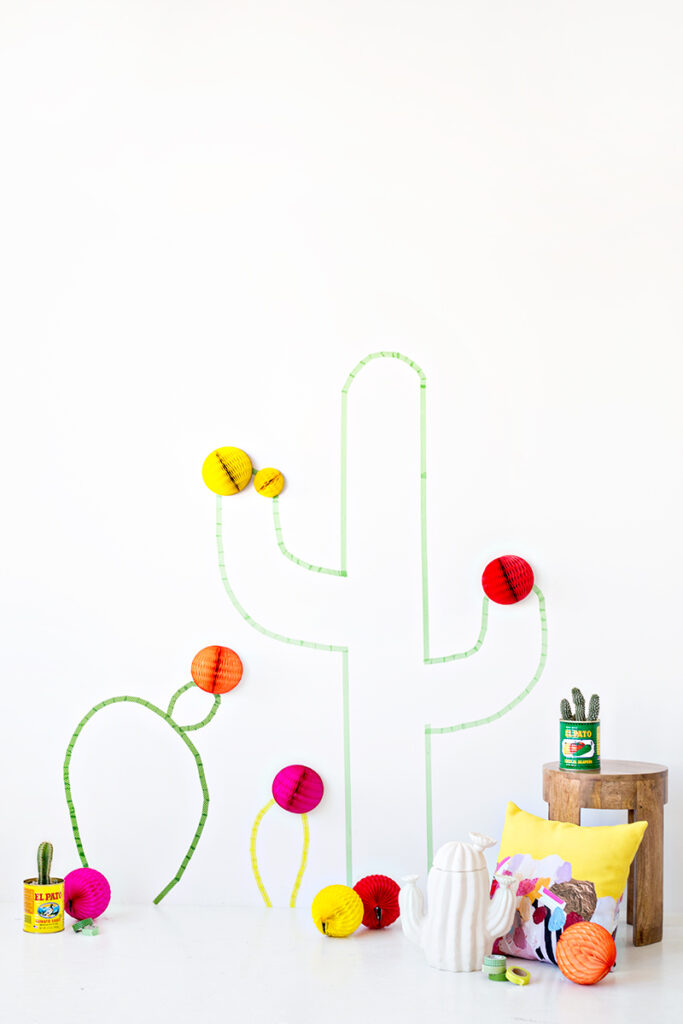 DIY Washi Tape Cactus Wall Art via Studio DIY
Lamp Shade
Turn a plain white lampshade into something fabulous by using a couple of strips of washi tape. This is such a great idea!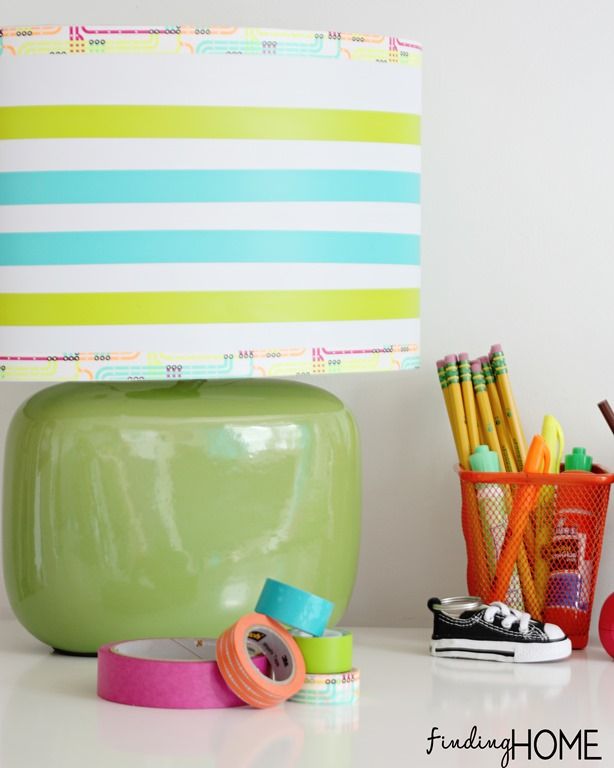 Washi Tape Crafts: Lamp & Shelf via Finding Home Farms
DIY Striped Doorway
I am loving this original wash tape striped doorway. It adds so much to this space and actually looks like someone painted the wall!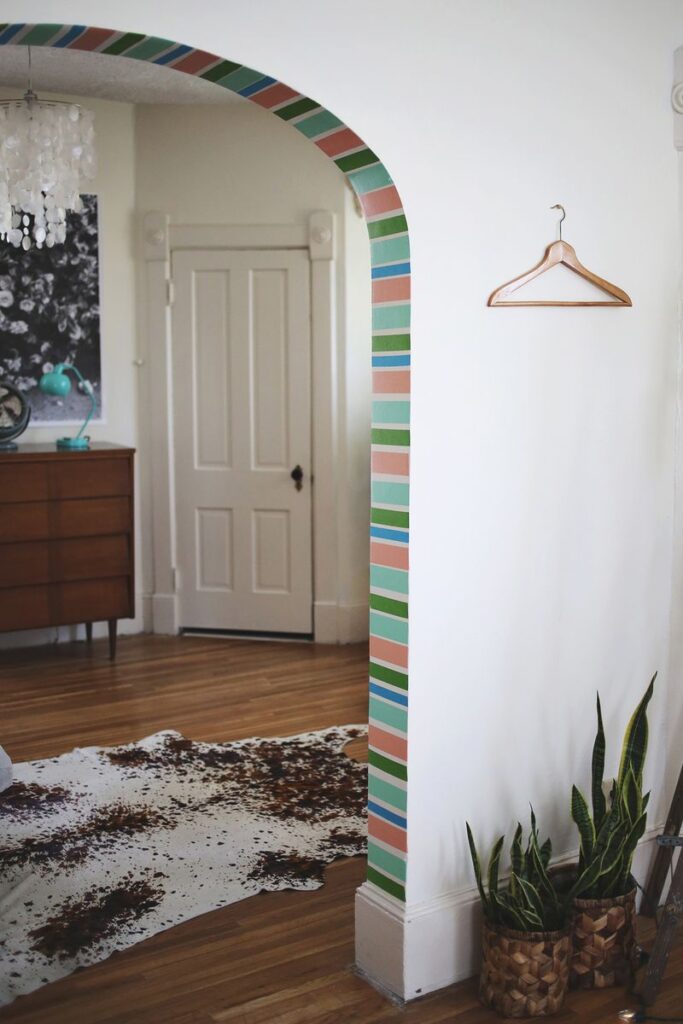 DIY Striped Doorway…With Washi Tape! via A Beautiful Mess
Light Switch Cover
Decorating light switch covers is such a fun activity to do with kids. Simply apply washi tape and then brush mod podge over the top!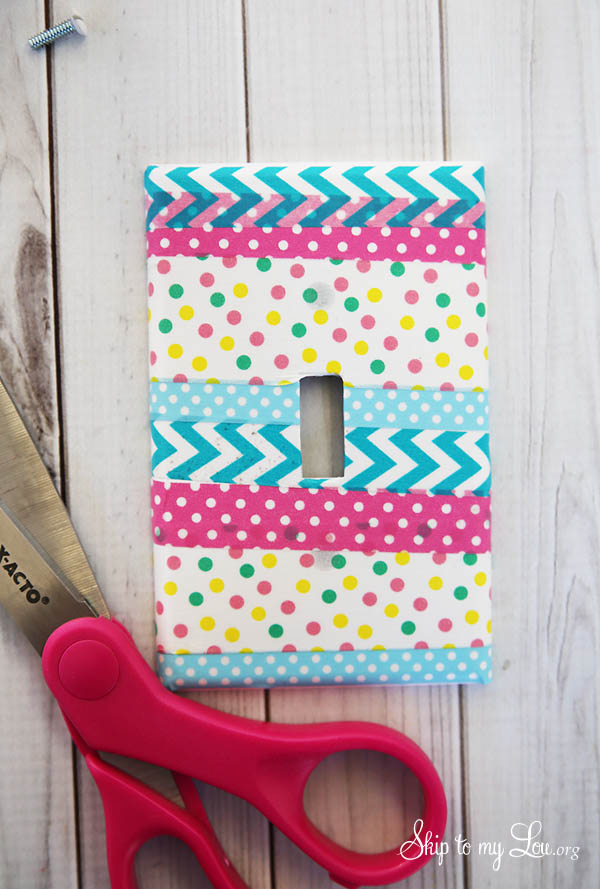 Washi Tape Light Switch Covers via Skip to my Lou
Wall House Storage
Create a wall house in your child's room by applying washi tape to the wall in the shape of a house and adding shelves for windows and doors. So fun!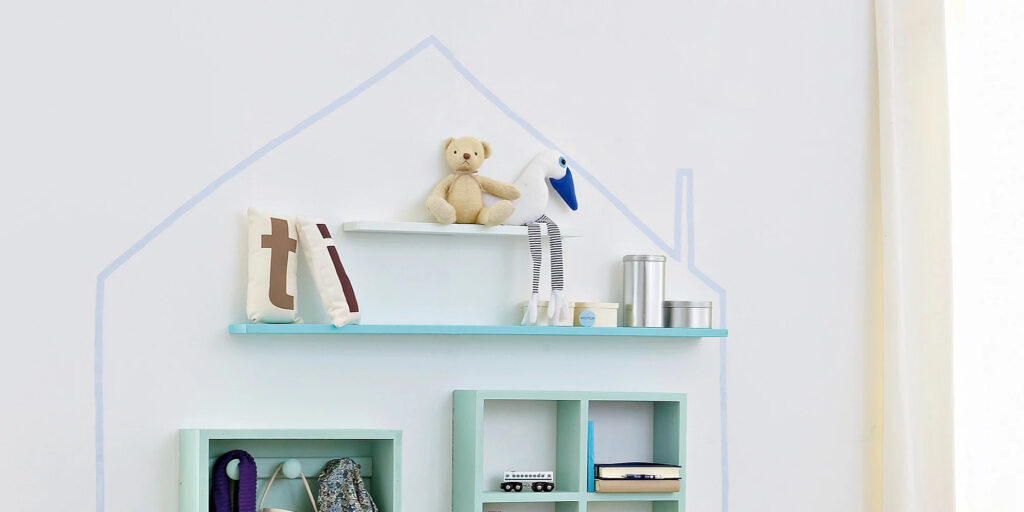 Children's Room: Storage in the Shape of a House via Marie Claire
Bedroom Wall
This bedroom wall is fabulous. Why spend hours painted when you can just apply strips of washi tape to the wall! Yes, yes, yes!
Car Track
Washi tape can also be used on the floor to create a fun play space for kids. This car track has transformed this room into a child's paradise!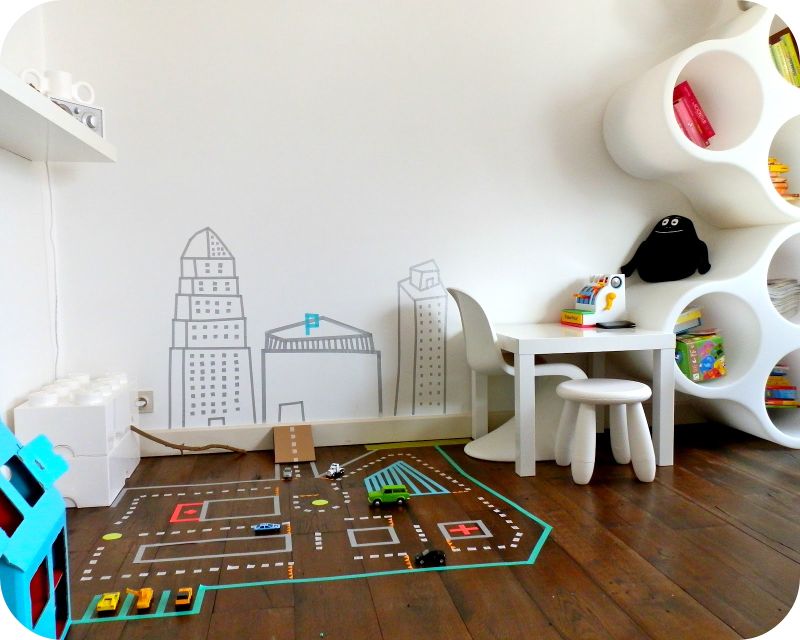 Washi Tape Car Track via Le Jardin de Juliette
Wooden Bracelets
Feeling crafty? Washi tape can also be used to create beautiful masterpieces such as this DIY wooden bracelet. This would be a fun activity to do at a birthday party!
DIY Washi Tape Wooden Bracelets via Mama Miss
Guest Book
Using wash tape in a guest book is a simple way to add some characters to blank pages. The different lengths of tape look amazing here!
Washi Tape Guest Book via Martha Stewart
Kitchen Utensils
Wooden spoons are always a great gift, but they definitely lack in the color department. Adding washi tape to the ends will brighten them up, making them look amazing!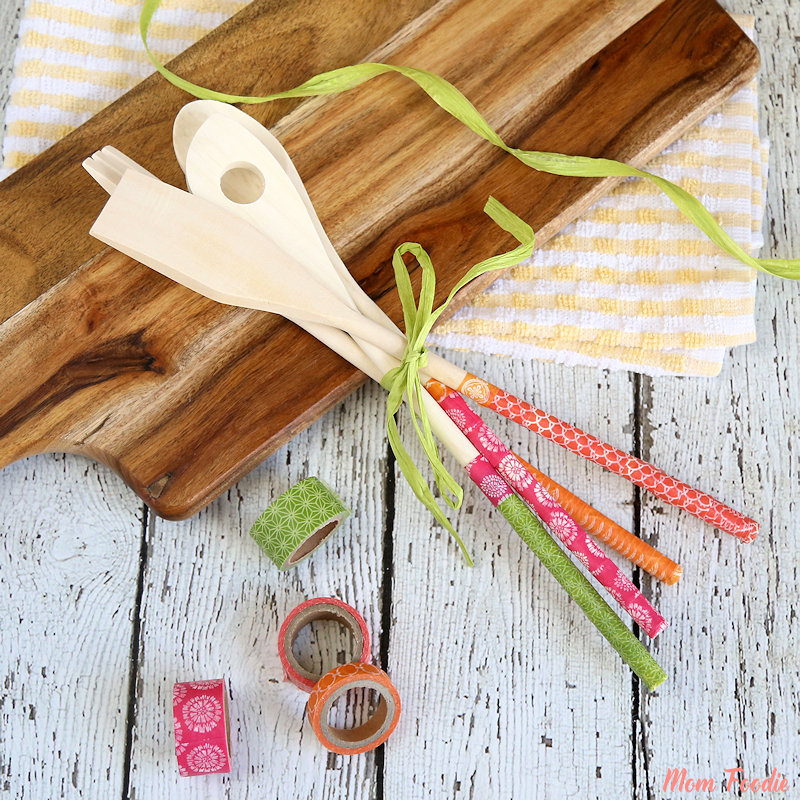 Washi Tape Kitchen Utensils: Easy Homemade Gift via Mom Foodie
Butterfly Craft
I am loving this adorable butterfly craft! The washi tape makes the wings so vibrant and beautiful. For extra fun try using string and tape to hang them from the ceiling!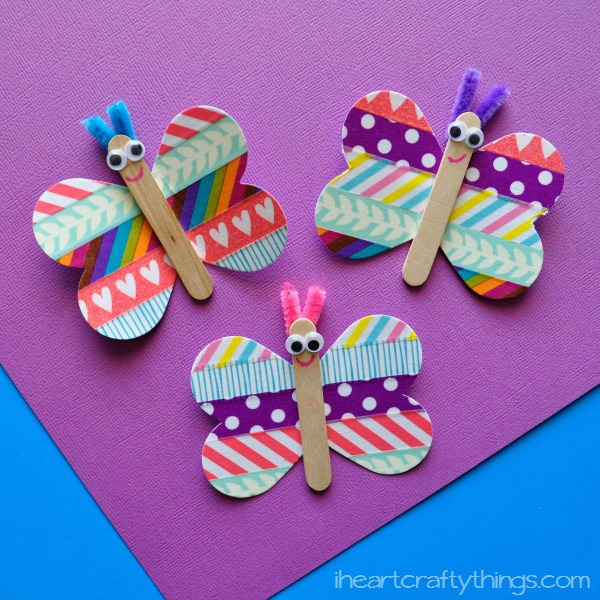 Butterfly Washi Tape Craft for Kids via Artsy Momma
Bookmarks
Creating and decorating bookmarks is another fantastic activity to do with kids. They will have so much fun customizing their own creation!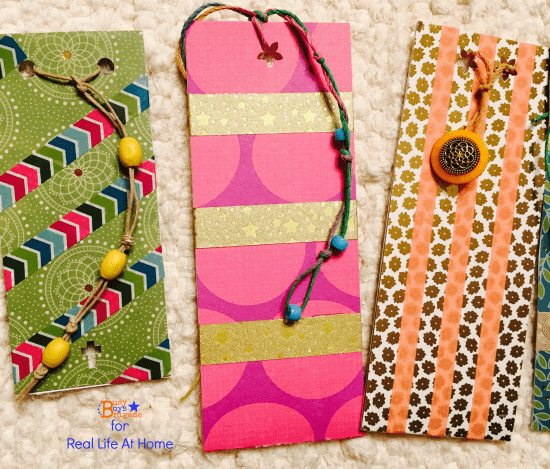 Washi Tape DIY Bookmarks for Kids via Real Life at Home
Ornaments
Using washi tape to decorate ornaments is so clever! It's not messy and it looks amazing. This is make a wonderful family craft during the holidays.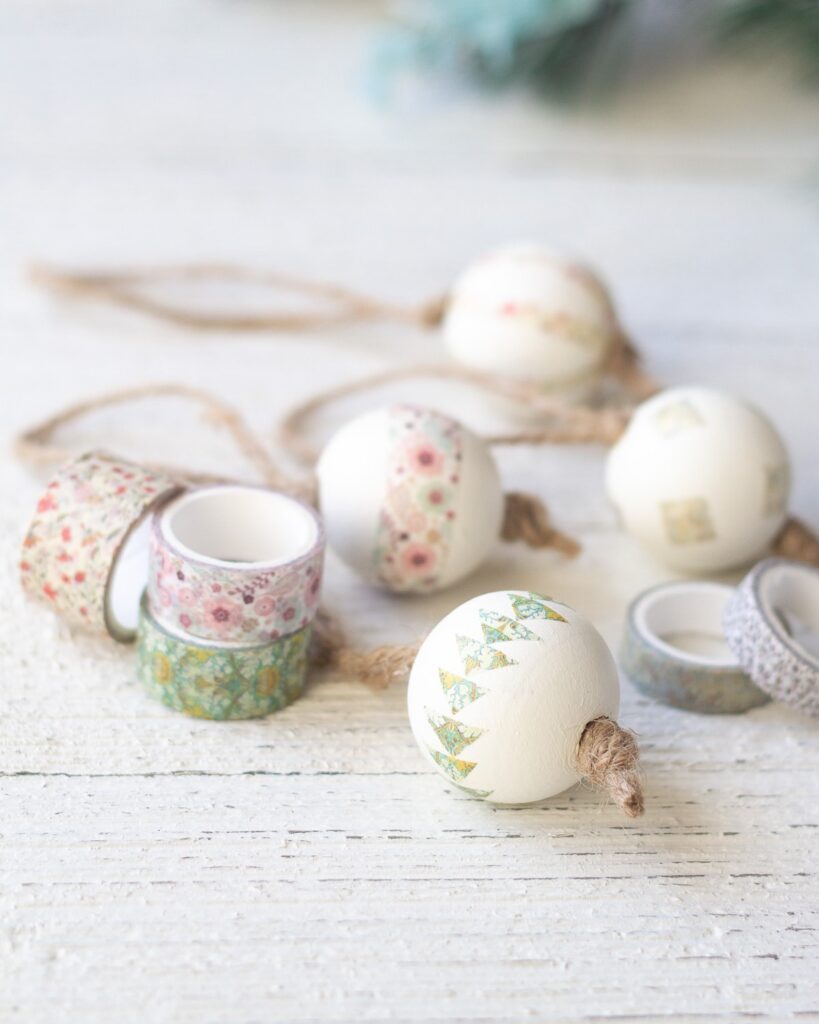 Washi Tape Ornaments via Bellewood Cottage
Wall Collage
Brighten up your room with a washi tape wall collage. This is a great and inexpensive way to frame photos, especially if you want to do a collage.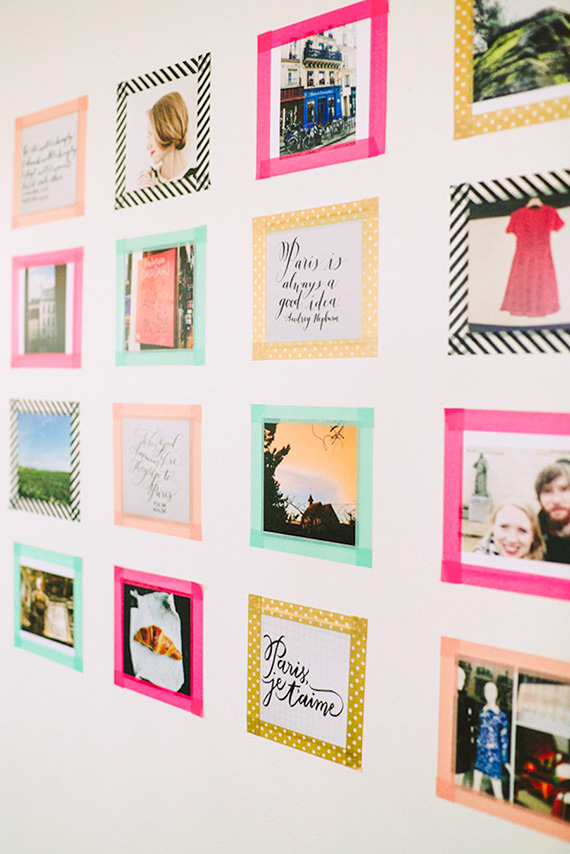 Washi Tape Wall Collage via 100 Layer Cake
Flowers
How cute are these washi tape flowers! If you are feeling creative you can flower pen! That would make a fabulous teacher appreciation gift.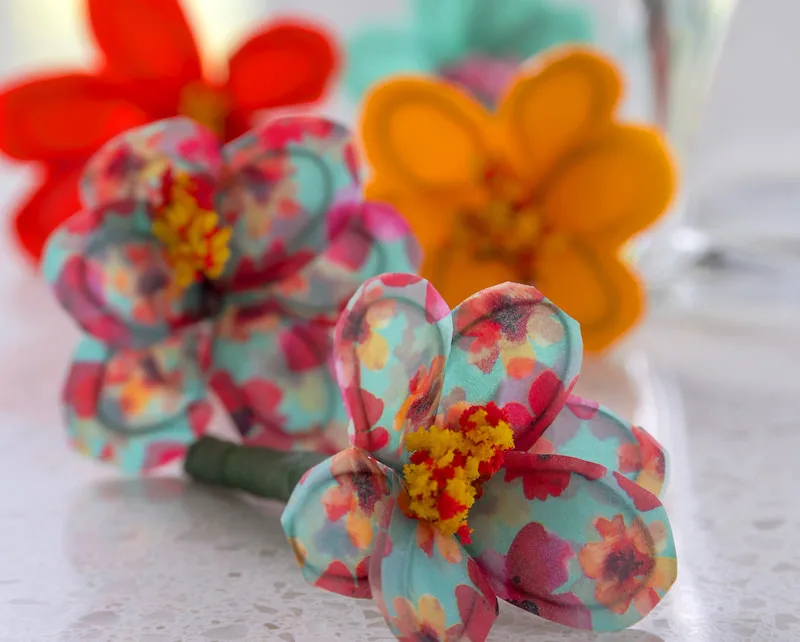 Washi Tape Flowers via DIY Candy
Gift Wrap
Using washi tape to dress brown packaged is genius! This is definitely something I will try. The tape looks like a ribbon and you don't have to worry about tying a bow!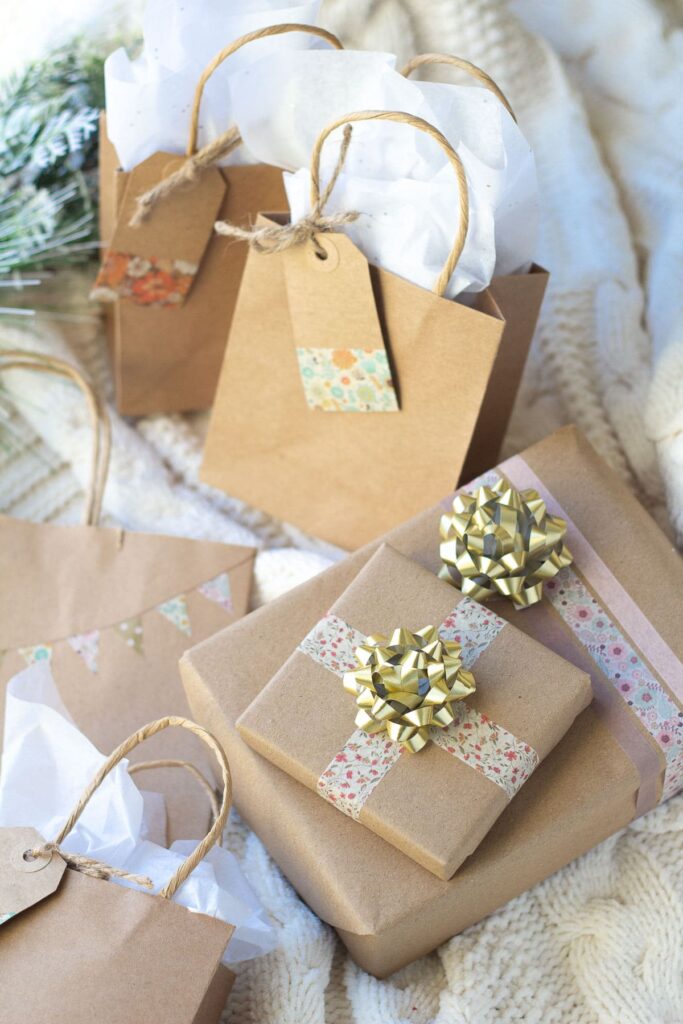 Gift Wrap with Washi Tape via Bellewood Cottage
Home State Wall Art
This home state wall art is so cool. You can create any state you like with whatever washi tape design you have. This is definitely a statement piece.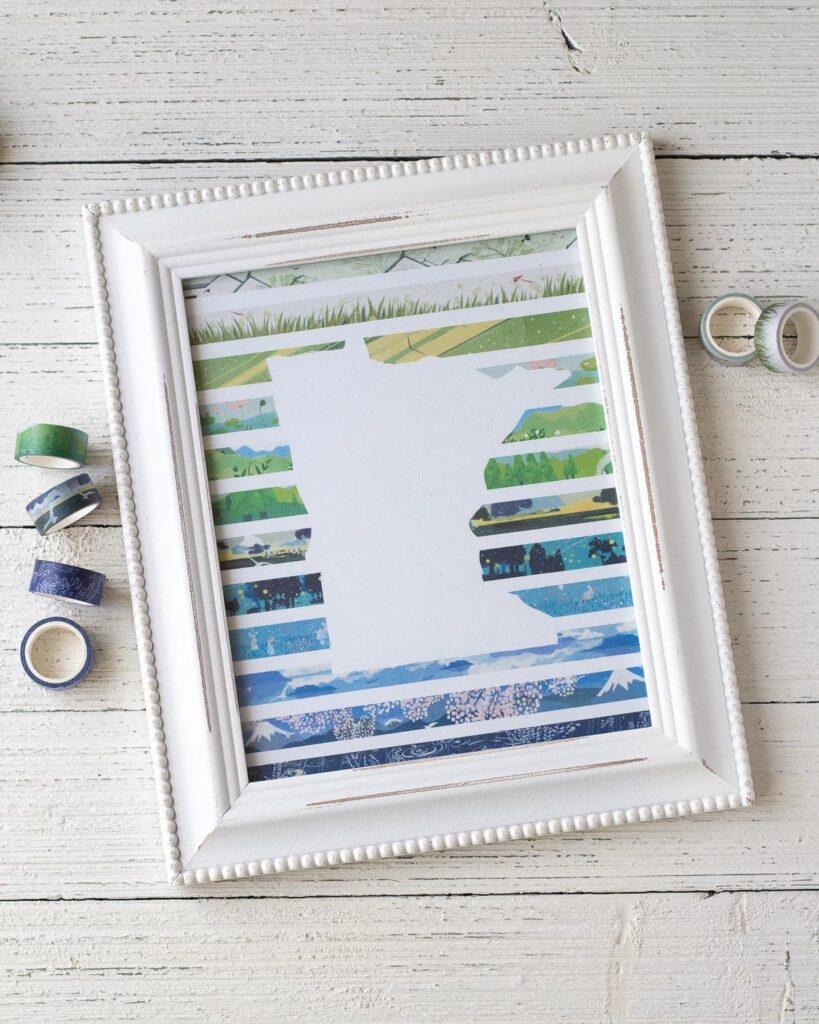 Home State Washi Tape Wall Art via Bellewood Cottage
Clothespin & Lunch Bag
Send your child to school with style by simply adding some washi tape to their lunch bag and a clothespin. This will tape you 5 minutes to do and kids will love it!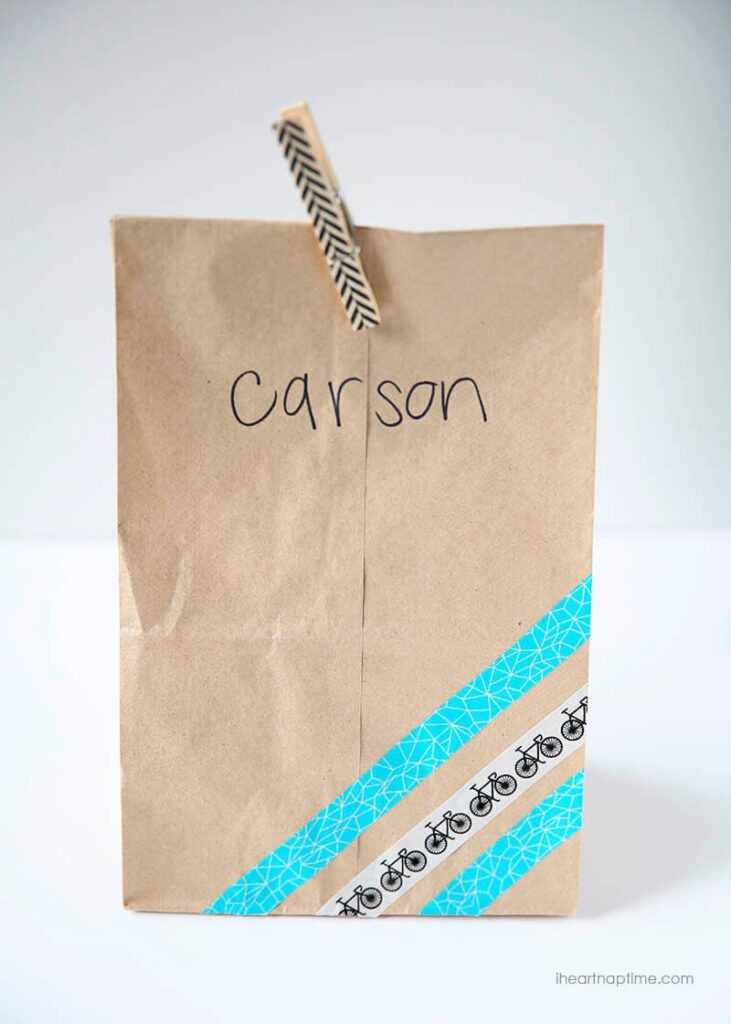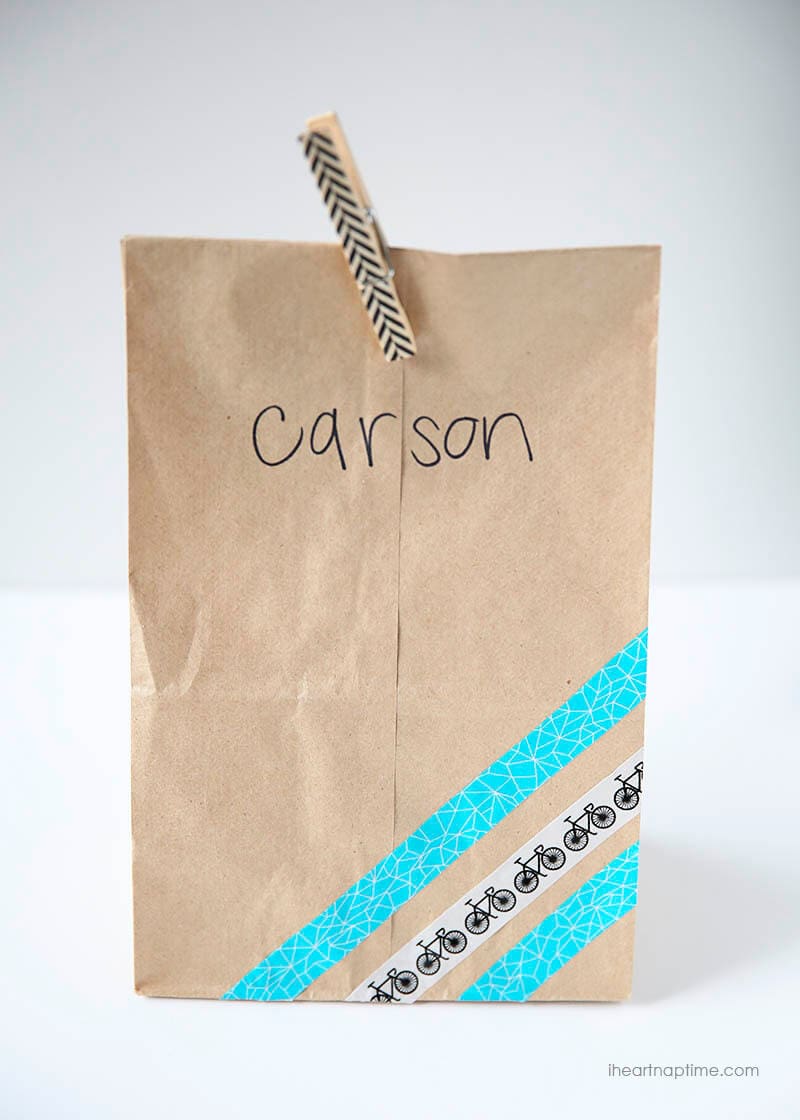 Washi Tape Clothespins and Lunch Bag
Advent Calender Wreath
Use some festive holiday washi tape to create your own personalized advent calender wreath. This idea is just so amazing, love it!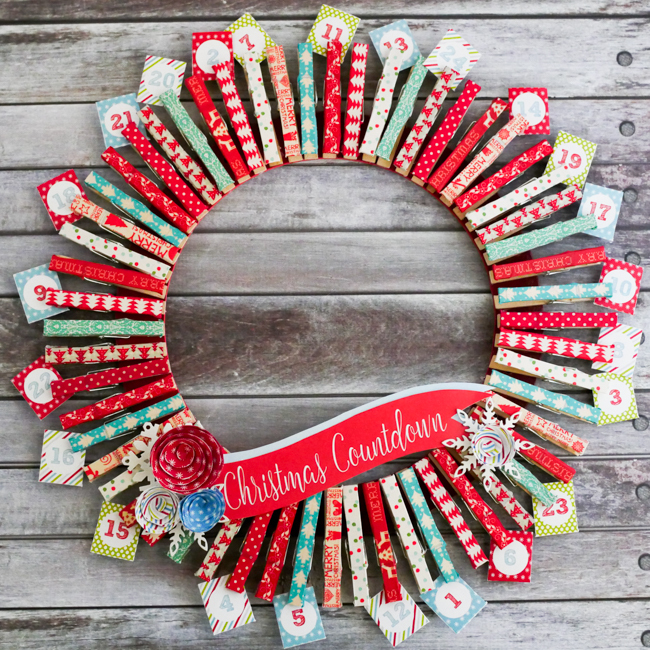 Festive Advent Calendar Wreath Craft via kidsactivities.com
Mini Pallet Coasters
These DIY mini pallet coasters are so adorable and inexpensive to put together. I love that you can choose whatever washi tape design you want!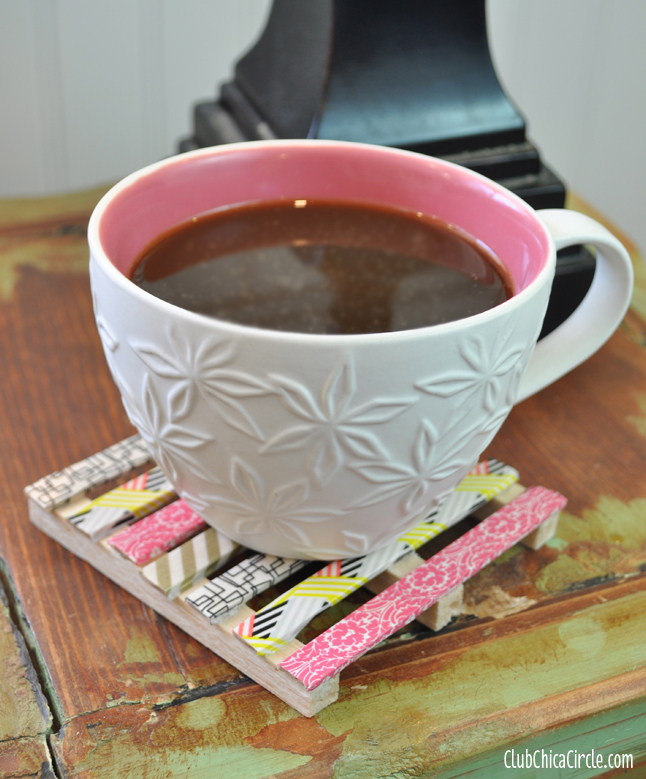 Washi Tape Mini Pallet Coasters DIY via Chica Circle
More Great Hacks