As most of you know, my family has recently moved across the country (from AZ to OH). Who knew it would be so much work?! Woo! We are finally down to the last couple boxes and it feels GREAT!
Here are some unpacking tips I have found helpful for your next big move. If you have organized your move with a moving check list and used my moving tips, your job of unpacking will be much easier. If every thing is labeled and in the correct room, you are already off to a great start. It may be a good idea to quickly run through each room though before you start unpacking to make sure each box is in the right room.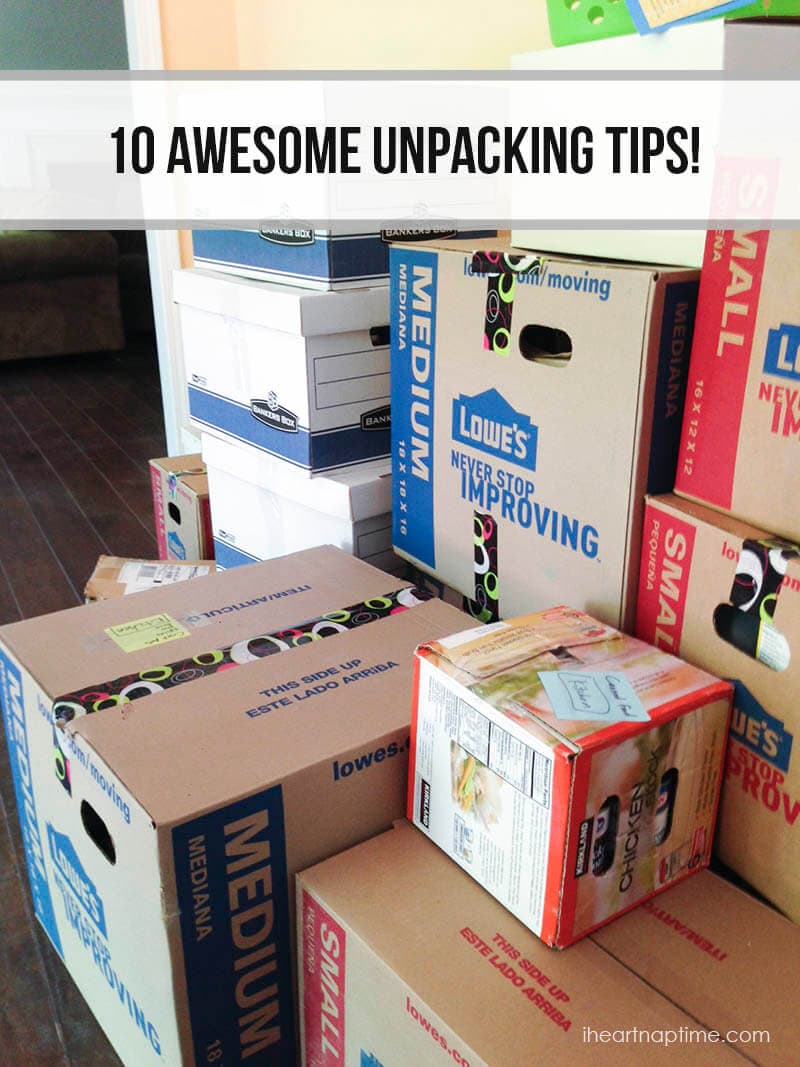 1. Clean before you start unpacking. Make sure each room and closet has been cleaned and sanitized before putting your stuff away. It may look clean… but wait until you pull out the drawers. Eek! It will feel refreshing to know it is clean, I promise! You may even consider hiring a cleaning company to come in and clean before hand if it is really bad.
2. Open the "me-first" box and set up the beds first. Remember to take it one box at a time and make sure everything has a place.
3. If possible dedicate 1-3 days after moving in so you have time to unpack. It feels nice to get everything unpacked in the first couple of weeks.
4. Delegate helpers to unpack a room if you have help. Here's the rooms I unpacked first and it seemed to work out well.
Bedrooms and closets

Main bathroom
Kitchen/pantry
Laundry room
Living room
Play room
Office
Garage/basement/other rooms
I almost put my kitchen first on the list, but you have to go to the bathroom and sleep. You just have to! 😉 Having the kitchen unpacked, and in clean working order has always saved my sanity. It's nice to have one clean and organized space when moving into a new home. Find what works for you. 🙂
5. Keep the kids entertained while you unpack. Give them some crayons and let them draw pictures on the boxes. It may be fun to buy them a new toy as well or let them just explore the new house.
6. Get your house in order before setting up the computers and TV. As tempting as it may be, open the boxes first and then it will be so nice to sit and relax.
7. Get the empty boxes out of the way. As you start unpacking the boxes will start piling up. Take a few loads to the recycling bin, or better yet, list them on Craiglist for someone else to use.
8. Reorganize as you go. As you get into a daily routine you will find yourself moving things around to wear they best fit.
9. Add your own style. Obviously decorating a home won't happen over night, but it's fun to start adding your own style to make it feel like home. A few easy ways to do this from the get go, is to add colorful curtains, rugs and pillows.
10. Turn of some music, invite your friends or family over and most importantly have fun! Moving is definitely an adventure! 😀
So… what's the first thing you unpack after a move?
This post was brought to you by PODS. If you missed the beginning of this series, you can check it out below:
Free printable moving check list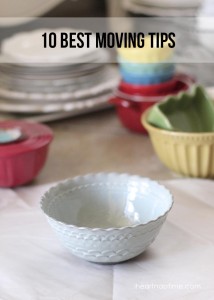 Find PODS on the web here: Website – Facebook – Twitter
Disclosure: This post was in partnership with PODS. All opinions are 100% my own. We have loved our move with PODS! Thanks for supporting these sponsors that allow me to create new and special content for I Heart Nap Time.