Cute and easy $1 washi tape crafts
Hello friends! Happy Thursday! I'm so excited to share with you a few different washi tape crafts. All of these projects cost around a buck to make and can be made within 5 minutes! Can't be that! Perfect for back to school. 🙂
I may have a small obsession with washi tape. There I said it! If you follow me on facebook you may have seen my "small" collection last night. I need an intervention! 😉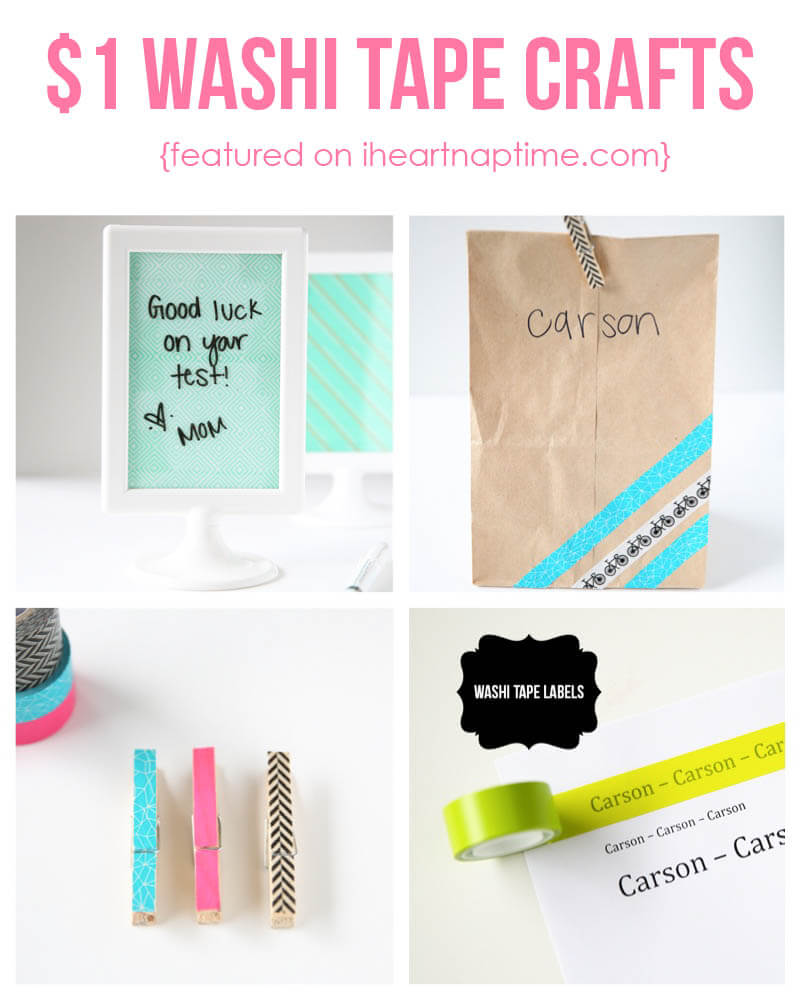 I'm loving the new Scotch Expressions Tapes. They  are available in over 100 colors and patterns and four varieties—Magic Tape, masking tape, washi tape and shipping tape. SO FUN! Take a look at what I created.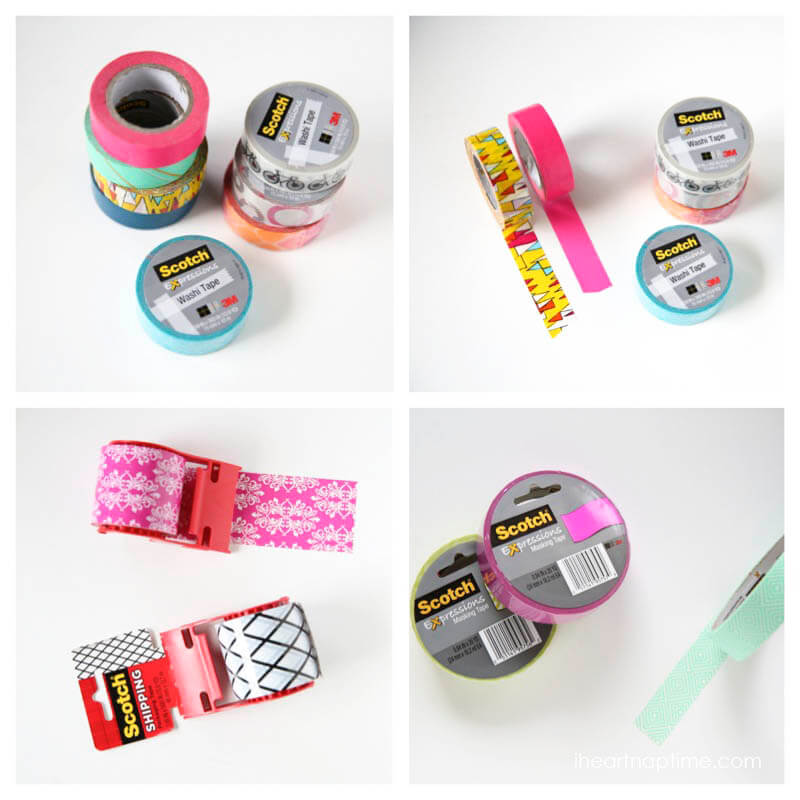 Washi tape dry erase frame
For my first craft I took a dollar frame that I found at Ikea and covered the top clear piece with washi tape. Then I tucked the ends of the tape on the back side. Next I placed a 4×6 white piece of paper behind it to cover the ends. This creates a super easy dry erase frame/board. It's so fun to write reminders or love notes on it for your family! With all the colors and patterns available, the possibilities are endless. Get creative!

Washi tape clothespins
For my next craft I made some patterned clothespins. These are such an easy way to dress them up. I found a whole bag at the dollar store and made a bunch of them. All I did was lay the clothespin on the tape and then cut off the excess tape with an exacto knife.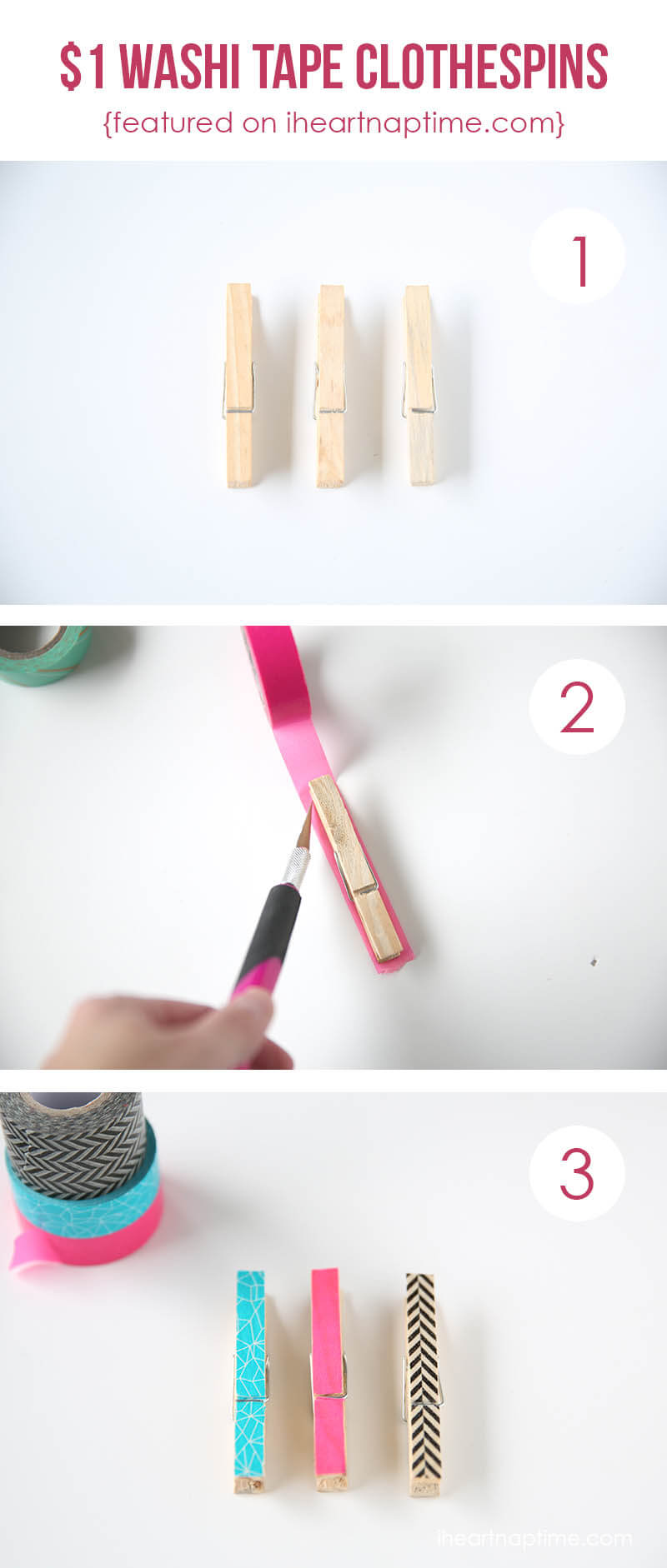 I also added it to my son's lunch bag! His friends are going to be jealous! 😉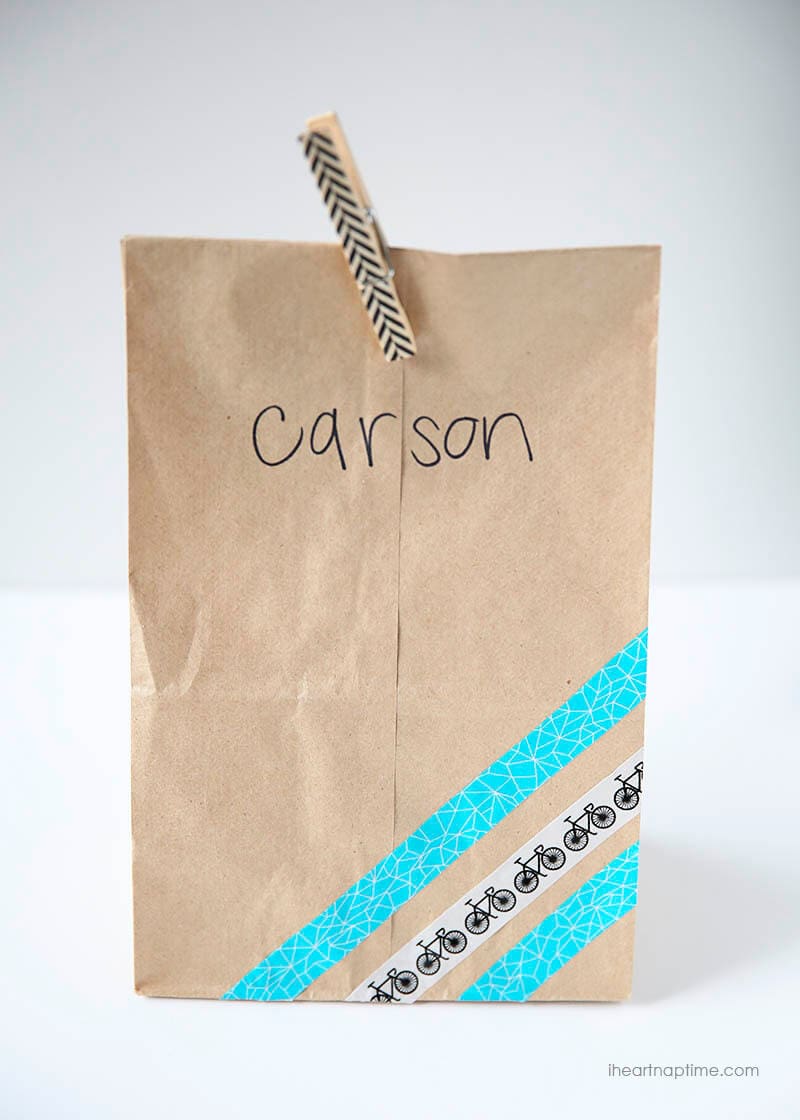 Washi tape bookmarks
Another way I used the Scotch expressions tape was by making some paper clip bookmarks. You may remember my button bookmarks… these are a fun twist on those. All you do is slip a piece of tape through the paper clip, press the tape together and cut off the top at an angle. These are great for all the book lovers out there and would make a fun and inexpensive gift!

I also made some personalized labels. All I did was print out my son's name with my printer and pressed the tape on top of the paper. Then I slowly peeled up the tape and the letters came up with the tape. Make sure to use a light color of tape for this project.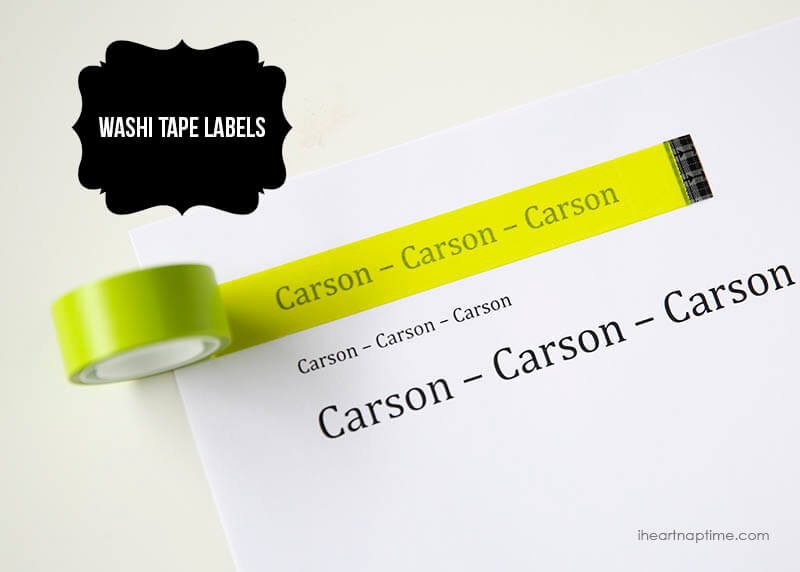 My son saw his name and of course snatched it up right away to make a space ship. He LOVES tape! I think I'm going to fill his stocking with tape this year. Ha!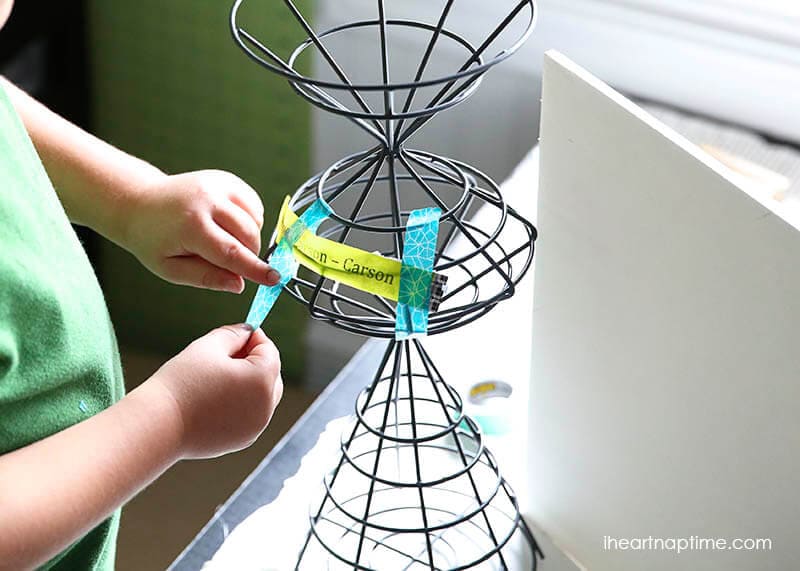 Last but not least I covered some push pins with some of my favorite tapes. They were black before and the tape adds a fun punch of color to my cute cork board! All you do is cut out a small square and wrap it around the edges of the pin. Super easy and fun!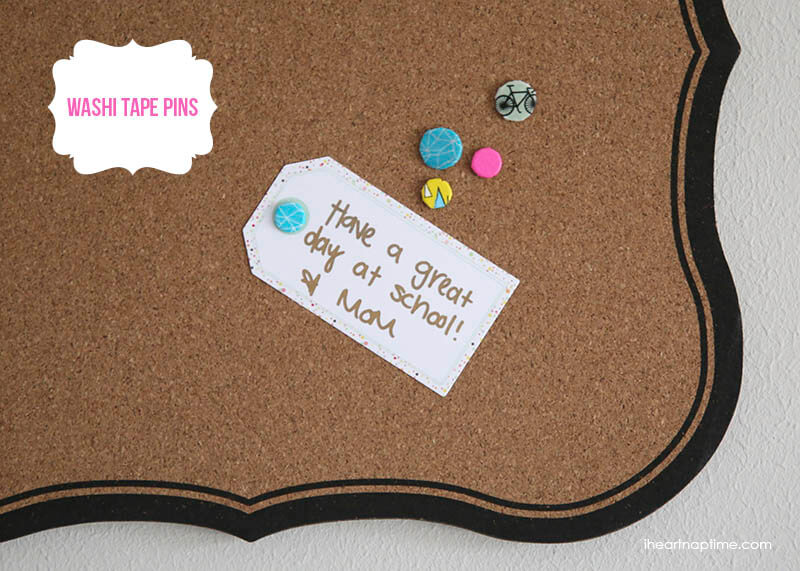 So many possibilities! I love creating with tape! My new expression tapes are stored safely in my craft cabinet. The studio is my next big project. Cannot wait to show you what I'm up to! I wish I could have you all over to craft with me. How fun would that be?!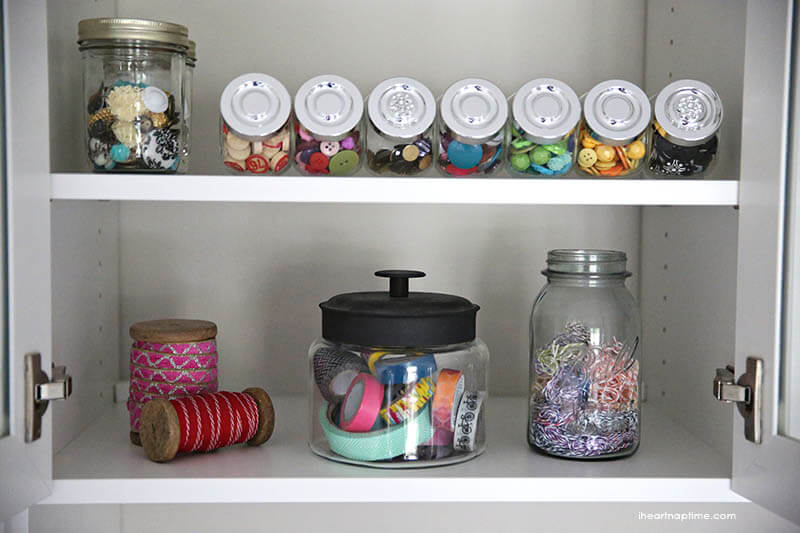 So what's your favorite thing to do with patterened tape? Are you as obsessed as I am? 😉
Here's some more washi tape ideas: 25 excellent uses for washi tape.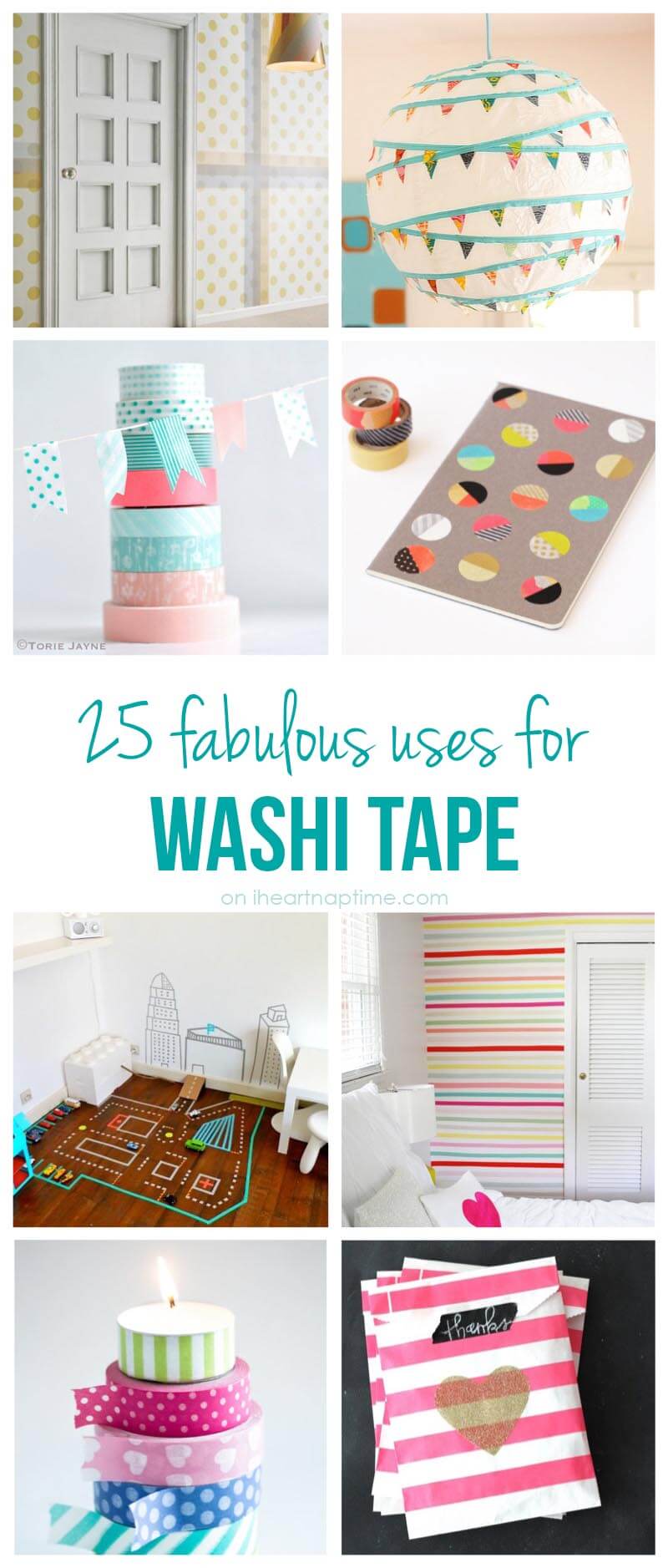 Disclosure:  This post was in partnership Scotch. All opinions are 100% my own. Thanks for supporting these sponsors that allow me to create new and special content for I Heart Nap Time.