27 Organizing Hacks…genius ideas to help keep your home clean and looking good. Follow these tips and tricks to declutter your life!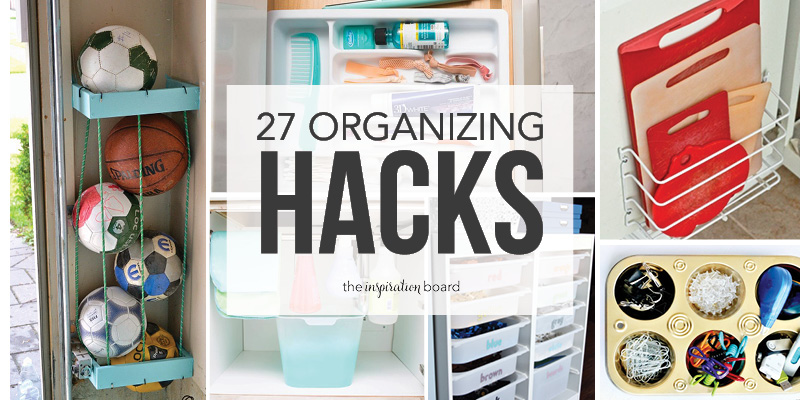 A Clean Home
Keeping a clean home is not easy. I learned this lesson pretty quickly with the birth of my first child. No matter how many times I would clean, the house never seemed to stay clean. Establishing a system of organization in my house saved me! There are so many ways to organize from using plastic bins in the pantry to color coordinating your closet. What works for you may not work for someone else but everyone can benefit from organization tips and tricks!
Below you'll find 27 organization hacks that I think are genius! My hope is that after implementing some of these ideas you can experience more peace in your life. I truly believe that organizing can lighten your load and bring you so much happiness, not to mention it makes cleaning so much easier!
$1 Desk Drawer Organizer
How clever is this?! I love that there are so many little compartments to place what usually ends up on top of your desk.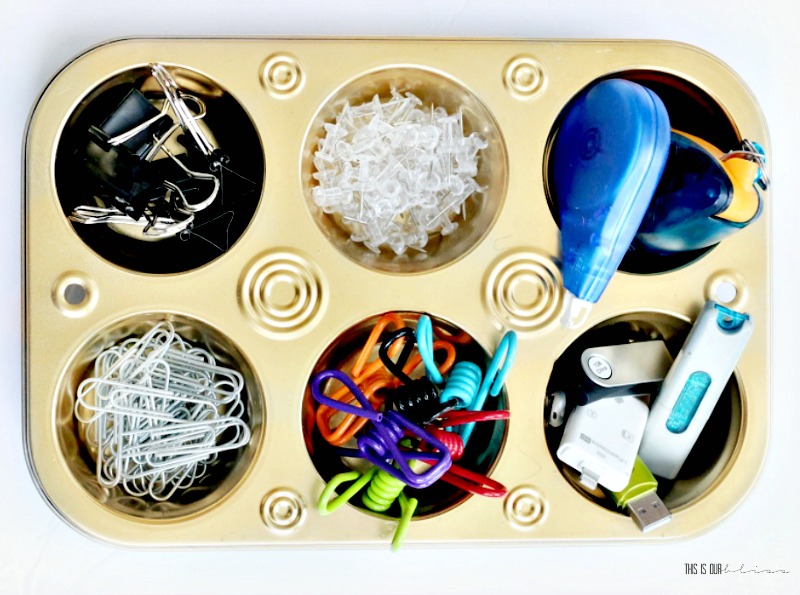 $1 DIY Desk Drawer Organizer via This is Our Bliss
Scrunchie Organizer
I have the hardest time keeping track of my scrunchies. This hack is only $1 and will be a lifesaver for those always looking for something to tie their hair back!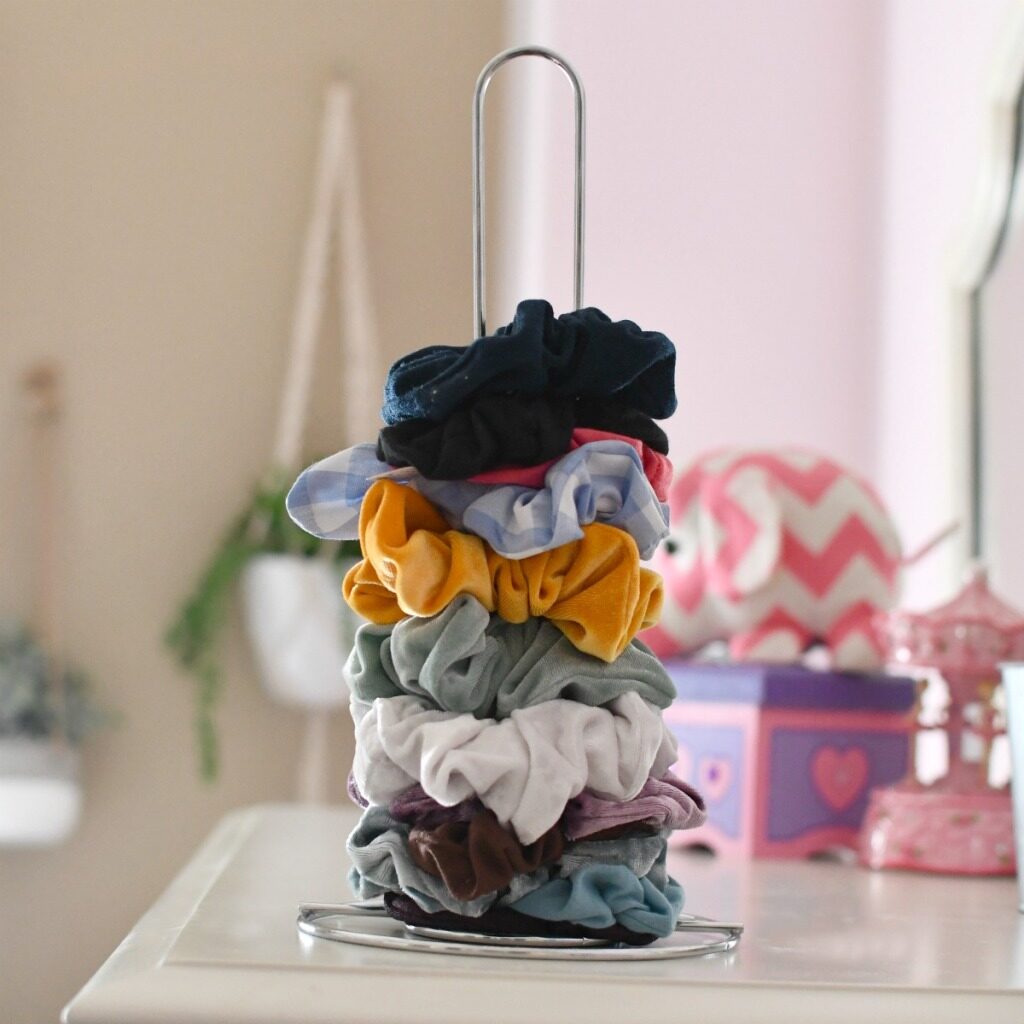 Organize Scrunchies for Just $1 Using This Dollar Tree Item via Hip 2 Save
Trash Bags on a Roll
Are you sick of struggling to get the trash bag out of its box? Try placing your trash bags on a roll. This convenient hack will save you a whole lot of patience and time.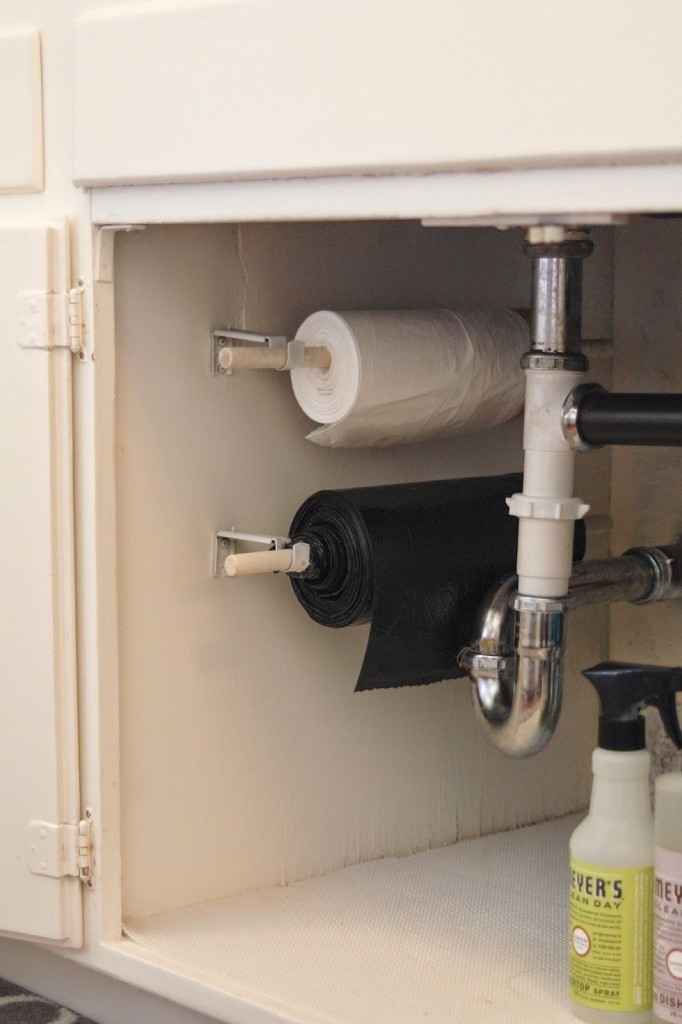 Easy DIY: Trash Bags on a Roll via So|Home
Bathroom Magnetic Strip
Bobby pins and tweezers always seem to get lost in my house. Here's a tip! Place a magnetic strip on the inside of the bathroom mirror and use it to keep your small accessories easily accessible.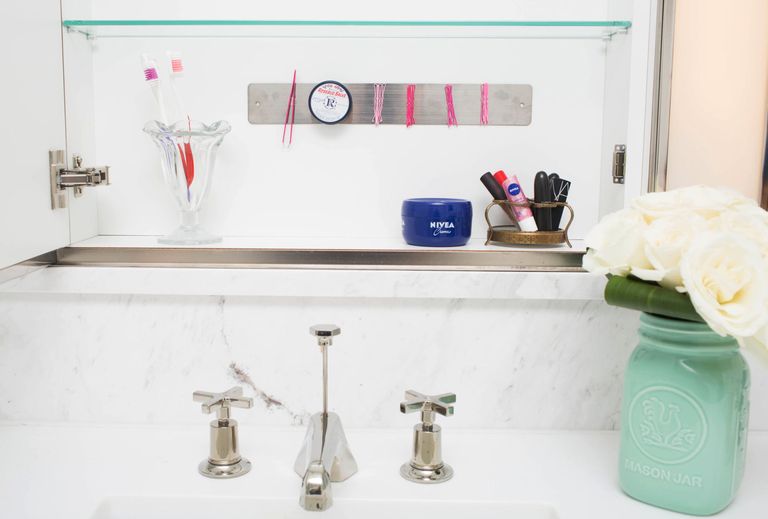 17 Genius Bathroom Organization Hacks via Cosmopolitan
Bathroom Drawer Organizer
Do you have difficulty utilizing your bathroom drawers in smart ways? Try purchasing a drawer organizer to keep things in their proper place.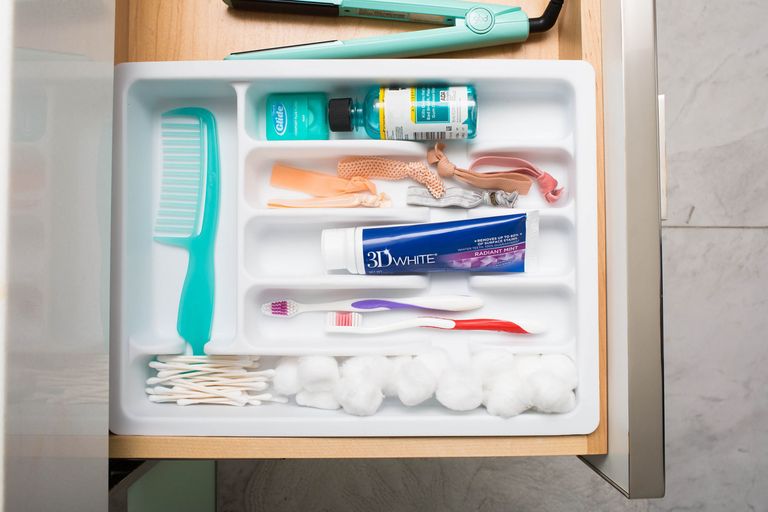 17 Genius Bathroom Organization Hacks via Cosmopolitan
Lego Bins
Using bins to organize legos is a lifesaver! I love this color-coordinating idea, especially because it is so easy for kids to understand.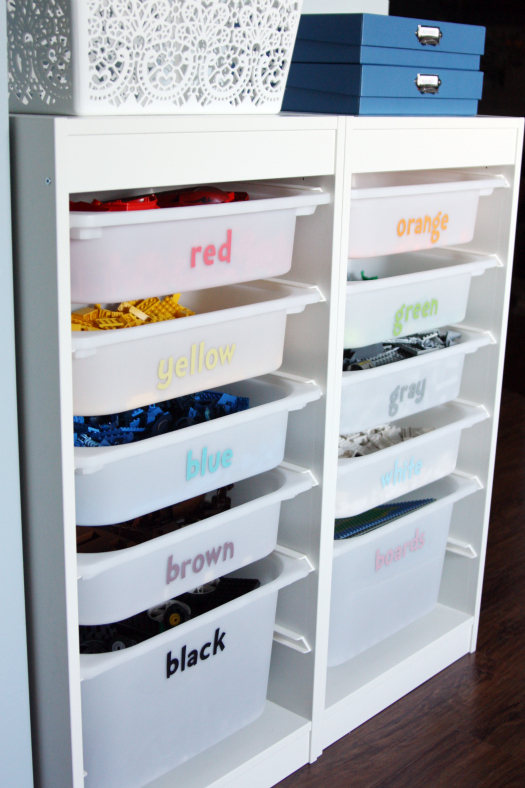 Organizing Legos: Part 3 via IHeartOrganizing
Wall Toy Storage
Not only is this wall toy storage adorable but it is so functional! Simply place your child's favorite stuffed animals, toys, and books in each bin for easy access.
20 Ways to Store Your Kid's Toys via Organization Junkie
Under the Sink Rod
This under-the-sink rod is a great way to store bottles and towels allowing for extra space underneath. It would especially come in handy for hanging wet rags.
17 Genius Bathroom Organization Hacks via Cosmopolitan
Cabinet Door Storage
Here's another idea for creating extra storage underneath the sink. Attach a shelf to the door and place your bottles and other cleaning supplies on it!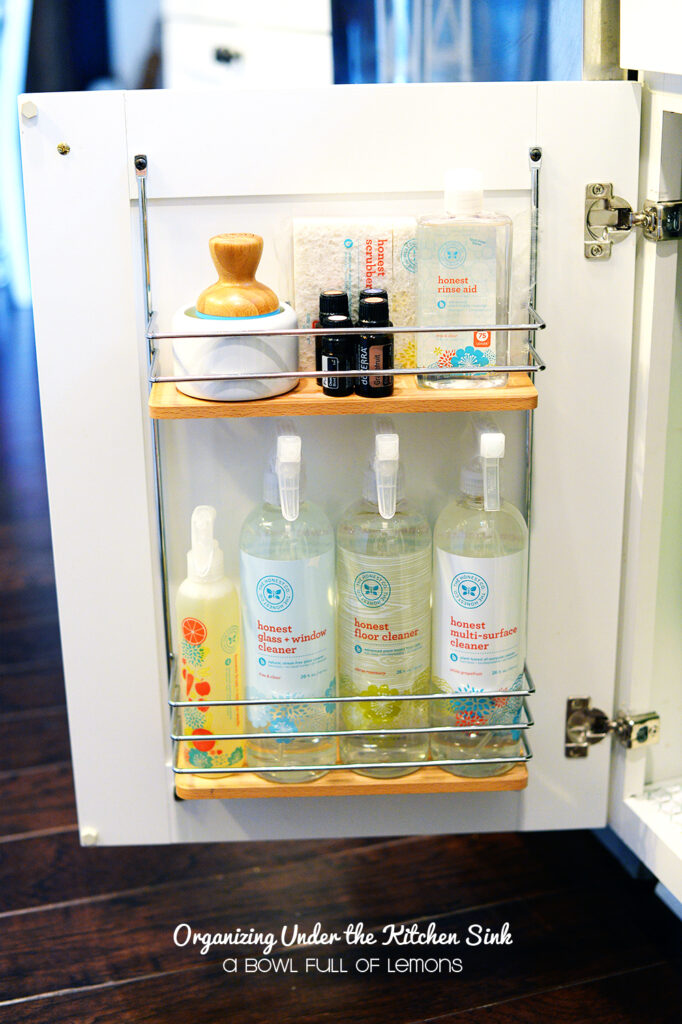 Homekeeping Made Simple via A Bowl Full of Lemons
Pantry Baskets
I really like this one. Using hanging baskets to store things like granola bars and other snacks makes it very easy for kids to come in and get an afternoon snack without making a mess of the pantry.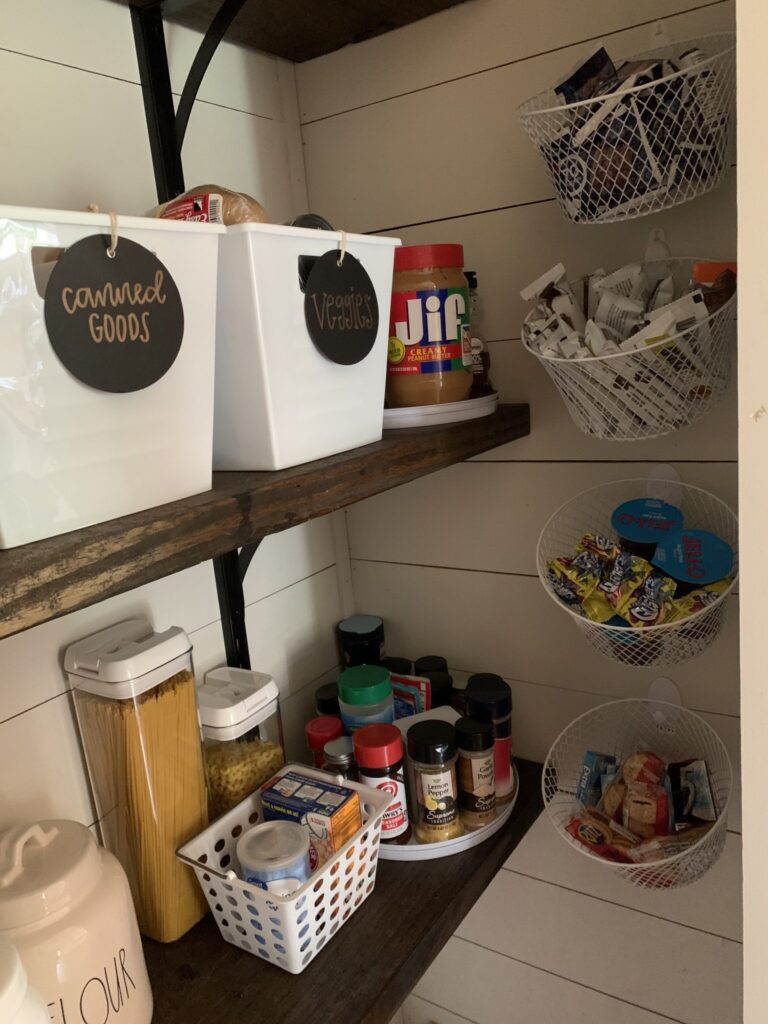 Dollar Tree Pantry Makeover via Re-Fabbed
Nursery Dresser Hack
If you haven't joined in on the fad of rolling clothes, you really should! It creates so much more space and looks clean and organized.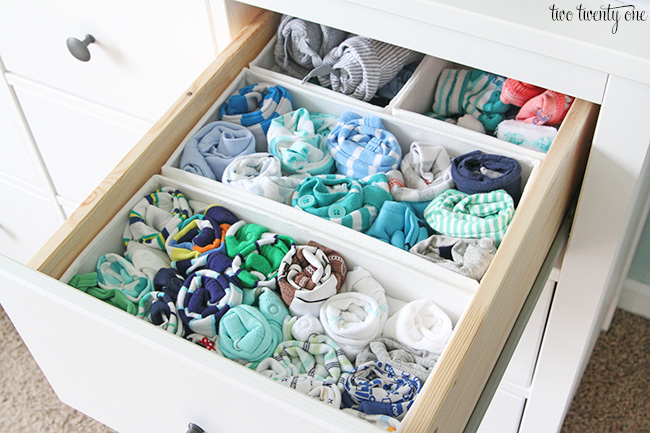 Nursery Dresser Organization via Two Twenty One
Closet Bins
These cute closet bins are perfect for storing winter clothing! I love the labels on each one.
Dollar Store Bin Makeover for Coat Closet Storage via Lemons, Lavender, & Laundry
Cutting Board Storage
If you're like me and can never decide where to store your cutting boards this one is for you! Simply attach an inexpensive rack to the door and you've got yourself a great space.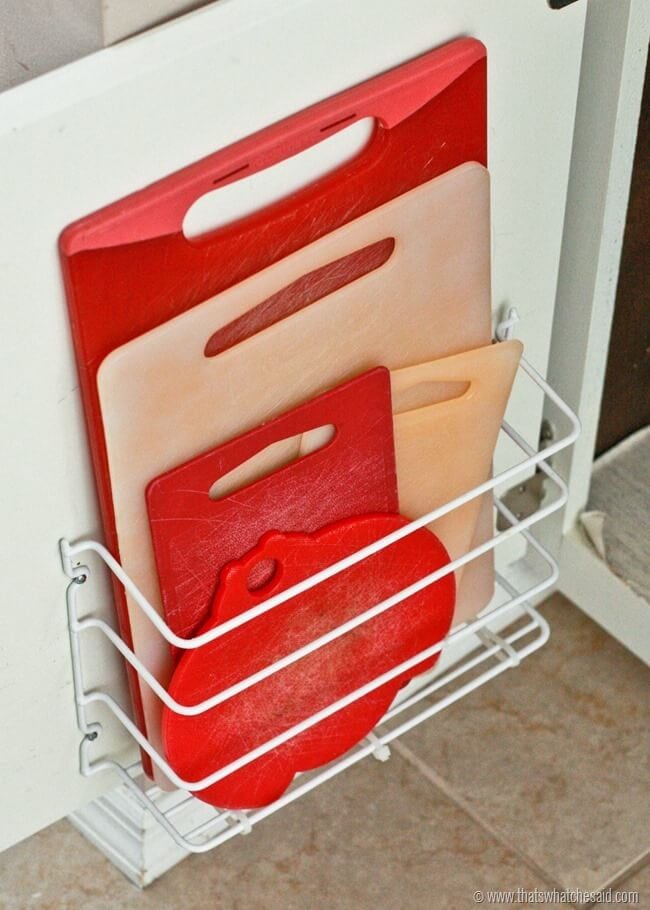 Cutting Board Storage via That's What Che Said
File Cabinet Garage Storage
This is one of the most clever ideas I have come across. Take an old file cabinant and turn it into garage storage! So genius!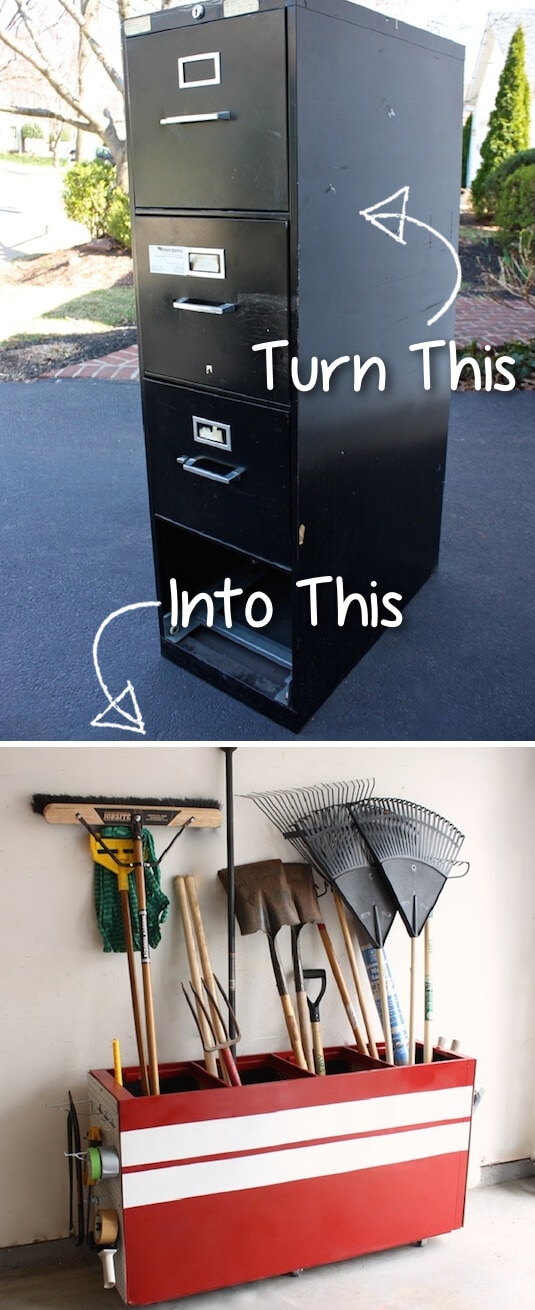 DIY: Turn a File Cabinet into Garage Storage, by Listotic
Under the Sink Wall Hooks
Installing hooks to the wall under the sink can be a great way to declutter! This is also a wonderful way to store cleaning gloves.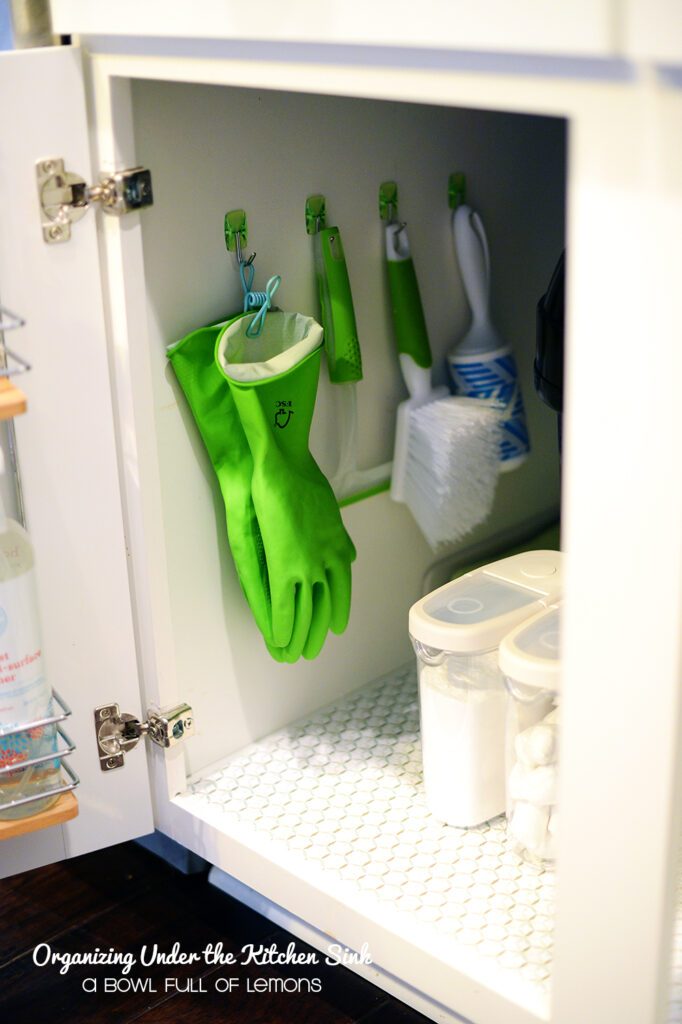 Homekeeping Made Simple via A Bowl Full of Lemons
Trashcan Makeover
Do you know you can by a cheap trashcan from the dollar store and turn it into something you would find at a high end furniture store?! I love this trashcan makeover hack!
Dollar Store Trashcan Makeover via 2IY
Washi Tape Cord Organization
Keep you cords organized and easily accessabile with washi tape. I also really love the dividers placed in these baskets to separate the items.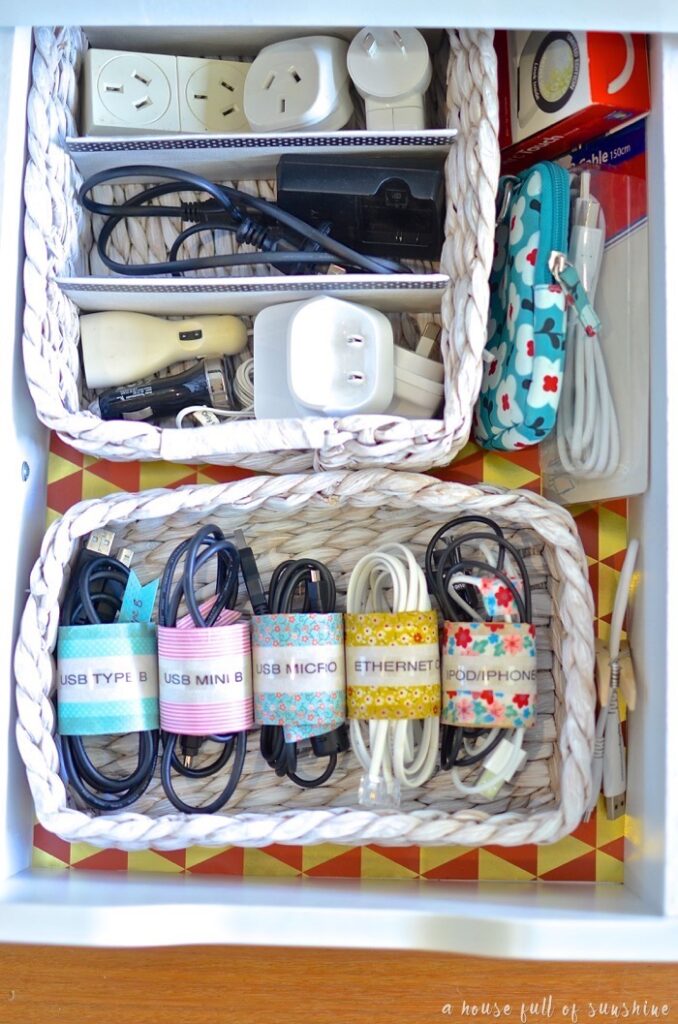 Cord Organization with Washi Tape via A House Full of Sunshine
Fold Pants Hack
Here's a great technique for folding pants that will make them look so clean, crisp, and beautiful that may make people think your room is a department store!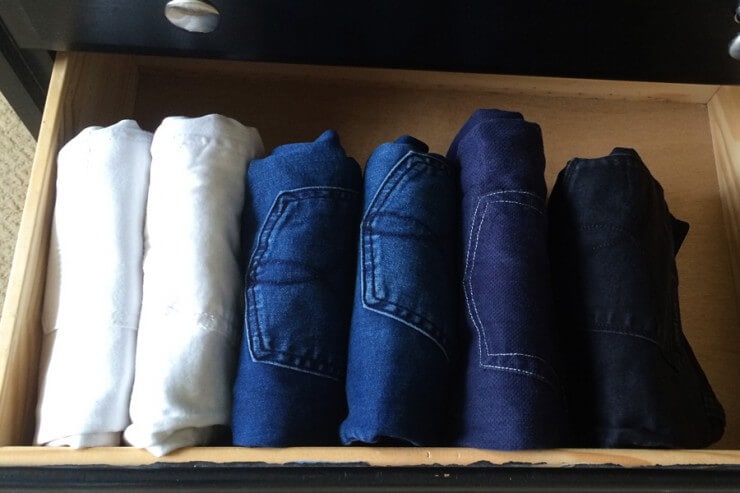 How to Fold Your Pants via Beautiful Life and Home
School Paper Storage
There are so many important and priceless papers that kids bring home from school that often end up in the trash by mistake. Creating a school paper organization bin can fix that problem!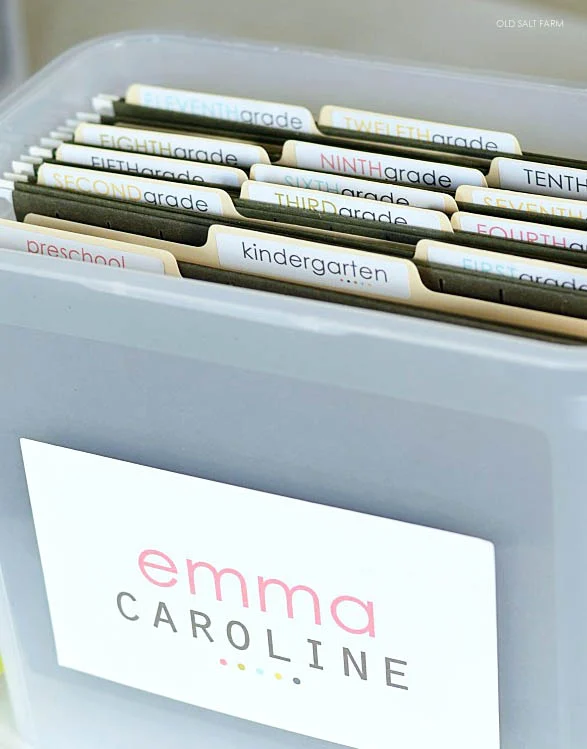 School Paper Storage Organization Idea via Old Salt Farm
DIY Homework Station
I really love this DIY homework station! It looks very organized and provides kids with everything they need when they sit down to do their homework.
DIY Homework Station via Your Modern Family
Tips for Keeping a Clean Home
Try these daily, weekly, monthly, and seasonal tips for keeping your home clean! There are definitely things I want to do differently after reading this list!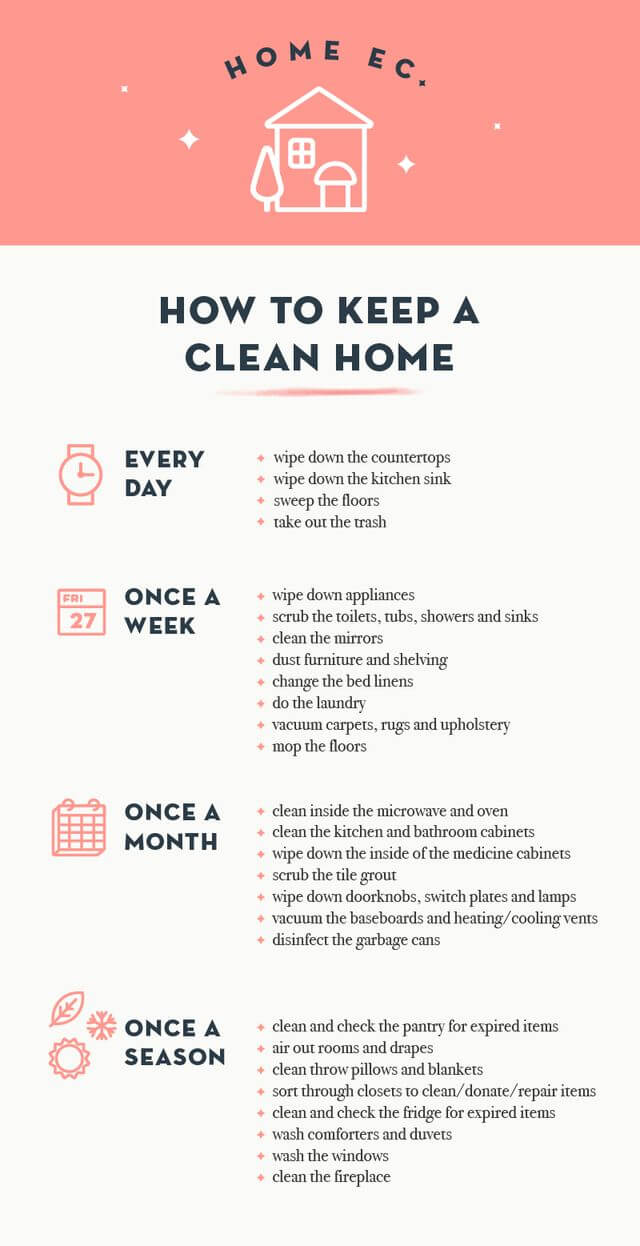 How to Keep a Clean Home via BLOGLOVIN'
Car Cupholder Hack
Are your car cupholders constantly dirty? Try this cupholder trick to make cleaning your car a whole lot easier.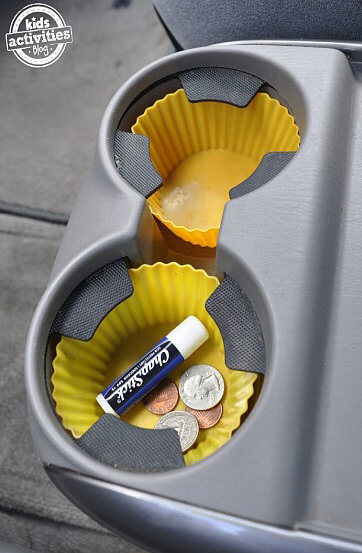 25+ Car Tricks and Tips via Kids Activity Blog
Closet DIY Scarf Holder
Do you have a lot of scarfs that seem to never want to stay on a hanger? Try creating a DIY scarf holder in your closet to give your scarfs the spotlight they deserve!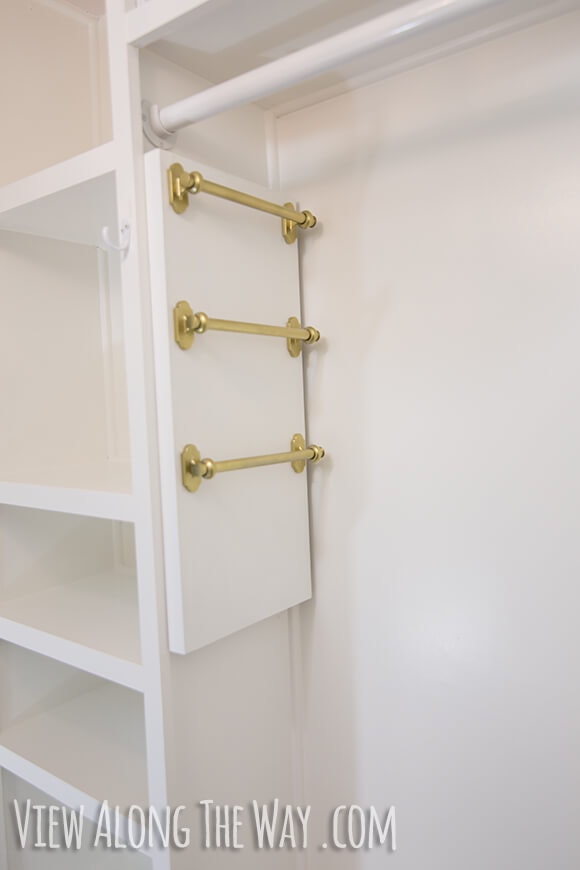 Closet DIY Scarf and Belt Holders via View Along the Way
Organizing Family Room Cabinet
Figuring out how to organize a cabinet or entertainment center can be tricky. Try this hack to keep your DVD's, games, and other devices organized and ready to go!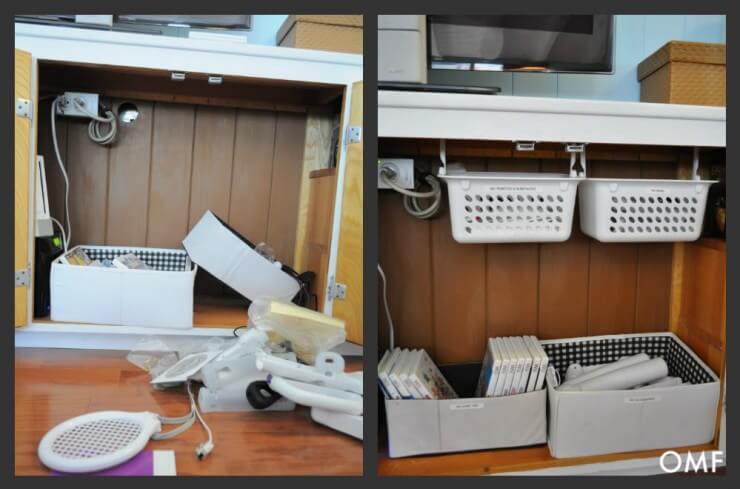 How to Organize Family Room Cabinets via Organizing Made Fun
Fridge Organizaiton
In my opinion, creating an organizational system in your fridge is a must! It ensures that you remember to eat food before it goes bad and makes your grocery store runs a whole lot easier! Check out these fridge organization ideas!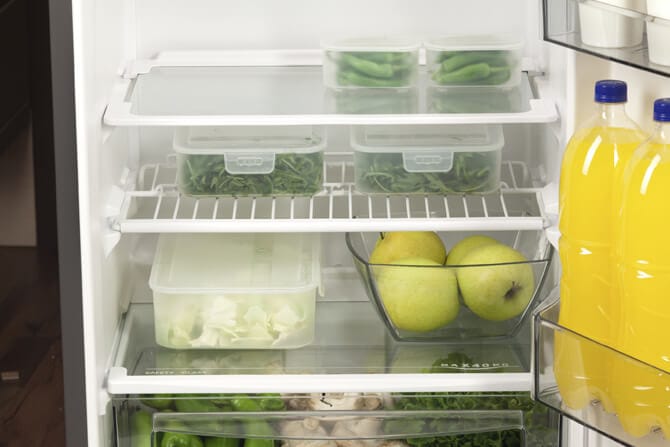 13 Life-Changing Fridge + Freezer Hacks via The Krazy Coupon Lady
DIY Magnetic Bowls
Need a hack for storing those small accessories that seem to always wind up on the floor? These DIY magnetic bowls are great for small items.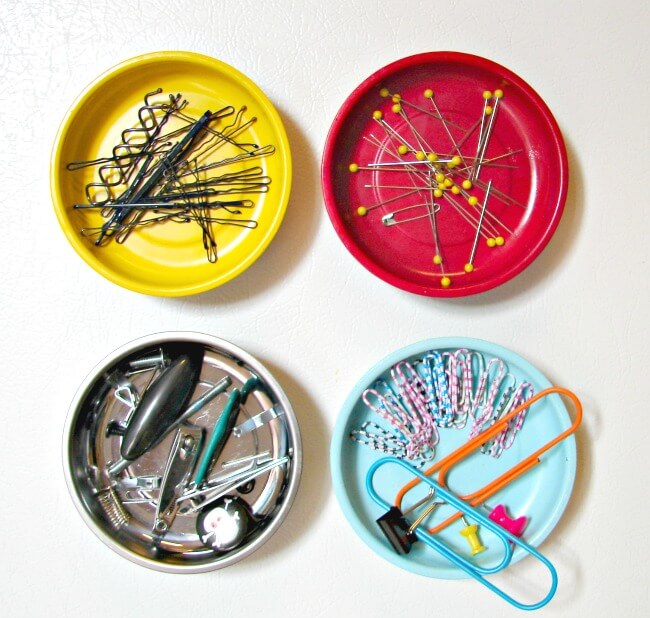 DIY Magnetic Bowls via A Girl and a Glue Gun
Gift Wrap Organizer
I can't think of a better way to store wrapping paper than this! A grift wrap organizer looks so cute, not to mention it would make wrapping Christmas presents so much easier.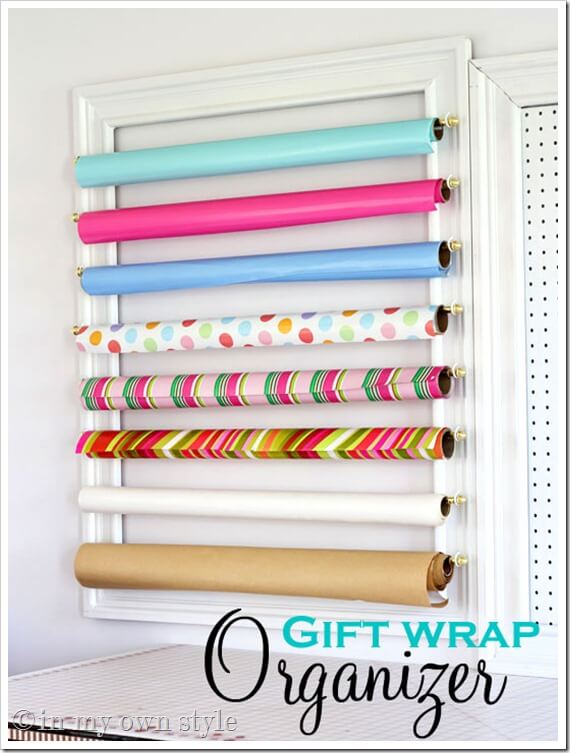 How to Organize Gift Wrap via In My Own Style
Ball Storage
Do you feel like you are always picking up balls around the house? Try creating something like this for your garage. This is a great use of space!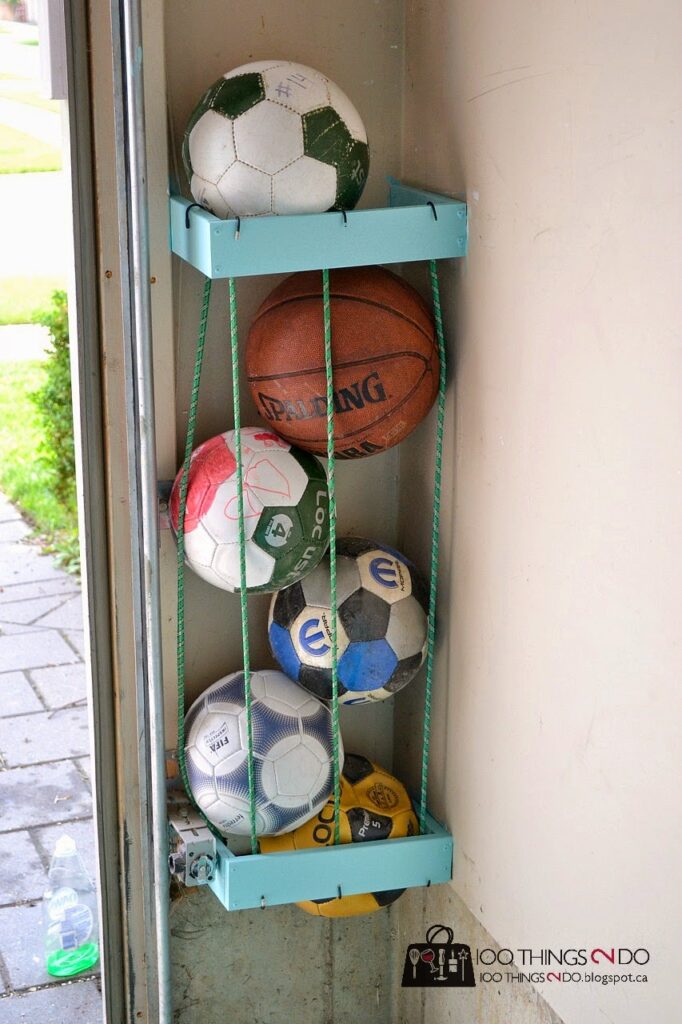 Ball Storage Organization DIY via 100 Things 2 Do
More Organizing Ideas