Easy Pumpkin Crafts for Kids
Easy Pumpkin Crafts for Kids…20 fun pumpkin themed art projects that your kiddos will love. Fabulous ideas for celebrating fall!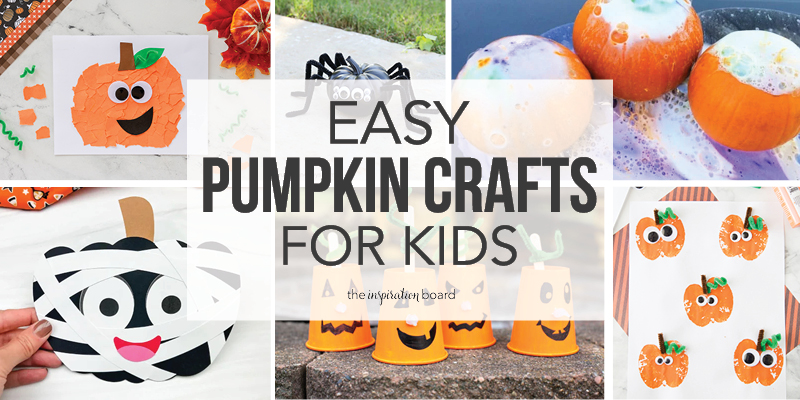 Pumpkin Crafts
Fall is finally here! From the gorgeous changing leaves to the wonderful weather, it isn't any wonder why people anxiously await this beauitful season all year long. And, in addition to it's beauty, fall is just a really fun time of the year! Carnivals, hot chocolate, movie nights, corn mazes, and caramel apples are a few of my favorite autumn traditions. There are just so many things to do!
Pumpkins, in particular, are an iconic produce of fall and serve as inspiration for many fall activities. The most common of course being carving pumpkins! What else can you do that is pumpkin inspired you may ask? So much! The possibilities are endless and that is why I have put together my 20 favorite pumpkin themed crafts and activities that will help bring some fall cheer into your home. Enjoy!
Paper Pumpkins
These are adorable and the best part is that you get to customize and choose your own paper! These will look great in your home.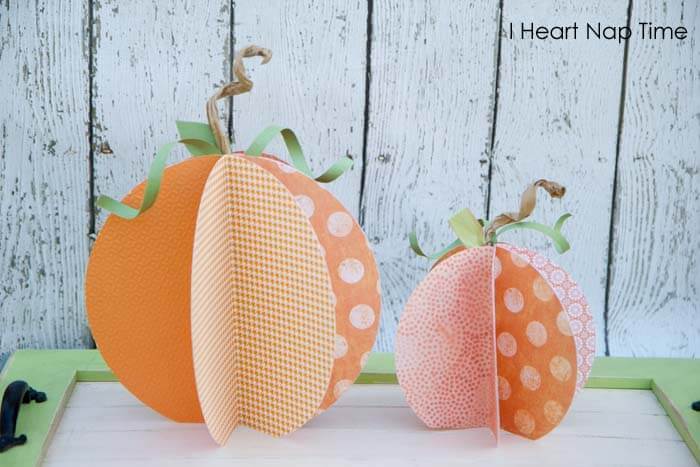 Yarn Pumpkins
Here is one for older kids. These yarn pumpkins are made from wrapping yarn around a balloon and later popping that balloon. So genius!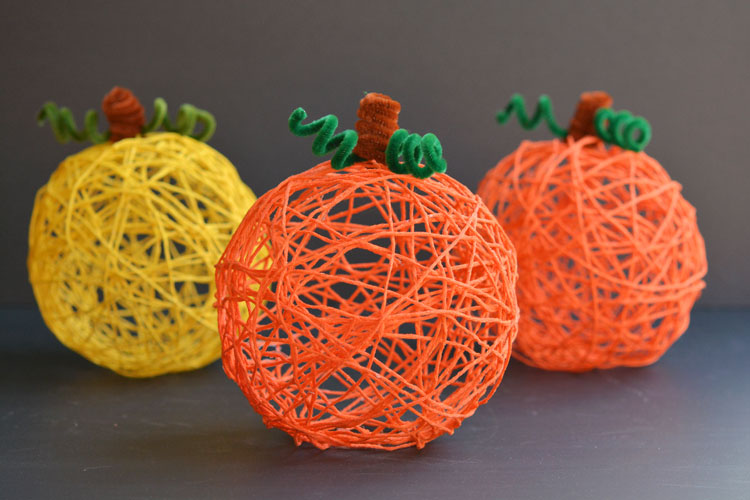 Yarn Pumpkins Using Balloons via One Little Project
Pom Pom Pumpkin Patch
Painting with pom poms is a great activity for younger kids! It is easy, fast, and so adorable. Make sure to download the free pumpkin patch printable!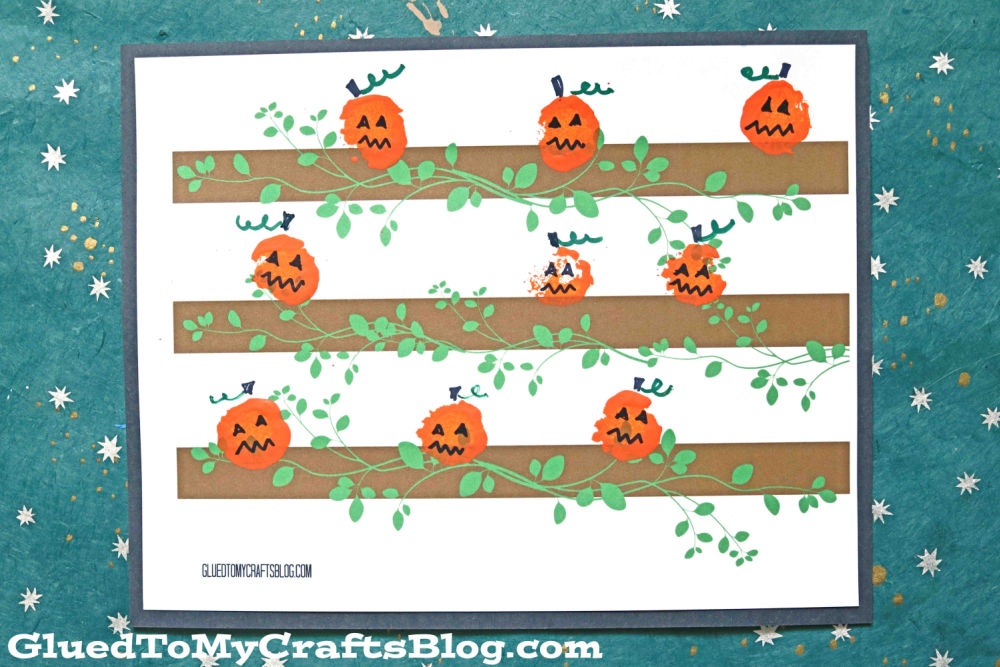 Pom Pom Painted Pumpkin Patch via Glued to My Crafts
Mini Spider Pumpkin
Wanting to create a spooky Halloween craft? This spider pumpkin is perfect! All you need is some googly eyes, pipe cleaners, and black spray paint.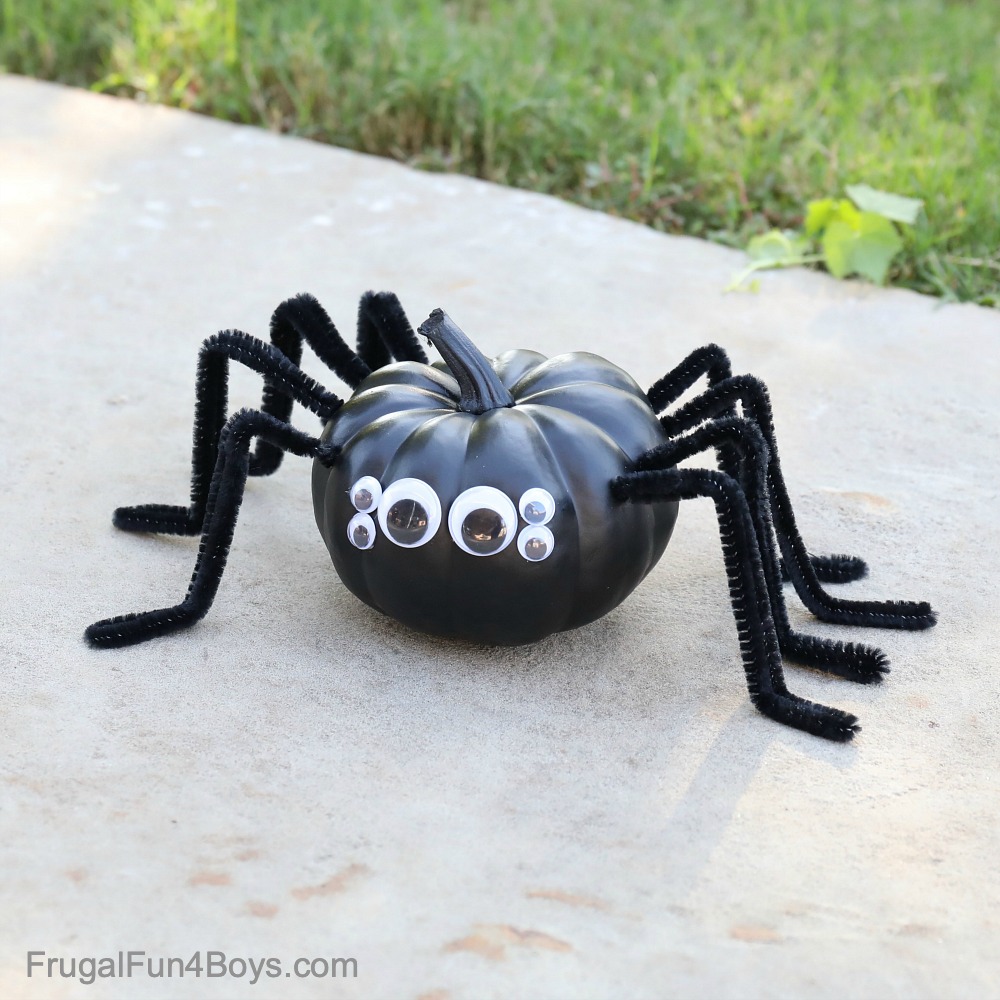 Easy Pumpkin Decorating Ideas via Frugal Fun for Boys and Girls
Hand Print Pumpkin
Hand print crafts have always been a favorite among toddlers and these handprint pumpkins are so cute! Trust me, you'll want to save this one.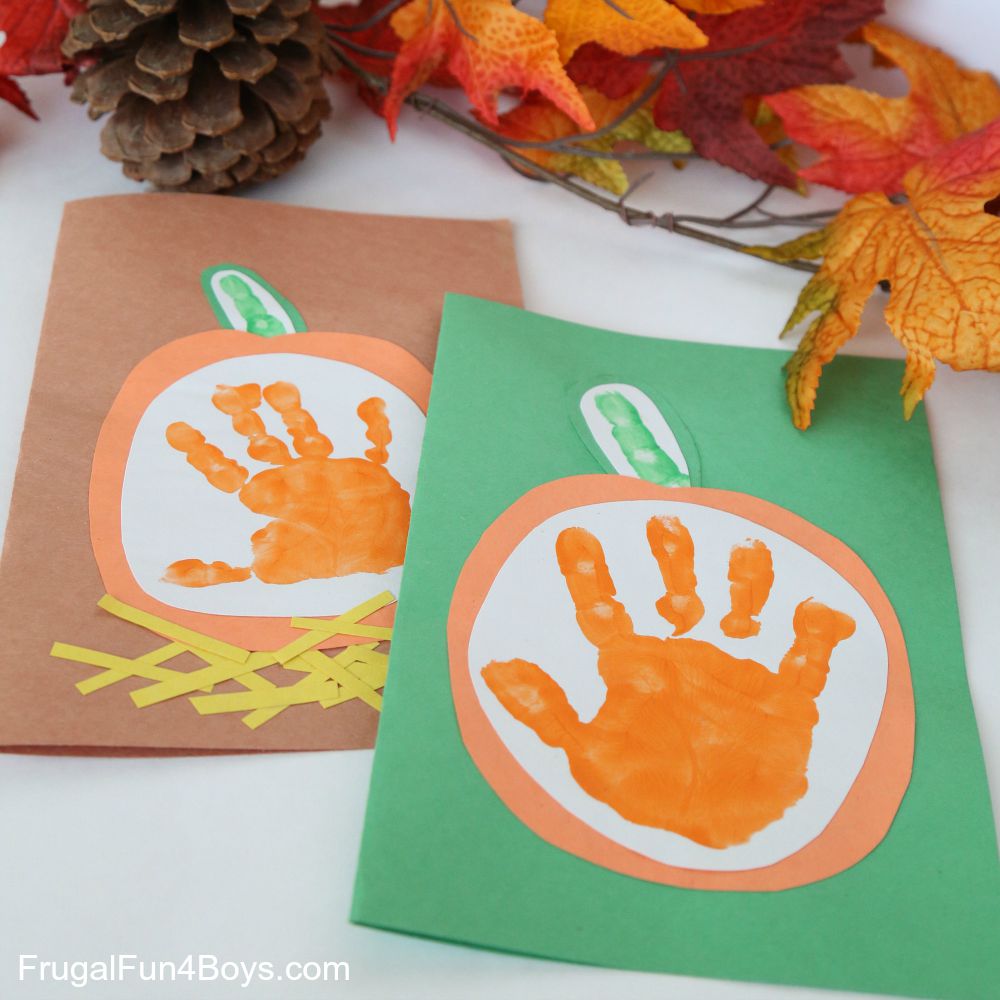 "Your Little Pumpkin" Handprint Card via Frugal Fun for Boys and Girls
Pumpkin Volcano
Any scientists out there? These pumpkin volcanos are so creative and a festive activity for fall. Your kiddos will love this one!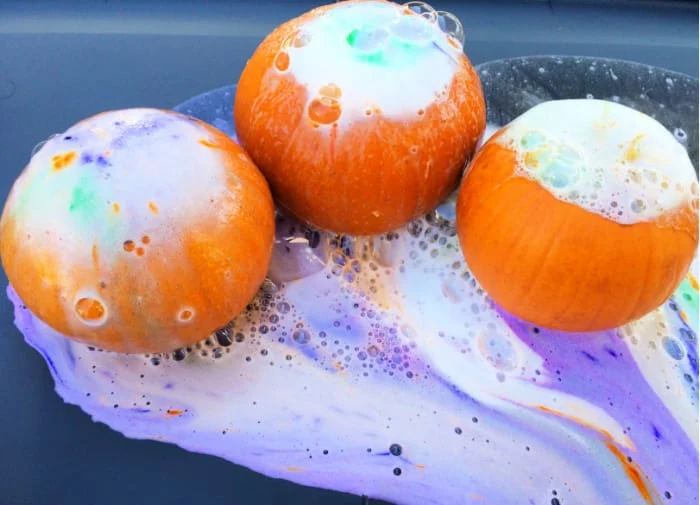 Pumpkin Volcano via Freebie Finding Mom
Mickey Mouse Pumpkin
Chances are you know someone who loves Mickey Mouse. If so, this one is for you! This mickey mouse pumpkin is easy to put together and so cute!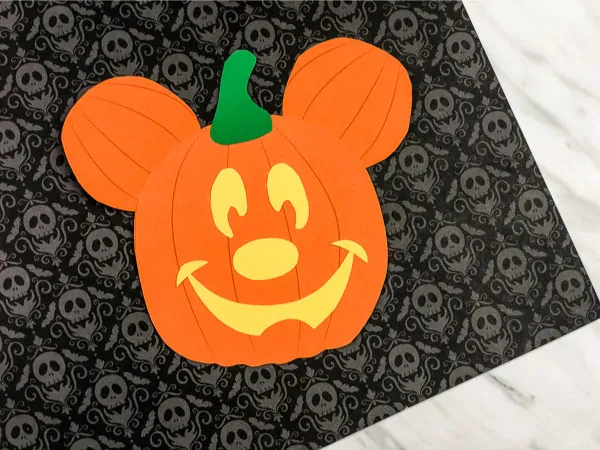 Mickey Mouse Pumpkin Craft for Kids via Simple Everyday Mom
Pony Bead Pumpkins
Here's a creative one! Pony beads are so fun to play with and you can create so many things with them. These pumpkins are stunning.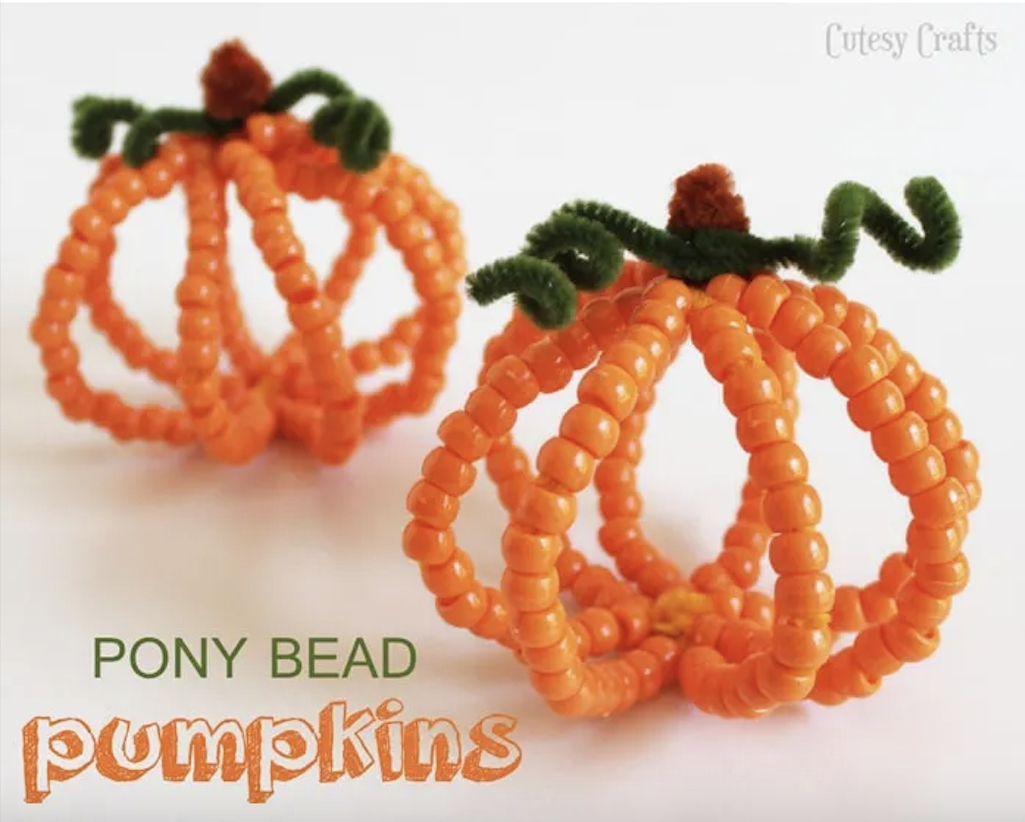 Pony Bead Pumpkins via Cutesy Crafts
Pumpkin Guts Slime
I had to include this one. I have never seen pumpkin slime and I have to say I am loving it! Your kids will have a lot of fun playing with this festive slime.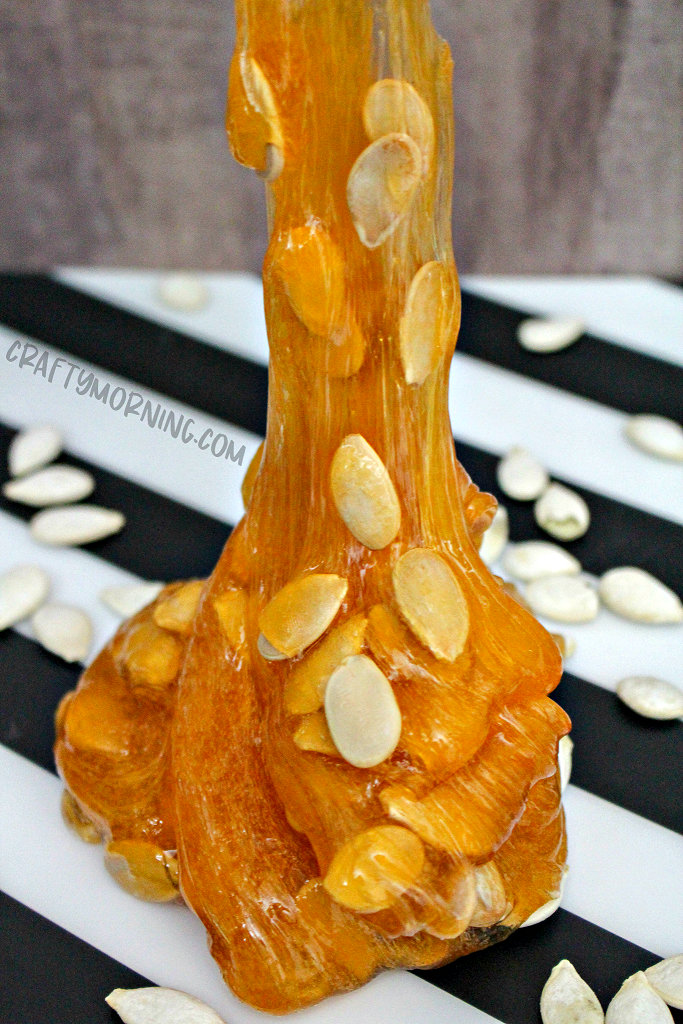 Pumpkin Guts Slime Recipe via Crafty Morning
Paper Pumpkin People
Here's another great craft idea for kids of any age. These paper pumpkin people are easy to make and great fridge material!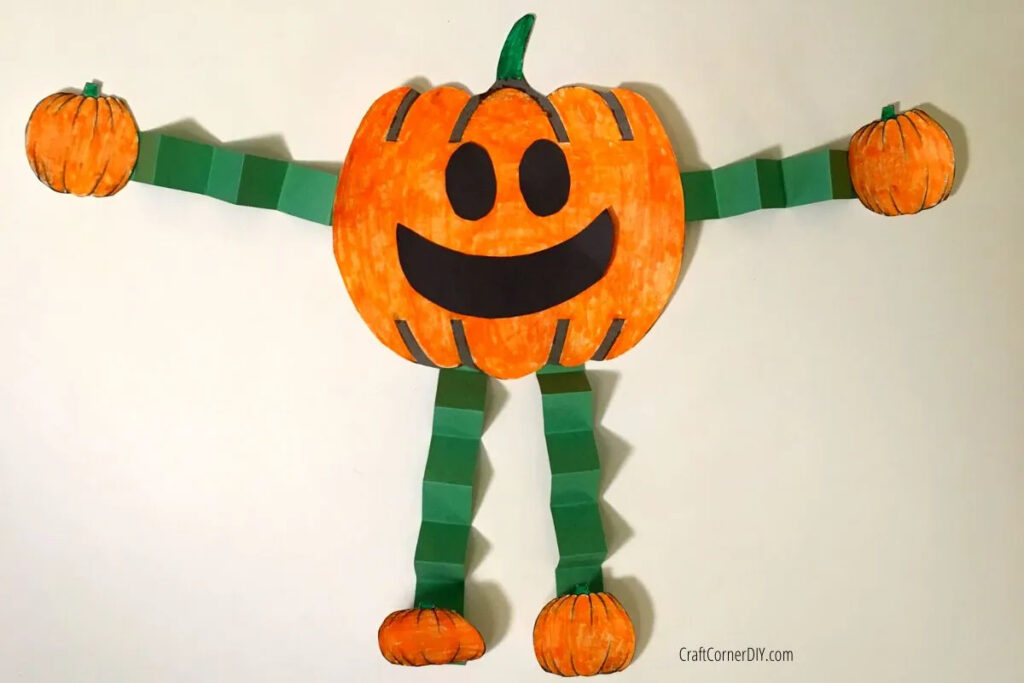 Paper Pumpkin People via Craft Corner DIY
No Sew Yarn Pumpkins
For a softer craft try making these fuzzy no sew yarn pumpkins. Whether you keep them in a basket or hang them up as garland, these will look fabulous!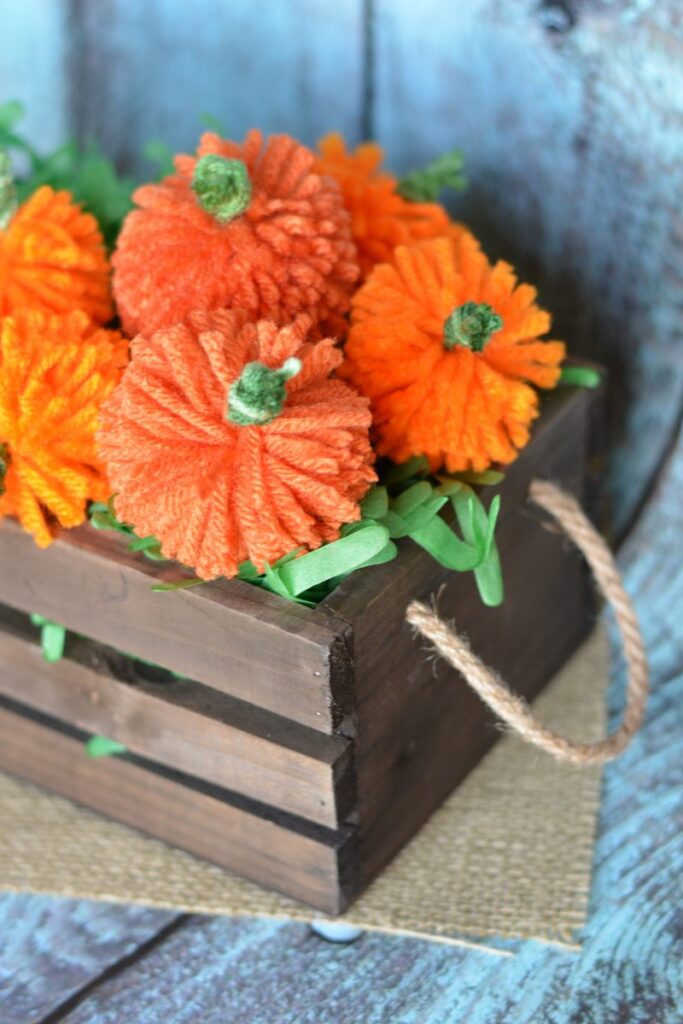 Easy DIY Yarn Pumpkins via Not Quite Susie Homemaker
Halloween Toilet Paper Rolls
Who knew that you could be so creative with a toilet paper roll. Check out the adorable Jack'O'Lantern idea on the far right.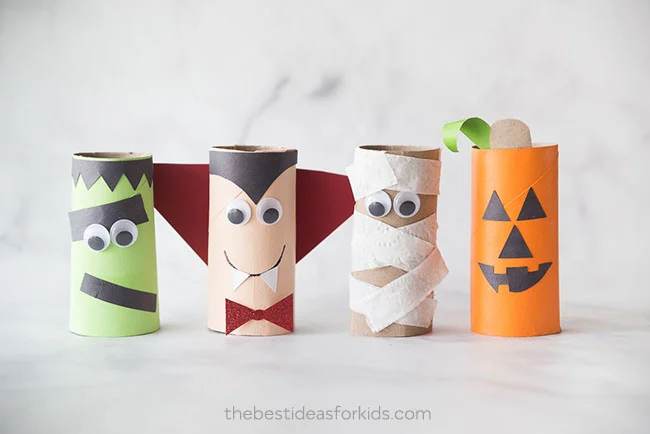 Halloween Toilet Paper Roll Crafts via The Best Ideas for Kids
Paper Strip Pumpkins
Combine strips of paper together to make a gorgeous pumpkin. Top it off with some tool and you've got yourself some fabulous artwork.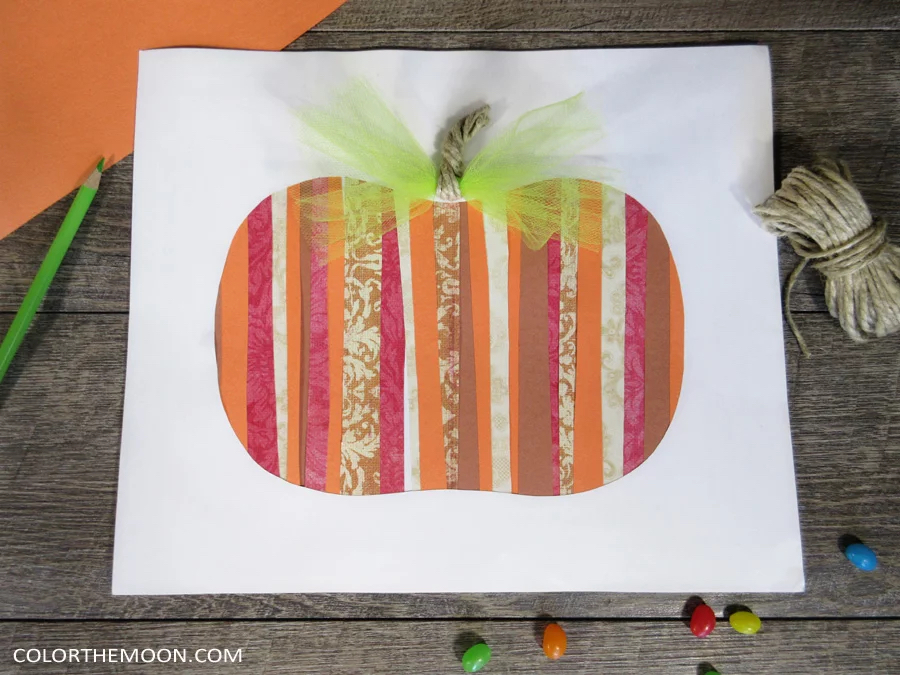 Paper Strip Pumpkins via Color The Moon
Paper Cup Jack'O'Lantern
These paper cup Jack'O'Lanterns are super simple and make amazing outdoor Halloween decor. The noses even glow in the dark!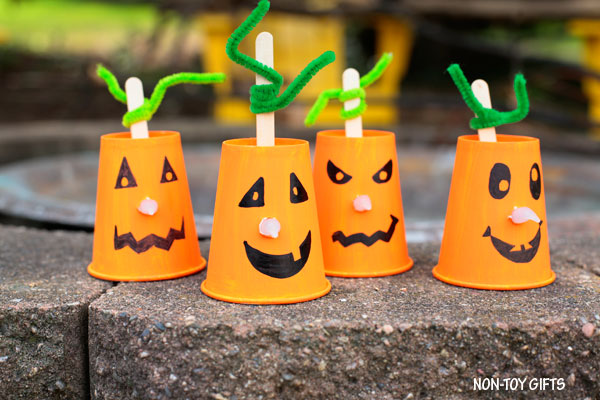 Paper Cup Jack'O'Lantern Craft via Non-Toy Gifts
Sock Pumpkin
Kids will love creating their very own sock pumpkin this fall. Simply fill them with either rice or beans and use a rubber band to keep everything in, no sewing needed!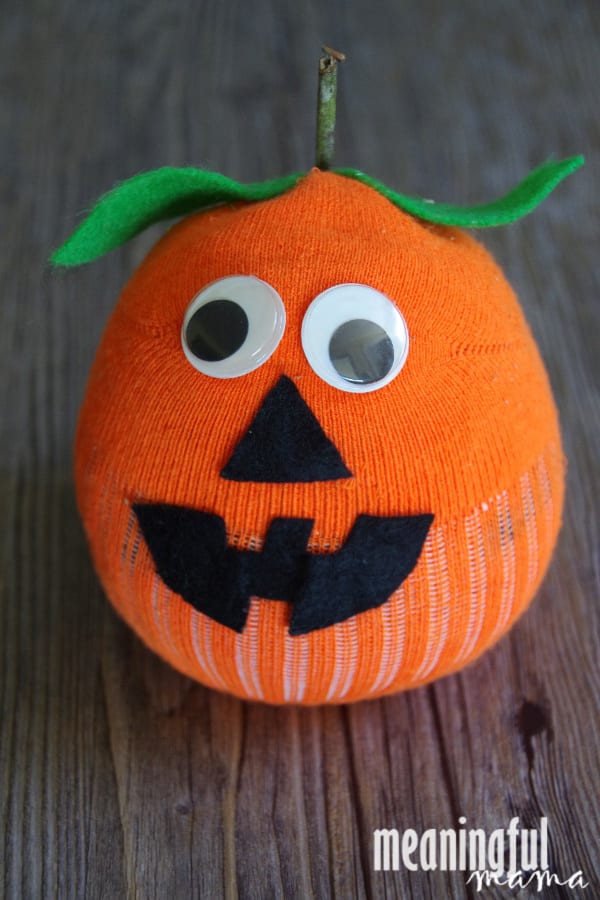 Sock Pumpkin Craft via Meaningful Mama
Apple Stamping
Did you know that half an apple makes thee perfect pumpkin outline? This is great for younger kids that can't quite draw shapes yet. So cute!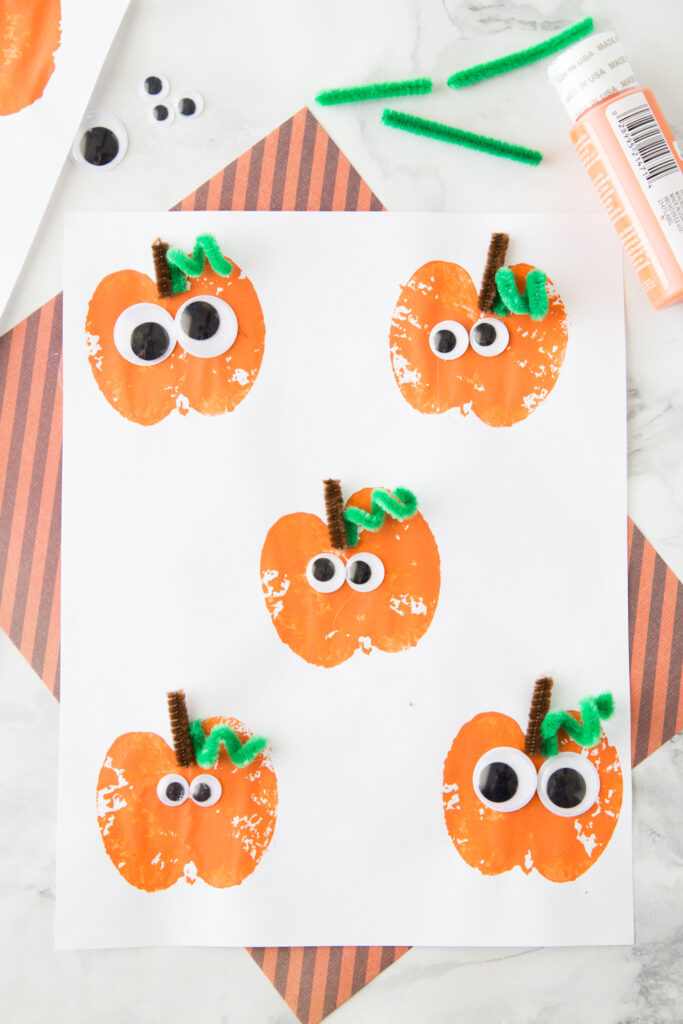 Apple Stamping Pumpkin Craft via Made to be a Mama
Torn Paper Pumpkin
This torn paper pumpkin is great for younger kiddos who love to tear things up! This activity teaches kids that we can make the most of things, even when they seem broken.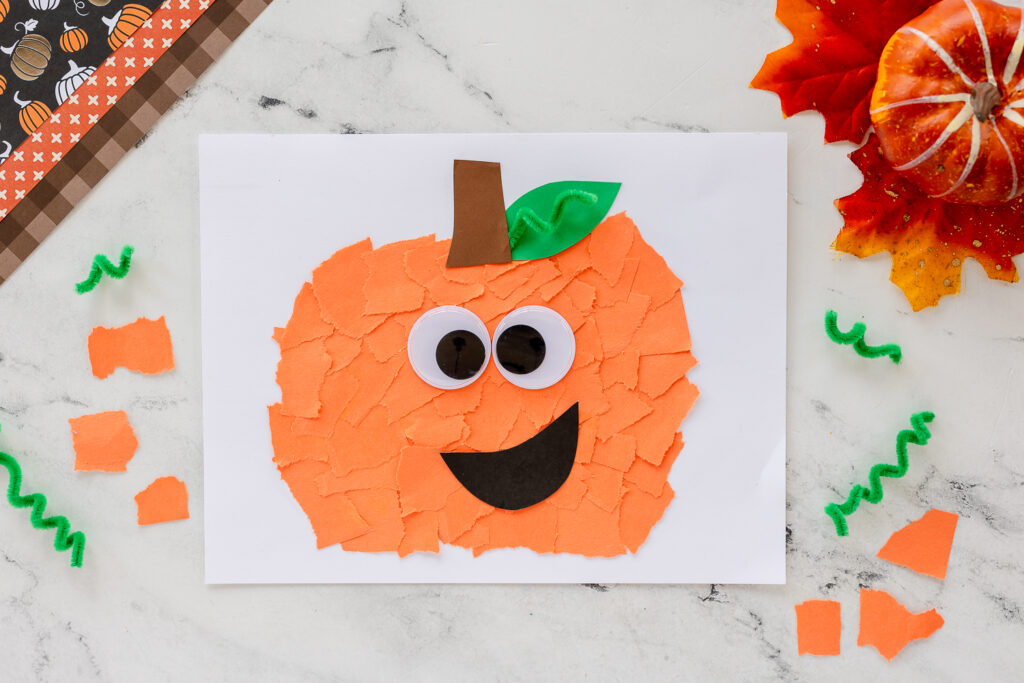 Torn Paper Pumpkin Craft via Made to be a Momma
Salt Dough Handprint
There is no better way to capture a moment in time then with a handprint craft. This craft is so sweet and will be a fun decoration to get out every year. It may even make a great jewelry dish!
Pumpkin Handprint Craft via Kids Activities
Mummy Pumpkin
This pumpkin is wearing it's very own Halloween costume! This craft comes with a downloadable template making it easy to put together.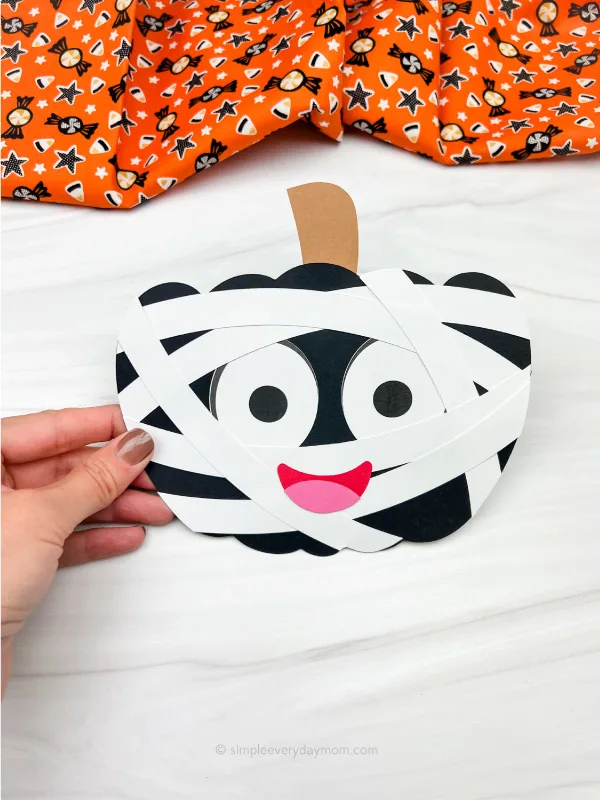 Mummy Pumpkin Craft for Kids via Simple Everyday Mom
Monster Pumpkins
Instead of just carving pumpkins try painting them! These spooky monster pumpkins are so festive and look fantastic sitting on a mantle.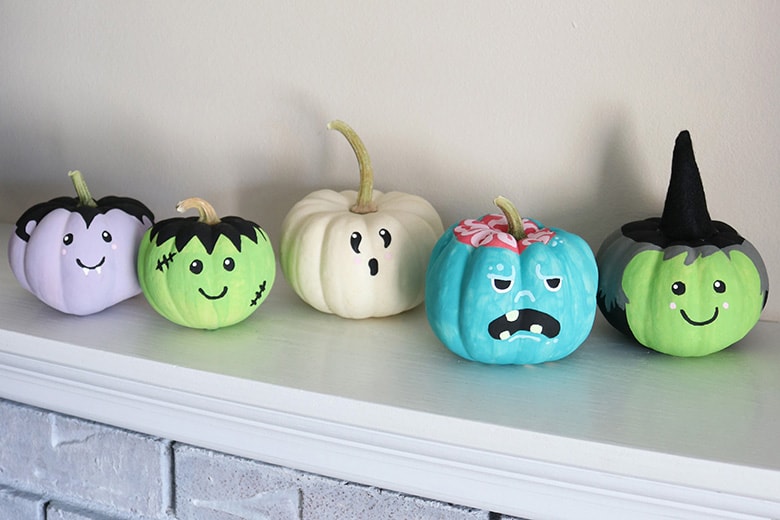 Easy Painted Pumpkins via Aubree Originals
More Fall Activities