5 EASY Kids Halloween Games including ghost bowling, candy guess game, pumpkin toss, punch a box and pin the spider on the web. These games are perfect for any Halloween party with kids!
Since my daughter has a birthday in October, she decided she wanted to go with a Halloween theme this year. We had fun planning it together and these are the games we came up with. The kids all loved them.
Easy Halloween Game #1: Ghost Bowling
For this game you will need 9 plastic cups, a black marker and a mini pumpkin or ball. Simply draw a ghost face on the cups and then stack 3 cups on the bottom, 2 on in the middle and one on top. Use the pumpkin or ball to bowl.
Easy Halloween Game #2: Candy Guess Game
For this game, you'll fill a jar with candy. We used a mix of our favorite HERSHEY bars and candies: REESE'S Peanut Butter Cups, KIT KAT Bars, Jolly Rancher Lollipops, and Hershey Bars. Next, count the number of candies that are placed in the jar and keep that number a secret. Then lock the jar and have your guests write down how many they think are in the jar. The winner who is the closest gets to keep the jar filled with candy. Free download for the tags below.
Easy Halloween Game #3: Pumpkin Balloon Toss
This game is easy and fun for the kids to play. To play this game, blow up several orange balloons and then if you'd like, tie on a green leaf (free download below) with a string to look like a pumpkin. Then have all the players grab a partner. Have each group toss the balloon back and forth. The group to keep the balloons from touching the ground the longest wins.
Easy Halloween Game #4: Punch a Box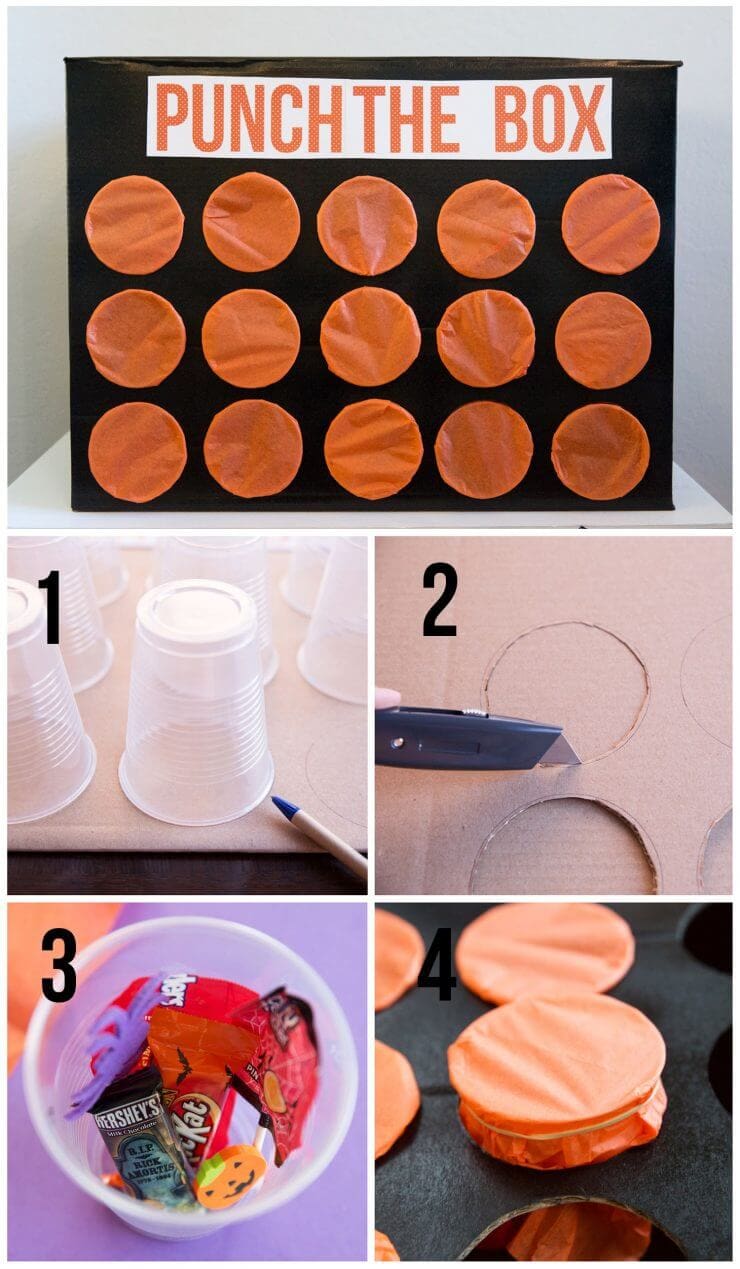 For this game you'll need a cardboard box, box cutter, plastic cups, pencil, tissue paper, rubber bands and candy. Trace the cups onto the cardboard box. Then use your box cutter to cut out the circles. You want to cut inside the circle, leaving about 1/8″ space from the drawn circle. You may at this point spray paint your box if desired.
Next fill your cups with candy and/or toys. We used a mix of our favorite HERSHEY candies (HERSHEY Bars, KIT KAT Bars, TWIZZLERS Twists, and Jolly Rancher Lollipops), spider rings and pumpkin erasers. Then place a piece of tissue paper over the cup and secure with a rubber band. Then stick the cup into the hole. Secure with tape or hot glue if needed.
Let your guests each take a turn to punch through the cup and claim their prize.
Easy Halloween Game #5: Pin the Spider on the Web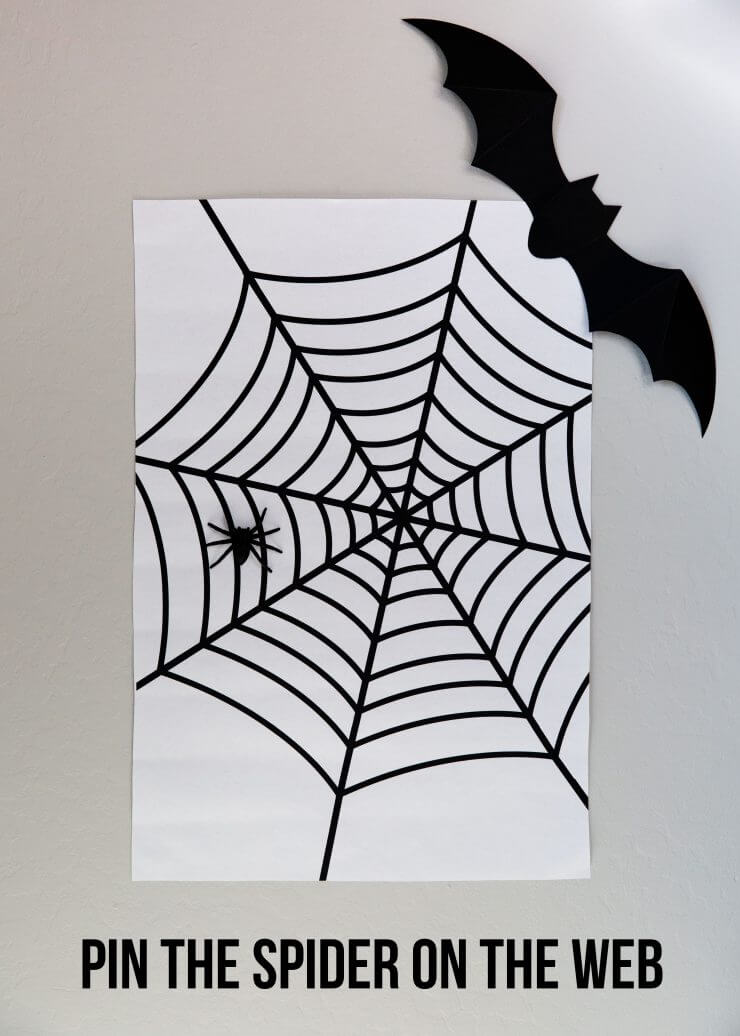 Print out the spider web below (we printed it on a large engineer print). Then give each guest a spider and have them place a blind fold over their eyes and try to place the spider in the middle of the web. You can use sticky spiders or the ones below with a piece of tape behind it. The spider closest to the middle wins.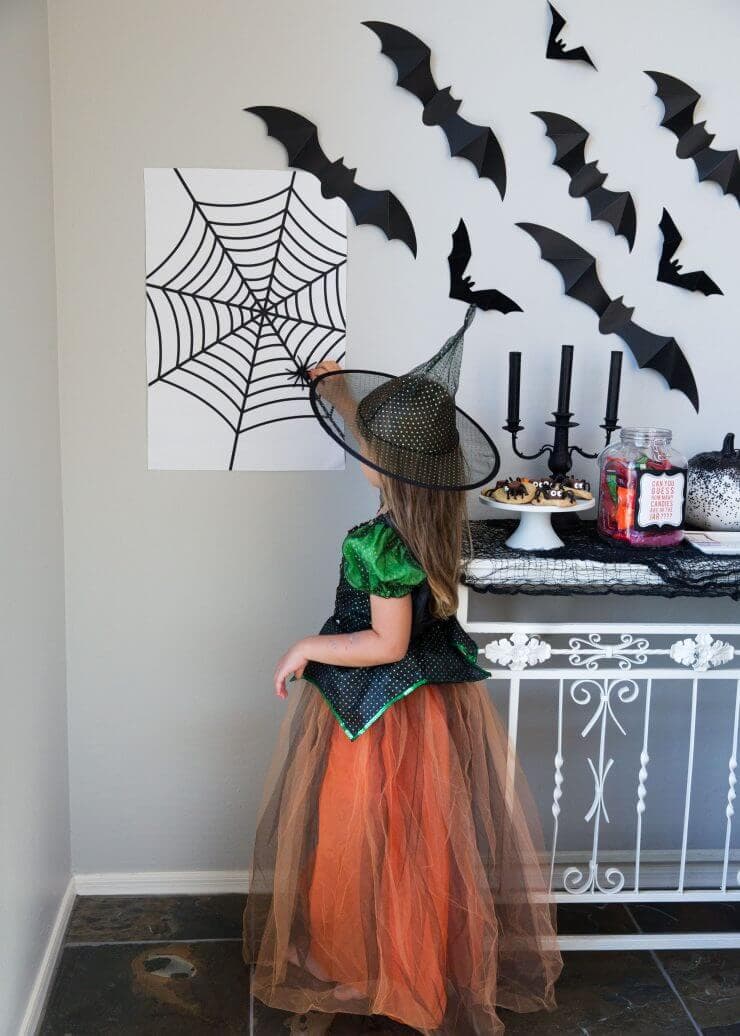 FREE Halloween Game Printables
Simply save to your computer and then print on cardstock, or take them to your local copy store.

My kids had a blast playing these games for my daughters Halloween Birthday Party! Hope your family enjoys them too!
This post is sponsored by HERSHEY.