Hello! There are 3 things I am excited about today!
1. It's almost summer!
2. I'm here at I Heart Nap Time. (pinch me please)
3. I have the coolest yard game around! And I'm about to tell you all about it!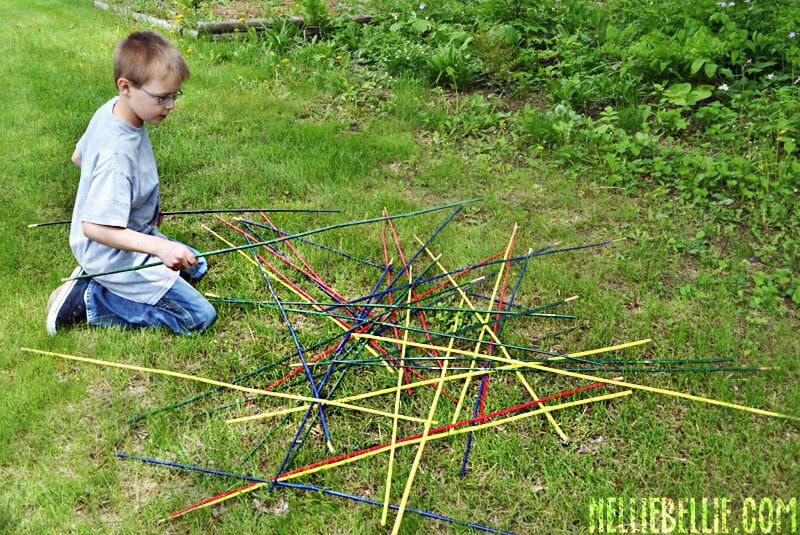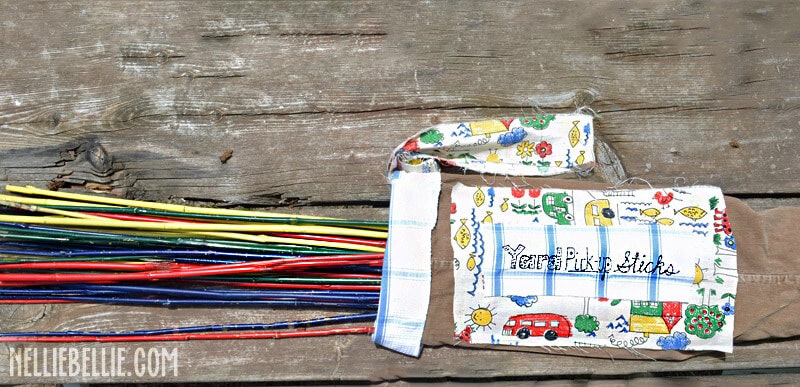 Giant Pick-up Sticks.
How cool is that? Do you remember this old-fashioned game? The one where you try to pick up your color sticks without moving the others? Even though my kids are older (10 and 15) and I thought this would be too "babyish" for them… they have been playing this yard version all the time. go figure! We plan on bringing it with us camping this summer and playing it at the campground. And you know we'll get questions about where we got it. I'll answer…I made it. And you can too…
This yard game is simple to make with easy to find materials.
Supplies:
24-36 Bamboo yard stakes.
– you want the number of stakes to be divisible by the number of colors you want to have, plus 1 black stick. I had 4 colors with 8 sticks per color…32. Plus the black stick…33 stakes.
– wooden dowels also work, as do any variety of stakes. Be very sure that you don't choose any variety with a pointy end…that would be quite dangerous to play!
Spray Paint in the color choices you wish. And a black.
– I chose to go with the traditional red, yellow, blue, and green. But, the options are open! Be sure to grab a black for your black stick!
Clear Spray Paint
-A coat of clear spray over your stakes will help the paint last much, much longer.
How To: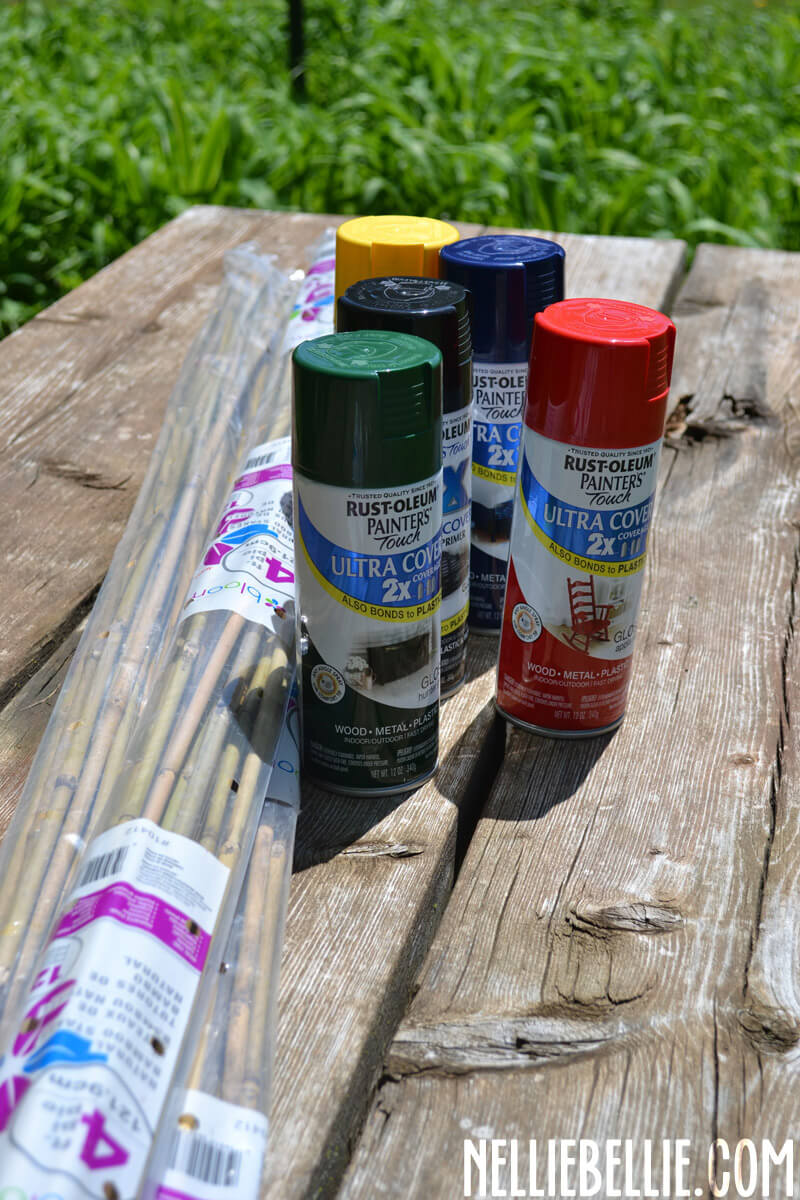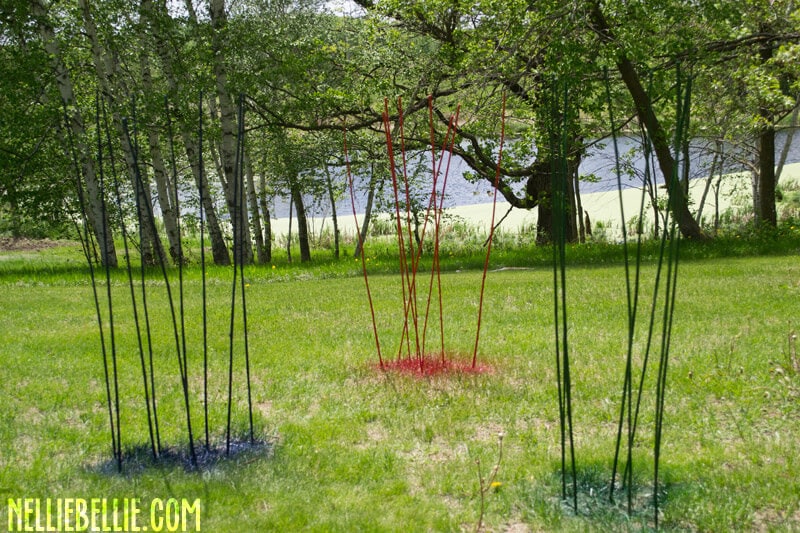 Yes, it really is as easy as that.
Paint your stakes different colors, seal with clear primer. How you choose to get paint on those stakes is up to you. I chose to push them in the ground and spray them. Then when they dry, flip them over and repeat. However, I would recommend not spray painting multiple colors on a windy day unless you want to look a bit like a Rembrandt painting. Okay, a LOT like a Rembrandt painting!
5 loofah showers later…
Here is the part where I show you multiple (okay, two.) amazing live shots of my cute family (minus the 15 year old daughter…her hair wasn't "cute enough" for photo's) and gorgeous yard. Well, I have 1 out of the 2 right. I need to work on that yard part a bit more. Playing yard games is much more fun than fixing dead patches of grass.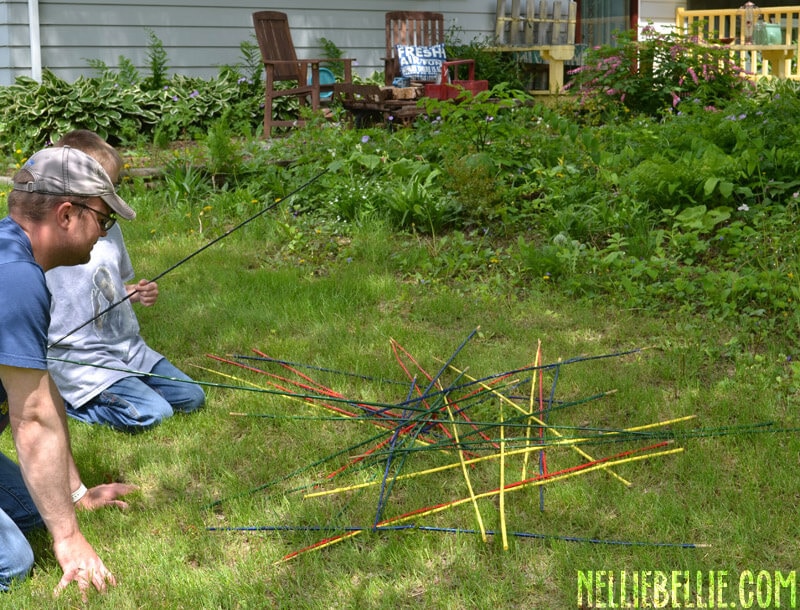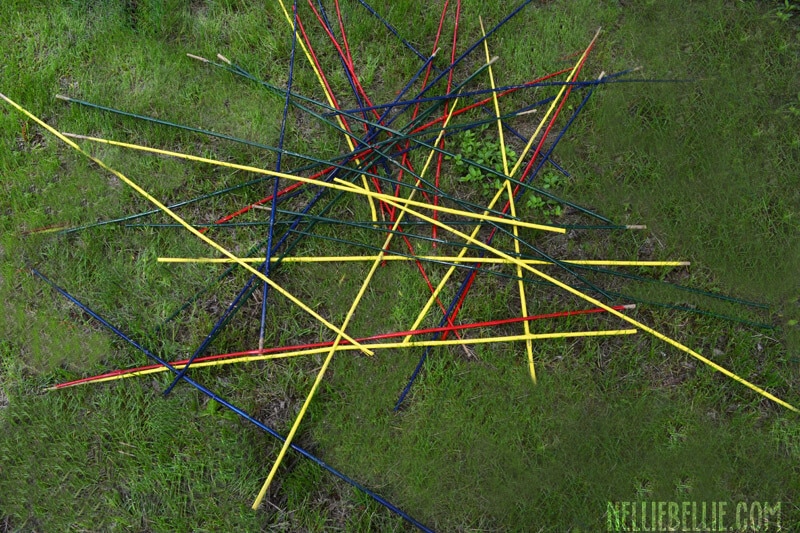 I would like to make a couple of notes about this project…
1. As with all sticks, small children should not play with them. Older children should be cautious. Adults should be okay. But, just tell everyone that safety is first. And watch that you don't get sharp stake ends.
2. You can see that I made a cute little bag to store ours in. I would offer up a wonderful tutorial for that but, truth be told, it's just a pant leg and iron-on adhesive. It was an accidental, lucky little addition! I had planned on simply tying the pick-up sticks together in 2 places with a bit of twine. Cute and effective. But, I spotted these pants Nate was getting rid of and decided to experiment.
And now for a bit about me…
A lifestyle blog with a little bit of crafting, a little bit of cooking, a little bit of decorating, and a whole lot of laughing.
How do you like that description? It took me months to come up with that clever little sentence! But, it's true! NellieBellie is just a fun place to pop in for some creativity and giggles! Some favorite projects at NellieBellie are my son's bedroom remodel (seriously, that rooms has been everywhere! wow!), my industrial/schoolhouse dining room, and our Hot Dog Tasting party.
After you come say hi at NellieBellie follow along at one of a ridiculous number of social media places. Get ready for it…deep breath… Facebook, Pinterest, Twitter, Instagram, Google+. I'm also a contributor for Positively Splendid, The Shabby Creek Cottage, Zeus and Zoe, and Elizabeth Banks.
Thanks so much for having me Jamielyn…you rock, your blog rocks, and your readers rock!
THANKS Janel for sharing this fun project during our Hello Summer Event! Click HERE to see more ideas from the event.