25 Handmade Gift Ideas for Teacher Appreciation
25 Handmade Gift Ideas for Teacher Appreciation…the perfect way to let those special teachers know how important they are in the lives of your children!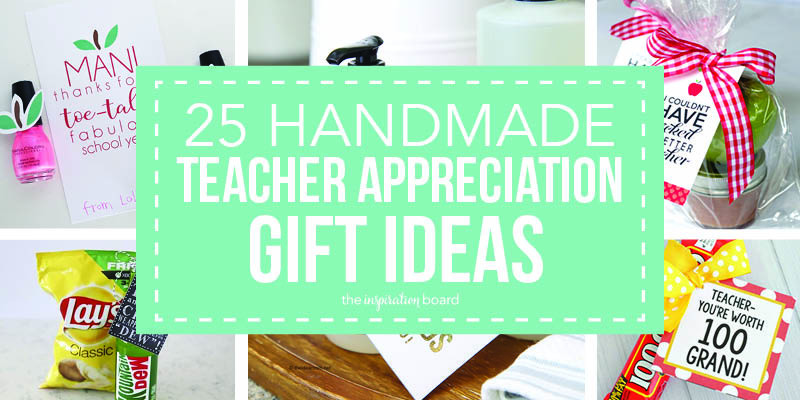 Everyone looks forward to the end of the school year, but I'm sure nobody more than teachers! Teachers are often unsung heroes and have such a critical role in the development of our kids. Now is the perfect time to let them know that their efforts and hard work have not gone unnoticed.
Teacher Appreciation Gift Ideas
These handmade gifts will be such a boost to their morale as well as a perfect send-off into their summer vacations – which they truly need and definitely deserve! The gifts here respect not just various budgets but also different crafty abilities! Many are ideal for bringing in the kiddos to play a personal part in showing their gratitude for their teachers as well – a great teachable moment thrown in!
Chocolate Nugget Treasures
This idea is so much fun and kids will love helping put it together! It is the perfect gift to show just how much teachers are appreciated.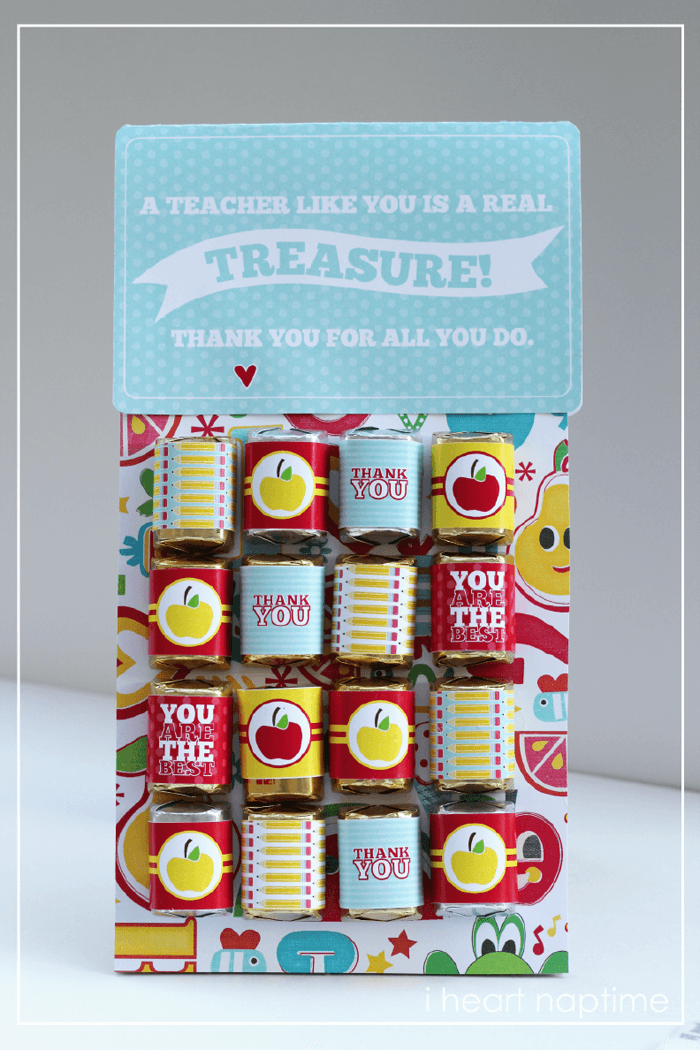 Smart Cookie Gift
Teachers will absolutely love this gift idea! It looks so delicious and is the perfect way to say thank you for a wonderful school year.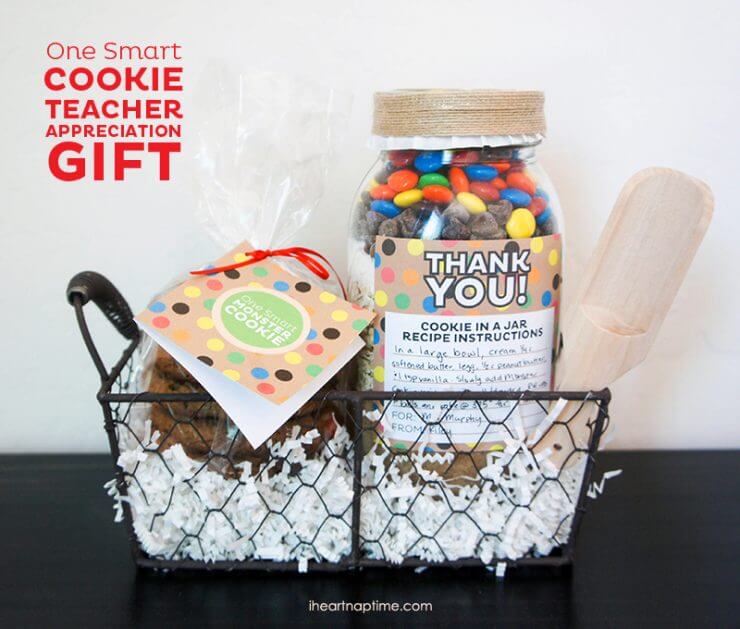 "One Smart Cookie" Teacher Appreciation Gift
Chips and Drink Printable
This clever printable is sure to put a smile on any teacher's face! Plus it is so easy to put together!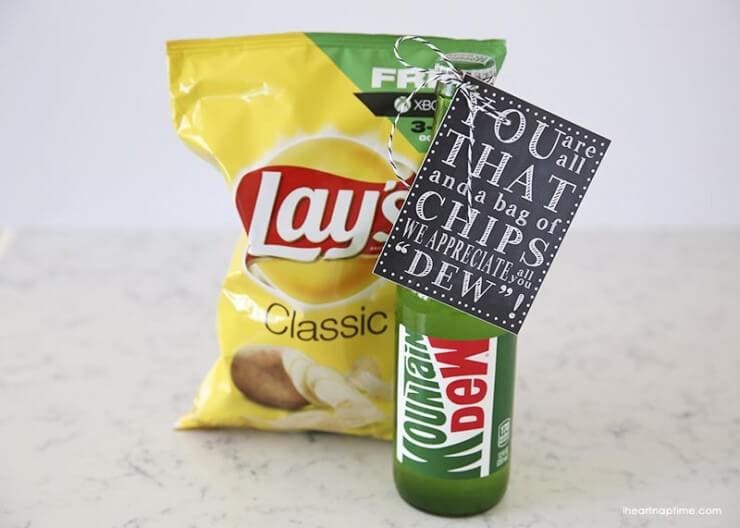 Easy Teacher Gift Idea and Printable
Thanks for Helping me Grow Plant
Teachers will love this potted plant idea! It is the perfect way to express gratitude while giving teachers something they will actually use!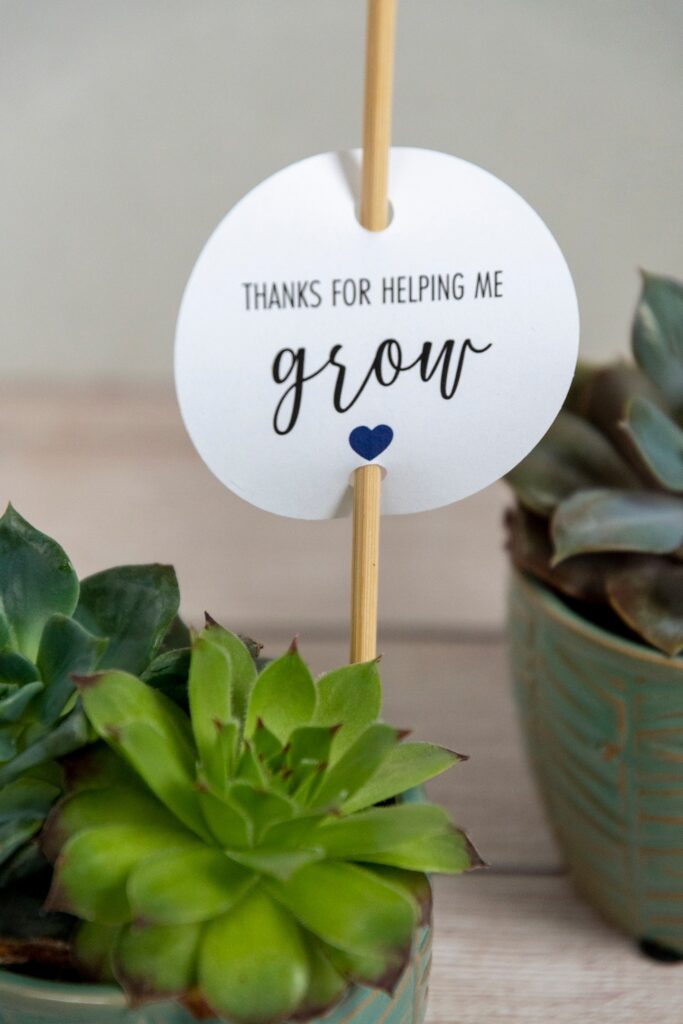 Thanks for Helping Me Grow Tag via Faking It Fabulous
Peanut Butter Popcorn
This popcorn is sure to be a hit! Kids will love to help make it and teachers will be so grateful for the extra effort!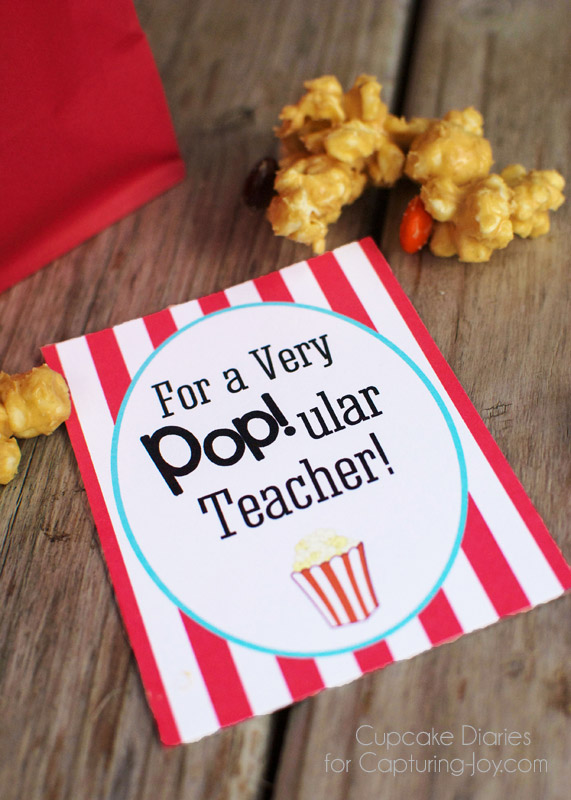 Peanut Butter Popcorn and Printable via Beyond Good Intentions
Lemon Sugar Hand Scrub
Who doesn't need a little self care? Teachers will be so excited to use this sugar scrub, especially after a long school year!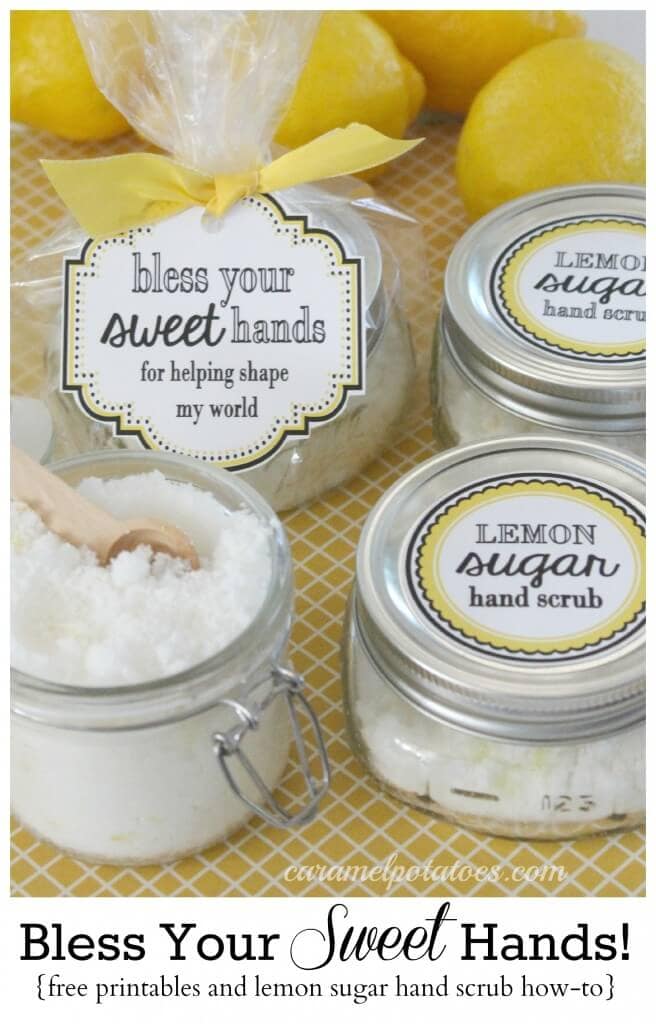 Bless Your Sweet Hands: Lemon Sugar Hand Scrub and Printable via Caramel Potatoes
In Good Hands Printable
This handout with soap is fabulous! Teachers will appreciate the creative note and be grateful to receive a gift they can use daily!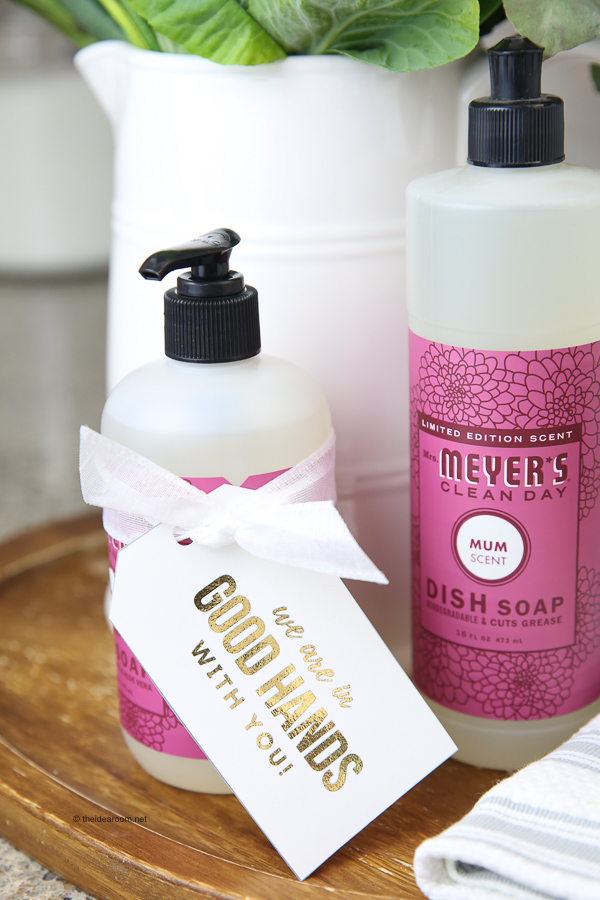 Printable Teacher Gift Tags via the Idea Room
Mani Thanks Nail Polish
Why not give the teachers in your life a gift that they can pamper themselves with! This idea will be just what those hardworking teachers need!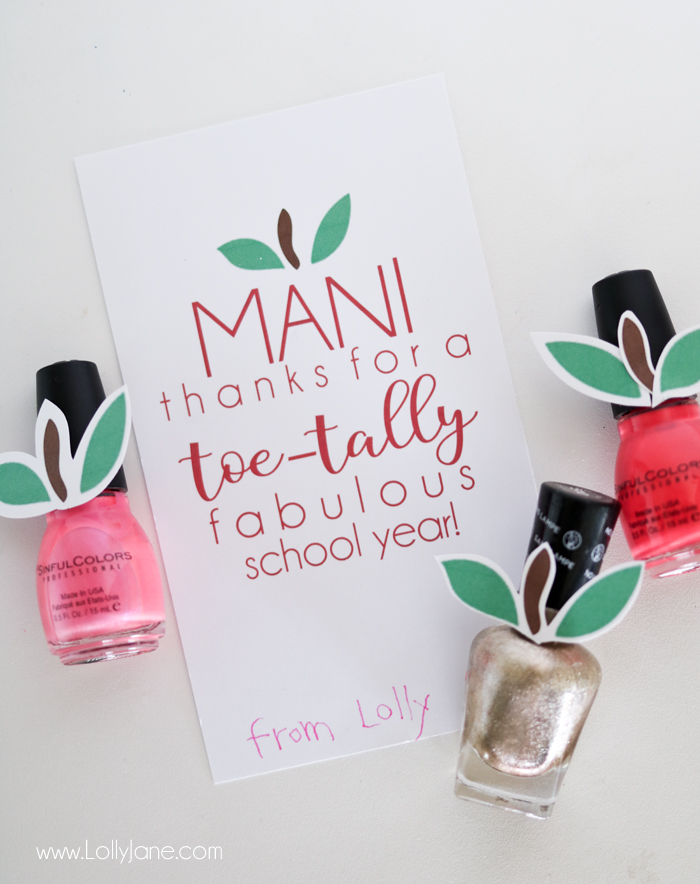 "Mani thanks" printable via Lolly Jane
Thank you Herbs
A beautiful plant and a cute printable is the perfect way to express thanks while at the same time adding freshness to the table! And the handouts are so creative and cute!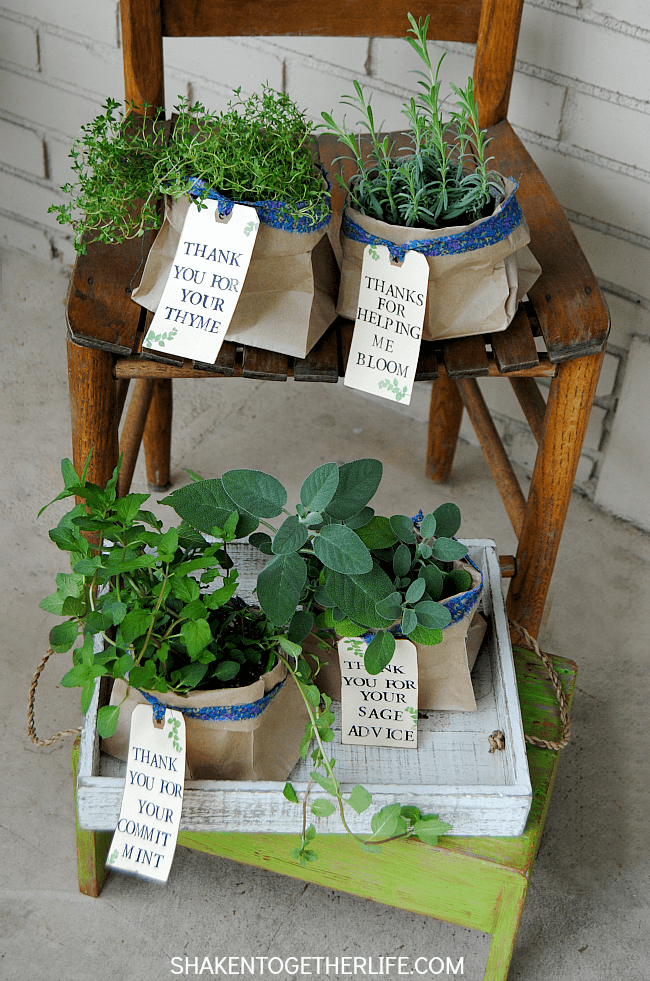 Thank You Herb Gifts via A Night Owl
Caramel Apple
This caramel apple combo makes my mouth water! It is the perfect twist on a classic teacher gift and will certainly be a hit.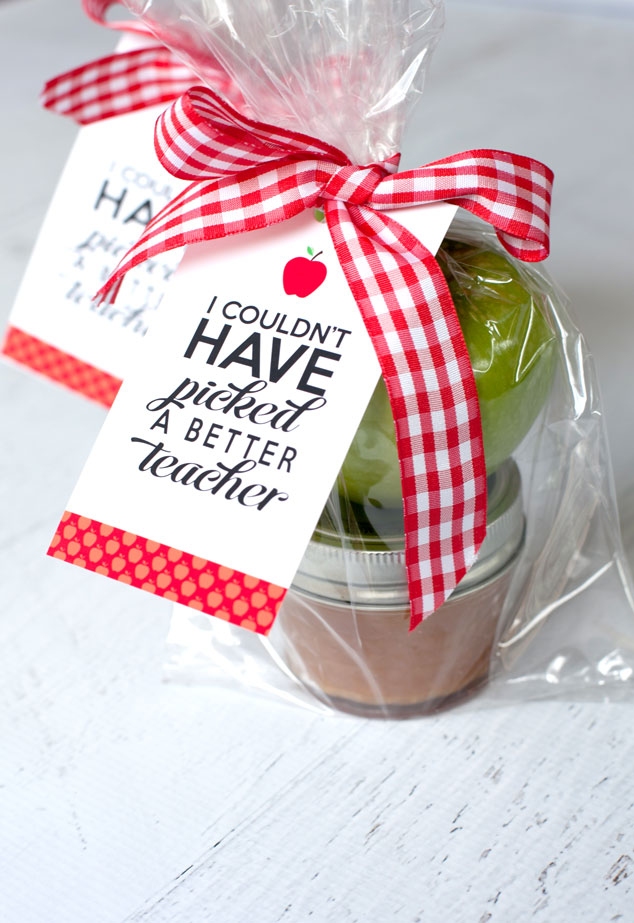 Apple Teacher Appreciation Gift Idea and Printable via Frog Prince Paperie
S'mores Trail Mix
S'more trail mix is the perfect gift for those extra sweet teachers! It is also super easy to make and oh so delicious!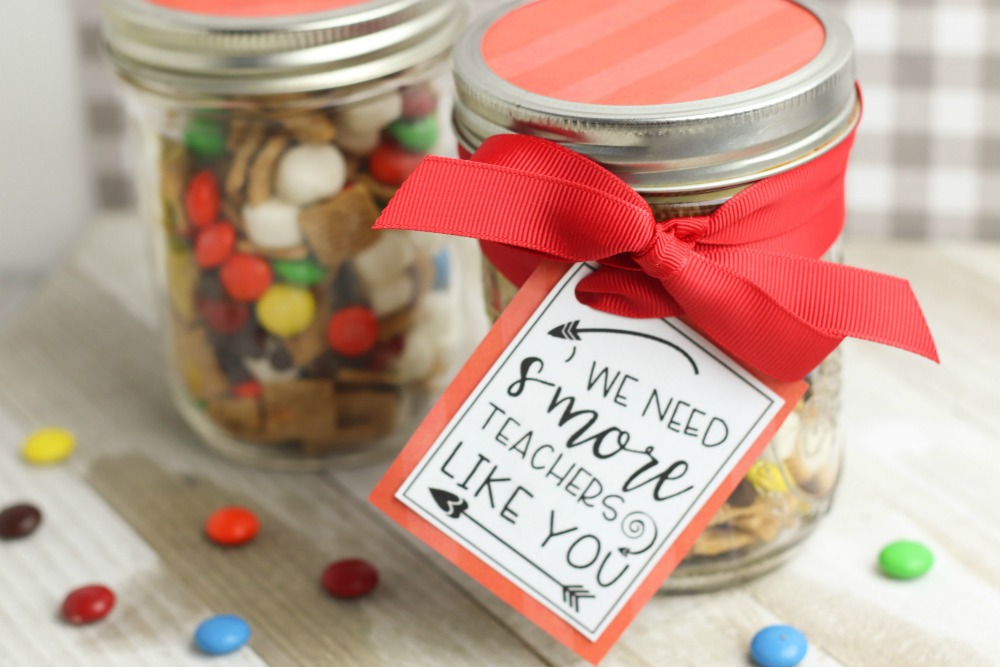 S'mores Snack Mix Teacher Gift and Printable via Rachel Teodoro
Summer Beach Bag
What better way to kick off the summer then by giving the special teachers in your life a super cute beach bag? This idea is so fun and unique!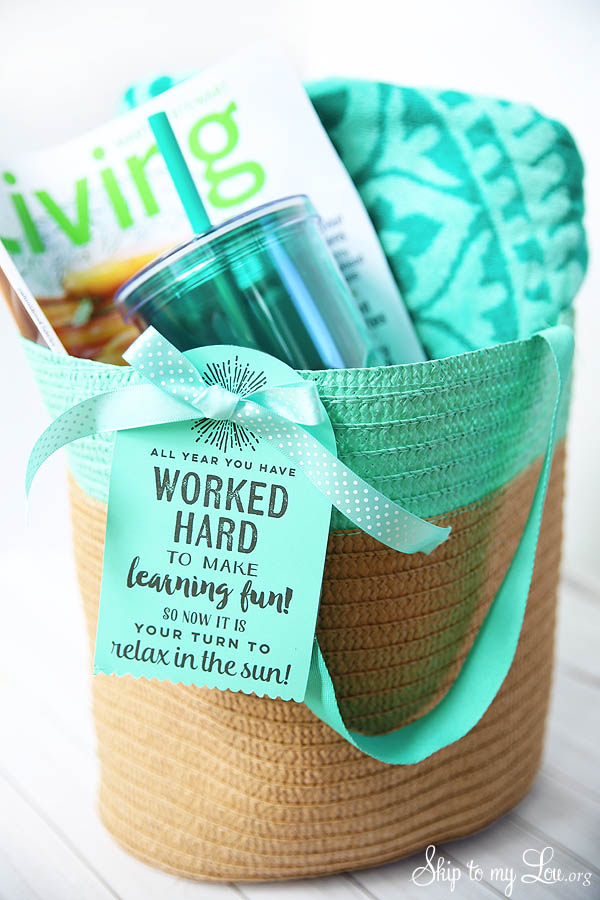 Beach Bag Gift Idea via Skip to my Lou
100 Grand Chocolate Bar
This chocolate bar handout is a great teacher appreciation gift because it's easy to put together and sends a powerful message of gratitude! Plus who doesn't love chocolate?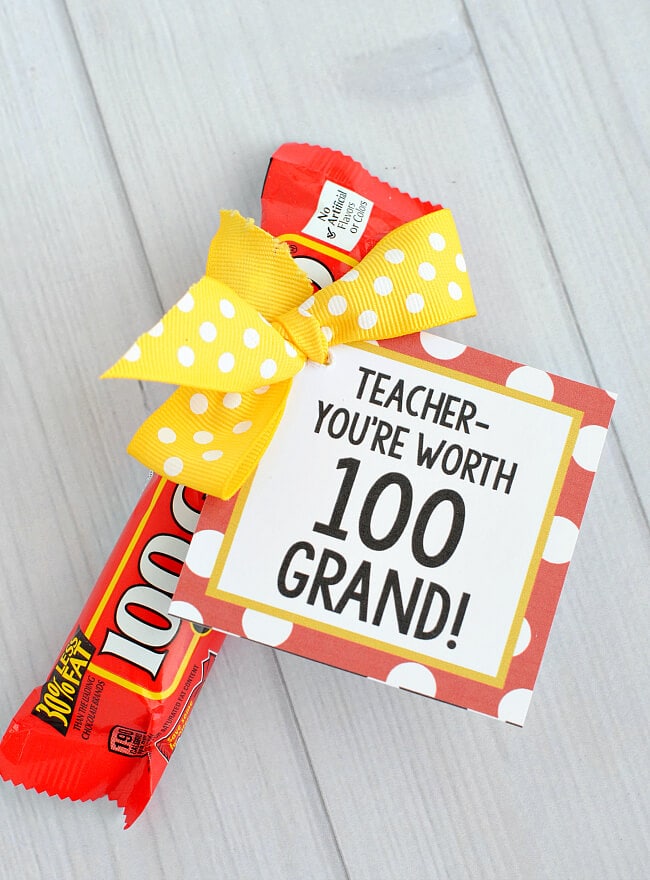 Teacher candy bar tags via Crazy Little Project
Gift Cards
Gift cards are wonderful gifts for teachers! These handouts are so creative and add uniqueness to any gift card!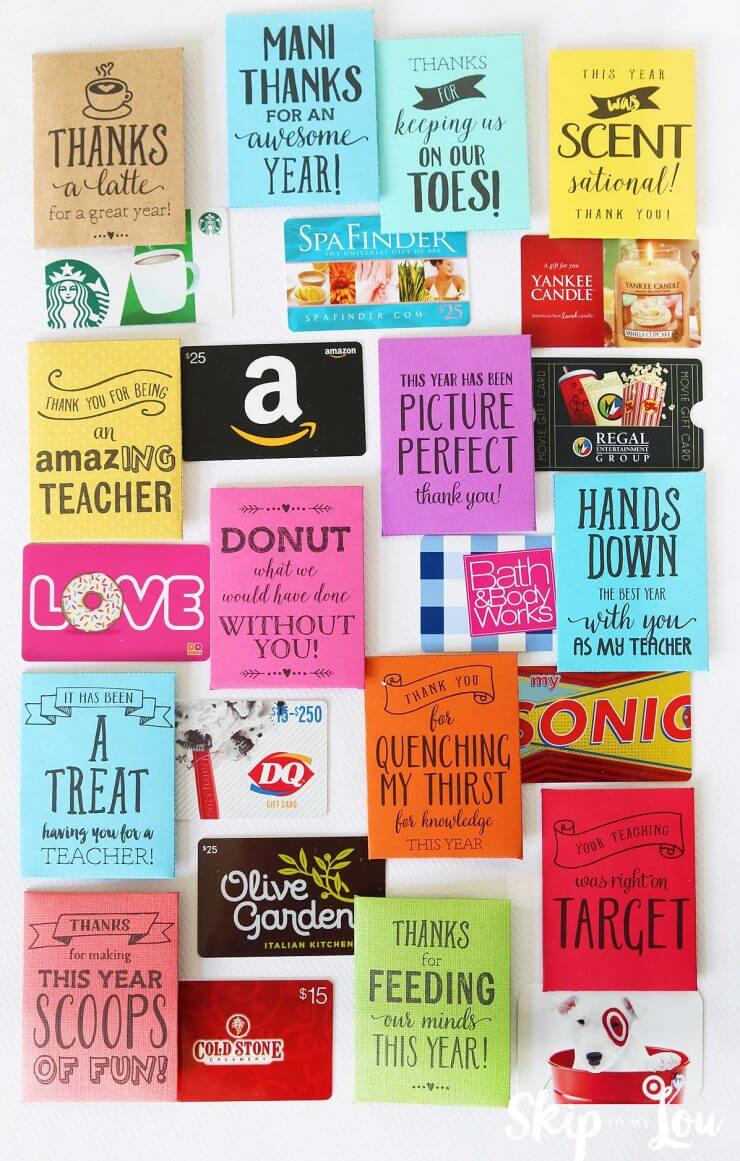 End of the year teacher gift card holders via Skip to my Lou
Donuts
Donuts are always a great idea when expressing gratitude and this handout is adorable! Any teacher would be thrilled by this creative gift!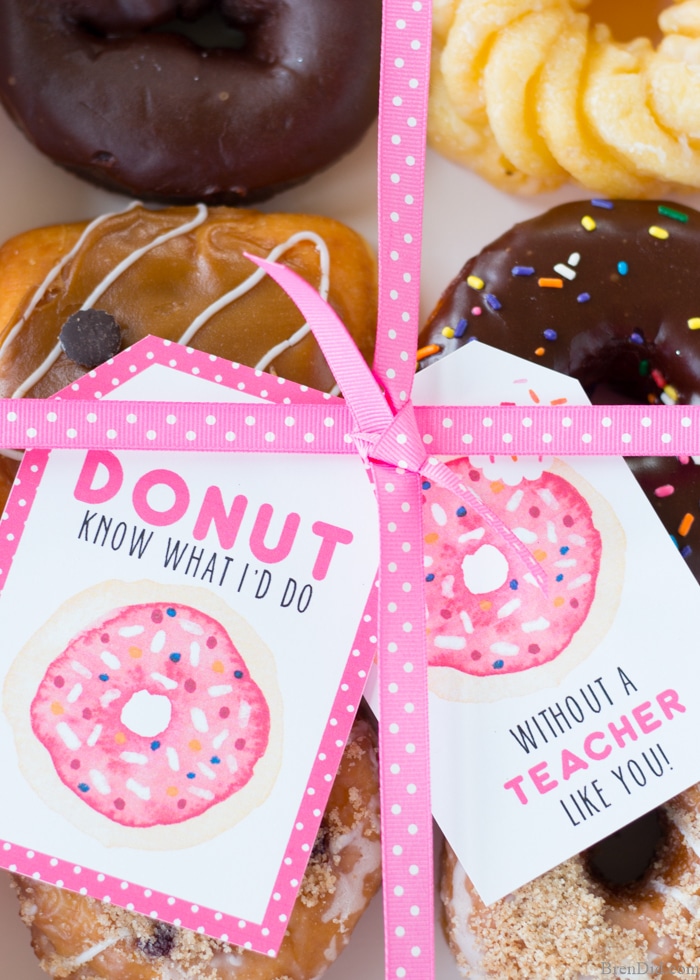 "Donut What I'd Do" Gift Tags via Bren Did
Flowers
Flowers always make amazing gifts and this cute handout makes for the perfect duo. This is so easy to put together and is always a hit!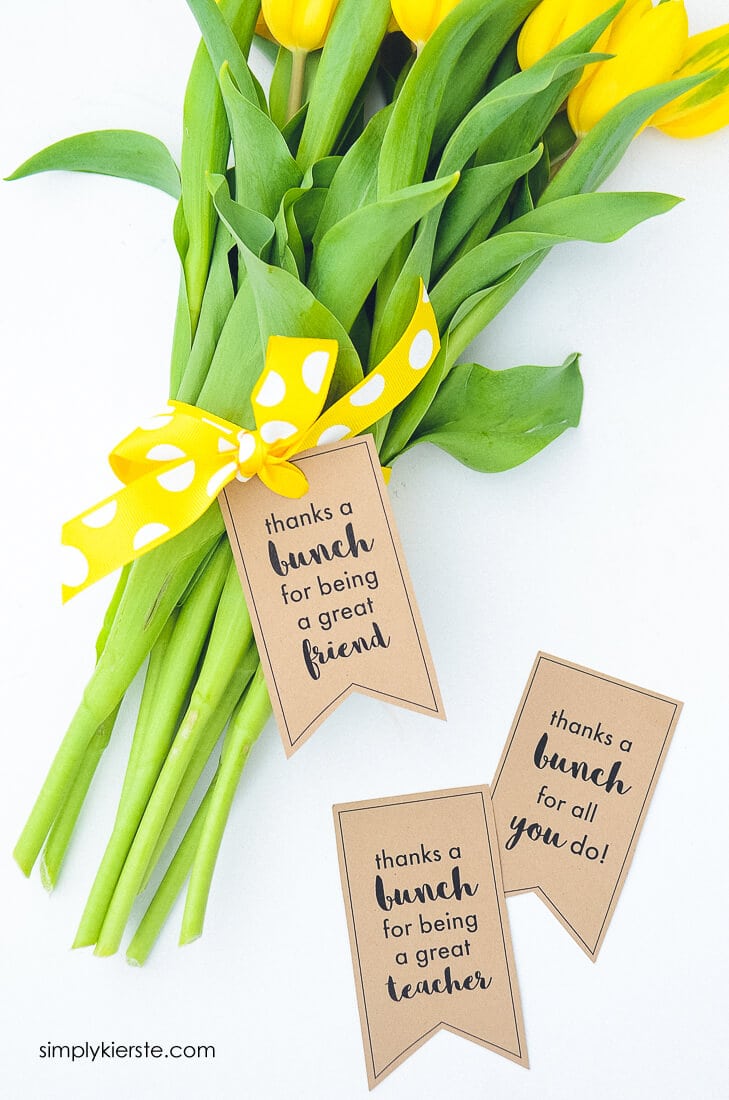 Thanks a Bunch! Printable Gift Tags for Flowers via Simply Kierste Design Co.
Simply Lemonade
Let's face it, simply lemonade is delicious! Teachers will love this idea and can be easily paired with a gift card if you are feeling extra generous!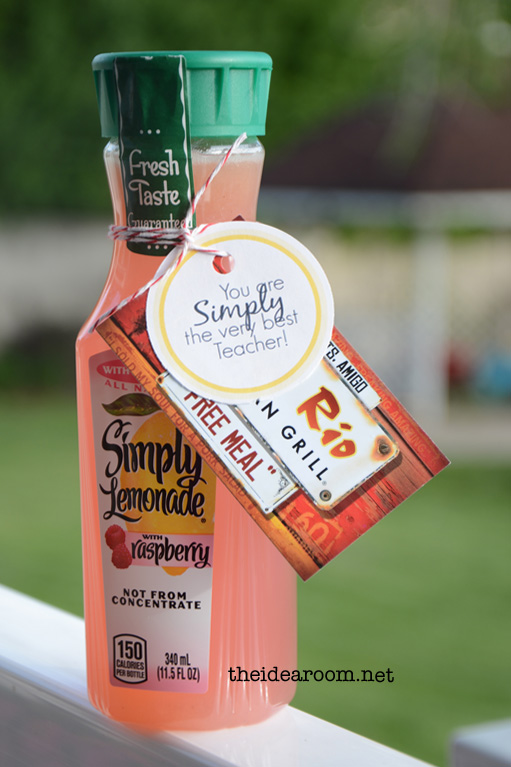 Lemonade Teacher Gift Idea via the Idea Room
Hand Cutout
How cute is this! Kids will have so much fun tracing their hands on paper to give to their teachers and teachers will absolutely adore the keepsake.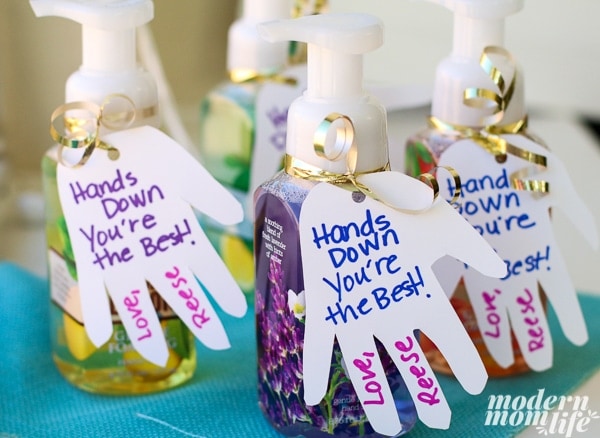 DIY Hands Down Teacher Appreciation Gift via Modern Mom Life
Extra Gum
Gum is always a great option for a gift! This cute handout is sure to make any teacher smile!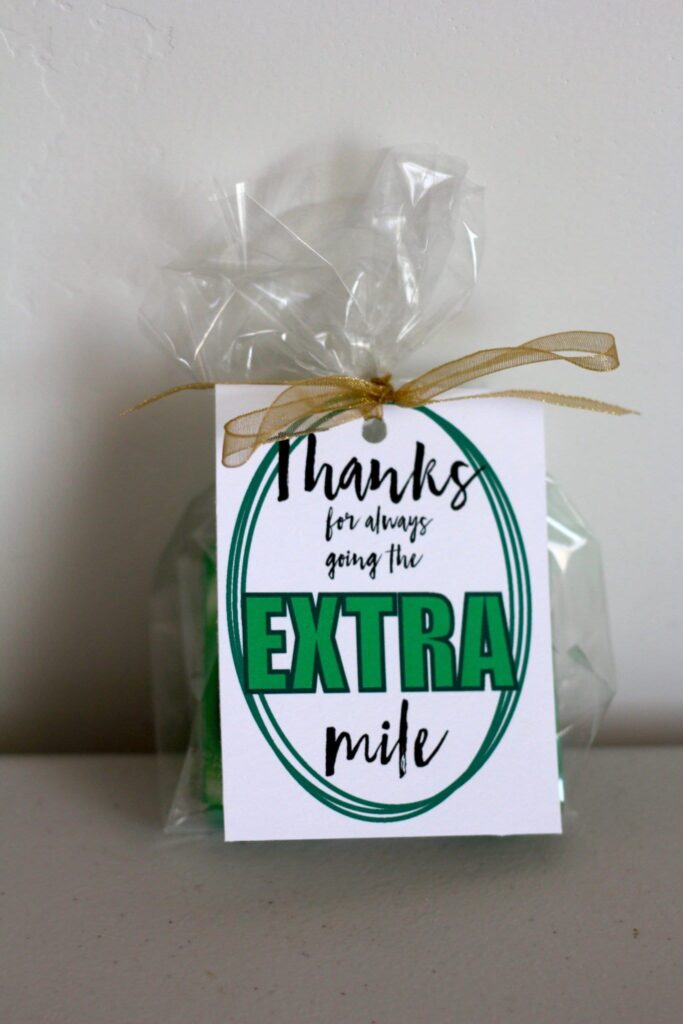 Teacher Gift Extra Gum Printable via Lou Lou Girls
Oven Mitt and Cookie Mix
What better way to kick off summer then by making cookies! This oven mitt gift is not only adorable but so unique!
Oven Mitt "Smart Cookie" Teacher Gift Idea via Just Add Confetti
Hershey Chocolate Bar Craft
These creative chocolate bars are for super teachers! Kids will love decorating a chocolate bar to look like their teacher and their teachers will feel so special.
Superhero Candy Bar Teacher Appreciation Gift via iHeartCraftyThings
Flower Pencil
Teachers can never have too many pencils and these beautiful paper bloom pencils make fabulous teacher appreciation gifts! Making these can also be a fun family activity!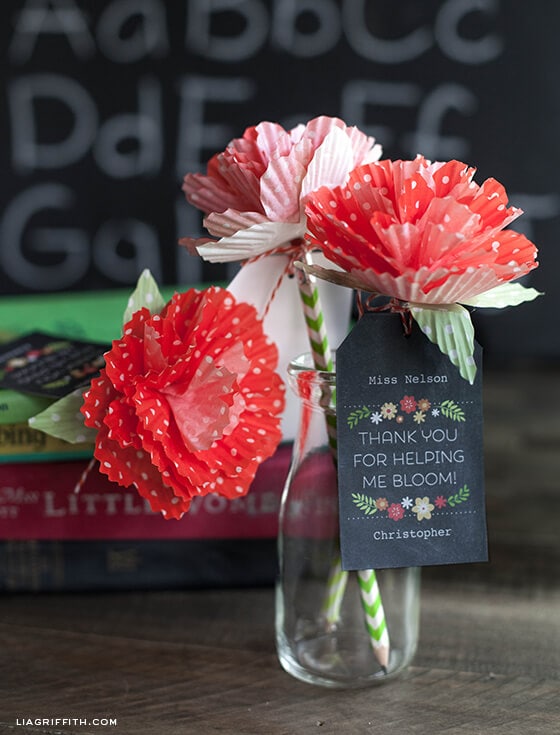 Paper Blooms to Top Washi Covered Pencils via Skip to My Lou
Mint Chocolate
This handout and chocolate duo is so clever and so easy to put together making it a great teacher appreciation gift. Plus teachers will love the sweet treat!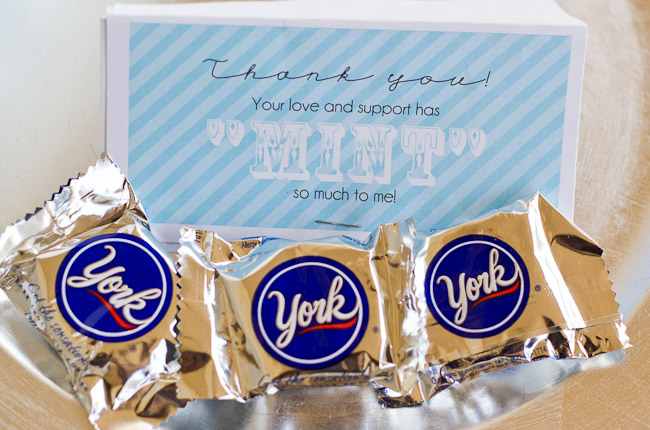 "Thanks a Mint" Teacher Appreciation Printable via Me and My Insanity
Mini Cake
Cake is perfect for those extra special teachers! This is such a creative and tasty way to express gratitude and teachers will be blown away by your generosity!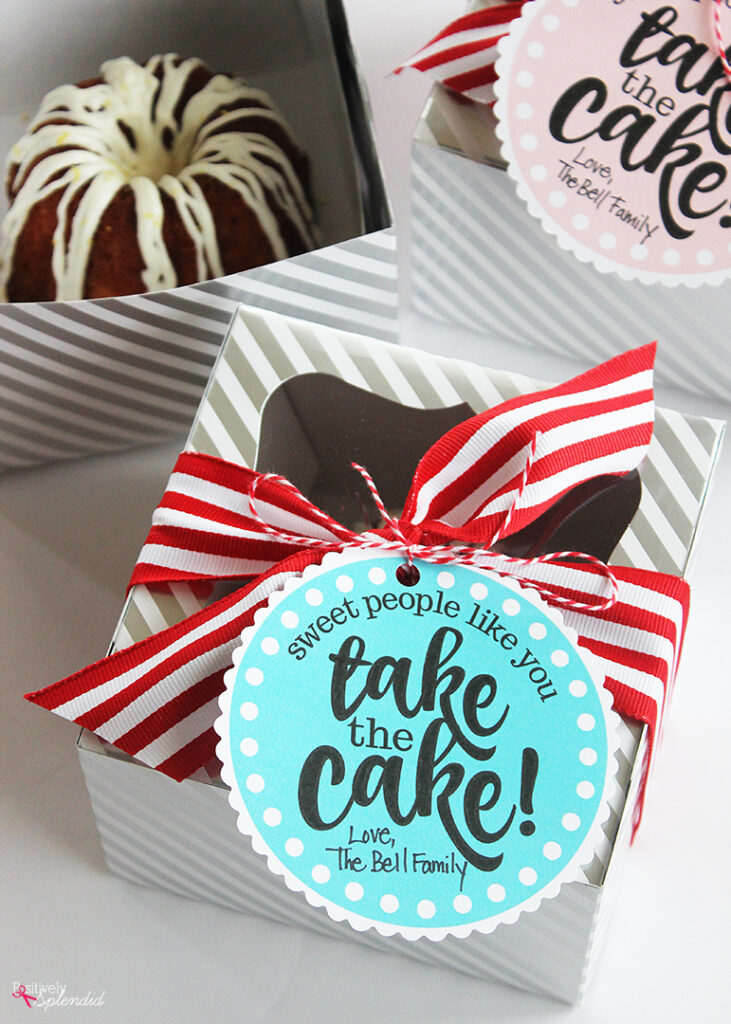 Miniature Caake Teacher Appreciation Gift Idea and Printable via Positively Splendid
Has thinking about the end of the school year got you thinking about summer? It's not too early to start planning! Here's a Free Summer Bucket List Printable to make sure you don't miss any of those memory-making moments!