Our 1888 Fixer Upper DEMO Time
Our 1888 Fixer Upper DEMO Time …this house should have been on the HGTV fixer upper, because more went wrong that we ever imagined!
Last week I shared about the fixer upper we purchased over the summer. Today I'm going to share all about the DEMO! It's taken me awhile to post about all of this because the whole experience has been so crazy and caused me alot of anxiety. I'm finally ready to post more about it. I'm telling you this house should have been on the HGTV fixer upper, because I would have loved to have seen Chip's reaction to everything that came up. Plus, how fun would it be to hang out with JoJo?! I seriously love her style!
I've honestly NEVER seen a house on HGTV where so many things went wrong. Everyone working on the house has said the exact same thing. My mom had me watch 'The Money Pit' recently and then I began to feel better *a little* better about the place. So it wasn't quite as bad as that… but close. I have a feeling this is going to be a long post… 😉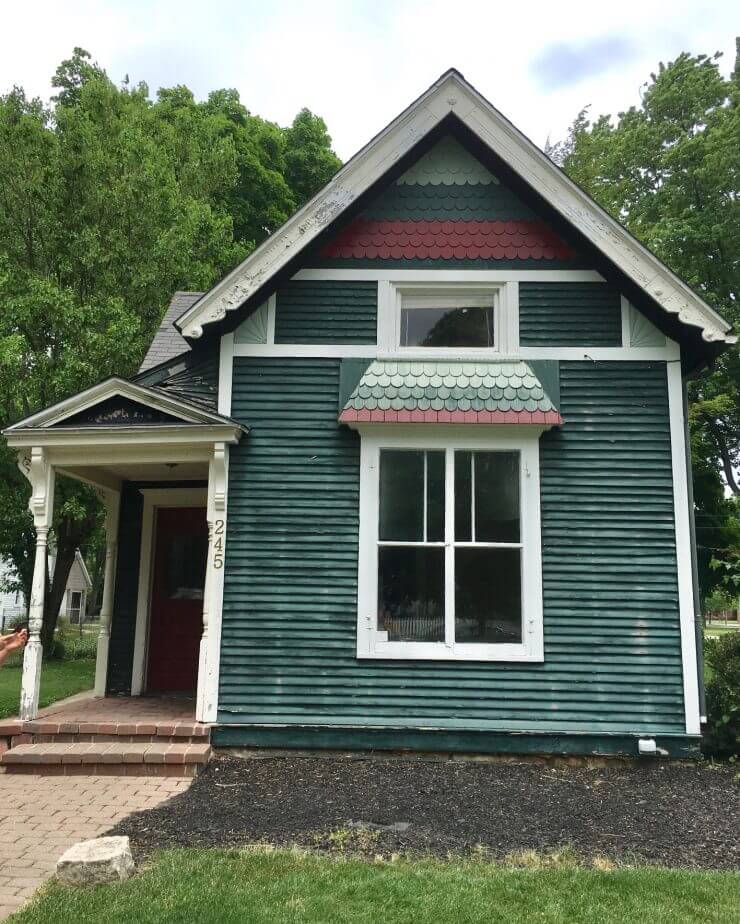 I shared a little bit about the DEMO process in the last post. My husband did most of the DEMO on his own. I have to say I was pretty impressed. The place turned into a complete disaster though. Every time I walked in, my heart skipped a beat (and not in a good way).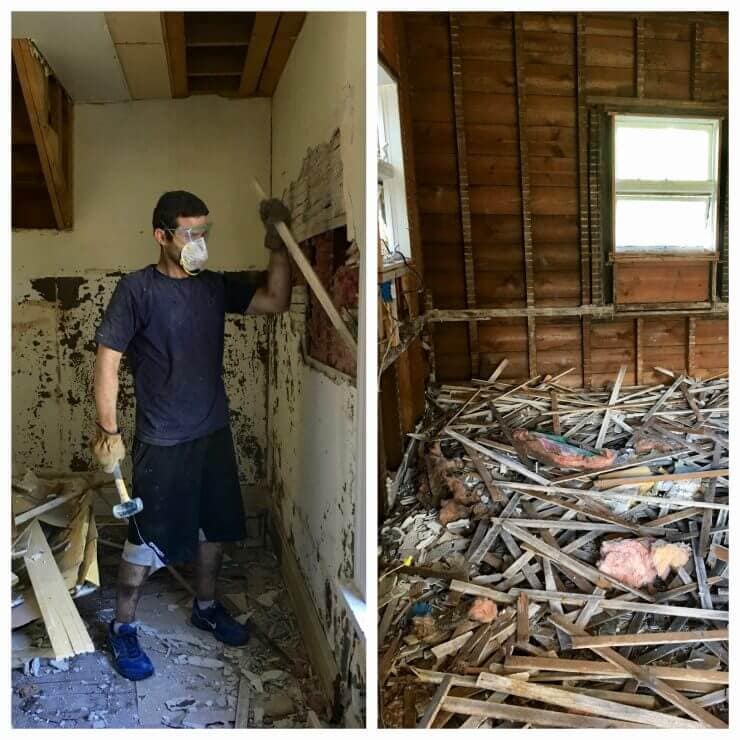 We found some fun stuff along the way. One of the coolest things we found was a Billy Hitchcock baseball card in the floor boards. I wonder if someone hid it there back in the day…
We also found this hair dye bottle which I thought was pretty neat!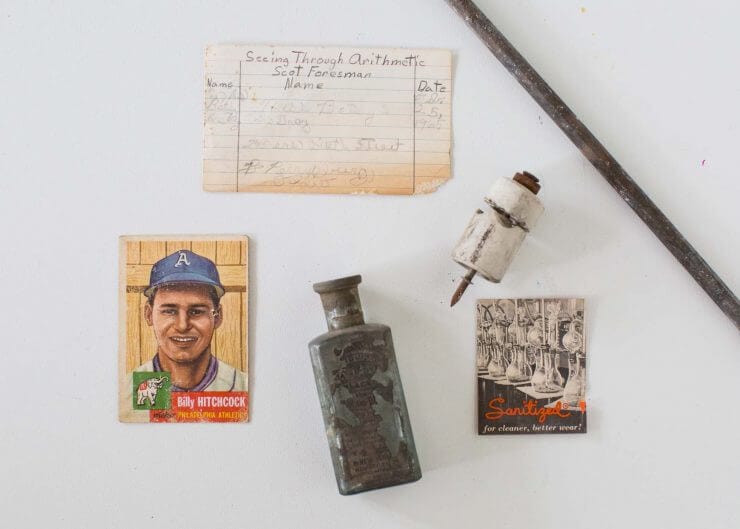 We also found this vintage map under the drywall upstairs. I was bummed it was mod podged onto the wall, or else I would have kept it.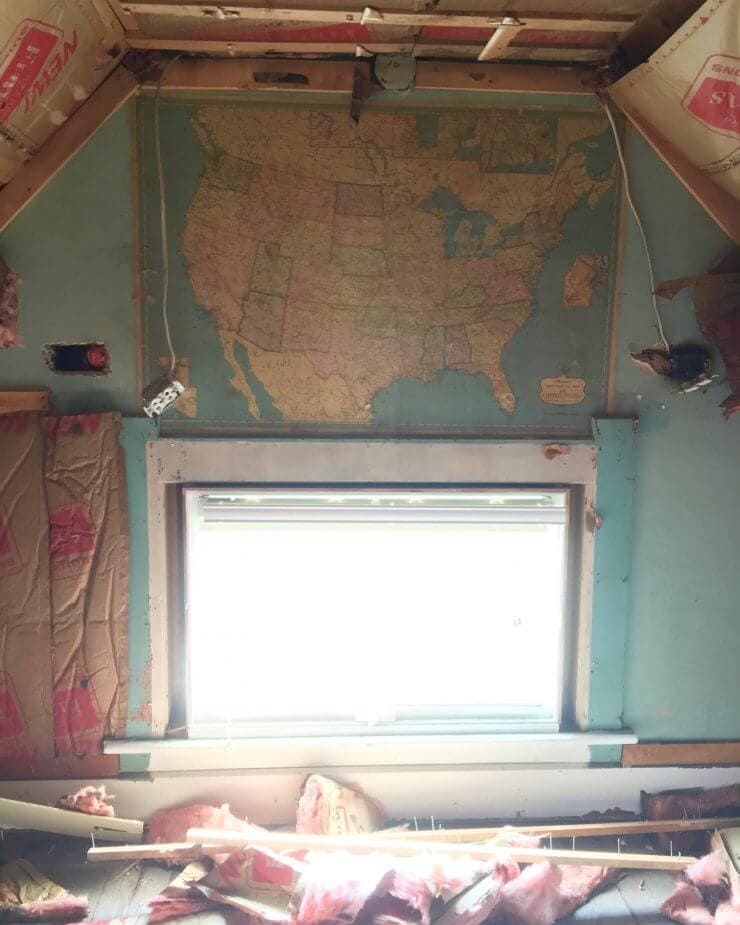 Originally we were planning on keeping the plaster walls, because it would have been a whole lot cheaper, but we found out pretty early on we were going to need all new plumbing and electrical work done, so it was going to be the best option to just get new drywall. The walls were also severely cracked and had about 7 layers of wallpaper on them, so to get all that off and the get them smoothed out it was going to be pretty expensive. My husband took all the walls down to the studs to save on costs and then they were ready to go for the electrician, plumber and drywallers.
Once my husband took out the strange tub, the bathroom already felt so much bigger! He also took down all those walls below in the kitchen plus the drop ceiling and that was a much more open space.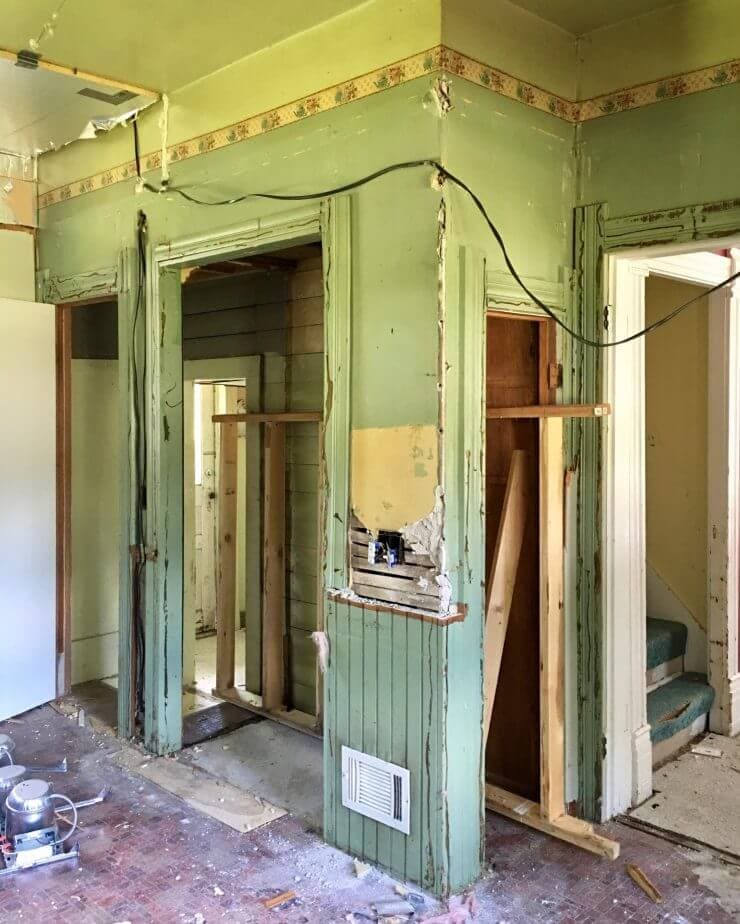 The process was scary… as you can see…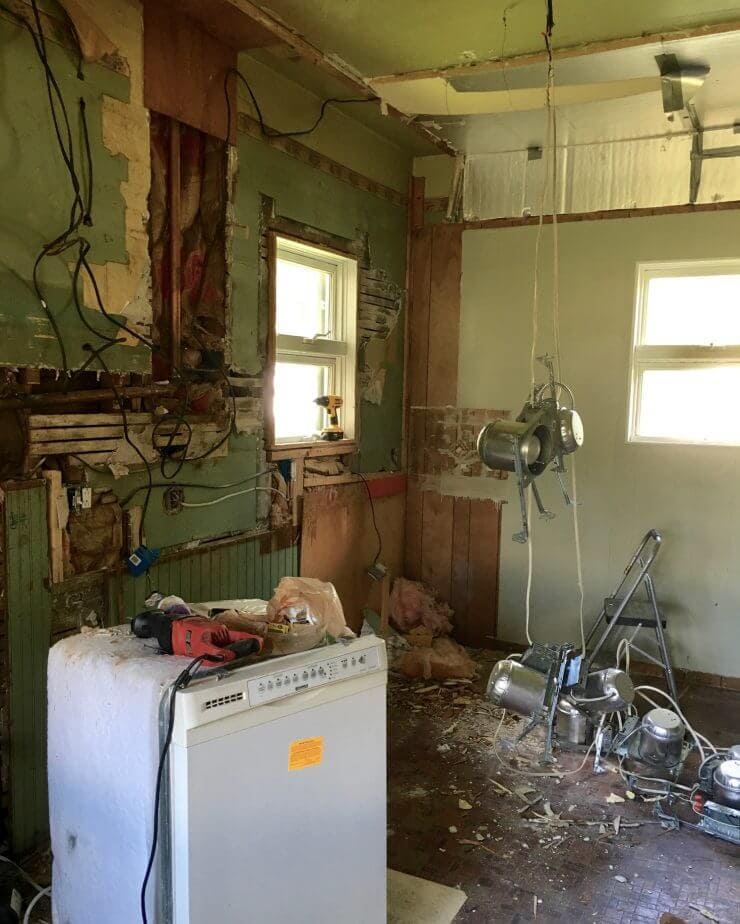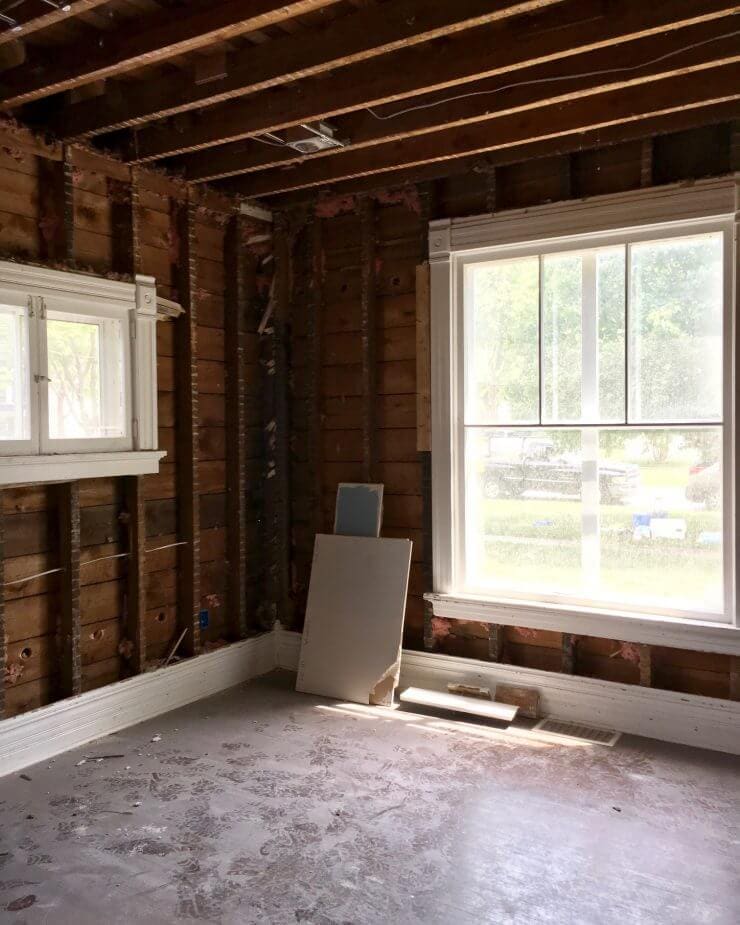 But it already was looking so much better. The house was really well built and had strong bones!
So once all the DEMO was mostly complete, it was time to bring in the contractors to start the renovation. I acted as the "general" contractor and got several bids and estimates from all kinds of different companies for different tasks. If you can think of a job, I probably was calling about it. Looking back I wish I would have hired a General contractor because it was very time consuming and draining.
I knew once it was complete it was going to be amazing though. I had decided at this point that it would be the perfect place to use as a studio. I just kept thinking of the end vision. The first thing we wanted to get started on was the outside. The paint was almost off and in pretty rough shape, so we knew it was going to need to patched and repainted from the get go. There was also a summer kitchen, you can see to the far right that we knew needed some help. It acted more like a shed, so we weren't planning on spending too much there.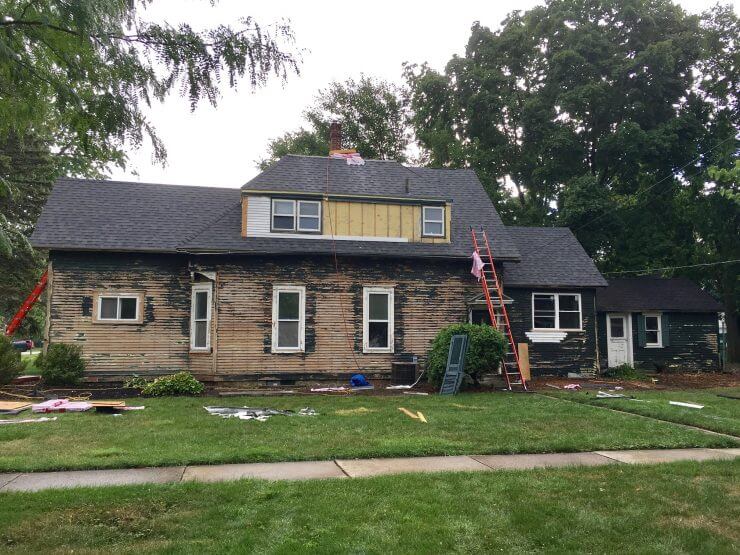 The painters got started right away and then we didn't see them for about a month. It was on and off that we saw them that summer and when they were there they did a great job. It was definitely a bigger job than they anticipated. It was frustrating having the outside in progress for so long, but it is looking REALLY good now! We also had to redo the siding up top and get a couple new windows put in. But that was just the beginning…
We hired a guy (we'll call him Mr. J) to do most the drywall, paint and a few other repairs. He told us about a week after he started that the outside "shed" should be taken down. We ended up finding out it was never permited, so knew that was the best decision.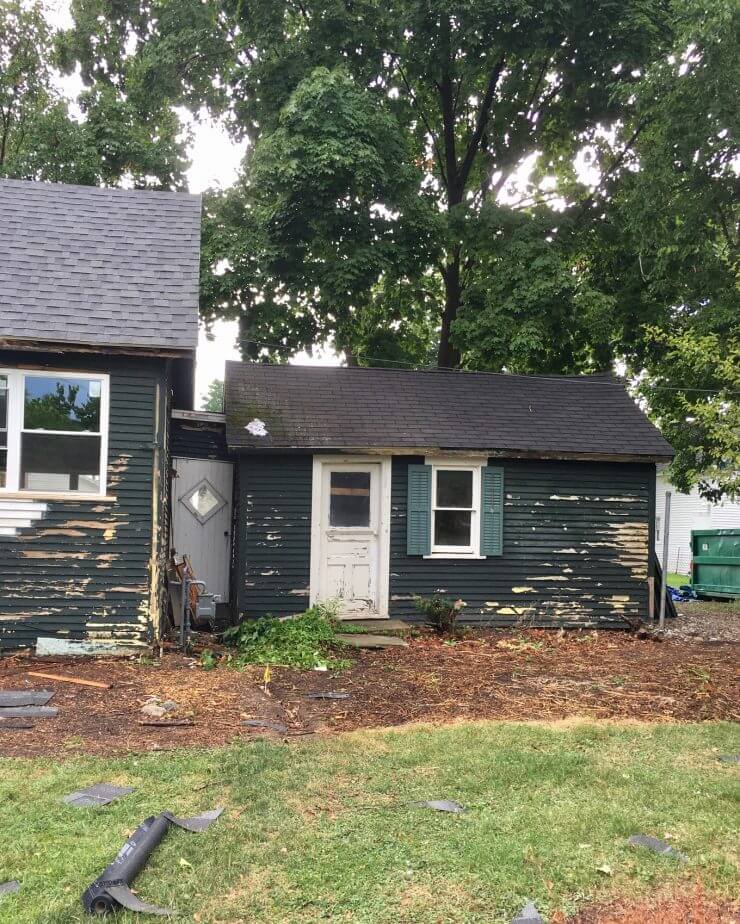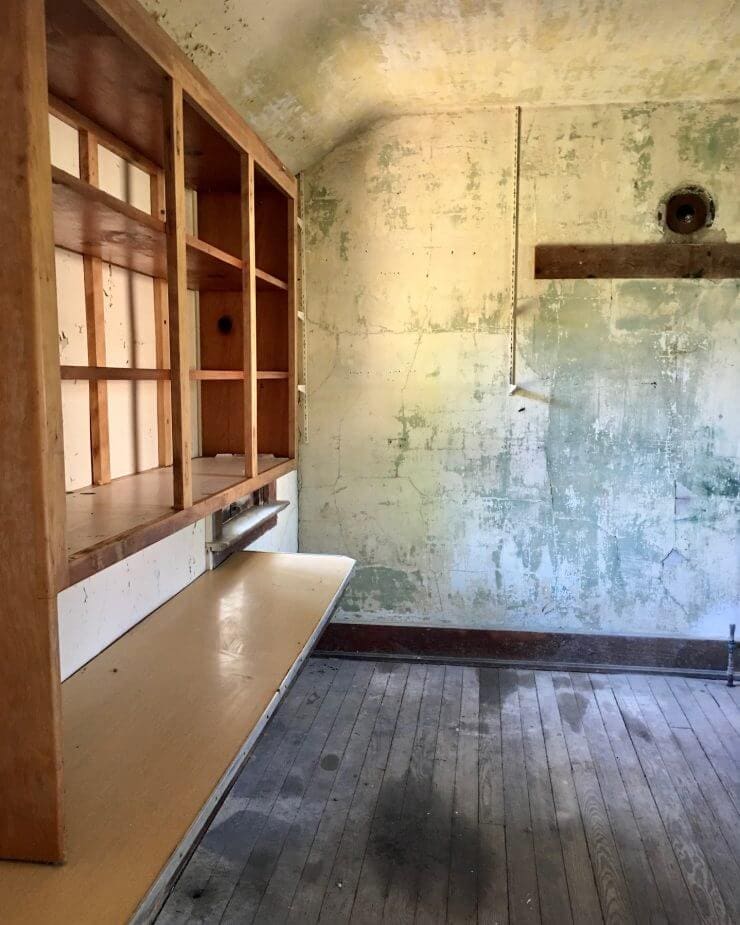 The inside of it was in pretty bad shape and we found out the foundation was basically hollow. I have no idea how this place held up as long as it did.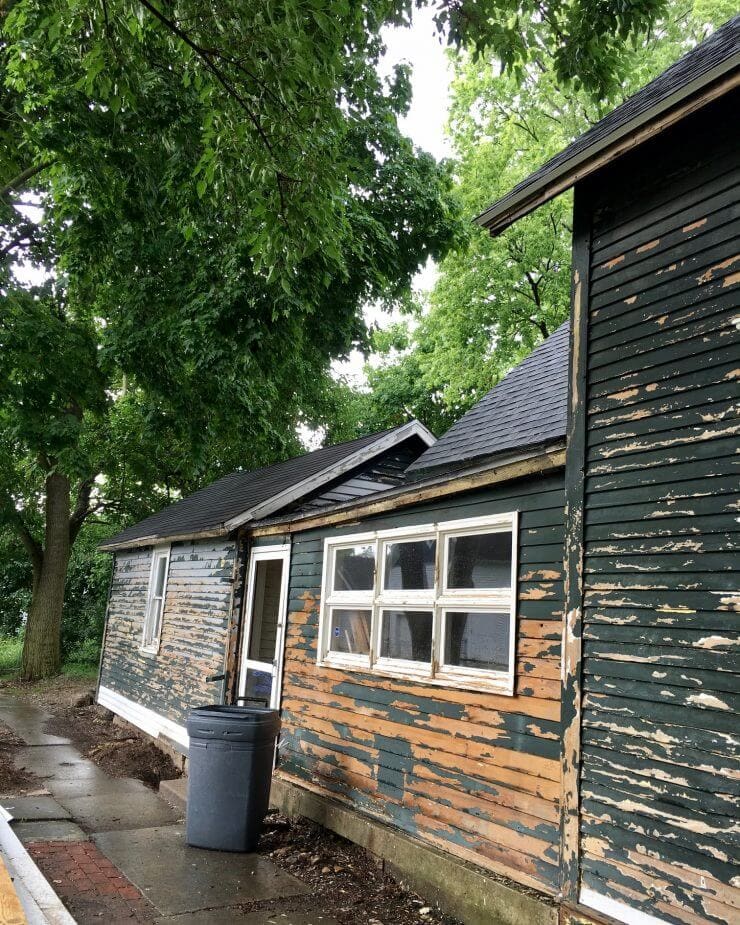 I had them save all the old windows and doors and then they tore it down. That was a sad day and definitely an added expense we weren't planning on. I have to admit though, once it was gone it felt a lot better already. This same week we found a puddle in the kitchen from a rainstorm and found out there was a leak in the roof. So Mr. J told us we needed a new roof. So there went more of our budget.
If you look closely at the base under the 3 windows you can see there's about 4 inches of space in between the wood and the cement edge. The addition was done very poorly several years ago and water was getting in there too. So we were told we would basically need to rebuild that whole wall.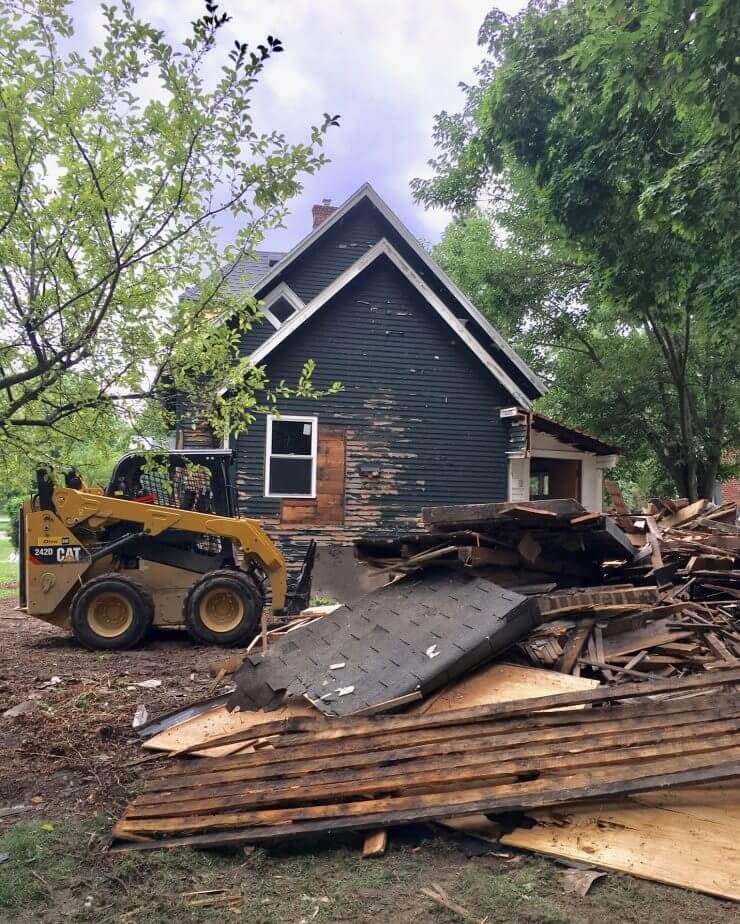 After the back part was down I get a call from Mr. J saying the job was complete. I met him down there and I walked up holding my baby on my hip after dropping my older two off at school. He requested the next check (mind you we had already paid him half up front, so he still had a lot of work to do to make up for what we had paid him) and I said "I thought you said the job was complete." He said "it is." Now imagine me standing right by that rock (almost about to fall in this giant hole). I looked around at all the trash, the roof still hanging over the door and the cement super rough. I knew there was definitely more work on the outside, but I wanted to see what he had done inside, so I asked him to show me. At this point the insulation, drywall and a support beam was supposed to be in place.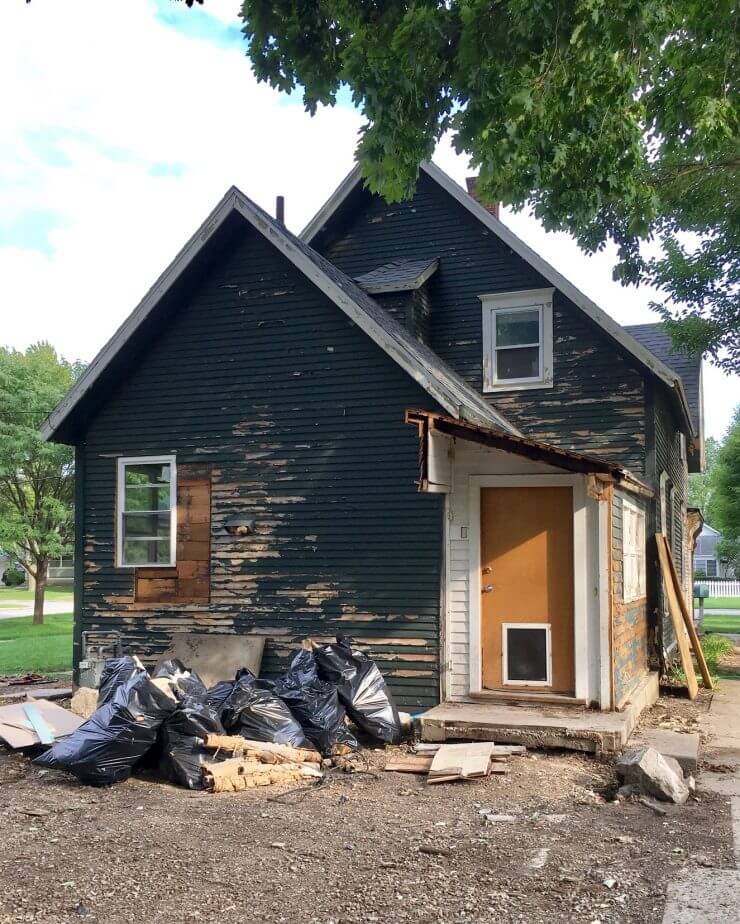 I walk in and this is what I see. The middle section wasn't removed, the support beam wasn't in place and the drywall certainly wasn't complete. Mind you, he was already two weeks past when he said he would be done in our contract, so I was very upset. If you know me in person, you know I don't get very upset easily. I was literally at a loss of words though.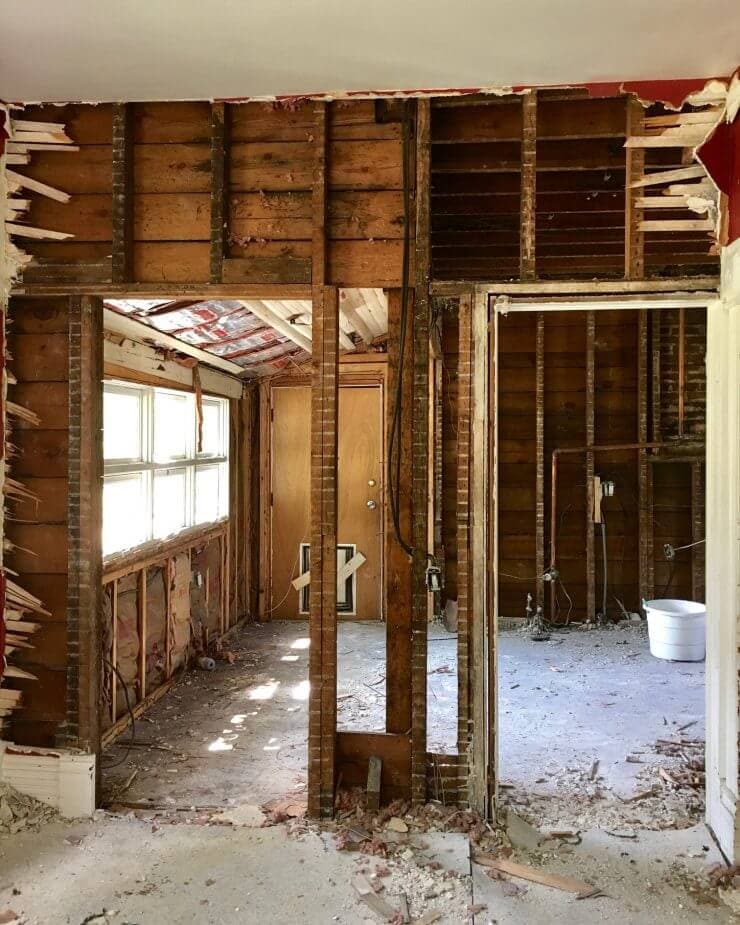 The flooring, which was also supposed to be leveled, was basically kicked in and a complete disaster. There was no way he was even close to being done. I literally couldn't believe what I saw.
I said "I cannot pay you any more, until the job is complete." He started yelling at me and coming closer, while I'm holding my baby and I walked right out that door in tears. I couldn't believe what just happened and I was in complete shock.
Luckily a friend of ours who was replacing the windows happen to show up at that time (tender mercy right there), or else I would have been in fear for my safety. He listened to me sob and I told him I had to find someone else to hire. After dealing with Mr. J for the past two weeks and having him lie to me several times, I knew we needed to fire him. We knew we were we going to lose thousands at this point, but I couldn't ever look at that man again. I wasn't able to get ahold of my husband until later that night (he was in surgeries all day), but he ended up firing him that night. Come to find out, he had already picked up his stuff and left the job before we fired him.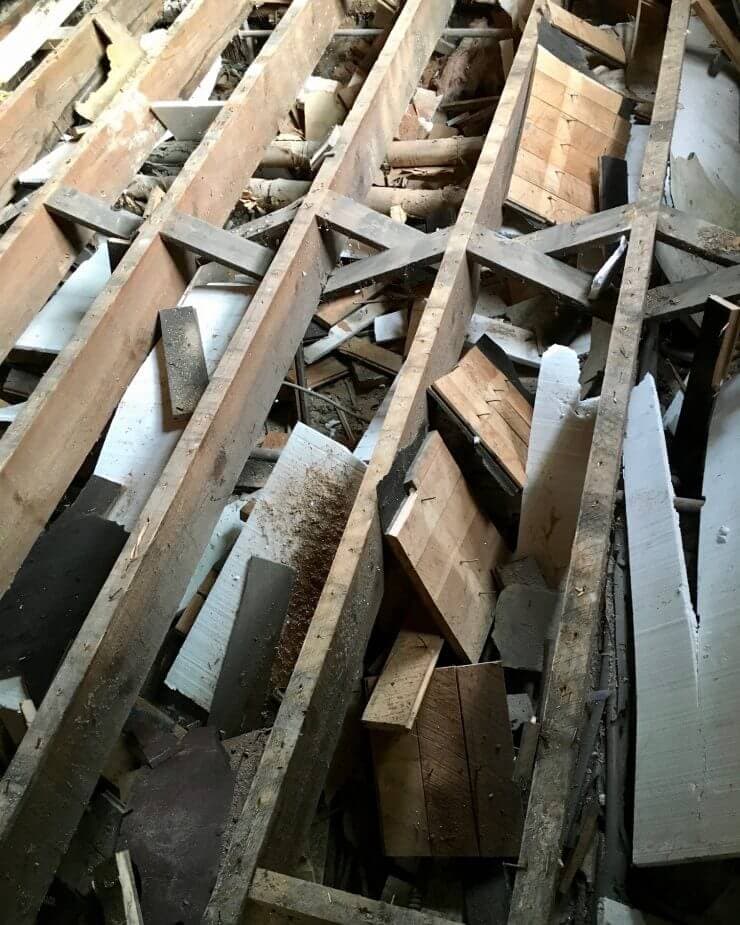 SO come to find out the roof his crew had done, was done very poorly. So we ended up losing what we paid Mr. J for the roof and were out even more money after having to hire someone else to fix it. It was a complete nightmare.
Come to find out Mr. J had changed his business name 3 times in the past year, had committed several crimes, had been using 3 different last names. Moral of the story… don't ever hire someone before during a thorough investigation and getting several referrals.
At this point we had to look for a new crew to hire the job. Luckily, we found one fairly quickly and they were able to start a couple weeks later.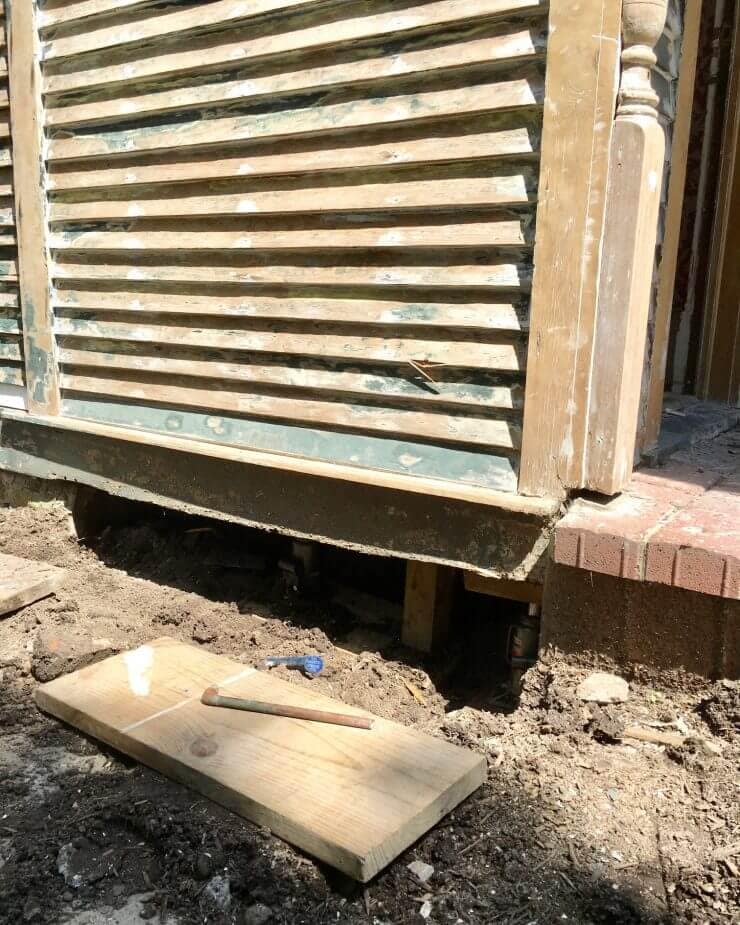 The first thing they found were more problems. They took off part of the front porch because it was starting to slant and figured out the whole porch was basically hanging on top of a 4×4″ piece of wood. It's pretty dark, but you can see it is basically hollow under there. Great! So, this was another added expense, fixing the foundation and basically rebuilding the front porch.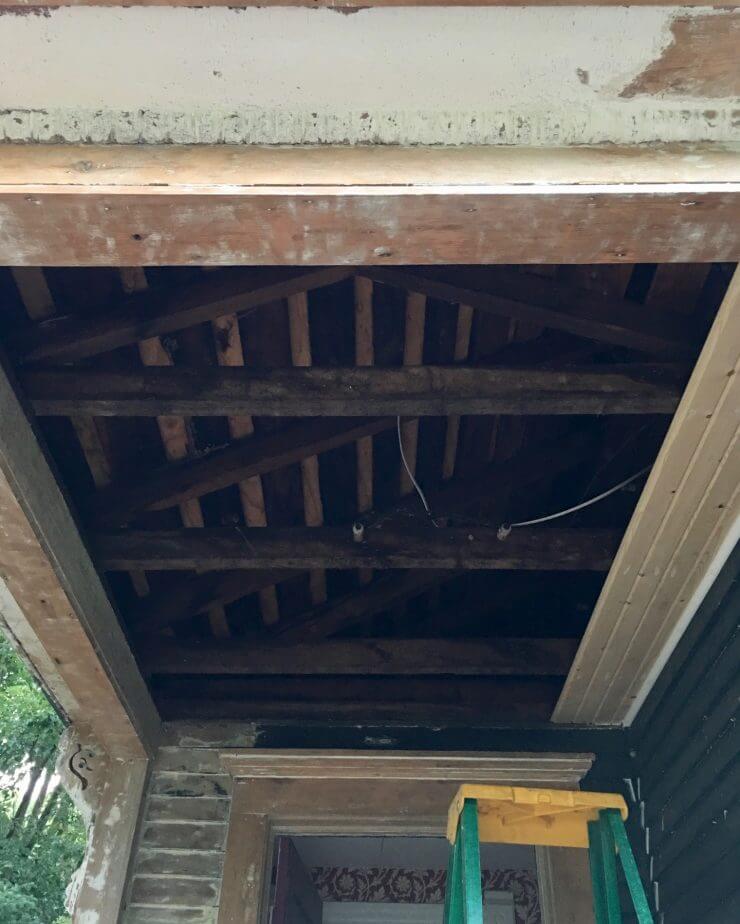 Later that week, we found out there was a family of raccoons living in the attic, right above the front porch. That was another issue all on it's own and one we quickly hired the animal control for. I could probably write a whole post just about that… but one month and a new porch ceiling later they were finally gone and everything is now sanitized.
The good news was that the new crew started when they said they would. The first thing they did was finish the back roof and support beams.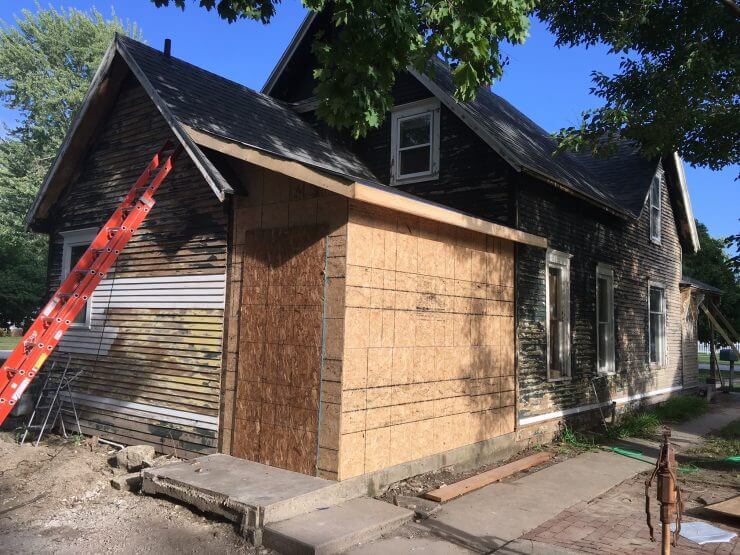 It looked SO much better already inside. I loved how open the kitchen was now and was finally started to get excited about the project again.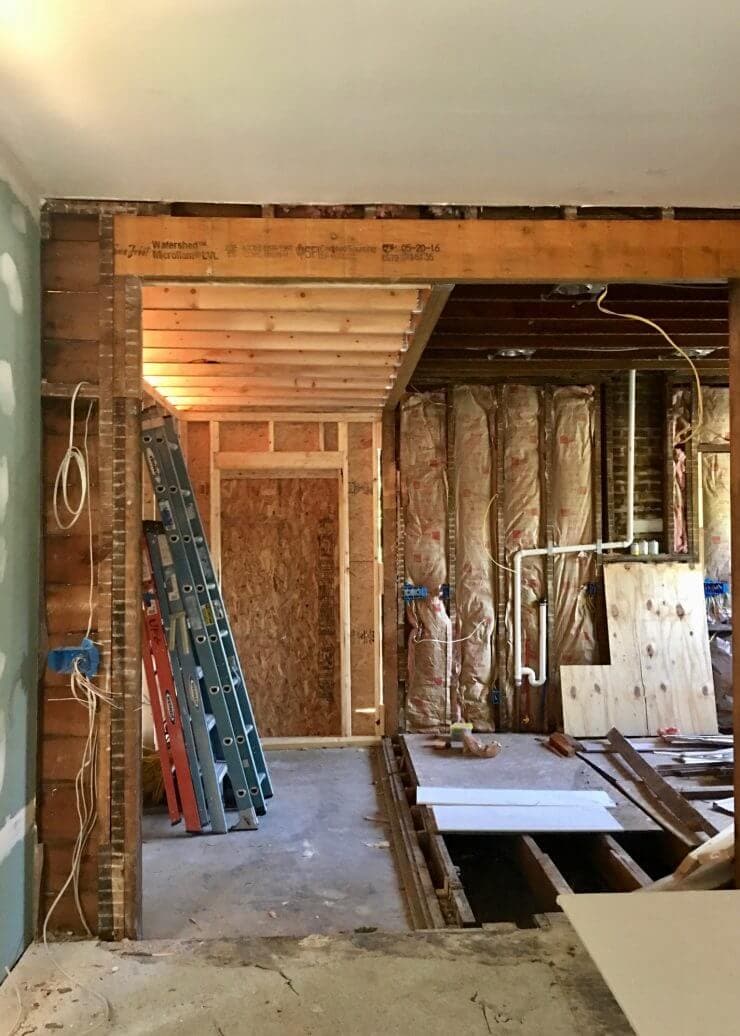 Then they started on the foundation, porch and then they started finishing the insulation inside.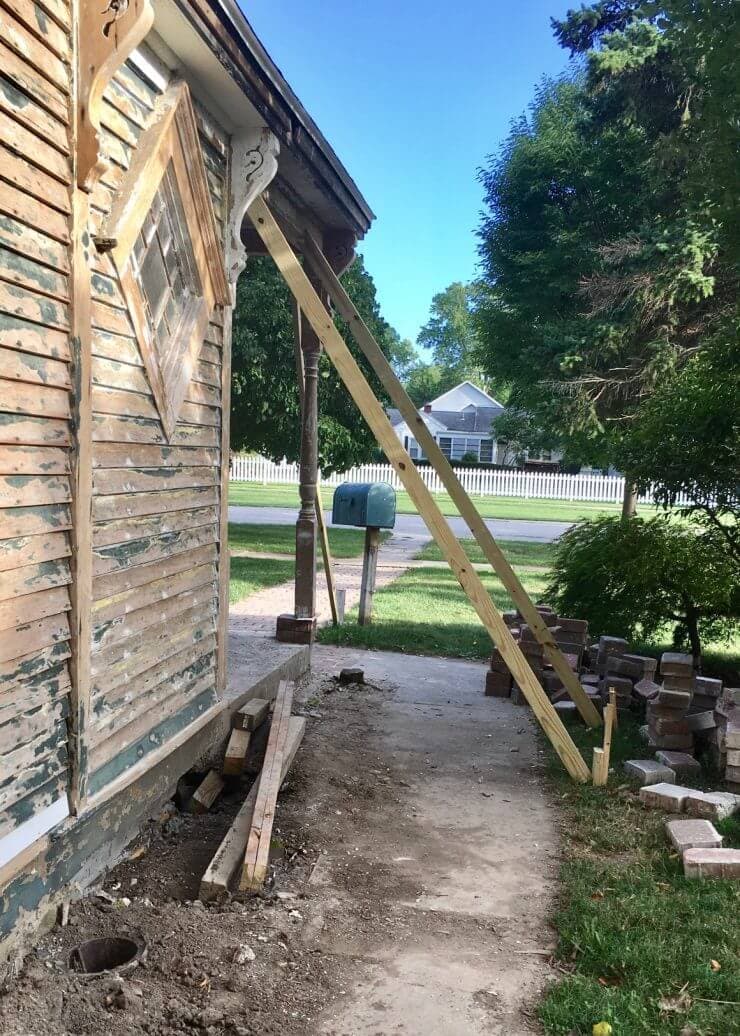 Next, they had to take down all the trim and baseboards (don't worry they are being saved), and started putting up the drywall. Getting the drywall up, made such a difference already. I was so excited about the new crew, until recently. We went with my husband to AZ for one of rotations and they told us it would be done in two weeks. We got home four weeks later and the bricks were still sitting in the yard and the inside literally looked the exact same. The painters made us aware that they hadn't seen the crew and started finishing the siding on the adition they were supposed to complete, so they could finish painting. The whole time we were away we tried calling, emailing, texting and could never get ahold of them…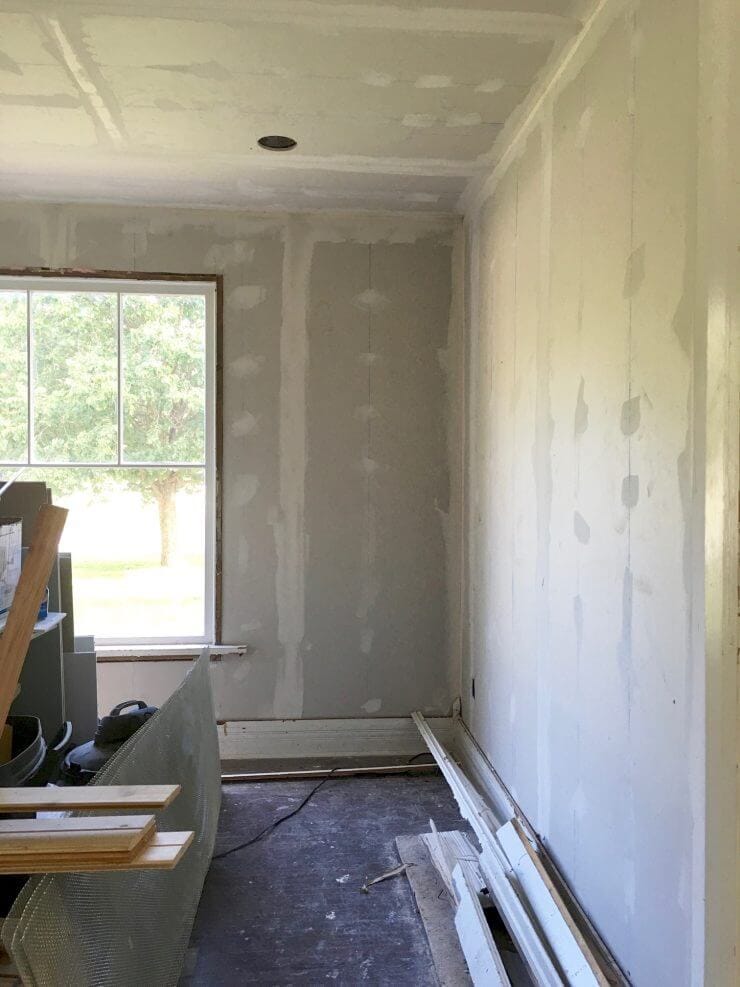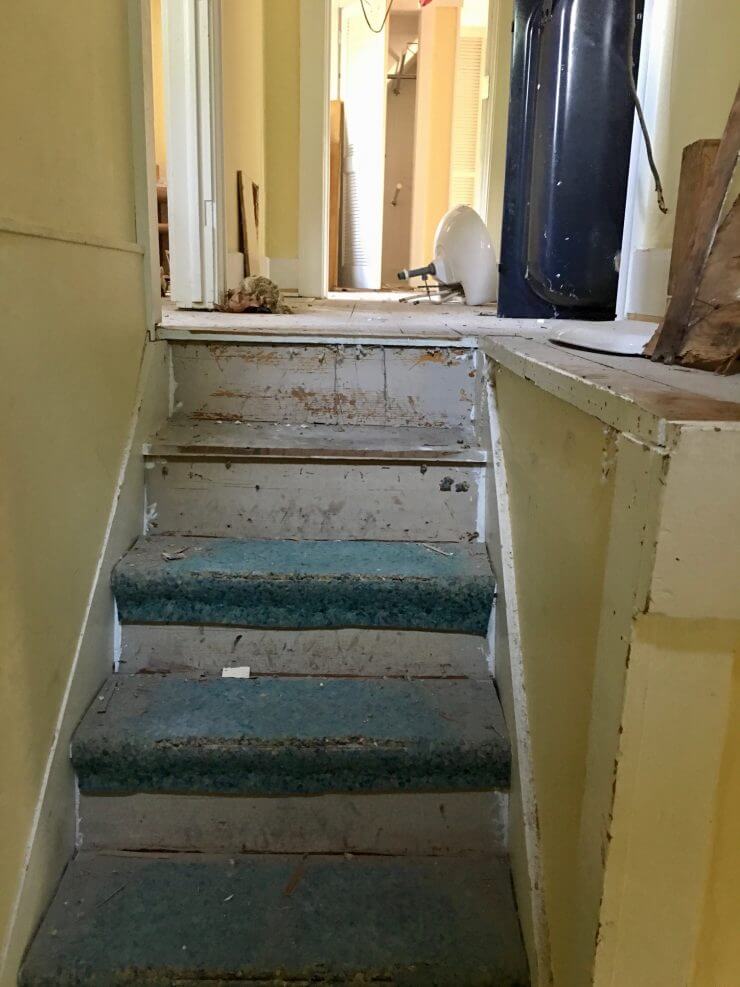 Holy cow, this post is getting long. I didn't even get to the upstairs… I'm going to have to leave that for another day. My baby just woke up from her nap!

To be continued… stay tuned!
More posts from our 1888 FIXER UPER: