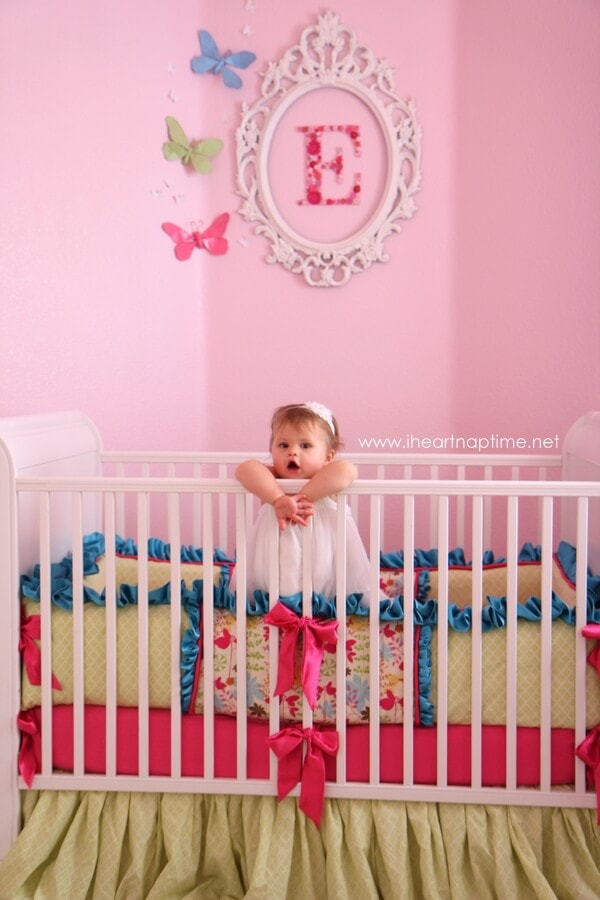 I am SOO excited to finally post Emmalyn's nursery! It is by far my favorite room in my house! Perfect for a little princess. Ah, I just love my sweet girl! Sometimes I just lay in there with my baby girl and look at the beautiful walls. It's my happy place. I absolutely LOVE how it all came together. The "blood, sweat and tears" saying was SO true as I created each piece in her room. It was definitely a labor of love. 😉 Let's take a tour shall we…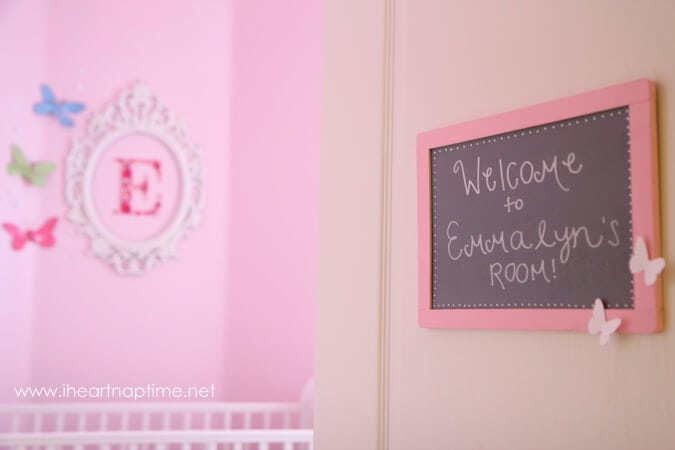 The main colors I went with were pink, lime green and turquoise. I chose butterfly's as the theme. I think it turned out absolutely DREAMY!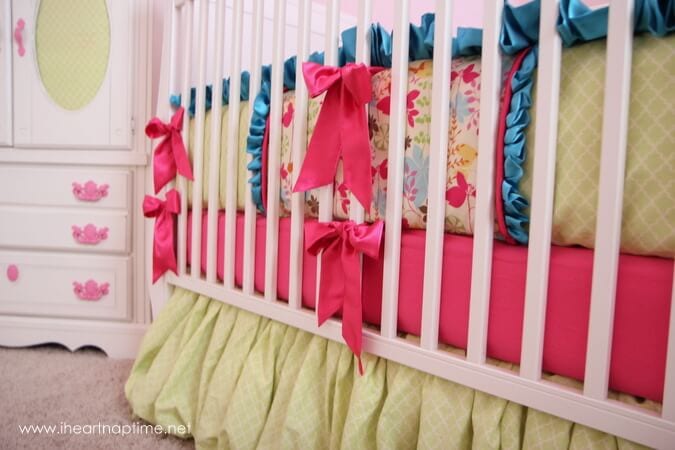 The bedding is the focal point of the whole room and it may have been the death of me. Lol! I sewed it ALL by hand (okay, so it was by machine-haha). I wanted the custom look of the boutique bumpers but certainly couldn't afford the price tag. I spent about $50 on fabric (purchased from HL) and sewed my buns off! I called my MIL with questions, watched you tube videos on how to sew zippers and taught my self along the way. I had helped my MIL sew my sons crib bumpers, but I certainly didn't know what I was getting my self into. I was about 7 months pregnant at the time and would just sit there and cry after I realized I had sewed the ruffles facing in the wrong way. I had to pick it ALL out and re sew the whole thing.
I also cried when I realized I had accidentally cut a hole in the bumpers. Dang it! I was so happy to finish those bumpers and fell completely in love after I sewed that last stitch. Aren't they absolutely beautiful?! Of course they are mainly for decoration and not sleeping with.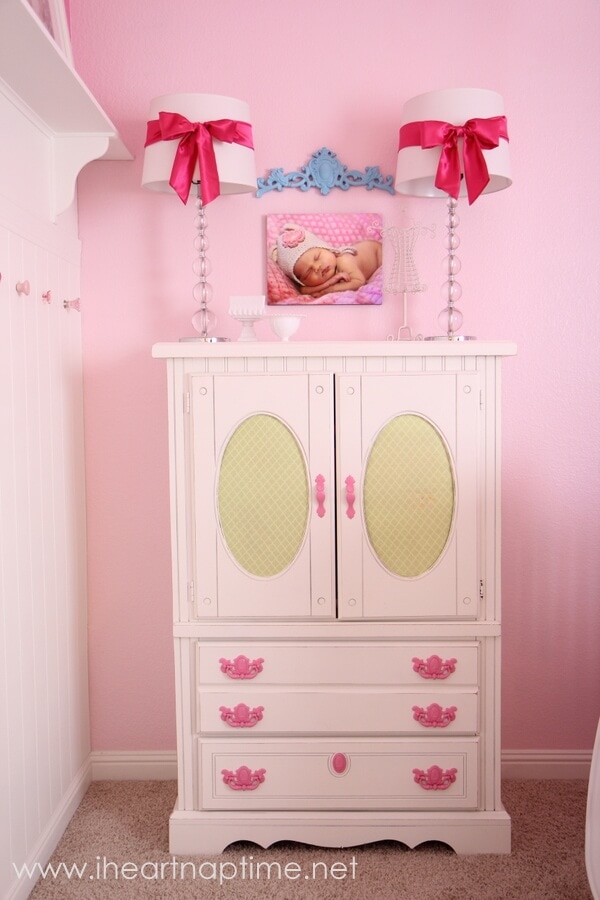 This armoire is one of my favorite pieces from her room. That was another labor of love. It is amazing what a little paint can do.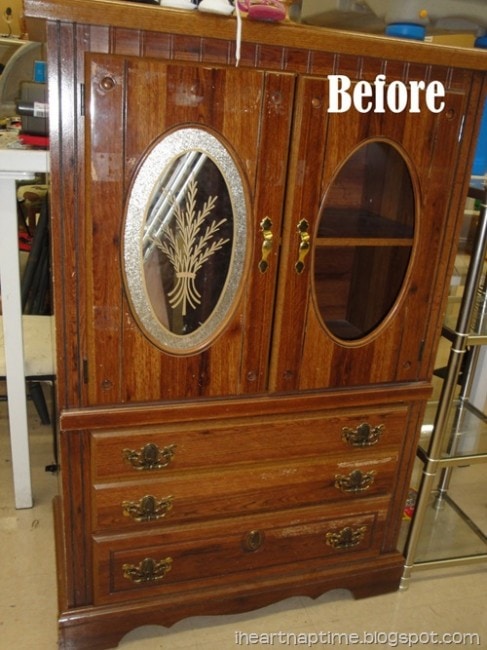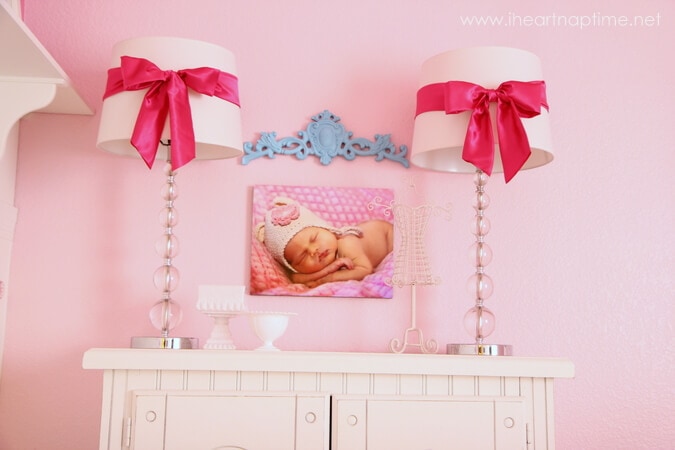 I also love these lamps (purchased from Target) with the big fat satin bows. I found the scrolly piece (Idk what to call that-ha) on clearance at Hobby Lobby and spray painted it blue. It brought in the perfect amount of color to separate the pink.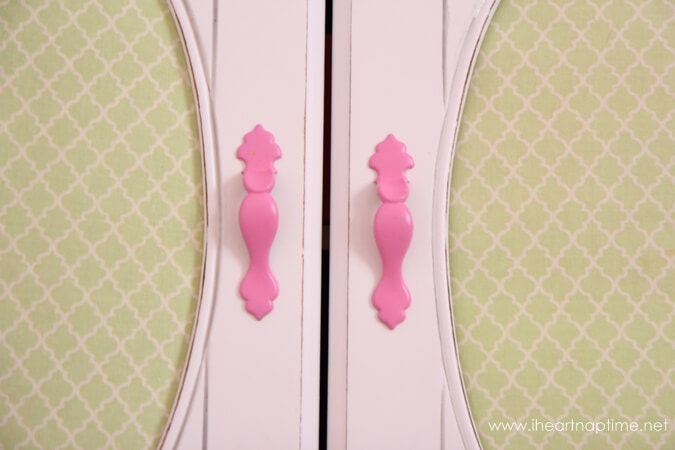 I love the hardware I spray painted pink… it totally makes the piece!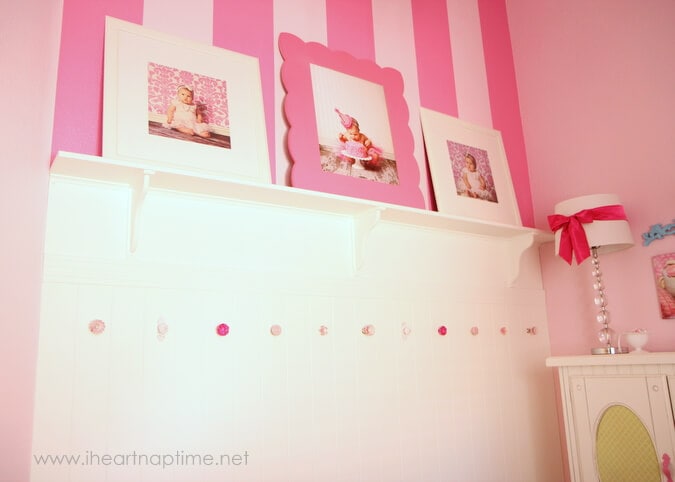 You saw the bead board wall yesterday with the crystal knobs. You can also see here how to paint stripes on the wall. I found the 2 large white frames from IKEA and the large scalloped frame from Cut it Out. You may remember it from Emmalyn's first Birthday party.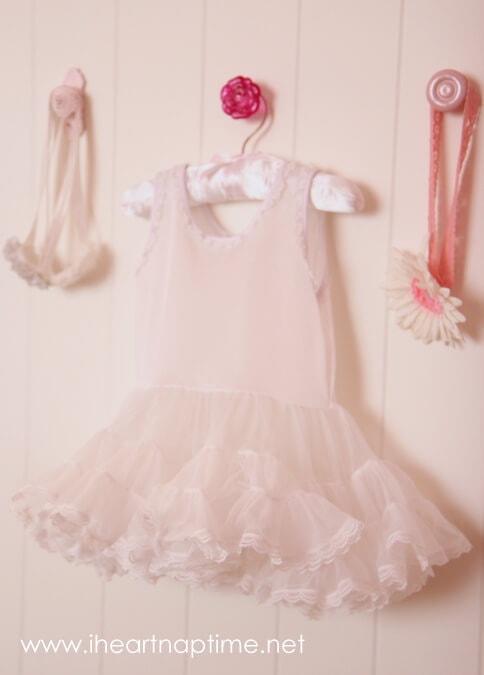 I love all the fun and unique knobs we found. They keep us organized and add a fun punch to the decor.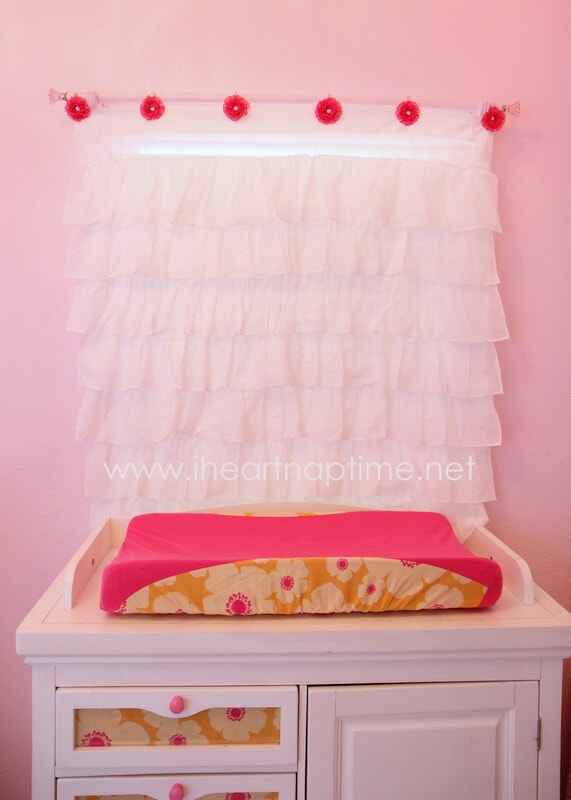 I turned my sons dresser GIRLY by spray painting the knobs pink and adding some fun fabric (with spray tac) to the glass. I also made a custom diaper changing pad (tutorial found here). I made the curtain rod with the lace flower's as well (here's the how to make a curtain rod tutorial). I found the curtains from Pottery Barn, which was the one splurge for the room.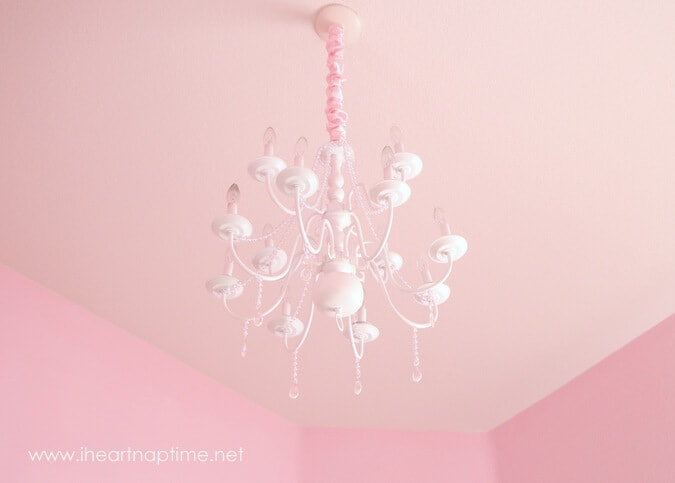 I found this brassy chandelier from Goodwill and spray painted it white. With a few jewels it was all glammed up. I also created a cord cover (find the tutorial here). I LOVE chandeliers! They totally make a room!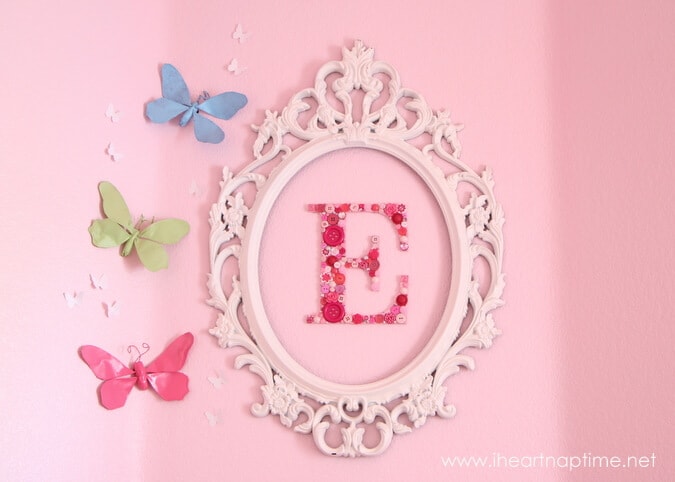 I also love the piece above Emmalyn's crib. I spray painted this frame, found at IKEA and put the E in the center. Find the DIY button letter tutorial here. I recently added the butterflys on the side of the frame. I found those at Hobby Lobby (in the party section) for $1 each. I spray painted them and hung them up with velcro. I also punched out a few little white butterfly's.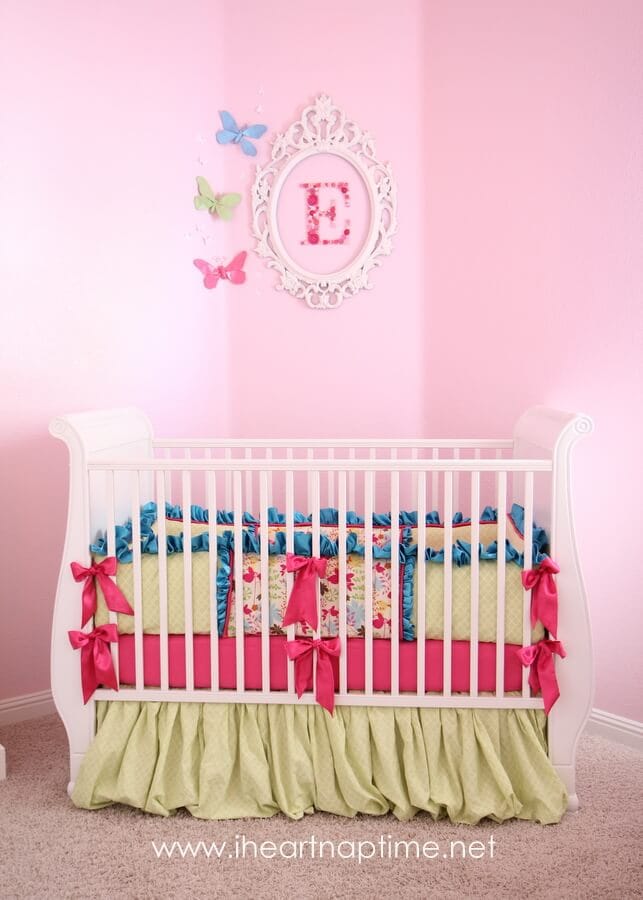 Ahh I am SO in love with her room!
So are you in LOVE?! What is your favorite piece from her room?