30 day living room makeover!!
Hello friends! Happy Thursday! I am SO excited to show you my living room reveal that I have been working on with Jo-Ann Fabric and Craft Stores® and HGTV HOME™ Magic with Fabric & Trim challenge.
The last 30 days have been crazy… but oh so fun! My local news station came by last week (at 5 am-eek!) and it was so fun to share some of the things I created with fabric. One of the best things about blogging is inspiring others to create projects they love. I really hope to inspire at least one of you today. 🙂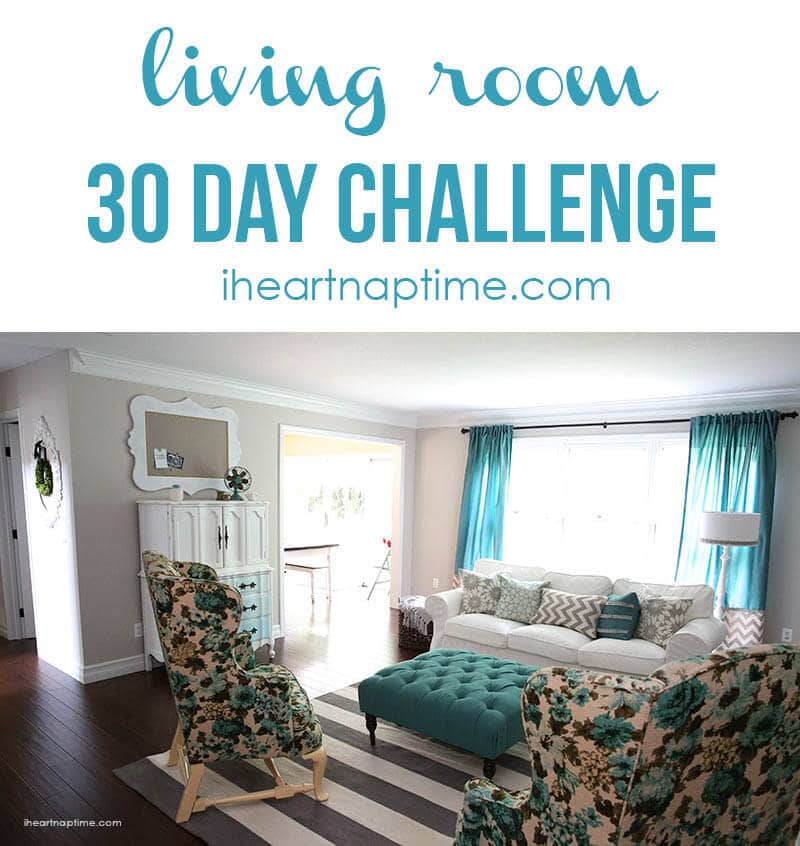 I tried pattern mixing with new and old fabrics in this room and love how it all came together. I found these really sweet chairs at a thrift store and was nervous about them clashing, but I kind of like the pop of contrast! The camera guys were joking and saying I must reallly LOVE turquoise. I was tweeting on a turquoise phone and drinking out of a turquoise water bottle. LOL! Yes it may be a problem… but I don't care, I LOVE turquoise! There I said it! Always have, always will! 😉 Any other turquoise lovers out there?? I tried mixing several different shades in the room and I think it all came together. I am glad I was BRAVE and decided to mix up the patterns! 😀


In case some of you need a reminder, here is what the living room looked like 30 days ago…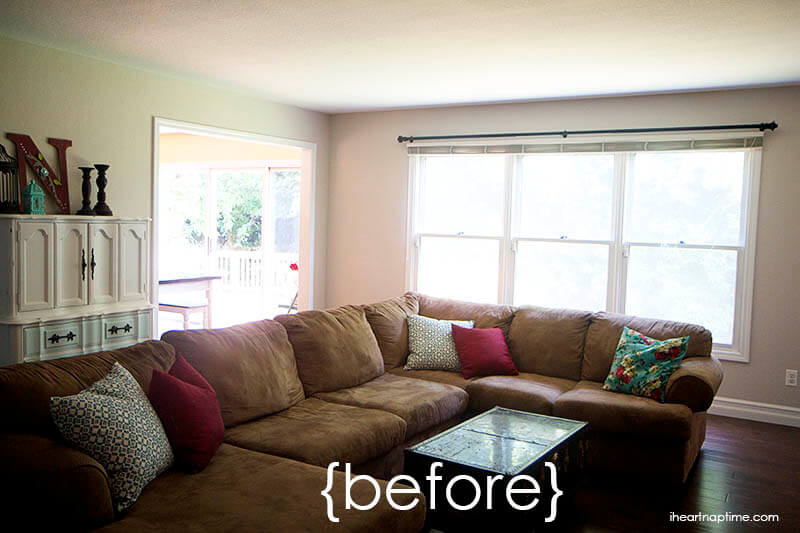 And below is what it looked like 3 months ago when we bought the house. Lots of changes! The room feels so much bigger and OPEN! That sectional we brought from our old house completely blocked the flow of the room and it is now happily sitting in our basement.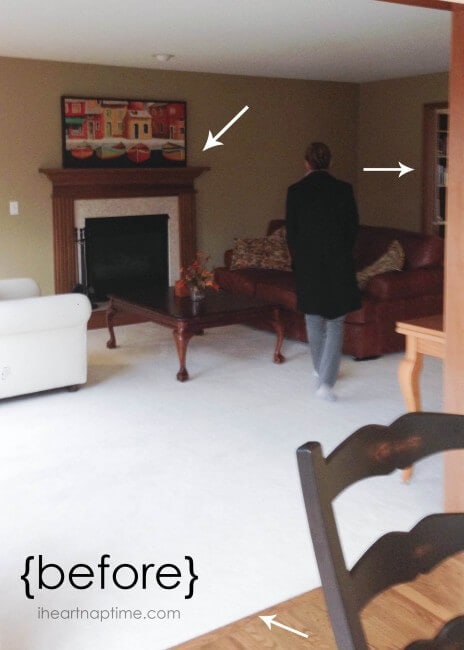 So I thought it would be fun to just break down the room piece by piece.
The first things we did to this room was…
Painted the room light grey (we used Agreeable Grey from Sherwin Williams)
Added new wood floors ( Texas Brown engineered hardwood from Build Direct -seriously in LOVE with my wood floors)
We closed in the back wall (you may notice the opening in the picture above)
Added chunky crown molding (tutorial coming soon!)
Painted the mantel white
Huge props to handyman Mike who helped me pull this room together. My husband has been crazy busy during his first intern year, so Mike came to the rescue with his crew.
So after all the big projects were done it was time to decorate! The best part, right?!
I've been wanting a white slipcover couch forever and finally talked my husband into it. We debated over the Pottery Barn vs Ikea white slipcovered couch and finally decided on the Ikea one. It was a heck of a lot cheaper and if we needed to replace the cover they are only $50 and the replacements on the Pottery Barn one go up to $800! What I love about this couch is that I can WASH it and BLEACH it! YEA! I know some of you are thinking "White couch… kids… disaster" but the slipcovers are easy to wash and my other couch had to be done by a professional. So it actually works out better in the long run. Plus we are loving it! I heard negative reviews on comfort, but it is a lot more comfortable than my old couch and we have been very happy with it so far! I'm all about saving where I can.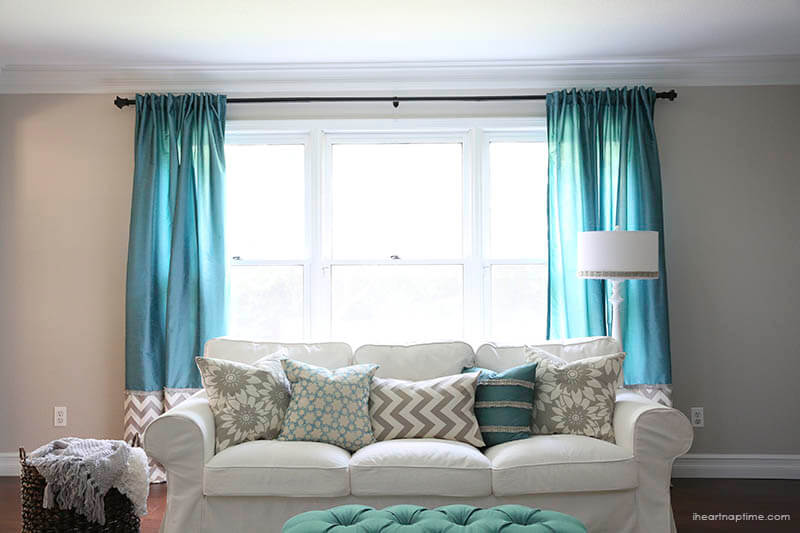 Then of course once I bought the new couch I had to sew beautiful new pillows. You can find my pillow cover tutorial HERE. I used all HGTV home fabrics from Jo-Ann fabrics for this room. You can never have to many pillows, right?!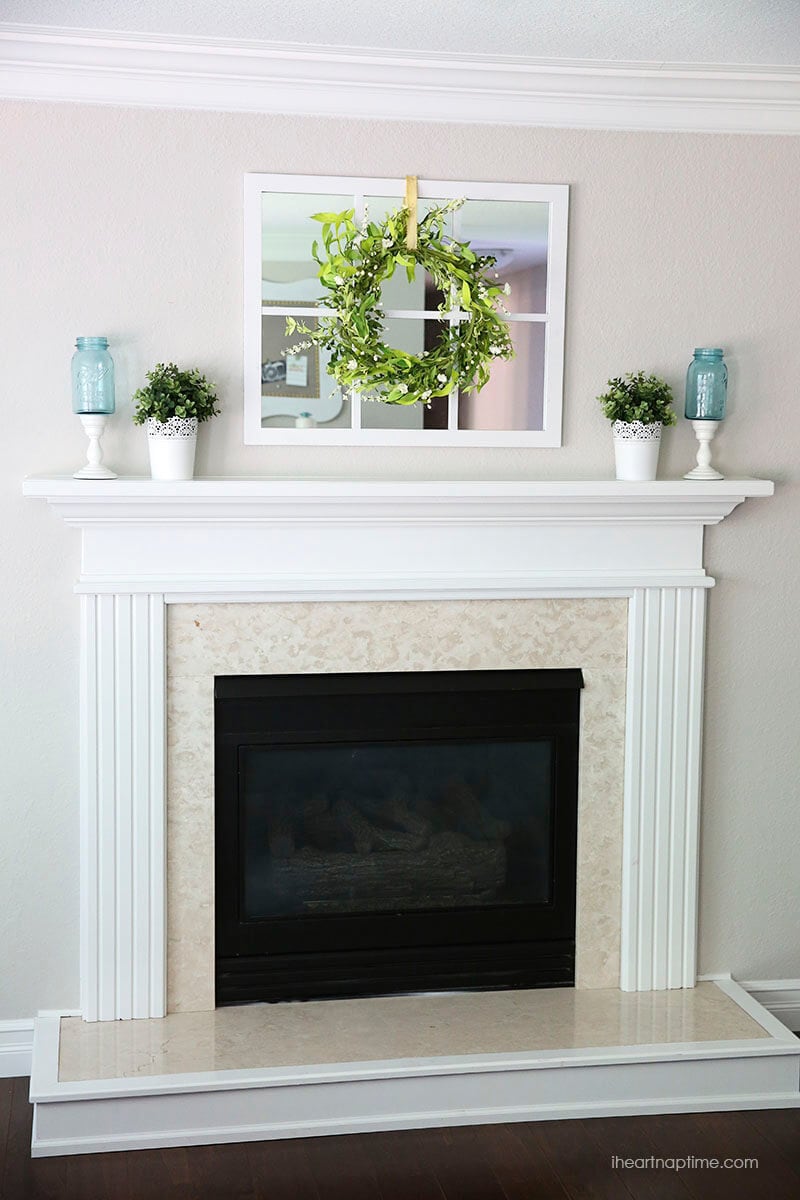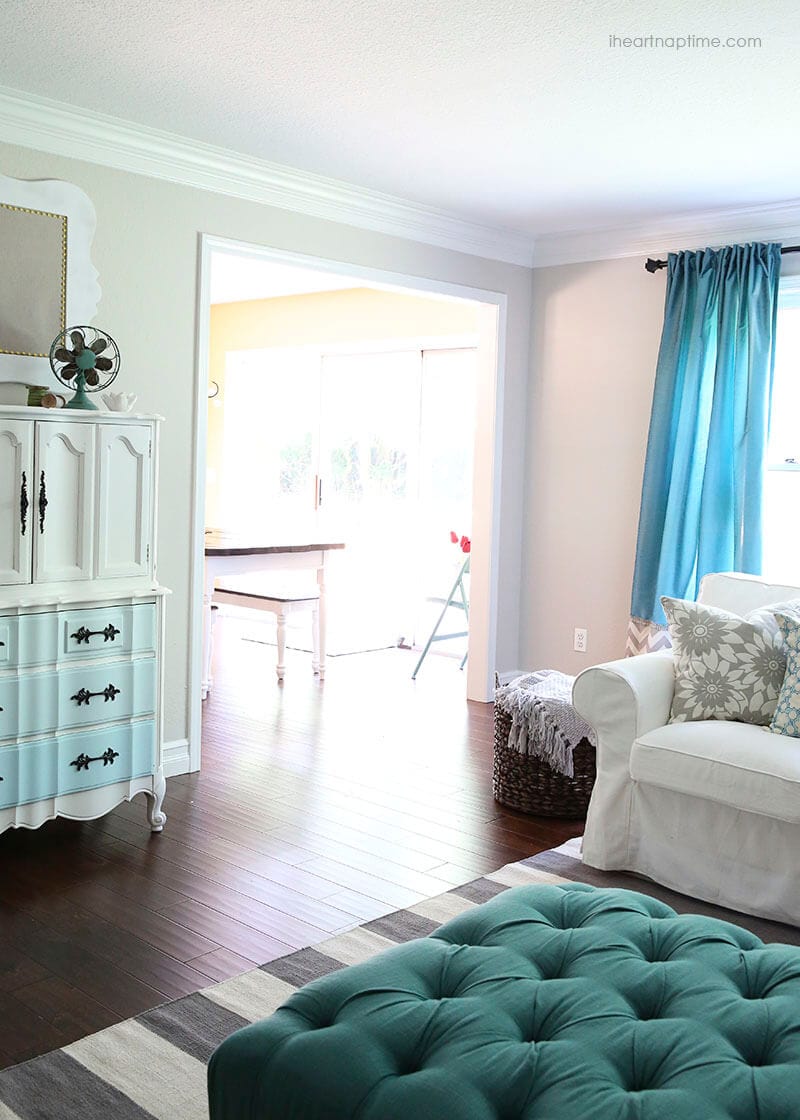 I didn't want to go crazy with decor on the mantel, so I made some mason jar candlesticks and added some planters that I found at Ikea. I also made a simple wreath with vines I found at my local craft store.
I bought this striped rug from Crate and Barrel. They were having a 20% off sale with free shipping, so I got it for a great deal! I seriously am loving the open space to the kitchen. My one splurge was this tufted ottoman. I love it so much!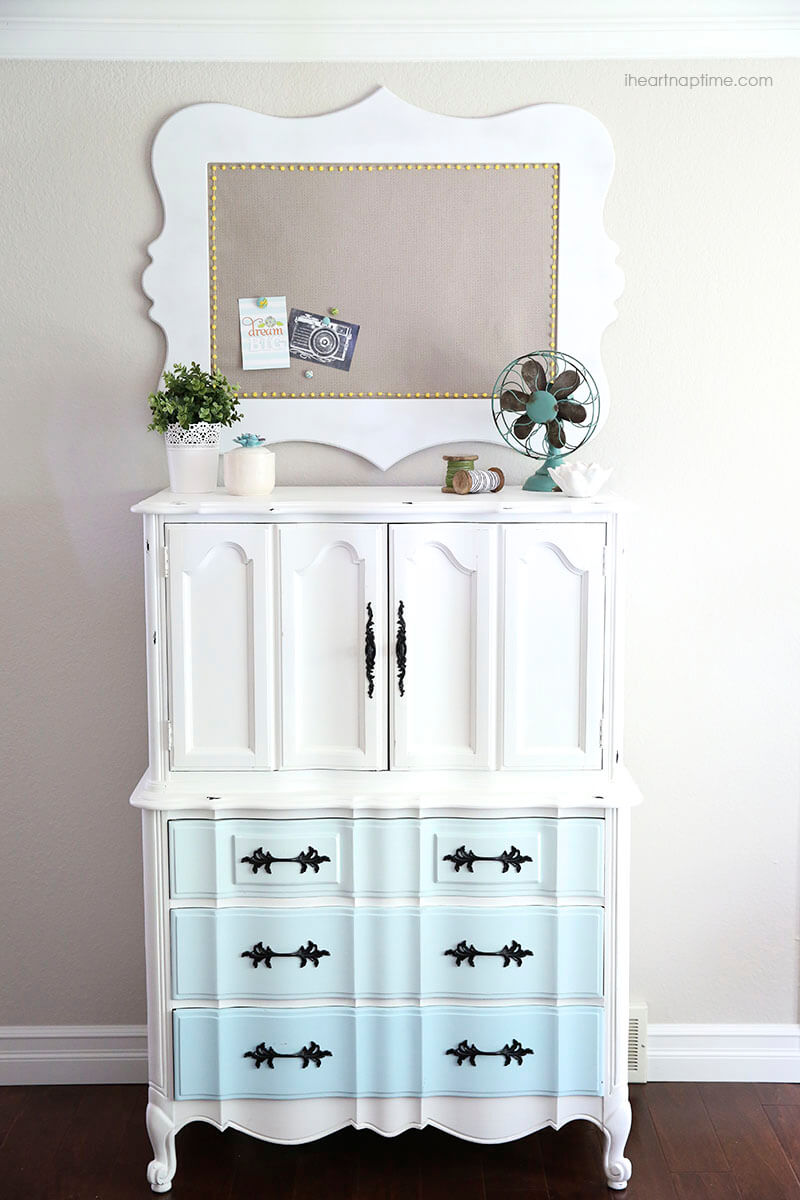 I made this DIY fabric cork board to hang over this awesome piece of furniture. I painted this piece and did the ombre' drawers a few months ago. I used my chalk paint recipe and vaseline distressing technique to paint it. It is by far one of my favorite pieces in my home! Such a cool vintage find.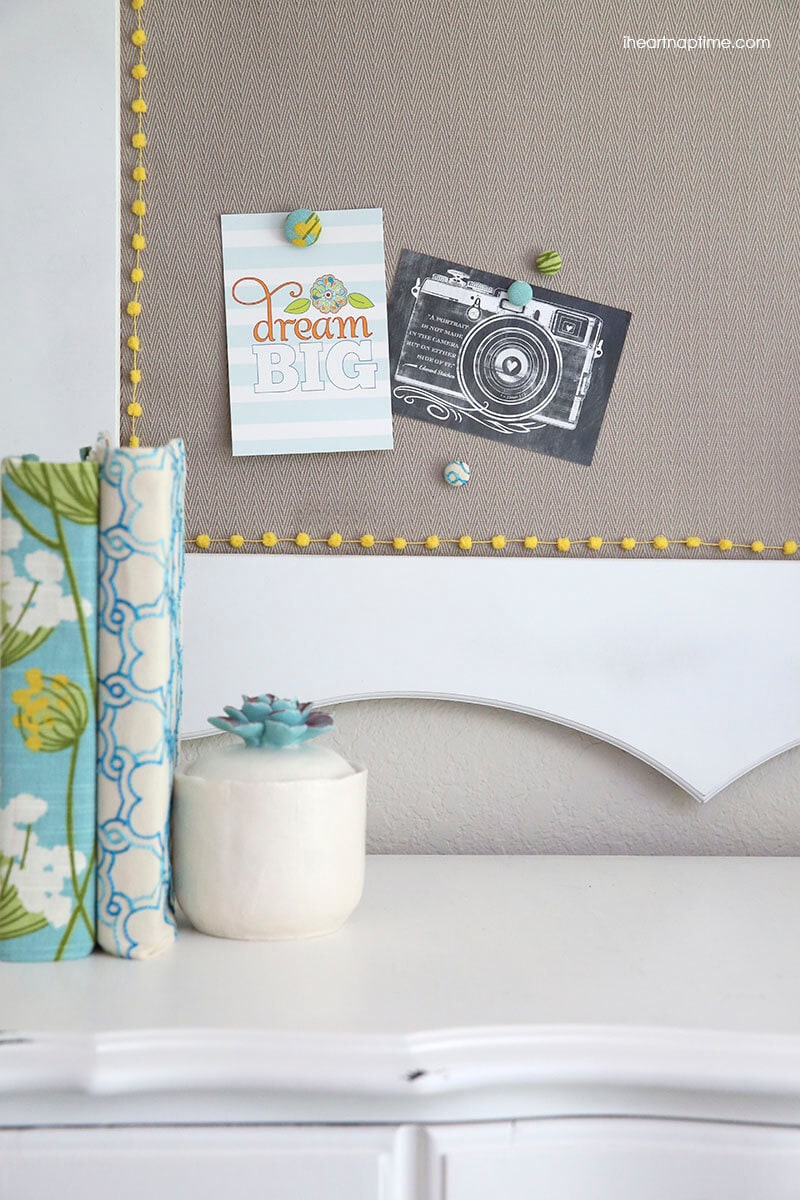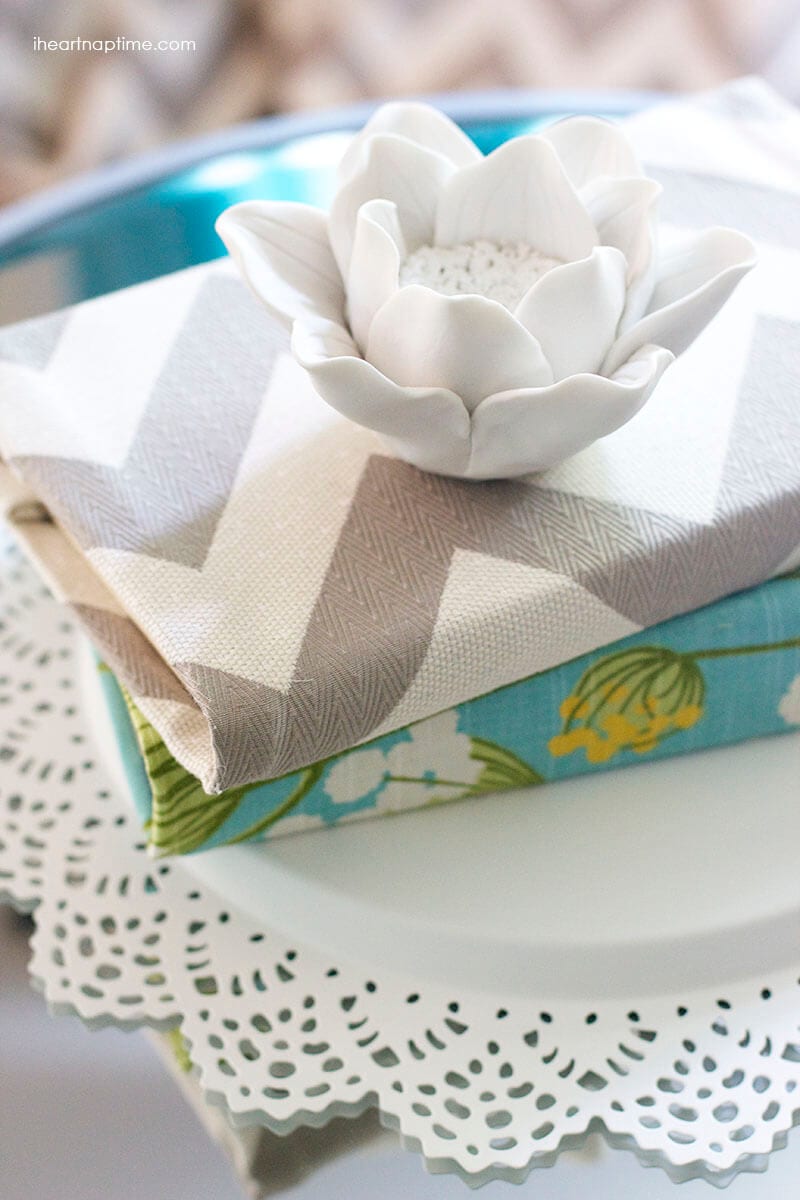 I also covered some buttons with fabric using a button kit from the Jo-Ann fabric and craft stores.
I didn't stop there! I covered several books with fabric too. Such an easy and cheap way to dress up some old books! I found these books at the thrift store for .50 cents each! Score!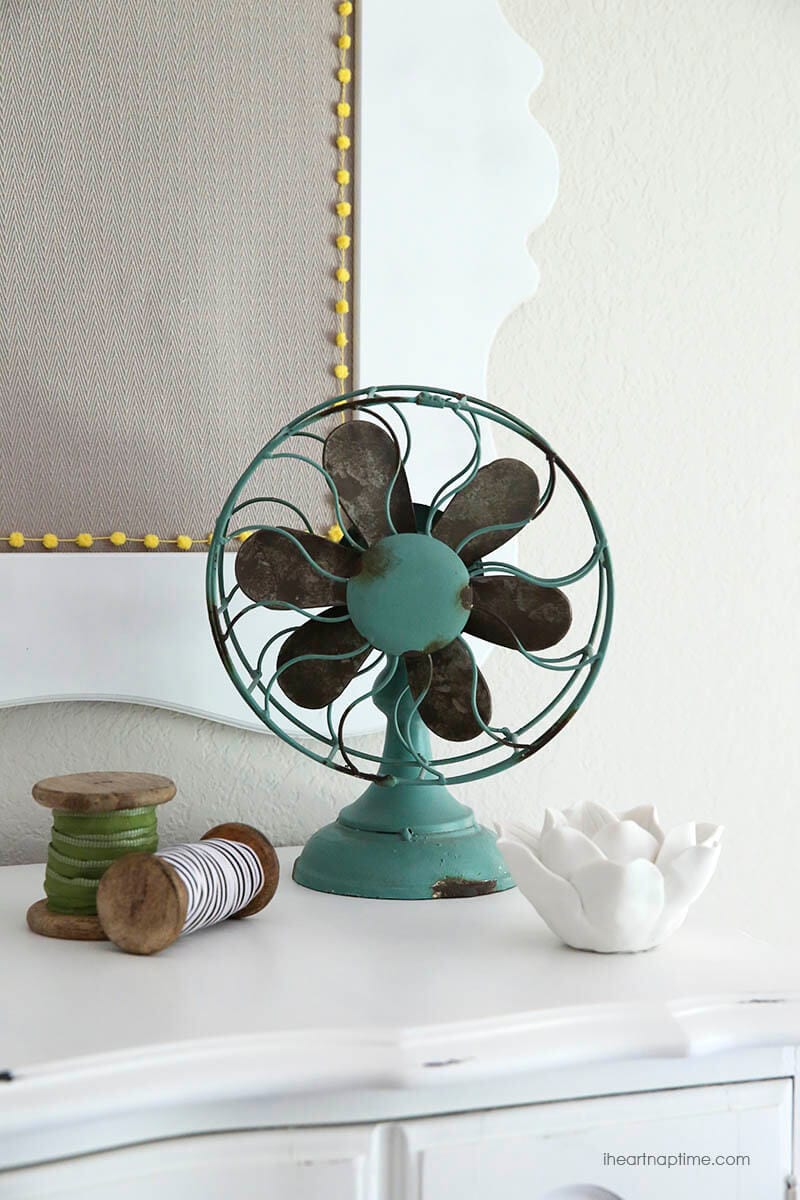 I tried to incorporate pops of yellow and green throughout the room to create a bright and happy place! I'm all about decorating with bright colors!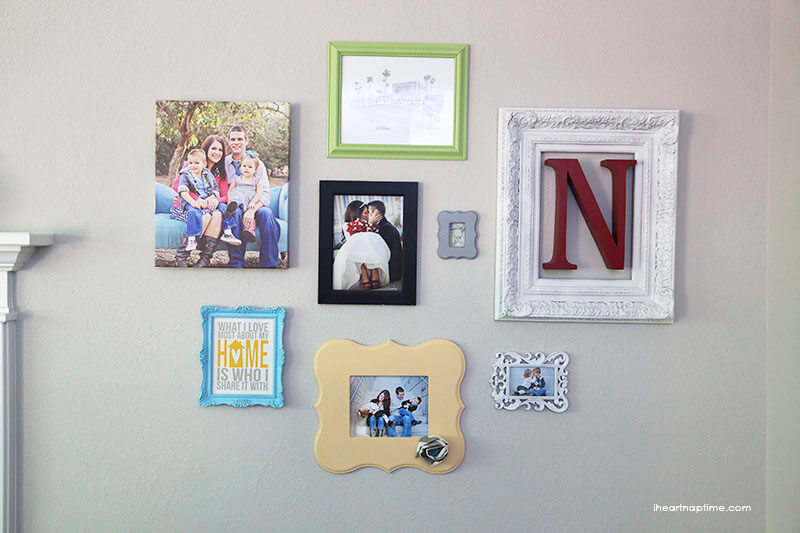 Next up is my gallery wall. I wanted to create a gallery wall that shared pieces from my families story. I added a picture from my wedding day as well as the temple we were married. I also added my families initial and a few other family pictures I love. I also added fabric to a mini frame and a fabric rose to the funky yellow frame.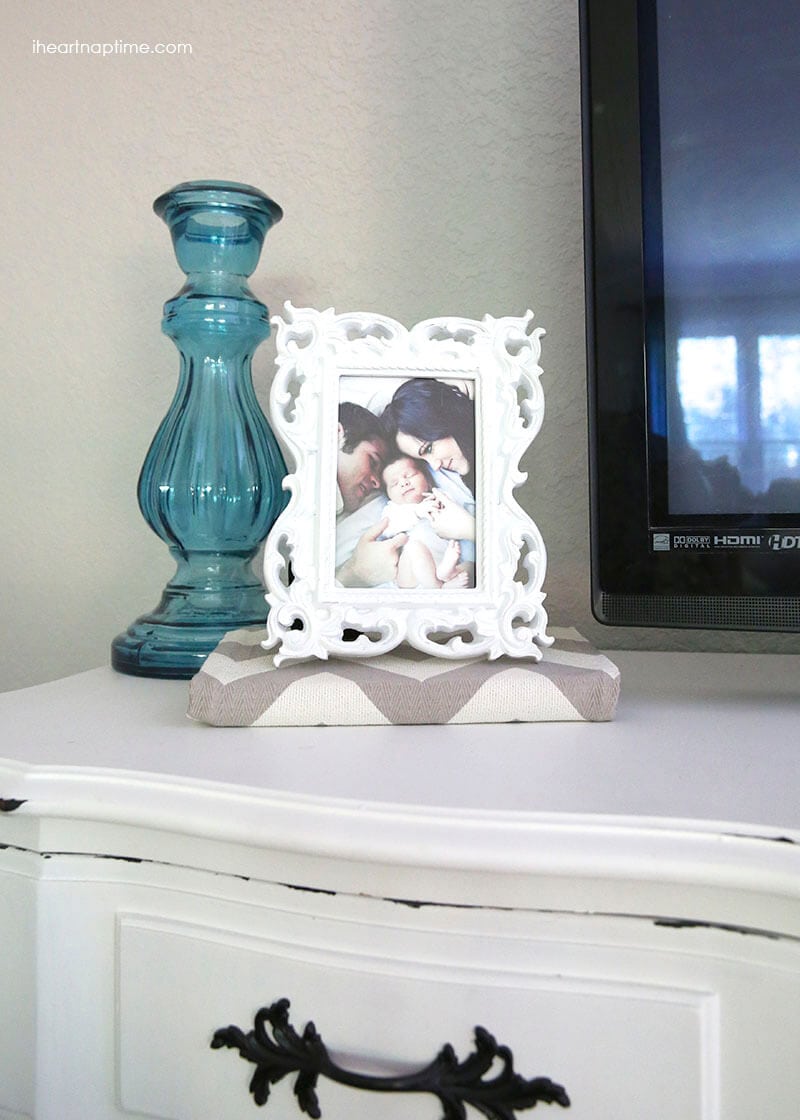 I think it's fun to incorporate photos from each stage of your life around your home. I love this picture we had taken when my first son was born. Such sweet memories!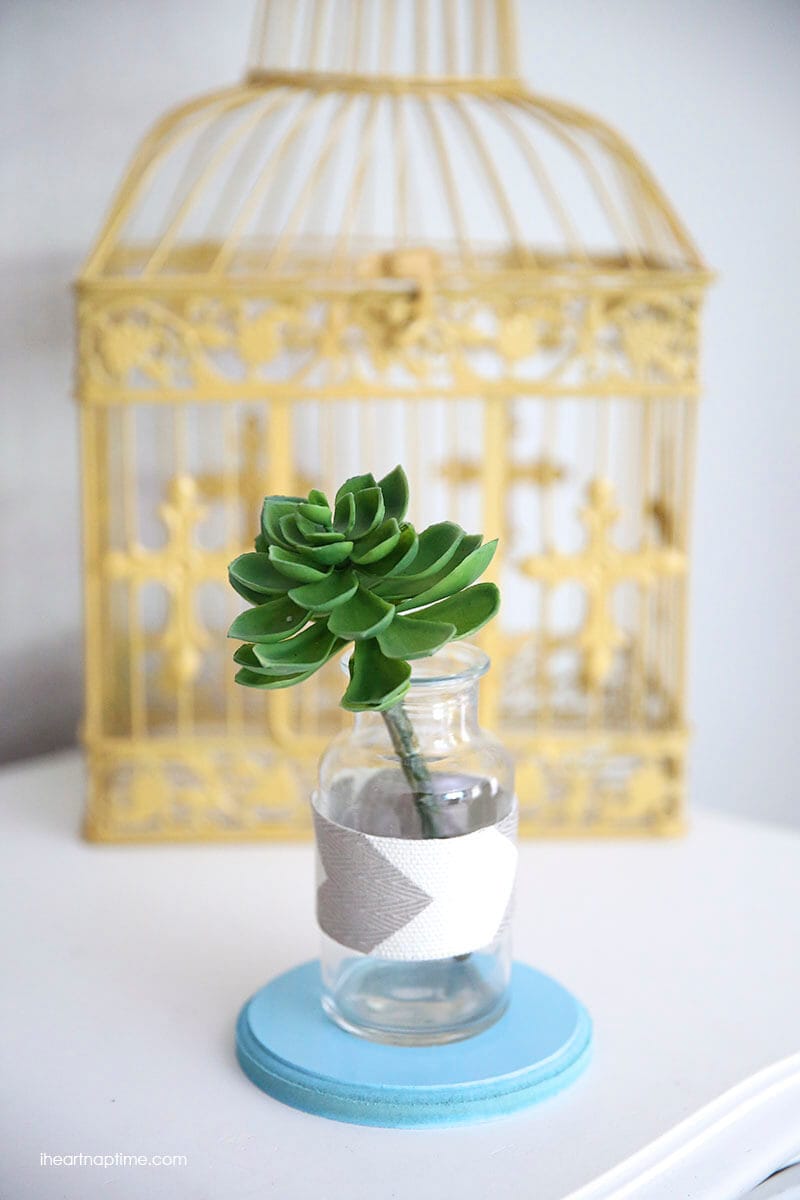 Here I wrapped a simple vase with a scrap piece of fabric and placed it on a painted circle piece of wood for a pop of color.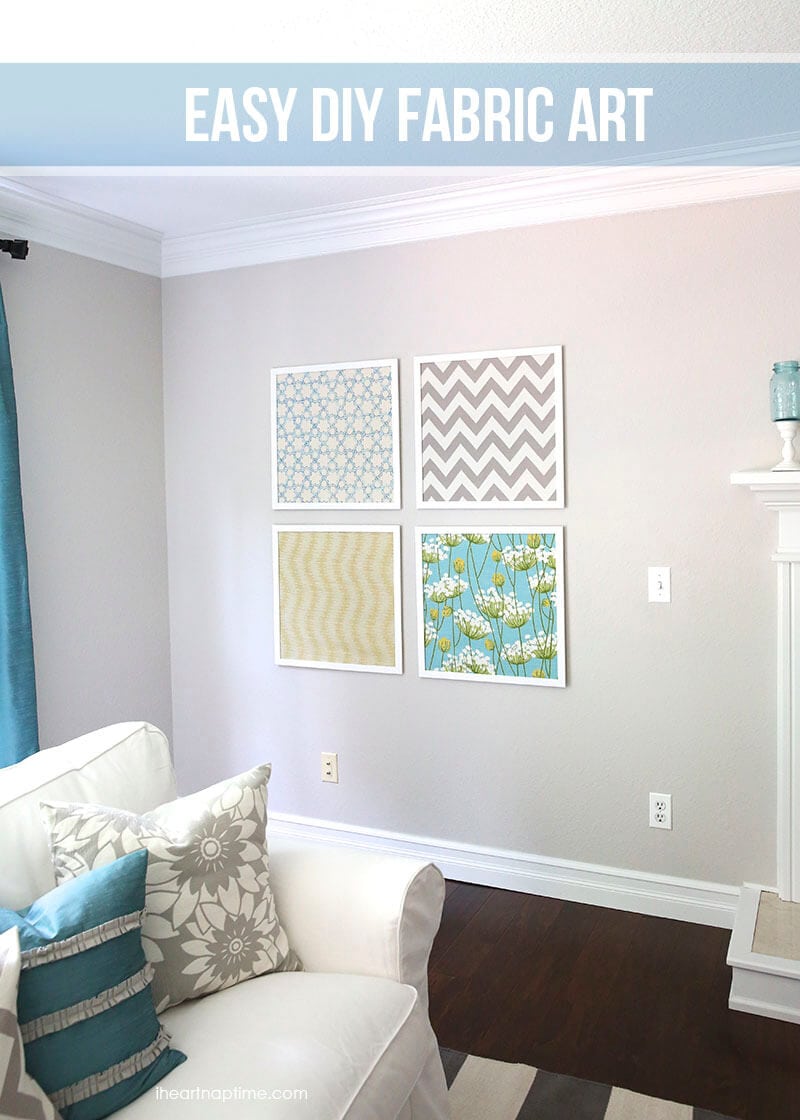 I love this fabric art as well. Such an easy and inexpensive way to add a focal point to a large room. You could get really creative with all kinds of different fabrics and frames.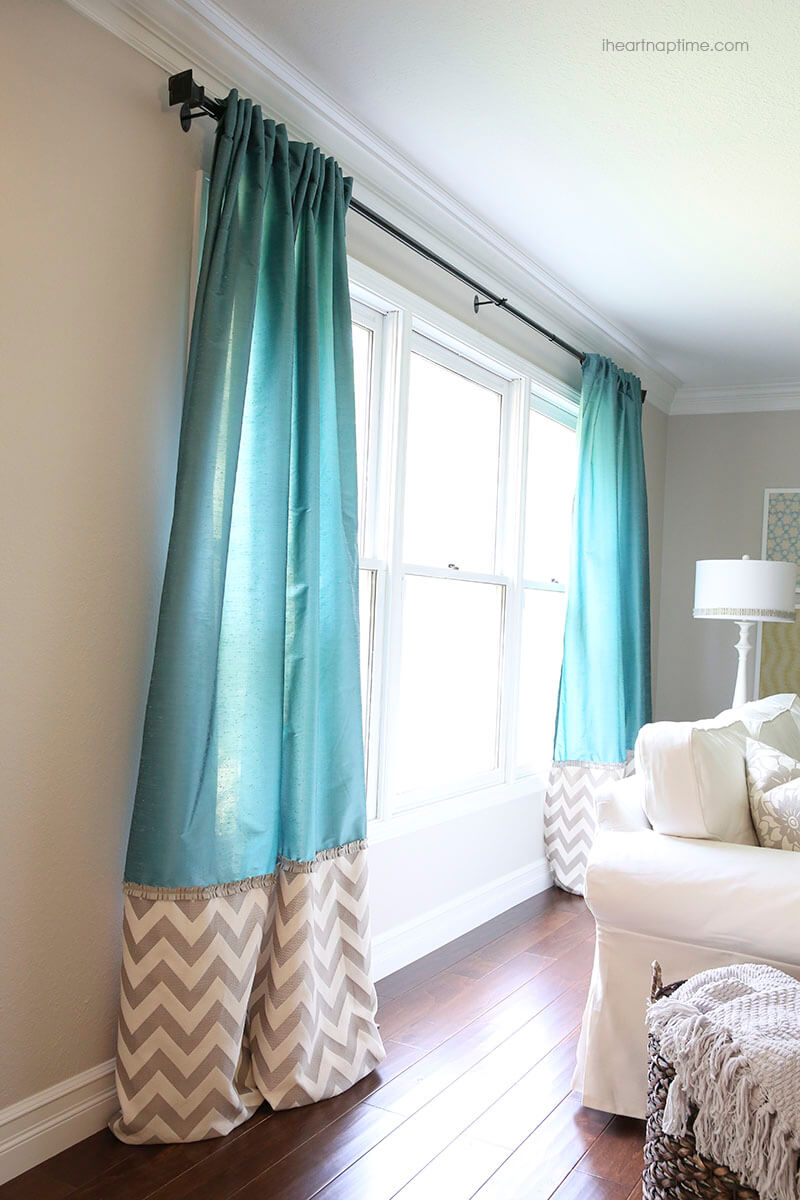 Then there's my DIY back tab curtains you may remember me sharing last week. My curtains probably took the longest out of all my projects, but I love the custom look! They turned out just how I imagined. Love when that happens (which is not every time-winks).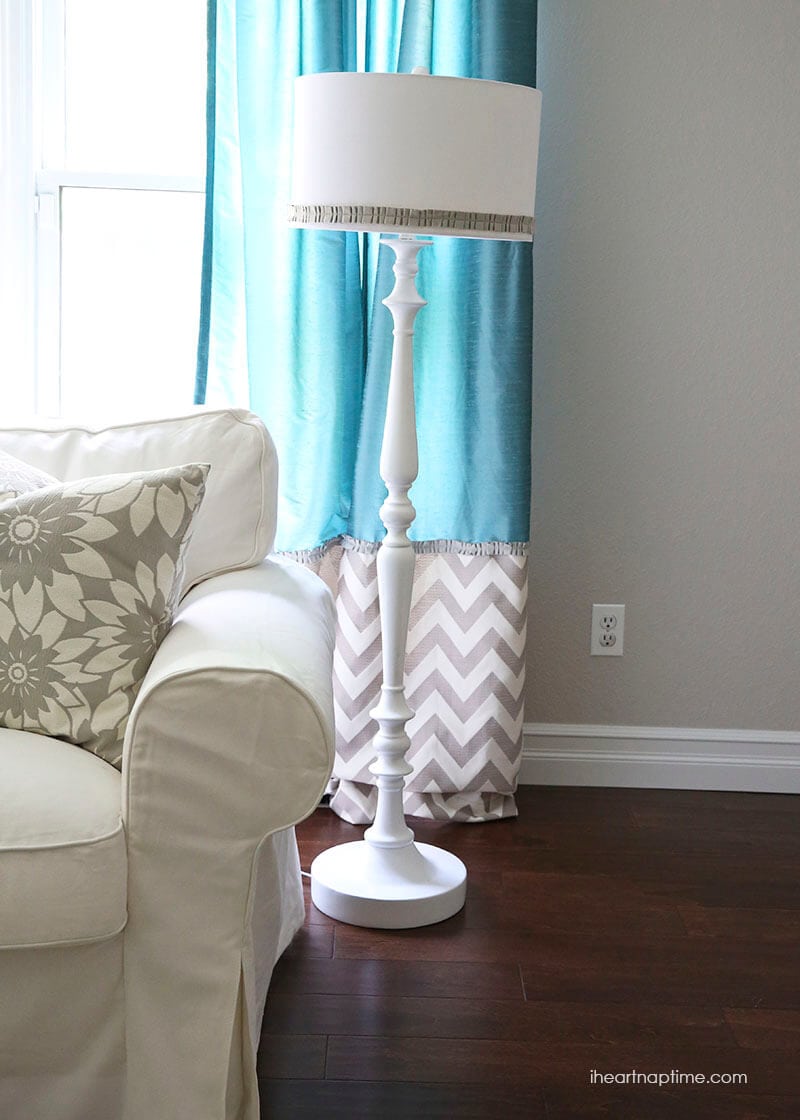 One last thing I did was add ruffled trim to this white lamp shade. All I did was glue it around the edge. Took less than a minute and added the perfect touch!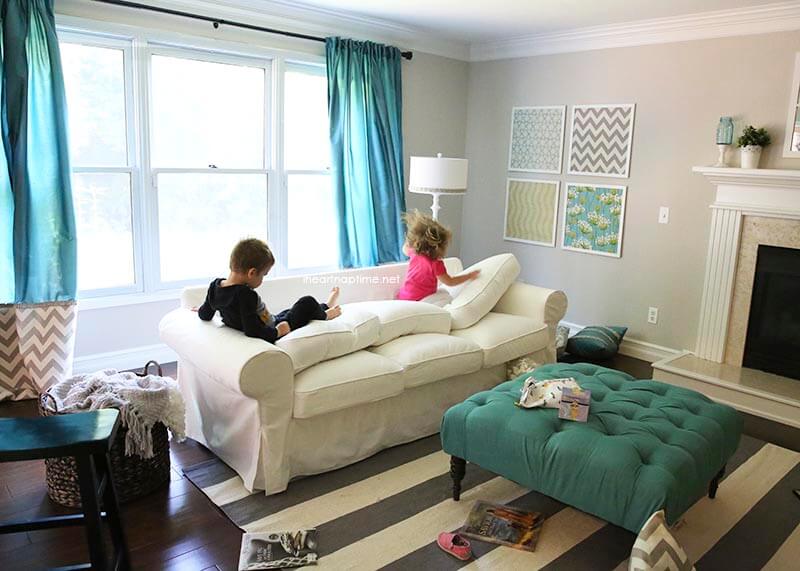 And to keep things real around here… this is what my living room looks like on any given day. Pillows on the floor, kids jumping on the couch, goldfish and LIVING life! Of course I stage all my pictures, because I want them to look beautiful for you and make them pin-worthy, but this my friends is real life (on a good day-winks) and I wouldn't have it any other way.
So what do you think?! I hope you love it as much as I do. I'd love for you to pin your favorite project.

And most importantly I hope I inspired you to create something fabulous for your home! Thanks for reading and following along. XO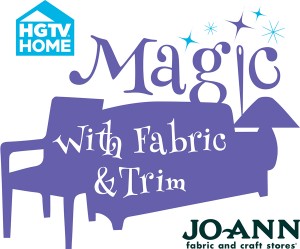 Now come join the Pinterest party HERE and follow the hashtag #HGTVHomeMagic. You will have to refresh your screen to ask questions and see the pins. The 4 of us bloggers also decided to do a LIVE google + chat after the Pinterest Party, so come join us after the party. You can follow me on google + HERE and follow the event live HERE.
Also, you must check out my talented friends room makeovers. I absolutely LOVE everything they did with their rooms.
Master bedroom makeover at Tatertots and Jello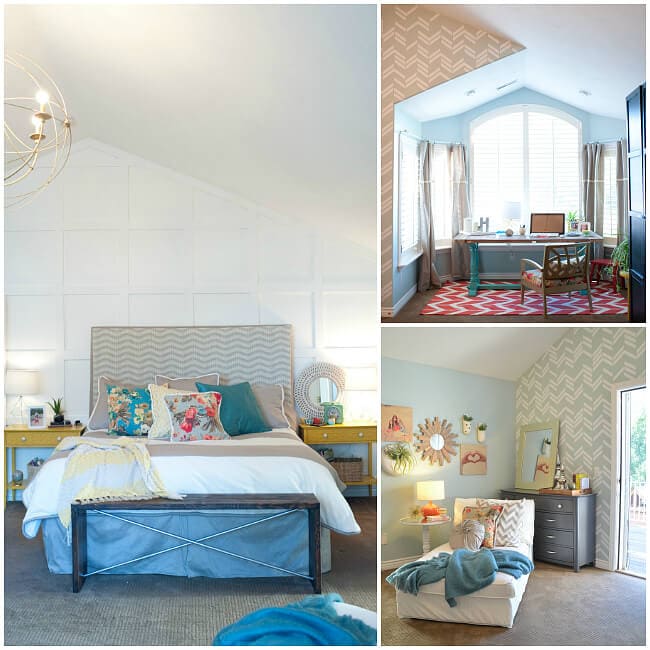 Black and green boy room makeover at Infarrantly Creative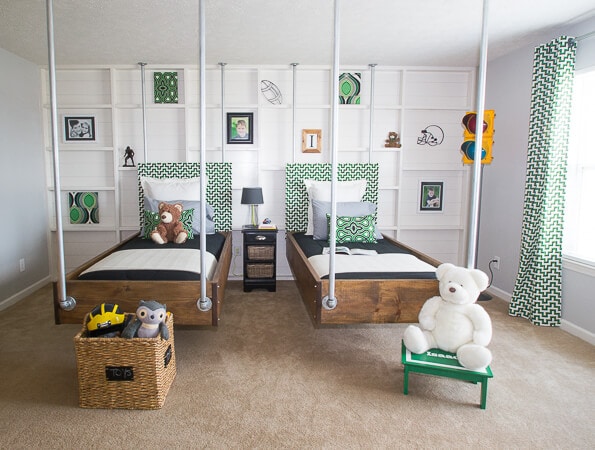 Master bedroom makeover at U Create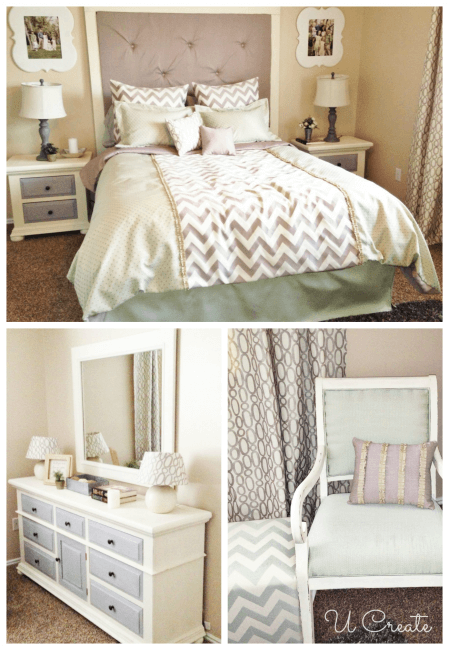 Join my Pinterest community
Thanks for reading! Have a great day!!
Disclosure: This post was in partnership with Jo-Ann Fabric and Craft Stores® and HGTV HOME™ Magic with Fabric & Trim challenge. I was provided with fabric for this room makeover and compensated for my time. All opinions are 100% my own. Thanks for supporting these sponsors that allow me to create new and special content for I Heart Nap Time.