Our 1888 Fixer Upper Progress
Our 1888 Fixer Upper Progress… things are coming together and we are so close on getting to the fun, cosmetic parts of the renovation!
I finally have another update on the 1888 fixer upper. Sorry it has taken so long, but there really hasn't been much progress up until now. Things are really starting to come together now and it makes me so happy! I was really hoping this house would be done by the end of the year, but it doesn't look like that will happen. We are getting SO close though! I think it will for sure be done within the next month. If this is your first time here you can see my first post on it here and the demo post here.
If there is one thing I have learned with this project it has been patience. Okay… so I don't know that I've completely learned how to have patience, but I've realized the saying my grandma always told me growing up to be true. "The art of life is adjusting."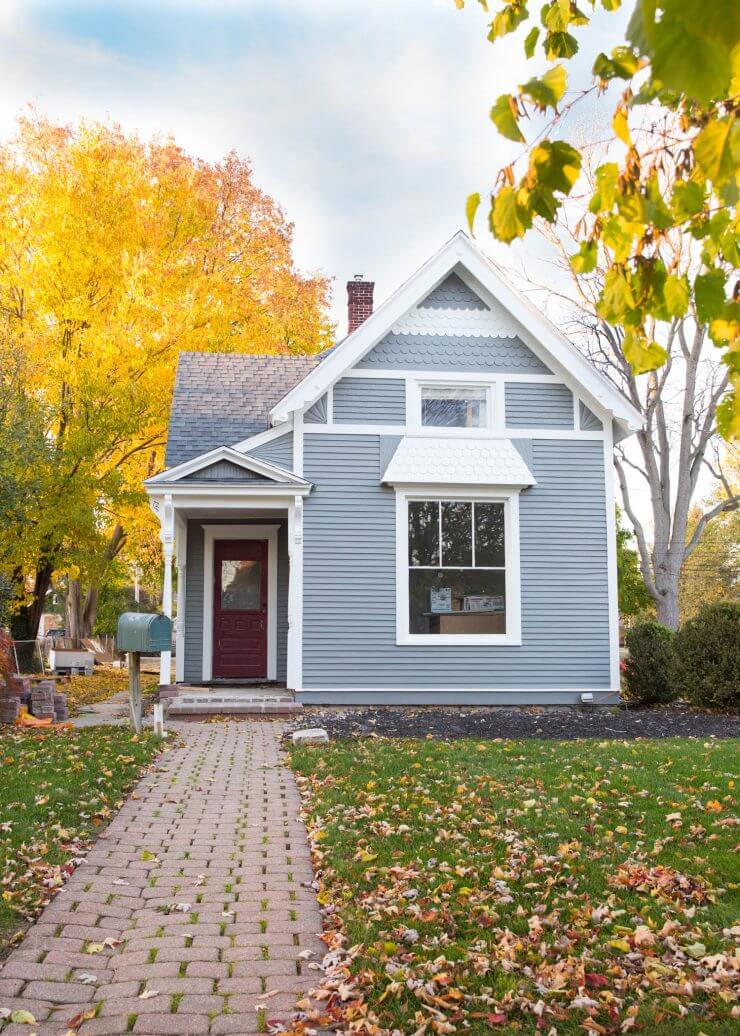 The paint is done on the exterior and I am completely in love! We now have a turquoise door and the porch is just about done! Just needs a little paint touch up and then I can show you the finished entry way. Woo. The house is also now completely covered in snow and it is so beautiful.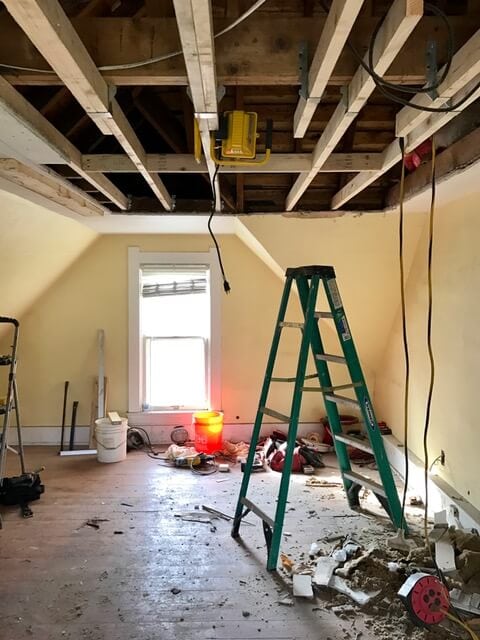 I promised you upstairs photos and while the above photo looks a little scary, I'm happy to say as of a few days ago, it is all fixed and cleaned up. We basically had to get new support beams added and re-drywall it because the ceiling was broke when we bought it. Now we just need to get all the cosmetic work done up there (paint, floors, fixing trim).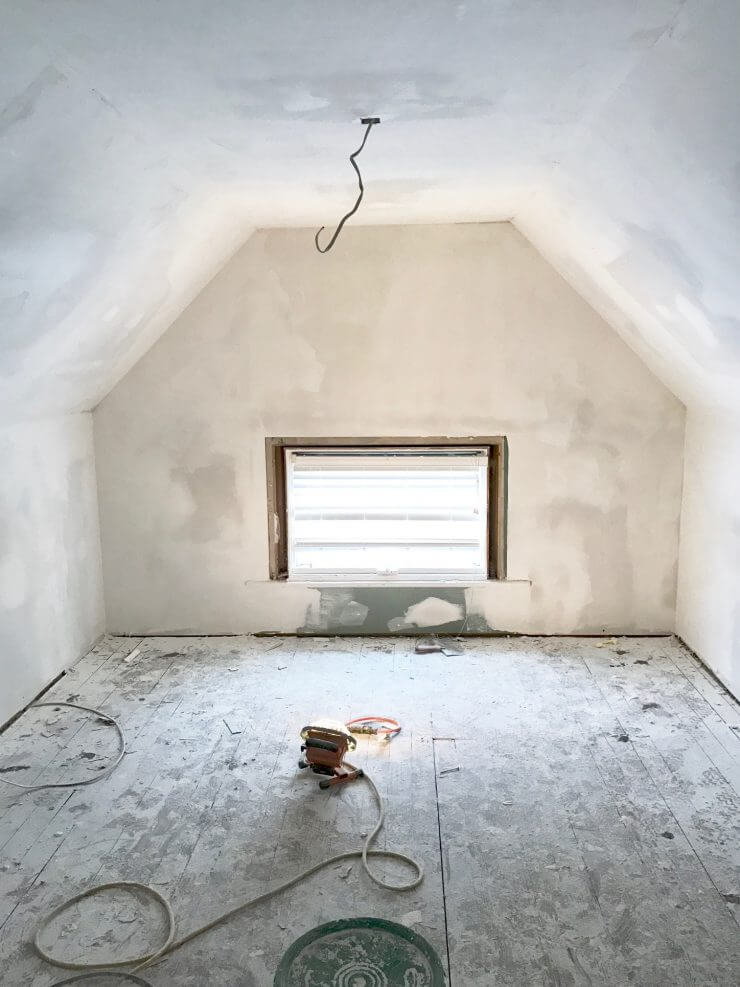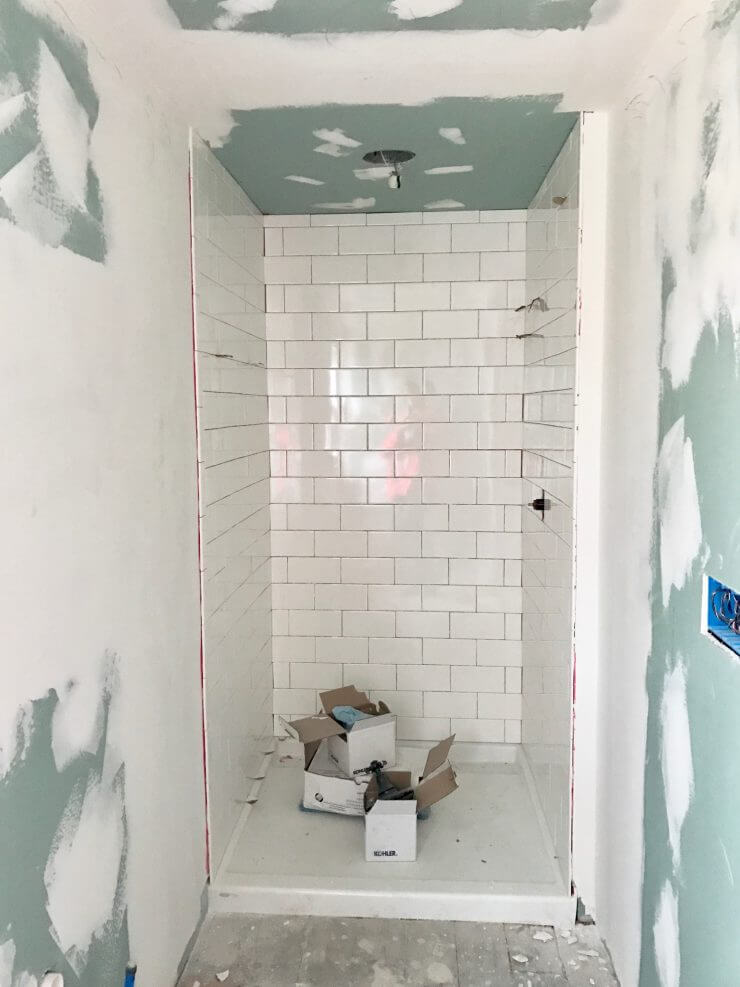 The bathroom is also coming along nicely. There was one snag (nothing surprises me at this point)…the vanity wouldn't fit once the shower door was hung, so I ended up having to order a pedestal sink. I didn't love the idea of having one, but at this point, it will work just fine. The floor tile is also done now (can't wait to show you the floors -they look amazing) and it just needs all the paint, lighting and finishing touches at this point.
The downstairs bath is also so close to being done! I ended up going with the color 'Watery' from Sherwin Williams. We just had this beautiful Historic claw foot tub from Kohler installed and it adds the perfect "old" new feel to the space. The grey vanity also didn't fit this space, so we're trading that one for a smaller one as well. We measured before the thick trim was on and that was our fault. Live and learn, right?!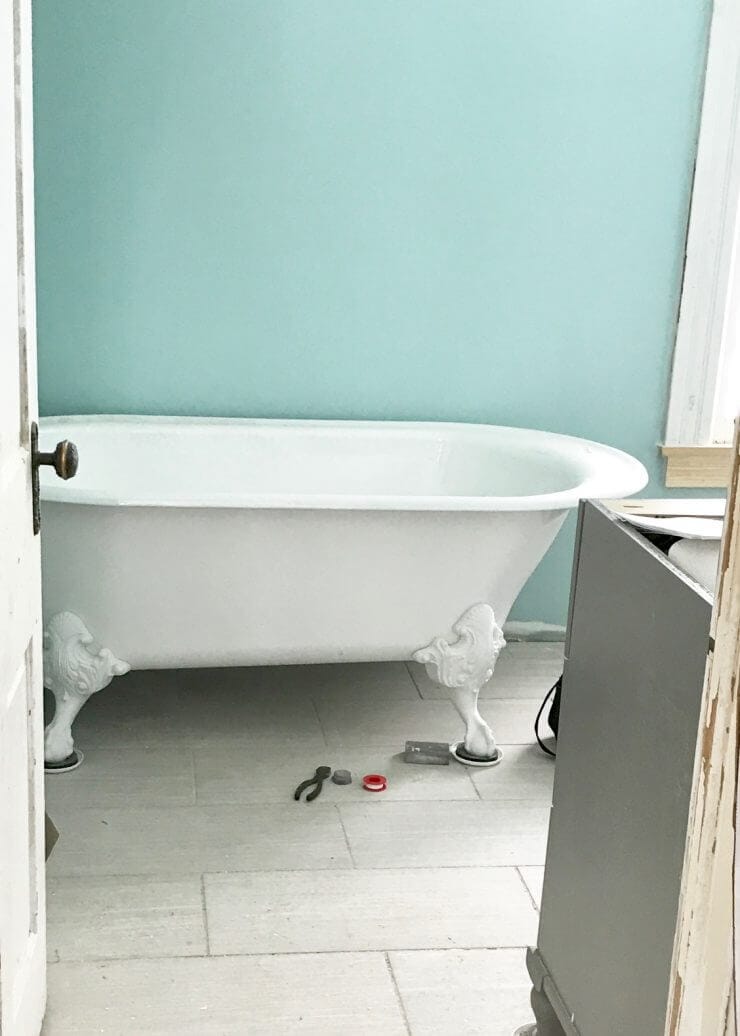 We're getting so close and it really is starting to really come together. Now it's time to get everything cleared out so the floors can be refinished. You won't believe how many dumpsters we've ordered. I've lost track at this point, but I'm guessing at least 15. I just ordered the last one today (please pray it's the last one), so I'm excited to see all the clutter gone! YAY!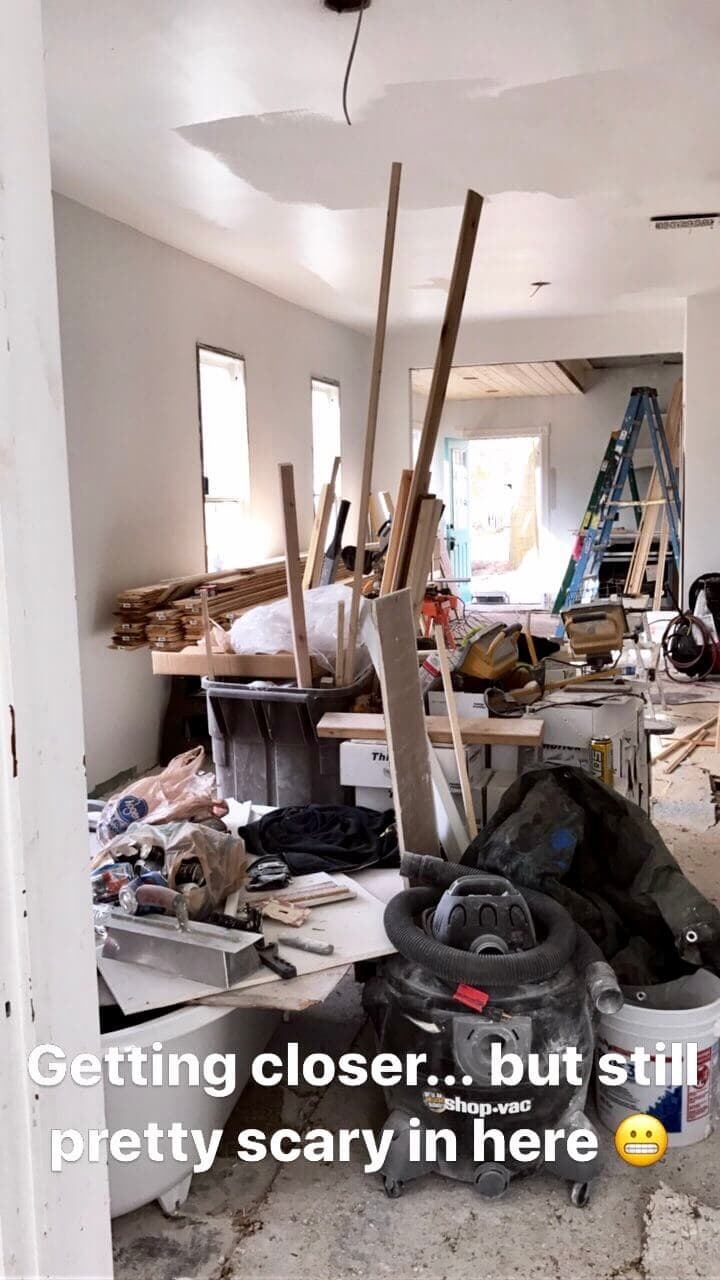 The brick also was set last week and it looks amazing. Much better than the old painted red brick.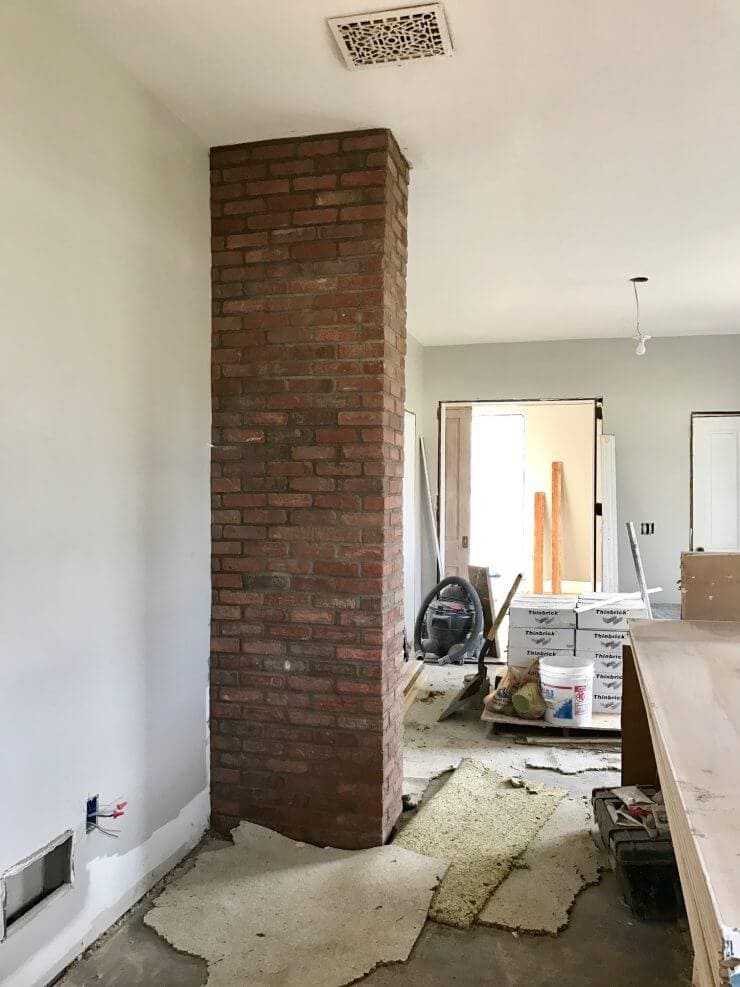 The original trim is also getting hung and painted this week and looks amazing! Possibly my favorite detail of the whole house! My eyes pop every time I walk in! It took my new crew several days to piece it all together, but I'm so glad they were able to save it! It definitely would have been a lot cheaper to just buy new trim, but that was my favorite part of the house.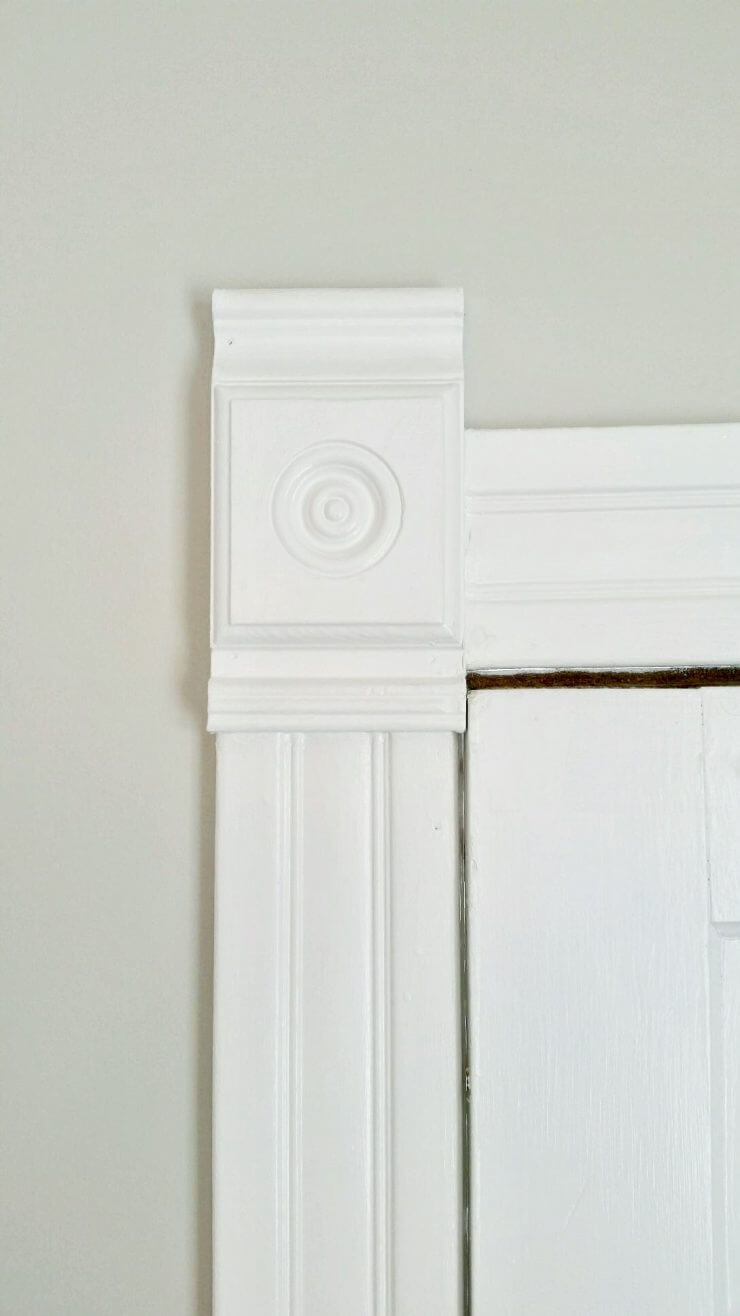 The kitchen is SO close to being done as well. It is SO much more open now that we knocked the wall down and raised the drop ceiling. We did shiplap on the ceilings and love the look. All we need now is the lights, hardware and to install the rest of the trim around the bases. It's going to look so nice once everything is cleared out of there and cleaned up!
Our original plan was to do more shiplap throughout the house, and subway tile all the way up the walls in the kitchen, but we are WAY over budget on this house…so we've had to start cutting everything else that we haven't already ordered or purchased.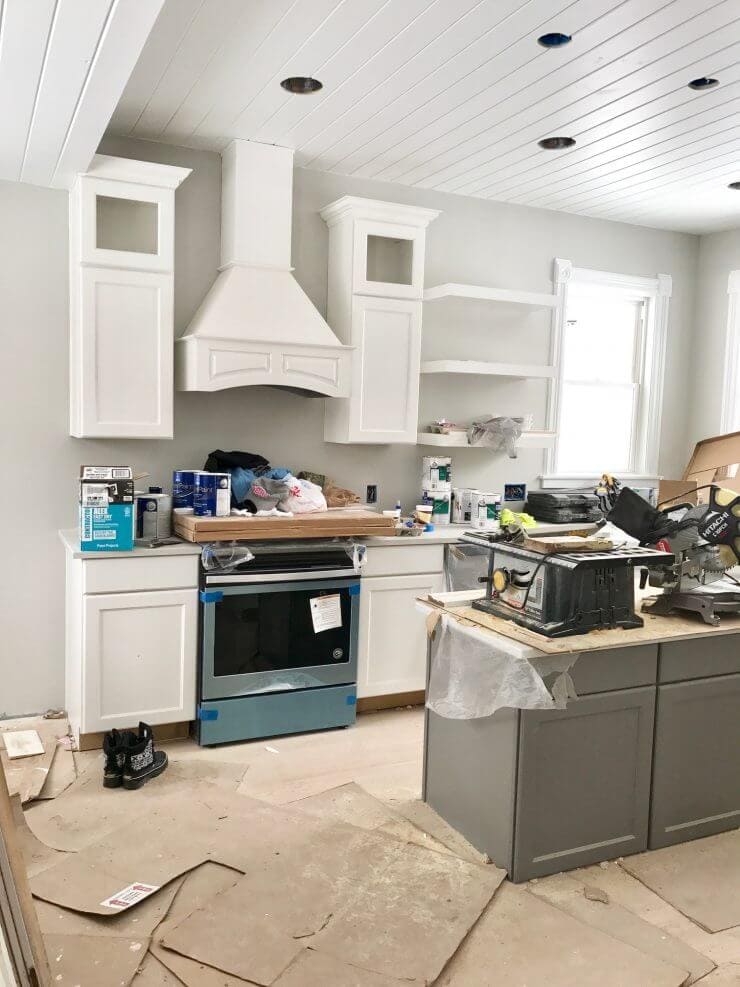 I can't wait to show you everything once it's completed! The floors are getting sanded and being stained the week after Christmas, so I'm crossing my fingers Mike and his painting crew (who are awesome!) will be able to finish the majority this week. There will still be a lot of touch ups and more cosmetic stuff (like hanging bathroom mirrors, etc) after the floors are done… but then we really will be finished! WOO HOO!
Hoping I'll have some finished photos to show you after the New Year! Thanks for following along on this journey. It sure has been a crazy fun ride!