Fixer Upper Bathroom Before and Afters
Fixer Upper Bathroom Before and Afters… fixer upper style bathroom makeover with clawfoot tub, watery paint color and sliding barn door.
Super excited to share the before and after photos from our Fixer Upper bathroom. Last month I shared the upstairs black and white bathroom and this bathroom is another one of my favorite rooms in the house. Sorry it's taken me so long to get the post written. Crazy what a little demo and paint can do to a room. I really love how it turned out.
My original plan was to do a marble tile and shiplap the entire bathroom, but once we ran into 100x issues (read the before posts if you're curious)… it was no longer in the budget. We also really wanted to keep the original baseboards and wood floors but when it came time to demo, they really weren't salvageable in this room. Luckily we could save the gorgeous door and wood trim around the windows. So while the plans I had for this room didn't quite come together as planned, I still love how it turned out. If this is your first time here you can see my first post on it here , the demo post here, the progress post here and paint colors here.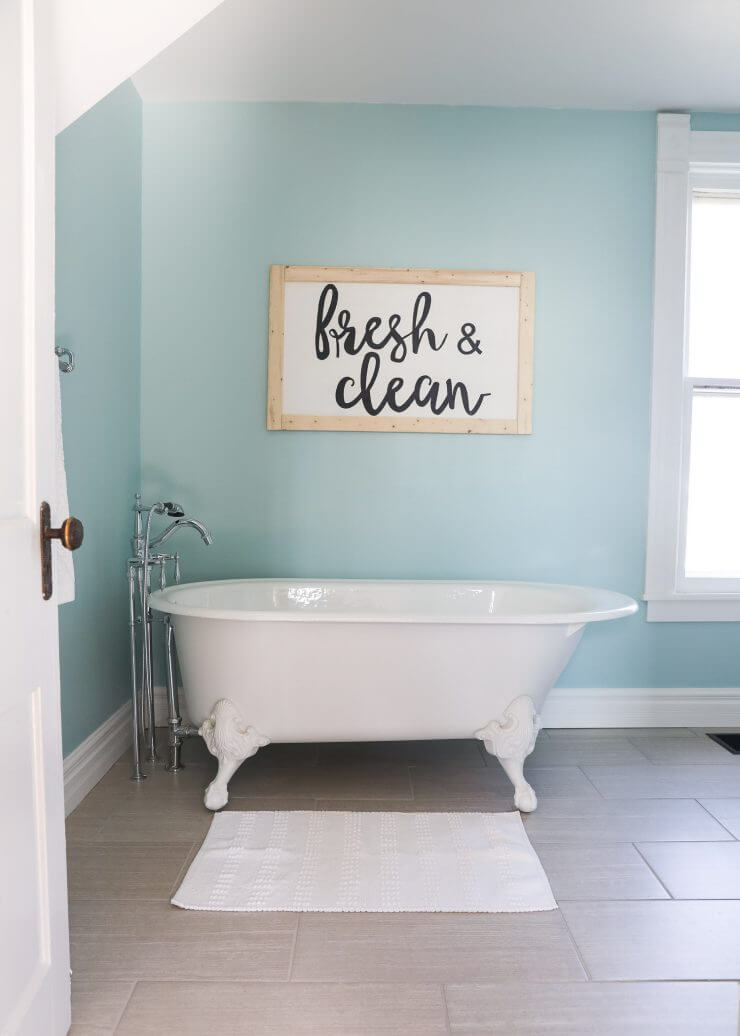 If you remember the before photos, itt was so crowded in that space and there was way too much going on. The floors were also rotting, so we had to take all that beautiful wood out. 🙁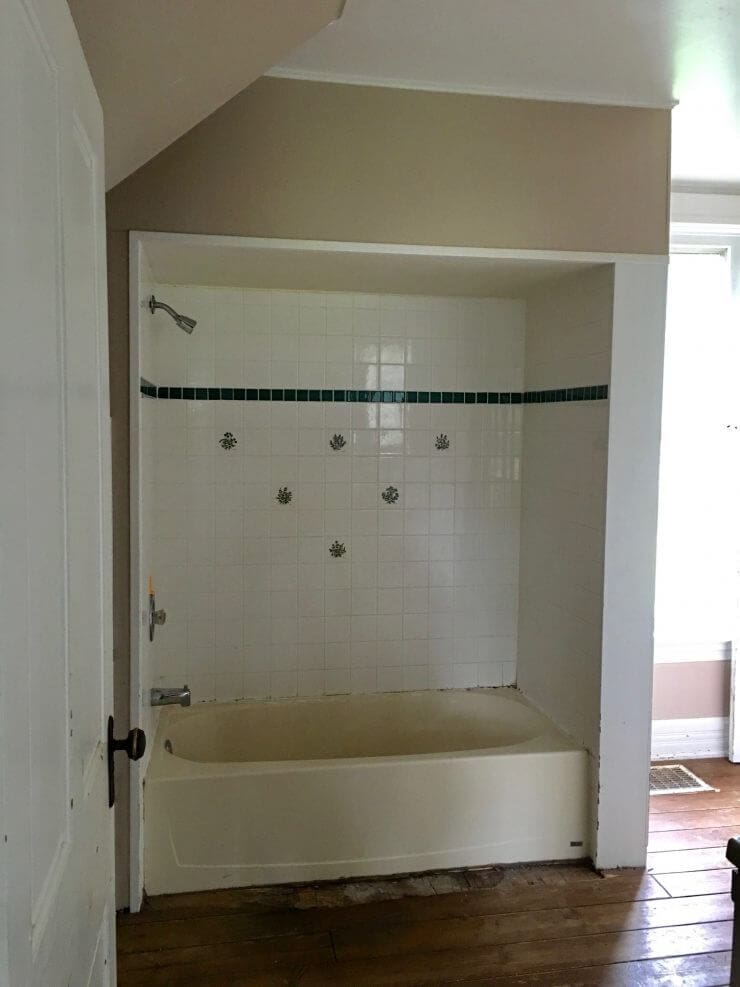 On the other side, it was even more crowded. The sink was so tiny and the laundry closet stuck out to wear you could barely get to the toilet. I knew it all had to go. So my husband basically gutted the entire bathroom (rock star status) and then we had that tiny hall space that lead into the next room turned into the laundry. It really opened up the space.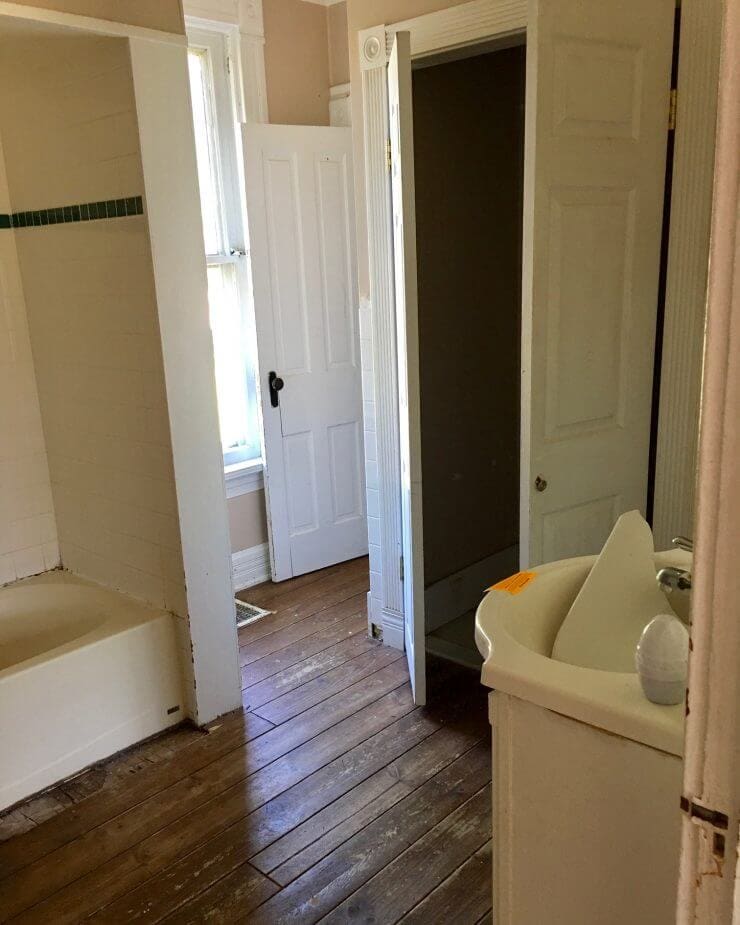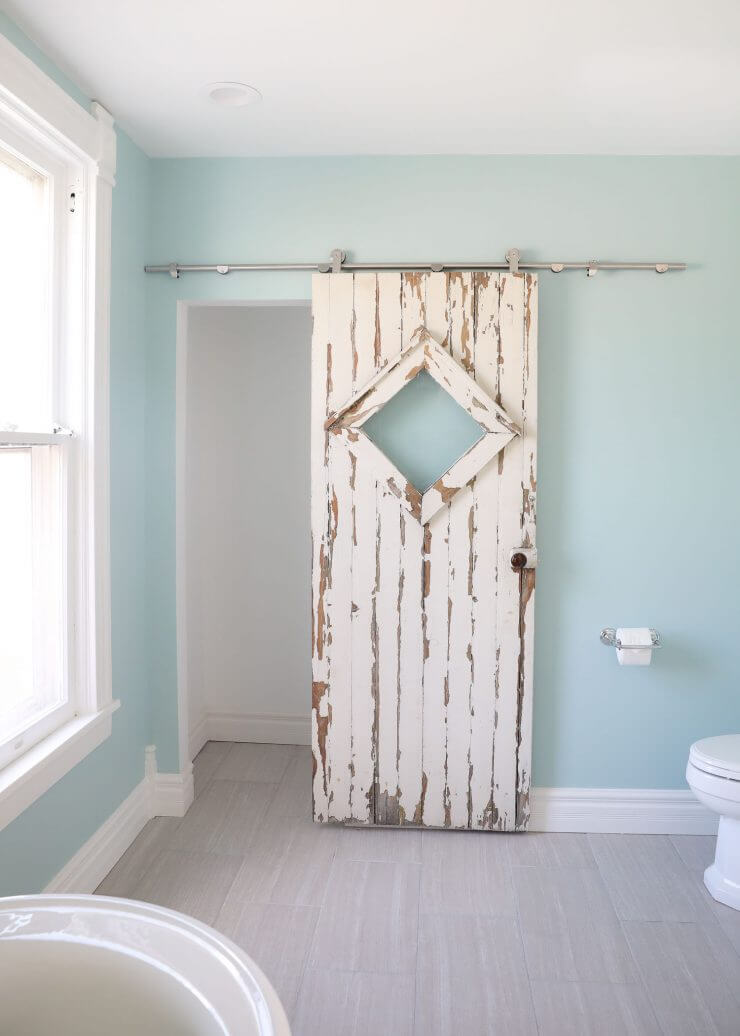 Once that back closet and tub were gone, I felt like I could breath again. SO much better! Everything was re-drywalled and painted by the professionals. We salvaged this barn door (obsessed) from an old shed in the back, that we had to tear down. I knew I wanted to use it somewhere in the house and thought it would go perfect on this back wall to cover where the stackable laundry machine will go. I found the sliding hardware here. We had it professionally sealed to hold all the paint in. I really love the weathered look it has. It tells a story in this house that is over 125 years old, yet gives a modern farmhouse vibe as well.
Ah, so much more fresh, clean and OPEN! Also, I could just die over this claw foot tub. Seriously so dreamy. We found it at Kohler and I pretty much am obsessed with it!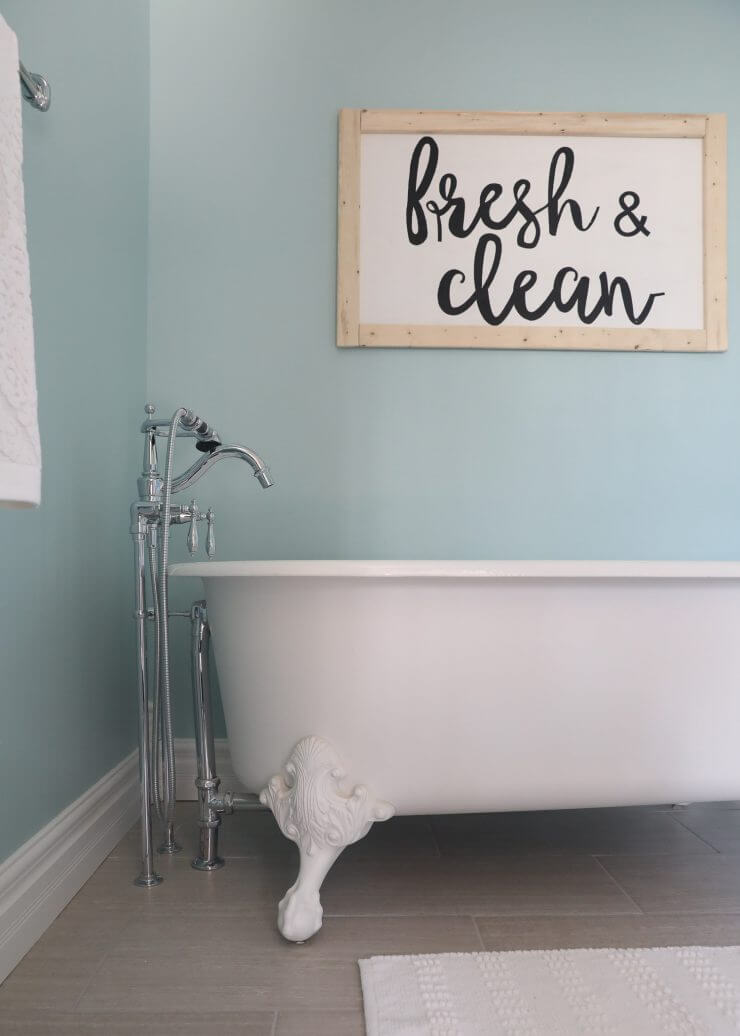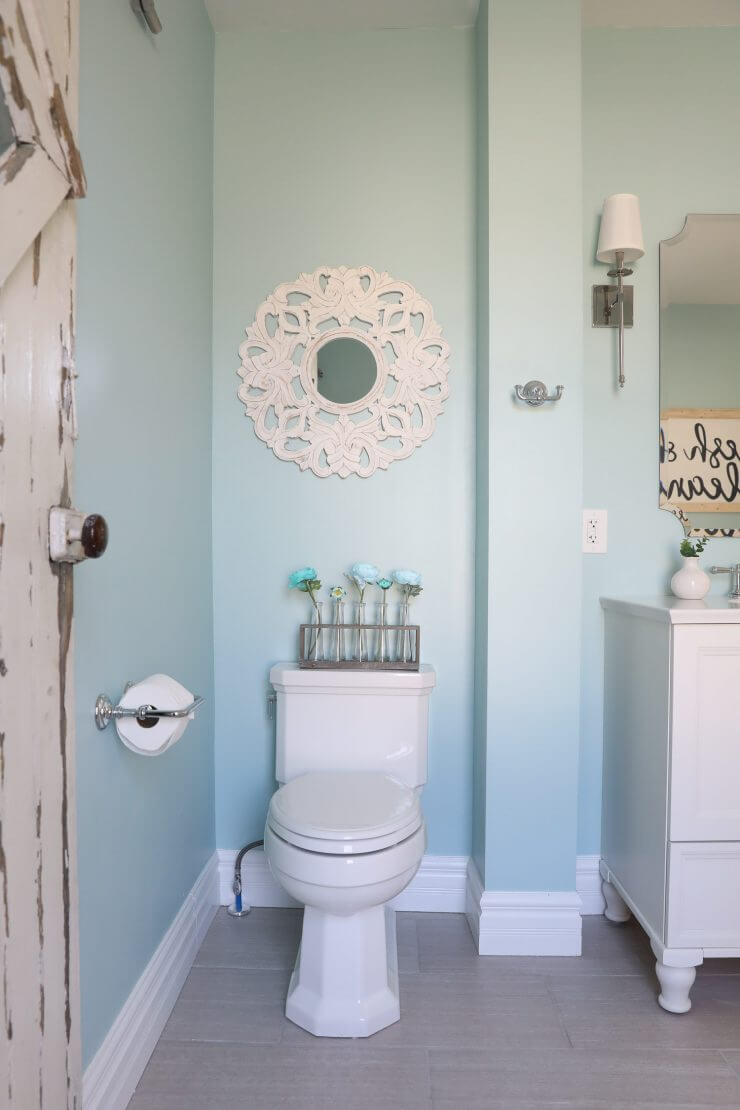 On the right of that pole is where the toilet and sink were before, so now we were able to put in a much bigger vanity (with storage) and the toilet could have it's own space.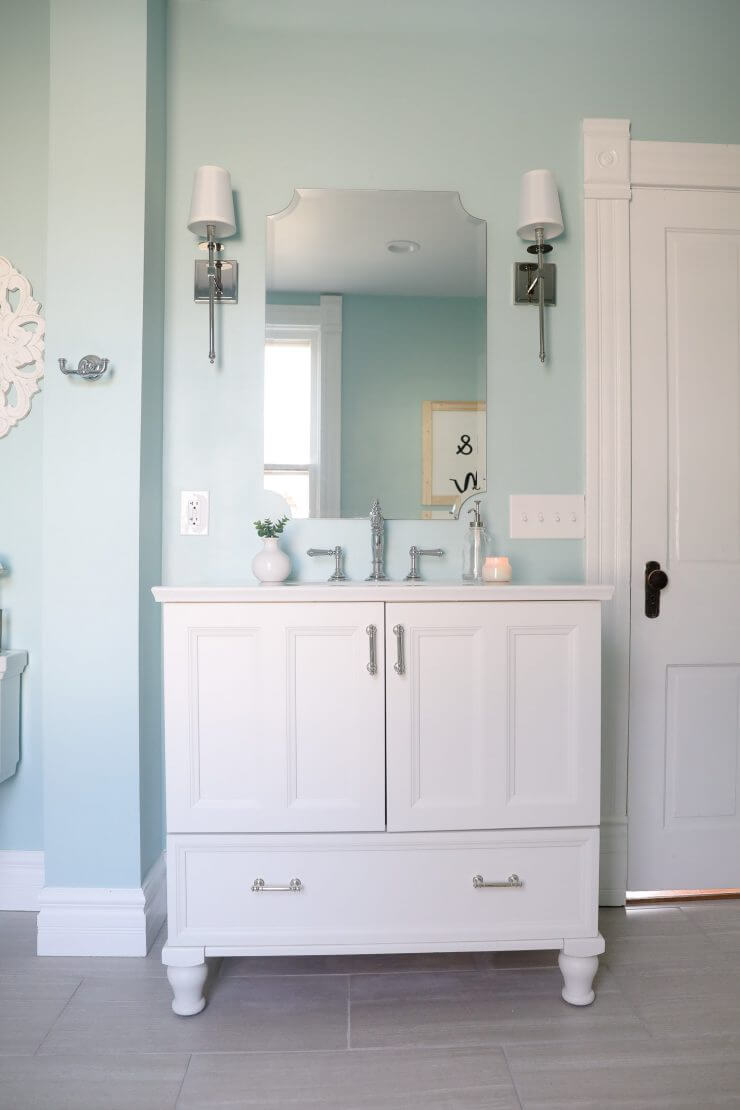 We also had this mirror put up, the two sconces on the sides and canned lights in the ceiling. So much more light!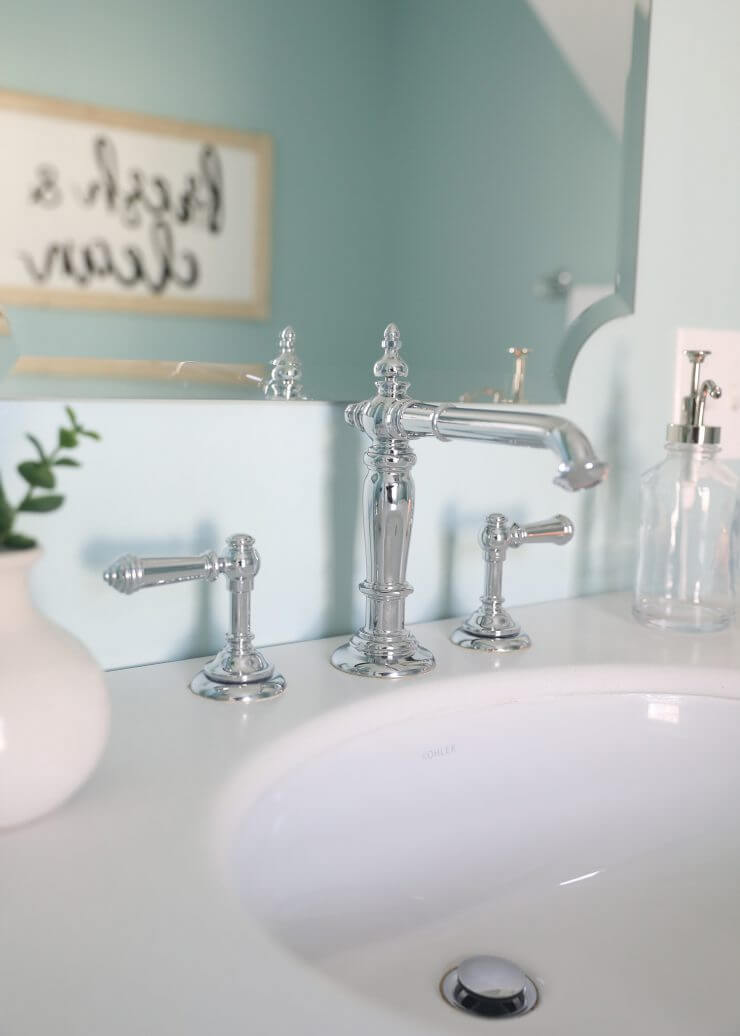 We went with chrome fixtures in this bathroom and I'm really loving this shiny faucet. It sparkles in the sunlight.

I made this 'fresh and clean' sign to go over the tub and will share the tutorial next week! It was super easy and inexpensive to make.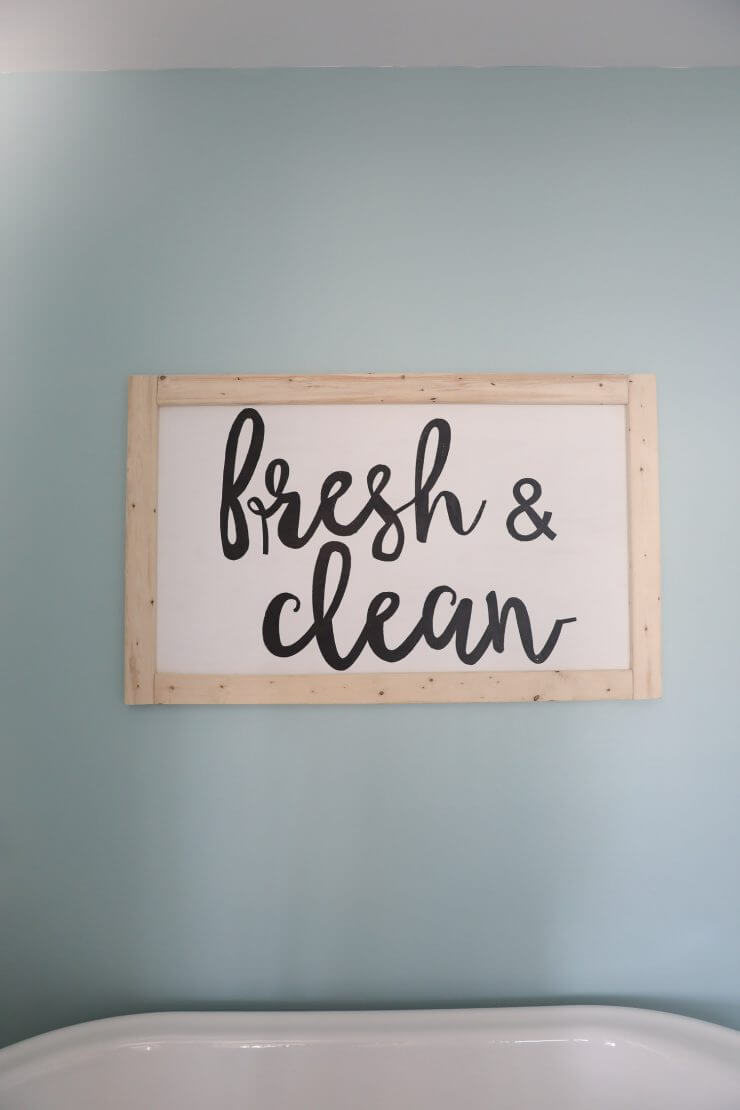 Fixer Upper Bathroom Sources:
Clawfoot tub, vanity, faucet, toilet and towel holders: Kohler
Paint color: Watery from Sherwin Williams
Mirror (ps-it's half off right now)
Flower holders: Magnolia Market
Rug, soap dispenser and towels: Target
More posts from our 1888 FIXER UPER:
If you have any questions, feel free to leave them in the comments 🙂