How to paint a rug + chest turned coffee table!
I'm SO excited to finally share my living room makeover with you today! In this post I'm going to show you how to make rugs with a little paint and also how to turn an old chest into a coffee table. It's amazing what a little color can do to change the whole feel of a room. The blue rug and pillows really brightened up the entire area.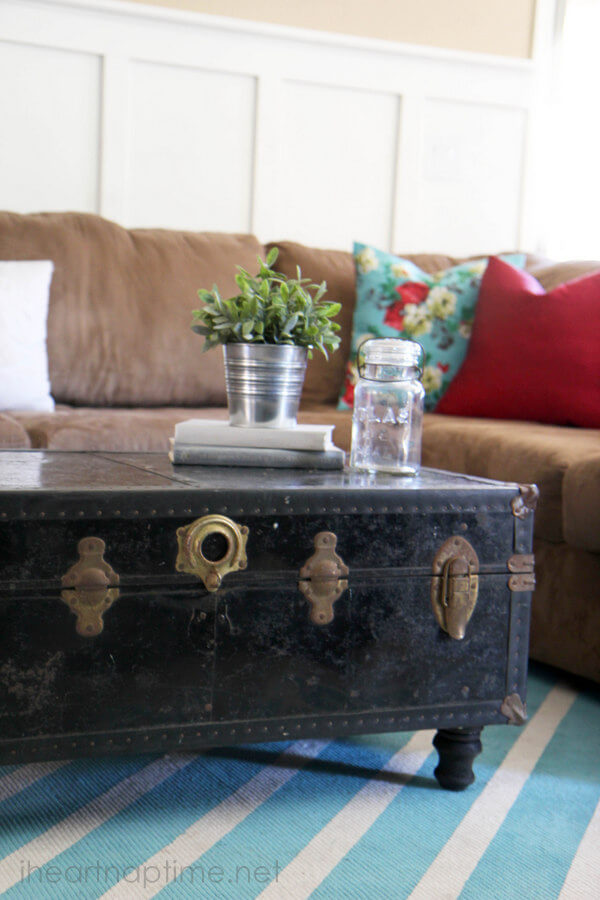 I've been looking for the perfect rug for… I don't know… YEARS! I have searched and searched and could never find what I was looking for. I finally decided to make my own rug to get the exact look I wanted. I've seen friends paint some really neat rugs and was excited for the challenge. I absolutely love the pop this rug added to my living room.
How to make rugs with paint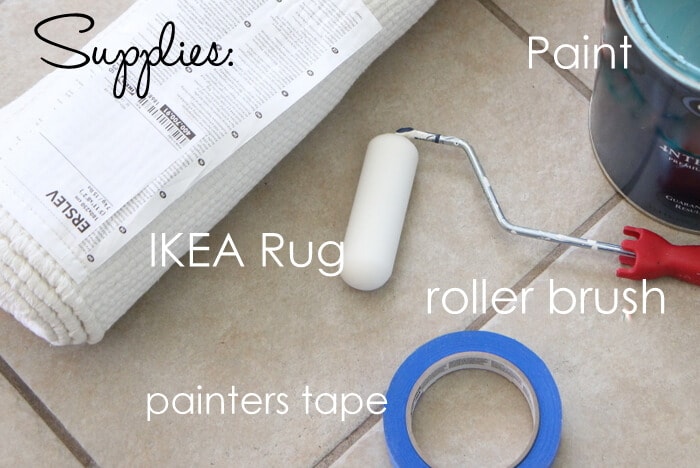 Supplies:
Rug (I purchased the ERSLEV rug from IKEA for $60)
Paint (I used robin eggs blue in satin)
Painters tape or stencil
Roller brush
Measuring tape
Lazer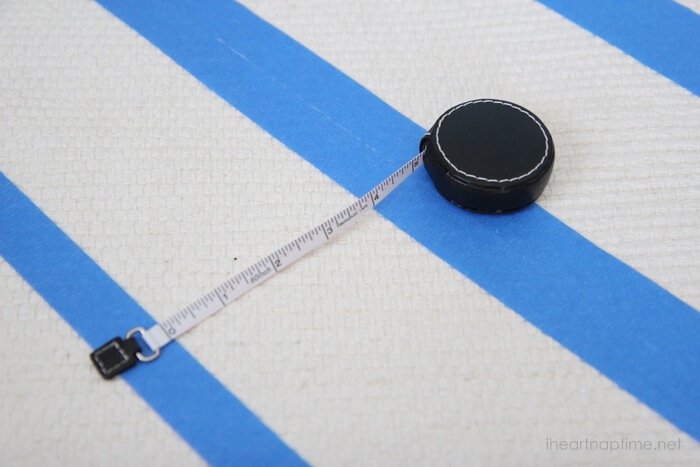 The first thing you'll want to do is decide on your design. I find it easiest to draw it out on a piece of paper, so you can figure out the measurements. I'm not going to lie… I had my husband help me. The angles are a bit tricky with the diagonal stripes. I ended up spacing my stripes every four inches. Then I created a two inch spacer stripe with two pieces of tape. You could also use a stencil to make a neat design on a rug. The possibilities with patterns and colors are endless!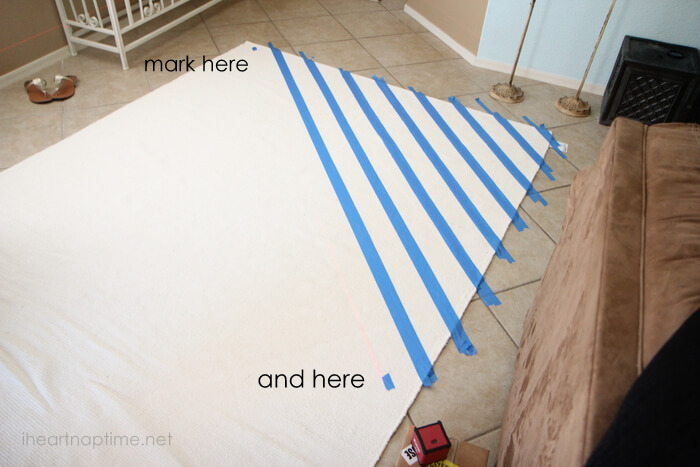 Taping is always the hardest part with any painting project. It probably took us 2 hours. Definitely GRAB A PARTNER to help you! We figured the best way to do the diagonal stripes was to measure 4 inches at the top (then mark it with a piece of tape) and then measure 4 inches at the bottom. Then we lined up our laser to pass through point one and two.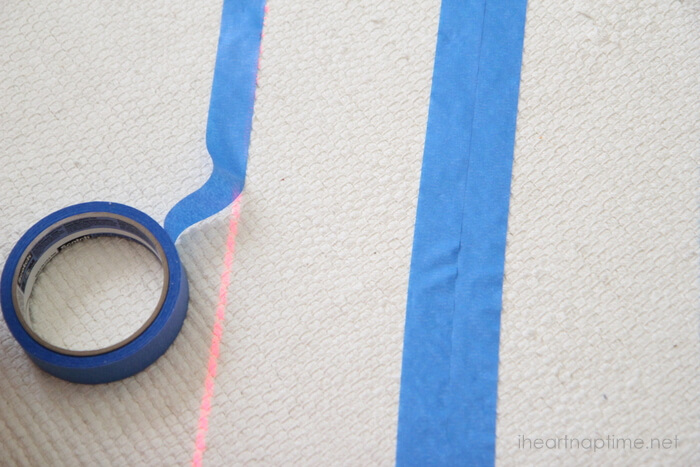 Then you'll place your tape down,following the straight laser line. I promise it's worth it to use the laser. 😉 Borrow one if you have to! I may have taped half of the rug when I realized my lines were crooked. That's when we went out and bought a laser!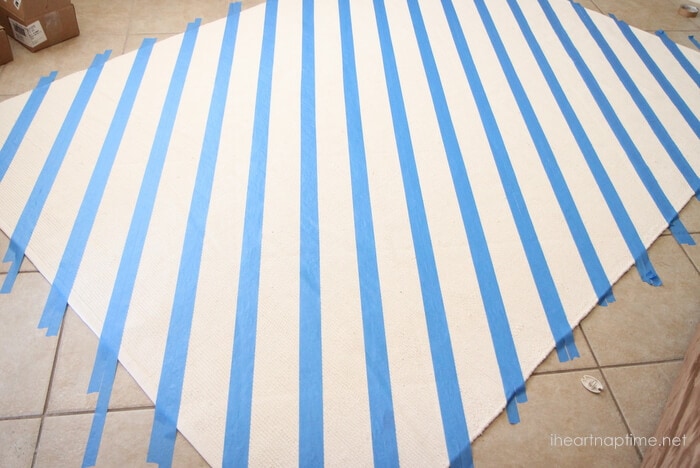 Once your tape is all down, make sure to go over the edges and push them down. You don't want any paint to leak through. I also ended up going around the outer edges with a piece of tape to create a finished look.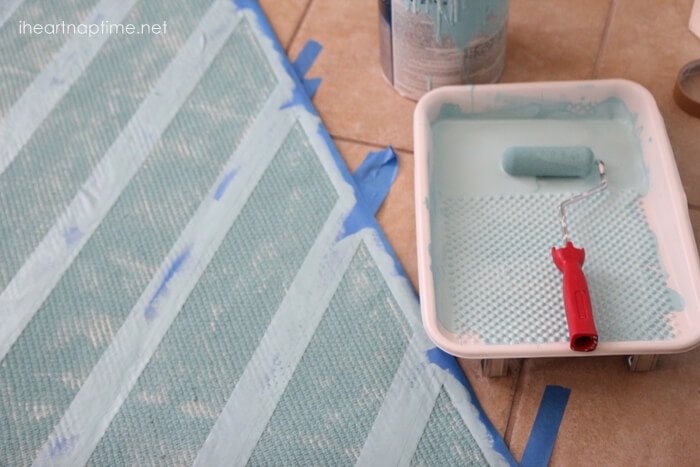 Painting is the easy part! Isn't it always? Just roll your brush in the paint and then onto the rug. I found it best if I placed the roller in the middle first and then rolled it to the edges. Make sure the first coat is dry before you do a second coat!
After you're done painting, carefully peel away the painters tape.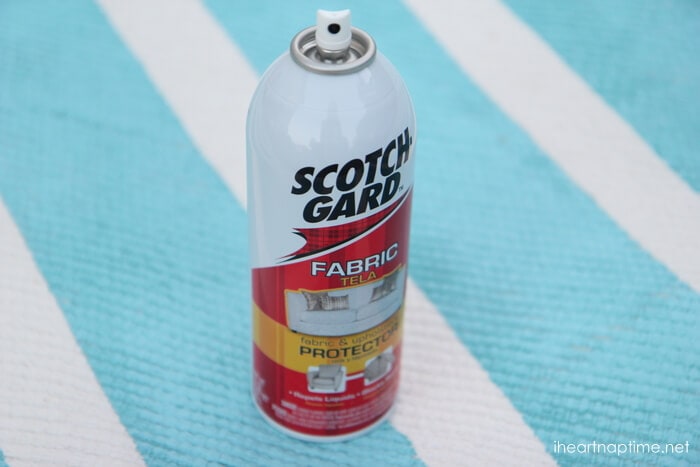 Once your rug is completely dry, make sure to protect it. Spray two coats of scotch guard for great protection.
Now onto the coffe table. Remember this old trunk I found at the junk yard? Here's what I did with it. 🙂
How to turn an old chest into a coffee table

1. Drill a hole near each corner (on the bottom of the trunk).
2. Stain or paint your wooden legs (found at Lowes).
3. Add a strong glue (we used gorilla glue) around the holes and then screw your legs into the chest.
4. Allow to dry for 24 hours before flipping it over.
I LOVE the vintage charm this chest brings to the room!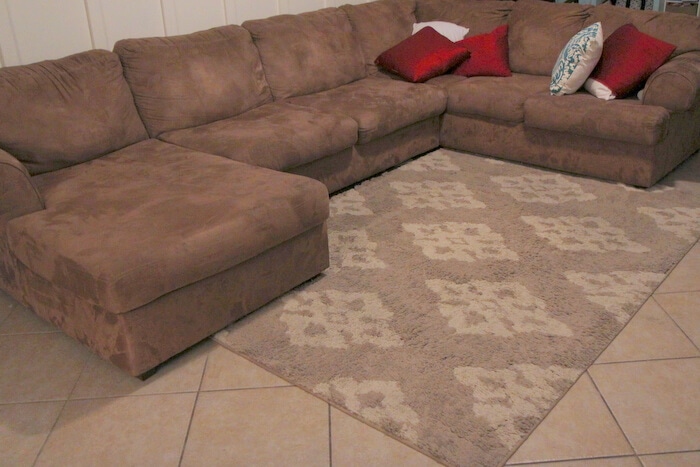 So here's the before (BLAH) and here's the AFTER…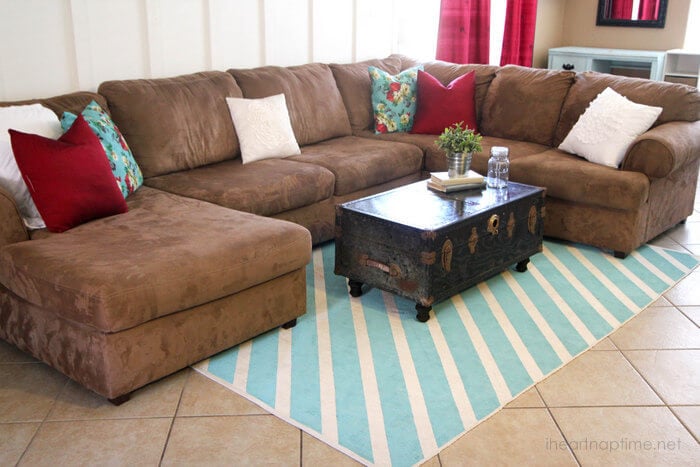 Doesn't it look SO much better? It's amazing what a new rug and pillows can do to a room! I'll share the pillow tutorial in the next week or so. 🙂