Fun Thanksgiving Activities for Kids
Fun Thanksgiving Activities for Kids…unique ideas that will help make this Thanksgiving extra special. Crafts, games, and activities that kids will love.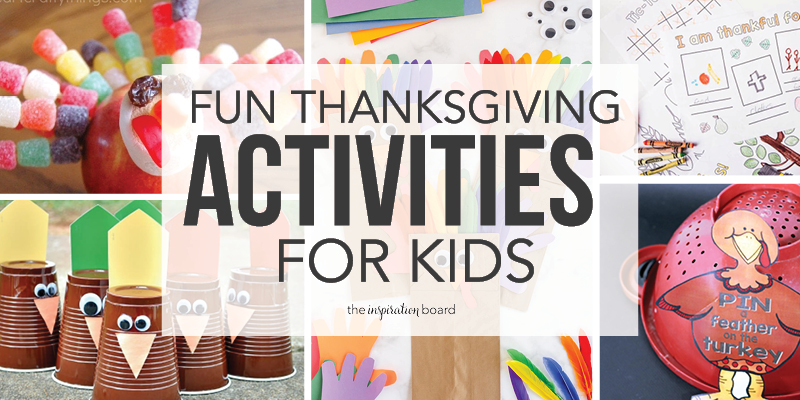 Thanksgiving Activities
Thanksgiving is a special time of the year when people come together to eat and give thanks for the many blessings in their lives. I have very fond memories of celebrating thanksgiving with my own family. One tradition that we had was to designate a table just for the kids. This table often had coloring pages and other activities to keep the kiddos busy while the adults reminisced on old memories. Trust me, preparing a few activities for kids on Thanksgiving is always a good idea!
Thanksgiving-themed crafts, games, and activities can also be a lot of fun to do throughout the month of November. Kids love a good activity, especially on those days when it's too cold to play outside. Below I have compiled for you 20 fabulous Thanksgiving-inspired activities for your kiddos. I hope that with these ideas you can create many wonderful memories for yourself and the little ones in your life!
Playdough Turkey
A playdough turkey station is so much fun and kids absolutely love it! All you need is a pack of playdough, some colorful feathers, googly eyes, and a paper beak!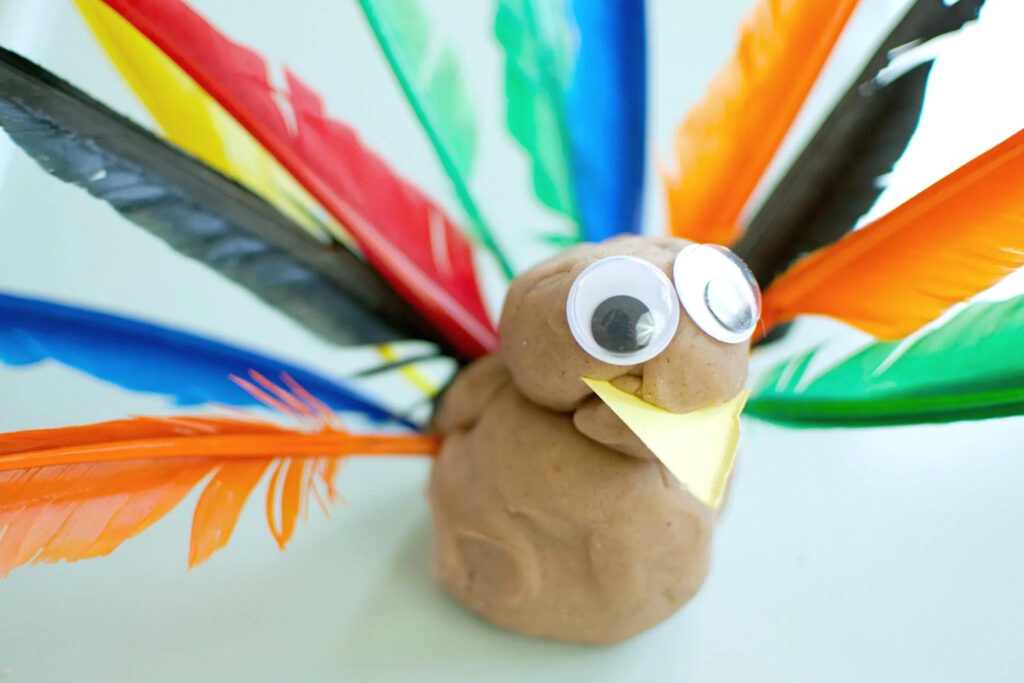 Playdough Turkey via Entertain Your Toddler
Painted Pinecone Turkeys
I love this painted pinecone turkey craft because it is so affordable. You can go find a pinecone outside to paint. And look at that cute face!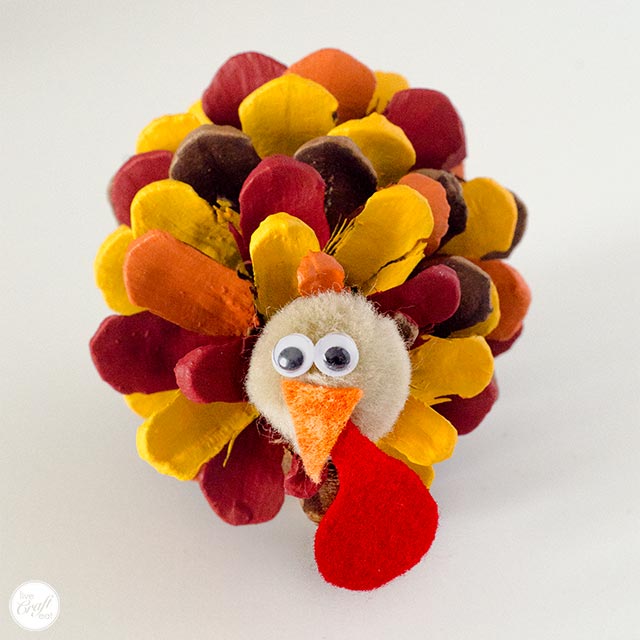 Painted Pinecone Turkeys: Thanksgiving Craft for Kids via Live Craft Eat
Coffee Filter Turkeys
Coffee Filters are the base of many crafts because of how gorgeous they look when you add color and water. These fabulous Thanksgiving turkeys are no exception!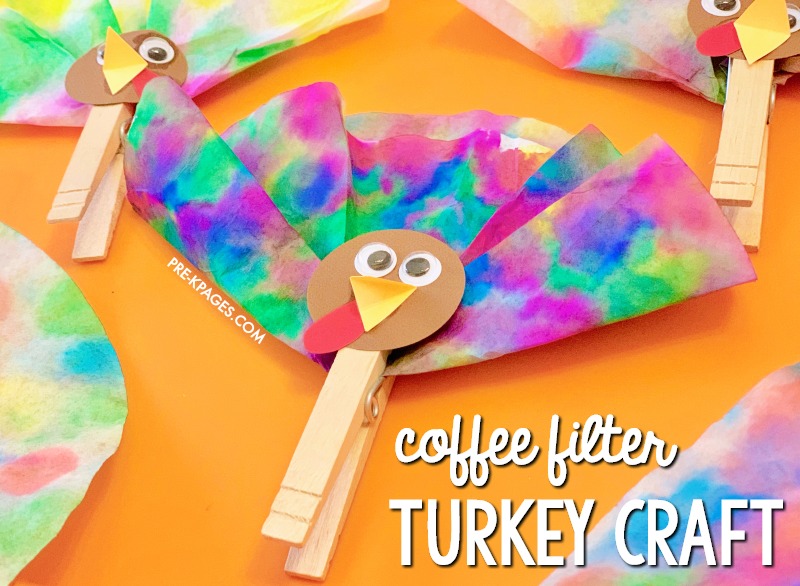 Easy Thanksgiving Crafts for Kids: Coffee Filter Turkeys via Pre-K Pages
Paper Turkey Craft
This paper turkey craft is very simple. All you need is paper, scissors, glue, and some coloring supplies! They even have a free turkey template you can print out.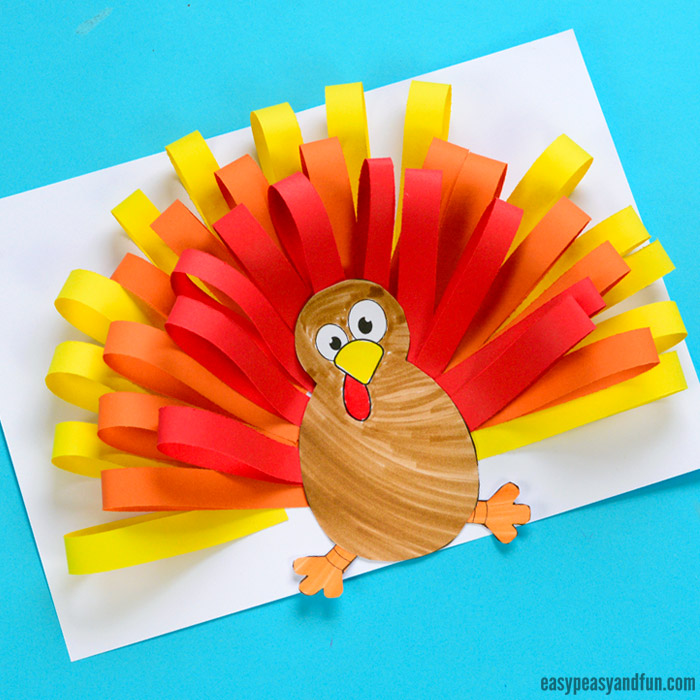 Paper Turkey Craft via Easy Peasy and Fun
Sponge Painted Turkey
Painting with a sponge is so much fun and it leaves such a cool pattern on paper. Kids will love dabbing their sponges to create their own unique designs.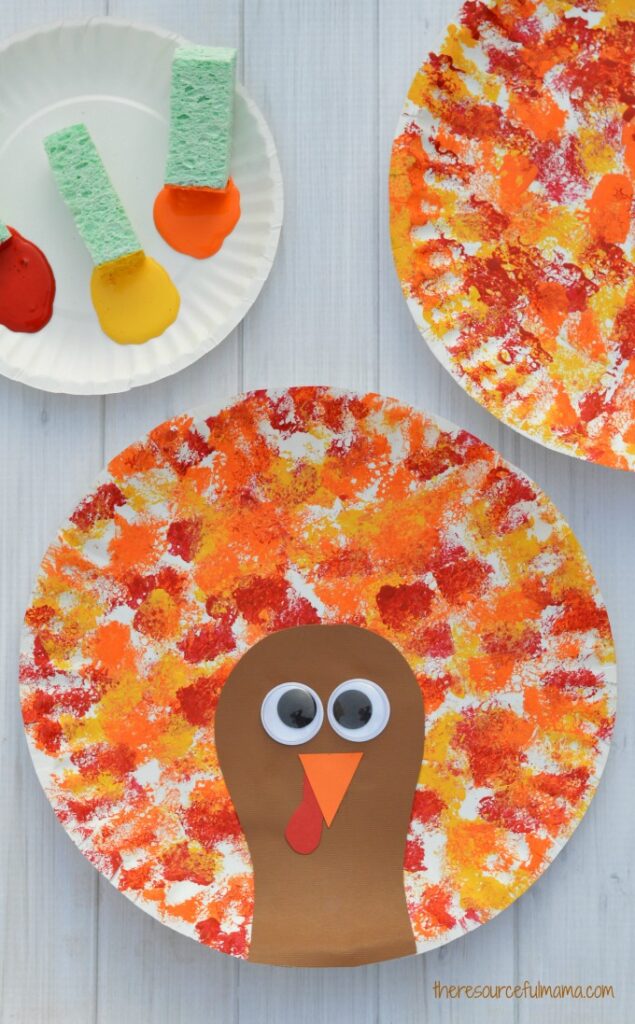 Sponge Painted Thanksgiving Turkey Craft via The Resourceful Mama
Fine Motor Turkey
A lot of parents today are focused on finding fine motor activities for their children and for good reason! This fine motor turkey will enhance children's cognitive skills while creating an afternoon of fun.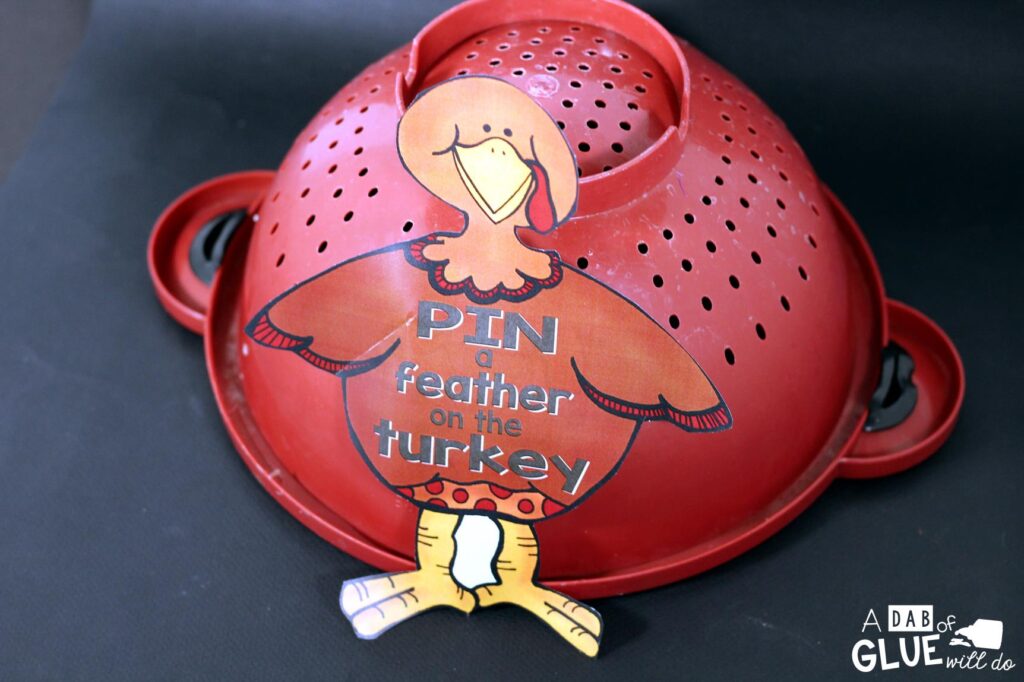 Fine Motor Turkey via A Dab of Glue Will Do
Stuff the Turkey Game
How creative is this?! This game is hilarious, easy to put together, and so darn cute! The entire family will love this one.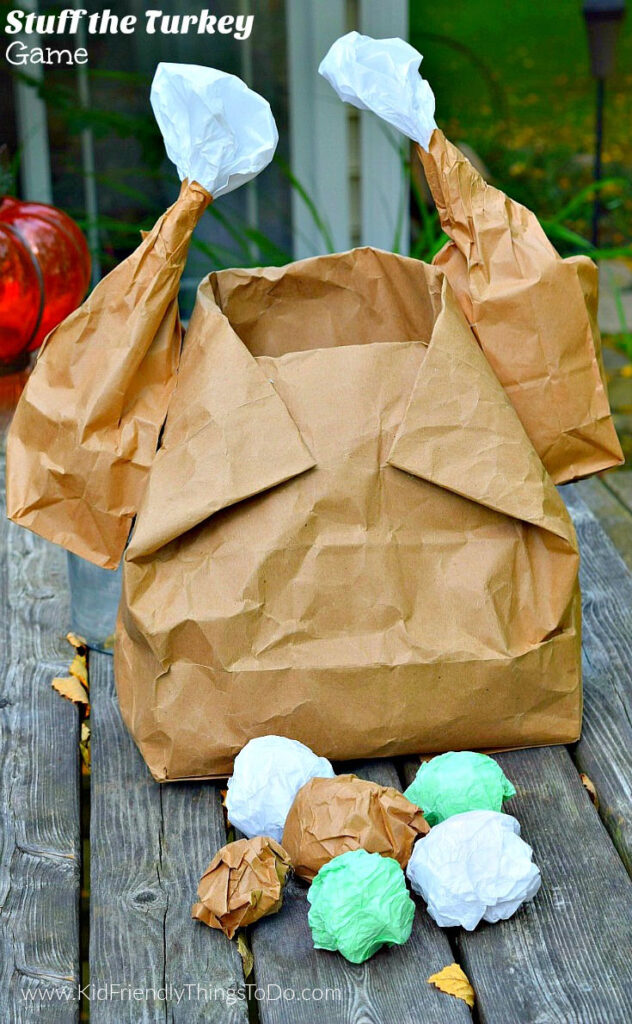 Stuff the Turkey Thanksgiving Game for Kids via Kid Friendly Things to Do
I Spy
I have always been a lover of the game I spy and this Thanksgiving version is just so darling! For extra charm place a copy on each place setting on Thanksgiving. Guests will love it!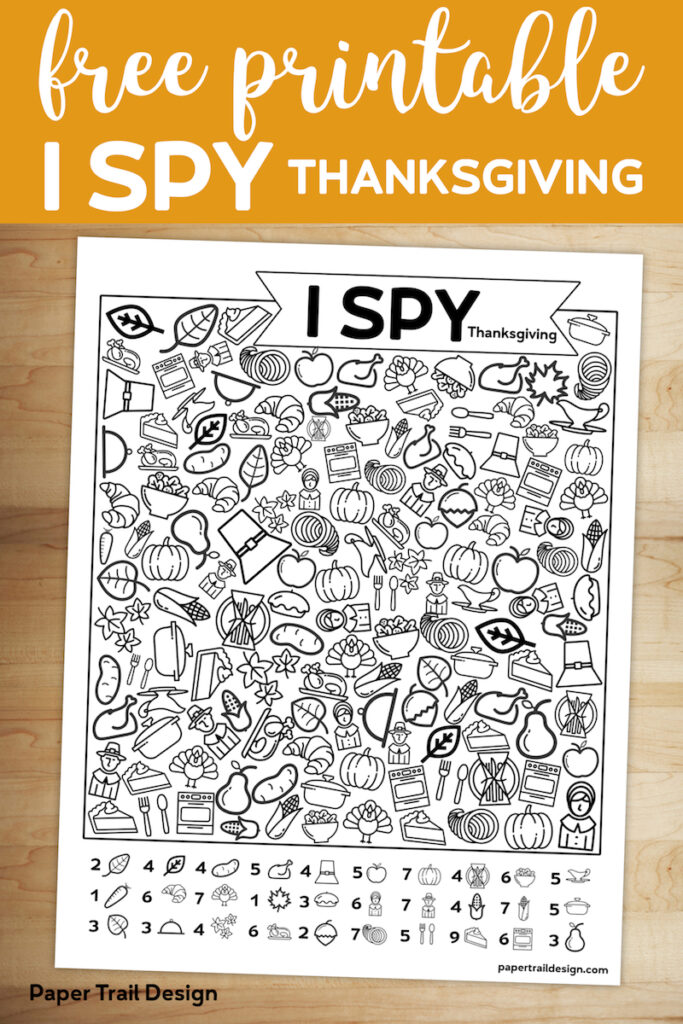 Free Printable I Spy Thanksgiving Day Activity via Paper Trail Design
Turkey Haircuts
If you got a kiddo that loves using scissors then this one is for you! By the end of this activity, these turkeys will have some pretty wacky and creative hairstyles.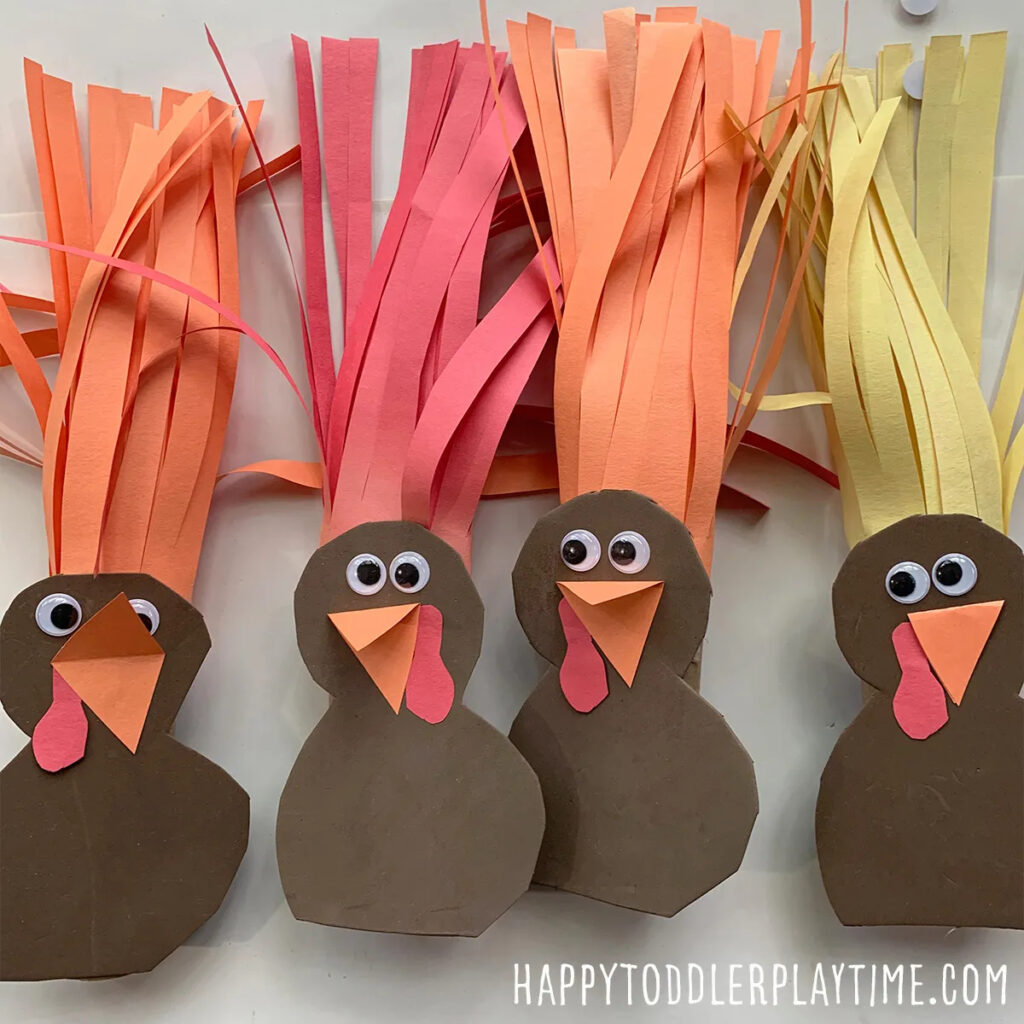 Turkey Haircuts: Thanksgiving Cutting Activity via Happy Toddler Playtime
Turkey Balloon Rocket
Taping turkeys onto balloons as they race each other is just too much fun! This is a simple activity to set up and trust me everyone will love it.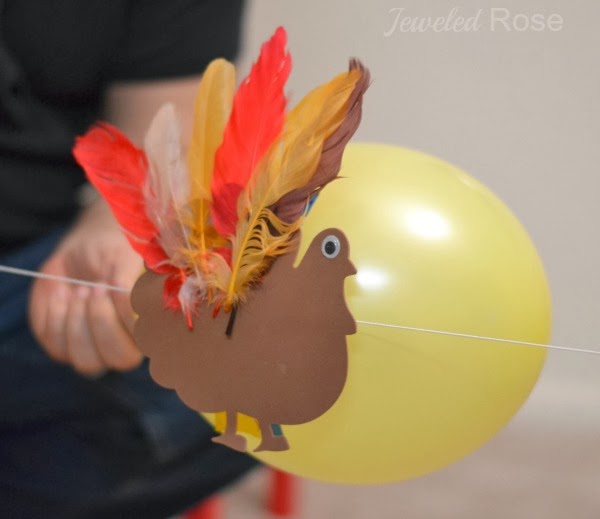 Turkey Balloon Rockets via Growing A Jeweled Rose
Scavenger Hunt
Scavenger hunts are so much fun to do on Thanksgiving. All of these boxes are easy enough for kids to find. I especially love the someone sleeping box!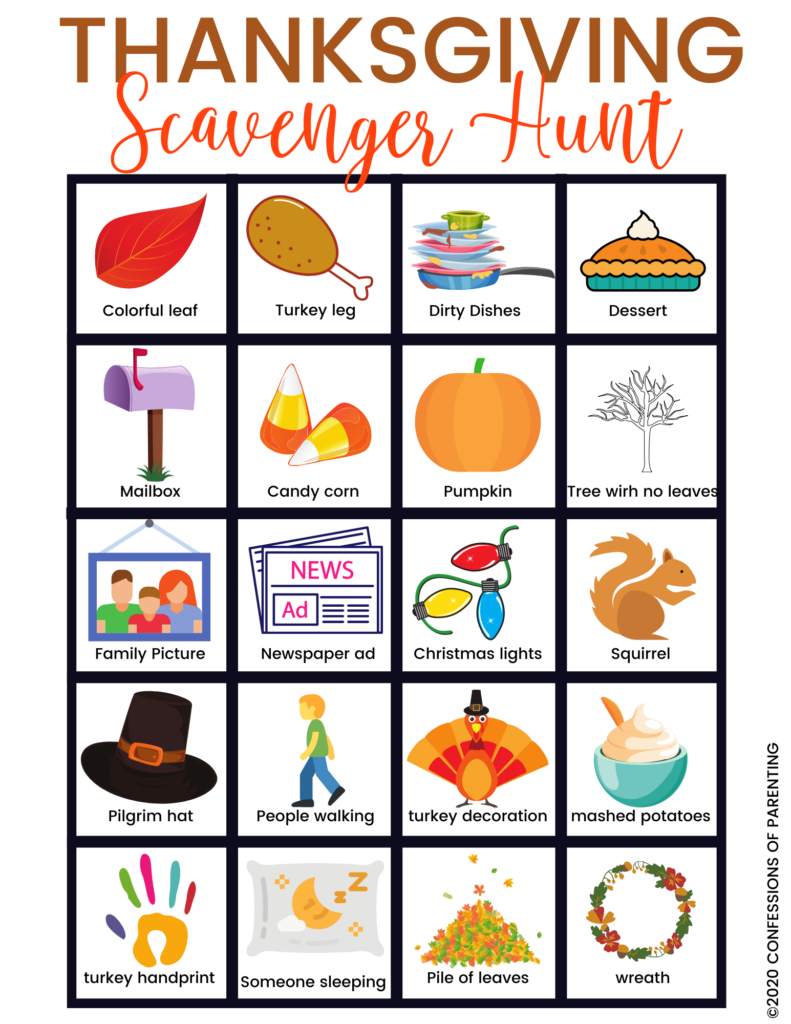 FREE Thanksgiving Scavenger Hunt for Kids via Confessions of Parenting
Paper Bag Turkey
These paper bag turkeys are vibrant and breathtaking! Decorating paper bags is a classic tradition and I really love how these look.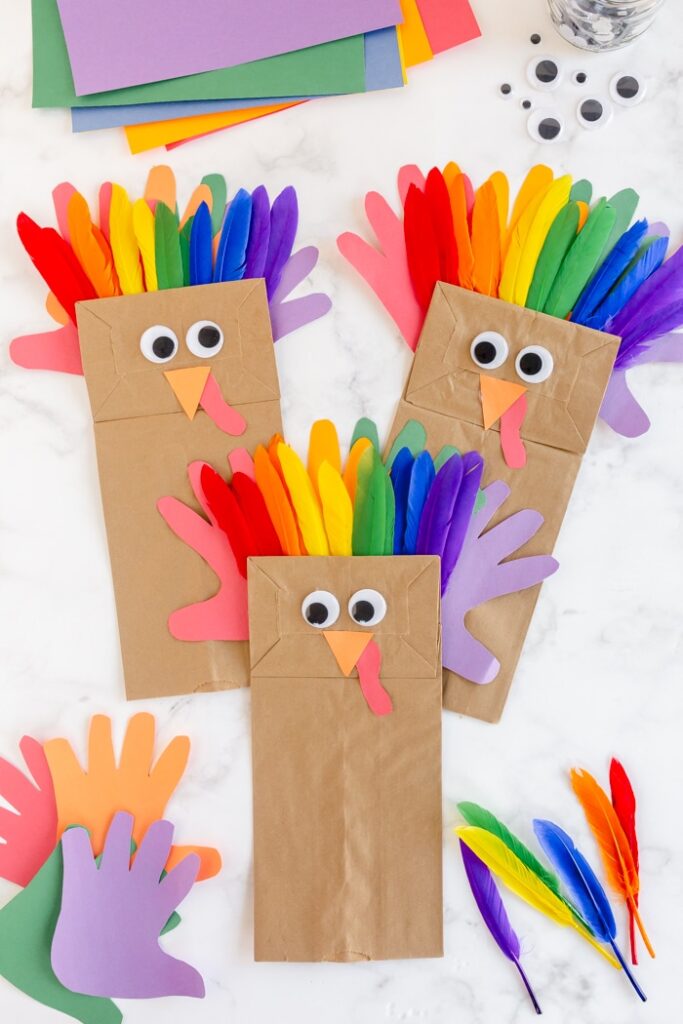 Paper Bag Turkey Craft via Made to Be a Momma
Turkey Donuts
These adorable turkey donuts are the perfect way to help kids stay busy and have fun while grownups catch up. Plus, they look so darn delicious!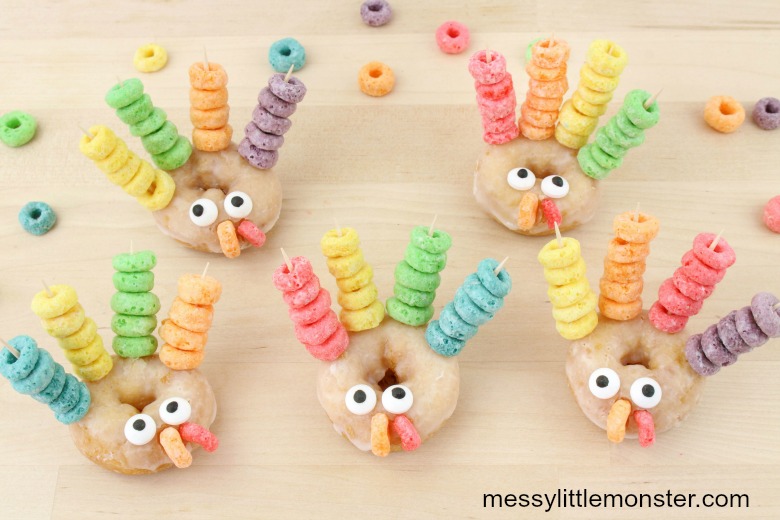 Turkey Donuts Thanksgiving Treats for Kids via Messy Little Monster
Coloring Pages
Placing these coloring pages at the kid's table on Thanksgiving is such a cute detail and kids will absolutely love it. Don't forget the crayons!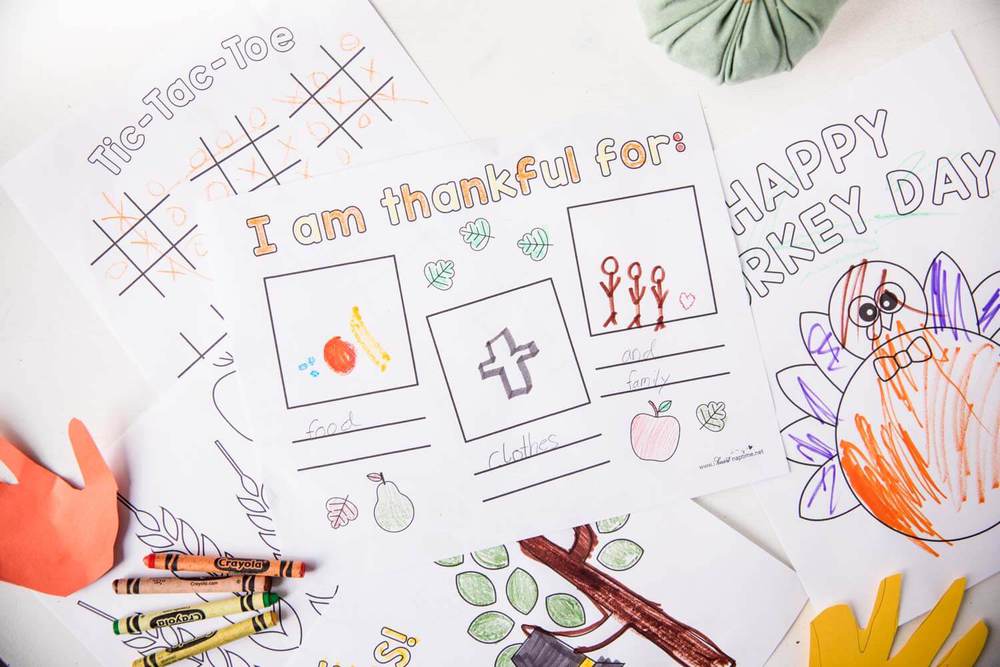 FREE Thanksgiving Coloring Pages
Apple Turkeys
These apple turkeys will definitely be a hit with everyone! Kids will love using candy to decorate their very own Thanksgiving turkey.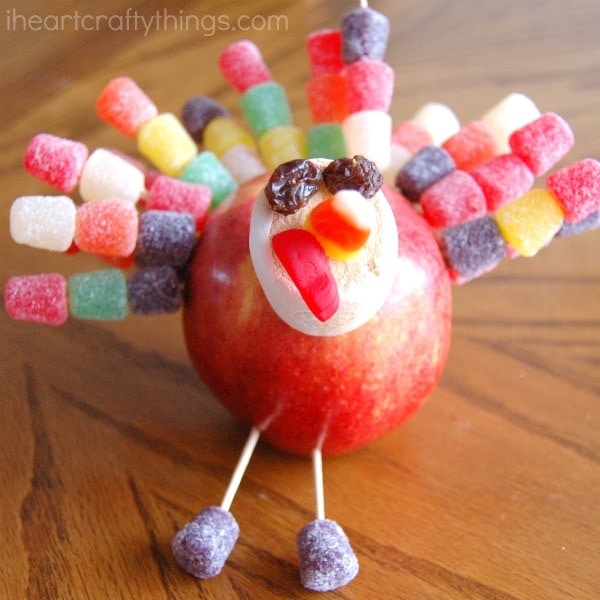 Thanksgiving Apple Turkey Craft via IHearrtCraftyThings
Turkey Tape Art
If your kiddos love art then this Turkey tape activity is perfect! Simply get a piece of cardboard and section it off with painter's tape for this fabulous effect.
Turkey Tape Resist Art Activity via Busy Toddler
Turkey Bowling
You may have seen bowling done with plastic cups, but I bet you've never seen turkey cups! This adorable game is a great way to celebrate the holiday.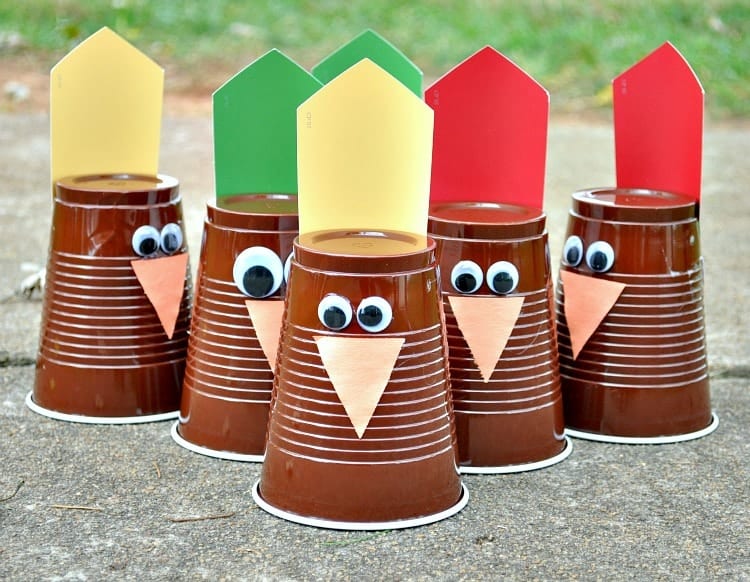 Thanksgiving Game: Turkey Bowling via The Seasoned Mom
Turkey Headband
It isn't a secret that kids love putting things on their heads to wear around. These turkey headbands are easy to make and so cute!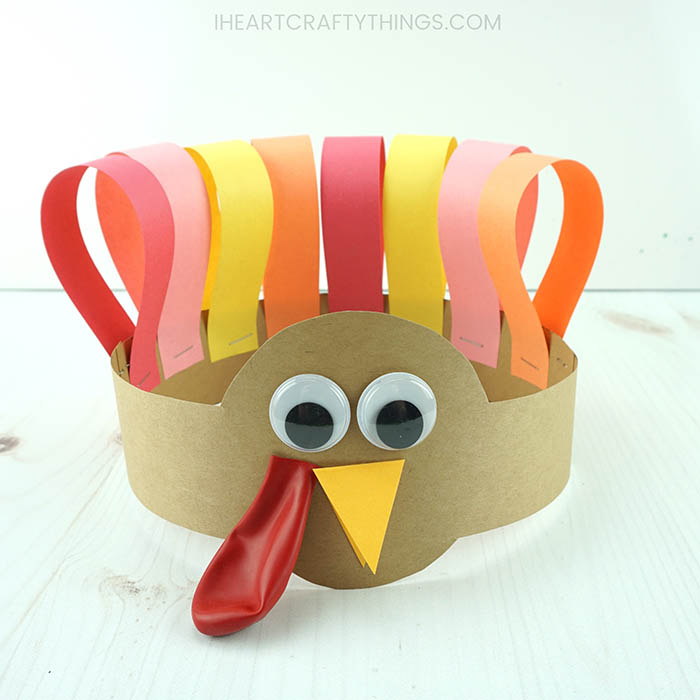 Turkey Headband Thanksgiving Craft via I HeartCraftyThings
Trivia
Trivia is one game that everyone can enjoy. This darling printable has questions from what year the first Thanksgiving was celebrated to how much the heaviest turkey weighed!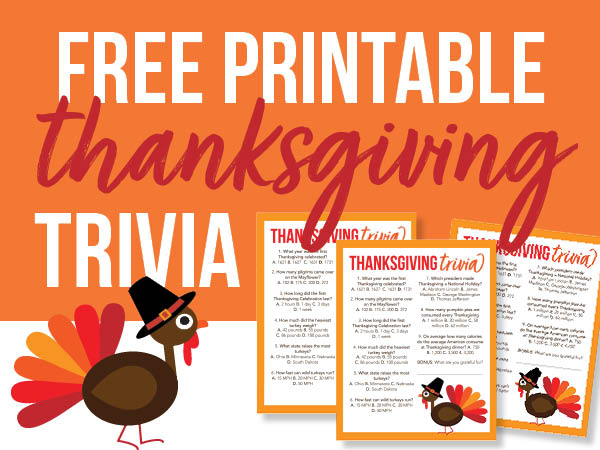 Thanksgiving Trivia (FREE Printable)
Thankful Tree
Help kids recognize just how blessed they are by setting up a Thankful tree activity. This is cute enough that it can even be framed!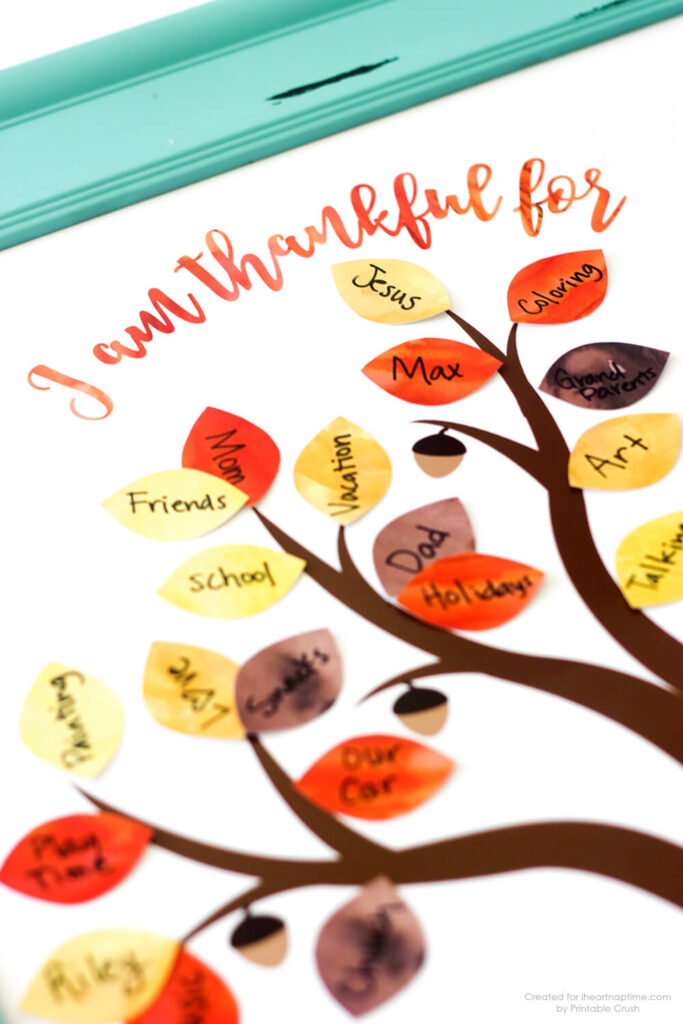 FREE Thanksgiving Thankful Tree Printable
More Thanksgiving Fun