I love cleaning with Baking Soda. I always keep about 10 boxes in my home…for back up. I never want to run out because I use it ALL the time. There's almost nothing Baking Soda can't do. It tackles most cleaning jobs in the home. Not to mention I use it in baking almost every day. 😉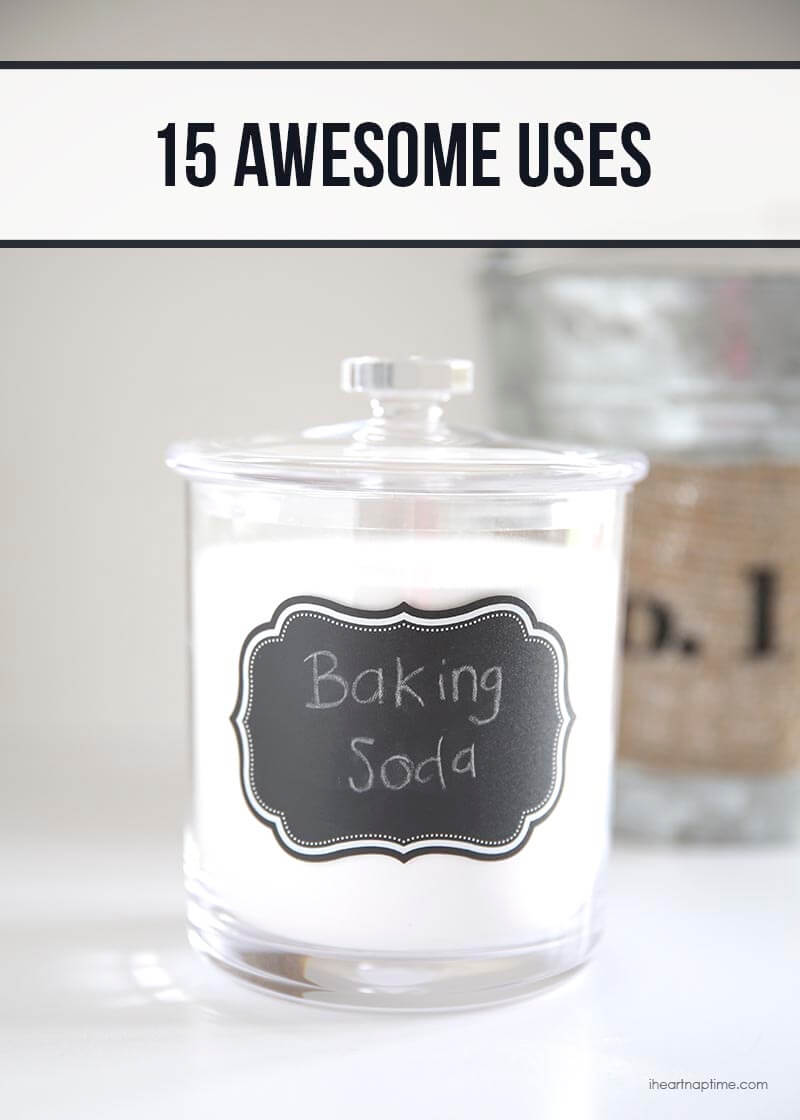 Last week I made this cute little jar to store my Baking Soda in. I found these chalkboard labels at Staples and the jar at The Container Store.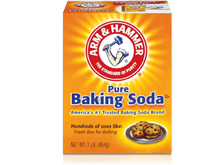 15 uses for baking soda
CLEAN BRUSHES – Soak hair brushes and combs in a mixture of 1 teaspoon baking soda and a small amount of warm water. It will help remove natural build-up. Rinse and dry.
CLEAN TOYS -Fill a sink up with warm water and add 1/8 cup of baking soda. Wash and rinse off  toys.
BATH SOAK- Add 1/2 cup of Baking soda to your bath for a relaxing and refreshing soak.
SUNBURN PAIN- Saturate a washcloth with a solution of 4 TB of Baking Soda in 1 quart of water. Apply to affected area.
SEPTIC CARE- Add 1 cup of Baking Soda in your drains to keep your septic system flowing freely.
LAUNDRY BOOSTER – Add 1/2 cup of Baking soda to your laundry to make liquid detergent work harder for you. A better balance of pH in the wash will get the clothes cleaner, fresher and brighter!
CLEAN FURNITURE- Add a little bit of Baking Soda to a damp sponge and lightly rub onto furniture. This will remove marks (even crayon!)
CARPET ODOR- Sprinkle Baking Soda directly on carpets and wait 15 minutes before vacuuming. This will help freshen your carpets and remove any odors.
FRIDGE- Keep your fridge smelling good by keeping a box of baking soda in there.
VEGGIE SCRUB- Sprinkle a little Baking Soda onto your produce, scrub and rinse. This is a safe way to clean dirt and residue off fresh fruit and vegetables.
SILVER POLISH- Make a paste with 3 parts Baking Soda and 1 part water. Rub onto silver with a clean cloth and rinse thoroughly and dry.
CLEAN PANS-  Simmer water and baking soda in a pan to remove burned food from a pan.
DISHWASHER- Clean the dishwasher by running an empty cycle with Baking Soda.
KEEP FLOWERS FRESH- Add 1 tsp of Baking Soda to the water to keep your flowers alive longer.
GET RID OF ANTS – Mix one part baking soda and one part salt and sprinkle where there are ants.
Find even more uses in this awesome book "Household uses for Baking Soda."
So let's hear it …what's your favorite uses for Baking Soda? Did I miss any great tips?