30 back-to-school lunch box ideas
30 back-to-school lunch box ideas for your kids that are quick, easy and yummy!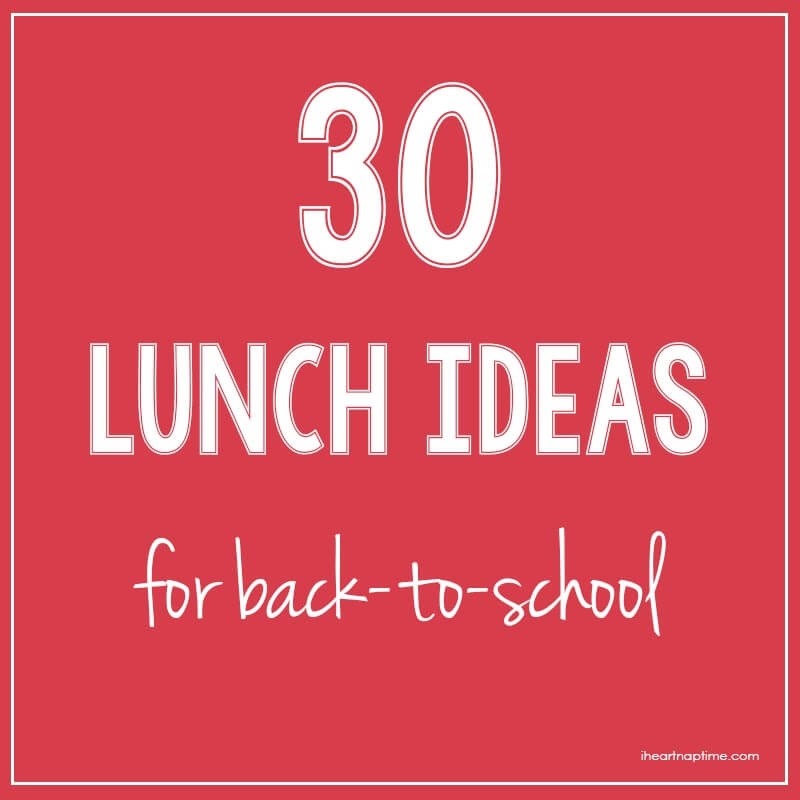 Today I thought it would be fun to share some easy lunch box and snack ideas. Let's be honest, sometimes it's hard to come up with new lunch ideas. If my son could eat PB&J every day for the rest of his life, he would be a happy camper. We will be most likely making sandwiches 2-3 times a week, but I thought I better try and mix things up on the other days. We usually eat a lot of hot meals at home, so I thought we'd try a cold version of some of them too. I've found it definitely helps when I let my son help pick what he wants for lunch.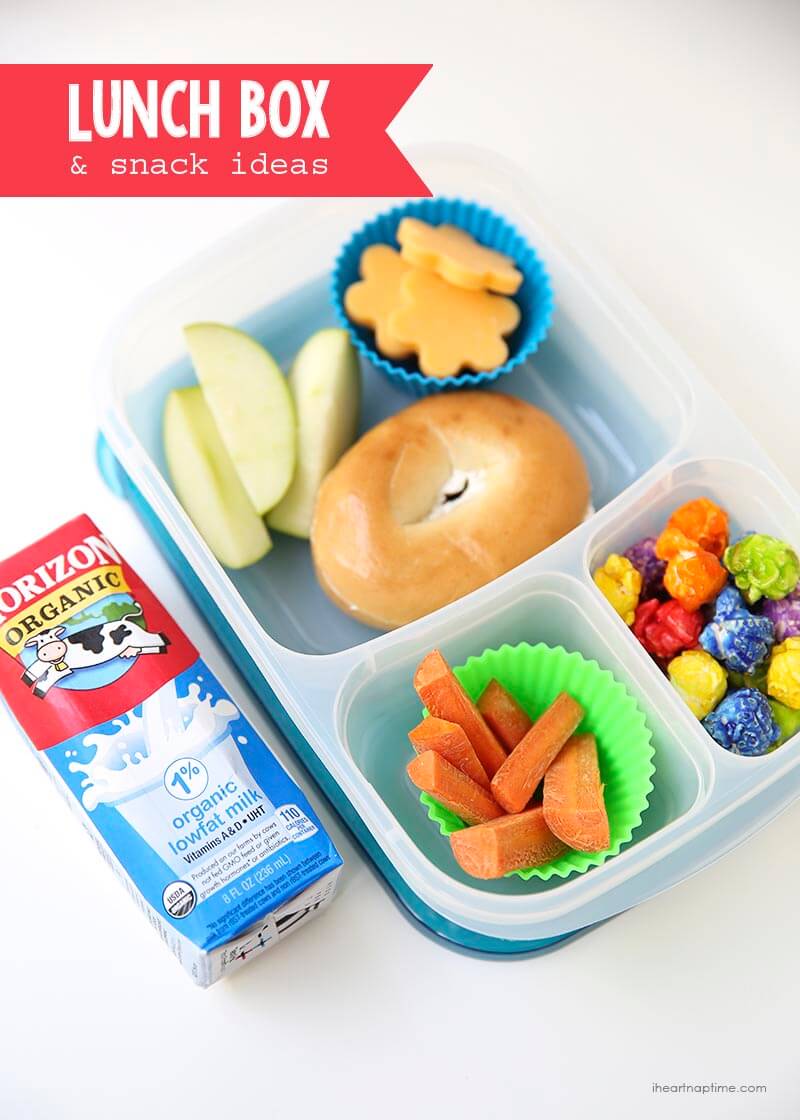 Here's what my son wanted for his first day –bagel sandwich, carrots, apples and cheese. I even let him add some popcorn we picked up at the farmers market for his first day. I cut out the cheese with a cookie cutter and honestly it took me two seconds. Nothing fancy.
Then I printed one of these free printable lunch box notes to go in my son's lunch too. Yes, I'm totally that mom. The one who walks their kid all the way in and takes pics all along the way. It probably won't happen after the first day of school. I'm not making any promises. 😉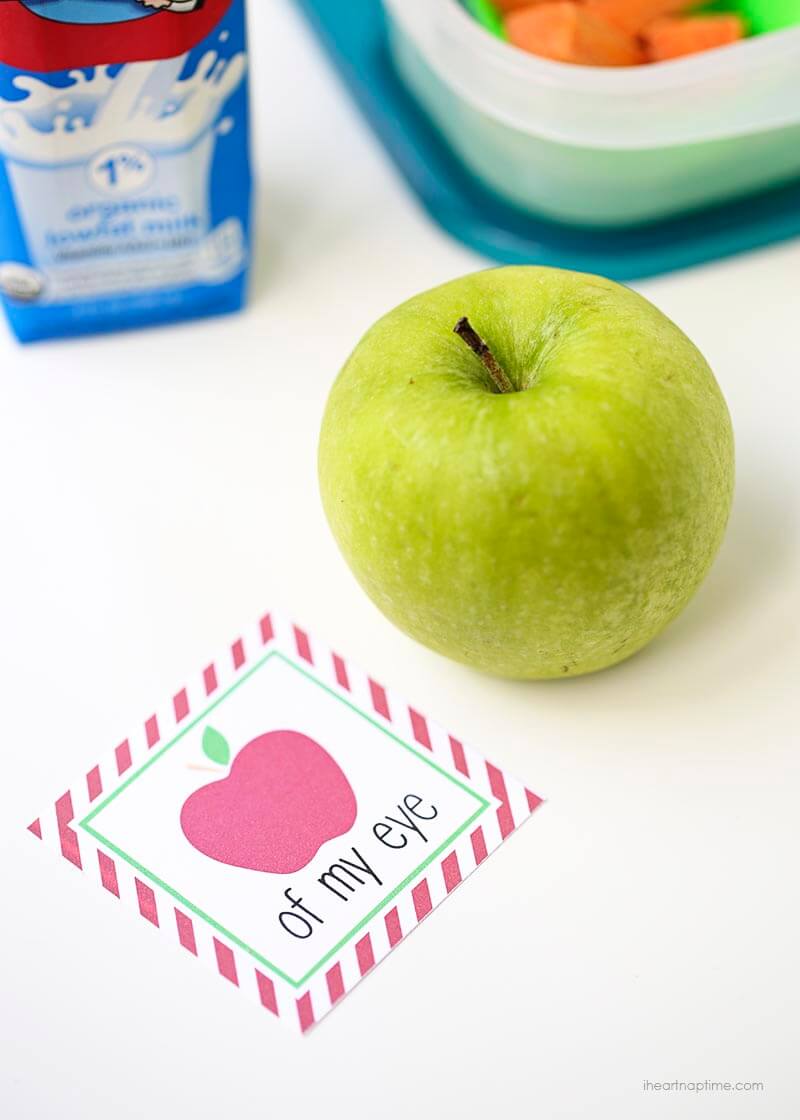 30 back-to-school lunch box ideas
The classic PB&J (my son's favorite)
Bagel and cream cheese
Turkey and cheese roll up
Boiled eggs
Pasta salad
Pita sandwich
Waffle
Tuna sandwich
Grilled chicken
BLT wrap
Thermos taco soup
Chicken salad on a croissant
Leftovers for lunch
Cheese and meat kabobs
Chicken soft taco
Penna pasta
Chicken nuggets
Ham and cheese sub
Homemade lunchable
Mozzarella and tomato
Mini corn dogs
Sandwich kabobs
Green salad
Pesto chicken rolls
Peanut butter and banana sandwich
Tortilla chips and dip
Vegetable soup in thermos
Egg salad sandwich
Pancake sandwich
Another great way to mix up lunches is to add a variety with snacks. I always try to add at least one fruit and vegetable. Here are some of our favorites:
grapes, apples slices, strawberries, cantaloupe, watermelon, bananas, apple sauce
carrot sticks, celery, cucumbers, grape tomatoes, snap peas
pretzels, wheat thins, string cheese, granola bar, trail mix, gold fish, fruit leather, yogurt
Packing tips
Use a tupperware or bento box with dividers. If your kids don't love when their food touches, this is a great solution.
Silicone baking cups. If you don't have a lunch box with dividers, you can use these silicone baking cups to divide the space. Maybe it's just me, but I love anything that adds color.
Cookie cutters. I love to use fun-shaped mini cookie cutters to cut out things like cheese, fruit, etc. It's a cute little touch that will make your kids extra eager to eat what's there.
Stay organized. I'm also thinking it would be fun to make a magnetic lunch chart like this one below to keep us organized. I know my son would love this!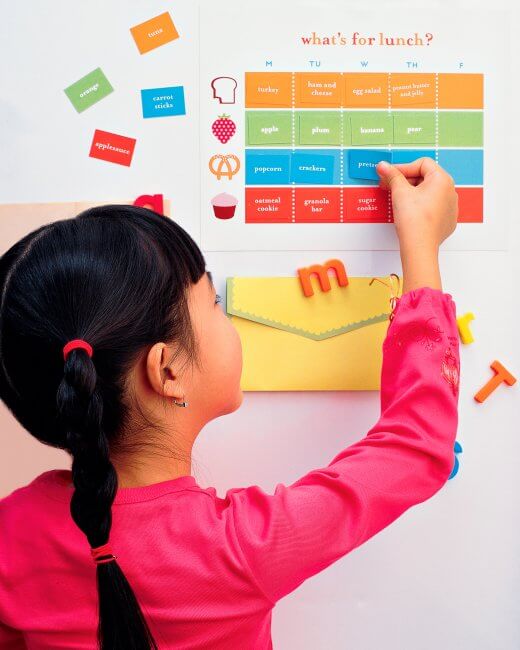 So there you have it…30 back-to-school lunch box ideas. What works best for you?
More back-to-school inspiration: