Cheers to the Best School Year Ever Printable Tag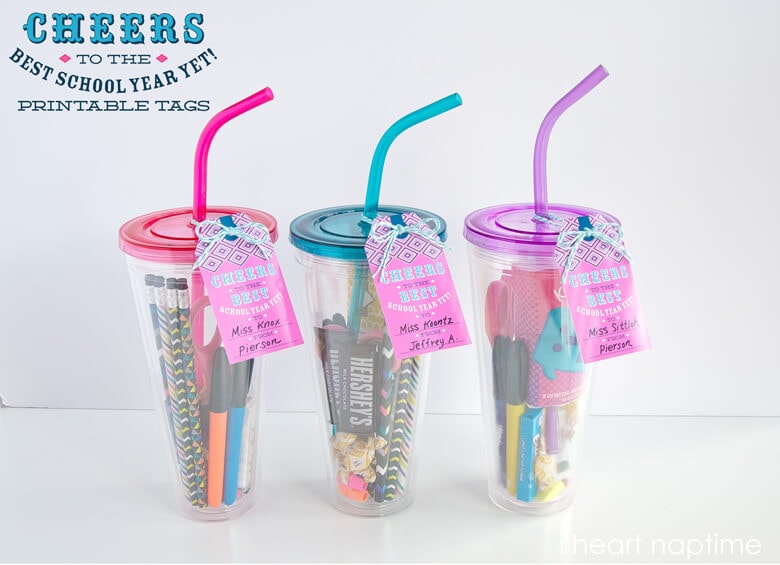 Maureen Anders of Anders Ruff here and completely in the "back to school" spirit!
My boys are BOTH in school this year (Kindergarten and 2nd grade)! They are both quite the talkers, so in order to "butter up" the teachers, we always send them off to school the first day with a little something special for their teacher. Just a little something extra to make the teacher feel special and fingers crossed that one of these years my boys will be a teacher's pet!? (Who said teacher's can't have pets?)
I was trying to think of what to bring the teachers and then Adria Ruff's (the other half of Anders Ruff) daughter gave me an idea. From what I hear, the trend is that lots of teachers bring these clear insulated beverage cups to school. Start your teacher's school year out right with a new insulated cup to use in the classroom….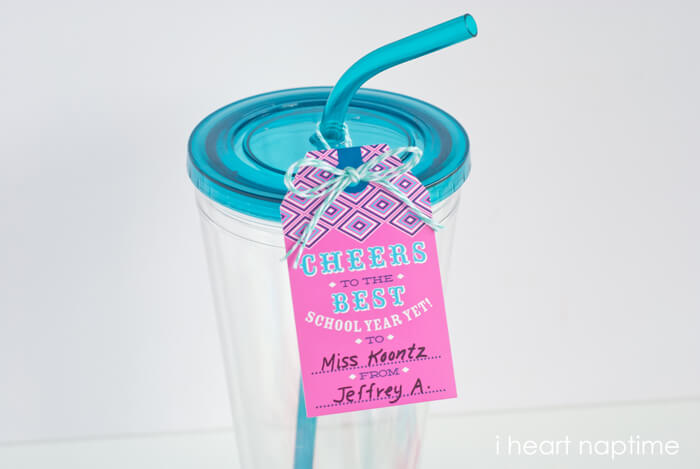 But you can't send a cup empty! So we filled it with lots of little necessities that teachers love! Everything from little chocolates, mints, cough drops, erasers, cute pencils, tape and more! Stuff as much as you can into these cups!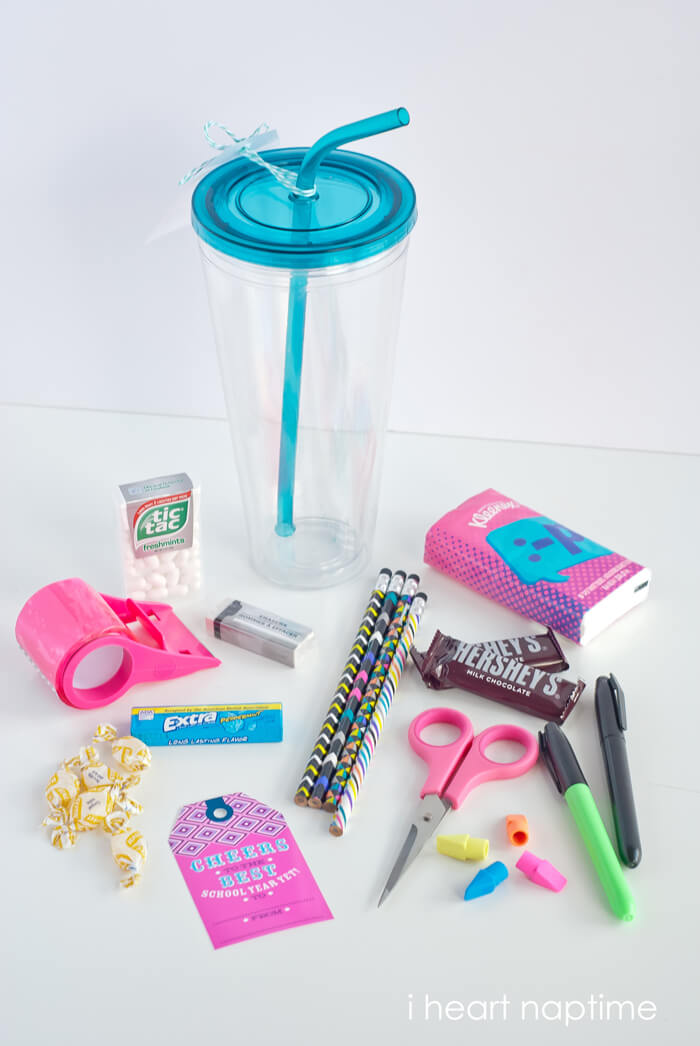 We just came out with a fun set of editable Trendy School Labels for our kiddos to label their belongings and school supplies, so I knew I had to match that collection with a printable tag for you all….
To finish off the gift, we tied on a printable "Cheers to the Best School Year Ever" gift tag with the teacher's name and child's name.
The best part, these tags are FREE from us at Anders Ruff!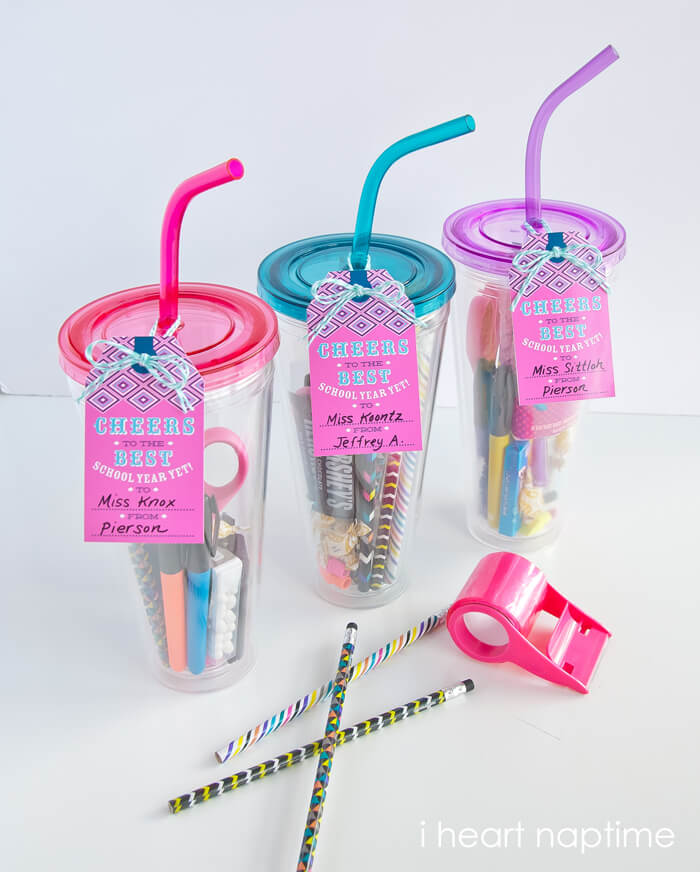 These "Cheers" gifts are SO simple to make!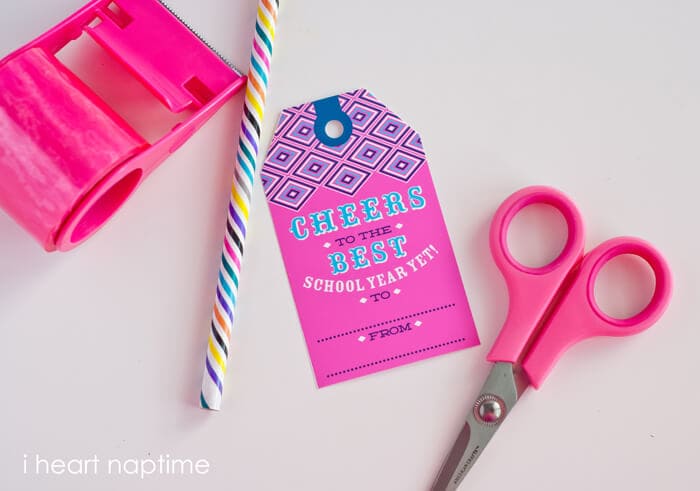 MATERIALS
1. Insulated Cup with Straw (You can find them at Starbucks, Target, etc. We got ours at TJ Maxx for $6!)
2. Items to fill the cup with. We used pencils, packs of gum, erasers, mini chocolate bars, tic tacs, cough drops, large erasers, packing tape, scissors, permanent markers, tissues, and more! Dollar store items are great, too!
INSTRUCTIONS
1. Download the Free Printable Cheers tag below.
2. Print on bright white cardstock or photo paper.
3. Trim along edges.
4. Write your child's teacher's name and your child's name on the tag.
5. Attach with twine, ribbon or raffia.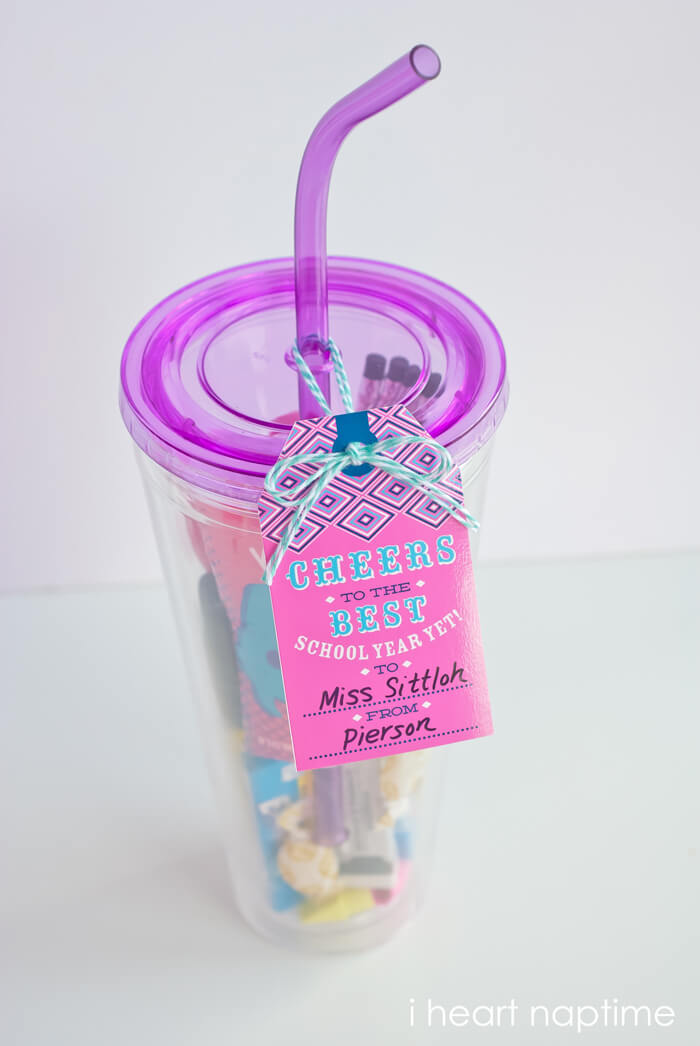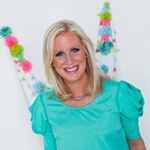 MAUREEN ANDERS is the co-founder and creative director of Anders Ruff Custom Designs, the "go to" shop for unique and stylish printable invitations, decor and party accessories. Anders Ruff equips the modern hostess with the beautiful details needed to make their events memorable. They also offer inspiration for the entire party planning process via their daily blog. Anders Ruff loves pulling together themed party ideas on their Pinterest boards. Be sure to keep up with their latest projects and sales at their facebook and twitter page. Shop all of their holiday and party themes here.