Today I'll be sharing the room makeover for my son's superhero room! It's finally done! YAY! I feel like just yesterday I was showing you his nursery.
I was thrilled when Sherwin-Williams asked me to be apart of the National Painting Week. I absolutely LOVE Sherwin-William paints, so it was a no-brainer! They challenged me to use the color red, and I knew my son's room would be perfect for the color red. He's been wanting a superhero room for awhile now, so we finally got rid of his "baby" bedding. He's officially 5 years old (aka a teenager), ya know. I cannot believe he'll be starting kindergarten in a few months!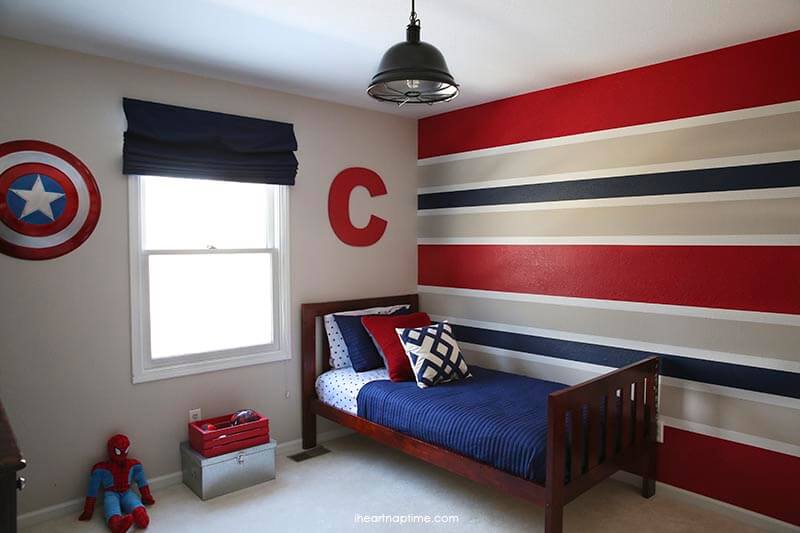 The color red I incorporated into this room was Showstopper Red (SW 7588). It is the perfect red! Not too orange, not too pink, just a good deep red.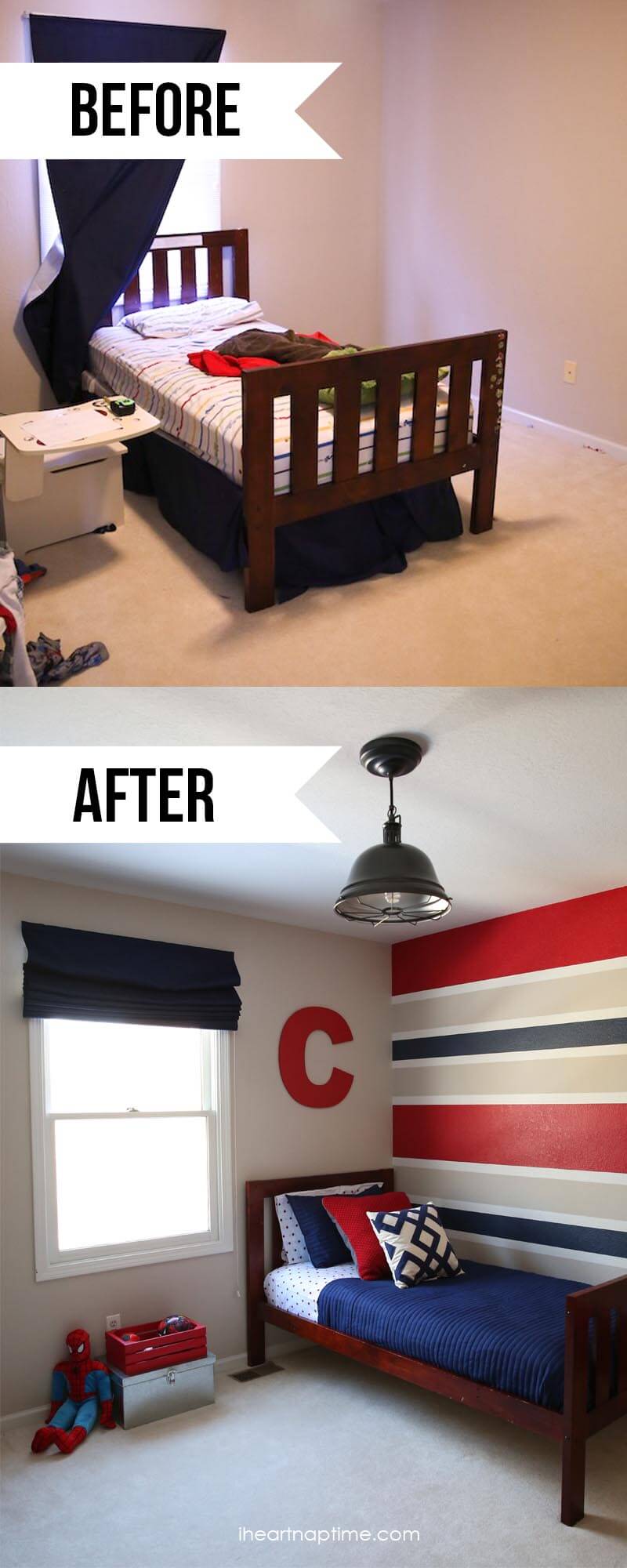 The first thing we did was move his bed. It opened up the whole room, just by scooting it over a few feet. I also used Agreeable Gray (SW 7029) for the other walls, Pure White (SW 7005) for the small stripe and Indigo Batik (SW 7602) for the medium stripe. All of these colors were satin finish with the Emerald line of paint. We also used Pure White in Pro Industrial (semi-gloss) for the trim.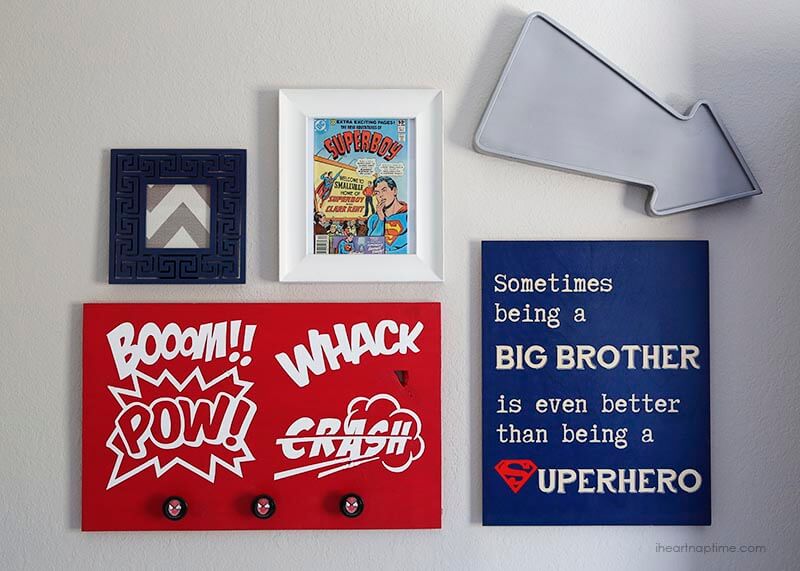 Here is the collage I showed you last week. I was excited to finally frame that vintage comic book my son picked up at a thrift store with me awhile back. I may have also been caught spray painting that arrow (found on sale at Hobby Lobby) in the snow in 15° weather here. A girls gotta do, what a girls gotta do. 😉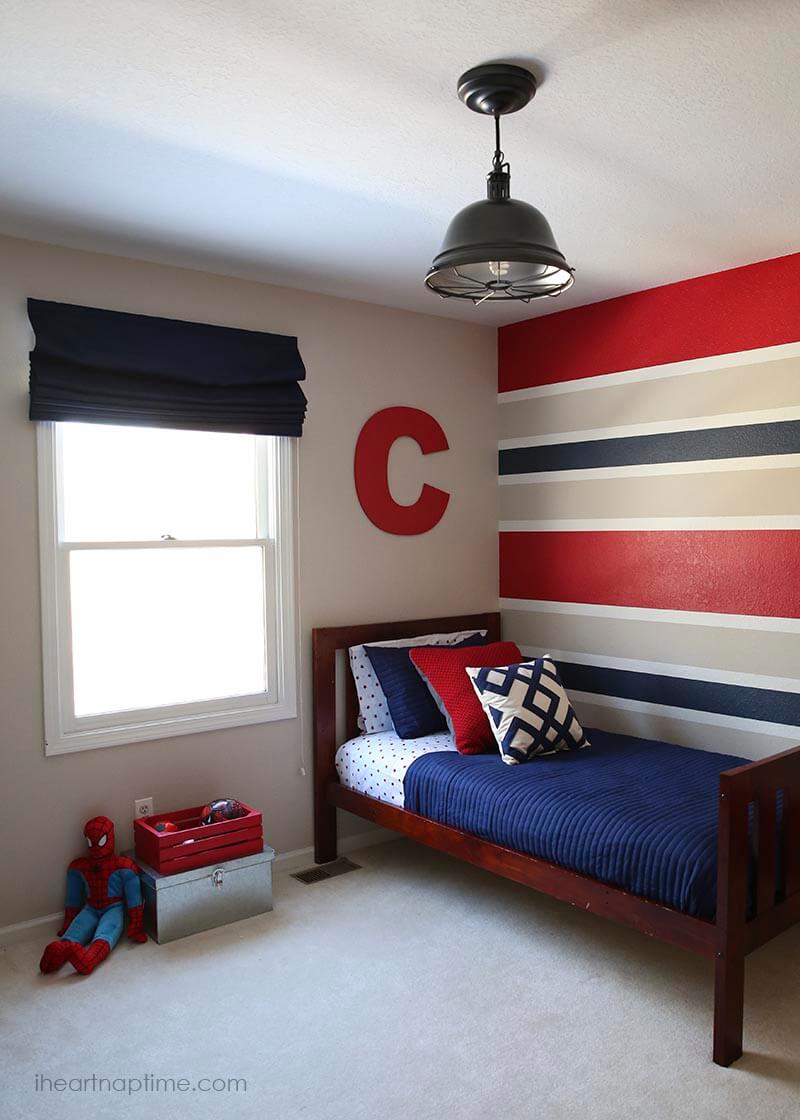 I showed you last week how to make the roman shades here. I found the blue bedding and pillows at Target, and the star sheets and light fixture at Pottery Barn.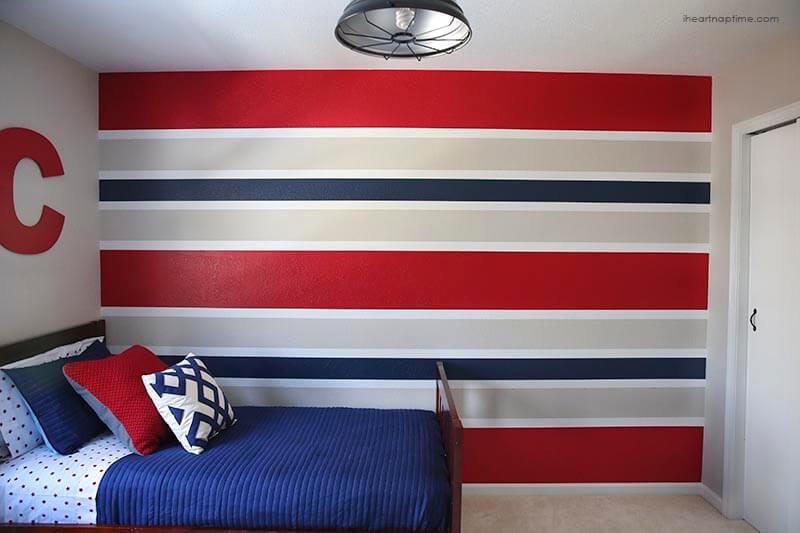 Here's a tutorial for painting the stripes. I have to give a huge shout out to my awesome husband for helping me paint this wall. He had a few days off and offered to help me paint those days. First it was the stripes and then it was the kitchen ceilings. He's a keeper all right! It was definitely a lot of work taping everything off, but so worth it!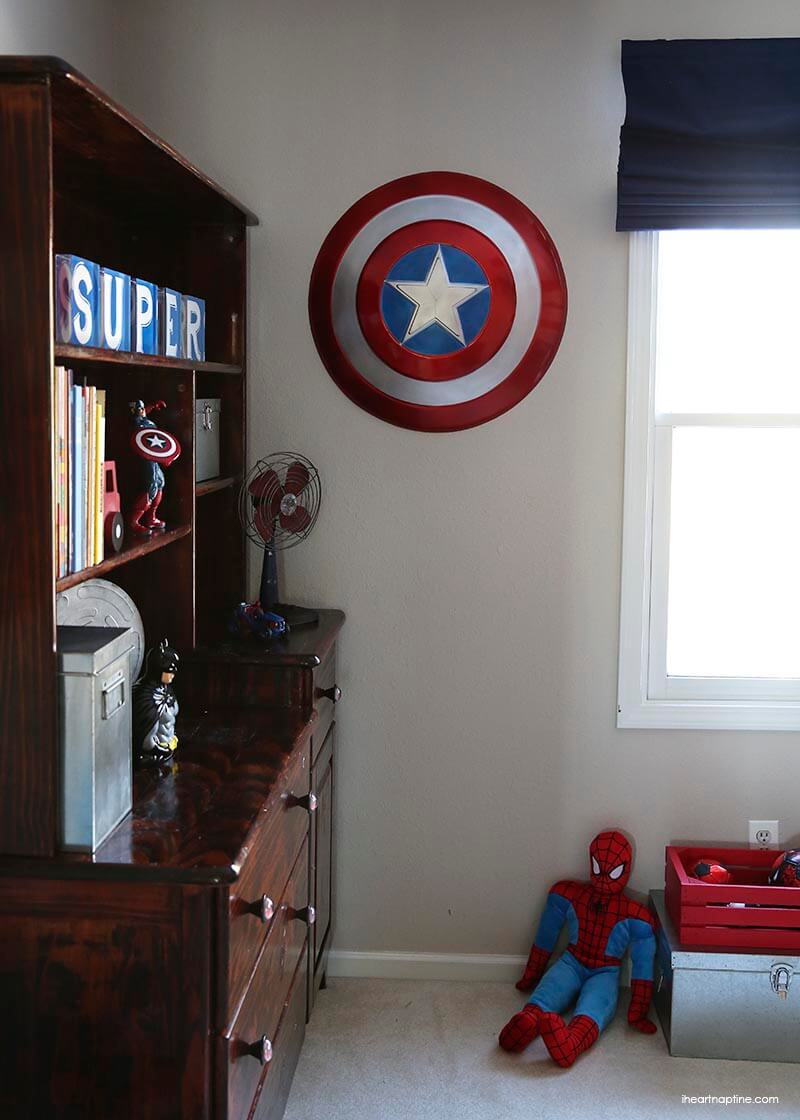 My son loves Captain America, so of course I had to grab a shot of him as well. I found the large shield on Ebay for 10 bucks and somehow my husband figured out how to hang it up by using some strings. You also may remember that hutch from his nursery. We stripped it down and stained it last year. I don't think I'll ever strip a piece again, lol!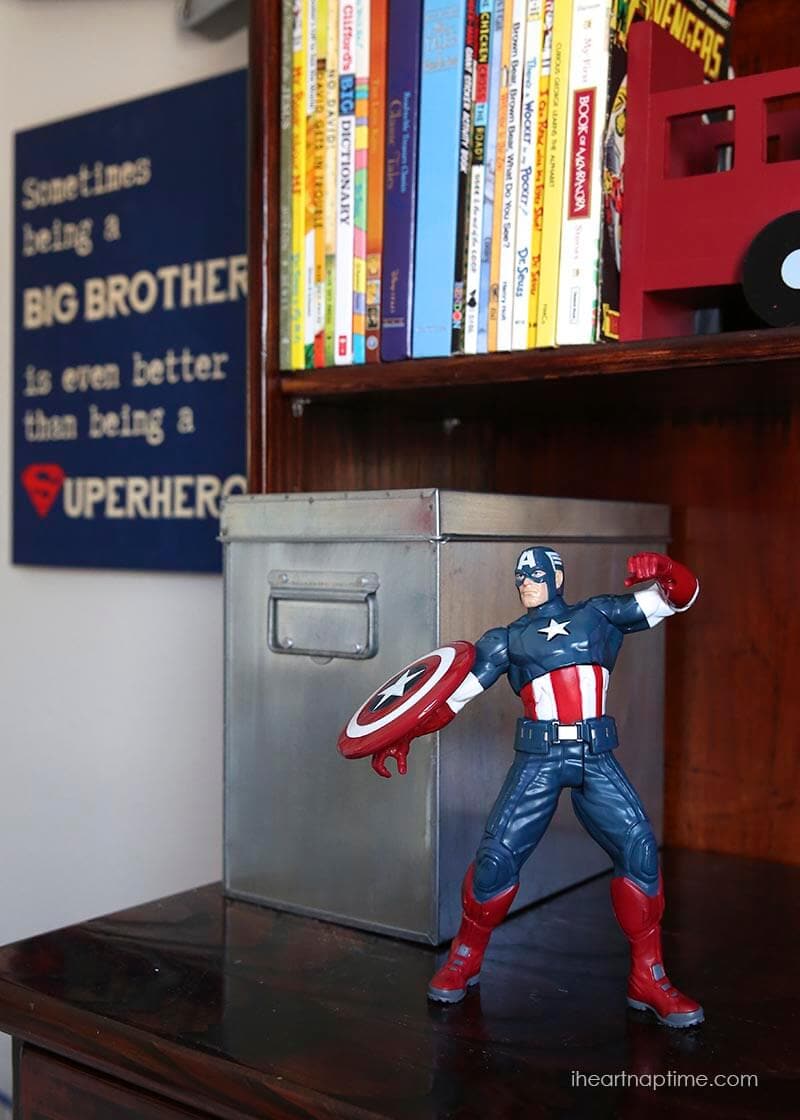 I'm so happy with how it all came together. Most importantly, I love seeing my son smile every time he walks into his new room.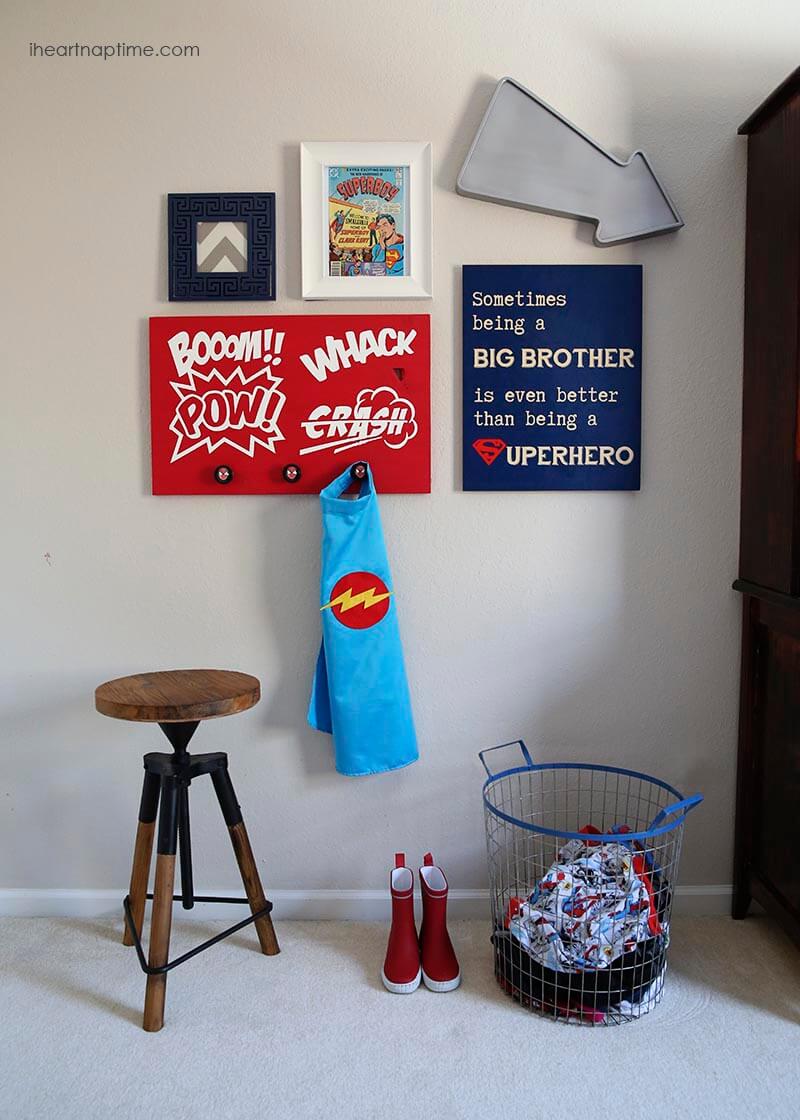 To find the striped wall tutorial click HERE.
Boys are so much fun! Is your boy having a birthday soon? Check out these awesome birthday party ideas for boys!
So what do you think?! Please leave any questions in the comment section below and I will answer them there.
This post was in partnership with Sherwin-Williams. All opinions are 100% my own. 😀