I love a good before and after, don't you?! Today I'm going to show you my bathroom makeover. "Fixer Upper" is one of our favorite shows to watch and I'm always dreaming up projects after that show. This bathroom was one of them. I realized we could totally knock out the shower we already had to make it twice as big with our space… and so we did. I should probably stop watching that show. 😉
My goal when moving into my house (about 2 1/2 years ago) was to finish all of the big projects within the first two years. I'm happy to say we are just about there! I mainly wanted to, so we could actually enjoy the renovations! I feel like in our last house we finished a lot of things projects we started only to sell the house. Isn't that always how it works?! 😉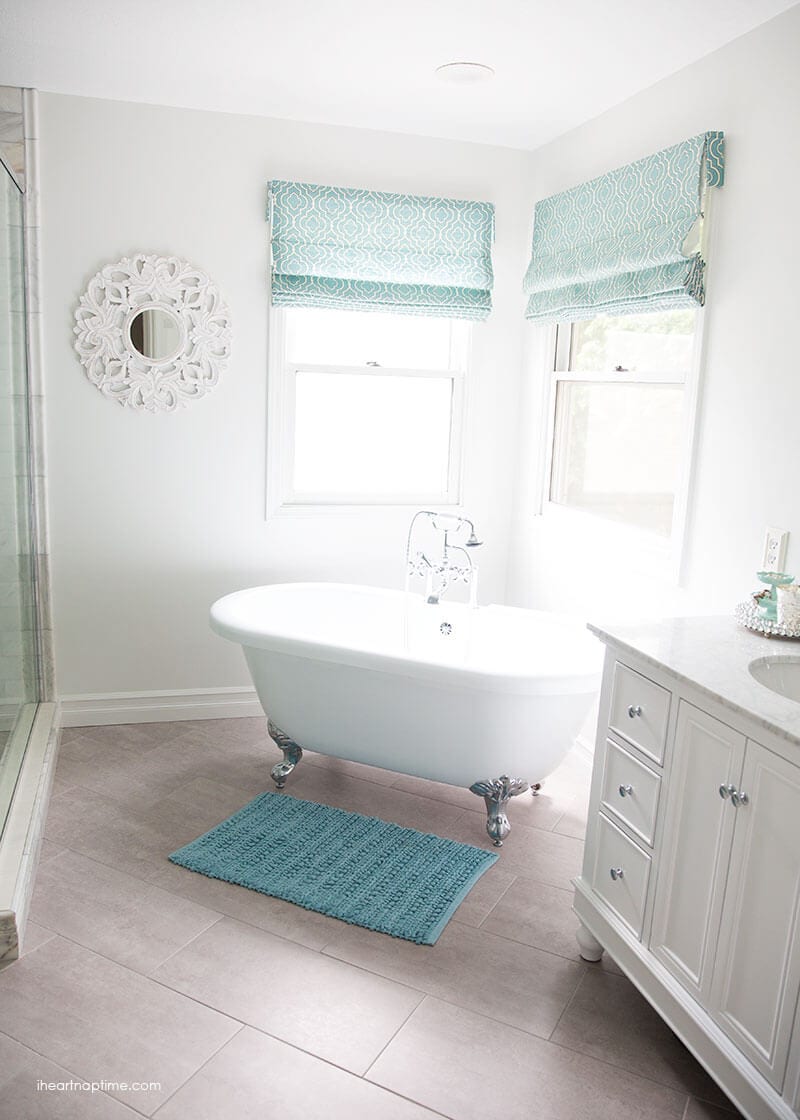 After we moved in I started to save up for the bathroom.When we have a project we're looking to do in our home, we will start a savings account (yes, we may have like ten savings accounts – haha), and then put a little in here and there until we reach our goal. I was so happy when we had saved up enough for the remodel! It turned out better than I could have imagined and is definitely my favorite room (okay besides the kitchen) in our home!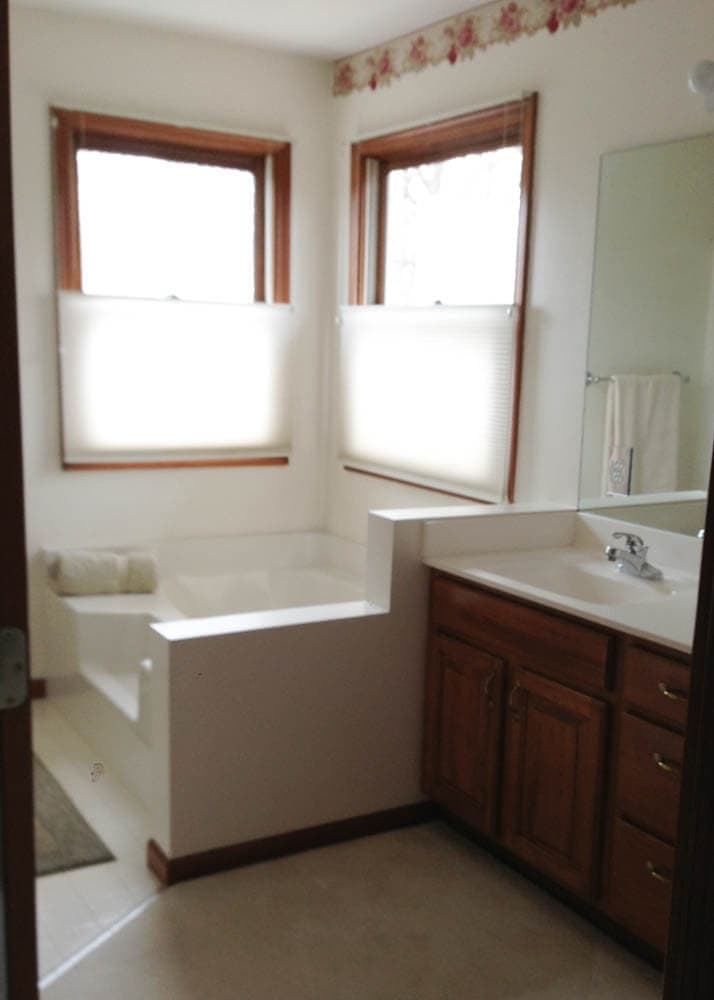 These before pictures were taken when we first walked through the house. Sorry, they are a little blurry. We didn't have our nice camera on hand. When we first bought our house there was nasty carpet and linoleum floors that were stained and starting to peel. It was so hard to wait and it was very tempting to rip them out.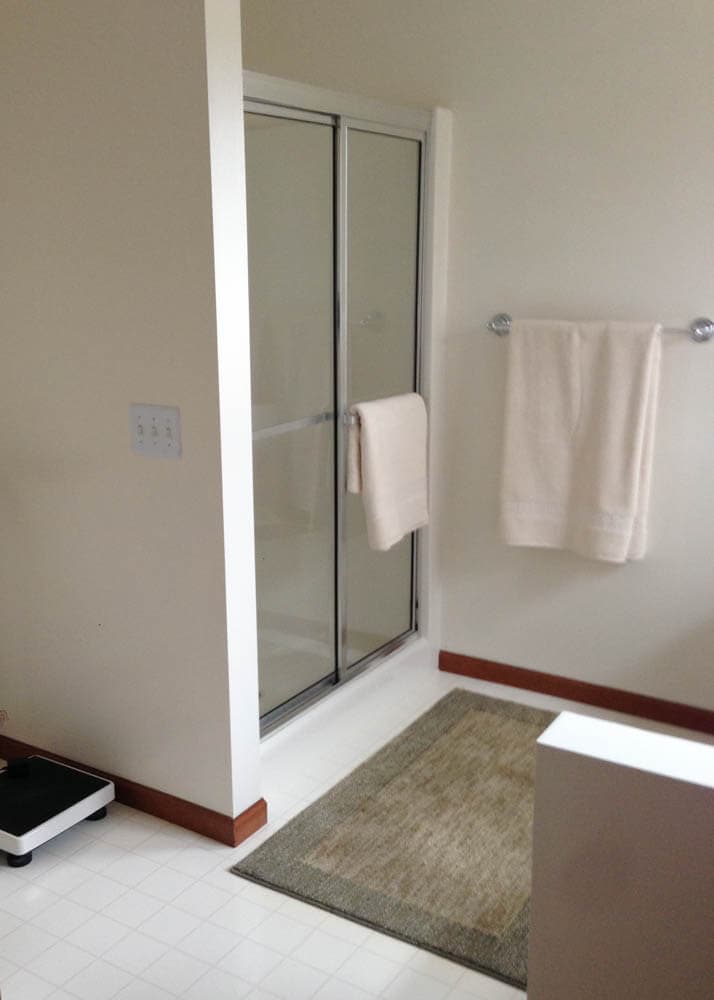 Can you believe this is the same bathroom?!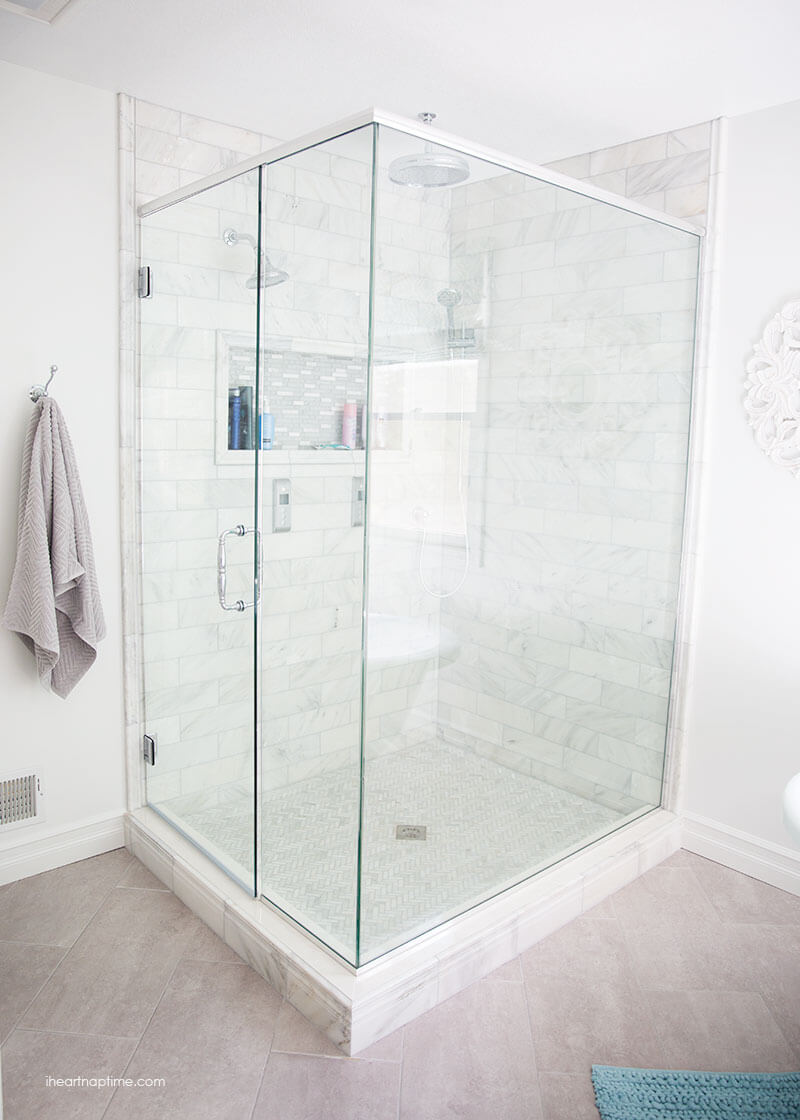 In a nut shell, we basically gutted the entire bathroom and then I drew up the plans for a new space for the contractor. I knew I wanted to go with a timeless look. So whites, marble and grey it was. I also had to add a little pop of blue in there too. I tend to add one color to each room and in this house it is blue. I am SO happy with how it turned out!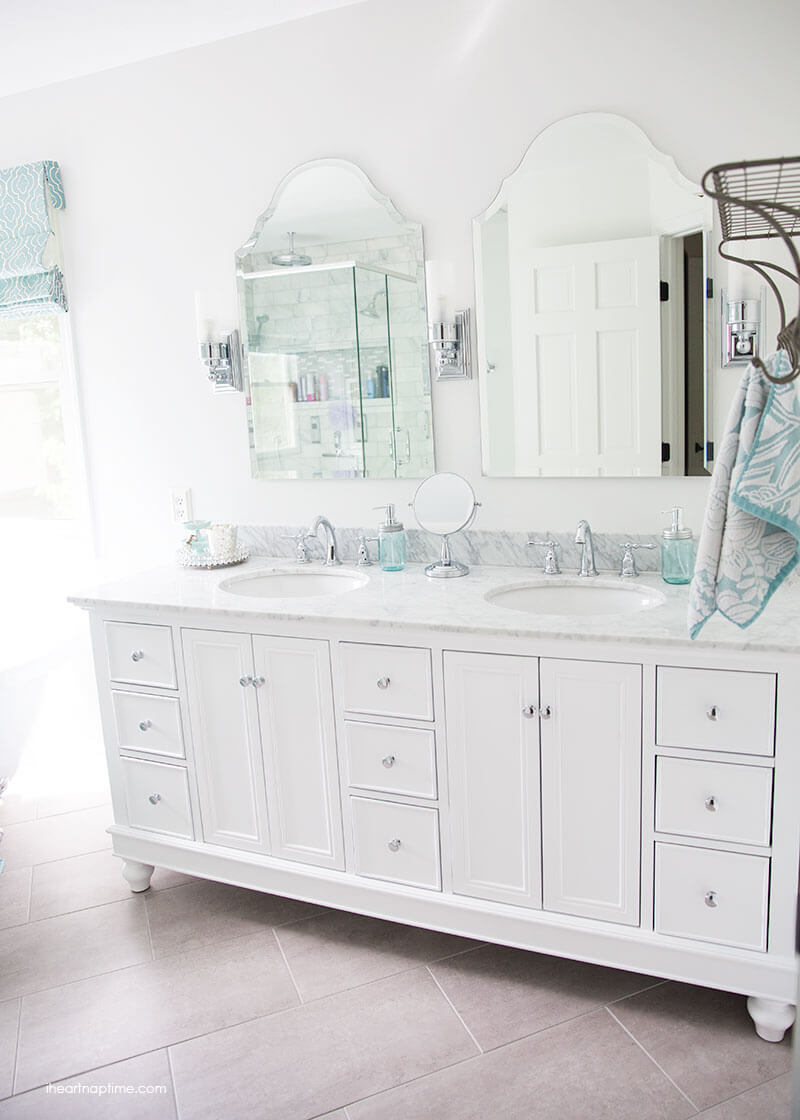 Here is a little tour…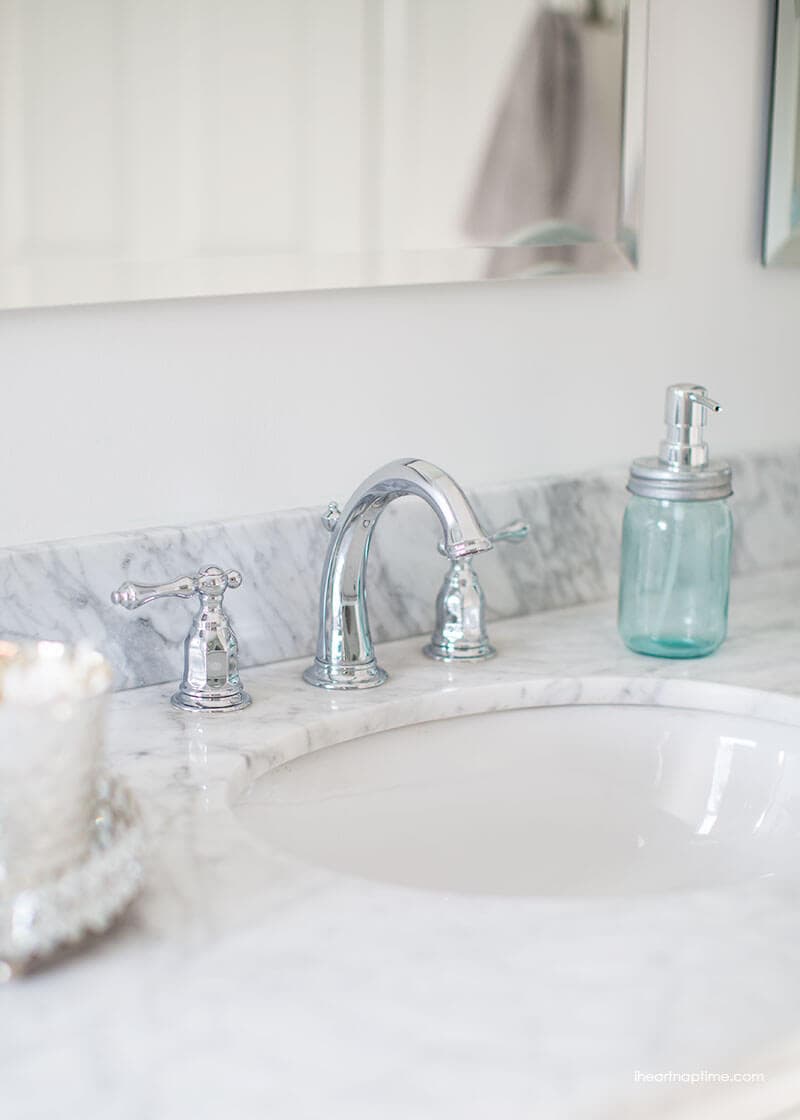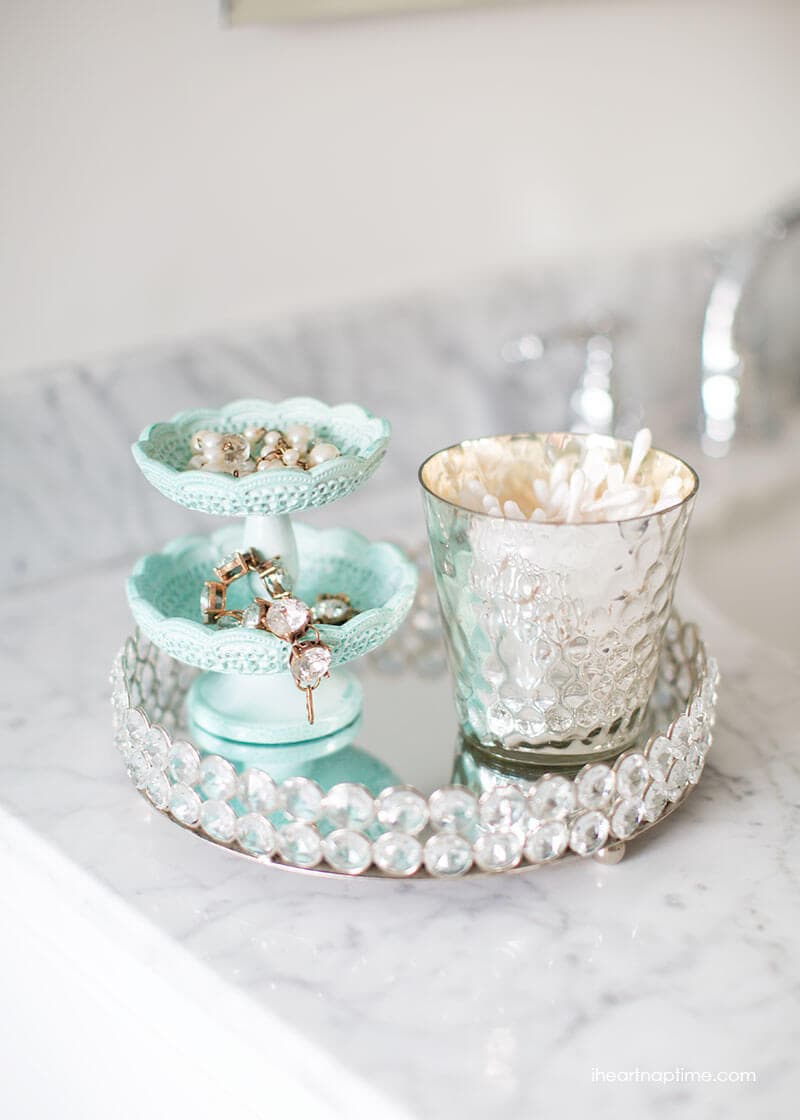 We were debating going with a completely frameless shower door, but the glass company talked me out of it since I have little kids. I'm glad he did too, because both kids have already managed to run into it and it probably would have shattered if it didn't have a frame on top.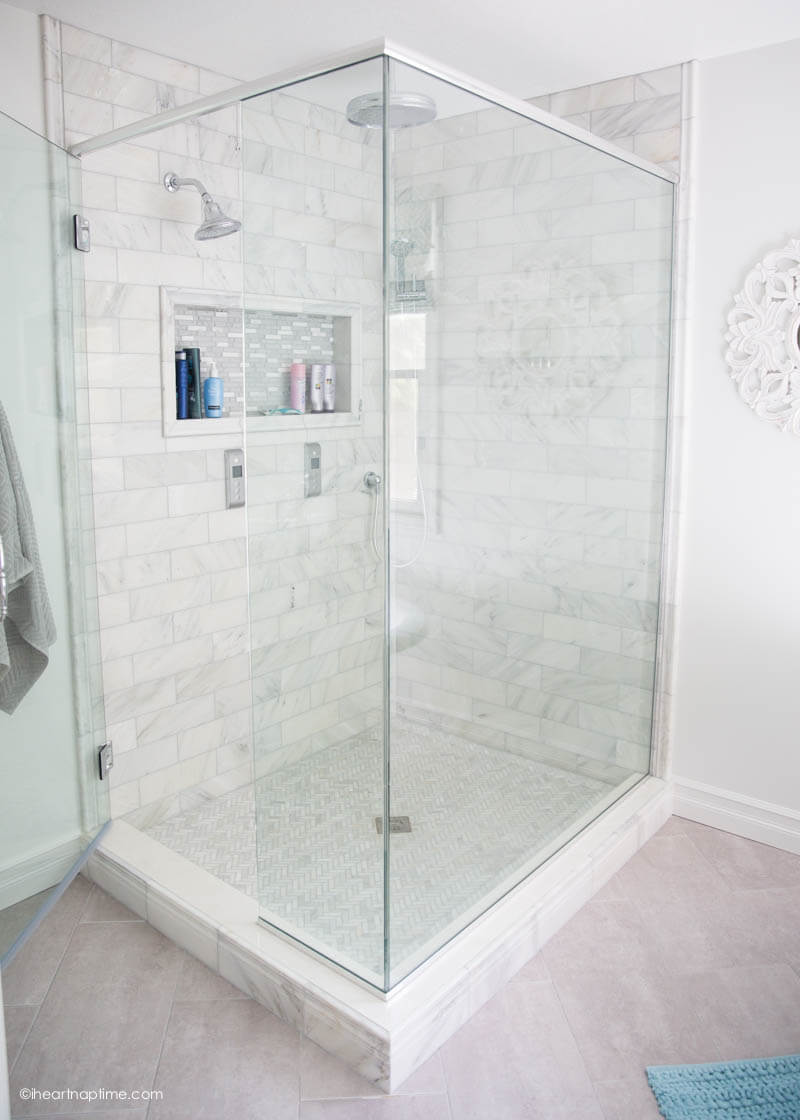 I am obsessed with the Carrara marble. It is a little harder to clean, but totally worth it in my opinion.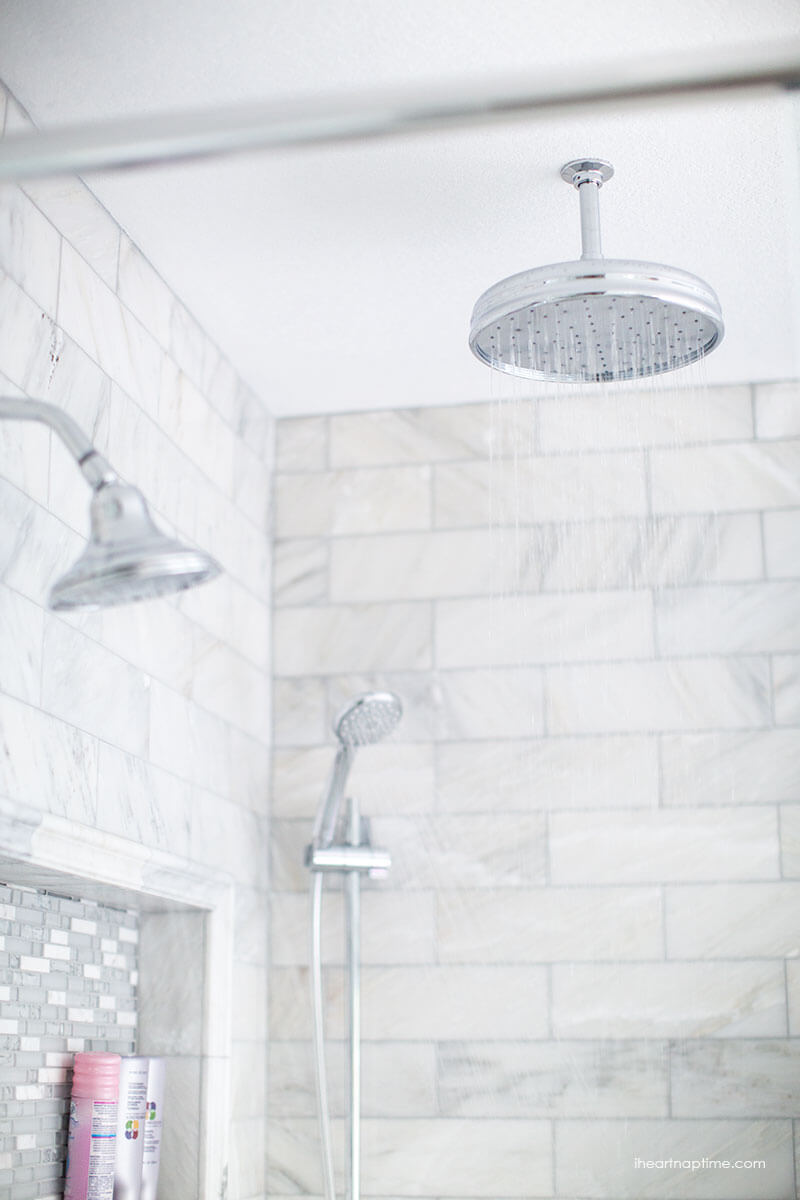 I have to say I am obsessed with having three shower heads. They all have different pressures and sometimes it's nice to have them all 3 on at the same time! The DTV prompt from Kohler is also super awesome! I love seeing what the temperature is and what time it is, especially on those crazy mornings!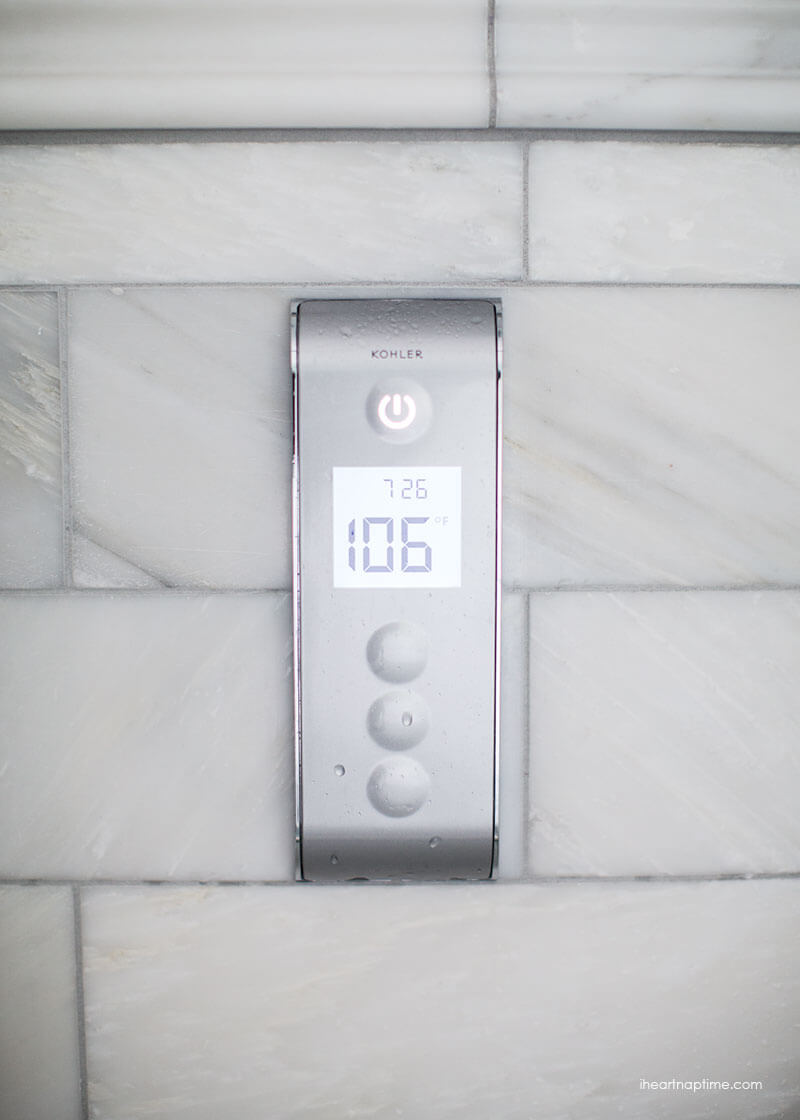 I love this sign and hanging up happy quotes throughout my house.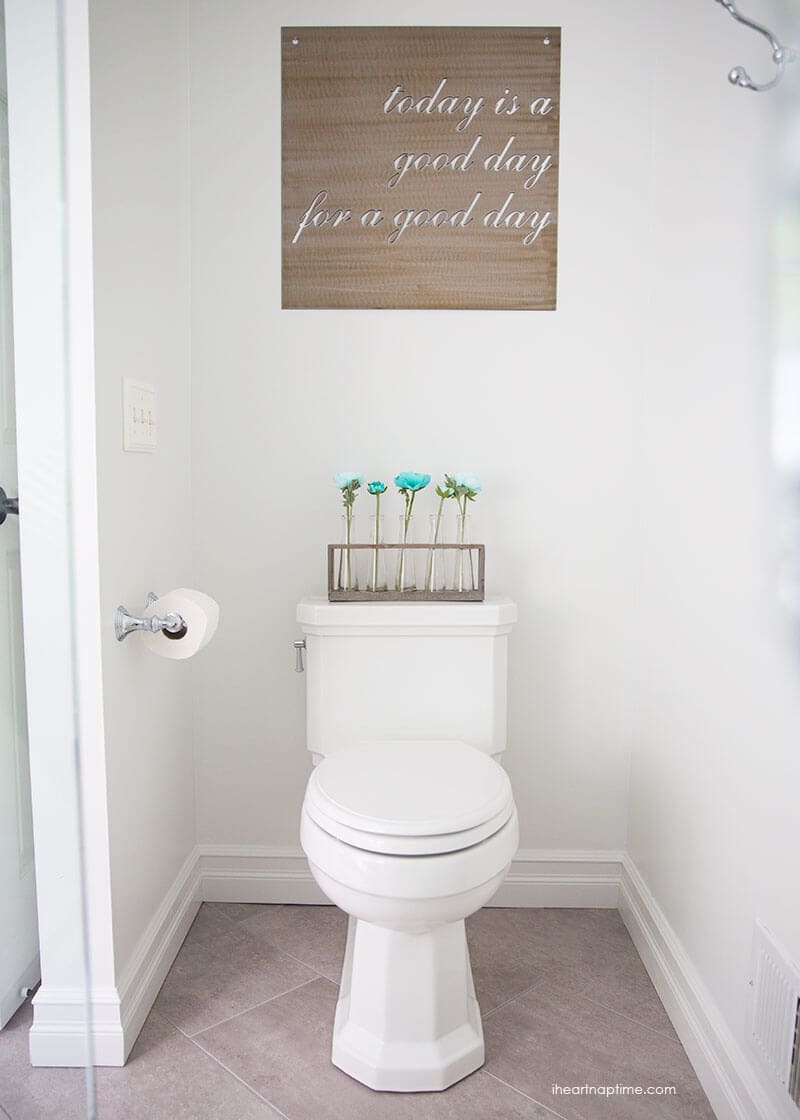 Woo! So happy it's done! Here are the sources listed below. Let me know if I'm missing anything and I'll add it in!
Plumbing provided by Kohler:
Items we purchased from other stores:
Vanity –Amazon
Frameless mirror-Lamps Plus
Lighting and towels -Pottery Barn
Today is a good day sign -Magnolia Market
Tile -Local tile shop
Jewelry holder -Hobby Lobby
White mirror -Home Goods
Paint color -Incredible White from Sherwin Williams
Roman shades -Blinds Galore (I like to buy the plain fold, cordless lift)
Thanks for following along! Here are some other rooms we have completed if you are looking for more inspiration.