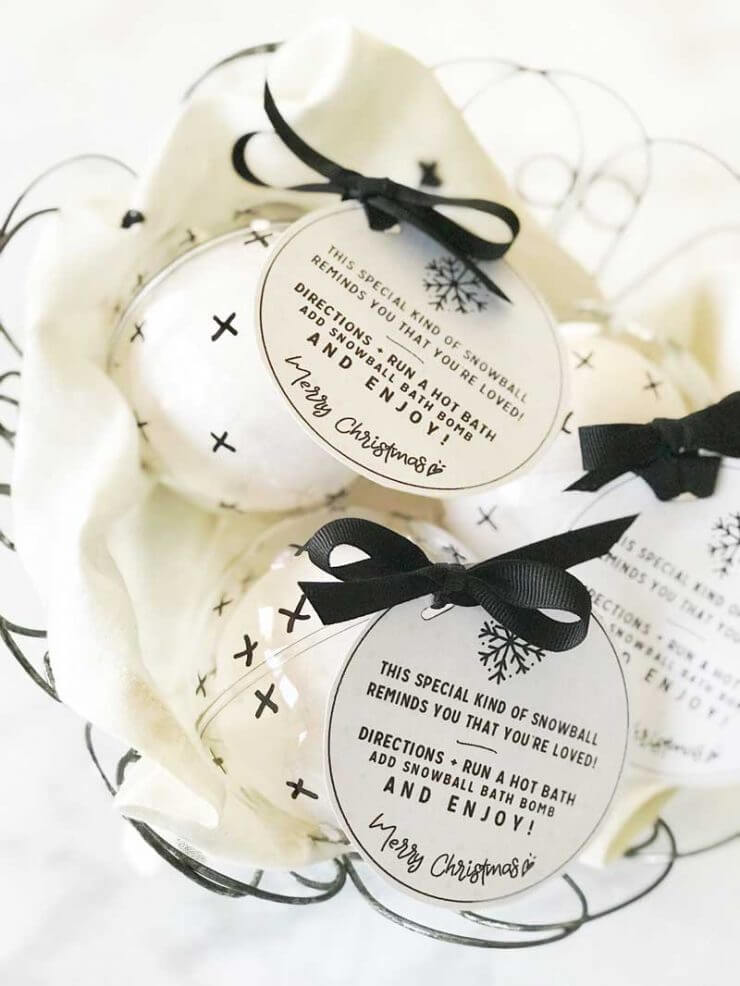 Looking for a simple handmade Christmas gift this year? These easy to make Snowball Bath Bombs will make you the hit of the neighborhood, school or office! With just a few simple ingredients, a free printable and a little time… You'll have the perfect holiday gift. The best part, there's no sugar involved!

When it comes to neighbors, co-workers, teachers and friends, I always want to give them a little something around Christmas to show them how valued they are in my life. I however, don't want to inundate them with all kinds of sugary treats all of the time. (Don't get me wrong, I am no stranger to the classic goodie gift plate.) Sometimes it's nice to receive something that isn't sweet during the Holidays. With this easy to make Holiday de-stresser, it may quickly become their favorite Christmas goodie this year. All you need are a few simple ingredients…
Snowball Bath Bomb Ingredients
1 cup baking soda
1/2 cup citric acid
1/2 cup epsom salt
1/2 cup corn starch
4 tsp. water
8 tsp. coconut oil
2 tsp. peppermint essential oil
spray bottle
3 fillable plastic Christmas ornaments 70 mm
3 fillable plastic Christmas ornaments80 mm
black medium oil-based Sharpie
3/8 inch black grosgrain ribbon
white card stock paper
hole punch
scissors
Here is a quick little video that I put together to show how easy it is to make these little bath time gems.
Snowball Bath Bombs via WhipperBerry from Heather Thoming on Vimeo.
Snowball Bath Bomb Instructions
Using a stand mixer (or a bowl and a whisk), add all of the dry ingredients to the mixing bowl.
Add the liquid ingredients to the spray bottle and shake to mix.
Turn the mixer on low and slowly spray the liquid ingredients into the bowl. Keep spraying until your dry ingredients start to feel like nice wet sand. (The reason for the spray bottle is so that you add the liquid as slowly as possible…you don't want to activate your ingredients until you or your friend is in their nice hot bath)
Use the 70 mm plastic ornament to mold the bath bomb.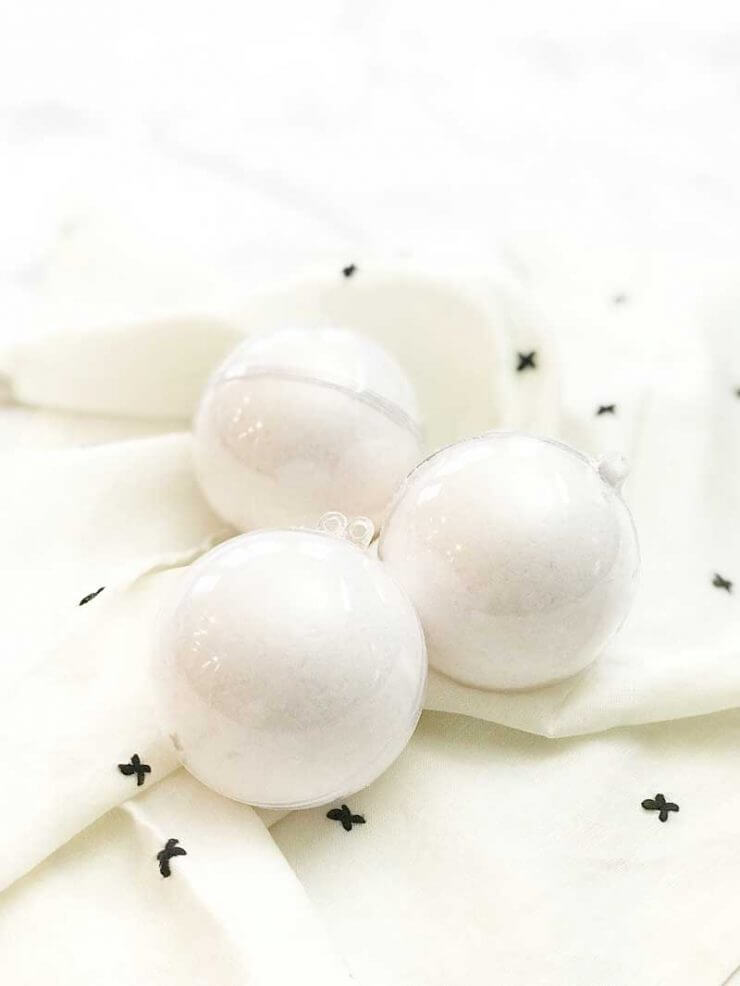 Using the oil-based sharpie, draw little crosses or "x" all over the ornaments. Let the black paint dry for a few minutes.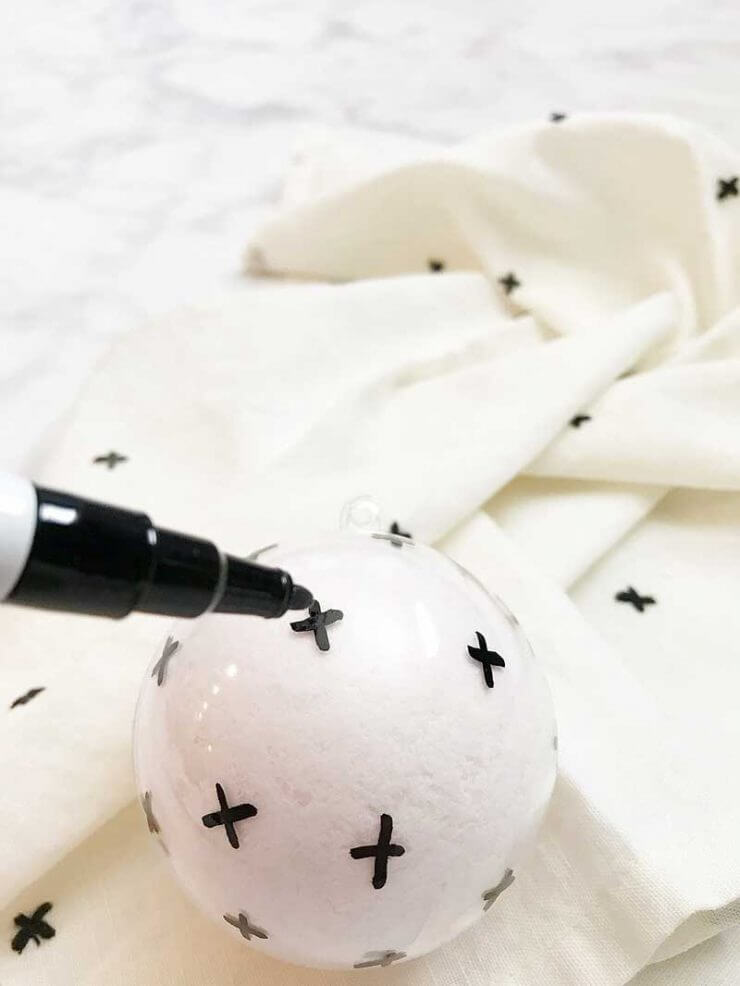 The following day, place your snowball bath bomb into the 80 mm fillable plastic ornament (They expand a bit when they dry, so you need the larger ornament to use as your gift box).
Leave in the mold for 5 minutes, then remove the bath bomb from the mold and let dry overnight
Print the free printable gift tag from WhipperBerry and cut out the circle.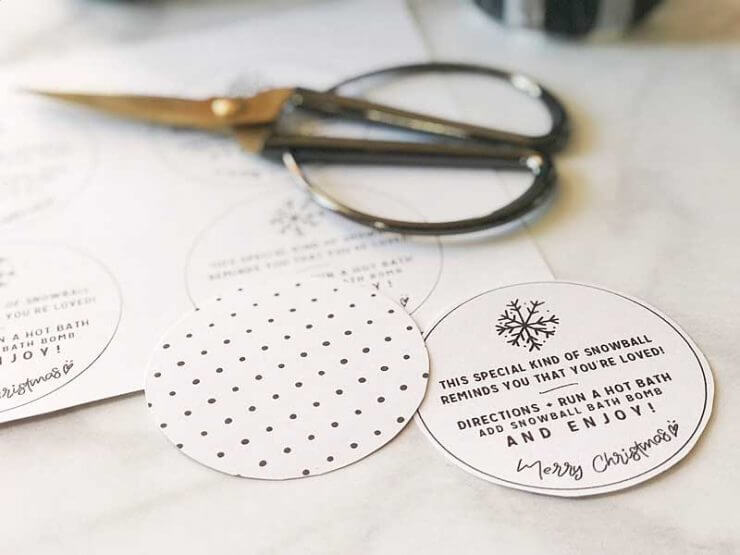 Using a hole punch, punch a hole to the side of the snowflake on the tag.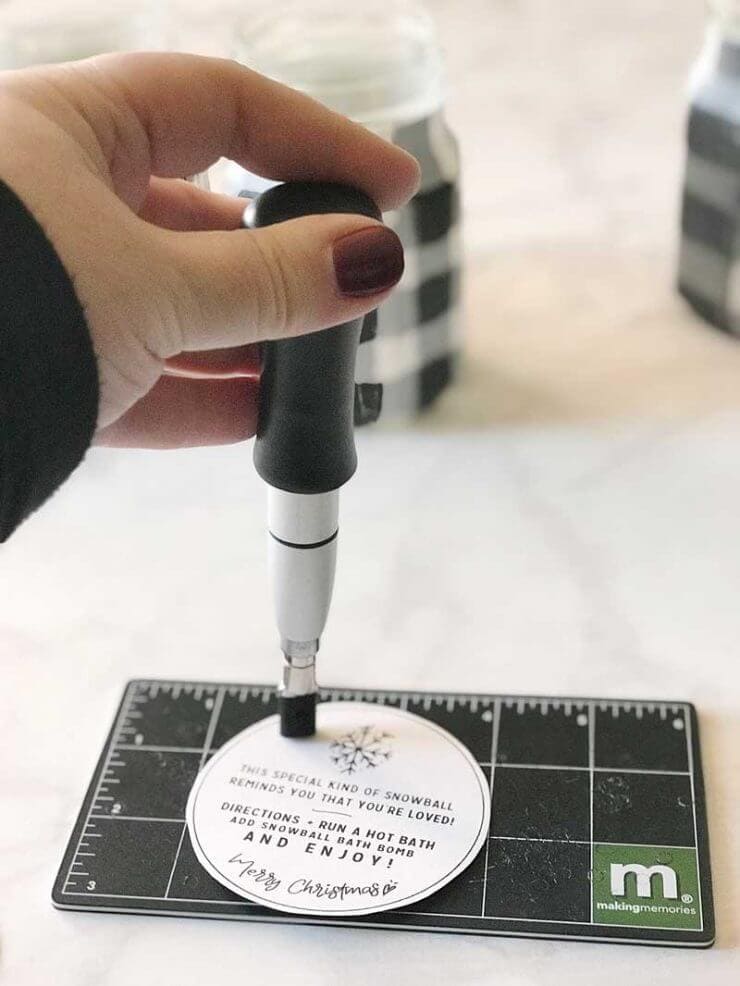 Tie the tag on the ornament and you're finished!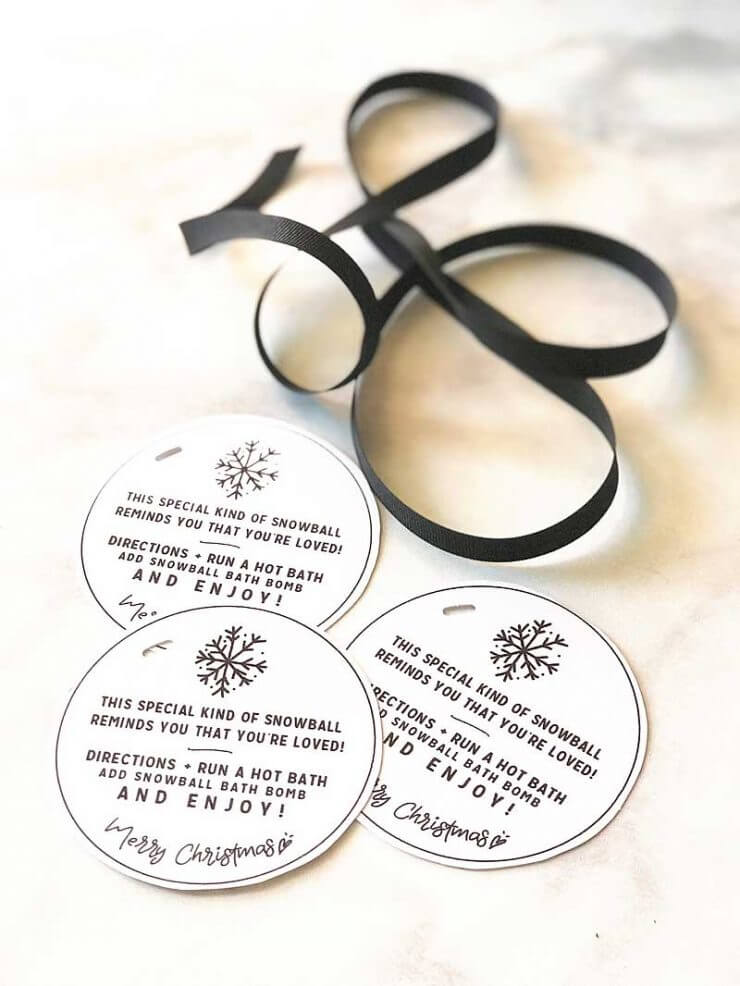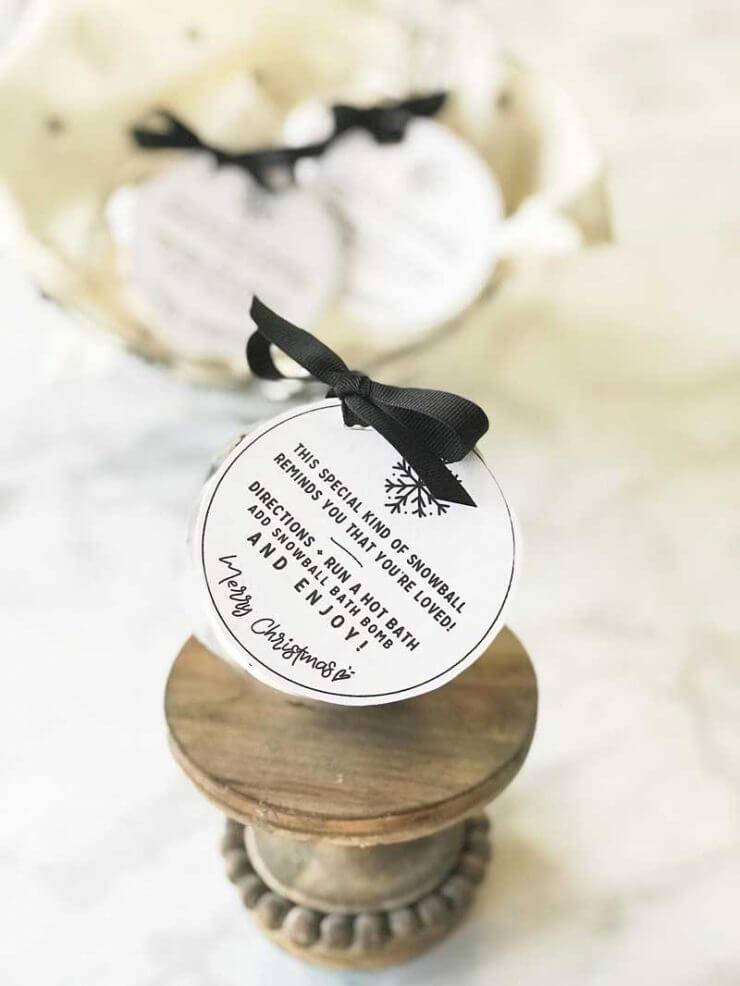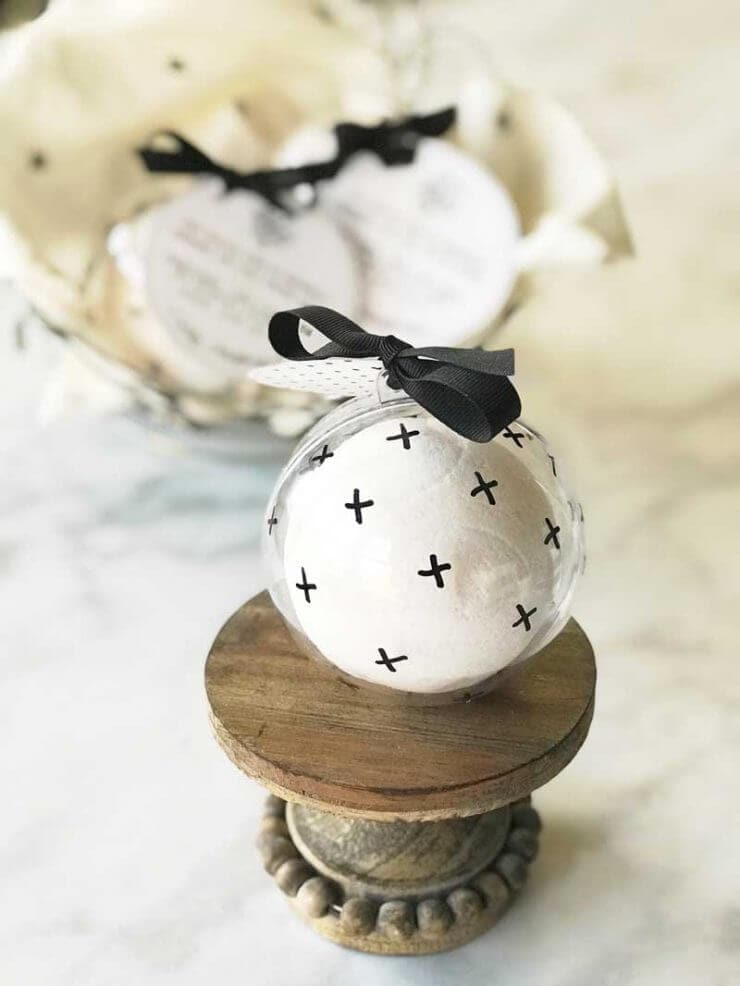 Check out the back…
Aren't they cute?! They are soooo nice in a hot bath sipping some peppermint hot chocolate. I may need to make a few batches to keep on hand for myself.
Here is a quick image you can pin so you don't forget the recipe.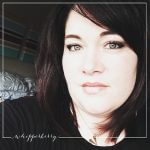 Thanks for letting me hangout for a bit Jamielyn! I'm Heather from WhipperBerry and I love to create all kinds of goodies for our home and family. I have four kiddos one in almost every level of school from elementary on up to college. With all of those ages at home (everyone except my college student), I'm constantly looking for fun and simple gift ideas, recipes and fun ways to decorate our home/dorm room. Come on over to WhipperBerry for all kinds of Inspiration. Y
Thanks so much for sharing in our Crazy Christmas Event!
Looking for more handmade Christmas gifts? You will love these too: