50 Homemade Halloween Costumes
50 Homemade Halloween Costumes…easy DIY ideas for the entire family!

Halloween Traditions
Whether you love Halloween or not there is no denying that this is a special time of the year. The changing leaves, pumpkin carving, corn mazes, and delicious treats make the month of October pretty hard to beat. Choosing what to be for Halloween can be so much fun! Some families choose to go all out and coordinate their costumes; while, others have a blast dressing up their kiddos. Personally, I love a good family costume!
As much fun as dressing up is, it can be so expensive! That is why easy DIY Halloween costumes are so nice. You can be anything you want to be, and you don't have to break the budget. Below you'll find 50 homemade costumes for babies, kids, teenagers, and adults!
Circus Lion
Who doesn't love the circus?! This fluffy circus lion will love riding in this cute wagon down the neighborhood.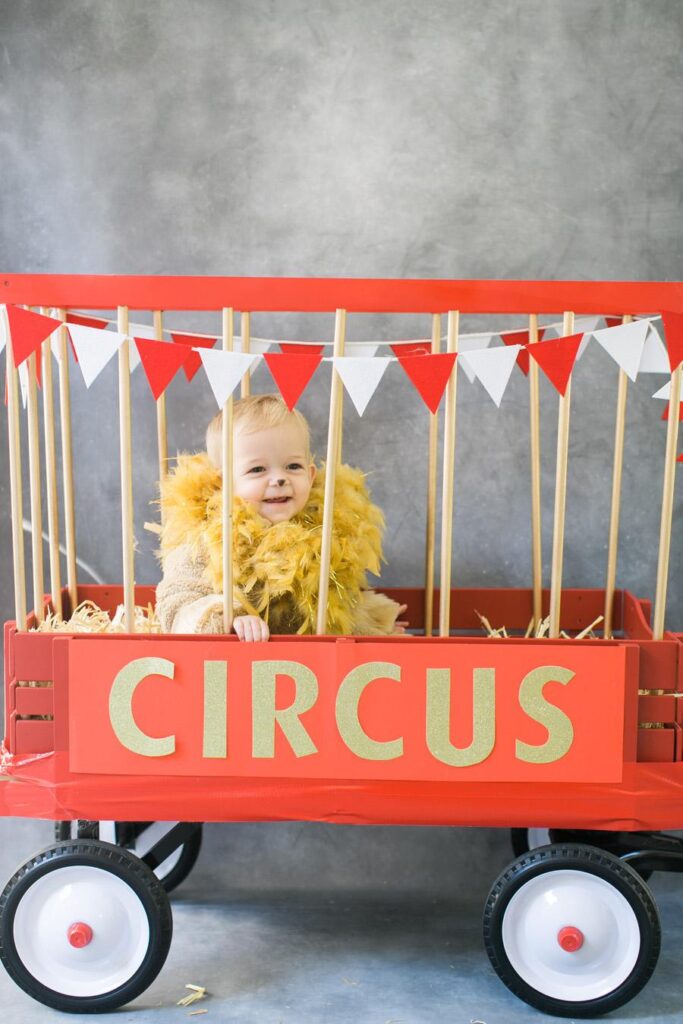 DIY Halloween Costume: Circus Lion via Style Me Pretty
Ninja Turtles
Ninja turtles are a great group costume! Plus, kids will love picking out which color turtle they want to be.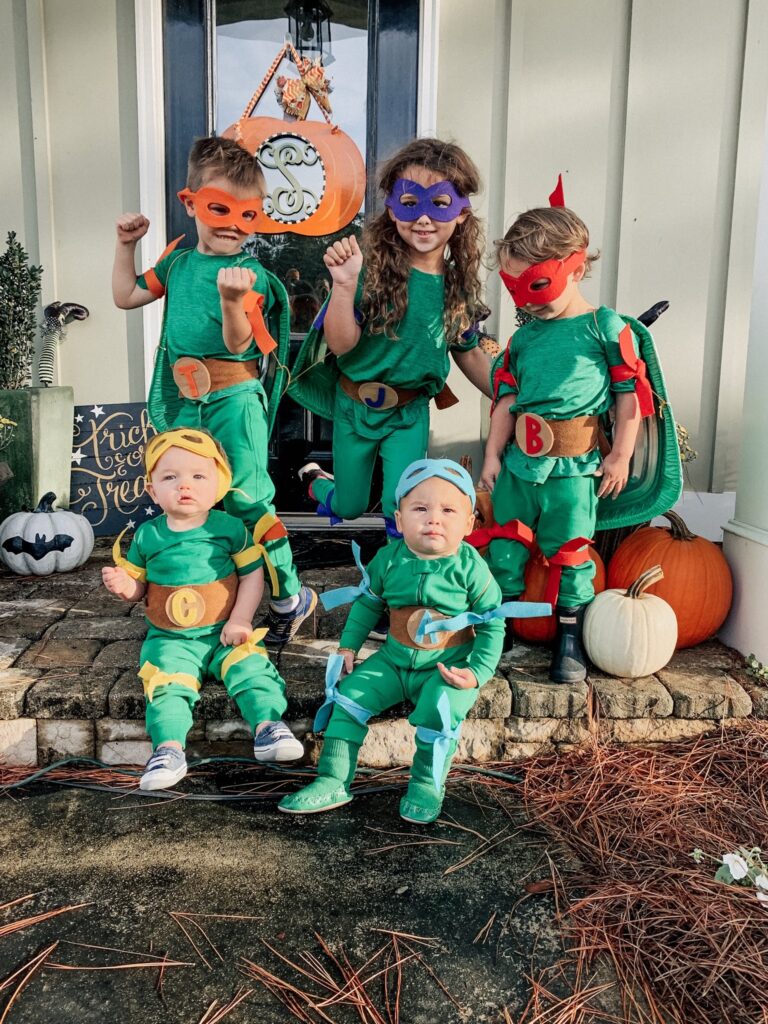 DIY Ninja Turtle Costume via Heape of Love
Dressing up as your favorite book character can be a fun way to celebrate literature and Halloween at the same time! Here is a cute costume from The Giving Tree.
The Giving Tree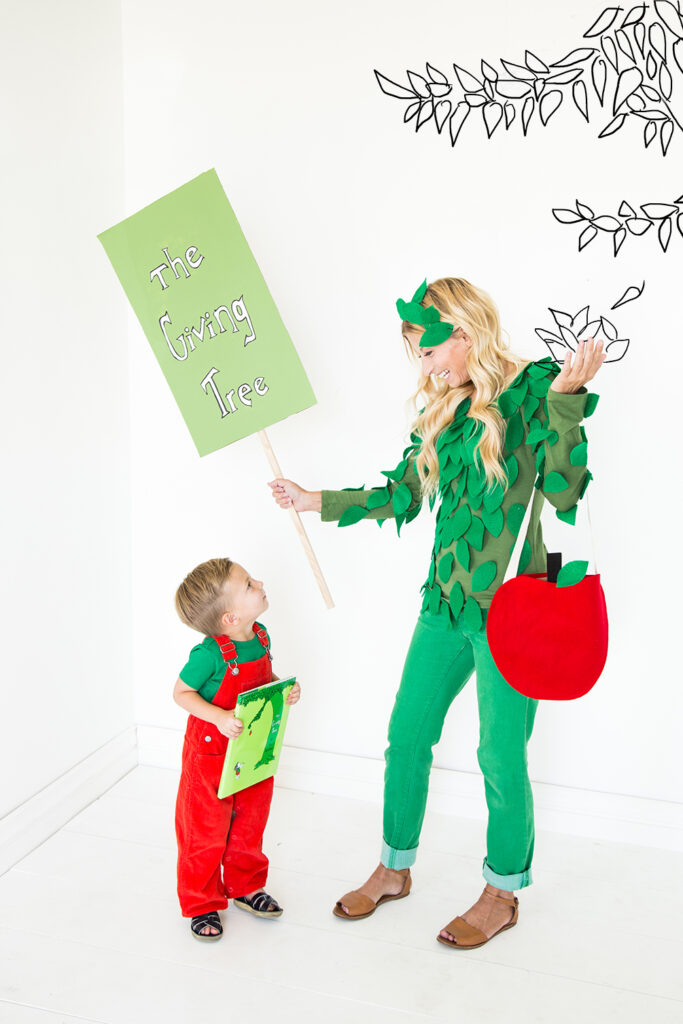 The Giving Tree Parent and Child Costumes via Lars
Curious George
Got a lot of yellow in your closet? Curious George is a great and affordable costume option!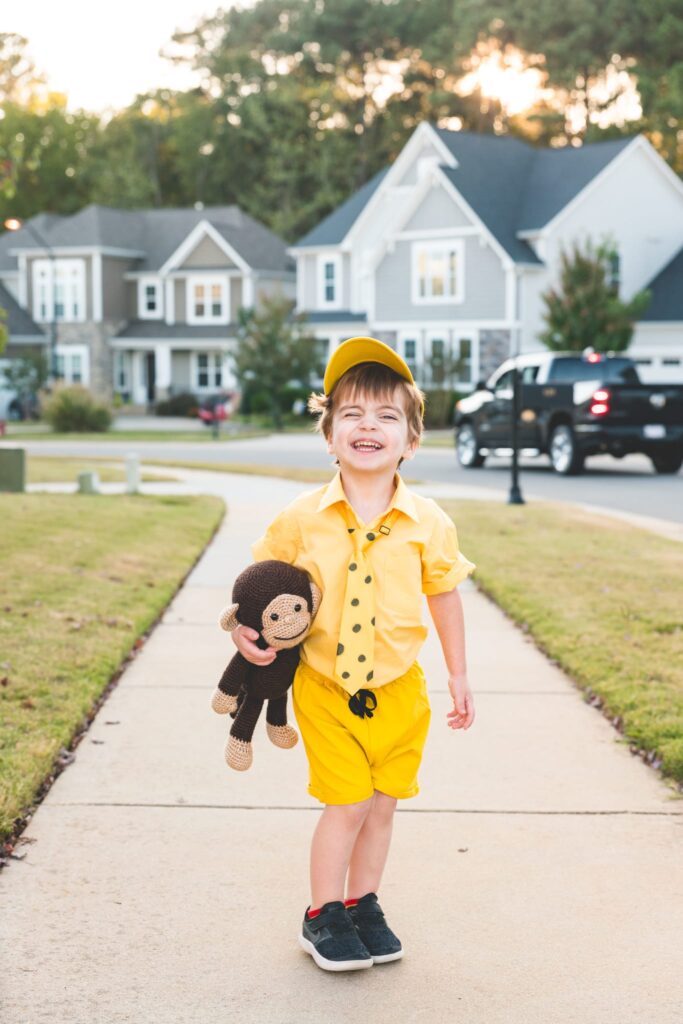 The Man with the Yellow Hat & Curious George via Sewrella
Laffy Taffy
Candy makes fabulous Halloween costumes! Check out this sweet Laffy Taffy Idea.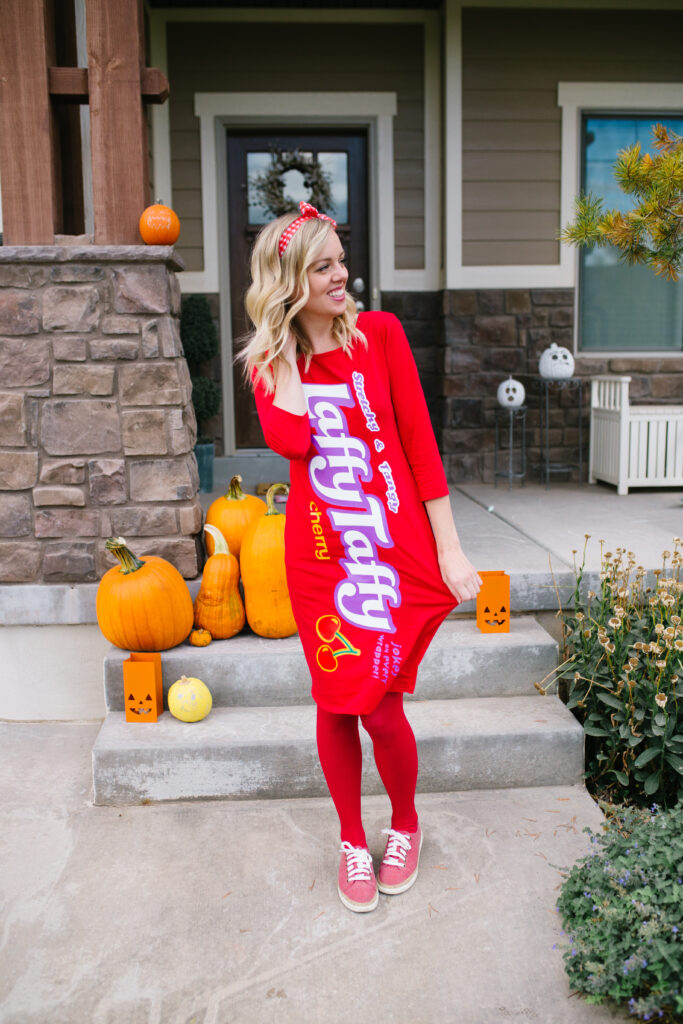 DIY NO-Sew Laffy Taffy Halloween Costume via The Pretty Life Girls
Unicorn
Here's a fun Unicorn costume made with a hoodie and yarn. Your kiddos will most definitely have a magical night dressed in this.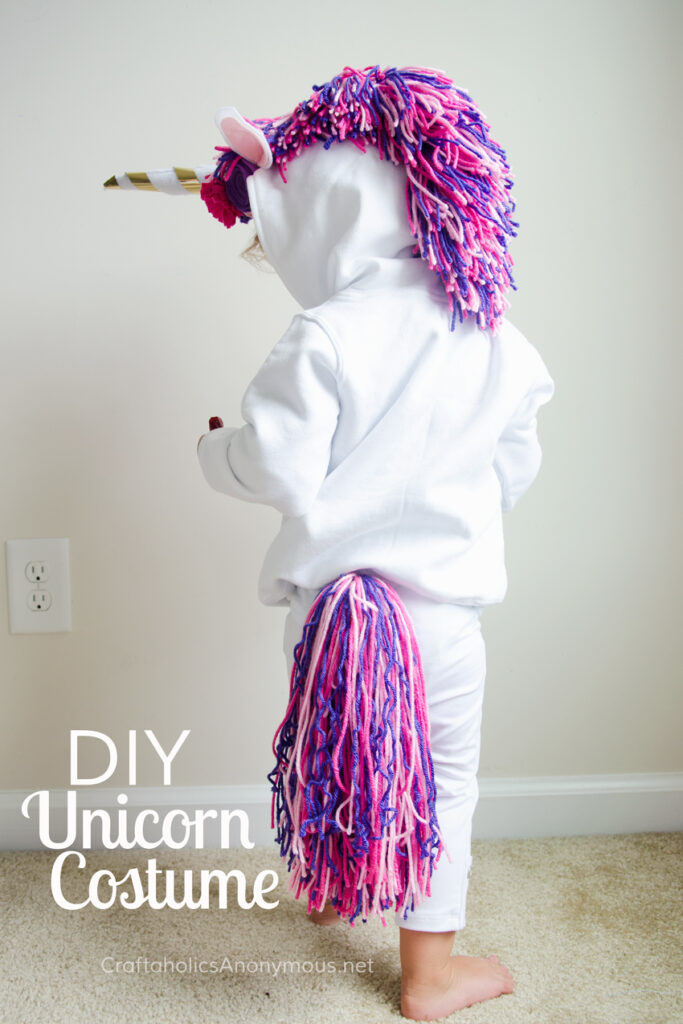 DIY Unicorn Costume via Craftaholics Anonymous
Jelly Belly
This is one of my favorites! Simply use balloons to create the perfect jelly beans.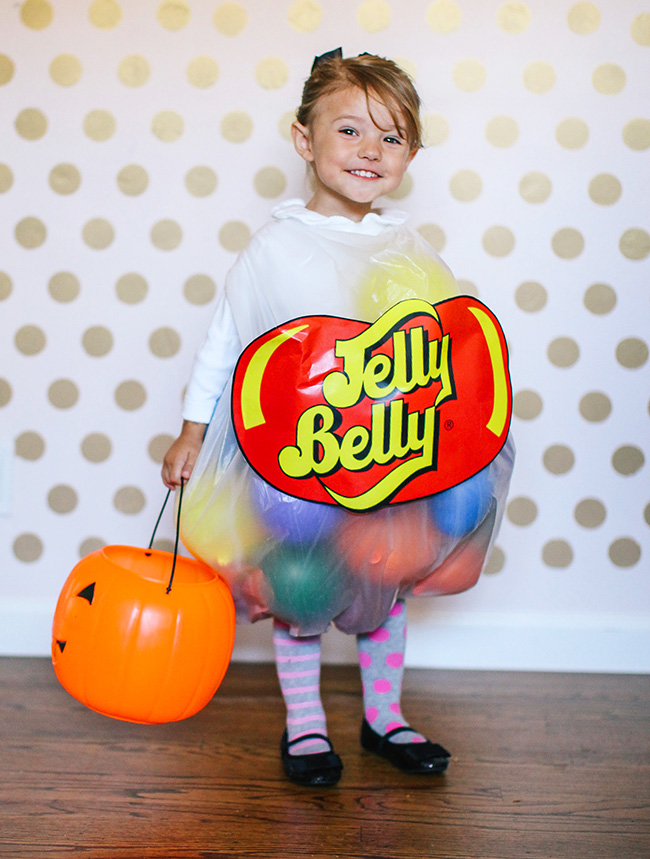 DIY Jelly Belly Halloween Costume via The SITS Girls
Hungry Hippos
Why not turn a fun game into a family costume! Hungry Hungry Hippos is one of my favorites and each person will have fun picking their own color.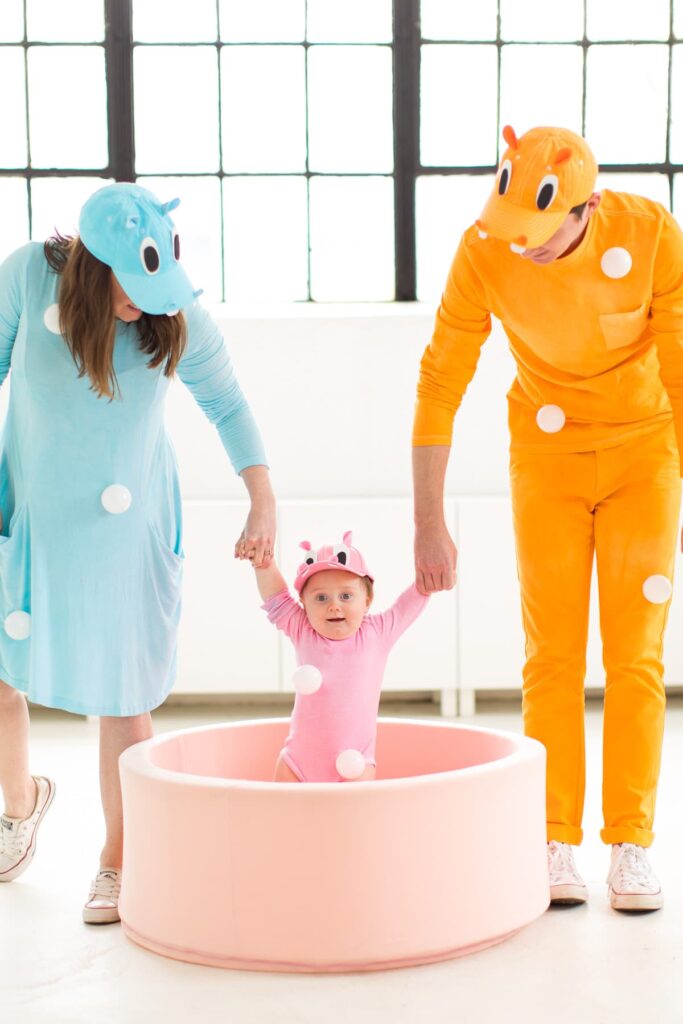 Family DIY Hungry Hippos Costume via Sugar & Cloth
Pillsbury Doughboy
How adorable is this?! Dressing up your little one as the Pillsbury Doughboy will definitely bring some smiles.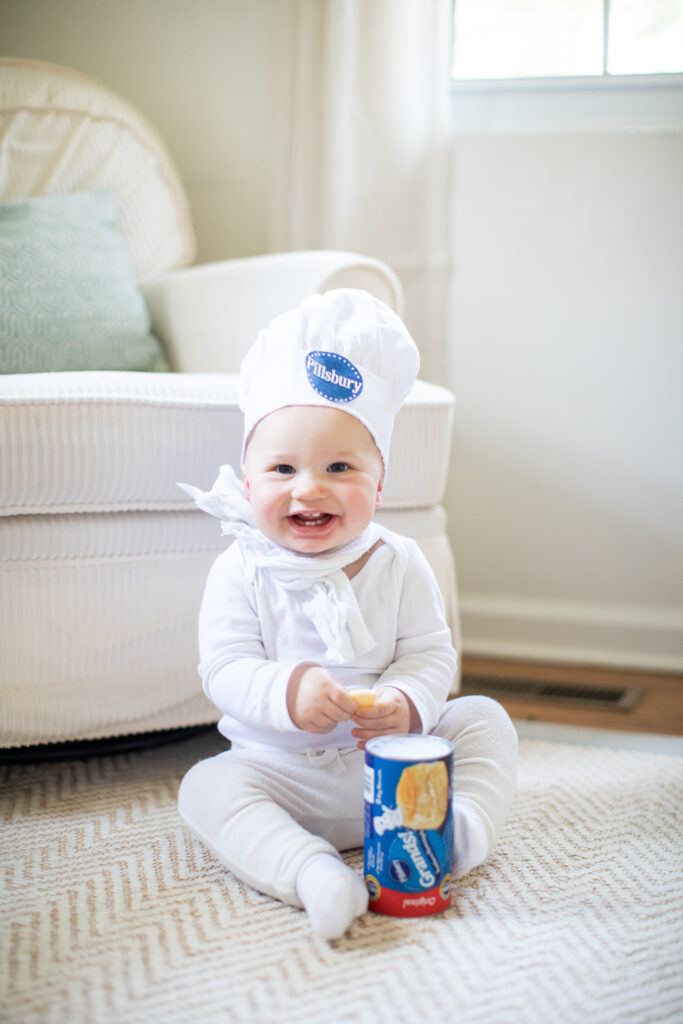 DIY Pillsbury Doughboy Halloween Costume via Lucy Miller Photography
Popcorn
This popcorn costume is so creative! It's easy to make, cheap, and oh so cute!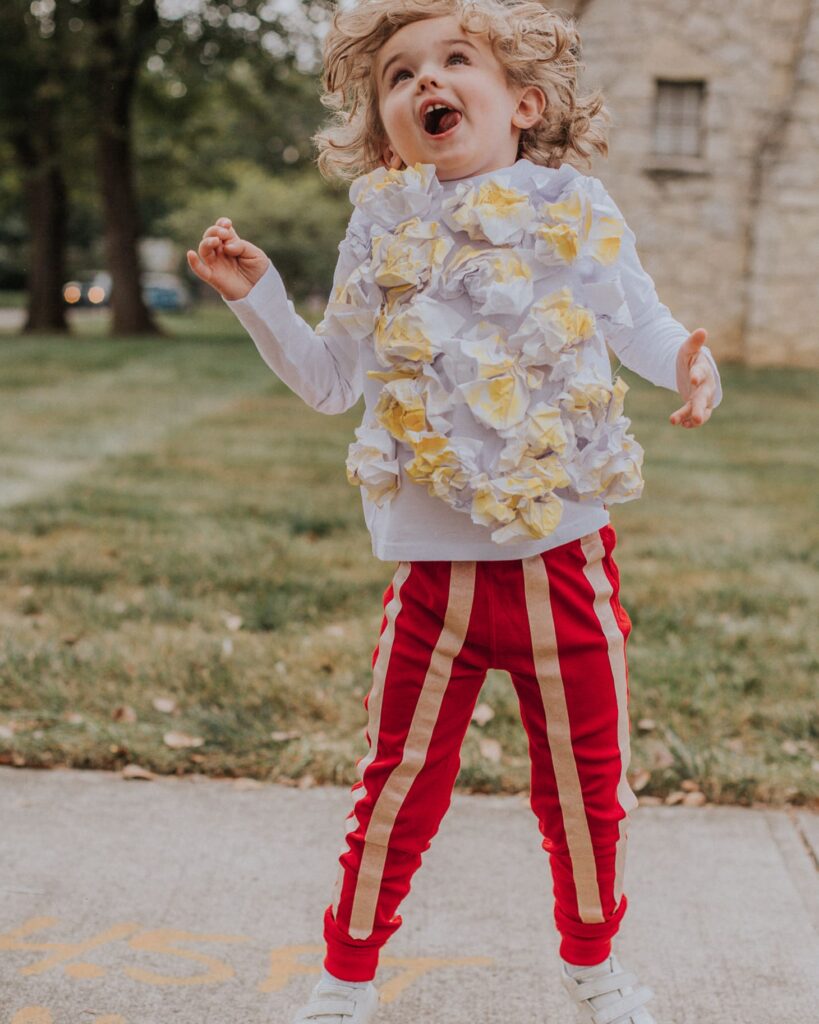 Popcorn via Kitchn
Dalmation
Looking for a fun face paint costume? This Dalmation is simple and unique!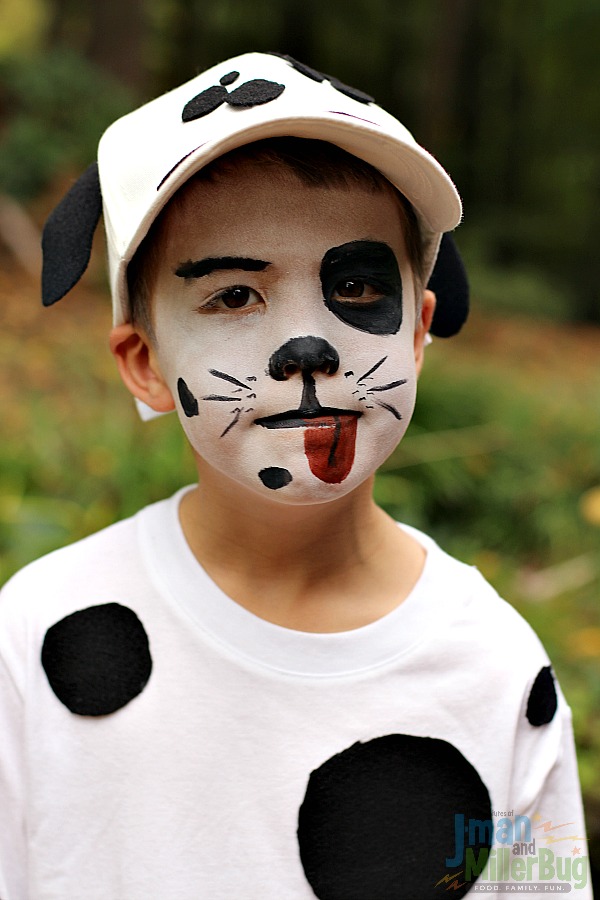 Dalmatian Halloween Costume
M&M
M&M's make amazing group costumes! Just pic a color and grab some tule!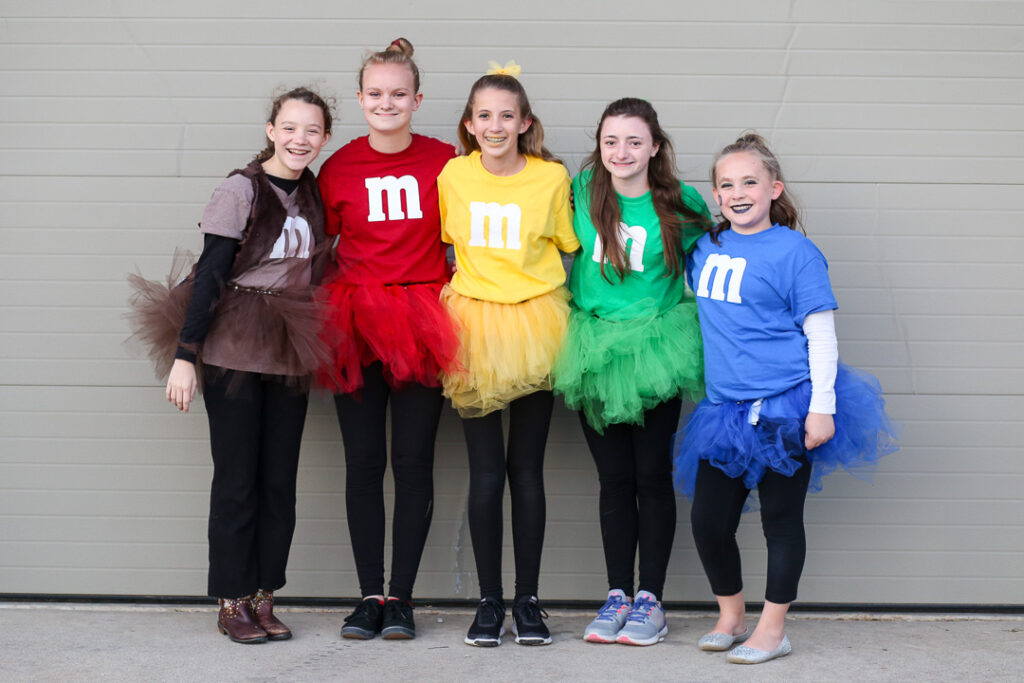 Candy M&M's Group Costume via Sugar Bee Crafts
Cup of Noodles
This cup of noodles costume definitely deserves some compliments. You can't beat this noodle hair.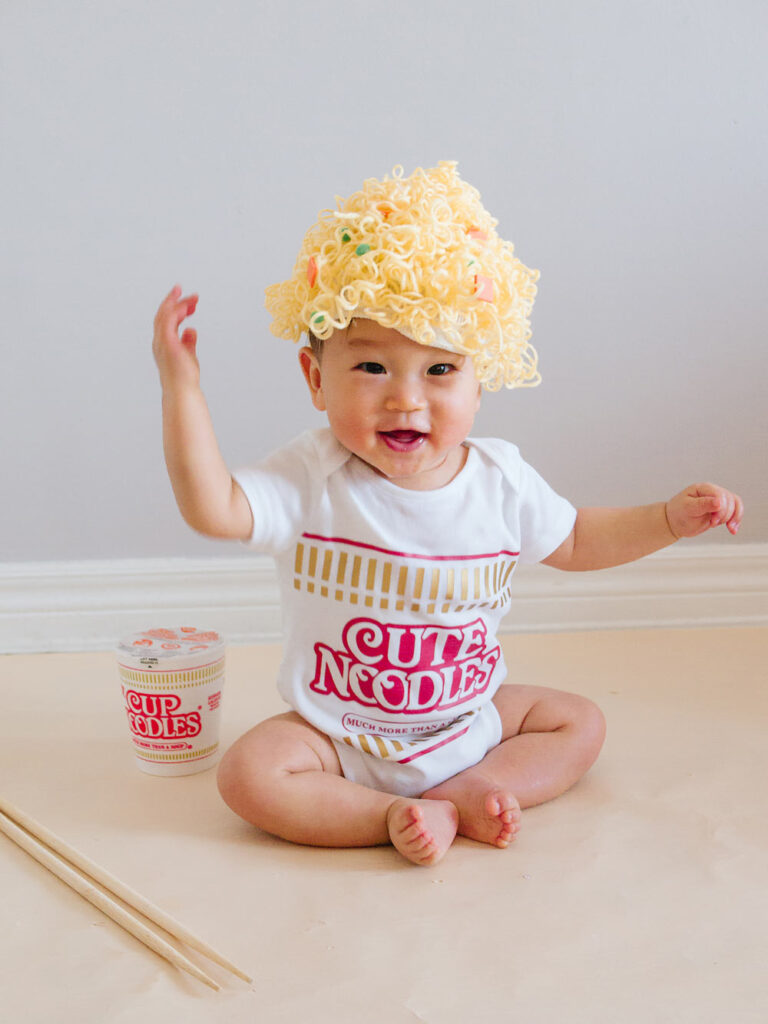 DIY Cup of Noodles via Ting and Things
Cowboy
Kiddos will love riding around the neighborhoods with their cowboy hat and box horse! Look out, there is a new sheriff in town!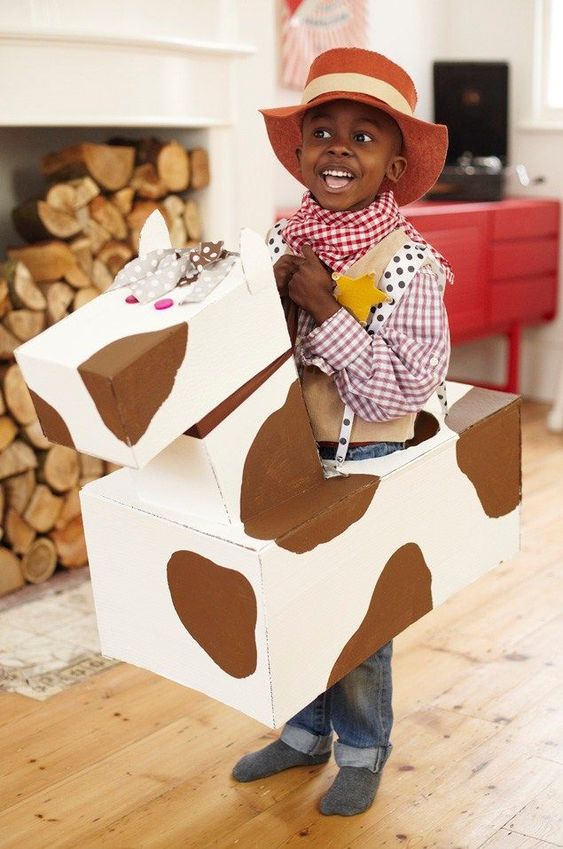 Cowboy and Horse via Made for Mums
Charlie Brown
This is one of the easiest costumes to make and it is so cute! I love how they added a stuffed animal to this picture.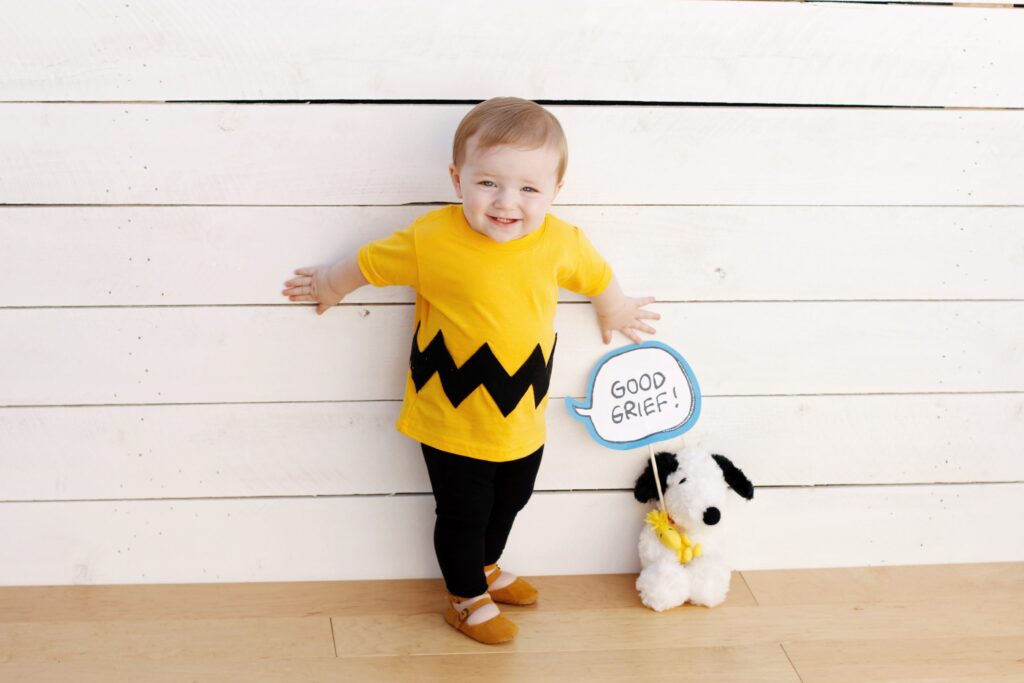 Charlie Brown DIY Halloween Costume via raising indie
Train
This box train is another cute costume that you can make with your kiddos. Just add a vest and a hat and you've got yourself a great costume!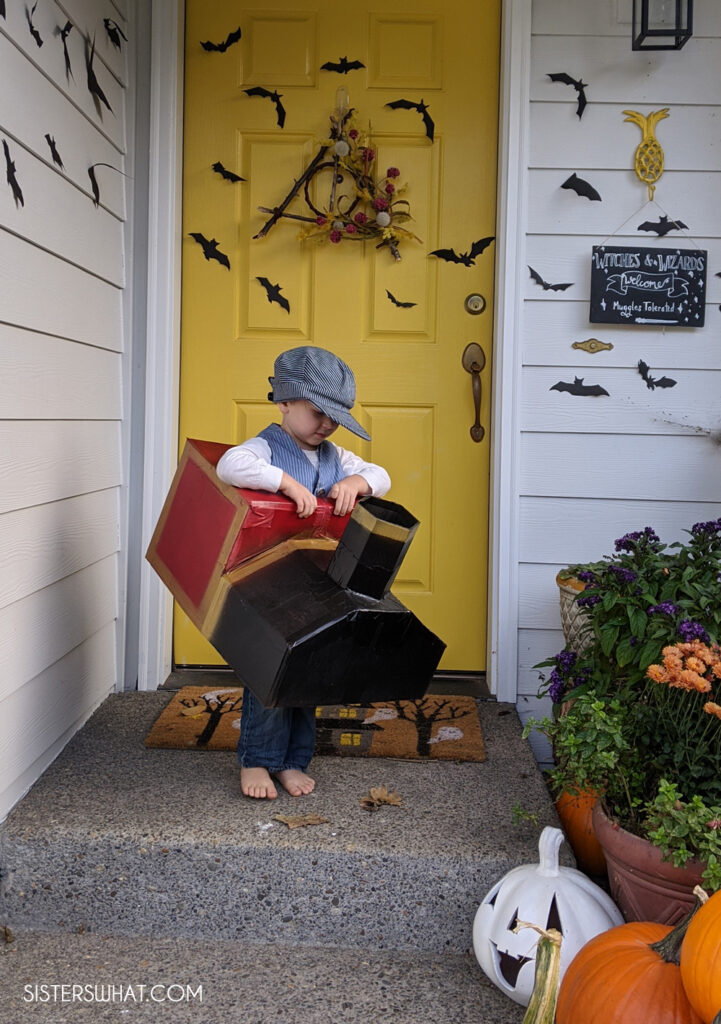 Toddlers Hogwarts Express Train via Sisters, What!
Ice Cream Cone
Colorful sprinkles and complete with a cherry on top! This costume will make your Halloween extra sweet!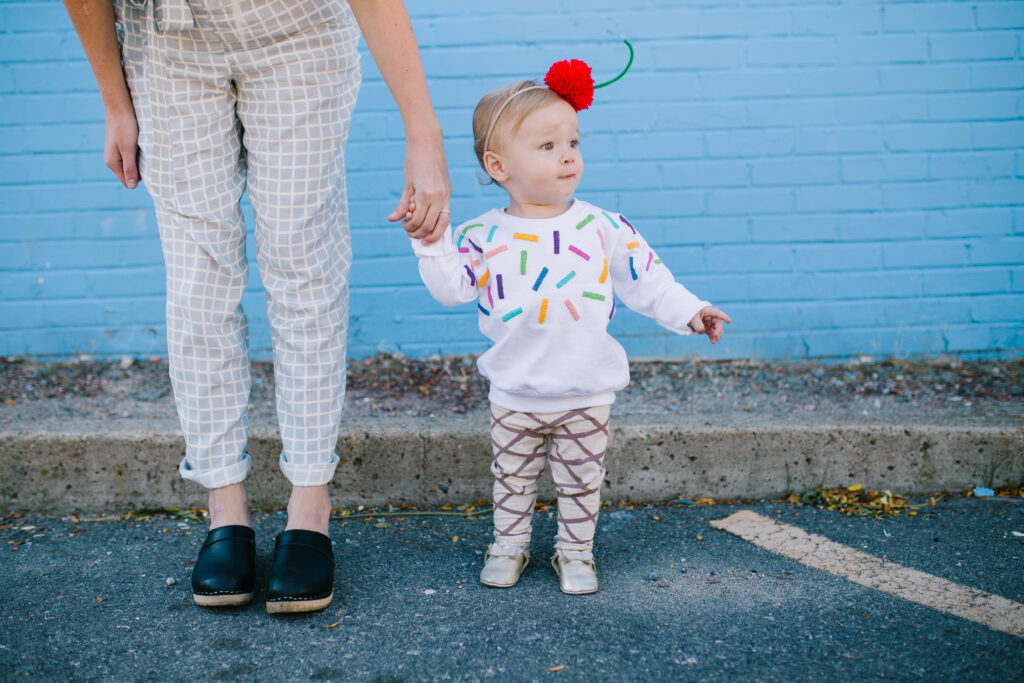 DIY Ice Cream Cone Costume via The Pretty Life Girls
Halloween Headbands
Just add one of these headbands and some face paint and you've become a cute animal! These Halloween headbands are easy to make and adorable!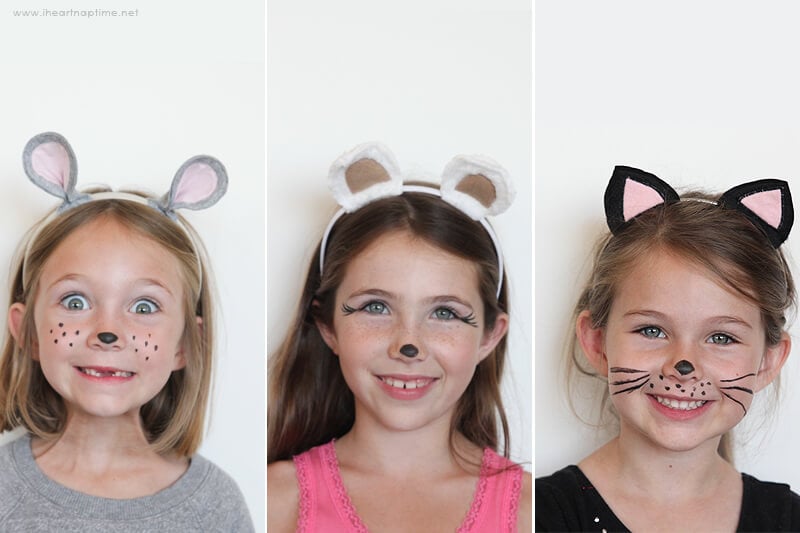 Toaster & Toast
Looking for an original costume that most people have never seen? This Toaster and toast combo is so unique and a great ride for little kids!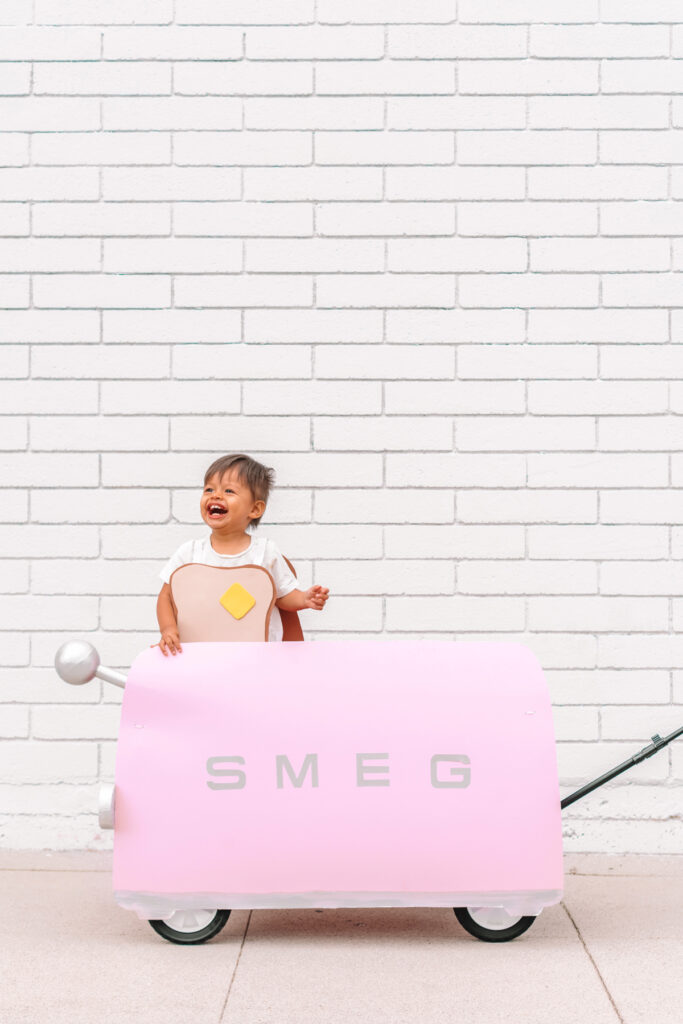 DIY Toaster + Toast Costume for Kids via Studio DIY
Taco
That is one cute taco! This costume is a great little DIY project that kids will love to wear.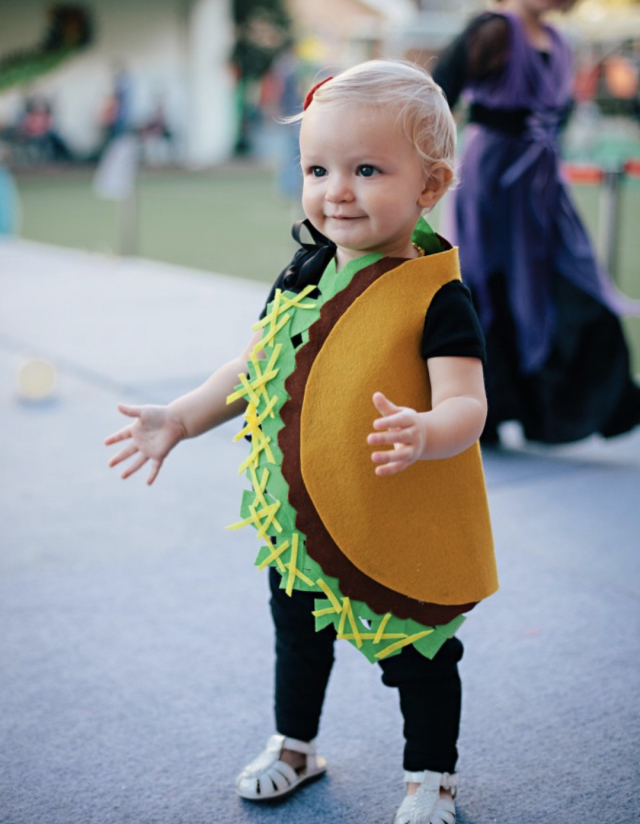 Taco Costume via Wafarer Family
Cookies & Milk
Talk about a perfect couples costume! Cookies and milk are delicious together and these outfits look so good!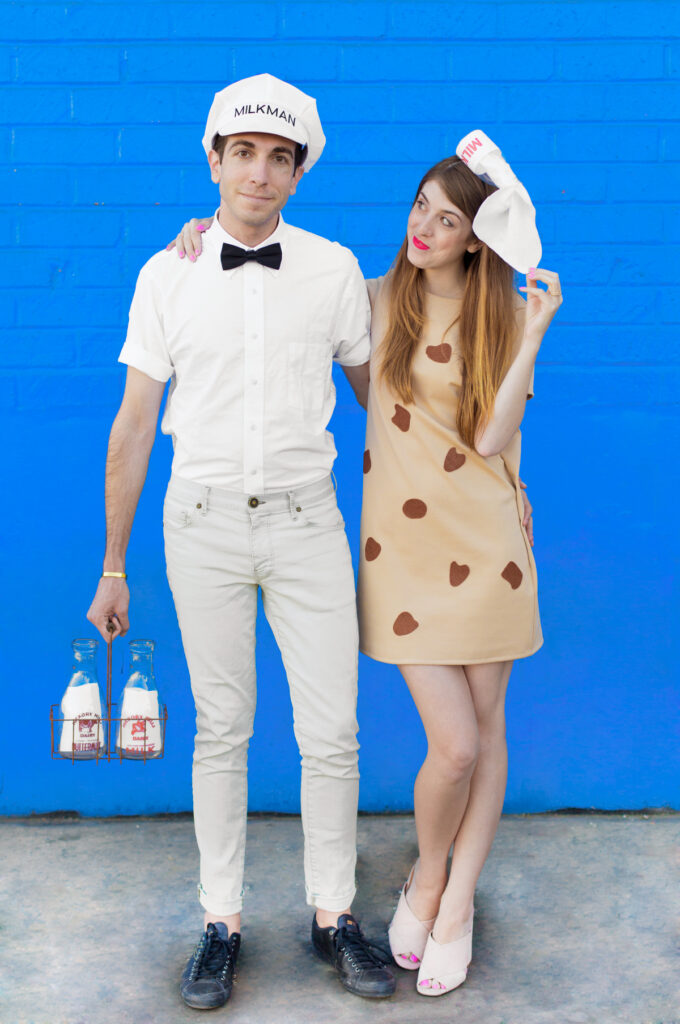 DIY Cookies + Milk Couples Costume via Studio DIY
Baby Yoda
Baby Yoda is popular right now and this homemade costume is adorable! It will also keep your little one's head warm.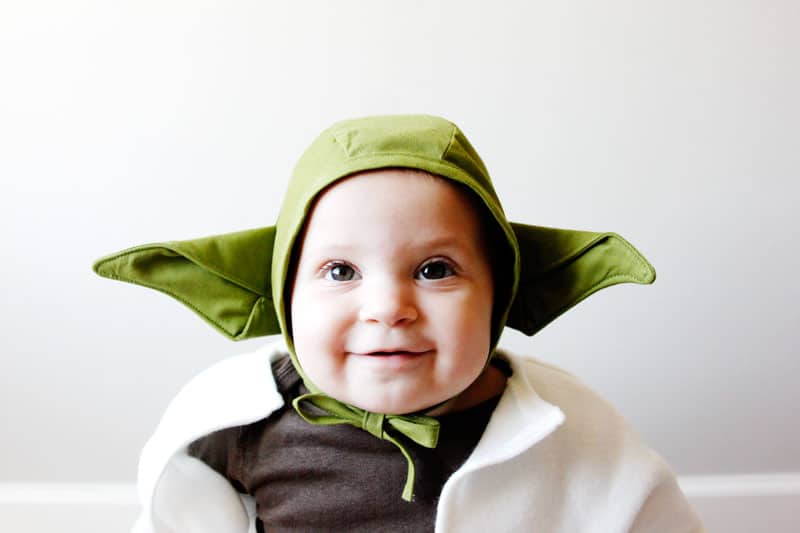 DIY Yoda Baby Costume via See Kate Sew
Scuba Diver
These DIY scuba diver costumes are so creative and look amazing! I especially love the soda bottles!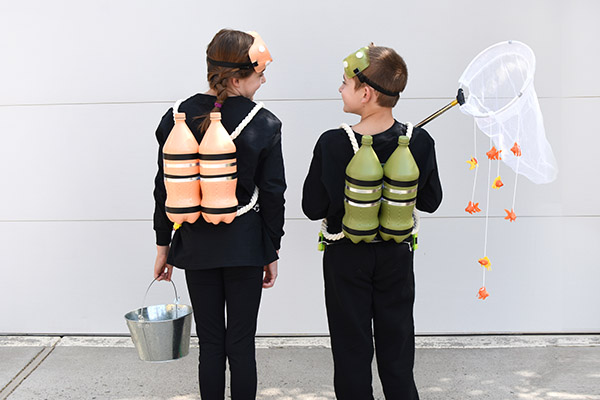 DIY Halloween Scuba Diver Costume via Delineate Your Dwelling
Bat
Look at those cute wings! This Halloween bat costume is cheap, easy, and adorable!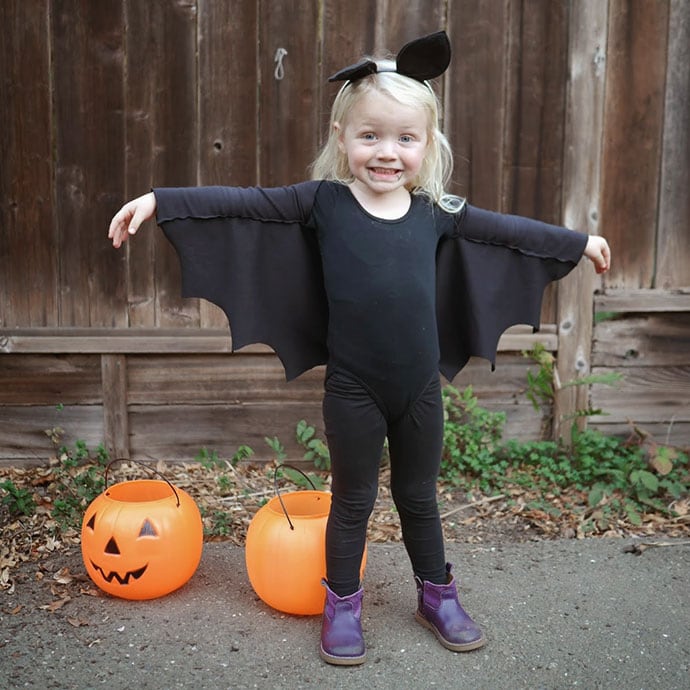 DIY Halloween Scuba Diver Costume via Delineate Your Dwelling
Bee
A bee is a wonderful costume for anyone! You can even find someone else to be a be a bee keeper.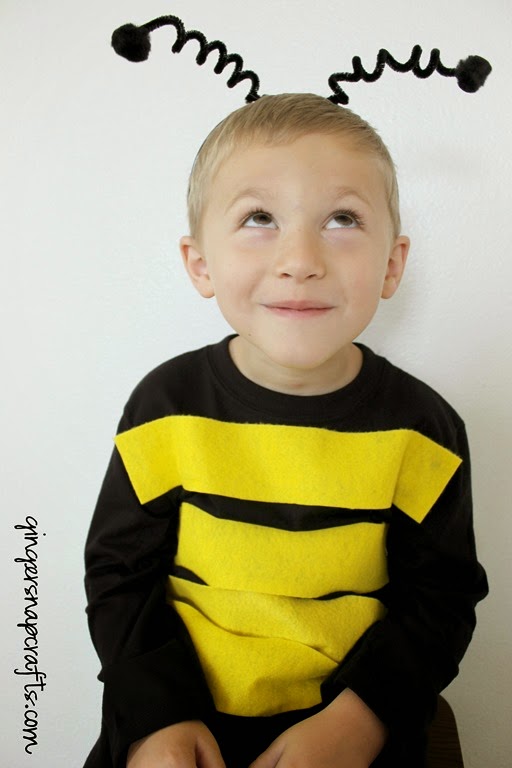 No Sew Bee Costume via Ginger Snap Crafts
Hamburger
If you love hamburgers then this costume is perfect! This would be a fun for adults to wear too!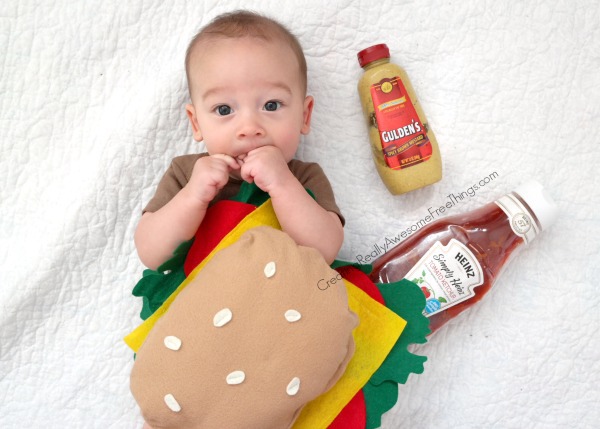 DIY Baby Hamburger Costume via Creating Really Awesome Fun Things
Animals
Hoodie animals are fast and easy to make! There is also so much variety to choose from.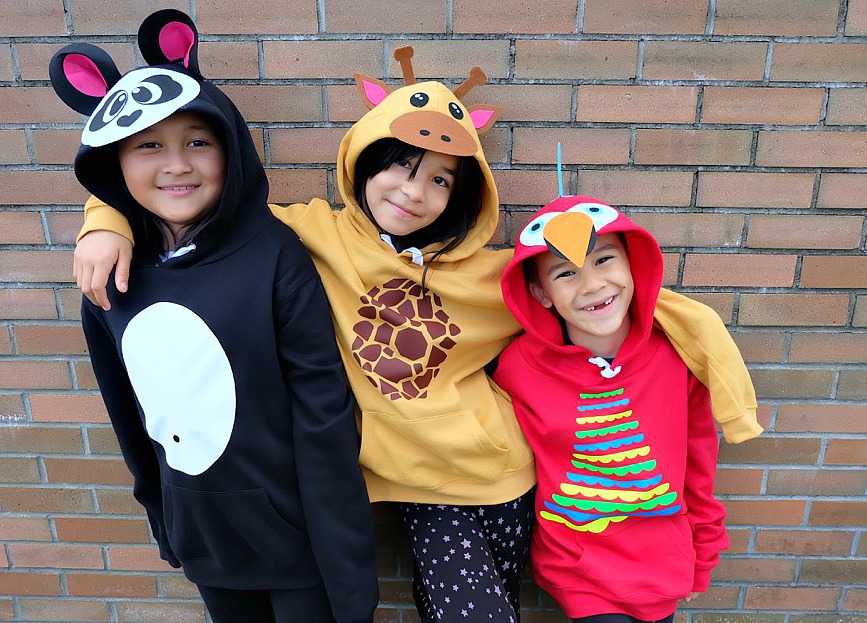 DIY No Sew Group Parrot, Giraffe, and Panda via Hello Creative Family
Buzz Lightyear
Buzz Lightyear is one of those costumes that kids love! This costume is bright and so much fun!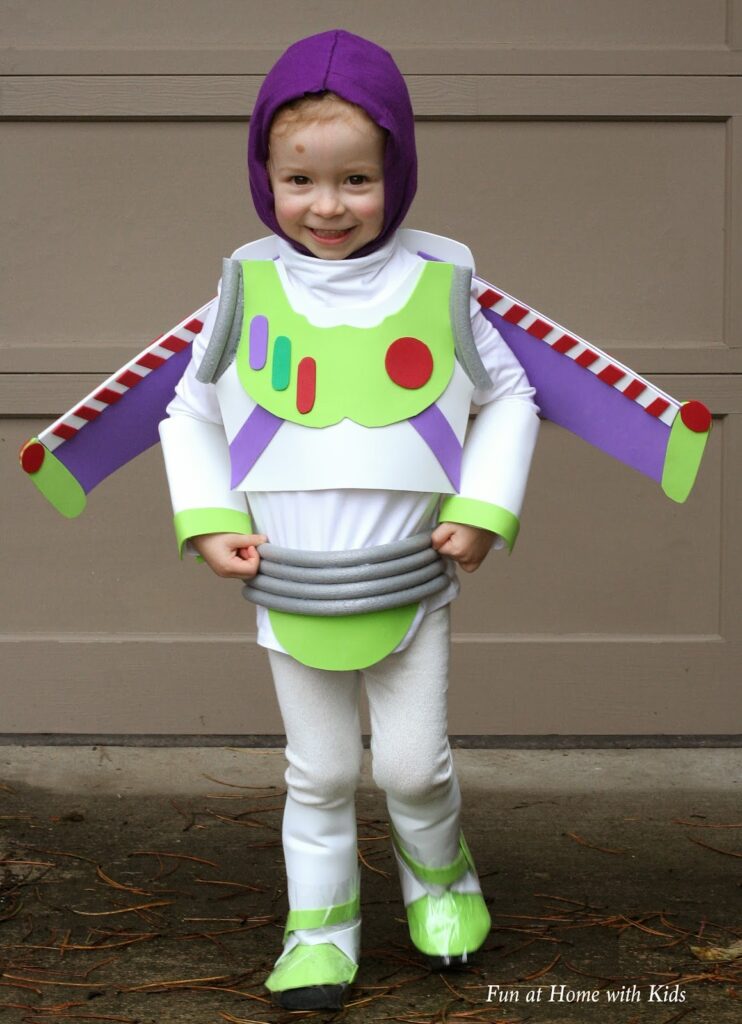 DIY Buzz Lightyear No Sew Halloween Costume via Fun at Home with Kids
Paw Patrol
If you have some pink clothes, Paw Patrol is a great idea! Just add some goggles and wings and you're good to go!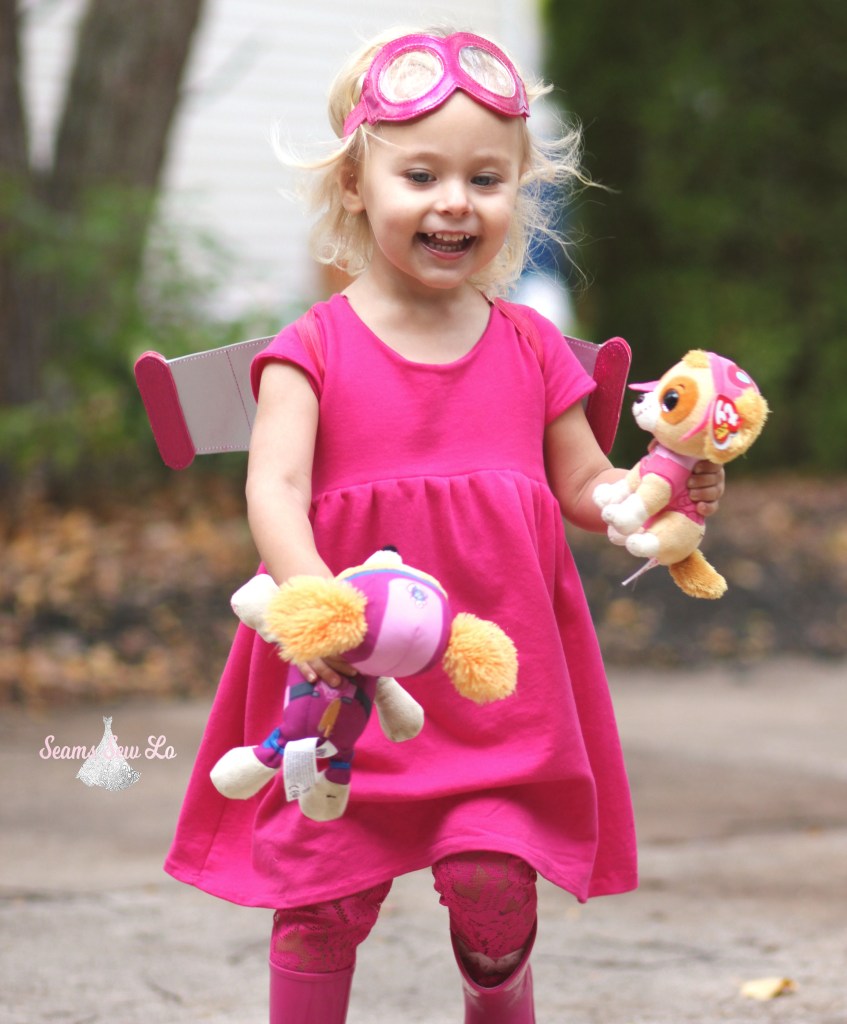 Skye Halloween Costume, Paw Patrol, DIY via Seams Sew Lo
Ghost
Ghost costumes can often be uncomfortable. This one is warm, comfy, and stylish!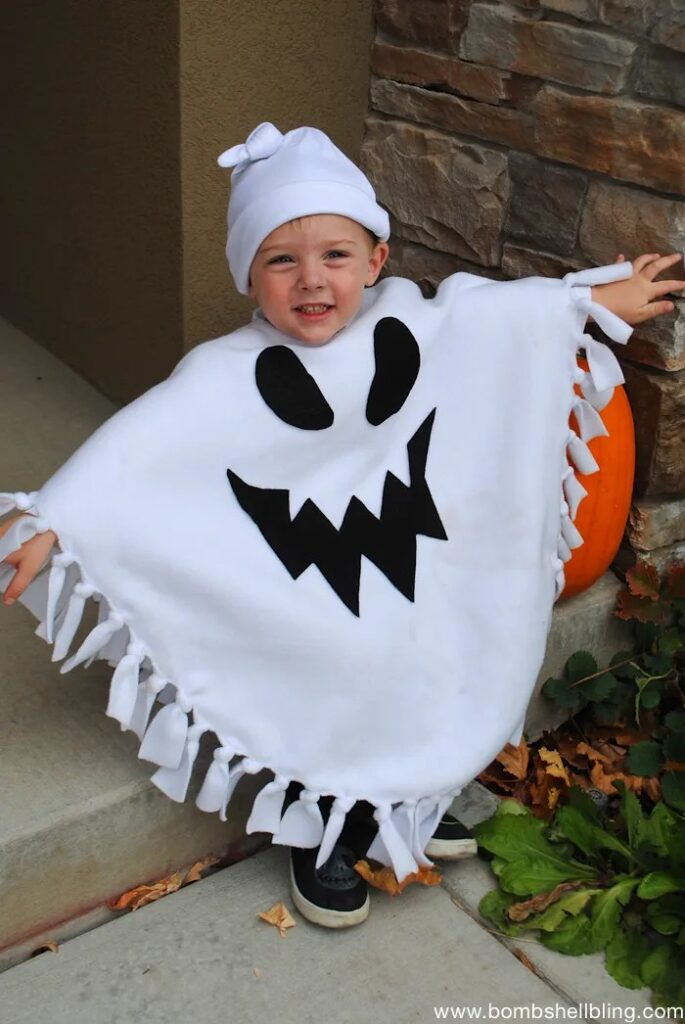 Easy No-sew Ghost Costume via Bombshell Bling
Construction Wrecking Ball
This construction wrecking ball idea is great for those kiddos who don't want to hold their candy. Kids will have so much fun in this costume.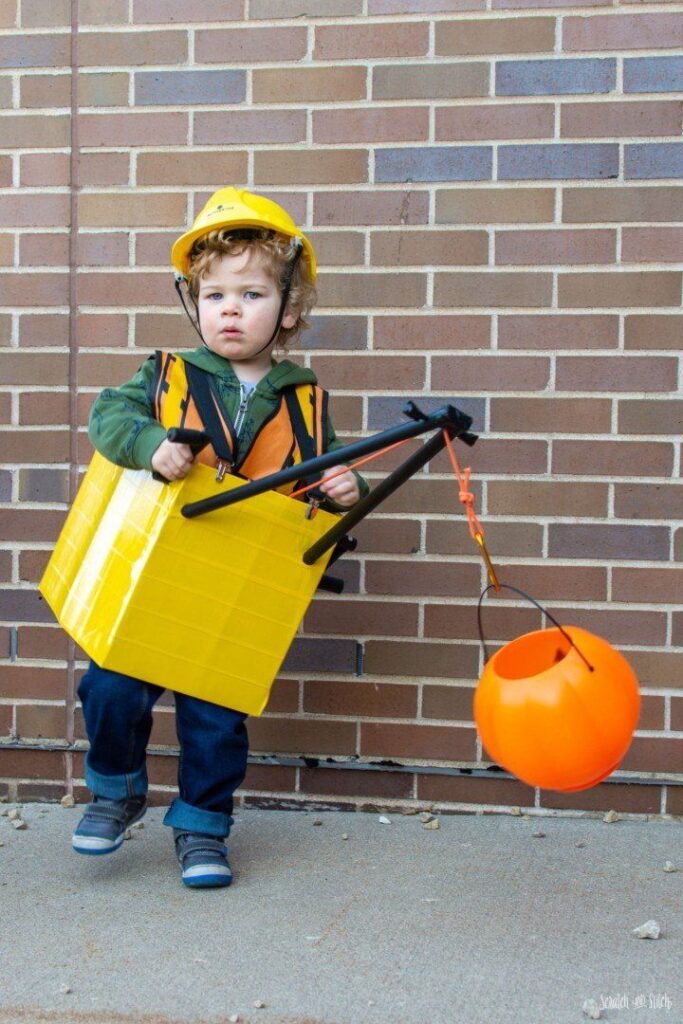 Construction Wrecking Ball via Fabulessly Frugal
Peter Pan's Shadow
Peter Pan's shadow is a unique costume that kids will love wearing. If you already own a morph suit, then this costume is halfway done!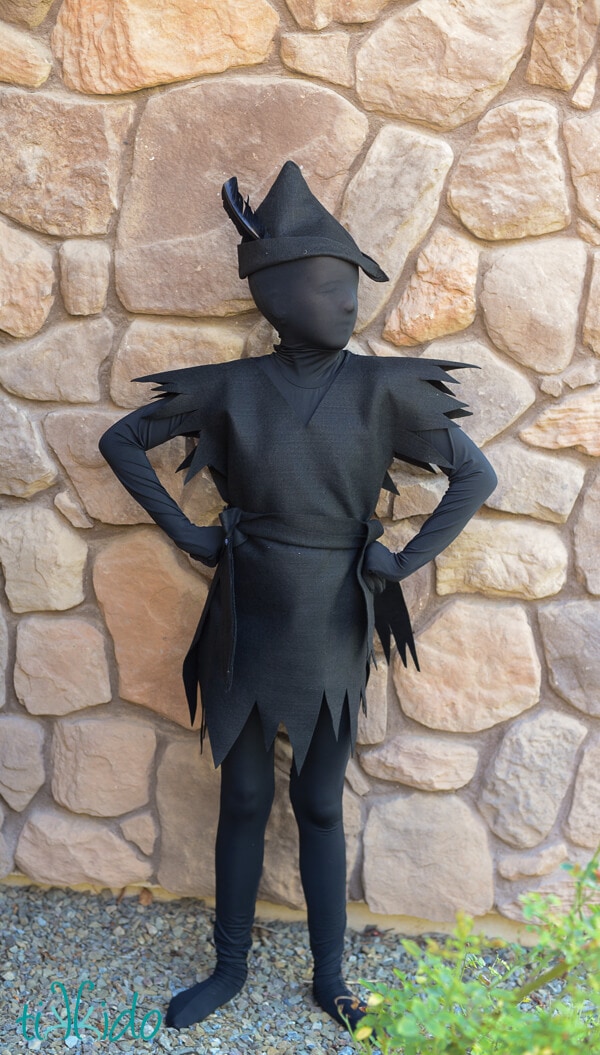 DIY Peter Pan's Shadow Costume via Tikkido
Super Hero
These homemade superhero costumes are so easy to make and look so amazing! Why spend tons of money at the store when you can look just as great homemade!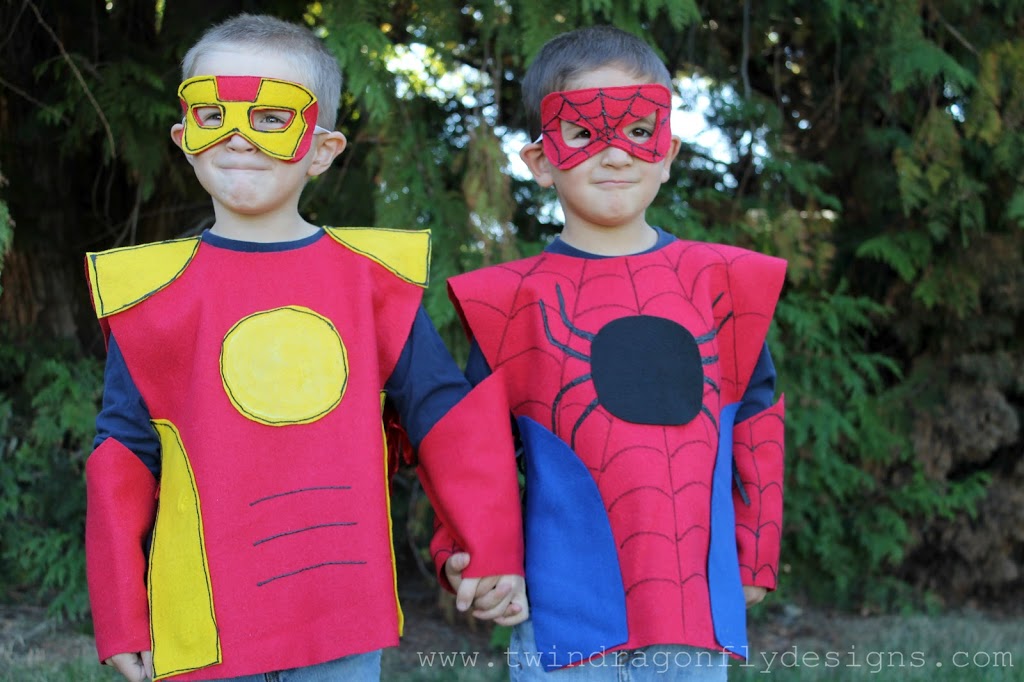 DIY No-Sew Super Hero Costumes via homemade heather
Hot Air Balloon
This DIY hot air balloon costume will take a little more effort to put together but it will be worth it! Your kiddo will be the talk of the town.
Hot Air Balloon at Style Me Pretty
Space Family Costume
Looking for an out of this world costume idea? Look no further! These will definitely get some compliments.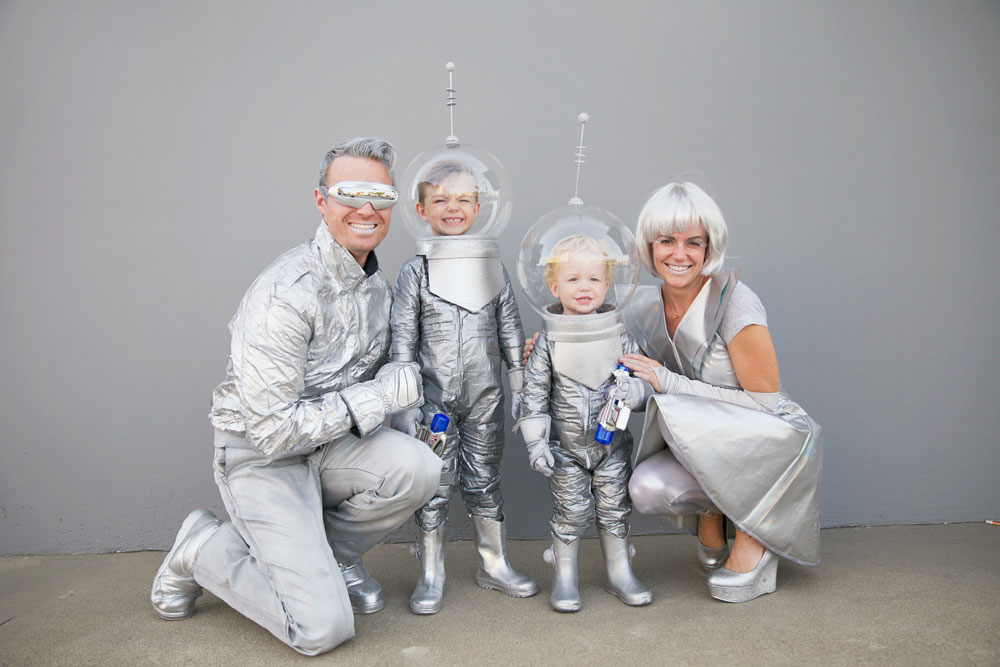 DIY Space Family Costume via Tell Love and Party
Where's Waldo
Where's Waldo is always a fun choice for Halloween! This costume can be made for any age.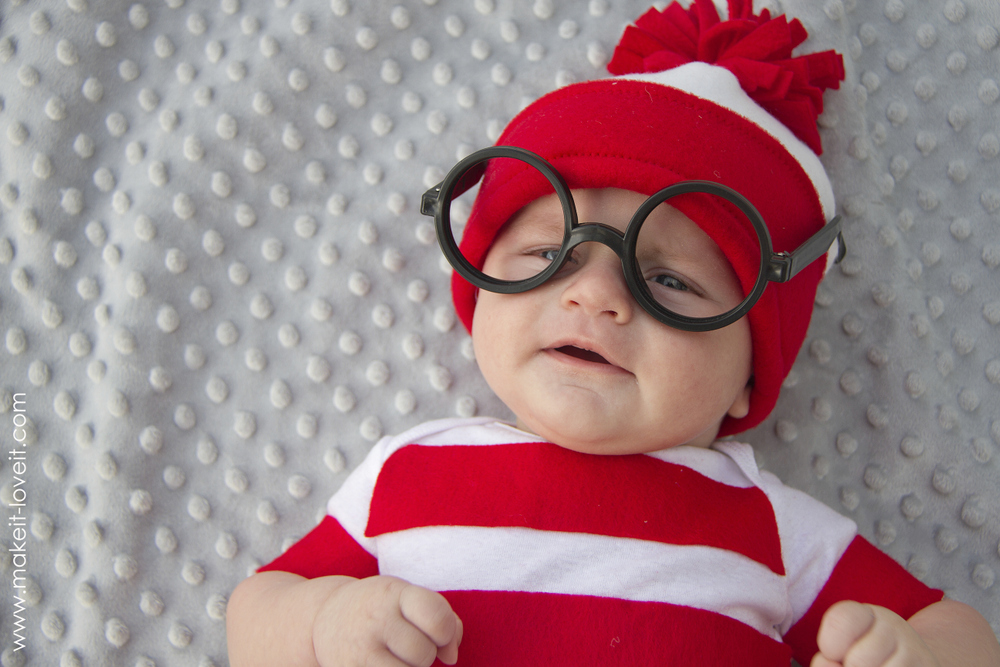 "Where's Waldo" Costume via Make It & Love It
Face Mask Mummy
Here's a great idea if you have a face mask. Simply add some material and a little face paint and you're a mummy!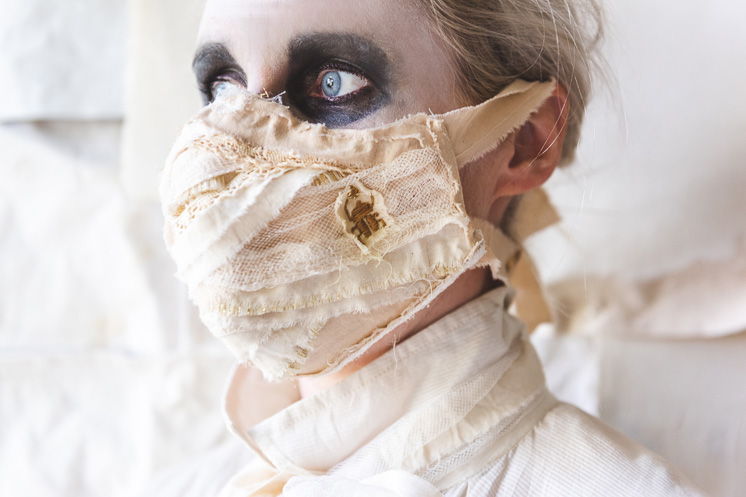 DIY Classic Halloween Face Masks via Lars
Star Wars
Star Wars costumes are easy to put together and fun for the entire family! Most of the clothing may already be in your closet.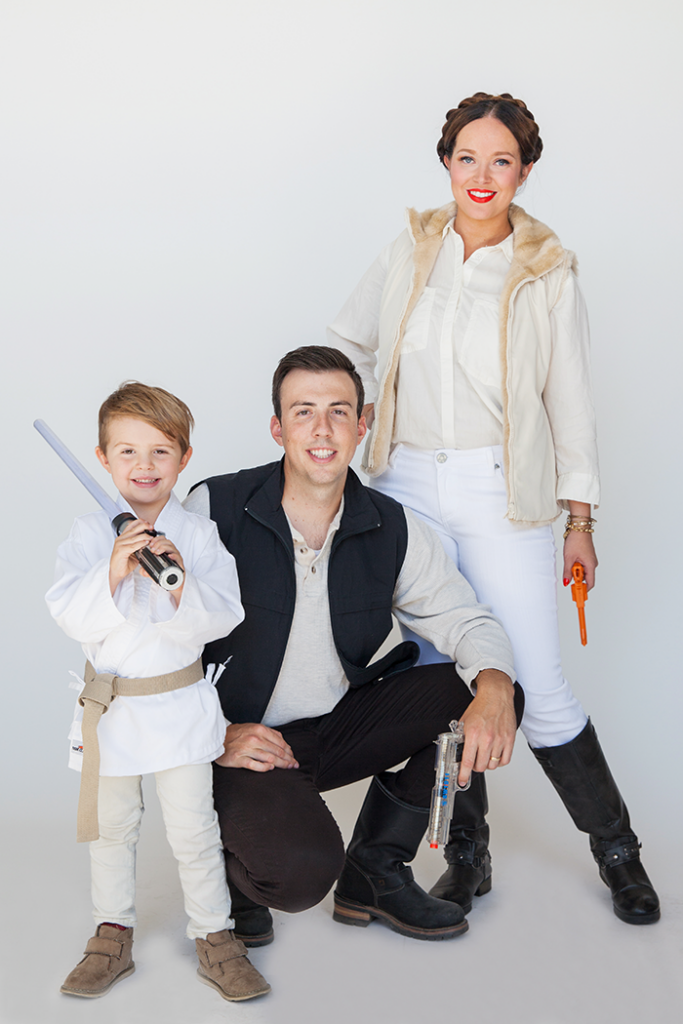 Halloween Family Costumes: Star Wars via Say Yes
Baby Lamb
This Baby lamb costume is soft and adorable! It will also keep your little ones warm.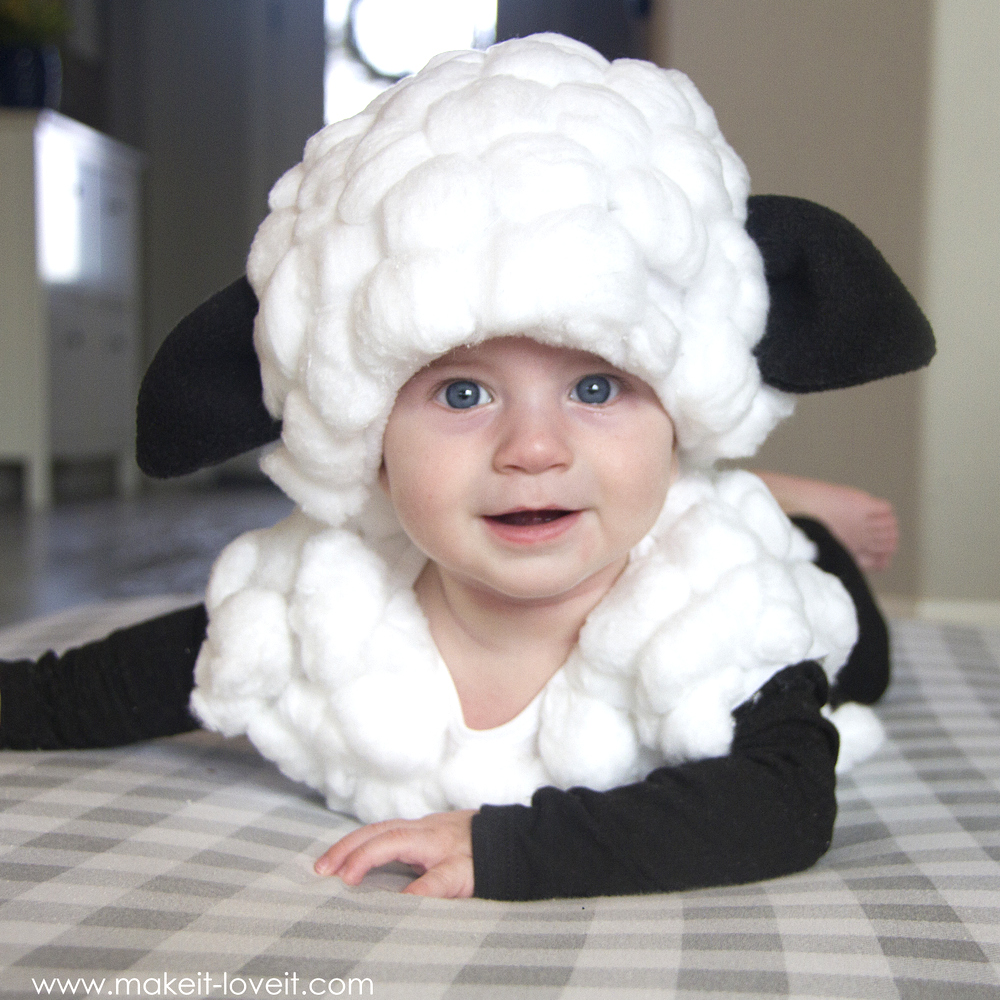 Baby Lamb Costume via Make It & Love It
Glinda and Wicked Witch
Instead of the ordinary witch costume, try these! Glinda and Wicked Witch of the West are iconic figures and the tutus look amazing.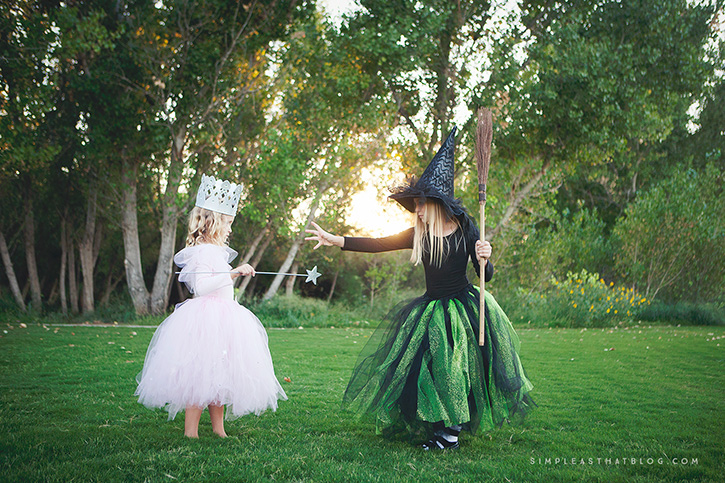 Glinda and Wicked Witch of the West Costume via SIMPLE AS THAT
Shark
How cute is this?! This shark costume is made using a simple hoodie. It's affordable, quick, and fun!
Simple Shark via Make It & Love It
Mario Kart
Mario Kart is the perfect family costume! Everyone will have a blast choosing their favorite character and decorating their car.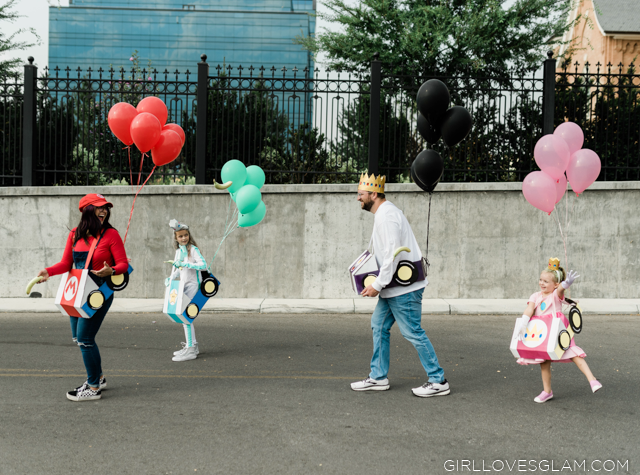 Mario Kart Halloween Family Costume via Girl Loves Glam
Lego
What kid wouldn't want to be a giant lego? This costume is creative and fun!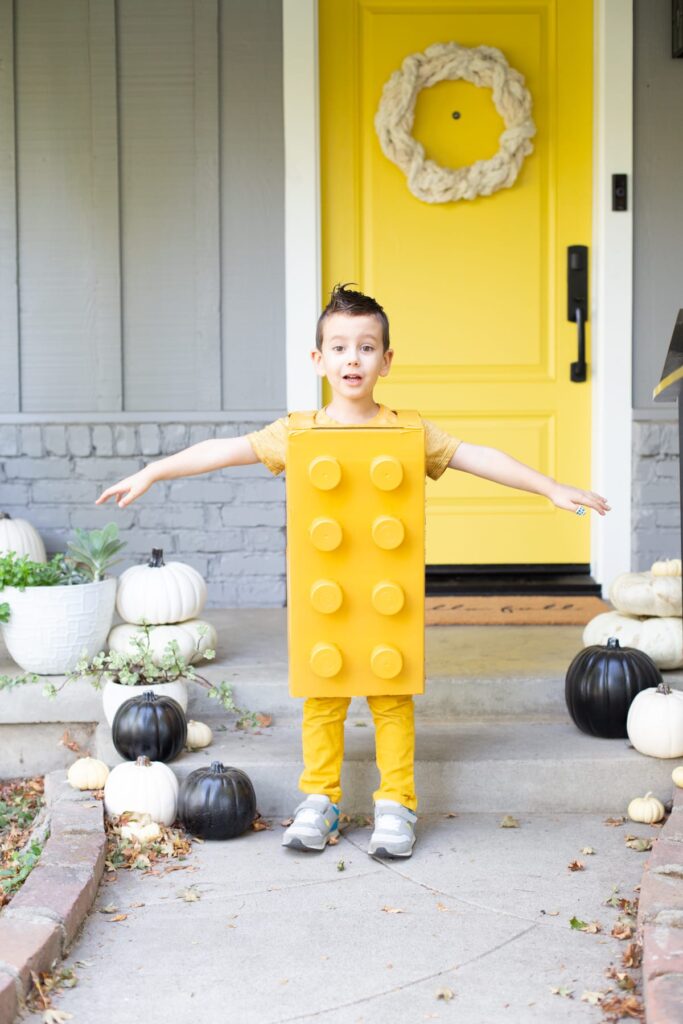 Lego Costume DIY via Lovely Indeed
I Love Lucy
Step back into the 1950s with an I Love Lucy Costume! These are simple to put together and look great!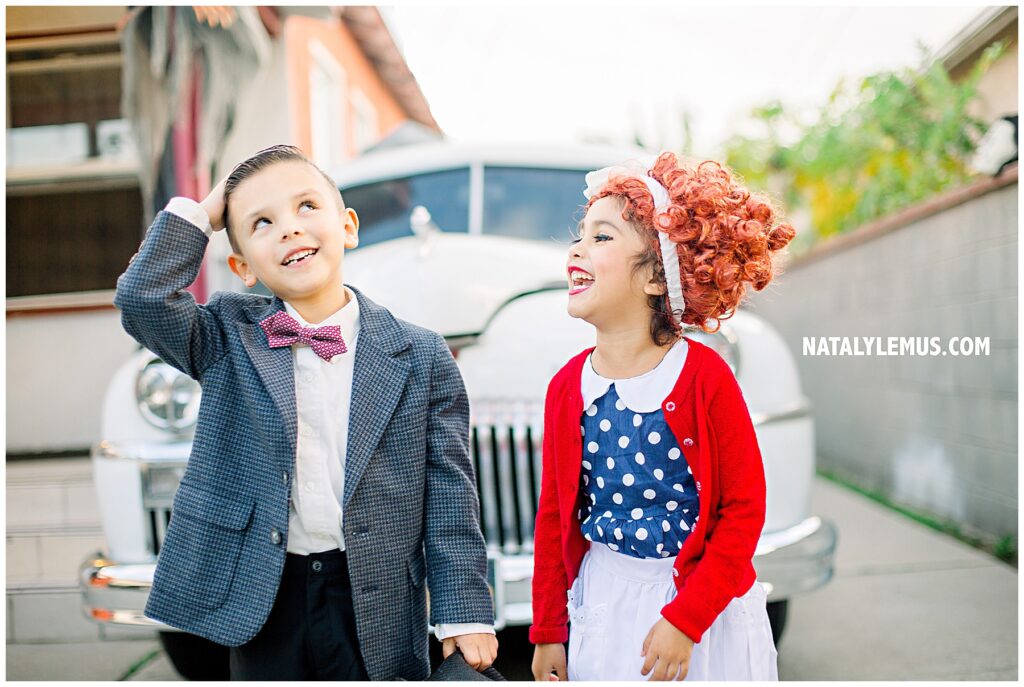 I Love Lucy DIY Little Lucy & Ricki via Nataly Lemus
Monsters
Embrace the spookiness of Halloween with a monster costume! This one may take a bit more creativity.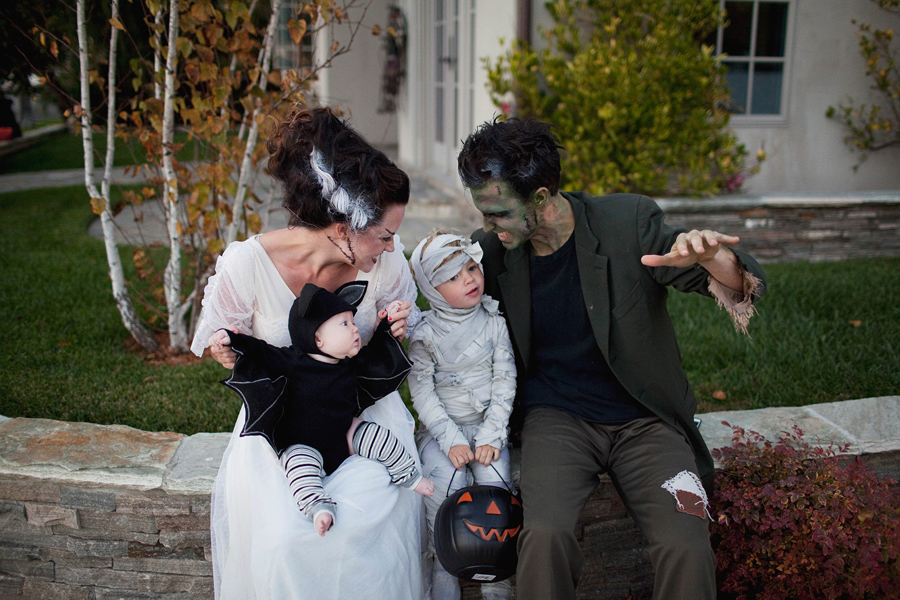 Monster Family Costume DIY via Tell Love and Party
Pacman
Looking for a costume that works great for a lot of kids?! Try Pacman! Every child can pick their favorite color!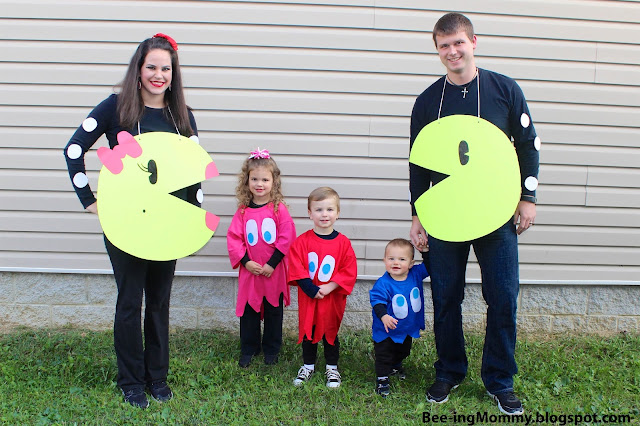 Pac-man Family Costume via Bee-ing Mommy
Butterfly
This butterfly costume is perfect for those who love arts and crafts! Kids will absolutely love having colorful wings.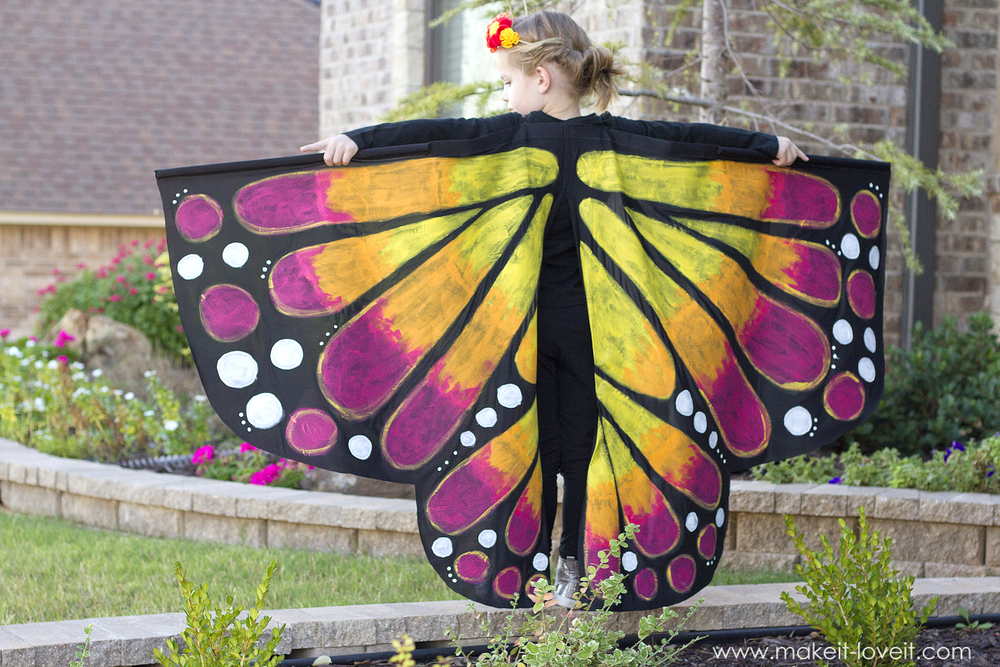 Large Wing Butterfly Costume via Make It & Love It
Baymax
Kids will love these Baymax costumes! They are simple and inexpensive to make.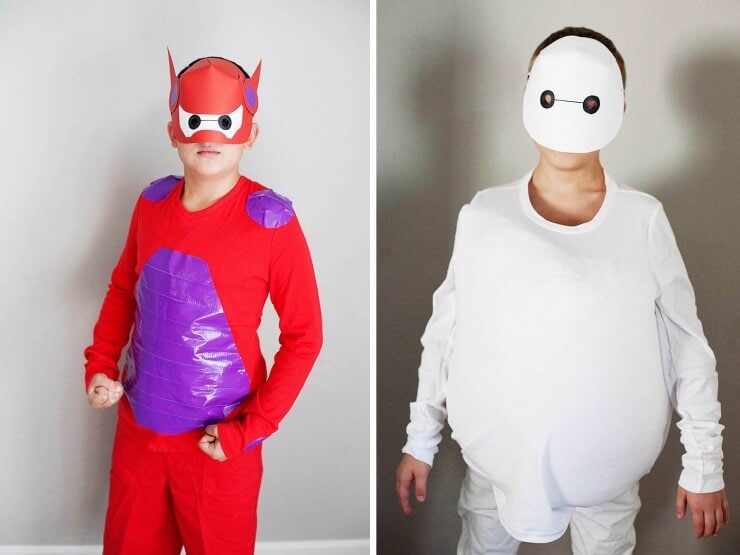 Baymax from Everything I Do Is All For The Boys
More Halloween Fun