DIY quiet bags -perfect to take with your kids to church, DR. appointments or restaurants.
I'm excited to kick off the Hello Summer Event this year. We've got so many fun posts in store for you all! If you've been following I Heart Naptime for awhile, you may remember last year we had guest bloggers come and share some fun summer recipes and crafts. We've got another great line up this year!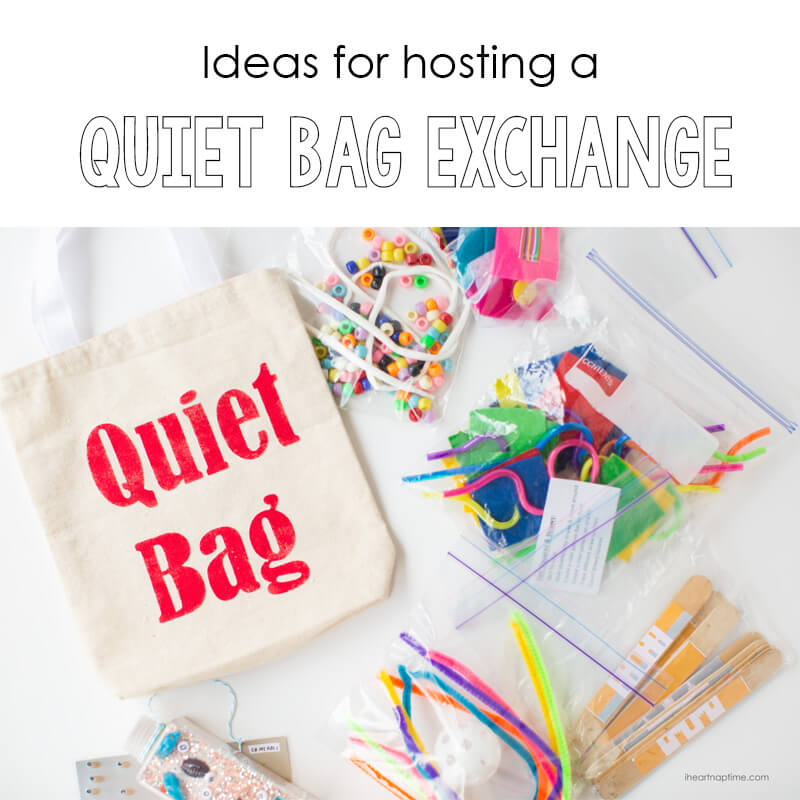 I'll be having my baby any day now and have posts scheduled on Mondays over the next month, and then I'll have guest posts for you the rest of the week. So make sure to come check out what their sharing and follow their amazing blogs. I can't wait for you to meet some of my talented friends!
Today I'll be sharing how to make these DIY quiet bags. A few months ago I had some friends over for a little "quiet bag exchange." It was a lot of fun and we all left with some really fun activities for our kids. The best part is it doubled as a moms night out! We ate yummy food, crafted and were able to chat with no kids crawling on our laps. It was heavenly.
So how does a quiet bag exchange work?
Basically you get together with about 10 friends and each bring 10 quiet bag activities. You could definitely do a smaller (or larger) number and that ultimately would be how many quiet bags you end up making and taking home. During the night you can each put together your kits (you'll bring the supplies for your quiet activity and make your kit 10 times). Then at the end of the night you trade kits, so you get 10 activities to take home. It was a lot of fun!
It's best to discuss with your friends beforehand which activity you'll be doing, so you don't all end up with the same thing. The only rule was it had to be around $3 and it had to fit in a quart size zip-top bag.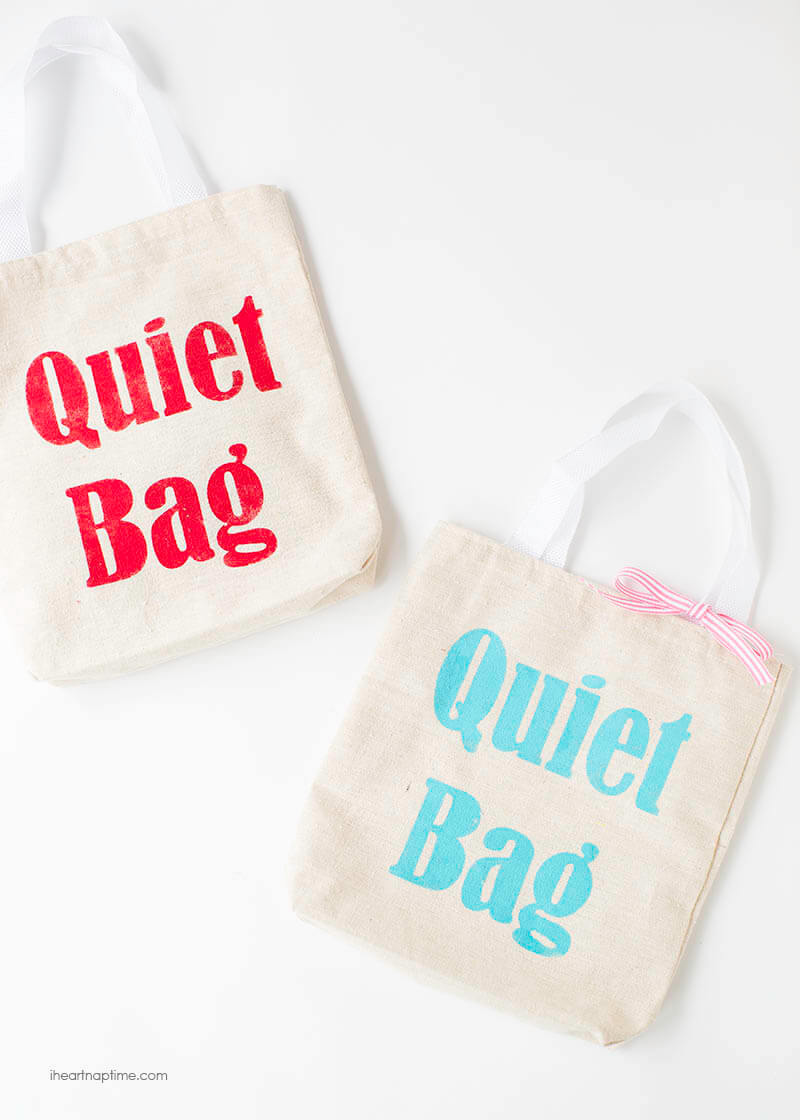 For my craft, I ended up making actual quiet bags. When headed to church or appointments things were always get shoved in my purse, so I thought it would be fun for my kids to have their own bag they could carry. I didn't want the bag to be super big, but large enough for them to fit a few activities, a coloring book and a snack inside. Each week for church, they like to switch out the activity bags and it has worked really well for us!
Here's the supplies I bought for my quiet bags.
legal pads (you can find these at Walmart and Target for less than $1 each)
stencil, paint and brush
I printed out the stencil with vinyl using my Silhouette and then placed the sticky side on top of the bag. Then I removed the letters and painted inside the letters. You could also buy letters for a stencil at the craft store. You could even decorate your bag with ribbon, ric rac, etc. It would be cute to write the child's name on the bag as well. Get creative!
Once the bags were dry I put a legal pad and crayons inside each bag. Then they were ready to go. Each bag ended up only costing around $3 total, since I bought everything in bulk.
Here are some of the quiet bag kits my friends made. I didn't take a picture of all of them all, but there are a lot more ideas on Pinterest, just search 'busy bags' or 'quiet bags'.

Quiet bag (instructions above)
Counting caterpillar (free download here). Laminate the cards and then have your kids line up the pom poms.
Popsicle photo puzzle. Print an image, cut the photo into strips the size of the large popsicle sticks and then mod podge them on. Once dry your kids can mix them up and build the picture puzzle.
Thread shapes. Cut shapes out of felt and then cut a slit in the center. Then glue or sew a ribbon to one shape and a button on the other end. Then your kids can thread the shapes through the ribbon and make patterns, etc.
Thread beads. All you need for this is a shoe lace and beads. My kids love this one and it keeps their little fingers busy.
Wiffle ball activity. For this you just need a small wiffle ball and pipe cleaners. This is probably my kids favorite activity. They thread the pipe cleaners through the balls and make all kinds of cool designs.
Here are some GREAT ideas featured on other blogs as well.
Again, there are a TON of ideas on Pinterest as well. Just search 'busy bag ideas' or 'quiet bag ideas.'
These are perfect for summer and your kids will love them. Have fun!!
Click HERE to see more ideas from the event.

Looking for more kids crafts? You'll love these too: