Light the World Designs… during this Christmas season, we participated in this wonderful initiative and it has been so valuable to focus on the true meaning of Christmas. Free printables for you to use, too!
Can you believe Christmas is only a week away? This month flew by way too fast. I just love this time of year!
I was in charge of my ward Christmas party this year and wasn't originally planning on posting the pictures here because I didn't get the best pictures (not the best lighting), but I thought I would share these free printables with you if you ever wanted to use them in the future.
This year my church started the Light The World initiative and we have been participating as a family all month. It has been such a great way to help my kids focus on the true meaning of Christmas. Each day you focus on ways to become more like the Savior such as serving others, having more charity or compassion and feeding the hungry. They are all simple things, but things that I needed to be reminded to do often.
I decided to carry the 'Light The World' theme into the church party and loved how it turned out.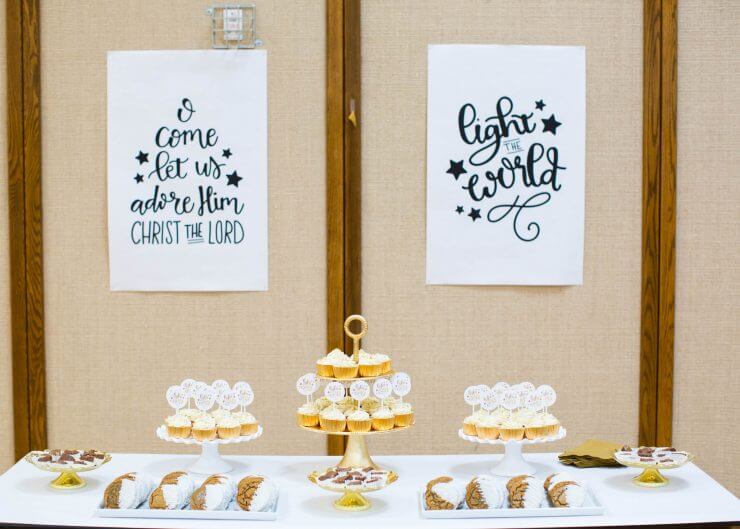 For the food we did a pasta bar with penne noodles, marinara, Alfredo, chicken and meatballs. Then we did an Olive garden copy cat salad with rolls for the side. For dessert we served ginger cookies, cupcakes (with buttercream frosting) and fudge. We had so much dessert left, but we wanted to have lots of back up in the kitchen. 😉 We also added these light the world cupcake toppers to dress them up a little bit. Find the free printable below. All we did was punch them out with a 2-inch punch and taped them to lollypop sticks.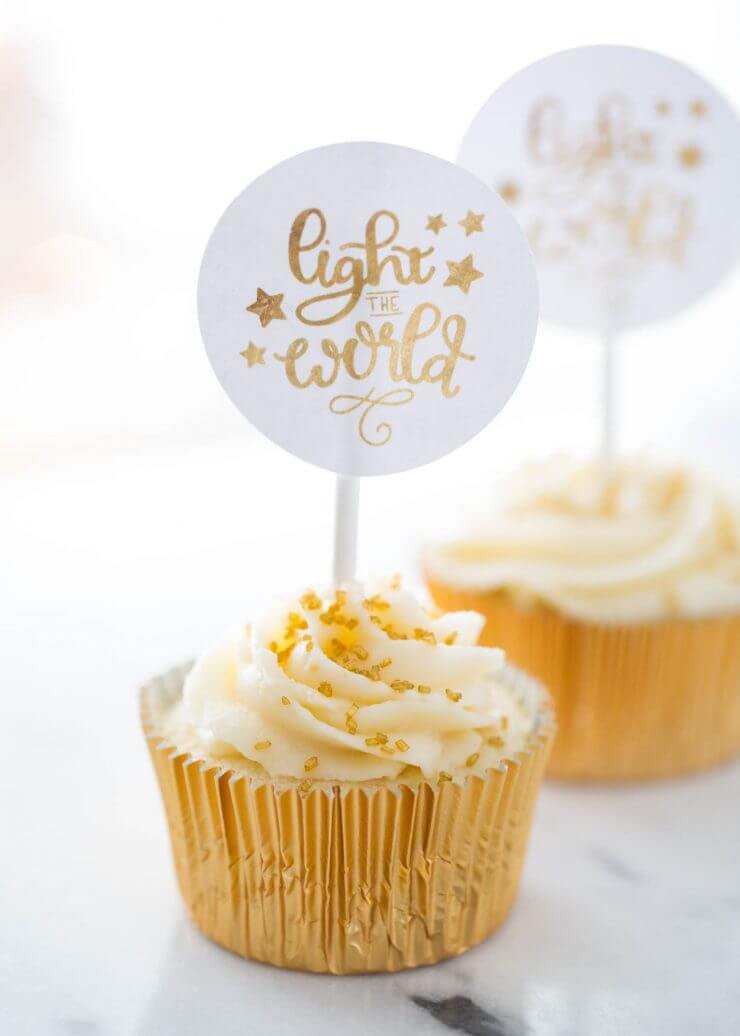 For the decor, we had to keep it pretty simple because we used most of the budget on food… but these signs were a great way to add a neat spruce to the room. We printed these files off at Staples and had them made into large engineer prints. They were only a few bucks each and looked really nice in the gym.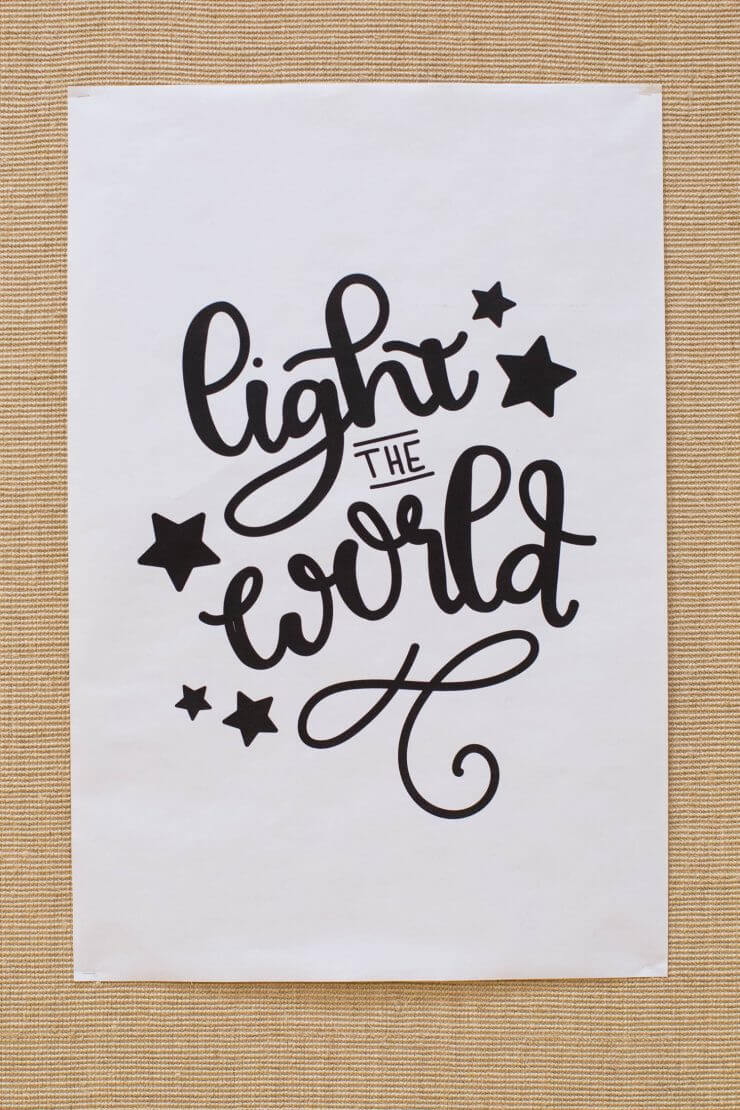 Erin, from our team designed these gorgeous printables and you can find the Light the World design and hand lettering practice guide on Printable Crush.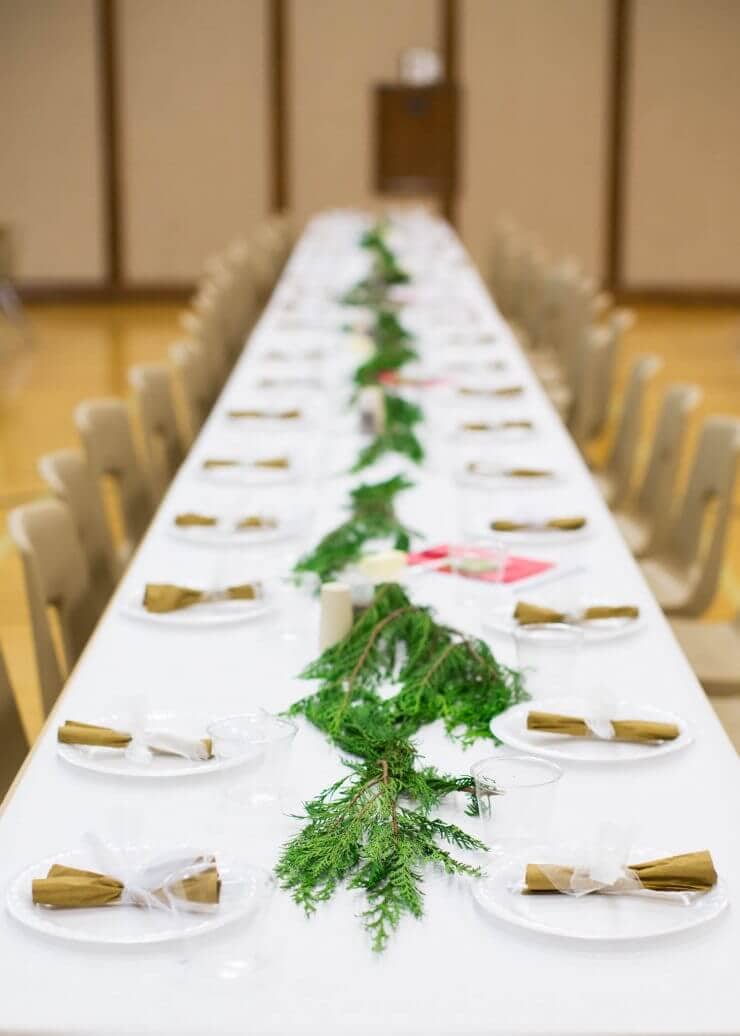 For the tables we did a super easy table setting. For the long tables we wrapped them in white butcher paper. Then we ran fresh Christmas pine down the center of the tables. We did white plastic plates and then wrapped the utensils with gold napkins and tied them with white tulle. Super easy, inexpensive and adds a nice touch!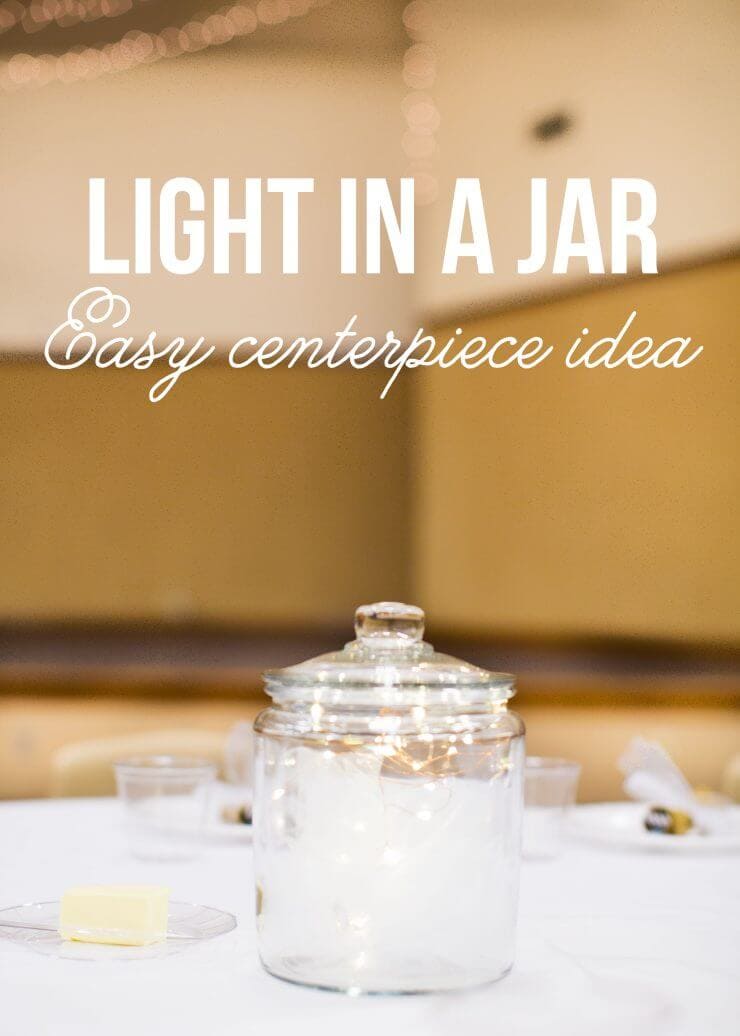 For the centerpieces on the round tables, I put these firefly lights into glass jars I had with white tulle. Super simple and a nice way to carry on the "light" theme. We also hung lights across the stage (props to my husband and a friend).
Free printable Light The World downloads:

It was such a wonderful evening. This was my first time planning a party for that many people (250 to be exact!), but it went smoothly thanks to my awesome team who put hours and hours into shopping for ingredients, planning the program and helping set up the gym. It definitely takes a village and I'm so grateful for mine!
I hope each one of you will be able to light the world this holiday season (and into the New Year) in your own special way.