Can you believe May is coming up so fast?! I'm Kiki, from Kiki and Company, and super excited to share this fun project with you today. The first week of May is Teacher Appreciation week. I have so much respect for those who teach my kids 6 hours everyday, and coming from a family filled with educators I can tell you from first hand experience just how time consuming it is. Because of that I wanted to make a little something to let them know that their dedication doesn't go unnoticed! This project is quick and easy..and with the free printables, costs next to nothing.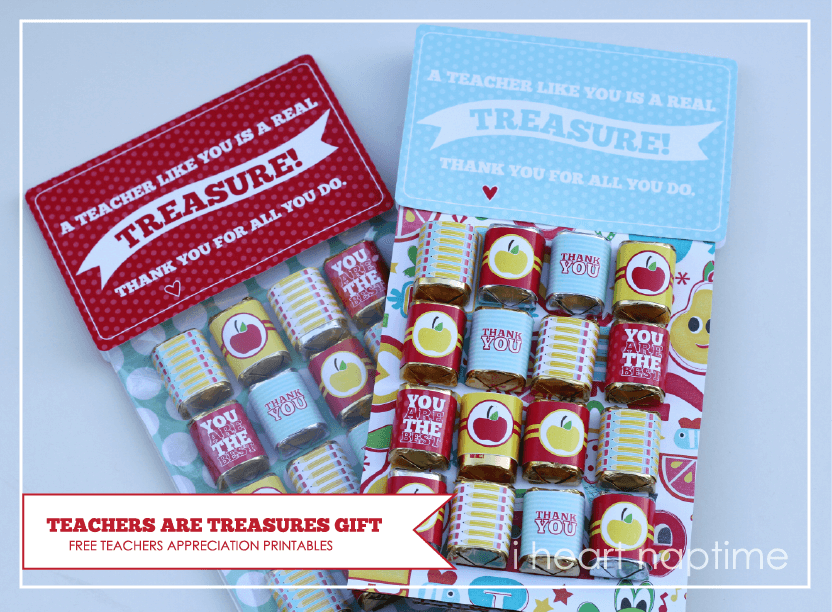 To make the gift, you need to download and print the free printable at the end of the post. In addition, you will need Treasures or Nuggets chocolate from Hersheys, a hot glue gun and then I will show you two different ways (and there are so many ways you could do this) to package them up.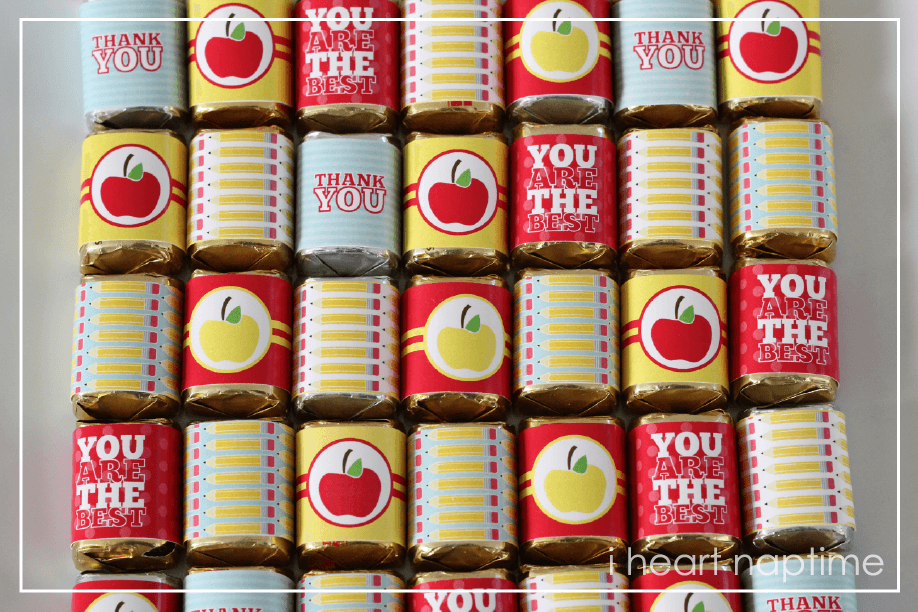 Let's make the chocolates first. Cut out the candy wrappers, and wrap them around the chocolate, securing the label on with a dab of hot glue. As long as you don't use too much glue, it doesn't even melt the chocolate. You can even use tape, if you prefer. Aren't they just the sweetest things..and give just the right message: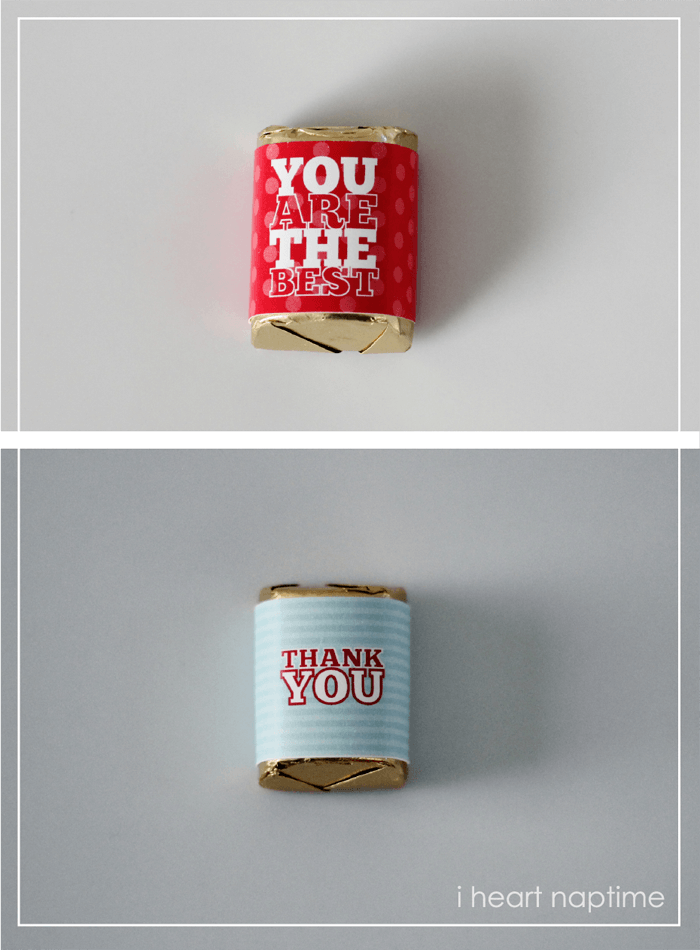 First, I will show you how to put together this little board that will stand all on its own. Get a piece of cardboard about 5×7 (the topper is 5 inches wide). Cover it with a cute piece of scrapbooking paper. Line up your chocolates just how you want them, and then one by one, hot glue on by adding a dab of glue to the back. Add the topper with hot glue and then cut another piece of cardboard 3×6. Attach scrapbook paper to it (or you could skip this step entirely!). Bend it about 2 inches from the top and then hot glue those 2 inches to the back of the candy board.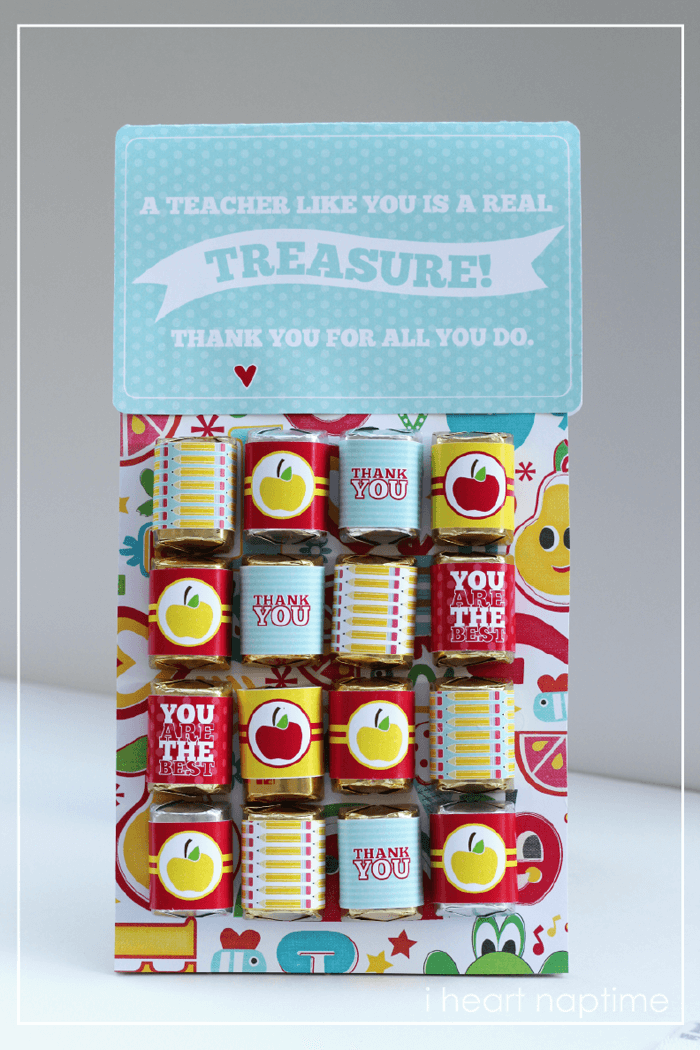 Once you do that you have a little stand alone gift that is so sweet and thoughtful. They can set it on their desk, and snatch a piece of chocolate anytime in the day!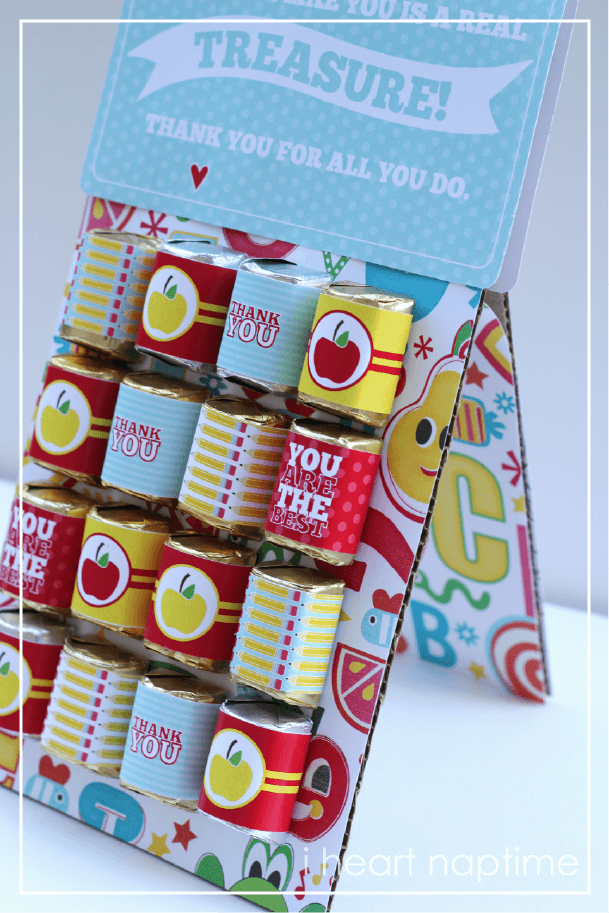 The other way I will show you to package it is much more familiar. Get your chocolates ready, get a piece of scrapbook pages so it fits in a 5×7 cellephane bag. Lay out your chocolates on the paper and then glue them down. Place the paper and candy in the bag and then add the topper to the top of the bag by gluing it on.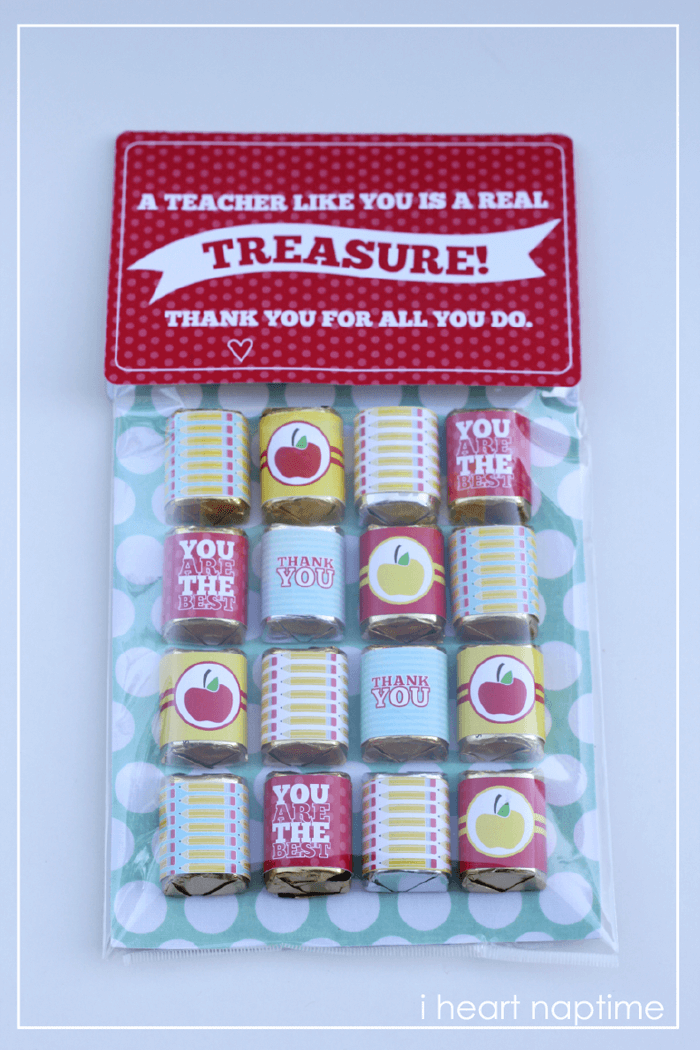 These are both so easy to do..so easy in fact, you can whip a bunch out in no time! Have your child sign next to the heart, and you can even add a quick note on the back of the topper.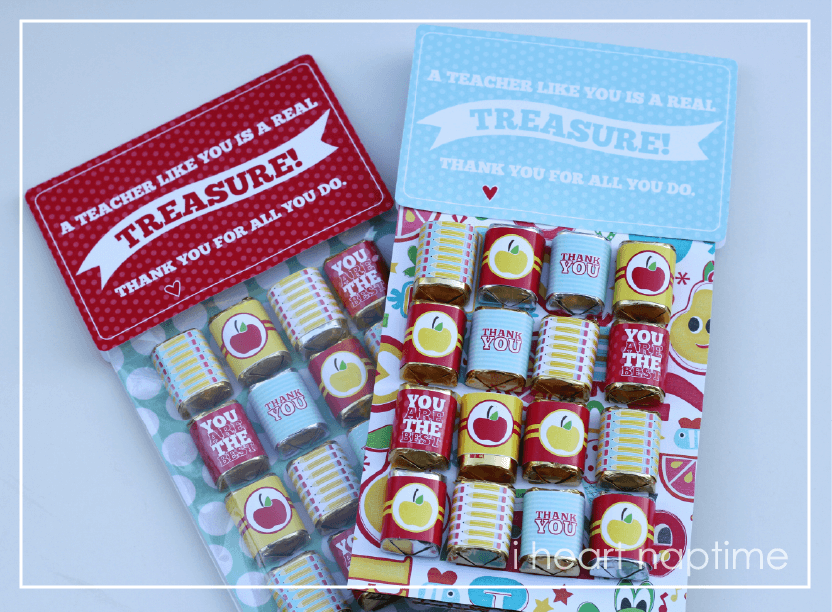 The best part? The toppers come in 3 colors and it is all free!

Free Downloads
Teacher Appreciation Treasure-Red
Teacher Appreciation Treasure-Teal
Teacher Appreciation Treasure-Yellow
Now go and get creating! Have so much fun telling those teachers thank you…I'll see you next month!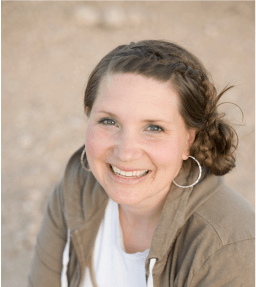 Hi! I'm Kiki Comin, the creator and editor of Kiki and Company, where you will find free printables, fun projects and lots of DIY inspiration. I am a wife, a mother to 4 amazing kids, and I love to create in my "down time".Creating keeps me sane, keeps me inspired and helps me see the world in a whole new way. I love to sew, bake and decorate, but my favorite thing to do is create meaningful printables. At Kiki and Company you will find printable art for walls to activities for kids and everything in between. I recently opened a digital design shop where you can find many of my new designs. Mostly I love blogging because life is really SO good, and I love sharing part of mine with you! You can also find me at Pinterest, Facebook, and my shop!