Homemade Candle Gift Idea
Learn how to make homemade candles using jars and wax cubes. A super simple DIY craft to make and you can choose your own scent. Would make a nice Mother's Day gift!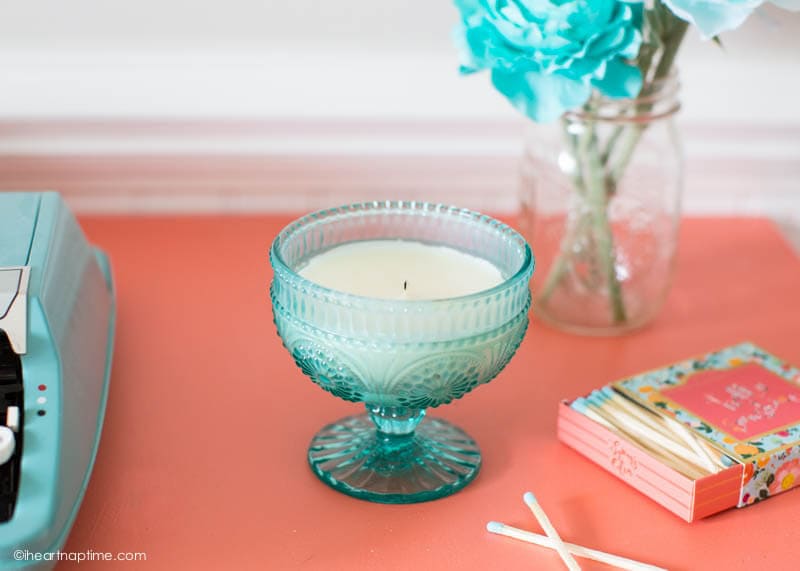 I used to have Scentsy warmers going all the time, but then my kids started sticking their hands in there and making a mess, so I stopped using them. I had a ton of the wax cubes leftover, so I thought I would try melting them in fun jars and bowls. It worked great and it was the perfect way to recycle them!
For my first candle, I mixed all the pinks, oranges and red together. Then for the second candle, I used leftover BHG wax cubes I had bought from Walmart. If you're buying melts to do this project, I would look there. I believe they are only $2 a package. I also found the Pioneer Woman turquoise/purple dishes there. 🙂
I only ended up spending $3 (for the wicks) on this project, since I already had everything else at home.
Supplies needed:
Wax cubes (I used 2 packs per jar)
Decorative bowl or jar (I got mine from Walmart)
2 large popsicle sticks
Candle wick (4-6″ depending on the size of your jar)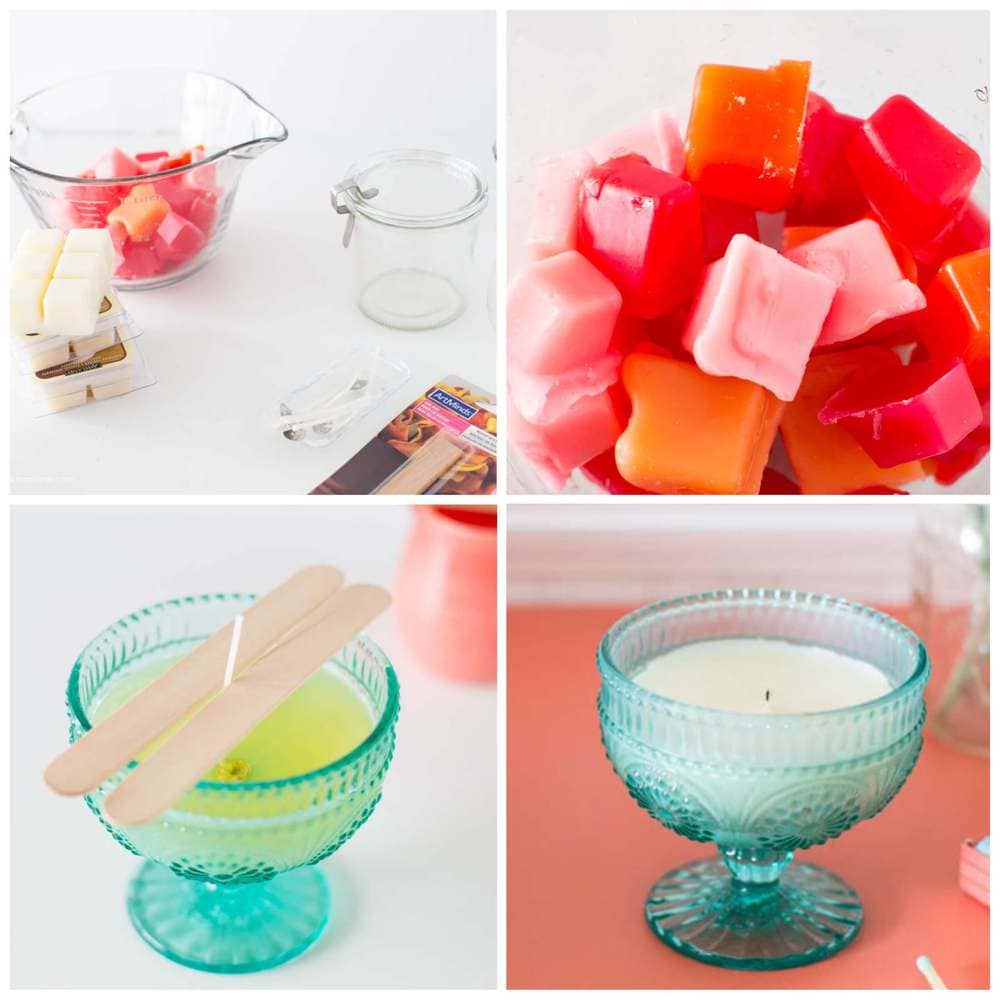 How to make homemade candles
Melt. Break the candle melts into small pieces and place in a microwave safe bowl. Then melt in the microwave for 3-5 minutes, or until fully melted. Remove the bowl using hot pads and then stir. Next, pour the liquid into the jar.
Add wick and let set. Place the wicks into the jar and push down to the bottom. Place the wick between two popsicle sticks and let it set.
Trim and enjoy. Once it has set, you can trim down the wick with scissors if you need to. Then light it up and enjoy your new candle. That's it. Super simple.
You could use all sorts of different scents, jars, mugs or glass bowls. The possibilities are endless!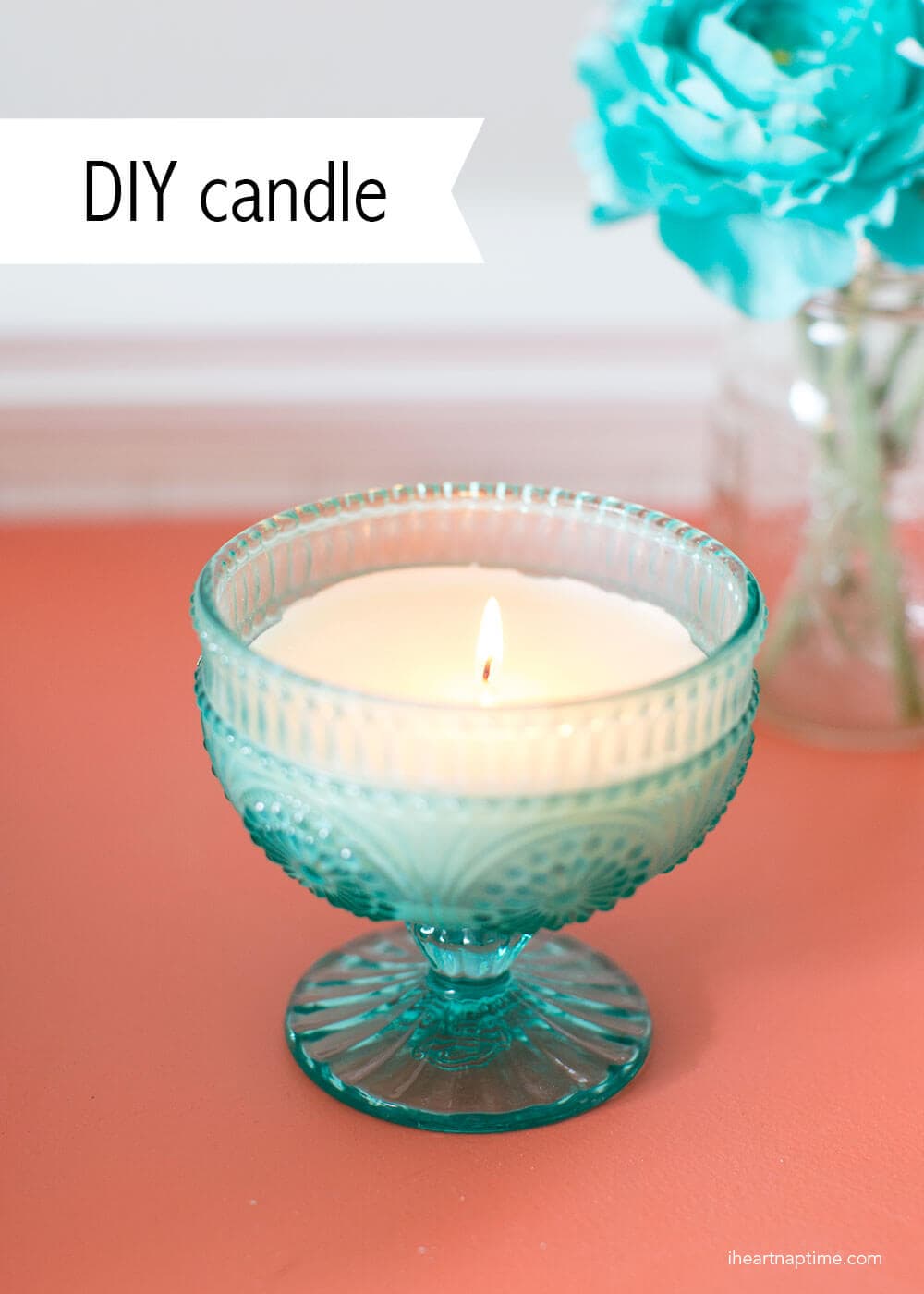 Video tutorial
Here's a video tutorial for an easy step-by-step visual. DIY candle making has never been so easy. Have fun!
More DIY gift ideas: