FREE Printable Valentine's Day Cards
Skip the store-bought cards and use these free printable Valentine cards! They are perfect for your significant other, family or friends. Your Valentine will love the personal touch that these homemade cards give!
A Valentine's gift isn't complete without a sweet Valentine's card. These homemade cards add a thoughtful touch and are so easy to print out. Pair them with a homemade treat like chocolate covered strawberries, chocolate truffles or no-bake cheesecake to make the perfect homemade Valentine's gift.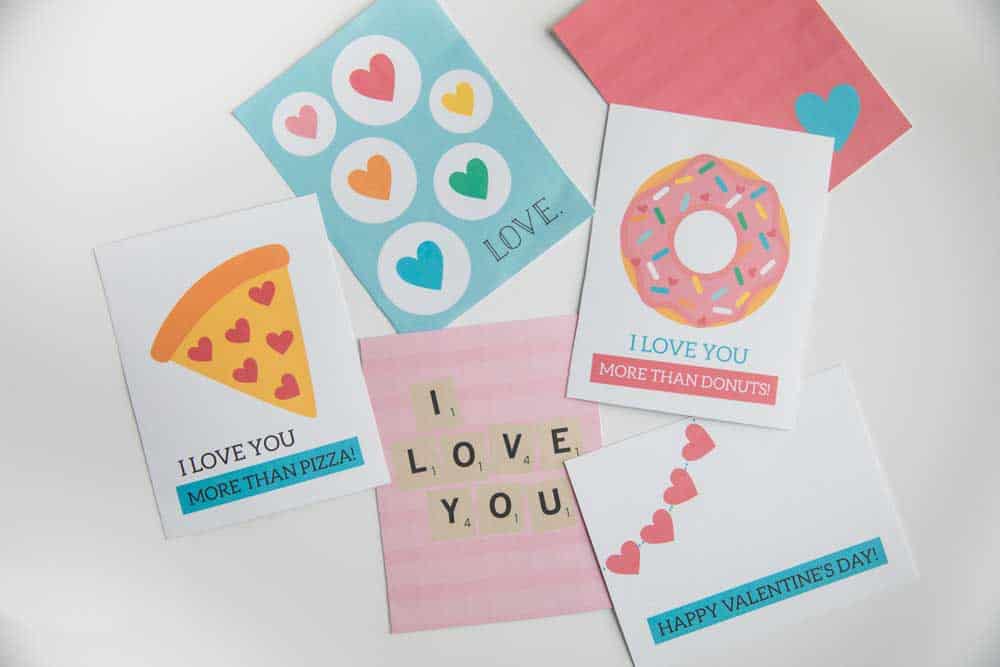 I can't believe Valentine's Day is almost here! It's one of my favorite holidays and is so fun to celebrate. Sometimes it's hard to find the perfect Valentine's card at the store, so I thought I'd create some cute card designs that you can easily print out at home.
They are so fun and are perfect for your significant other, family or friends. I especially love the "I love you more than Donuts!" and "I love you more than Pizza!" cards. I'm a huge fan of both, so my family and friends definitely know that means I love them a lot. 🙂
Free download
There are 6 different versions of the Valentine's day cards. Each card is blank on the inside, allowing you to write a sweet, personalized note to your Valentine. 🙂
Colored hearts with "love" text
"Happy Valentines' Day!" with heart banner
Scrabble "I love you" pieces
Red stripes with blue heart
"I love you more than pizza!"
"I love you more than donuts!"


Printable Valentine's cards for kids
I've also included a version for kids, too! These are so fun for kids to decorate and add their own creative touch. They are perfect to give to classmates, parents, teachers, you name it. There are also a few other Valentine's coloring pages included in the printable download, like tic-tac-toe and other coloring designs.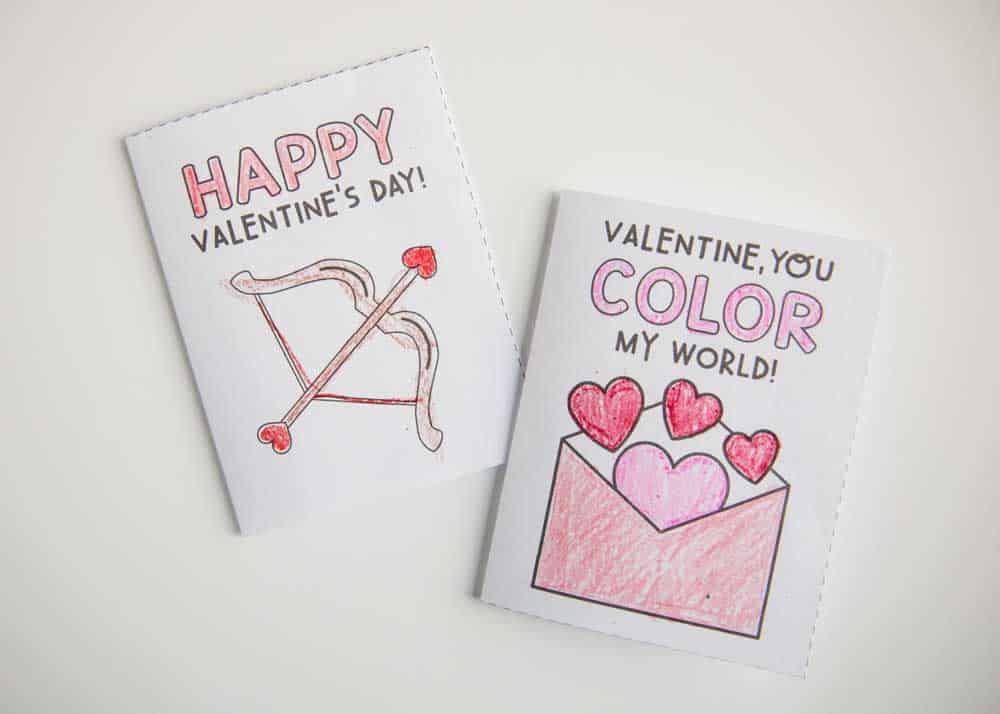 Printable valentine tags
I've also included these cute printable Valentine tags! Each tag pairs with a specific candy bar, snack or fruit. They are so fun and make such an easy and thoughtful gift for Valentine's Day!
Kit-Kat: "You are one cool KAT"
Hot Tamales: "You are a Hot Tamale"
Almond Joy: "Every day with you is pure JOY"
Extra Gum: "Hope your Valentine's is EXTRA special"
Big Hunk: Happy Valentine's Day, Big Hunk!
Reese's Pieces: I love you to PIECES!
M&M's: I love you More & More each day!
Skor: I really SKOR'ed big when I met you!
Baby Ruth: Baby you're the sweetest!
Snickers: Thanks for making me Snicker!
Pop Rocks: You rock my world Valentine!
Almond Packets: I am NUTS about you!
Clif Bar: There's no CLIF we can't climb together!
Banana: I'm bananas for you!
Apple: You are the APPLE of my eye!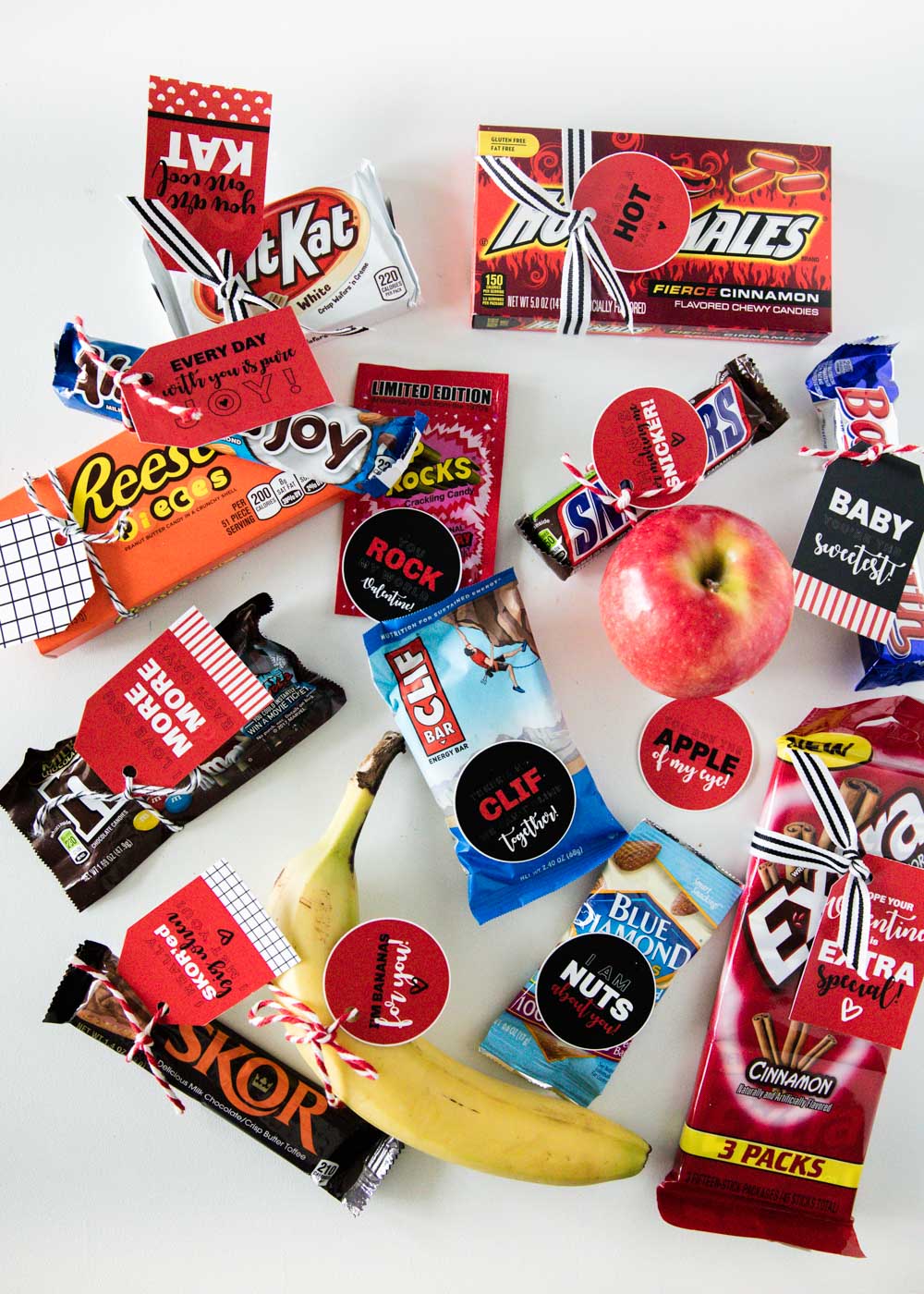 Happy Valentine's Day!