Taggie Baby Toy – a simple sewing project perfect for any new baby. Colorful ribbons and a bright pattern makes this a great sensory toy for your little one.
This little taggie baby toy is the perfect sensory toy for your growing little one. My daughter, Addyson, is loving grabbing things and putting them to her mouth. Isn't it funny how babies just love the tags on their toys? It's just like the kids who would rather play with boxes than their toys on Christmas day 🙂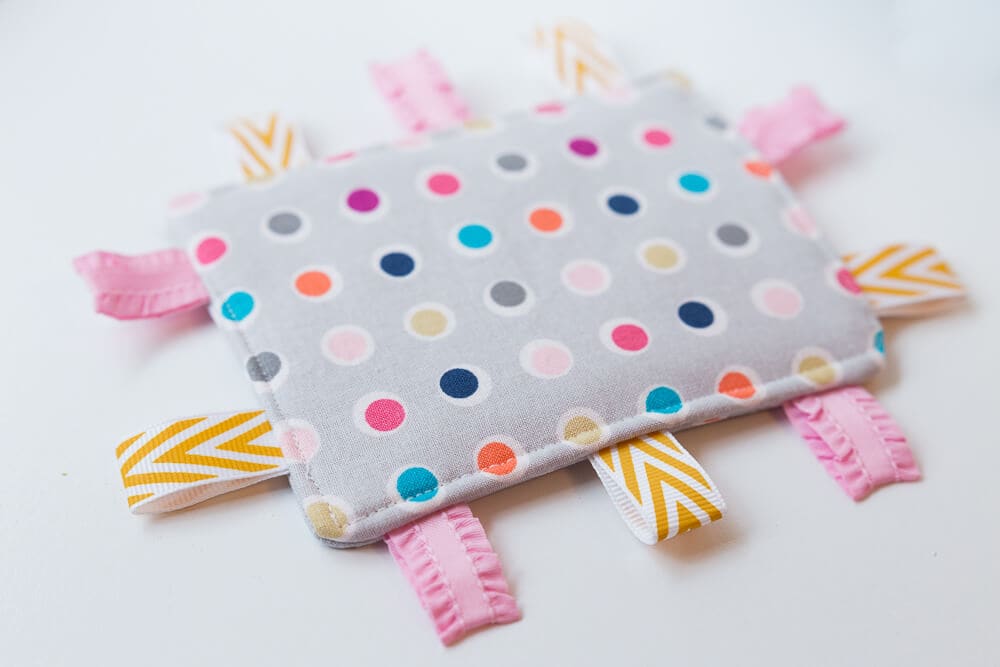 I made this taggie toy have a crinkle sound in it as well by adding a crunchy piece of plastic. I used the clear bags that Easter Eggs are usually found in but you could also use a clean chip bag.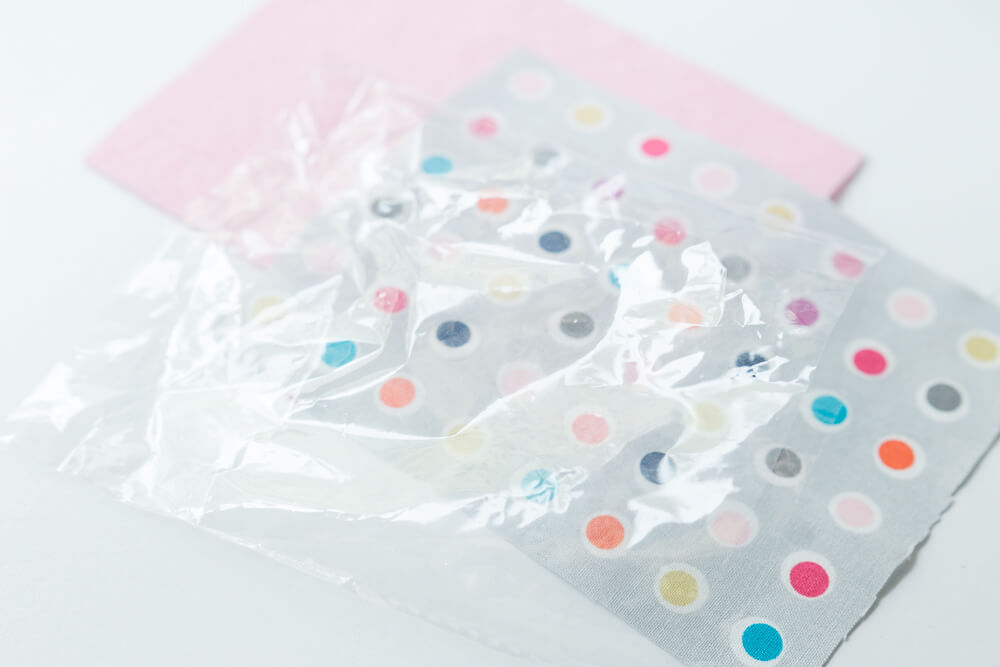 Supplies:
2 fabric pieces, cut into a 4 in. x 6 in. rectangular shape
2 felt pieces, cut into a 4 in. x 6 in. rectangular shape
1 piece of crunchy plastic, cut into a 4 in. x 6 in. rectangular shape
10 ( 3 inch long) pieces of ribbon
Pins
Thread
Sewing Machine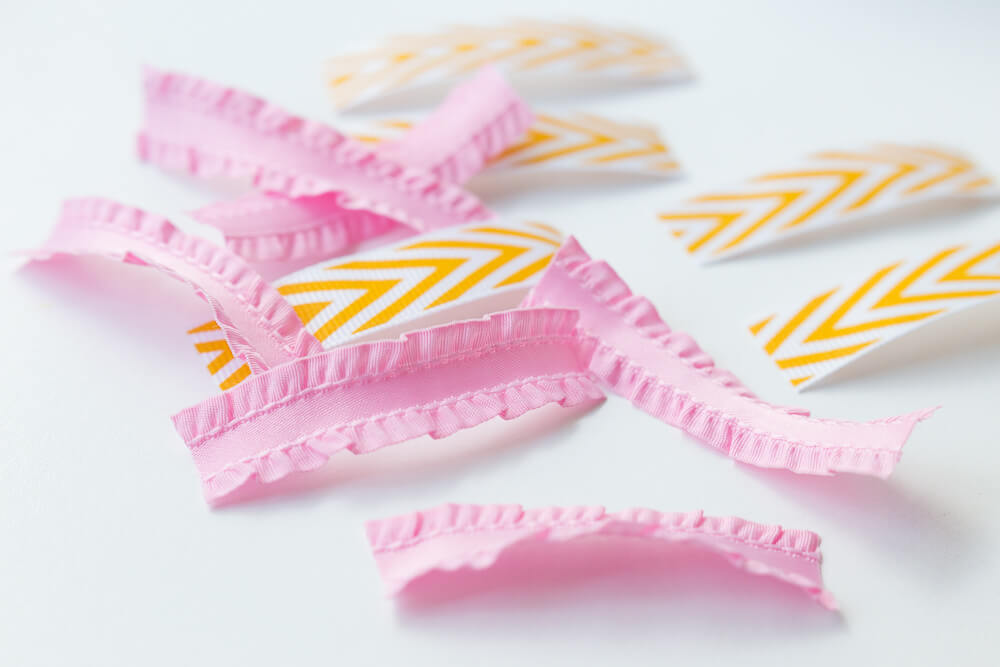 Directions:
Cut out your needed fabric pieces, felt pieces, plastic and ribbon.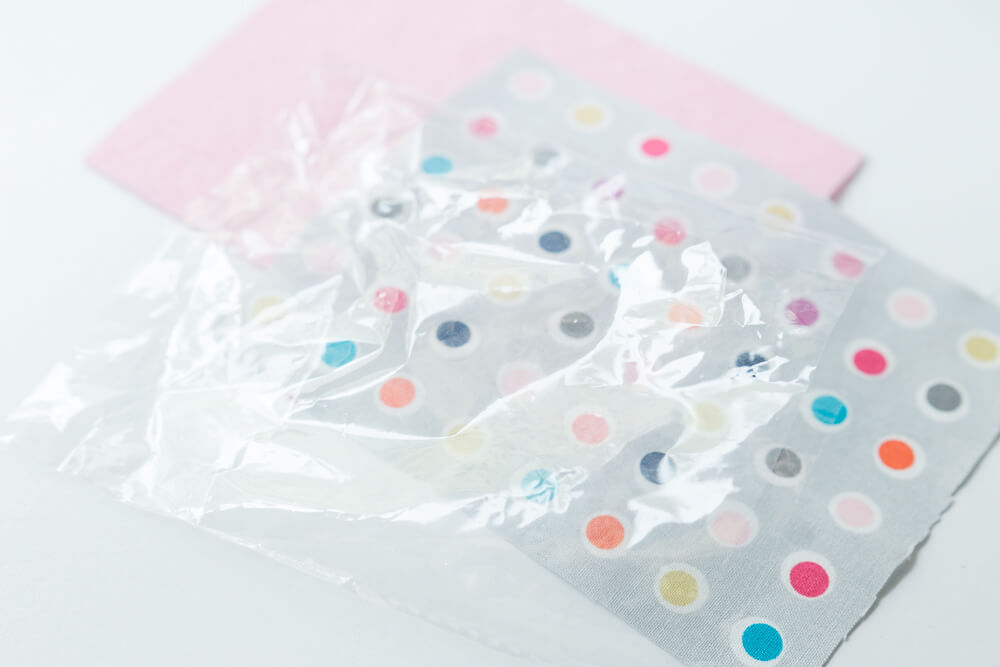 Lay one of your fabric pieces on top of the felt piece. Fold your ribbon pieces in half and pin around the edge of your fabric.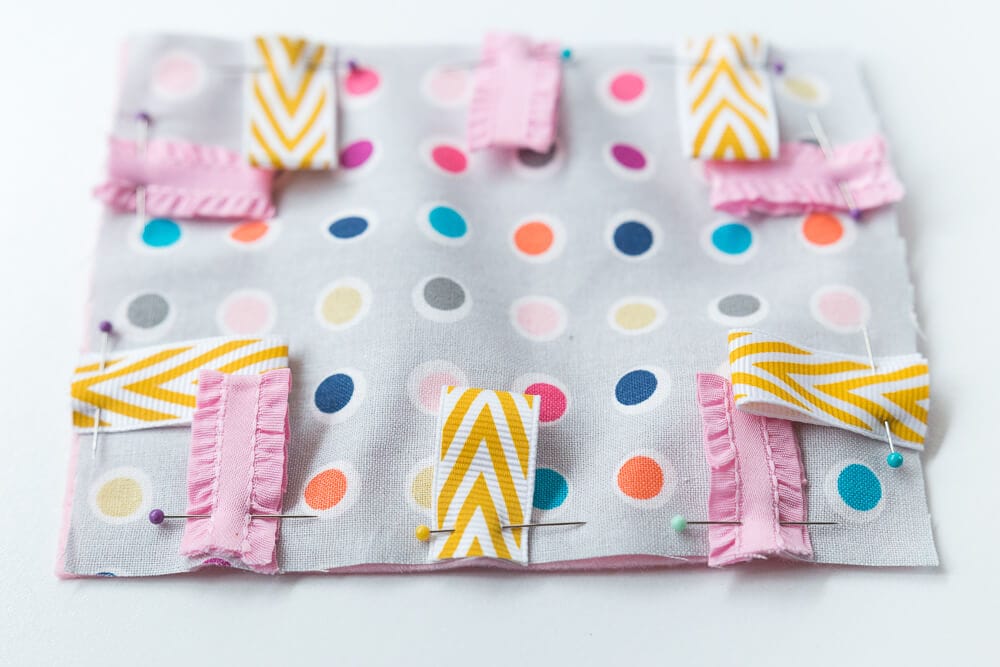 Top stitch your ribbon pieces to the fabric and felt piece, making sure you sew as close to the edge as possible. When you are finished make sure all fabric pieces are sewn down securely. You can repeat this step if you want.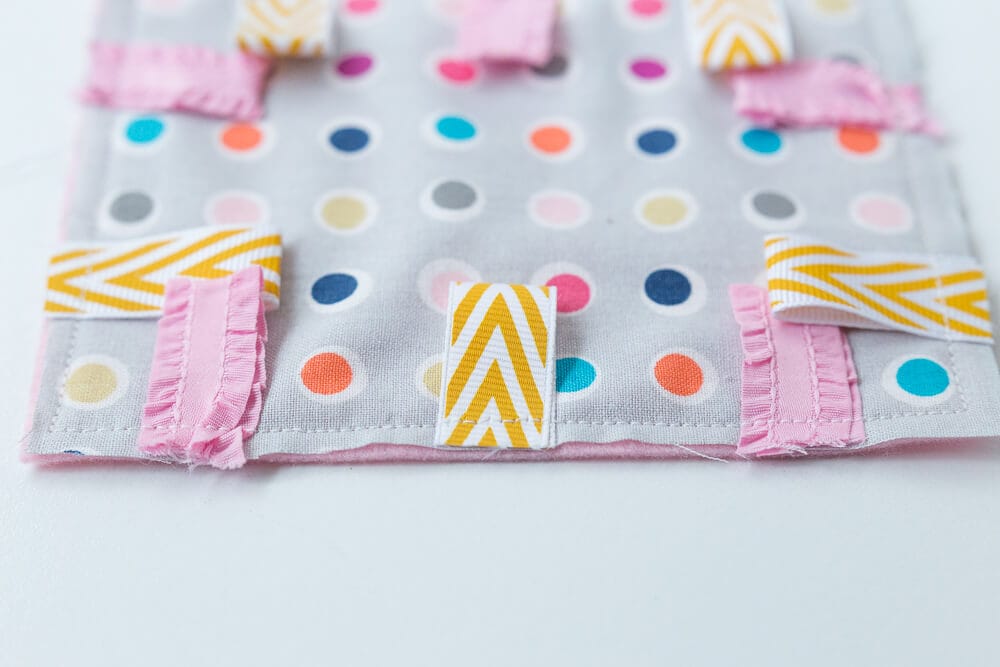 Lay your fabric piece, pretty sides touching, on top of your fabric piece with the ribbon. Place your piece of felt on top and lastly the plastic.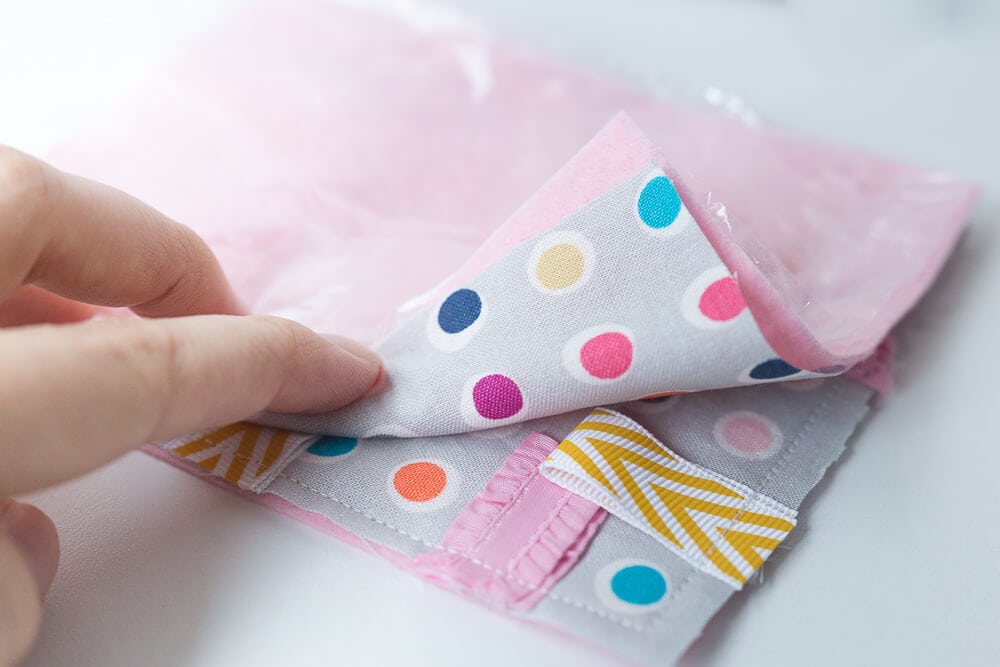 Sew around all four sides, making sure to leave a large gap on one of the longer sides for turning. Turn your project right side, press with a hot iron if needed and top stitch around the toy making sure to close the gap.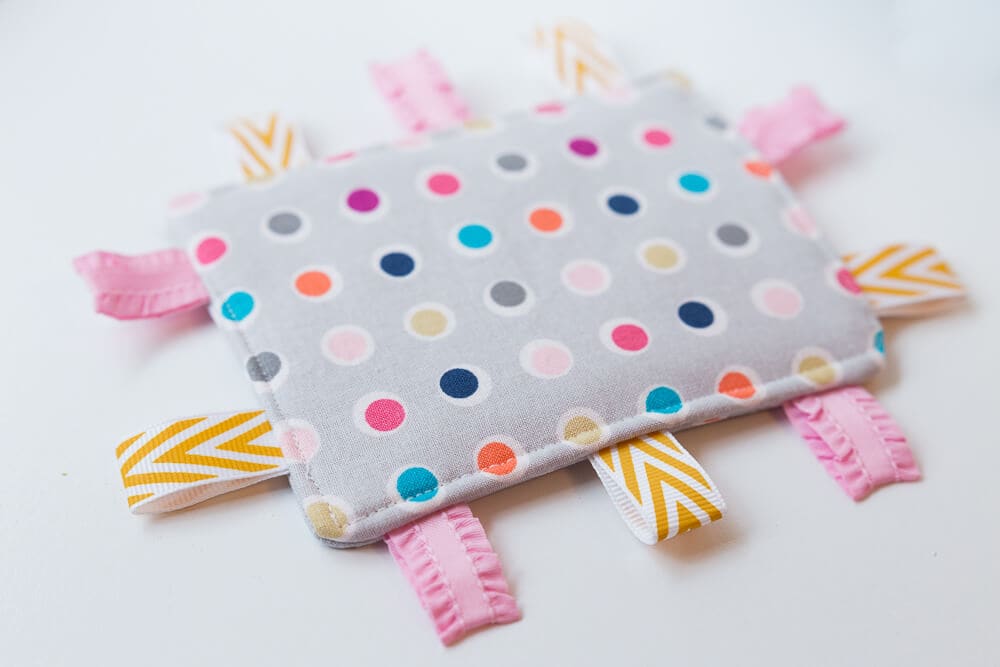 You should be able to complete this project in less than 30 minutes. I made all my ribbon lengths the same but you could also have some ribbon pieces that are longer and some that are shorter. This little taggie baby toy would make a great baby shower gift for a new mom to be.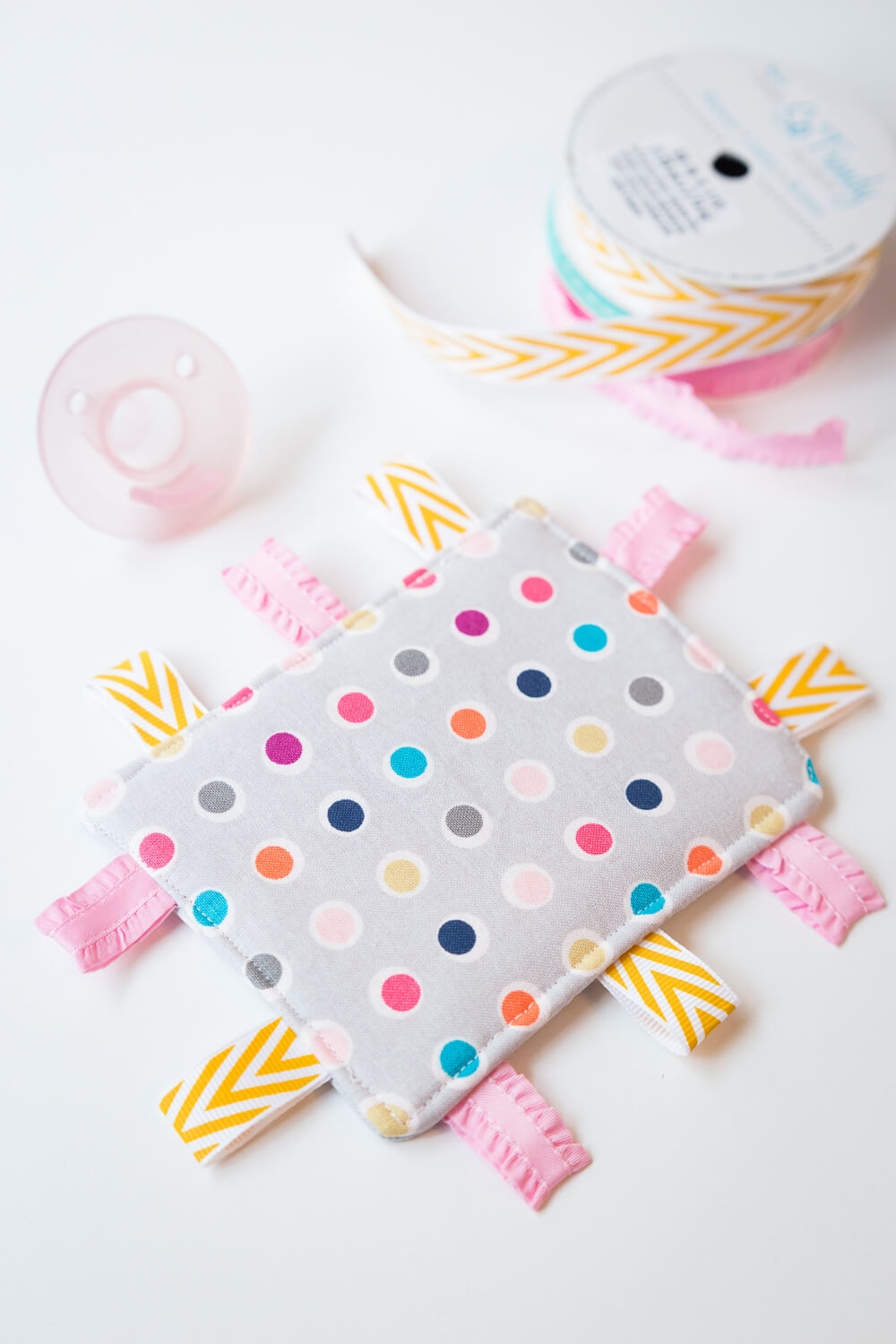 Thanks, Katie!