Pineapple Christmas Gift Idea
We're channeling the spirit of Hawaii today, with a pineapple gift idea for neighbors and friends that is both easy and adorable.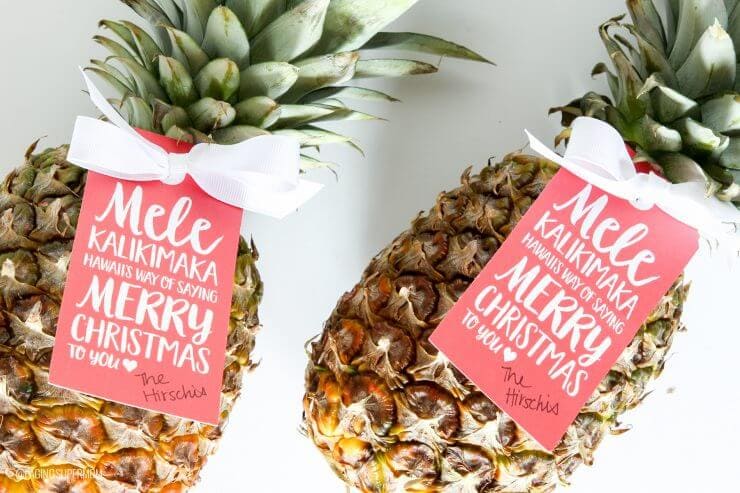 Hi there! I'm Bettijo from Paging Supermom here to share a super-easy Christmas gift idea. My family has been Moana obsessed since we first saw the movie last year, and I'm pretty sure that's why I decided to give out Pineapples to everyone we know. Of course I needed a cute gift tag, and the obvious choice was to say, "Mele Kalikimaka," which is the Hawaiian way of saying, "Merry Christmas!"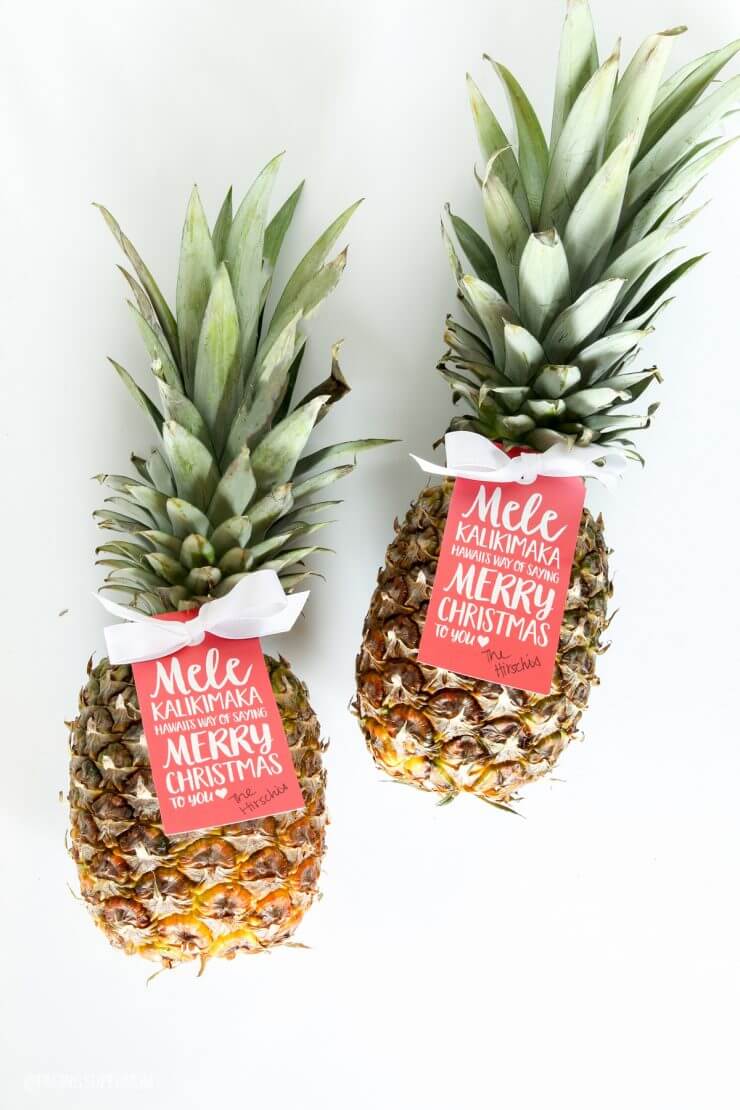 Even if you're not crazy about Moana, Pineapples are an international symbol of hospitality. Plus I can't help but feel like their bumpy exterior is remarkably like a pinecone. All the more reason why they'll make the perfect Christmas gift for your neighbors and friends this year!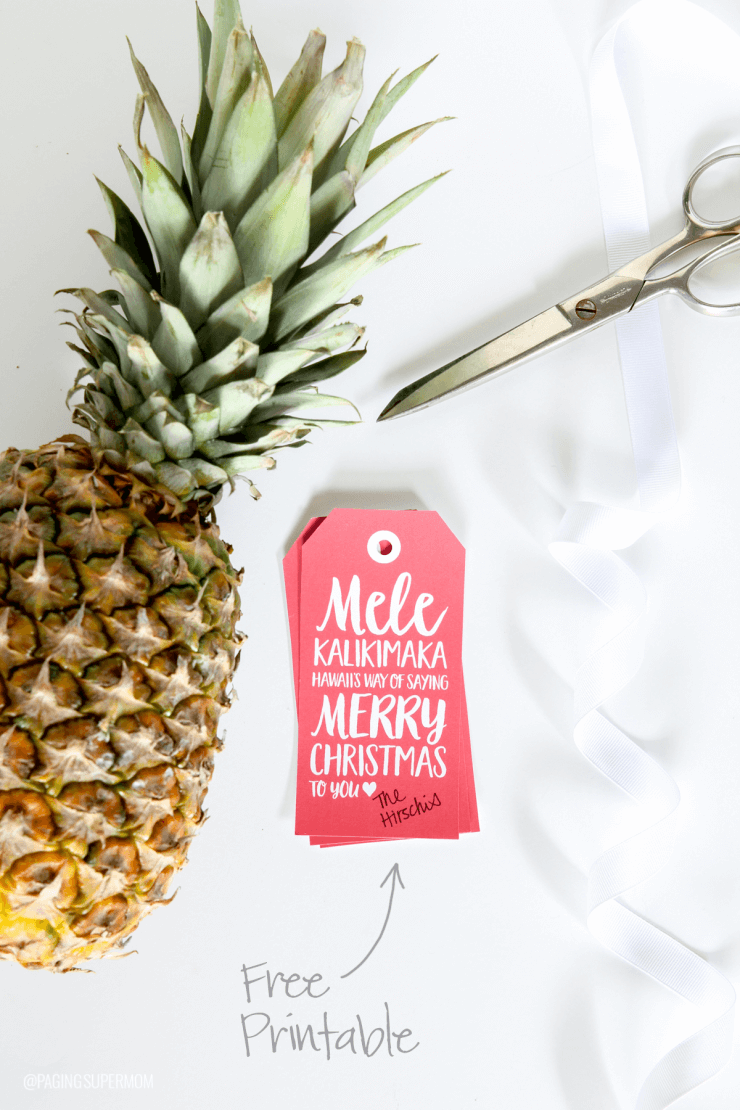 I tried tying these "Mele Kalikimaka" gift tags onto the pineapples with raffia and white grosgrain ribbon. They both were so cute, and it was a tough decision, but I had tons of 7/8-inch white grosgrain ribbon so that swayed my decision. Just do whichever is easiest for you — they both will look darling!

How to Add Your Name to the Gift Tag
The one hiccup I had, I was planning to use a white pen to add our name to the gift tag, but the white ink kept weirdly absorbing into the red tag. I think it's because I was using an inkjet printer. I was fairly annoyed because I really didn't love the look of the black pen, but lucky for you I figured out how to make the "Mele Kalikimaka" gift tag template editable! Now you can type in your families name before you print out the tags. Your name gets to be white AND you don't have to write it a bunch of times… I'm kind of jealous of you LOL! 😉
To edit these tags, all you need is to download the free "Mele Kalikimaka" gift tag template and open it with the free Adobe Reader. Once you've got the file open, just click in the highlighted area and type your name. It couldn't be easier — in fact you'll only have to do it in one of the fields, and it will auto-fill the other three!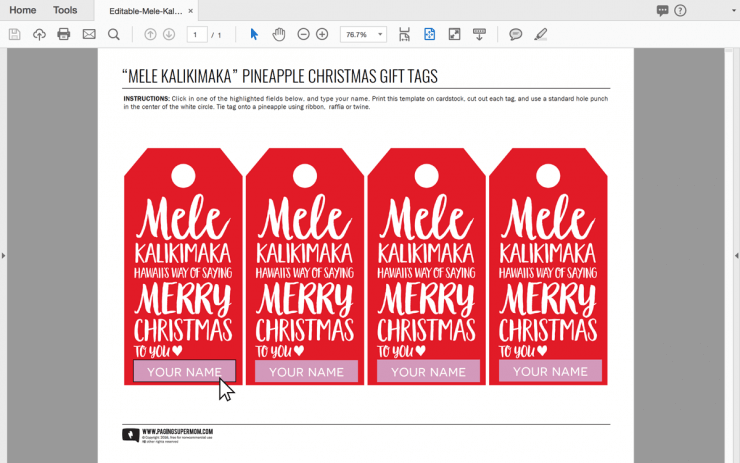 Some useful tips… I lucked into finding an amazing deal on pineapples at my local grocery store. I ended up purchasing about 30 of them for less than a dollar each, so be sure to check your grocery ads! Since I bought so many of them, they let me take the pineapples home in a box, which was so convenient. Just talk to the produce person because they're usually so helpful. Also once you buy the Pineapples, know that you'll need to get these delivered to the recipients within 3-4 days or the Pineapples might get over ripe.
:: Download the Free Printable "Mele Kalikimaka Christmas Gift Tag"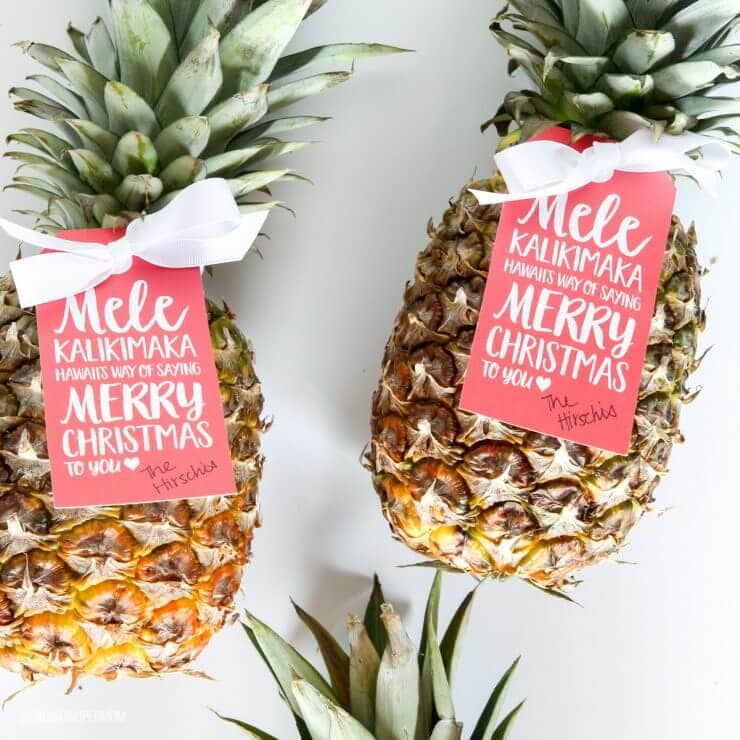 More Easy Christmas Gift Ideas
If pineapples aren't really your thing here's some other easy and fun Christmas gift ideas for neighbors and friends. The Merry Minestrone is like bringing all your friends dinner — you'll definitely be their super hero.
Click a number below to find out more about that project and get the free printable template:
ONE :: TWO :: THREE :: FOUR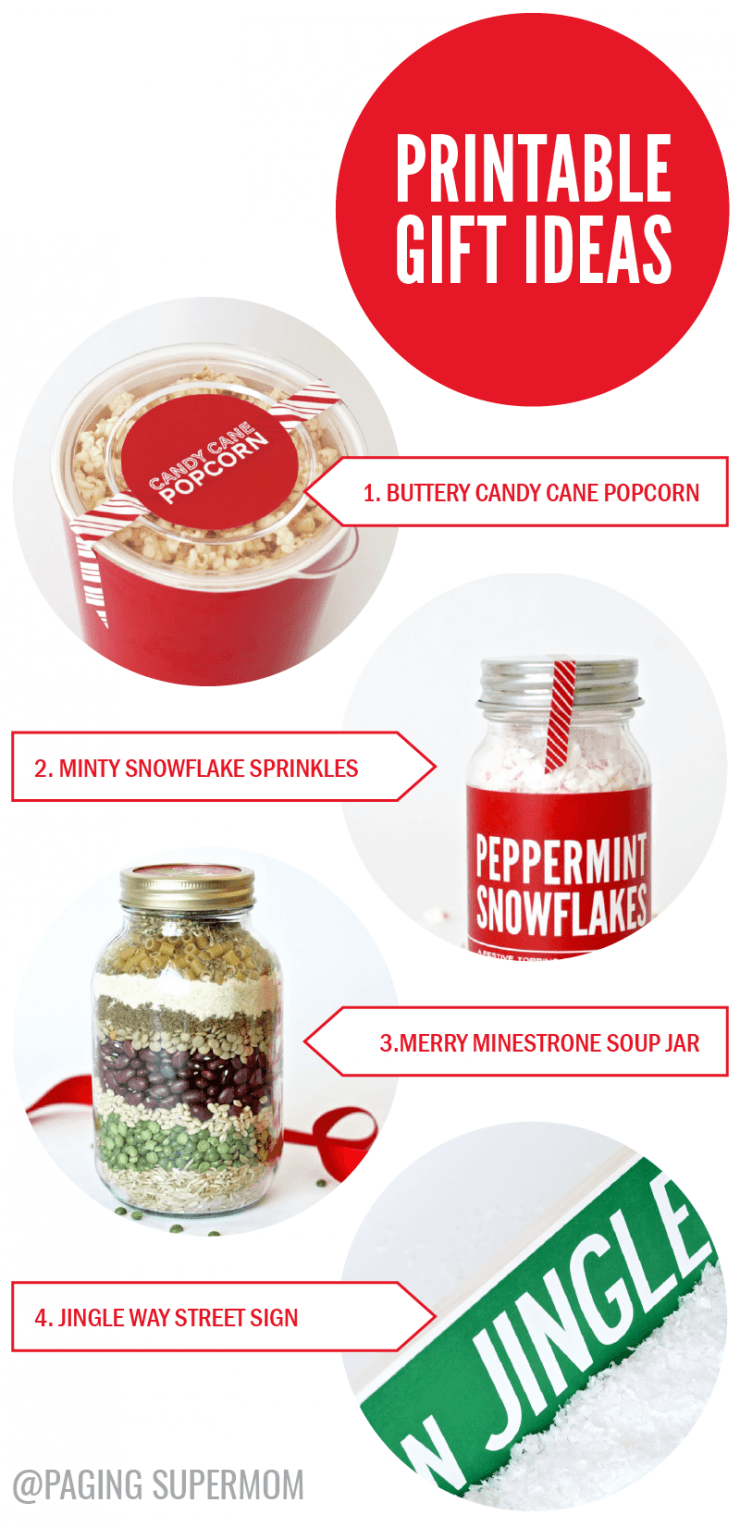 About Bettijo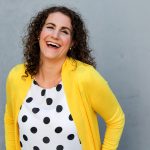 Bettijo is a homeschooling mom of three girls and one boy in Phoenix, AZ. She loves pens, art, photography and making new things. Bettijo's blog is PagingSupermom.com, and although she's never discovered Supermom's secret identity, she thinks every mom can have a #SupermomMoment! Bettijo's work has been featured by Martha Stewart, HGTV, Real Simple, O, Parents, Family Circle and Health. You can hang out with Bettijo on Instagram, Twitter, Facebook or Pinterest.
Thanks so much for sharing in our Crazy Christmas Event!
Looking for more neighbor gift ideas? You will love these too: