We are the sisters from the blog Eighteen 25. We are very excited to have been asked to participate in the Crazy Christmas Crafters event here at I heart nap time!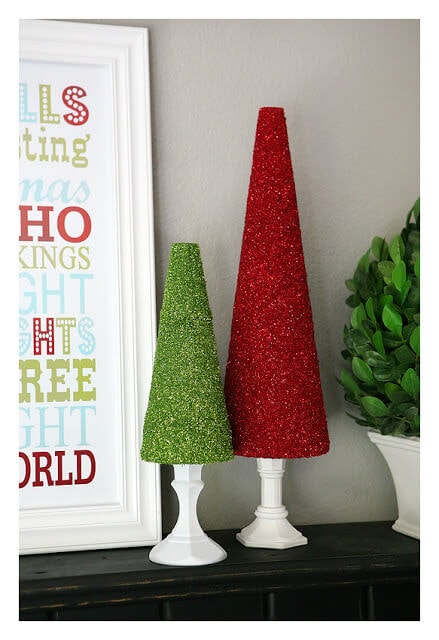 Here's what you'll need:
3 styrofoam trees: sizes 15×5, 12×4, and 9×4
3 small candlesticks (you can find these at just about any thrift store for about 50 cents)
Spray adhesive
Elmer's glue for the glitter
E6000 to glue the tree to the candlestick
Glitter in your favorite 3 colors (we found these awesome colors of glitter at hobby lobby)
White spray paint
How to Make
Give your tree a good coating of the spray adhesive. You can use the Elmers glue for this part, but the spray adhesive covers better and gives a nice smooth finish, plus it's a lot faster. Leave the bottom of the tree undone, this will get glittered at the end.
Once you have your tree coated in glue, cover it completely with glitter (best to pour over a cookie sheet). When all 3 trees have been glitterized set them aside to dry.
Next take your 3 candlesticks and give them a couple quick coats of white spray paint. then let those dry completely.
Now take your E6000 and glue the candlesticks to the trees. It's best to let them sit overnight. (keep an eye on it though).
When everything is completely dry, flip them over and cover the remaining part with glue and glitter (we used the elmers glue for this part).