No-sew ruffled tree skirt
All I want for Christmas… is a ruffled tree skirt!! 😉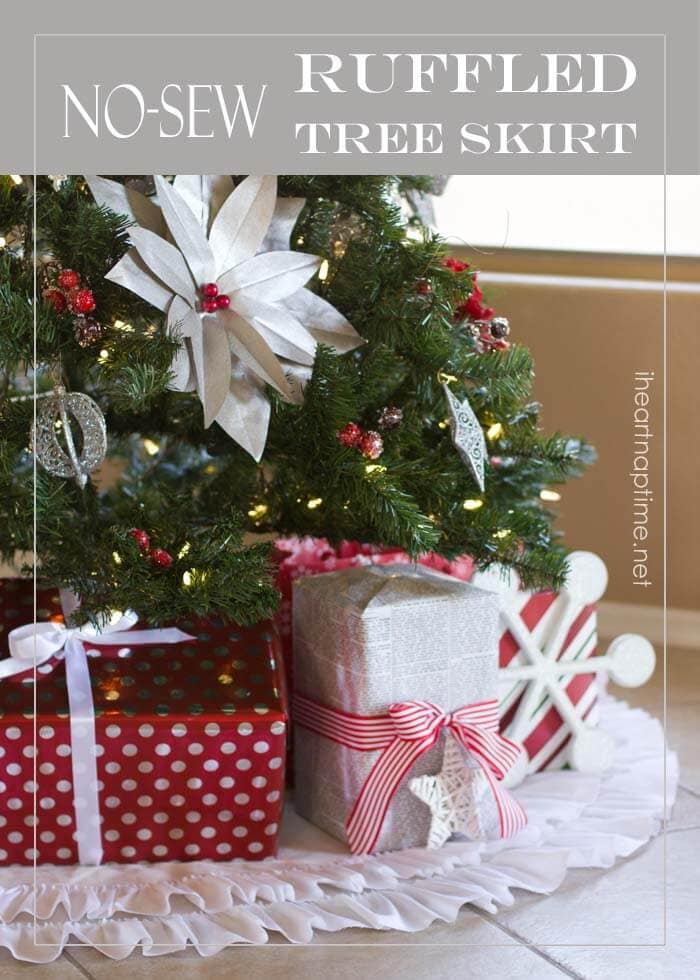 Last week I made a NO-SEW ruffled tree skirt. Yup no sewing machine involved… sweet! It turned out so cute. I was inspired by this beautiful tree skirt. I LOVE how it turned out. Want to make one of your own? I'll show you how. Let's get started!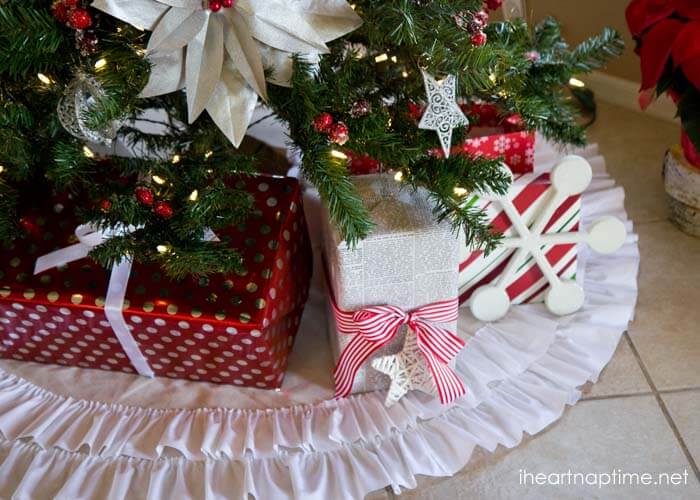 Supplies:
Canvas back drop
1 1/2 yard White cotton fabric
Measuring tape
Scissors
Hot Glue
White ribbon
Instructions: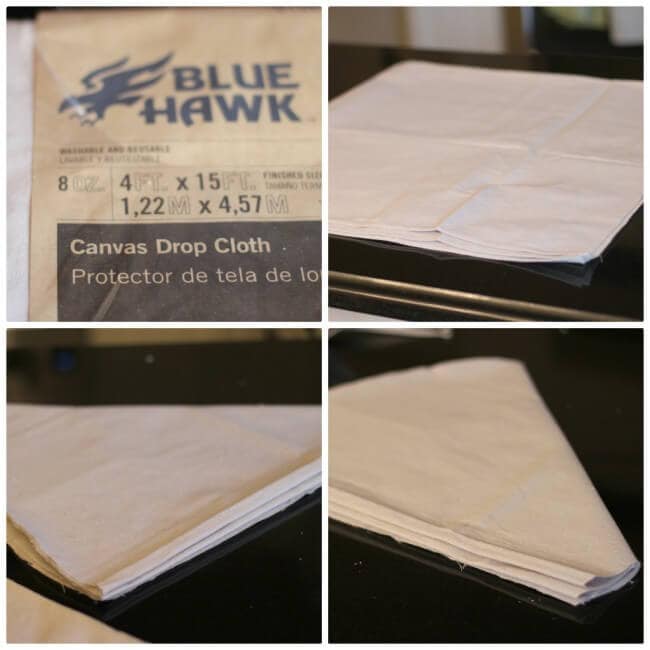 1. Cut your fabric into a 4.5′ x 4.5′ square. Next fold the square into quarters, then over itself to form a triangle with the folded center at point.
2. Next you're going to cut a quarter circle (use sharp scissors) off the end of the square so that it's rounded.
3. Then cut a quarter circle from the top (about 2 inches).
4. Open the circle and then cut a slit down 1 edge (so the tree skirt can go around the tree. You may also need to round the edges of the circle to make sure it's even.

4. Next cut your fabric into 4 inch strips length wise.
5. To create the ruffles apply hot glue about 1 inch from the edge of the circle. Then place the fabric and pinch it together to create the pleats. I like to move in about 2 inch increments because hot glue dries really fast. Continue around the entire skirt with the ruffles. Then for your next row start about 3.5 inches above and work your way around creating more ruffles.
6. Once your ruffles are complete glue your ribbon to the back slit so that you can tie it behind the tree. I did 6 pieces of ribbon (about 12 inches long) so that I could create 3 bows.
This tree skirt took about 2 hours total. Me and my friend made these while watching a Christmas show. It was really fun. Grab a friend to make it with you so you can split the price of the drop cloth. 😉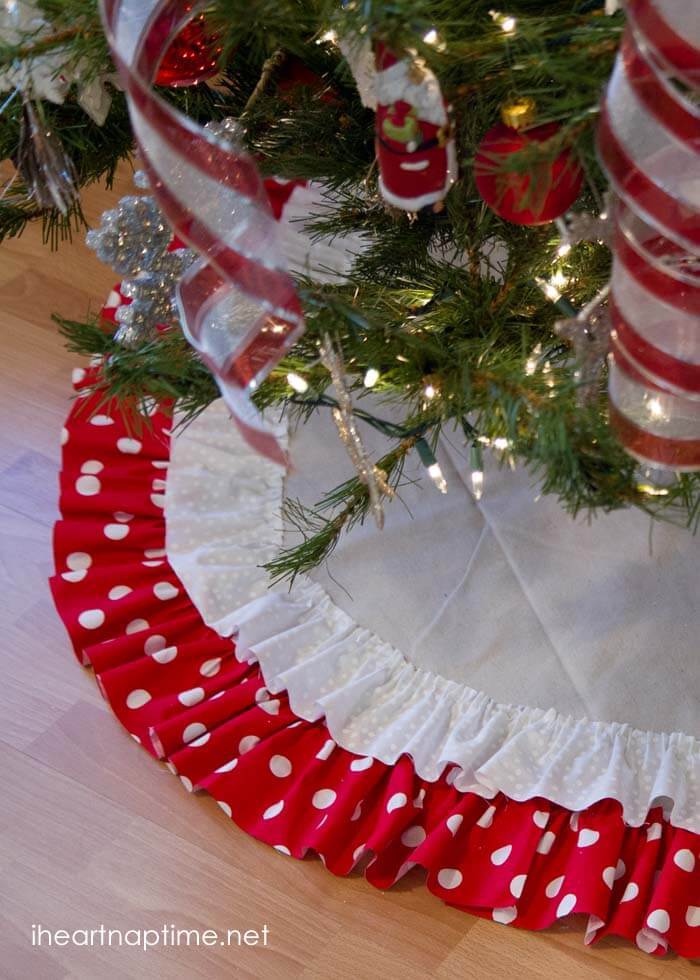 Britany went with red and white polka dots. It turned out super cute. You could get creative and do different colors and patterns to match your tree's theme.
Here's some more pictures of my tree…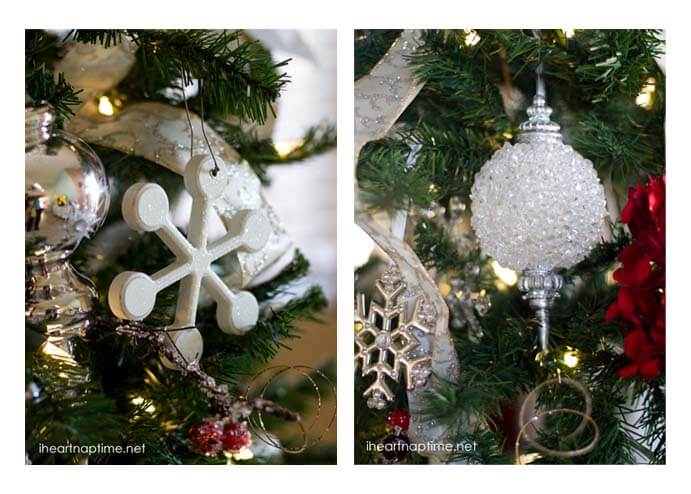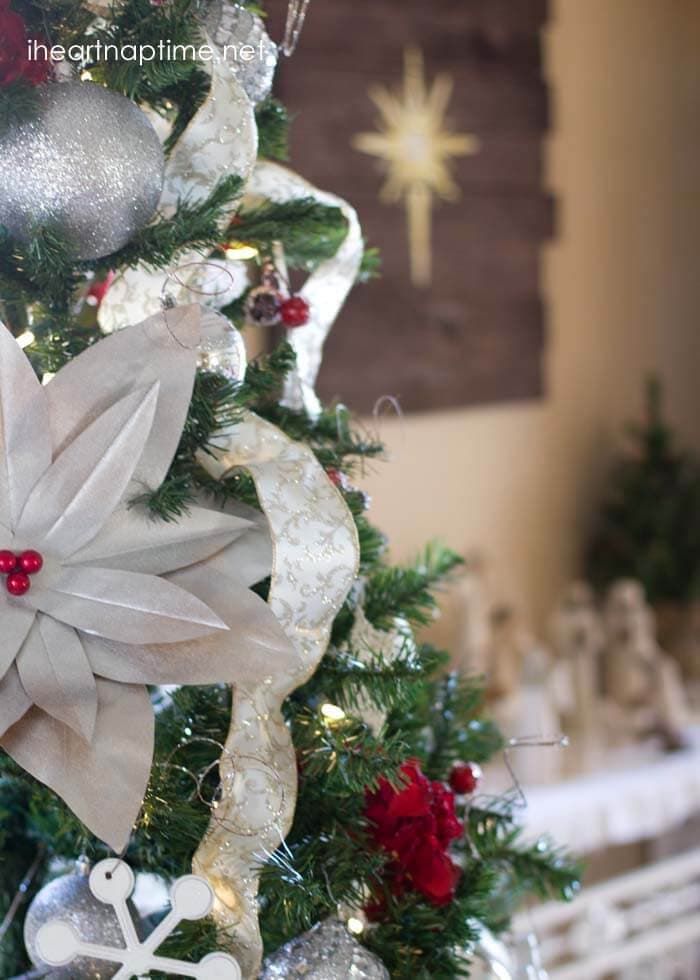 You may remember the brown paper poinsettias I made last year. Find the tutorial here.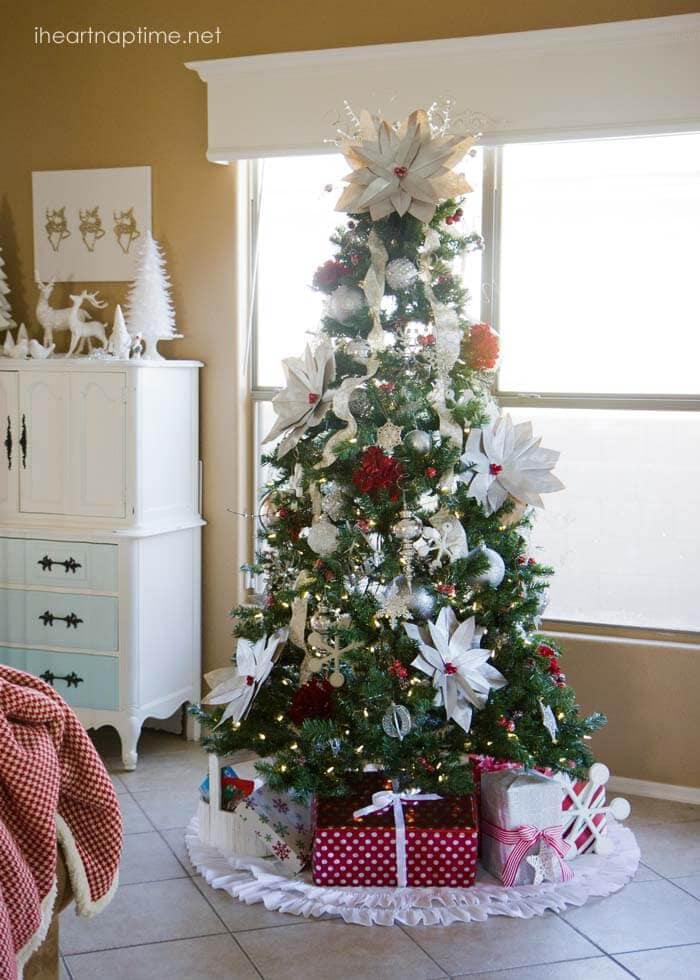 I'm loving my new ruffled tree skirt! Let me know if you have any questions.
Come back tomorrow to see the rest of my decor.
Thanks for reading. I hope you have a great day!