Elf on the Shelf Scavenger Hunt
FREE printable elf on the shelf scavenger hunt…a holiday tradition that kids love!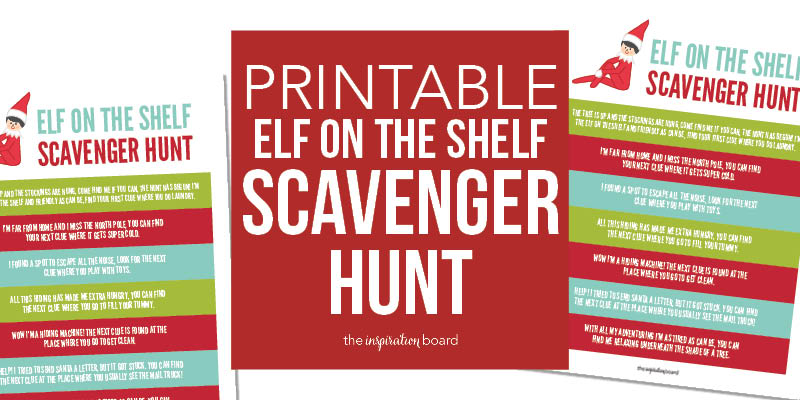 A Fun Holiday Tradition
There are so many wonderful holiday traditions. Some of my favorites include baking delicious Christmas cookies, going ice skating, decorating the tree, and getting together with family and friends.
Christmas is magical for everyone, especially kids. Some kiddos spend all year thinking about Santa Claus and his Elves fast at work in the North Pole making preparations for their marvelous adventure on Christmas Eve.
Don't miss my post with 75+ Elf on the Shelf Ideas. So many great ideas!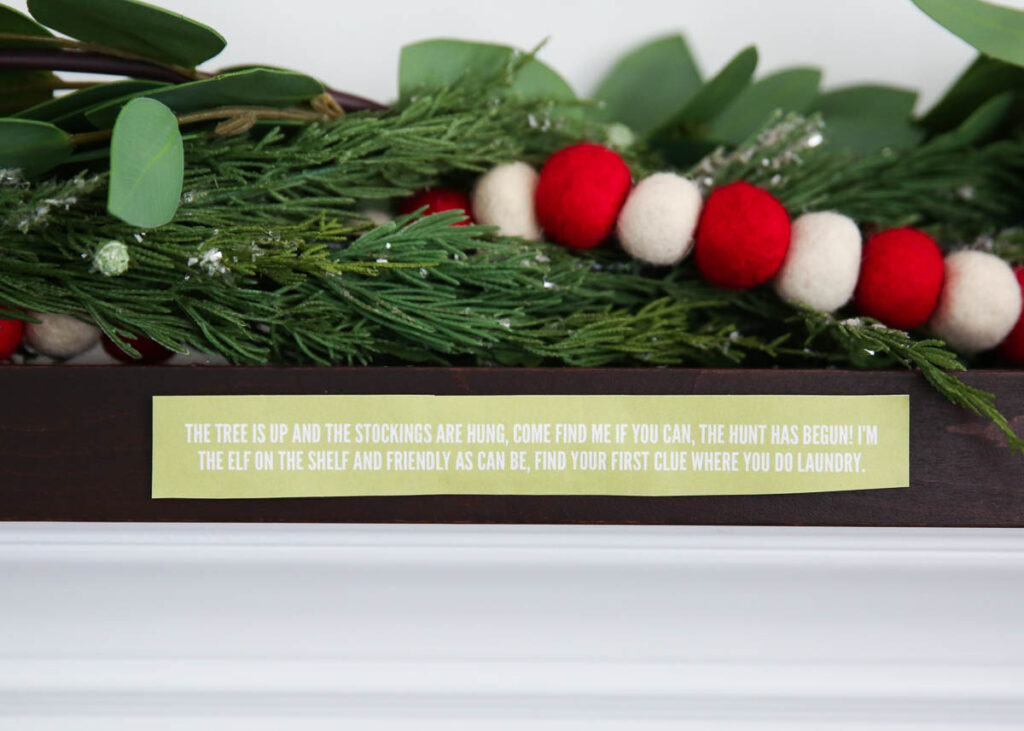 What is Elf on the Shelf?
Elf on the shelf is a creative holiday tradition where one of Santa's hardworking elves comes to your home to watch your kiddos and report any good behavior they see back to Santa.
The Elf often hides in the funniest places, creating a fun hide and seek game for kids. Below you'll find a FREE printable Elf on the Shelf Scavenger Hunt with 7 unique hiding places for your Elf to hide. This is such a fun Elf on the shelf ideas that you're kids will have a blast with!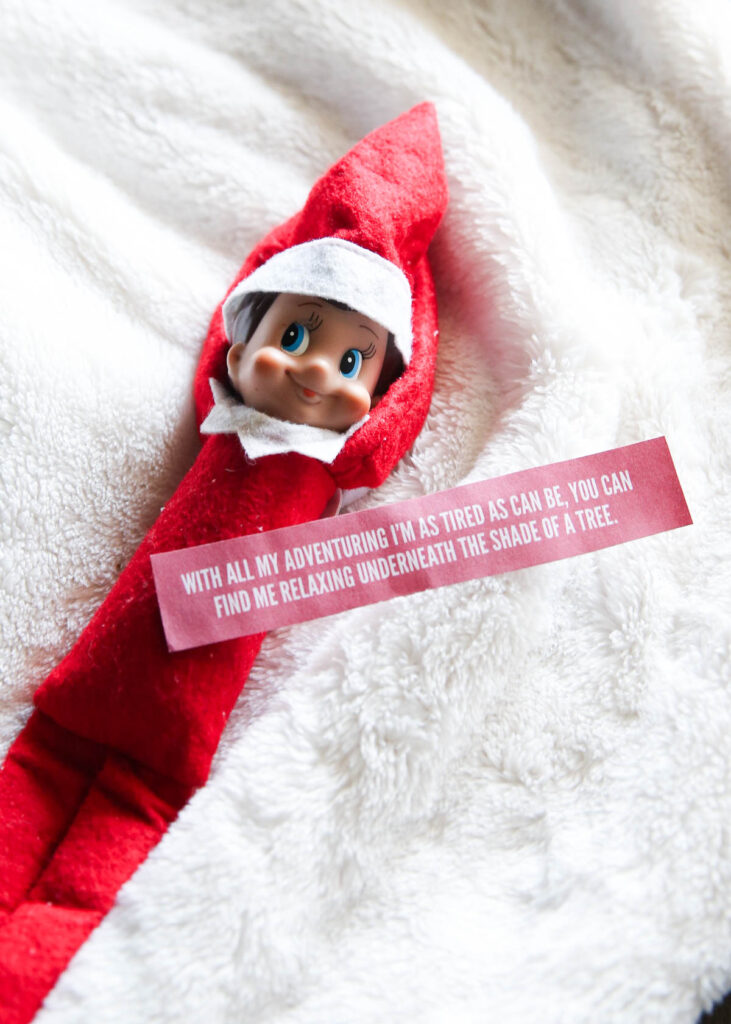 What You'll Need
Scavenger Hunt
The tree is up, and the stockings are hung, come find me if you can the hunt has begun! I'm the elf on the shelf and friendly as can be, find your first clue where you do laundry. (Inside the Washing Machine/Dryer)
I'm far from home and I miss the North pole you can find your next clue where it gets super cold. (Freezer)
I found a spot to escape all the noise, look for the next clue where you play with toys. (toy bin/playroom)
All this hiding has made me extra hungry; you can find the next clue where you go to fill your tummy. (Pantry/ Fridge)
Wow, I'm a hiding machine! The next clue is found at the place where you go to get clean. (Bathtub)
Help! I tried to send Santa a letter, but it got stuck. You can find the next clue at the place where you usually see the mail truck! (Mailbox)
With all my adventuring I'm as tired as can be, you can find me relaxing underneath the shade of a tree. (Under the Christmas Tree)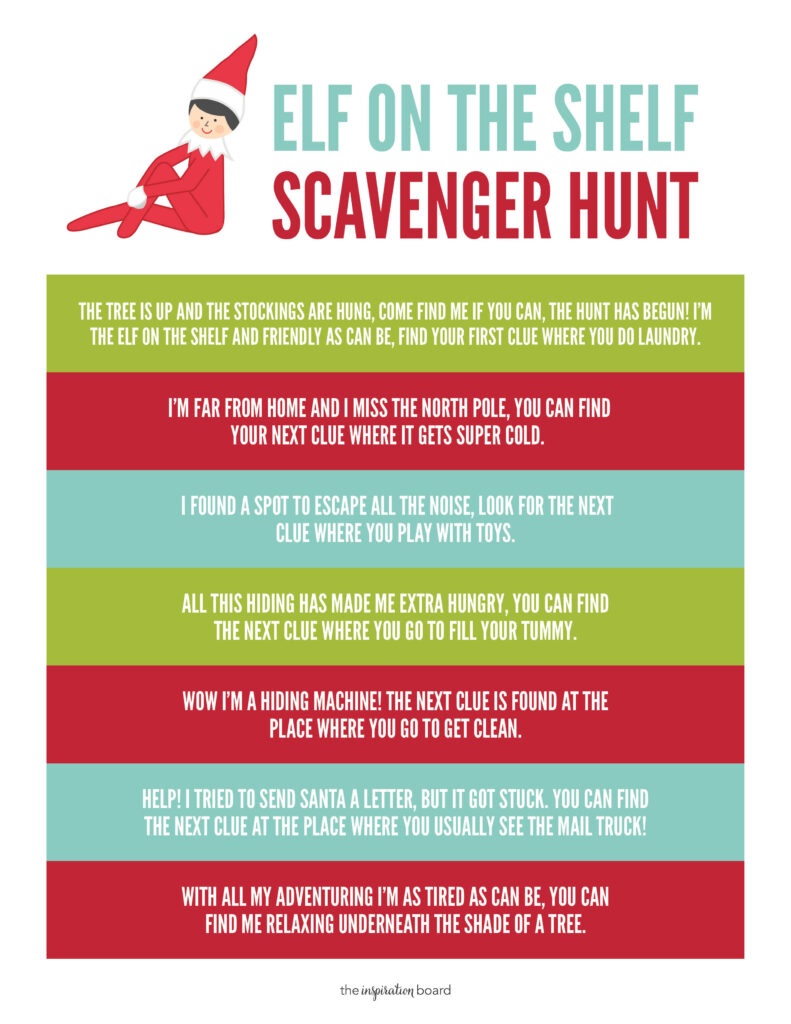 Free Printable Elf Scavenger Hunt
Download FREE Printable.
Cut out the clues.
Hide each clue in its place- You can place the first clue on their pillow!
Hide the Elf where the last clue leads.
Watch your kiddos have fun!
More Elf on the Shelf Fun