DIY Vertical Plant Hanger
DIY Vertical Plant Hanger By Liz of Love Grows Wild for I Heart Nap Time.
Hi again, friends! Are you ready to get your hands a little dirty? Go grab your garden gloves and some pretty plants, because today we're going to create a gorgeous DIY Vertical Plant Hanger! This project makes a beautiful display for your potted plants without taking up a ton of room. Perfect for small spaces! Let's get started…
Supplies:
– scrap wood
– terra cotta pots
– plants
– rope
– metal ring
– drill and 3/8″ bit
– jigsaw
– sandpaper
– paint and/or stain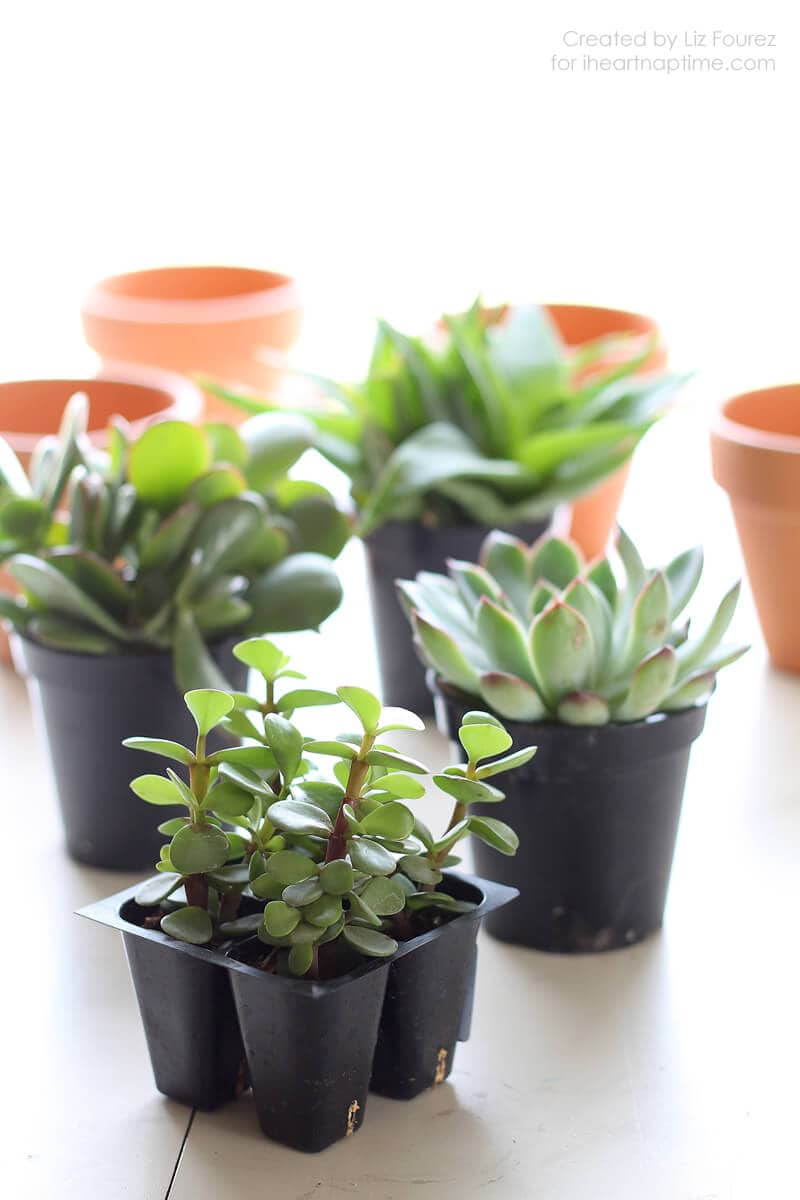 This project has a few different steps, but they're all really simple to do. I've included plenty of pictures to show you how everything looks along the way!
Start by placing a pot upside down on the wood. Measure and mark a square around the pot, leaving a 1″ border on the sides. I used 4 – 4.25″ pots for my plant hanger, so I drew 4 – 6.25″ x 6.25″ squares on my wood and cut them with a chop saw.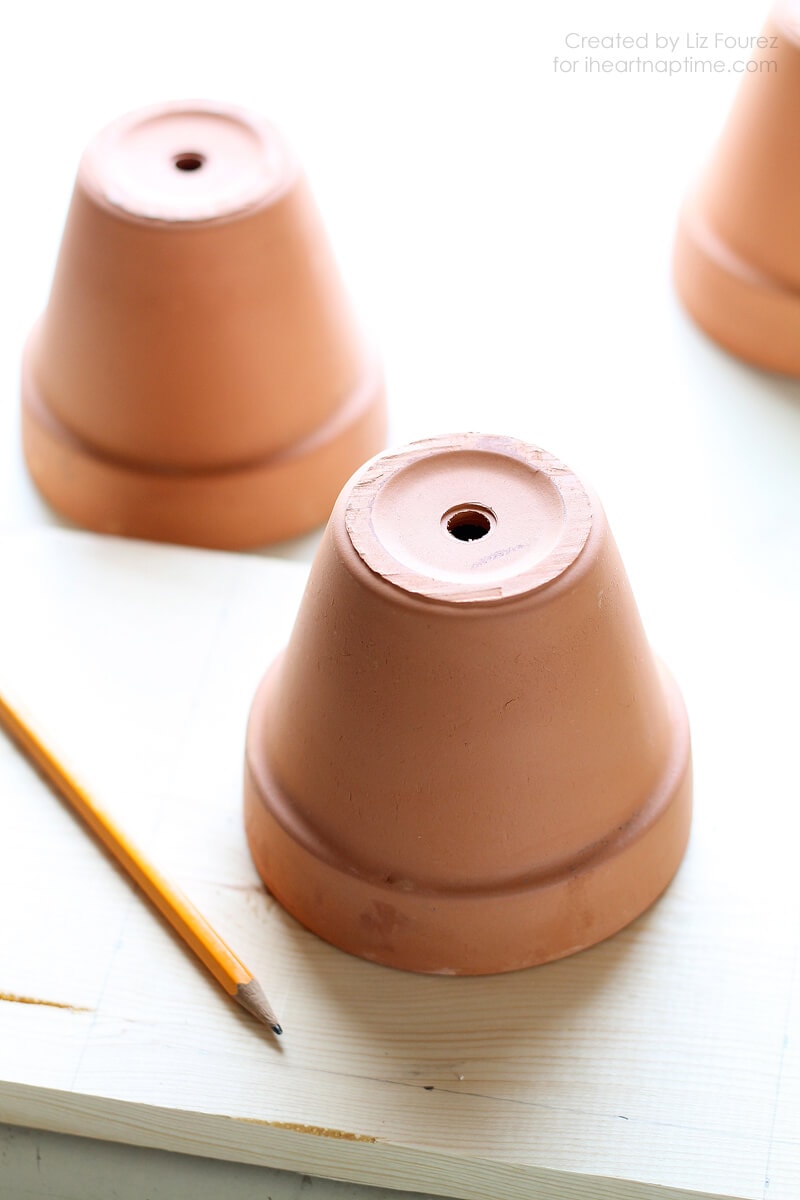 To create a hole for the pots to sit in, first trace the top of the pot in the center of the wood. Then draw another circle that is 1/4″ SMALLER inside the first circle. I traced around a small ramekin for mine.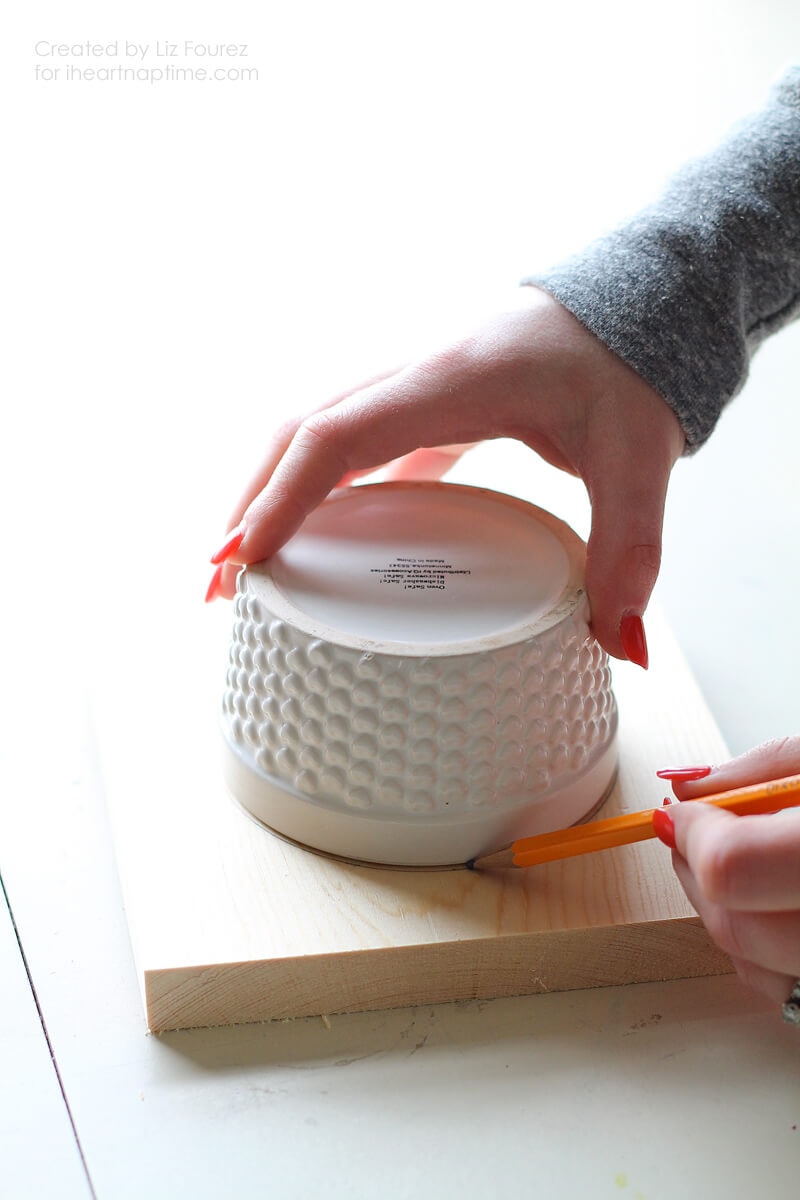 Now you'll need to cut the smaller circle out. I used a 3/8″ drill bit to create holes in the circle so I could fit my jigsaw blade inside. Then I used the jigsaw to cut around the circle until the piece popped out.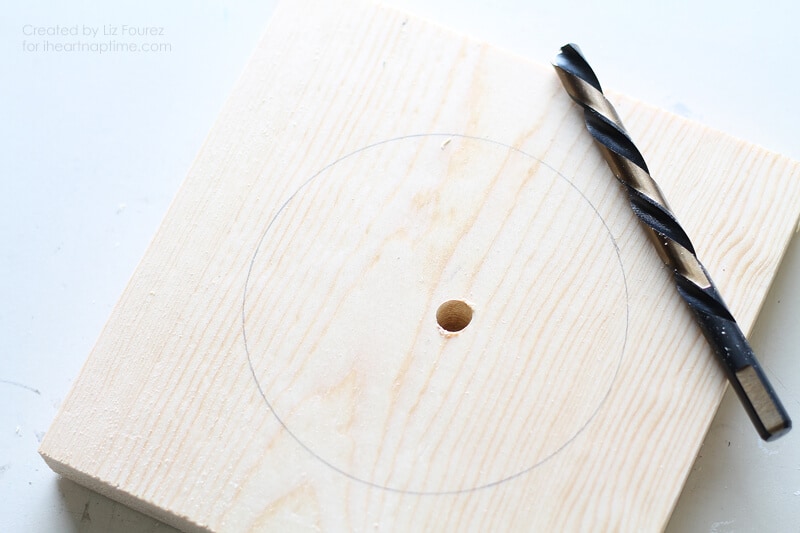 And now your pots should fit inside the wood squares!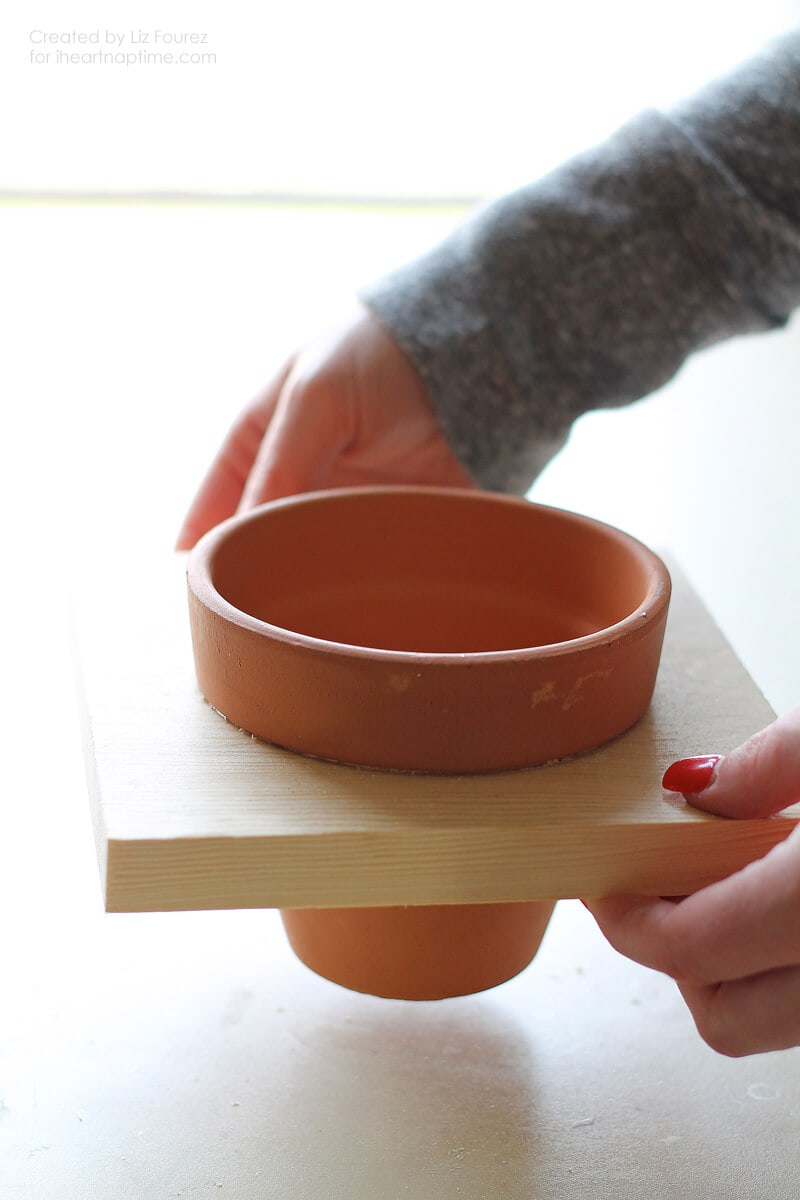 Next, drill a hole in each corner of the wood with a 3/8″ bit. This will be where the rope threads through.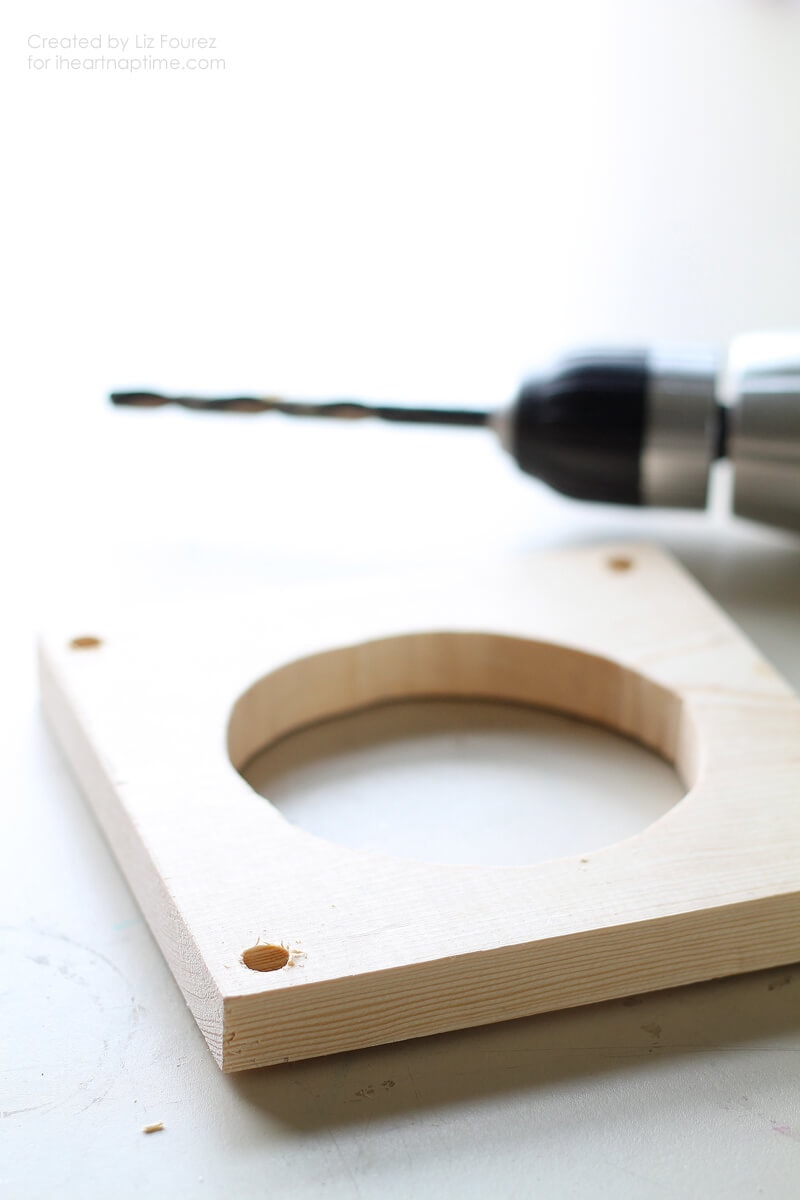 Sand the wood squares down to remove any splinters and paint or stain them however you like. I chose a pretty dark walnut stain for mine!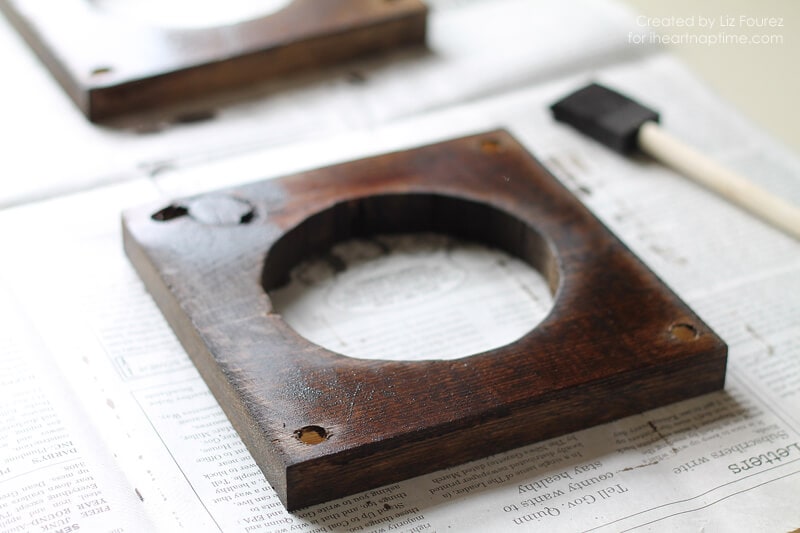 You can leave your pots plain or paint them if you like. I chose to dry brush some white Chalk Paint on mine to brighten them up while leaving some of the terra cotta showing underneath. I love this look! You can see this easy dry brushing technique << here.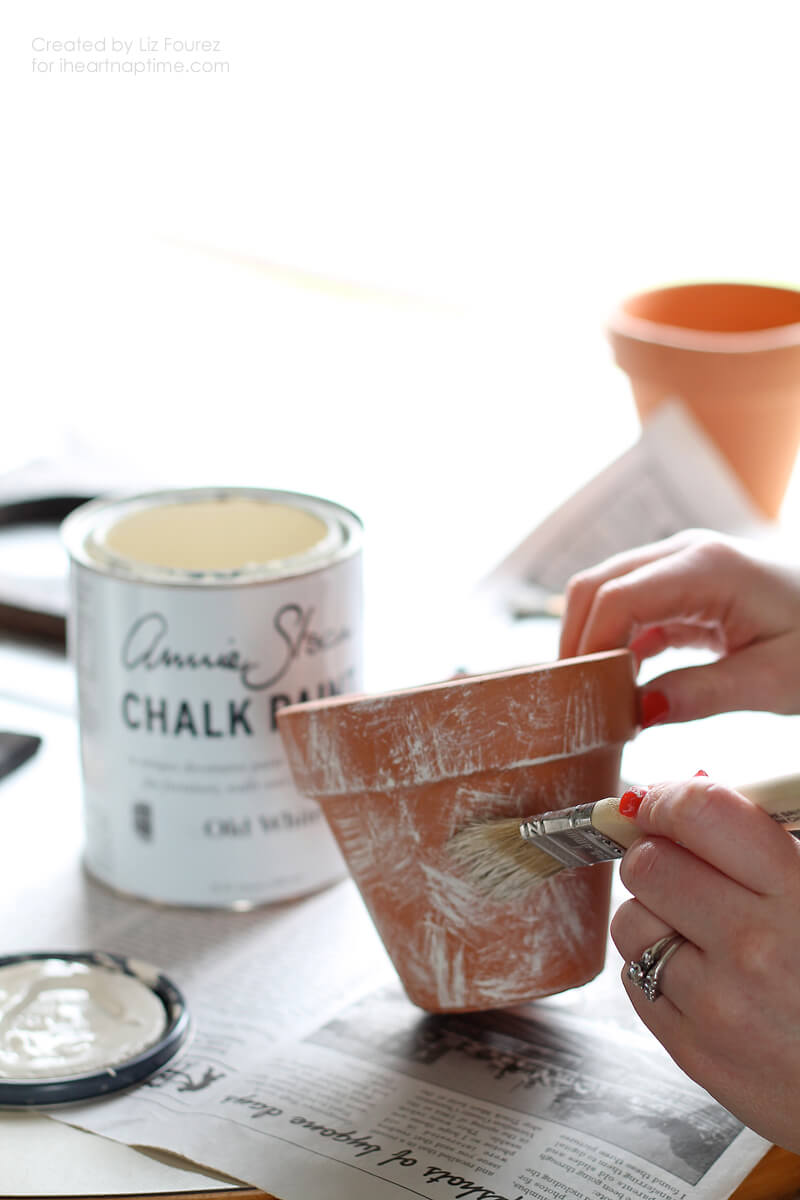 Now it's time to assemble! The size of your hanger will depend on how big and how many pots you're using, so adjust the dimensions as needed.
Cut four – 6 foot pieces of rope and thread them through the holes of one wood square. Tie a knot in each rope underneath the wood to hold it in place. This will be your bottom piece.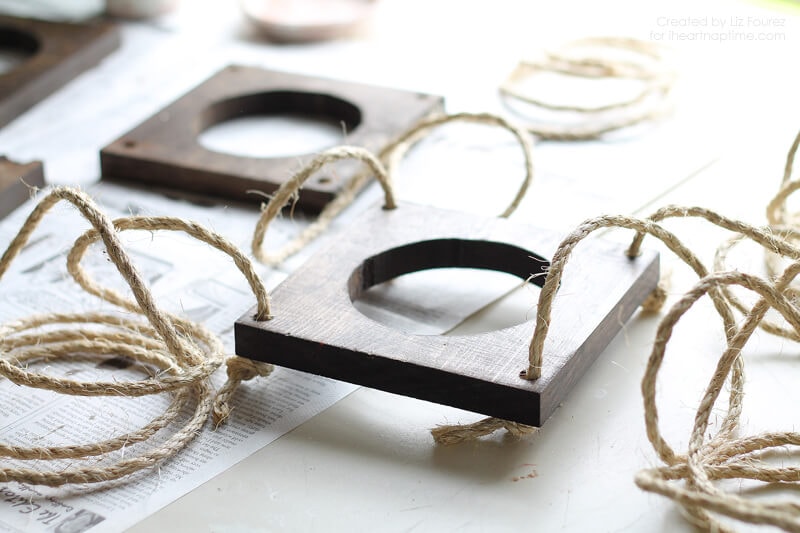 Tie another knot in each rope about 10-12″ above the last knot. Add the next wood square and slide it down to rest on the knots you just created. Repeat this process until all your wood pieces are in place. As you're adding pieces, check to see if they are sitting level and make adjustments in your knots as needed.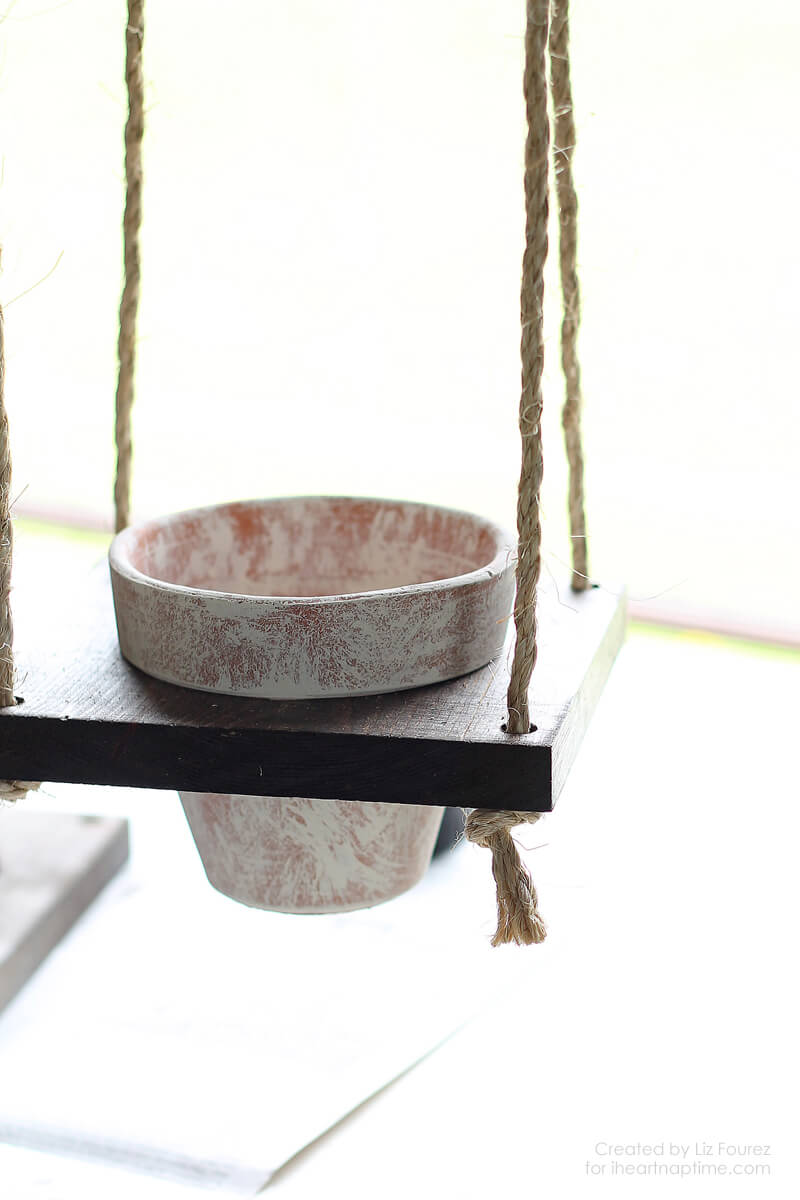 The genius behind these vertically-hanging plants is that when you are watering, any excess water will drip onto the plant below. Talk about easy watering! If you're hanging this indoors, you'll want to attach a bottom piece to the last pot to catch any water that runs out. I just used some super glue to attach the two pieces. If you're planning on hanging this outdoors, you won't need to worry about it!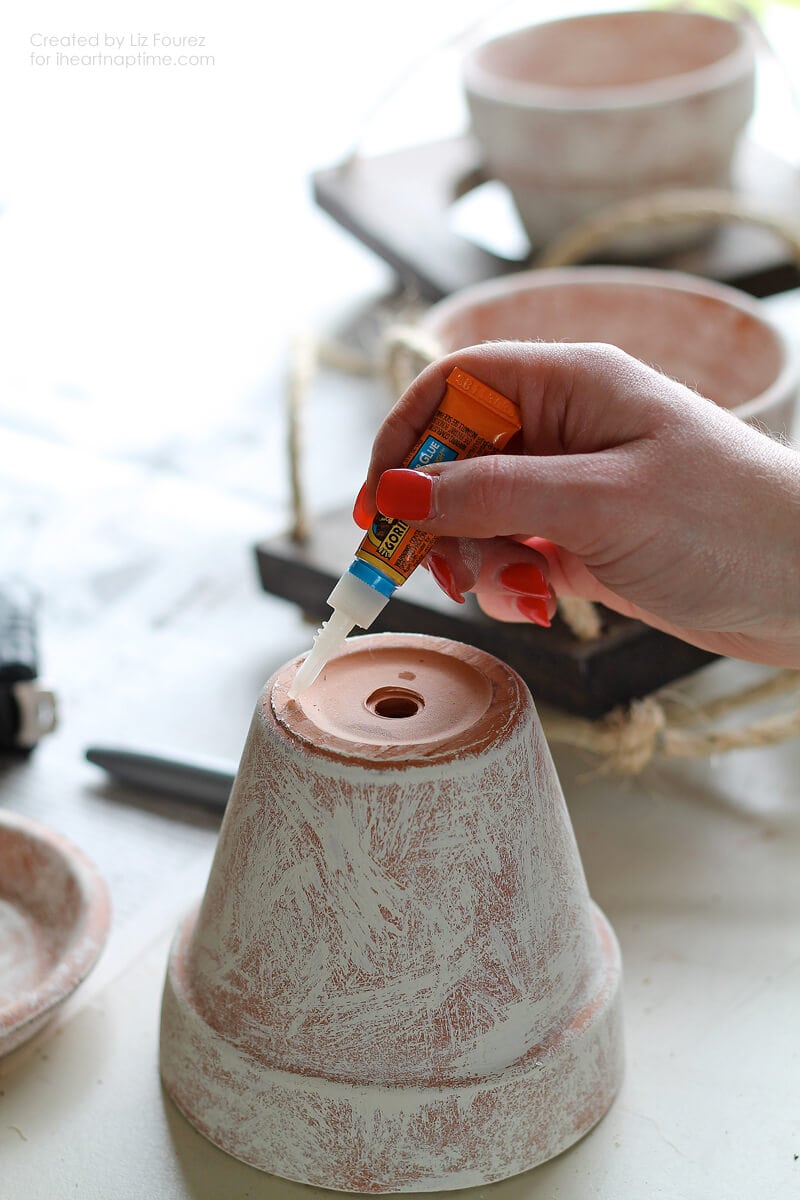 The last step is to get some plants added to your pots! I chose a gorgeous variety of succulents, but you can use any kind of flower or plant that you like!
TIP: Cut a coffee filter down to fit in the bottom of your pot, then add the soil over the filter. This will allow water to drip through, but keep your soil from falling out!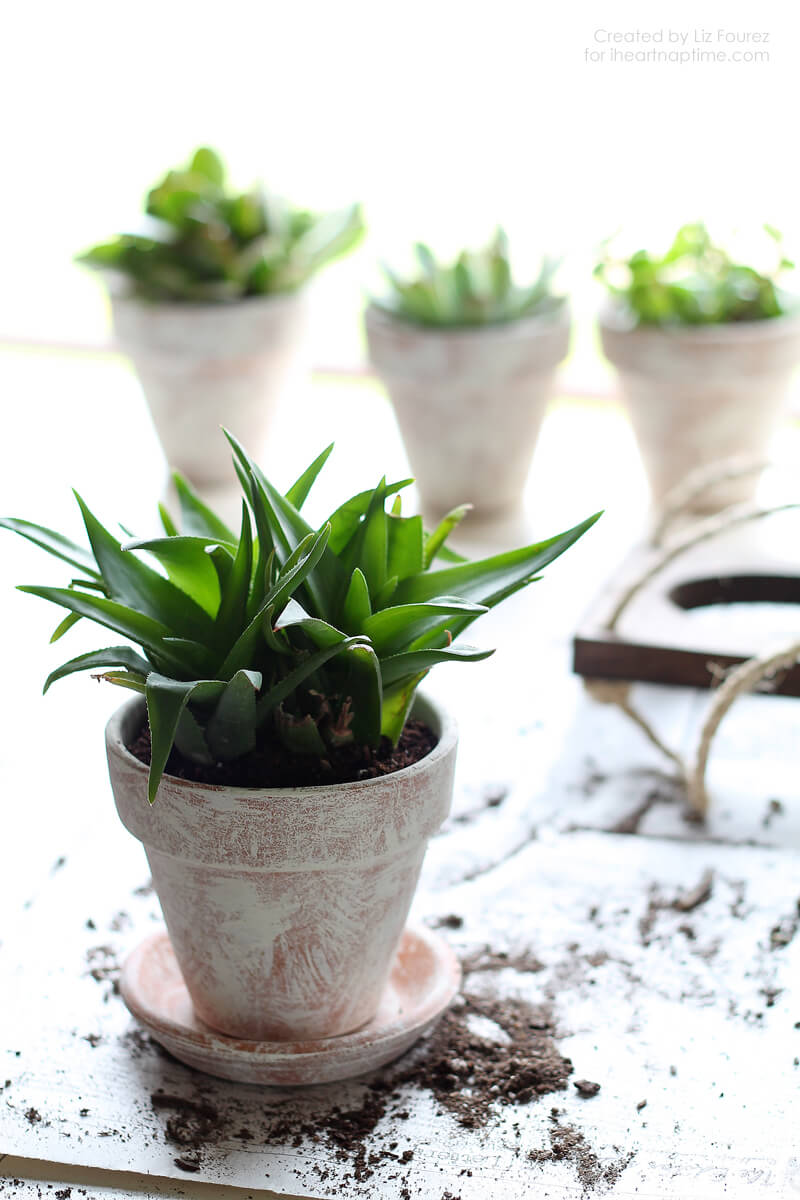 To hang your plants, pull the top of the rope pieces through a metal ring (found in the hardware section at Lowe's, Home Depot, etc.) and secure by tying a knot or wrapping floral wire tightly around the rope.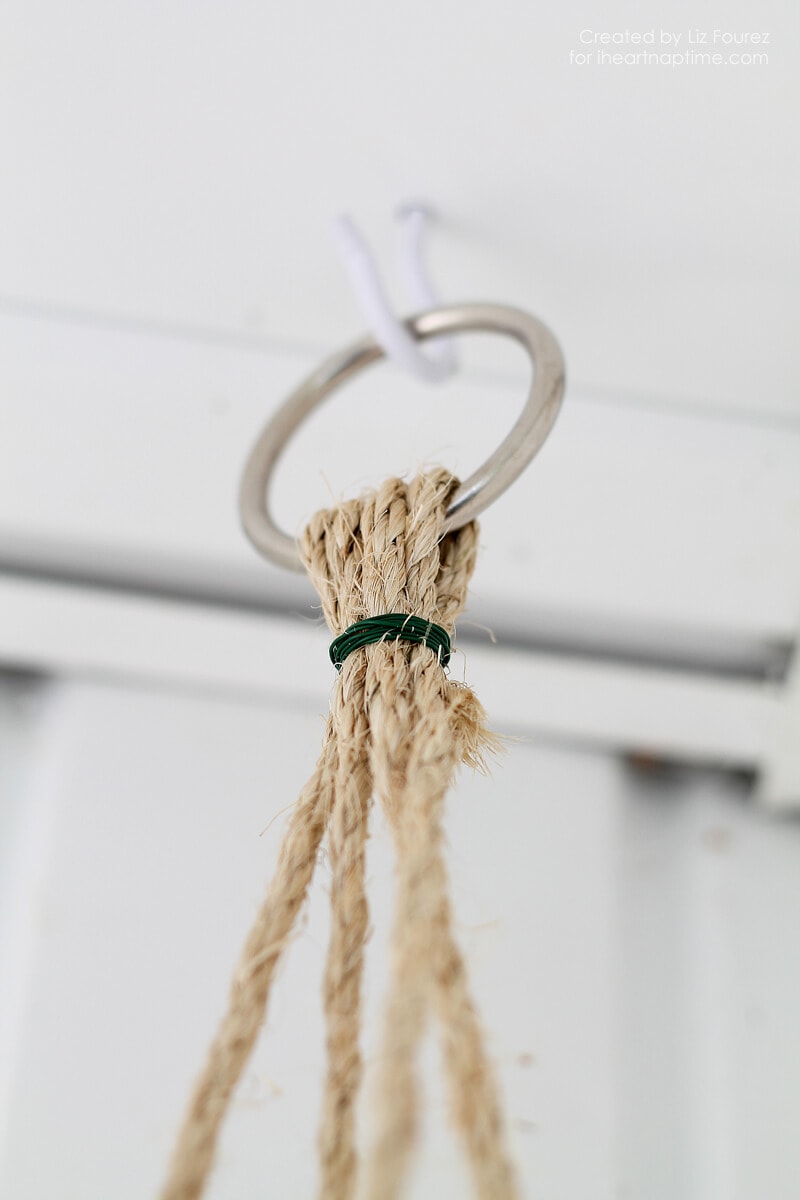 Now step back and admire your new piece plant hanger! Depending on how tall each of your plants are, you may need to raise or lower some of the wood pieces to create even spacing. Just loosen your knots a little and move them into place!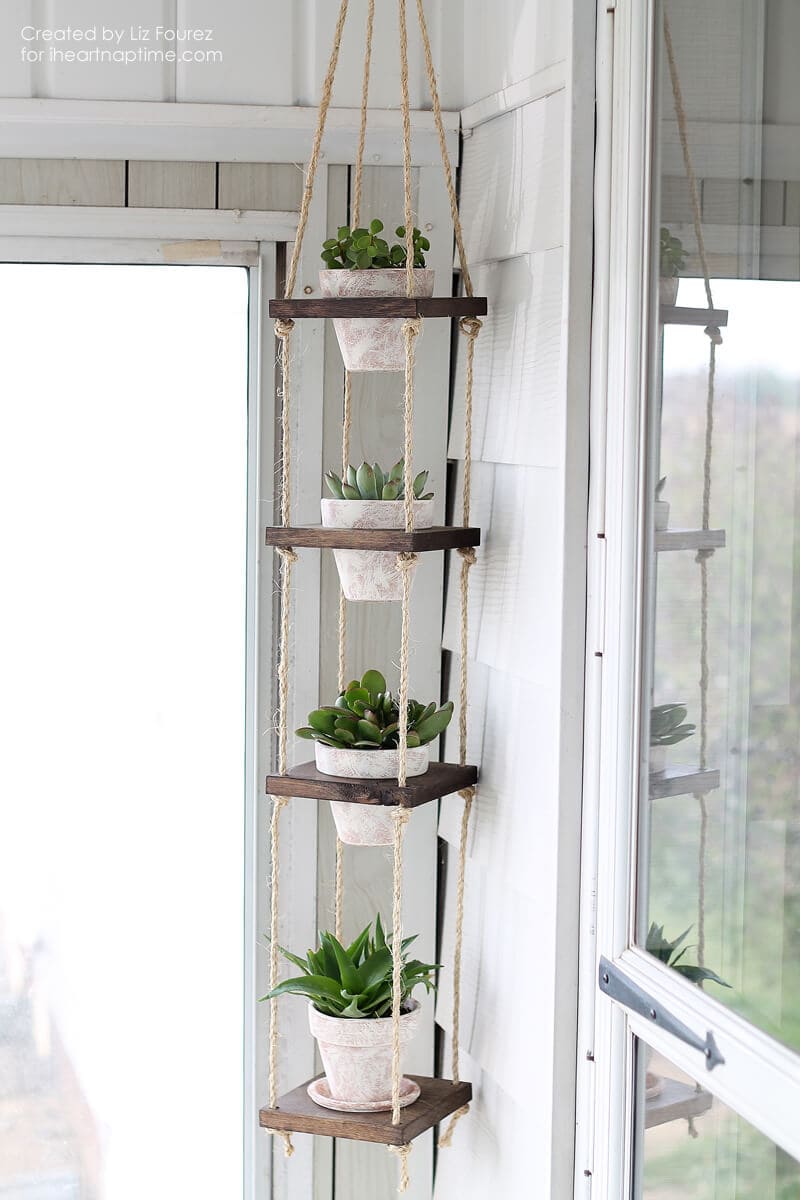 You'll notice in these photos that I set the bottom pot ON TOP of the wood square instead of through it. I had already super glued the bottom piece to the pot BEFORE setting it inside the wood, so I had to improvise! It still worked out nicely though!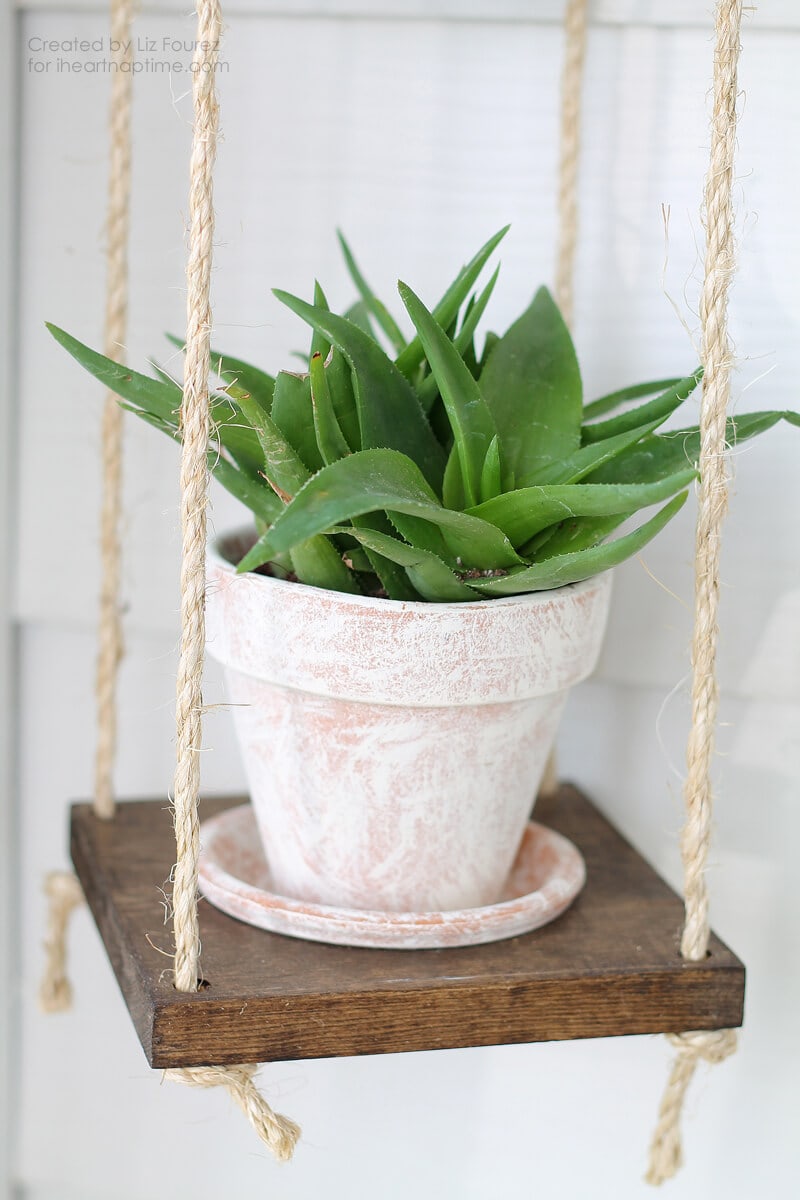 I have my plant hanger in the corner of our breezeway right by the front door. It's such a pretty welcome into our home!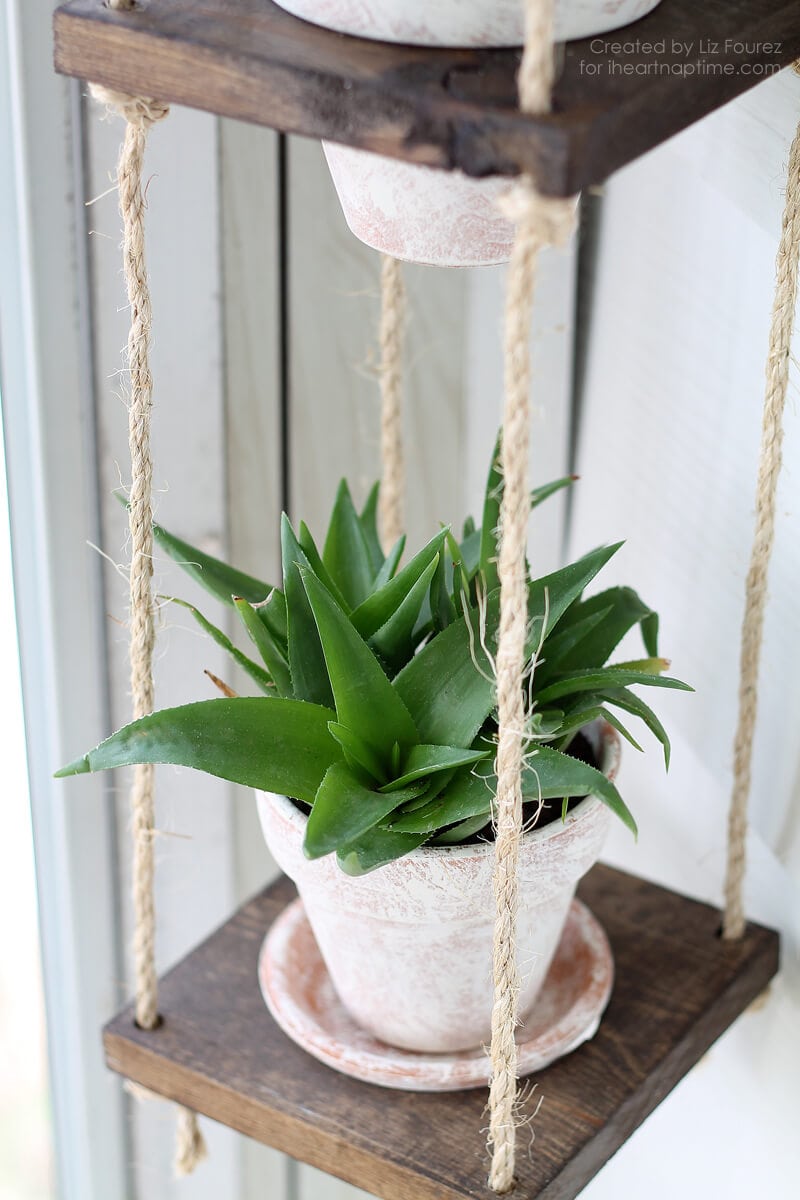 This project is perfect for anyone who loves having plants around, but doesn't have a lot of extra table or floor space to house them all. Hanging them vertically is a great solution!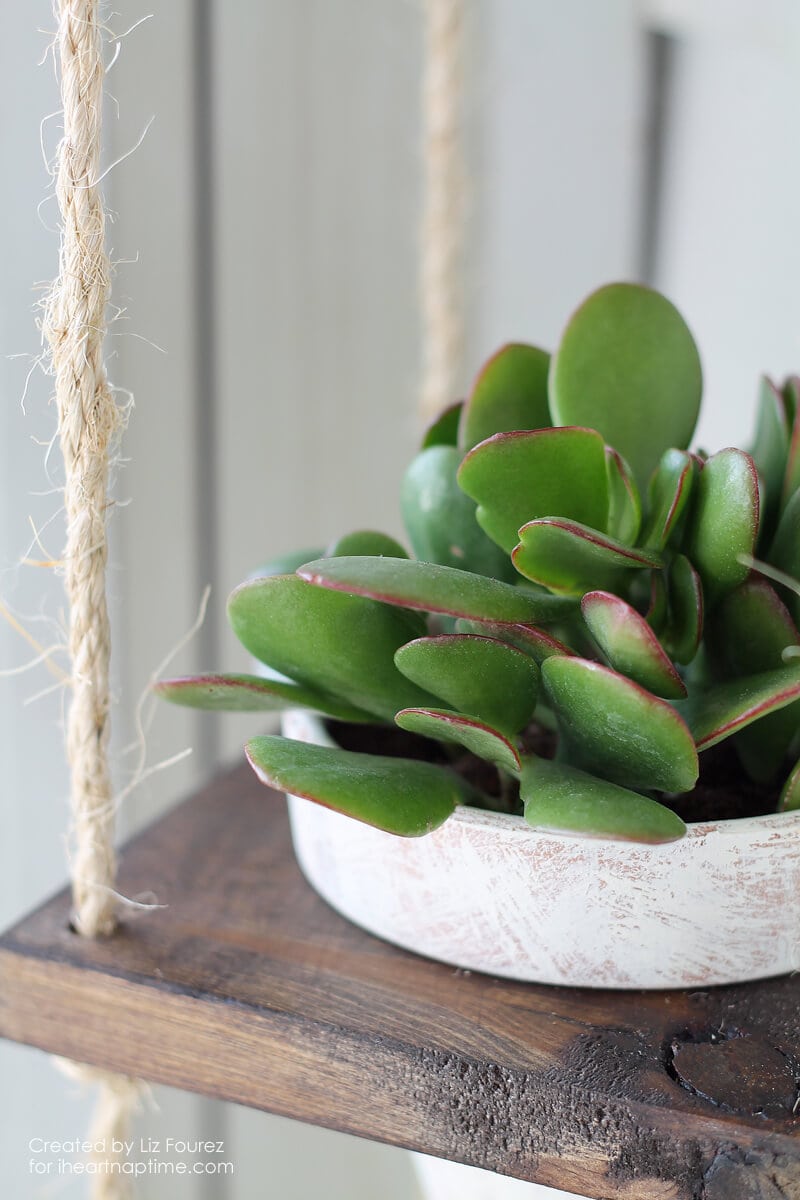 – Inspired by a project from Design Sponge. 
Have fun creating and planting! xoxo Liz