Welcome to the Crazy Christmas event! If you're new here, join us on 

Facebook

 and 

Pinterest

. Now let's give Jessica from

Two Shades of Pink

 a big welcome! We're so happy to have you guest posting!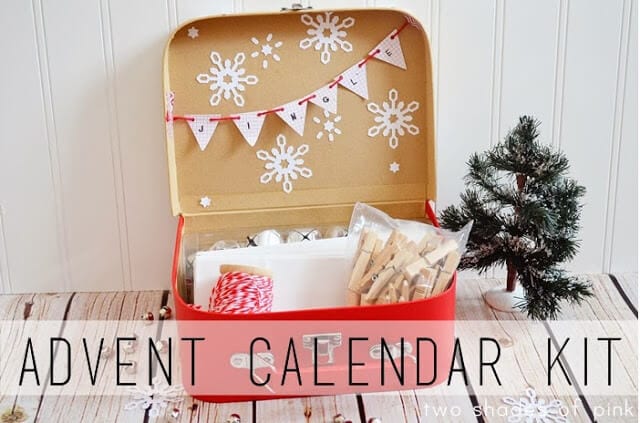 Hey there sweet people! I am so happy to share this fun advent calendar kit idea with you awesome I Heart Nap Time readers! My name is Jessica and I blog over at
Two Shades of Pink
. My heart is celebrating the little and big moments of life and you will find lots of inspirational diy ideas for parties, packaging and holidays. And I especially adore 
favors, mini things and kits
.
Aren't teeny things just too cute to pass up?
 I mean, just whole bunch of cute bits all bundled into a little package just gets me every time. So here is one I want to share with YOU.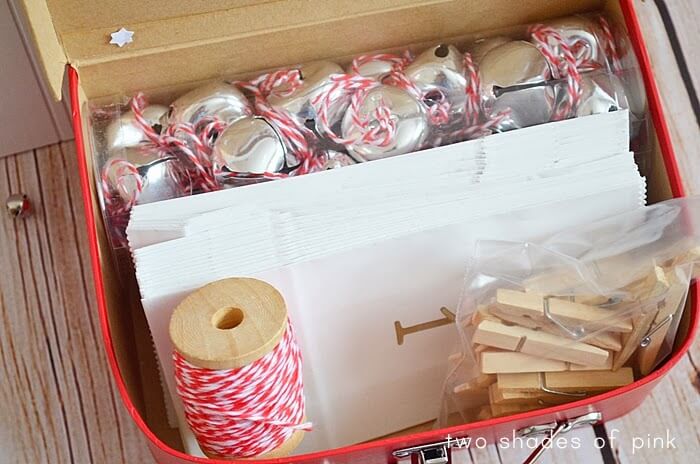 This idea all started when I spotted a cute little paper suitcase at Target.
Have you seen these?
 The possibilities are endless with all this mini cuteness. But I thought it would be perfect to create a simple, no frills advent calendar kit. And something easy to set up without much thought. This would make the perfect hostess gift for Thanksgiving or even for a teacher to have in a class room or at home.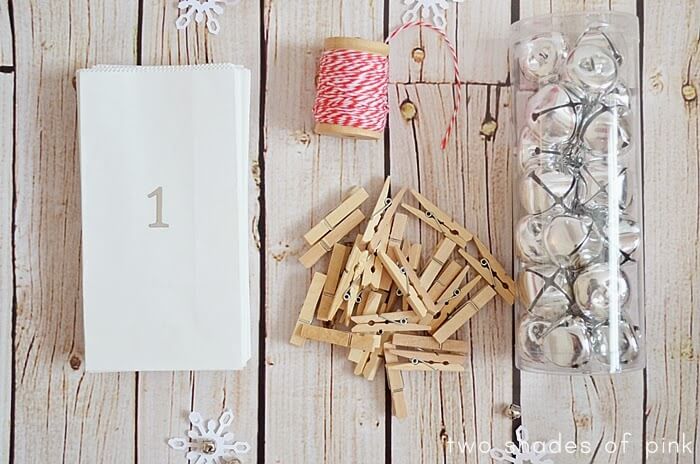 The idea is to create an advent with 25 mini,white paper sacks and each one has a silver bell inside with some twine attached to each bell. The bags are all numbered (1-25) with silver number stickers and clipped with a mini clothespin to one or two lengths of twine hanging on the wall or mantel.
Supplies:
Paper suitcase in red: Target $4.99
White paper sacks: Michael's (16 per package) $1.99 ea.
Silver Bells: Hobby lobby (28 per package) $2.99
Yarn or Twine: Hobby Lobby $2.99
Silver Number Stickers: Hobby Lobby (need 2 packages) $1.99 ea.
Mini Clothespins: Joann's (25 per pack) $2.50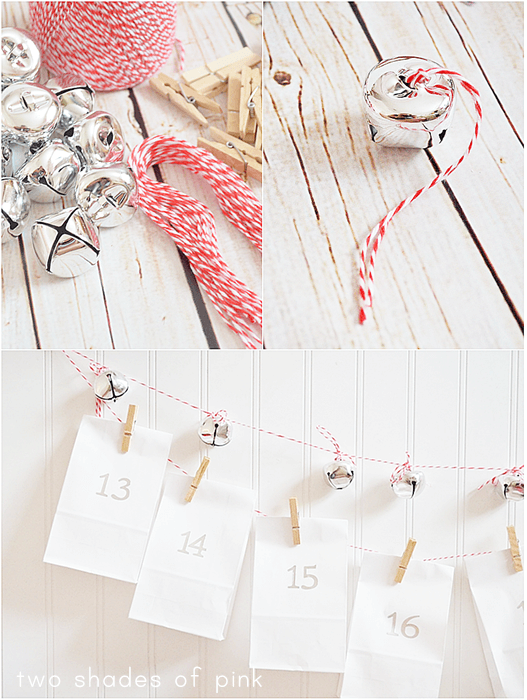 Each day you can remove a bell, tie it to the twine and create a jingle bell garland as you go.
Super easy and a cute decoration at the same time.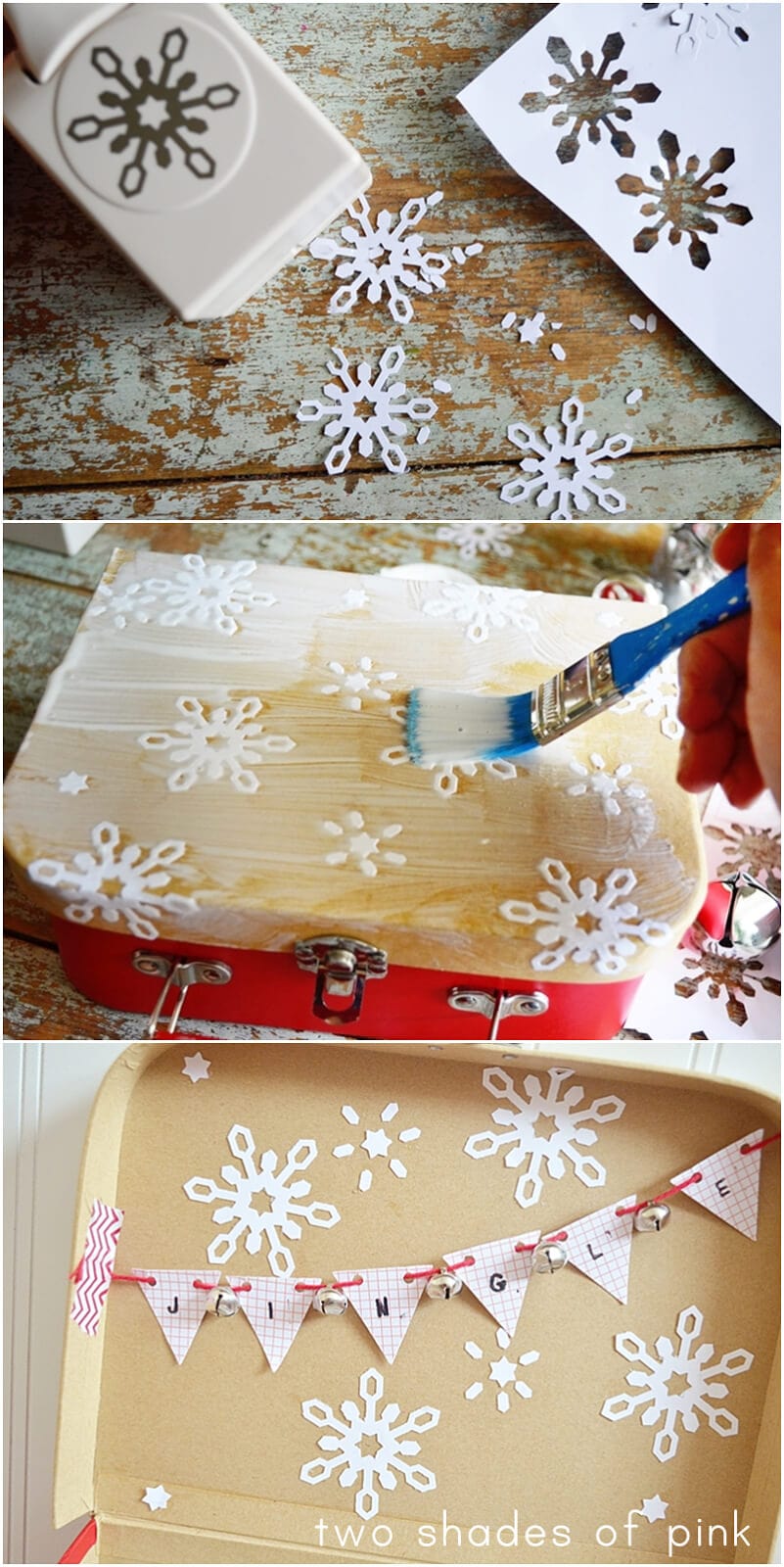 I also decided to decorate the little suitcase.
Kind of a gift within a gift.
Punched some snowflakes and used Mod Podge to adhere and seal them to the outside and inside of the lid. Added an adorable mini "jingle" bunting with tiny, little bells to add the perfect finishing touch.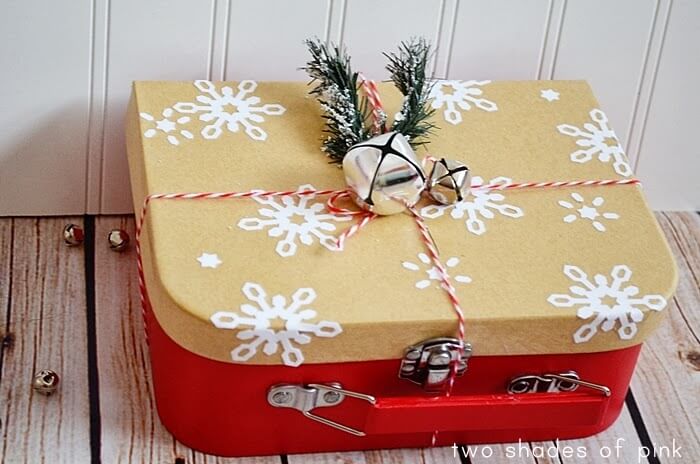 Wrap some yarn or twine around it with some bells and snowy greenery and you have a beautiful gift for a friend, teacher, or dinner hostess.
Thank you so much for having me Jamielyn! Happy Holidays friends!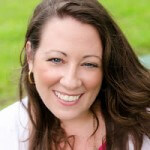 Come on over and join Jessica at Two Shades of Pink for inspiring diy ideas to celebrate both the little and big moments of life. You will find great packaging ideas, seasonal and holiday crafts, and great entertaining and party ideas.When she isn't blogging or working on a project, Jessica enjoys spending loads of snuggle time with her handsome husband and two girls in west coast Florida. You can also find Jessica on Pinterest, Facebook, and Instagram.
Thanks so much for sharing! We loved having you guest post today! XO