DIY Chore Chart {Hello Summer}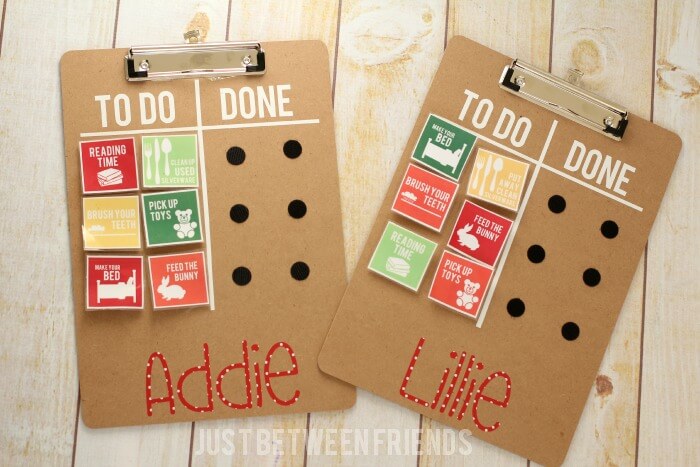 Hello! I am Jonie from Just Between Friends and I am thrilled to be here posting on I Heart Nap Time! When it comes to summer, one of the hardest things for me has been structure for my kids. I have a 2 year old and a 4 year old, both girls, and I needed a way for them to know what their responsibilities around the house were as well as a way that I could monitor to see when they have completed them. That is how I came up with the idea that I needed a DIY chore chart that was both functional and easy to use. I am thrilled about the way that this turned out and my girls think it is a lot of fun to switch the chores from "to-do" to "done."
Supplies:
Chore chart printable
Clipboards (I found mine at Target)
Scissors
Velcro (I purchased at Walmart)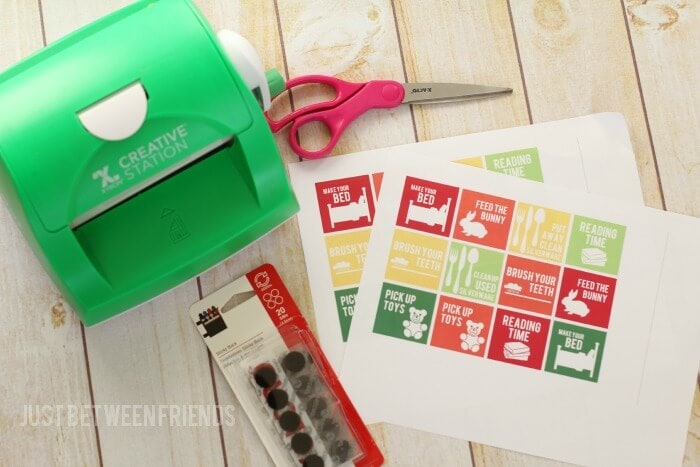 To begin, I needed to design some squares that have chores easy enough for my kids to do them and that I would trust them to do well. I created a simple printable, that you are welcome to use, that you can find over on my site. Once I printed and cut it out, I used my Xyron creative station to laminate the individual squares so that they would be more durable. You can use any kind of laminating. The xyron was the easiest for me to use since I had it available, but could have taken them to be laminated somewhere if I didn't have it available.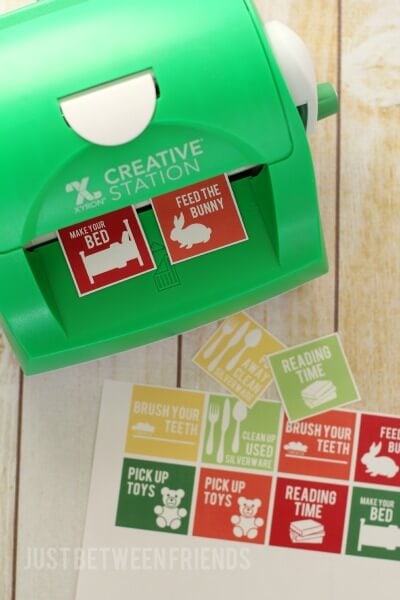 After the squares are laminated, I turned to my clipboard. I used my Cricut Explore to cut out the to-do and done as well as the names of my girls and attached it to the clipboard. I also just cut strips of vinyl to create the lines to separate the two sides. Once that was added, I put my velcro onto the board as well as the back of my squares. To get the best amount of adhesion, I suggest attaching the velcro and then placing under a heavy object overnight. Otherwise, the velcro will just peel right off.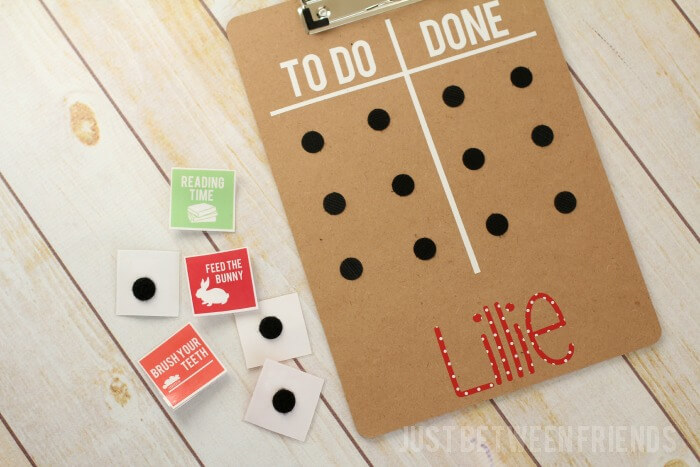 After you have your velcro secured, you are ready for use! Your kids will love the fact that they can see when they have completed a task. I know mine have! There is something so fulfilling for them to be able to move it themselves.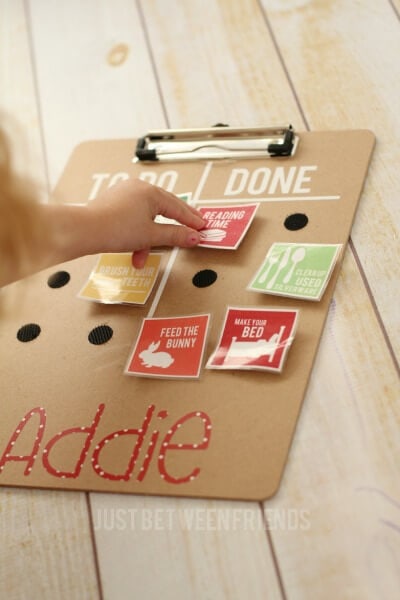 If you liked this project, then I just KNOW you are going to love some of these popular posts from my blog.

My Craft Room | DIY leggings from knee high socks | Balloon Art Tutorial | Fancy Flowers Tutorial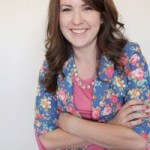 I'm Jonie and I like to post about crafts, tutorials, home decor, little girl accessories and so much more. I have two beautiful little girls (which is why I like to do cutesy girl accessories so much) and am expecting my first handsome boy to arrive in about three months! I love power tools- so much so that I ask for them when my birthday and holidays come around. I would love it if you wanted to come connect with me on my site. You can find me here.