Hi Everyone! Jenny Raulli from Bloom Designs Online here to share a cute and easy Valentine's Fortune Cookie gift that is perfect for friends and neighbors. As a loyal follower of Jamielyn's, I feel SO fortunate to be contributing on I Heart Nap Time and I thought this feeling would be a great theme for my first post!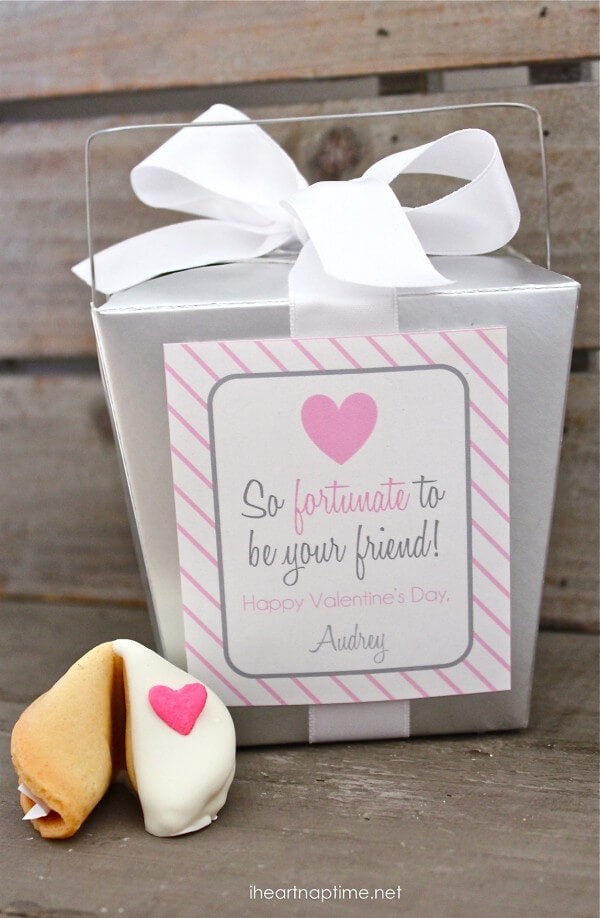 With the craziness of the major holidays over, I always try to make some homemade Valentine's treats for those friends and loved ones that make my life sweeter. These white chocolate dipped fortune cookies are easy to make and very inexpensive. When hunting down supplies for this project, I found Chinese take out boxes in lots of colors and designs. Pink and silver is my absolute favorite color combination and I think it works so well for this holiday. I purchased individually wrapped fortune cookies in bulk at a big box store. I think everyone, young or old, loves breaking open these cookies to find their fortune.
Supplies:
8 ounces white melting candies or white chocolate chips
Fortune cookies
Heart shaped sprinkles
Chinese take out box
Ribbon
Free printable download (for personal use only… please link directly to this post if sharing)
Instructions:
In a heat proof bowl, microwave white chocolate or melting candies for 40 seconds. Remove and stir well. Heat for 20 more seconds and stir. Repeat until chocolate is smooth and melted. Dip half of each fortune cookie in melted chocolate. Gently shake off excess and set on wax paper.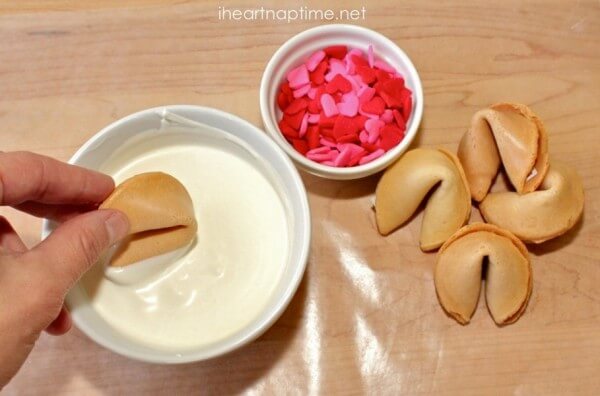 Let set for about two minutes then place heart shaped sprinkle on the chocolate. This way the sprinkle won't slide down the cookie.
Place cookies in a cool spot until chocolate re-hardens.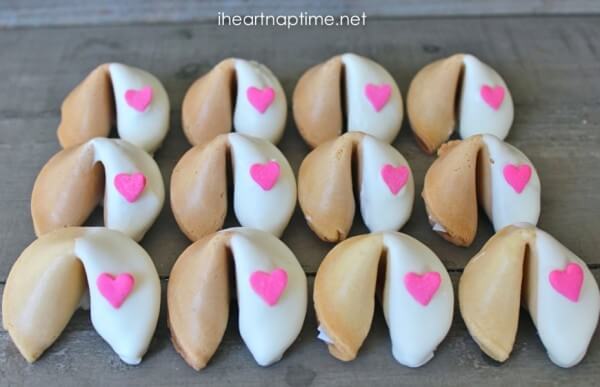 Download the tag from here. Print tag and sign your name. Tags can be printed on full label sheet so that they can be quickly attached to boxes or they can be printed on card stock and simply glued on.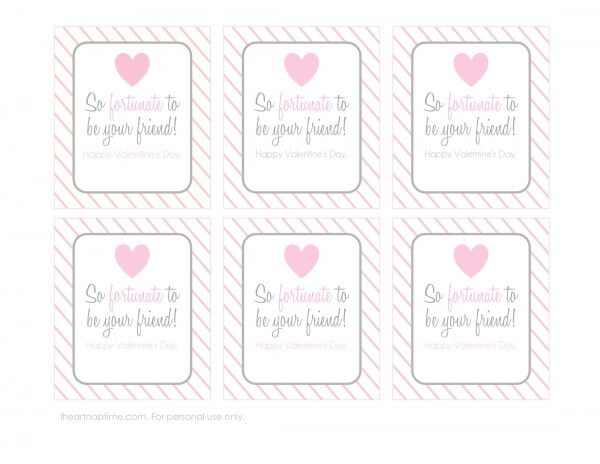 Fill Chinese take out boxes with cookies. Add your bow and tag and deliver.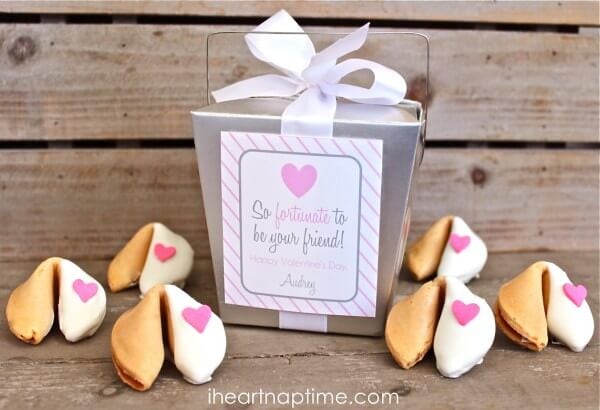 That's it. I'm sure you'll get lots of love from the lucky friends that receive these treats. Thanks so much for stopping by and thanks to Jamielyn for having me!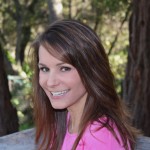 Jenny Raulli is the founder, editor and everything else of Bloom Designs Online. Visit her daily blog for holiday crafts, party inspirtation and ways to make each day a bit more personal or her one stop party shop for fabulous party printables and supplies. You can also find her on Pinterest and on Facebook. When she's not blooming, you'll find her in her most favorite role as wife and stay at home Mommy to her four children!