First Birthday Time Capsule with Free Printable
First Birthday Time Capsule with Free Printable – A sentimental touch for your baby's first birthday party; a time capsule that your guests can store notes in, to be read on his or her's 18th birthday!
Hey lovelies! Jessica here from Fantabulosity! If you're looking for something extra special to do for your baby's first birthday party, a "time capsule," is an easy, sentimental keepsake idea, that you can create.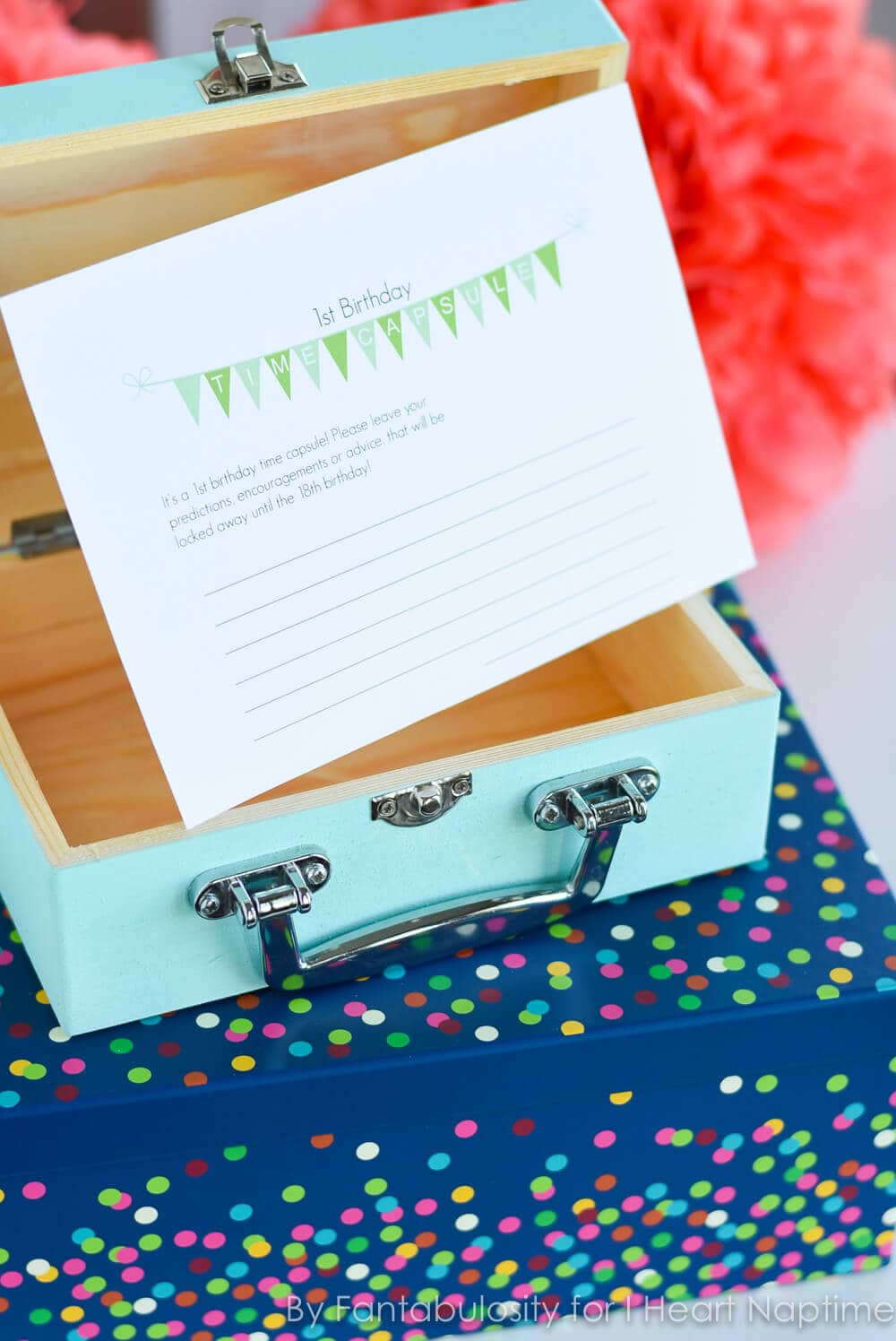 First Birthday Time Capsule:
There are ENDLESS ways you can create a first birthday time capsule, but I wanted to make it easy on you, and at least help you get started by offering a free printable!
Simply download and print multiple copies of this free printable, (I printed two 5×7's on one sheet, to save paper, and allow enough room for the "wordy," guests to write their sweet notes) and encourage your guests to fill out a card for your "baby," to read on their 18th birthday. Let them know that they can write whatever they wish. Like advice for the 18 year old, best wishes, predictions of what they'll be doing at 18, or a little bit of everything!
After each guest fills the card out, they can place it in to the designated "time capsule," and LOCK it away until the 18th birthday!
Download the Free Printable Here!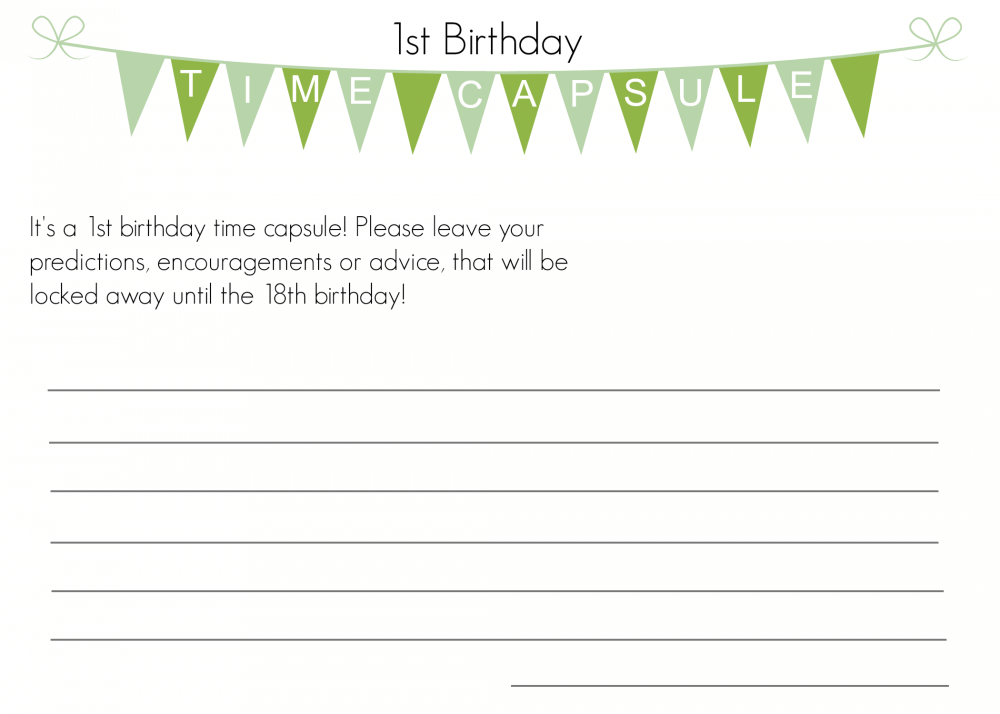 What to use for a time capsule:
• You can grab a wooden lockbox, like I did here, from a craft supply store, and paint it to match the party decor, or leave it like it is!
• Large mason jar with lid, or cookie jar.
• Getting extra creative…use a style of container that matches the party theme that you are styling. For example: For an airplane themed party, you can use a mini suitcase as the time capsule!
• Whatever container you do choose to use, seal it well (tape, glue, etc.)… so that those little tempted hands, can't easily break in to the time capsule for the next 17 years. 😉
Where to Store It?
If you have a safe in your home, that's my #1 recommendation. If you're looking for an alternative storage location, the very top of his/her closet may be a great hiding space that's out of reach. (At least for a few years.)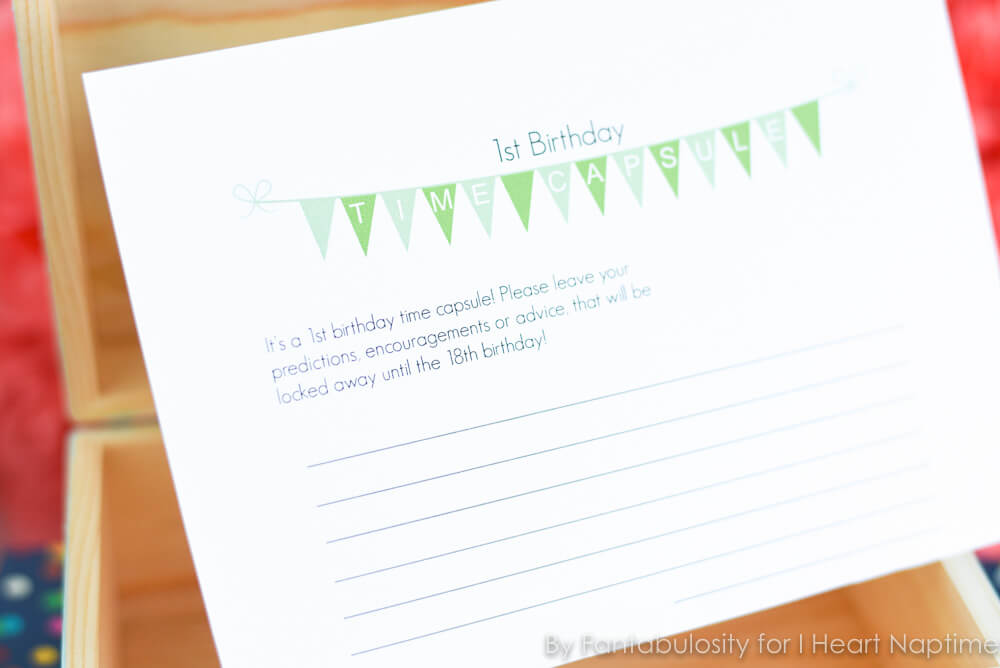 Don't forget to supply pens/pencils/markers for your guests to fill the cards out! If you don't plan on monitoring the time capsule station, it may help to also create a sign with instructions for your guests to fill the cards out.
I usually set up the time capsule display, right by the door where the guests enter. This way it can also serve as a "guest book," and the guests are more likely to see it, as they enter or leave.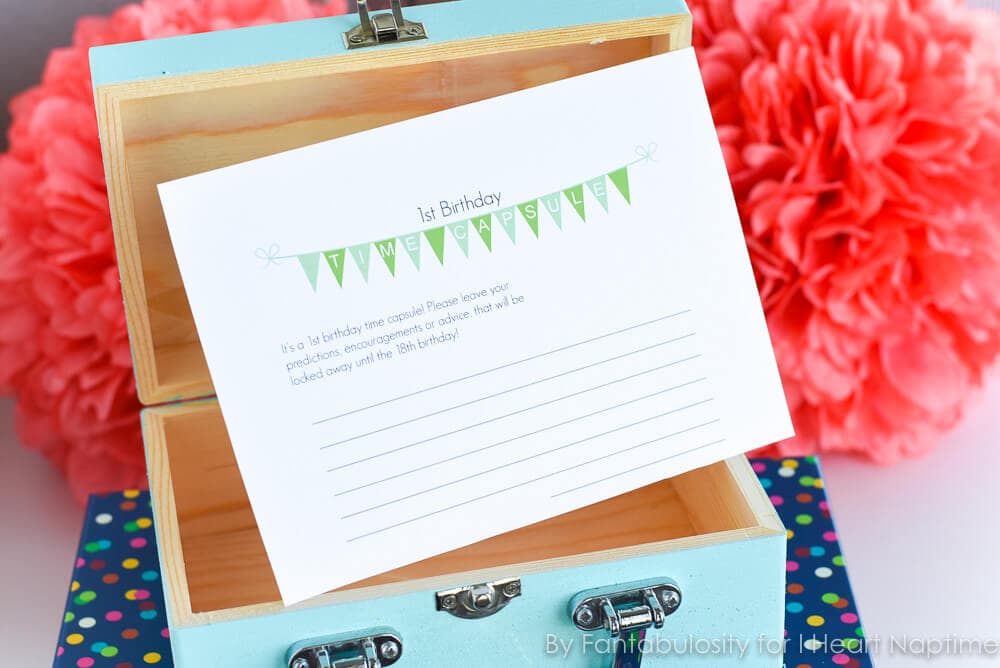 I'm tickled that you came by to see my first birthday time capsule idea. Something so simple, can mean so much! For more first birthday time capsule ideas, you can see how I created and styled it for both of my boys birthday parties here & here!
Thanks, Jessica!



If you love this great birthday DIY, you'll enjoy these too!