Farmhouse Style Neighbor Gift
Farmhouse Style Neighbor Gift… a few simple supplies, a free printable, and five minutes is all you need to create this adorable and easy gift for everyone on your list!

Hello friends! It's the best time of year, isn't it? I love the whole idea of giving and receiving gifts, but giving gifts is just so much more fun when you can be creative, thoughtful, and put something together that is just irresistibly cute!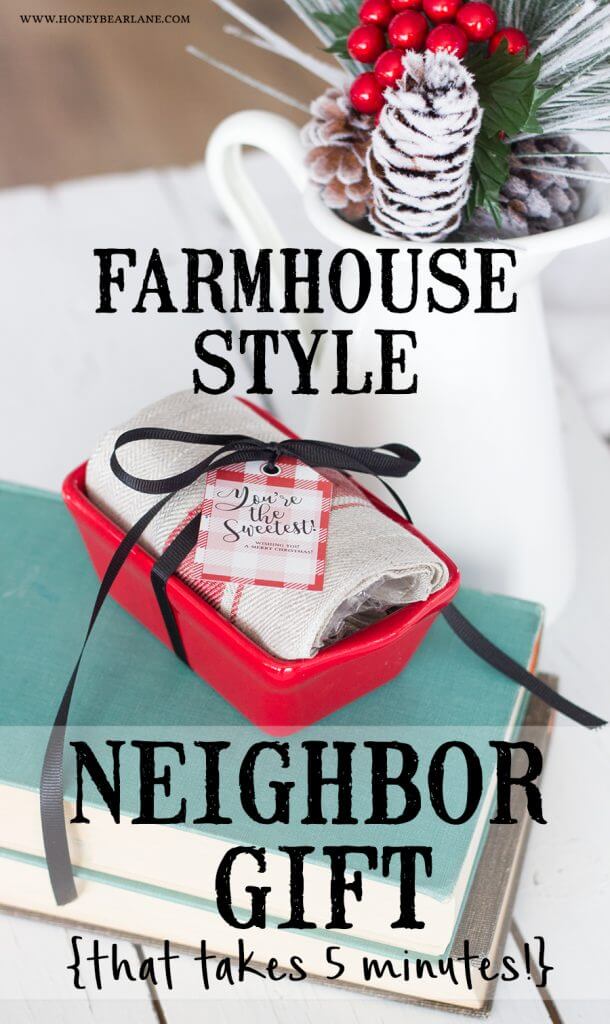 Today I threw together a little neighbor gift with a free printable that would apply to pretty much any gift idea, but especially a goodie plate or some sort of treat! I know we don't all have time to bake (like I clearly didn't for this post haha!) but I think these days candies or store-bought are just as appreciated. And let's just ignore Judgy McJudgerson who wants to show everyone up by making every single thing handmade, right?!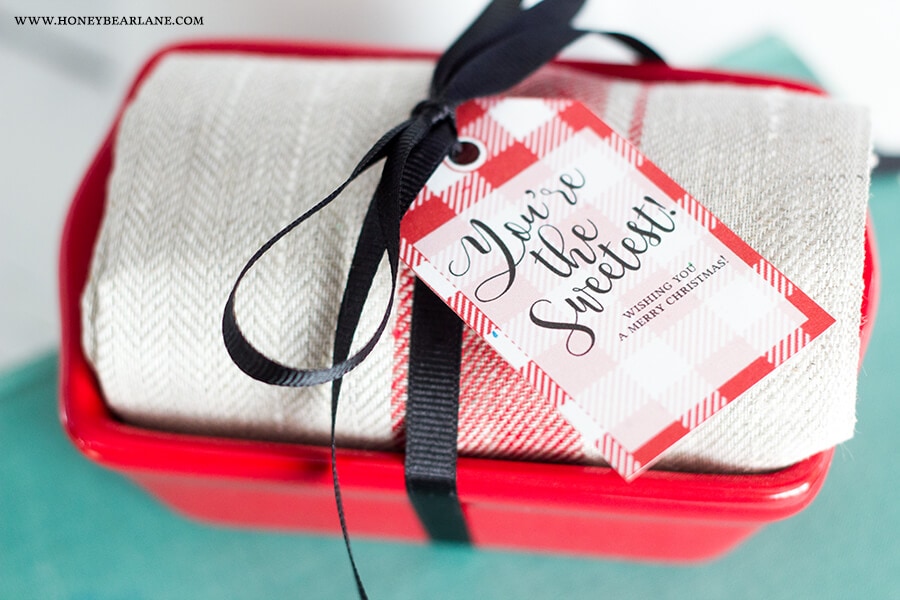 To make this little kitchen-esque gift, I found these super cute little red baking/candy dishes at Michael's and the tea towels from IKEA. Both have that farmhouse feel that I love so I thought I would fill them with small peppermints which I had on hand (and are super cheap-bonus!). I just put the candy in a clear cellophane bag and folded it over so it would take the shape of the pan. Then I wrapped the towel around it and tied the whole thing up with a pretty ribbon. Kind of ends up looking like a little loaf of bread. Took me two minutes, so for sure you could whip out a bunch of these quickly if you're in a time crunch.
Then I designed these printable gifts tags which I urge you to steal and use for your own neighbor gifts! They say "You're the Sweetest!" and like I said before, that pretty much applies to anything you want to give. Print these out in color on white cardstock and they will be adorable. And don't forget to sign your name!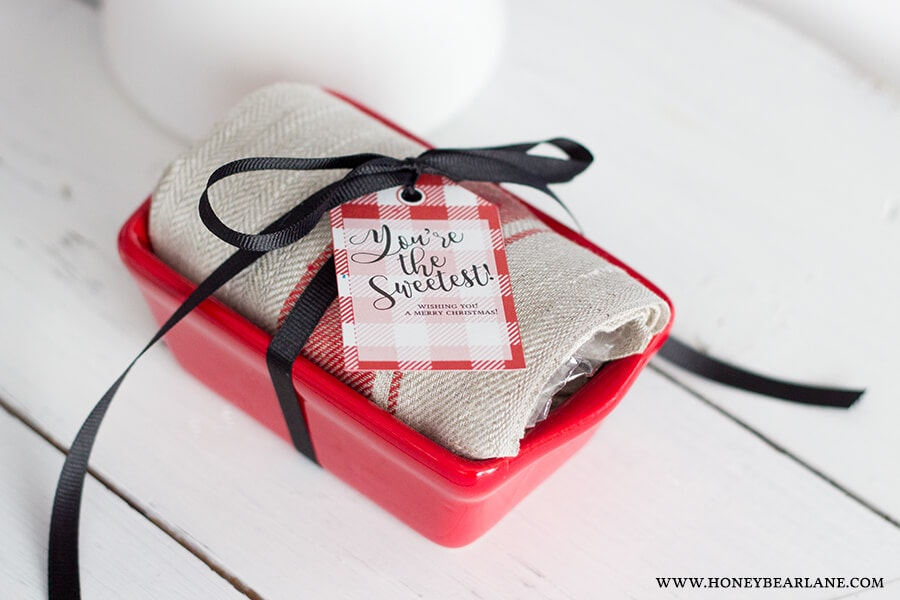 There are endless options for this type of easy and fast neighbor gift. Fill the bag with any type of candy, small cookie or other treat. Or you could even bake a little loaf of bread right inside the pan and wrap the towel around the entire loaf. You could do a small bag of sugar (because who doesn't need extra sugar at Christmas time?), or you can ditch the treat entirely and just do the towel by itself. It's several gifts in one. And the cost was low–the towels were like $2 each and the dish was also only $2. So with the candy, each gift is less than $5. Give one to everyone!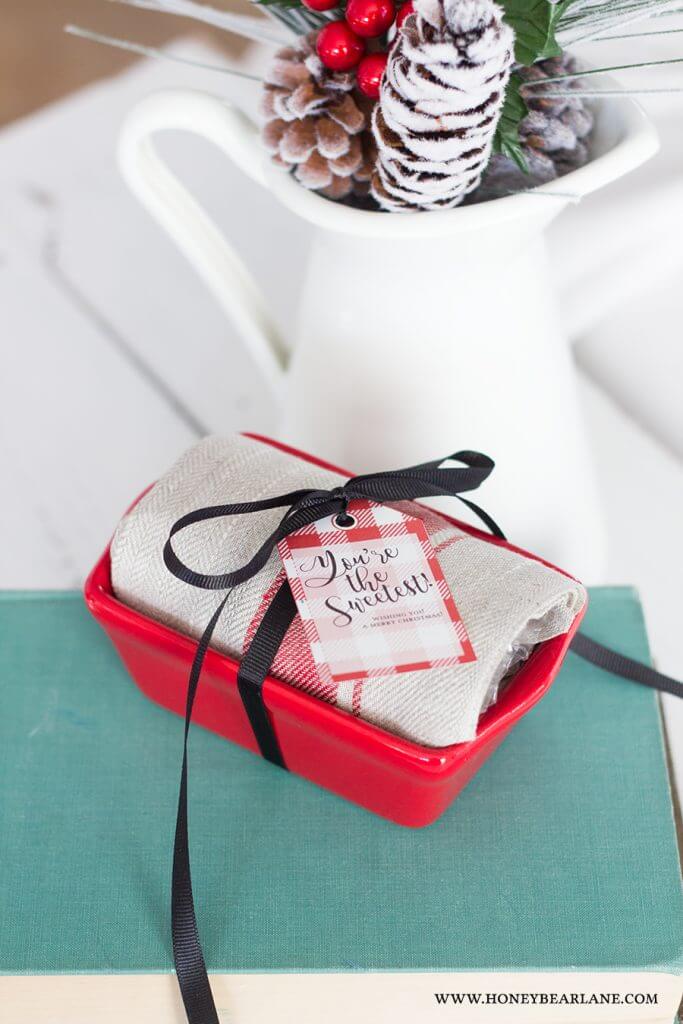 I'd love for you to come visit me at my blog Honeybear Lane where I share all kinds of home decor and DIY projects. I'm getting ready to debut my Christmas Home Tour with a bunch of other super talented bloggers so you don't want to miss that! Merry Christmas, my friends!
Thanks, Heidi!