Welcome to the first day of the Crazy Christmas event! If you're new here you may want to subscribe or join us on facebook. Welcome Positively Splendid!!
Hello, everyone! My name is Amy, and my blogging home is called Positively Splendid.
When I'm not chasing after my four little ones, you'll usually find me knee-deep in my latest creative endeavor. Having grown up in a home brimming with sewing notions and paintbrushes, I have a profound love for all things creative, and I firmly believe each and every person has the ability to create something beautiful with their own two hands! On any given day at PS, you'll find ideas ranging from sewing and crafts to home decor and DIY projects, and even some recipes and kid-friendly ideas thrown into the mix. I would love for you to stop in for a visit!
I am absolutely delighted to be here today to share a sweet Christmas ornament idea with you! Using just five simple tools and supplies, these come together so quickly and easily, and they would be the perfect gift for neighbors, teachers, friends and anyone else on your list. Let me show you how it's done!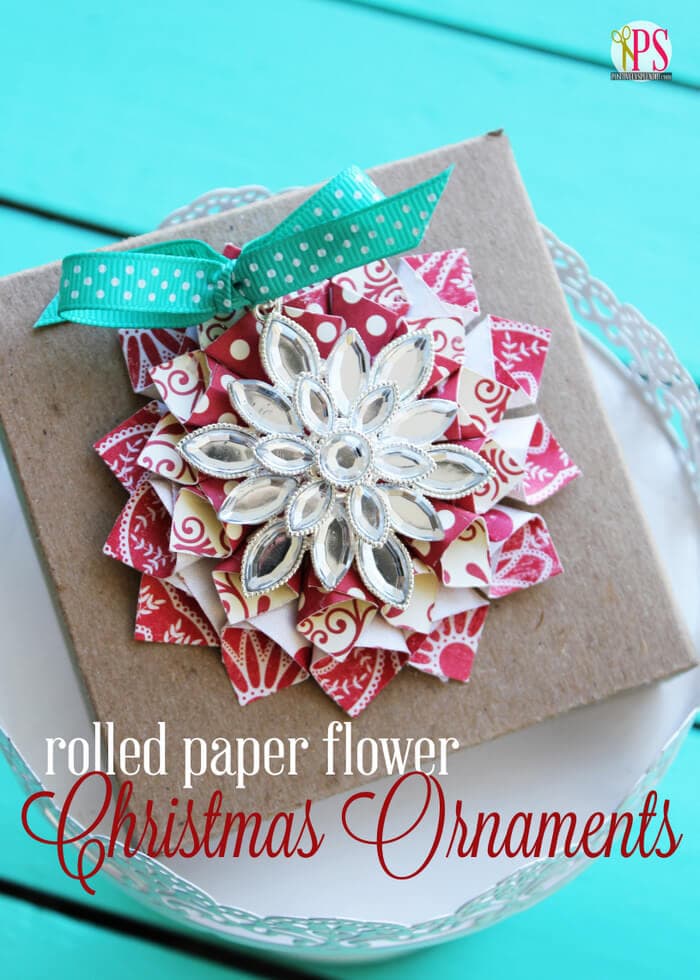 For this project, you will need…
2 sheets of pretty double-sided patterned scrapbooking paper
Paper trimmer
Hot glue gun
A necklace pendant (or another pretty bauble for the center of your flower)
Ribbon
To begin, trim (14) 1-inch squares from one of your sheets of patterned paper using your paper trimmer. From the other sheet, trim (14) 1.25-inch squares.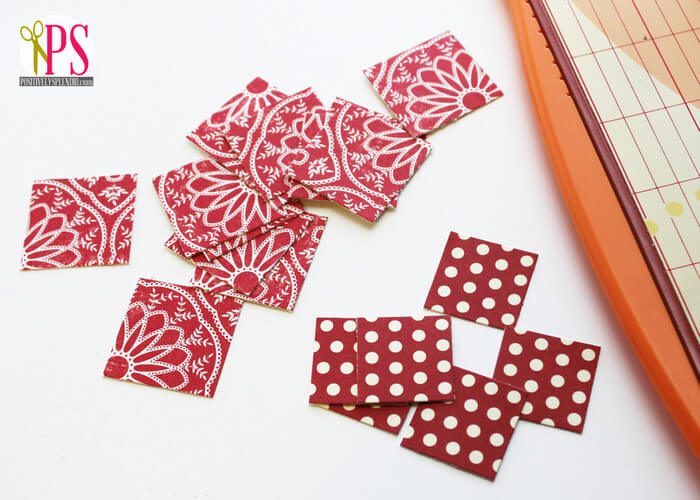 To form each of the petals for your flower, you will first fold over one corner, as shown…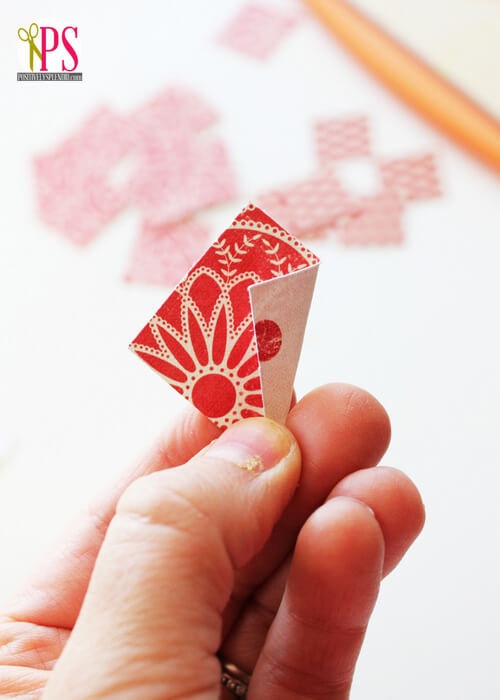 …and then fold over the opposite corner, so the two sides overlap at the center and your square is now a cone shape. At the point where the two sides overlap, secure them together with a small dab of hot glue. Repeat this process until all of your squares are folded.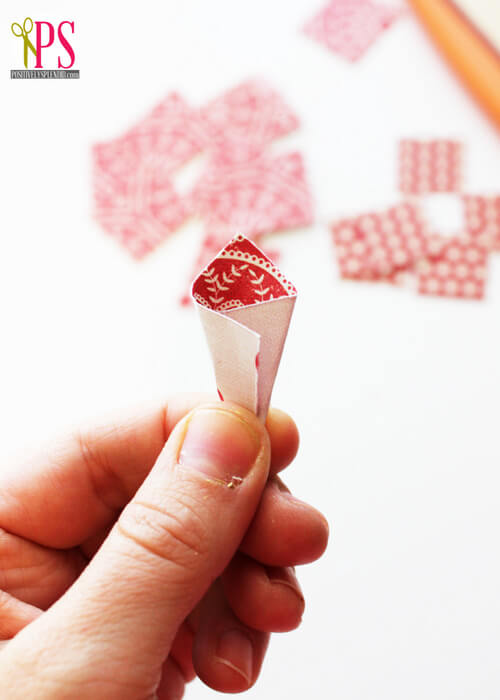 Now, cut a 2-inch circle from one of your sheets of patterned paper, and mark the center with a pen.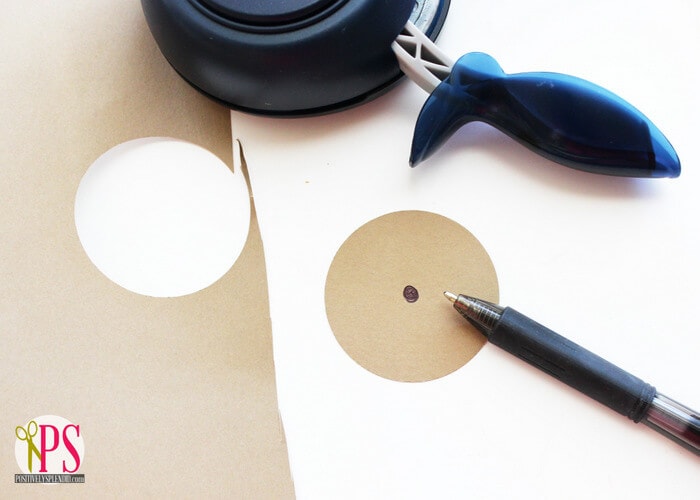 Working in small sections, apply a line of hot glue to the outer edge of your circle piece, and start adhering your larger petal pieces to the circle base, making sure the points of each petal are precisely aligned with the mark you drew in the previous step. (This will ensure your flower is proportional.)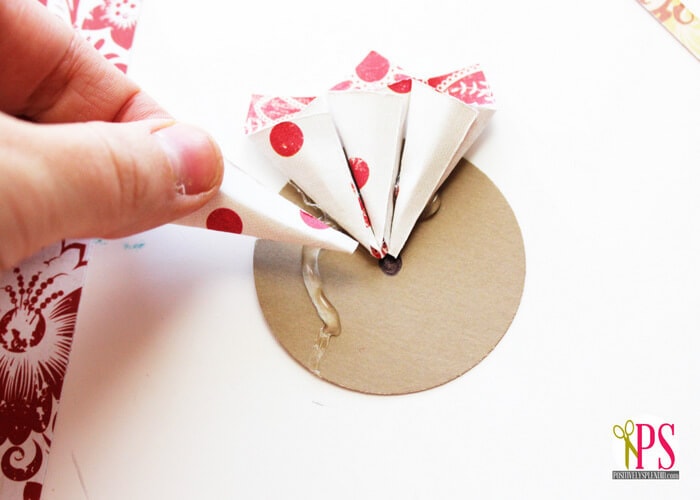 Keep working until all of your larger petals are adhered to the circle base. When you get to the end of this process, you might not have room for the 14th petal, depending on how close your other petals are together. That is absolutely fine.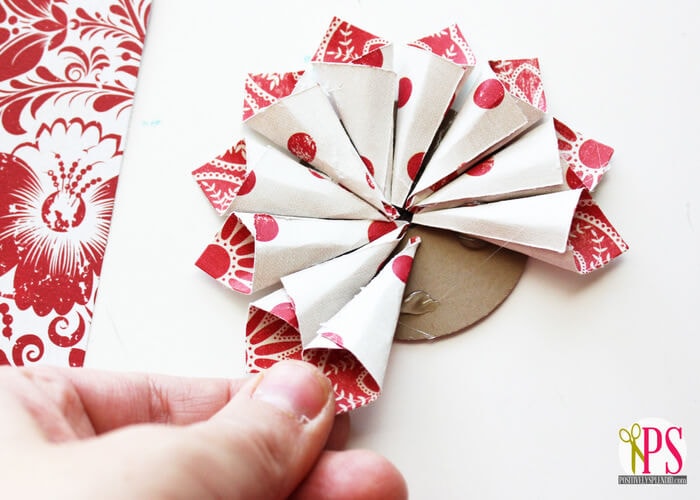 Adhere your smaller petals in the same manner, directly on top of the bottom petal layer. Adhere these smaller petals so that they are staggered in between the larger ones below.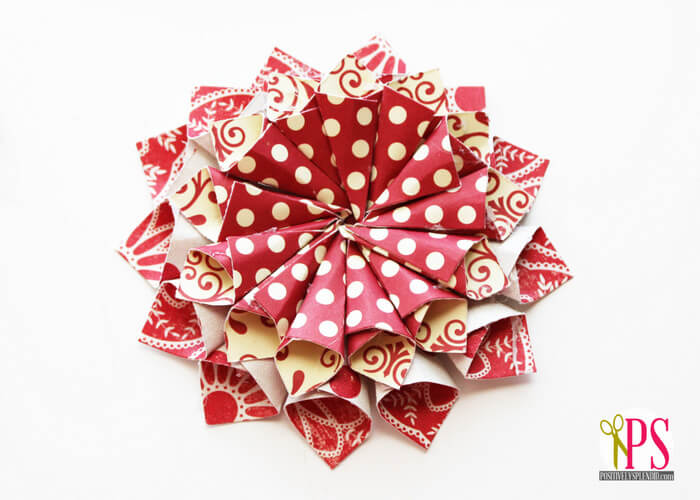 Finish the flower with a pretty rhinestone pendant, which you can purchase from any craft store. I like using pendants like these, because it makes it a snap to loop ribbon through to form the hanger for the ornament.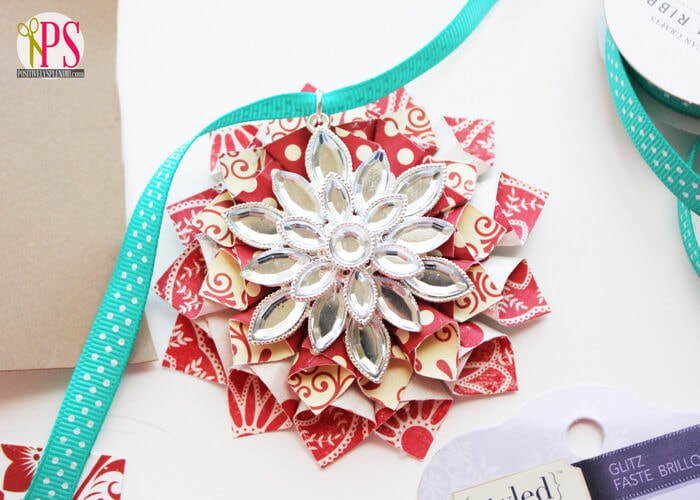 All finished!
I love that these ornaments can be used to pretty up gift packages…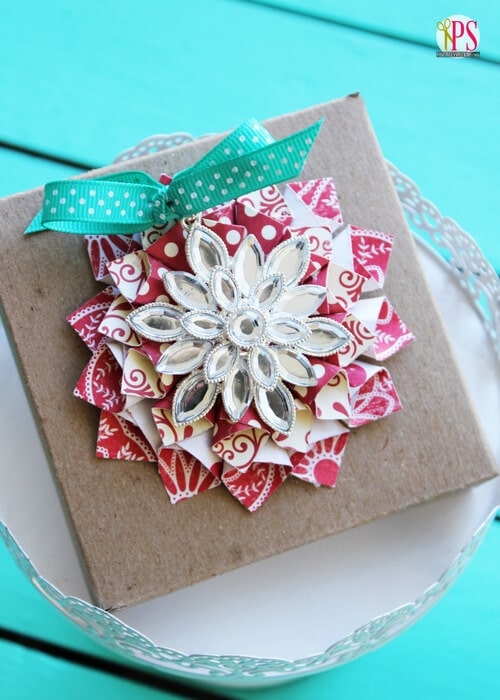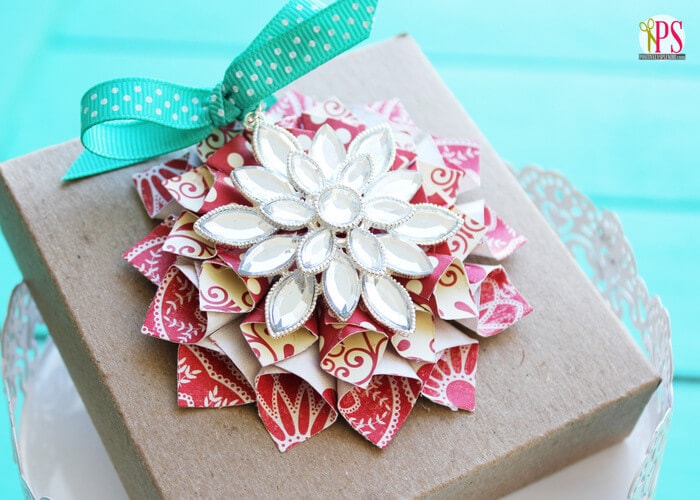 …and they are a great way to punch up your Christmas decor, too. I used this ornament to embellish some fun topiary Christmas trees that I am sharing about on my blog today.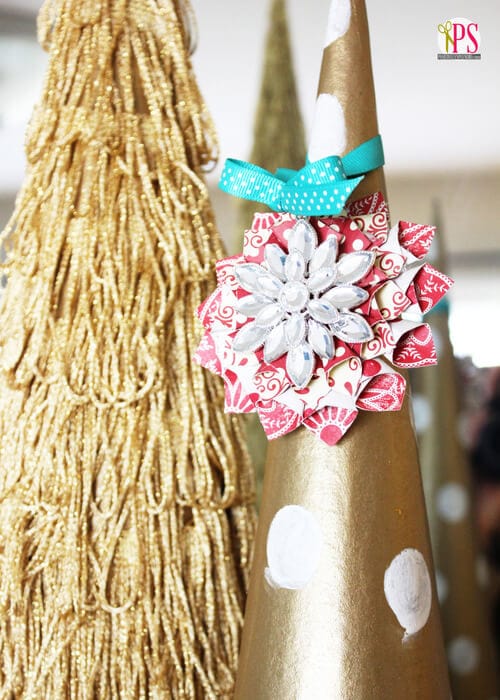 I hope y'all will stop by Positively Splendid soon to check out some of my other Christmas projects, including the ones below!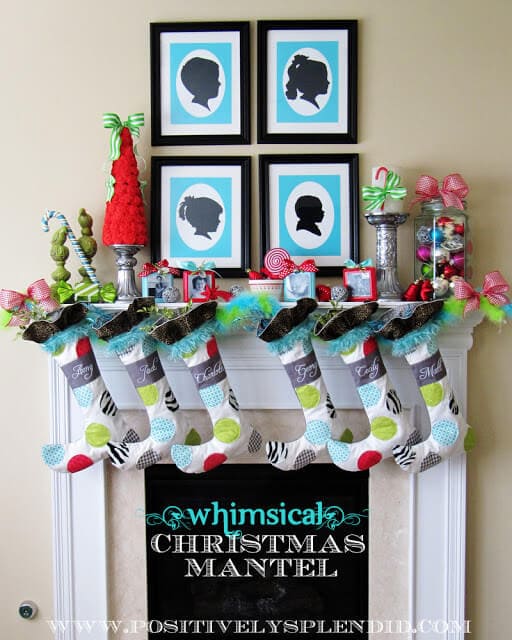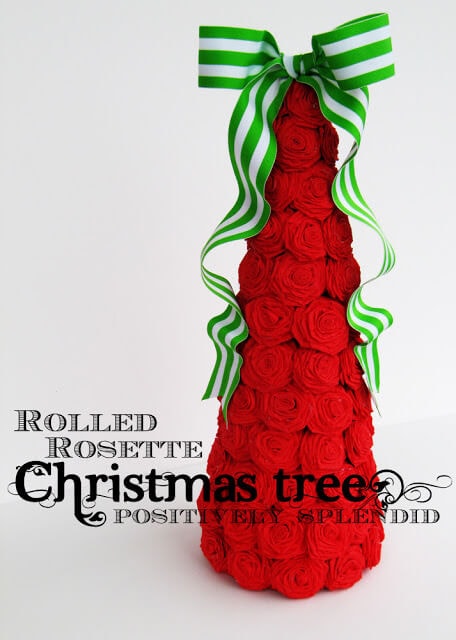 Christmas Wish List Photo Ornaments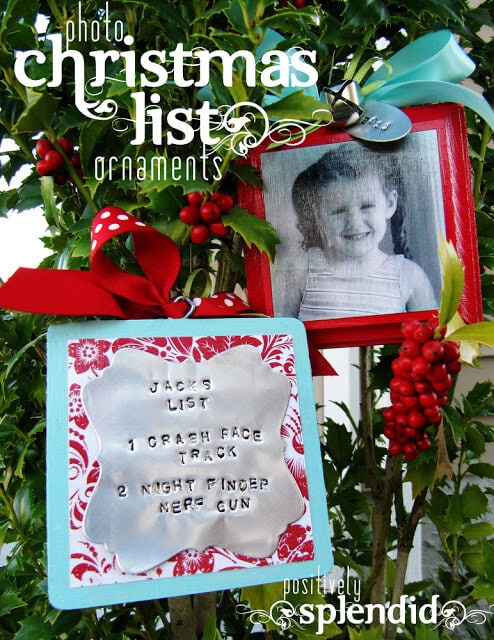 Thanks so much to Jamielyn for having me over today! Here's to a merry and magical Christmas season!